If you're heading to Thailand, don't just scoot through Bangkok and make your way out to the islands to some of the best beaches in the world, or dash up to Chiang Mai and Chiang Rai in the Golden Triangle jungle region.
Bangkok is full of gems to enjoy, with its long winding Chao Phraya River running through it taxiing tourists and transporting goods. And diners on awesome buffet cruises!
Thailand is still cheap, relatively speaking, and especially since Covid when prices around the world seem to have gone through the roof! In fact why not stay longer and follow this 3 weeks in Thailand itinerary from the top of the country to the bottom?
Or if it's your first time, here are some great places to visit in Thailand for first-timers.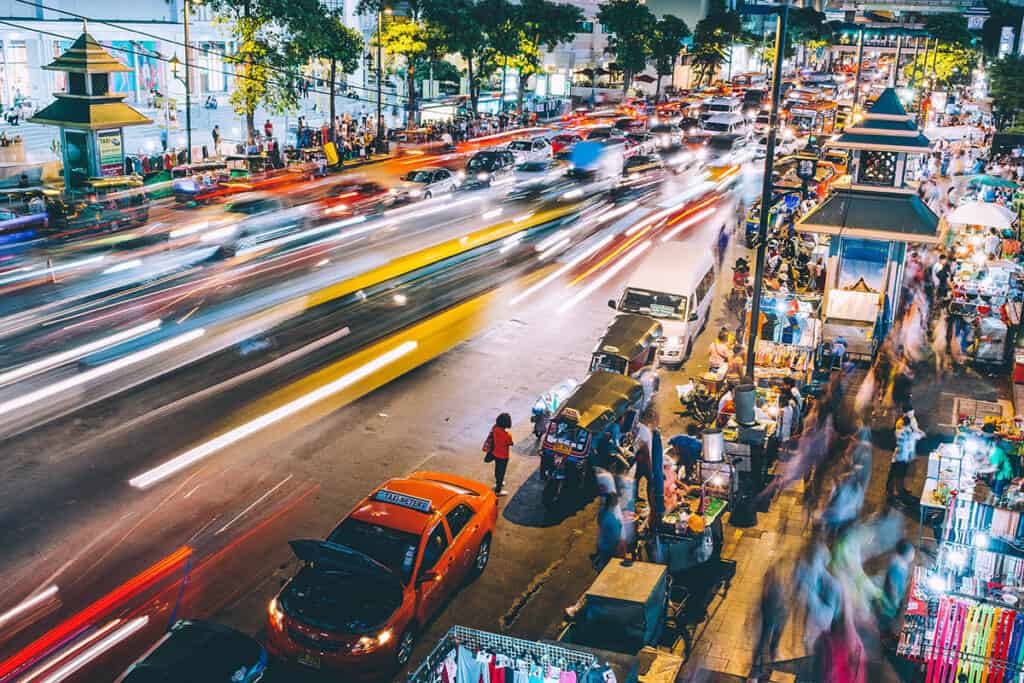 But let's get back to Bangkok. Make time in the capital city to explore temples, do some shopping, indulge in daily massages, eat the food, tootle down the klongs, see a kick-boxing match, or visit one of the many breathtaking rooftop bars.
Bangkok is also a good city to base yourself in a lovely hotel and take day trips from, like this Ayuttahya day trip from Bangkok.
But here are my picks for 13 things to get amongst in Bangkok:
This post contains affiliate links. If you make a purchase I may make a small commission at no extra cost to you.
Rooftop Bars in Bangkok
There are so many amazing rooftop bars high in the sky above Bangkok where dress codes apply and a cocktail costs as much as a pedicure. You gotta weigh these things up!
But for the uber chic side of Bangkok, put your glad rags on and head out to Sky Bar on the 63rd floor of the Lebua at State Tower. There are actually 11 bars and restaurants at Lebua, and I covered them in this post on bars and spas in Bangkok, plus a few more to check out.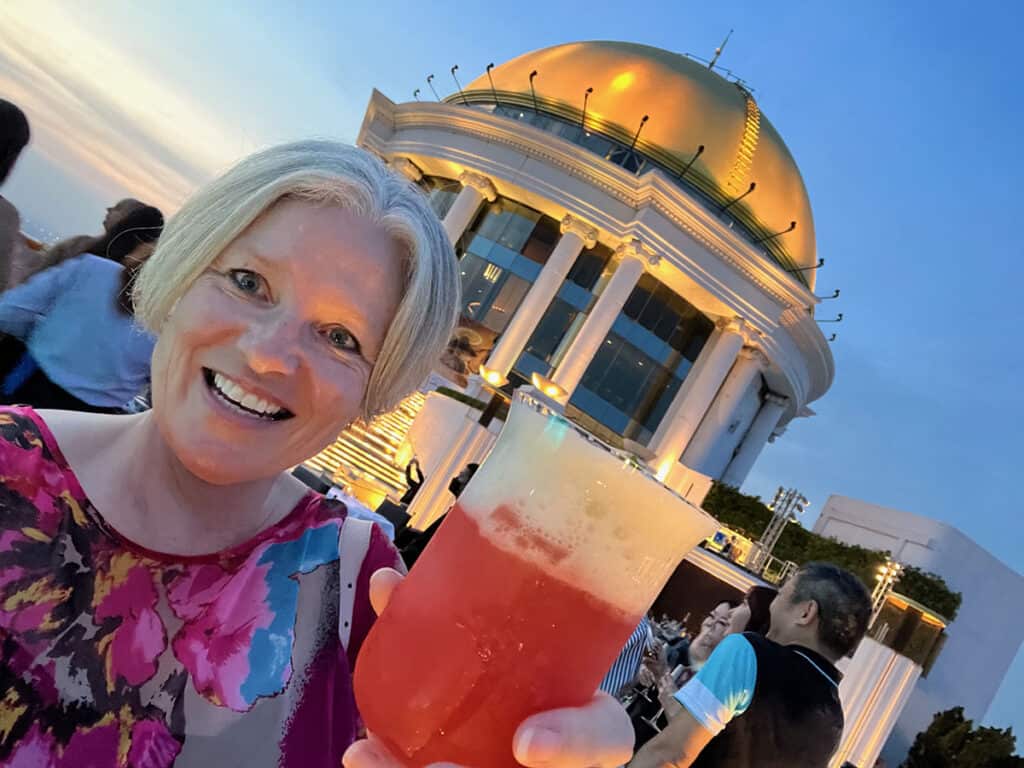 Take an evening dinner cruise
To be honest, I thought this might be a cliched and wondered if I would like it. I loved it!
There are several river boats that offer buffet dinners whilst cruising along the Chao Phraya River from River City dock. We chose the Pearl Dinner Cruise that had 80s and 90s music, as well as some traditional Thai music and dance. It was such fun!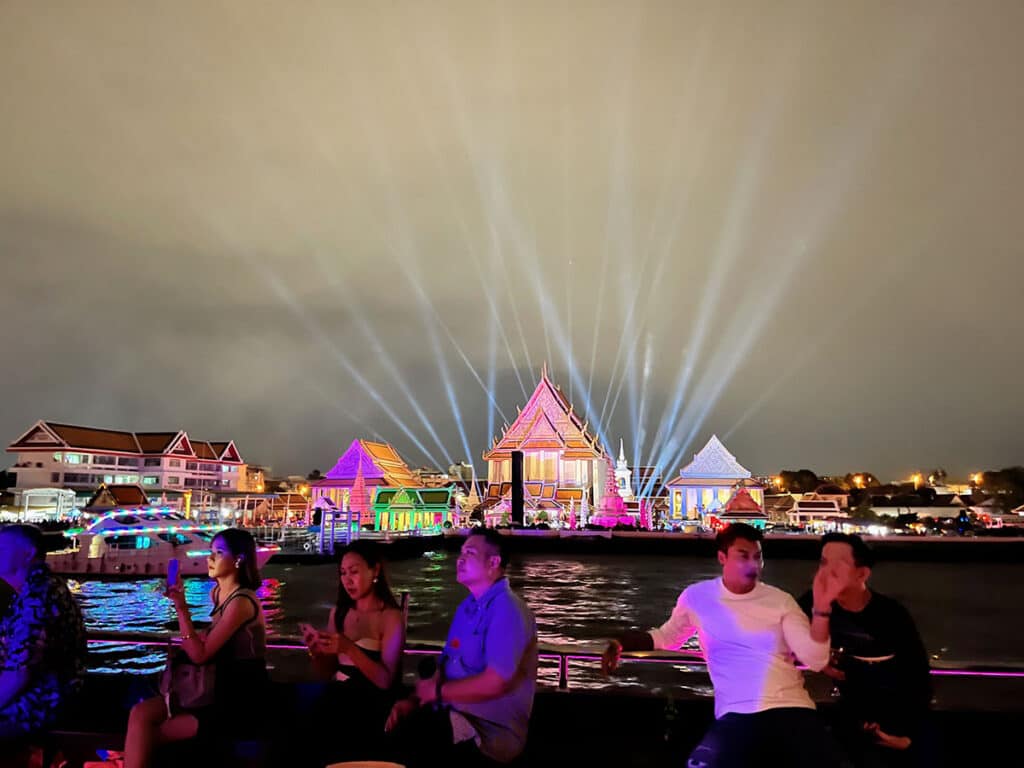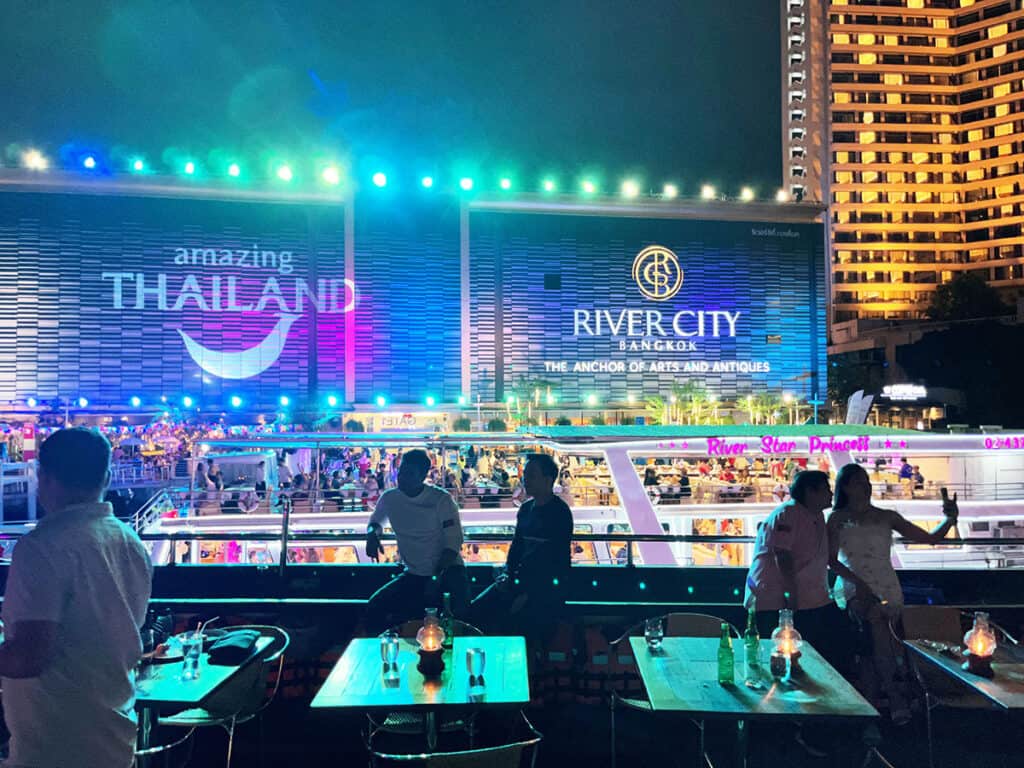 The buffet food was also delicious – and I might have had more than one visit to the sushi and sashimi bar! The food stations are positioned around the boat so there's never much of a line to pop up and back. Drinks are not included, so just bring cash/cards to add your wine or Changi beers under the night sky.
You'll cruise past famous Bangkok landmarks and monuments all lit up as the sun sets so charge your phone for plenty of photos.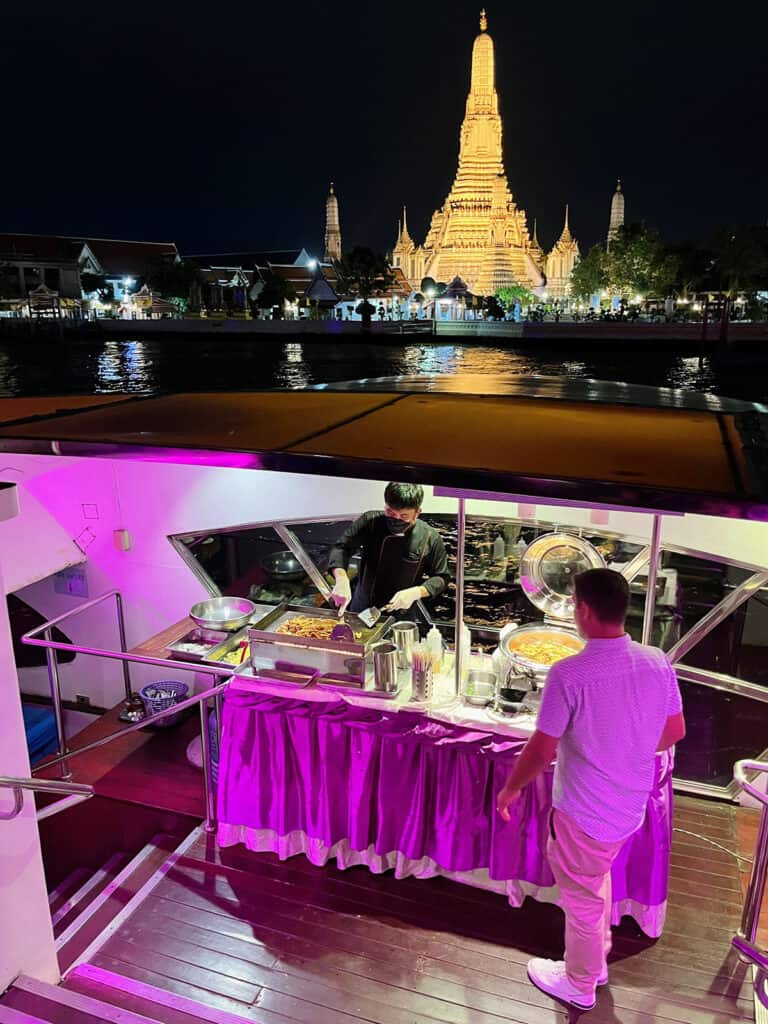 Shop the Chatuchak Weekend Market
Shopping lovers will be gone for the day to this, this biggest outdoor market on Earth!
With over 15,000 stalls divided into themed sections, Chatuchak Market sells everything from clothes and shoes to jewellery, art, old hotel furnitures, knick knacks, knock offs, genuine antiques and even pets, it's a veritable maze of same-same alleys. This place is truly a top favourite for shopaholics.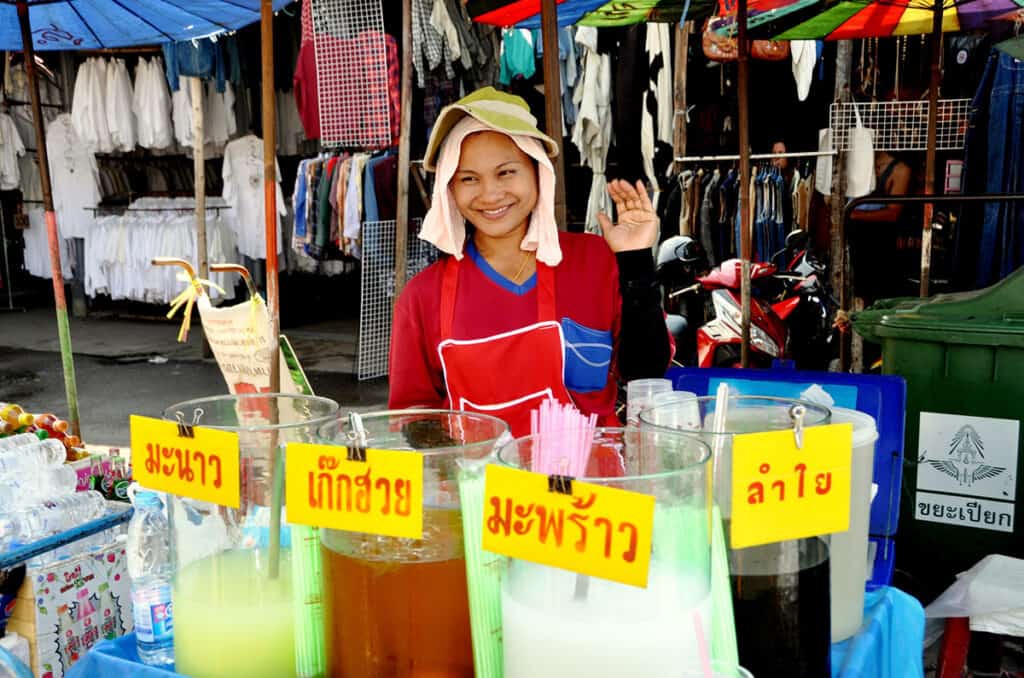 Pick up a map when you arrive as you'll be all turned around and will lose your friends unless you designate a meeting point.
The aim of game is to barter, but keep it friendly and have fun with the vendors. Remember, they need to make a living too! If you need tips for how to haggle, I've got you in this post. And if you need tips for shopping in Chatuchak Market, you've come to the right place.
Take the BTS to Mo Chit Station, Saturday and Sunday – and bring cash and a water bottle. You'll be in for the long haul!
Take a klong tour
Bangkok's waterways (klongs) are home to many families who live in houses on stilts lining the Chao Phraya River.
A long-tail boat tour through the "klongs" (canals) is a fascinating insight into how the locals live.
Look out for seamstresses sitting on their verandas with sewing machines and grandparents minding toddlers as the parents are at work.
You'll wonder how the verandas don't fall into the river – and then you'll see that have! You'll meet vendors with floating kitchens and mobile shops working the river and coming alongside to try and sell you something.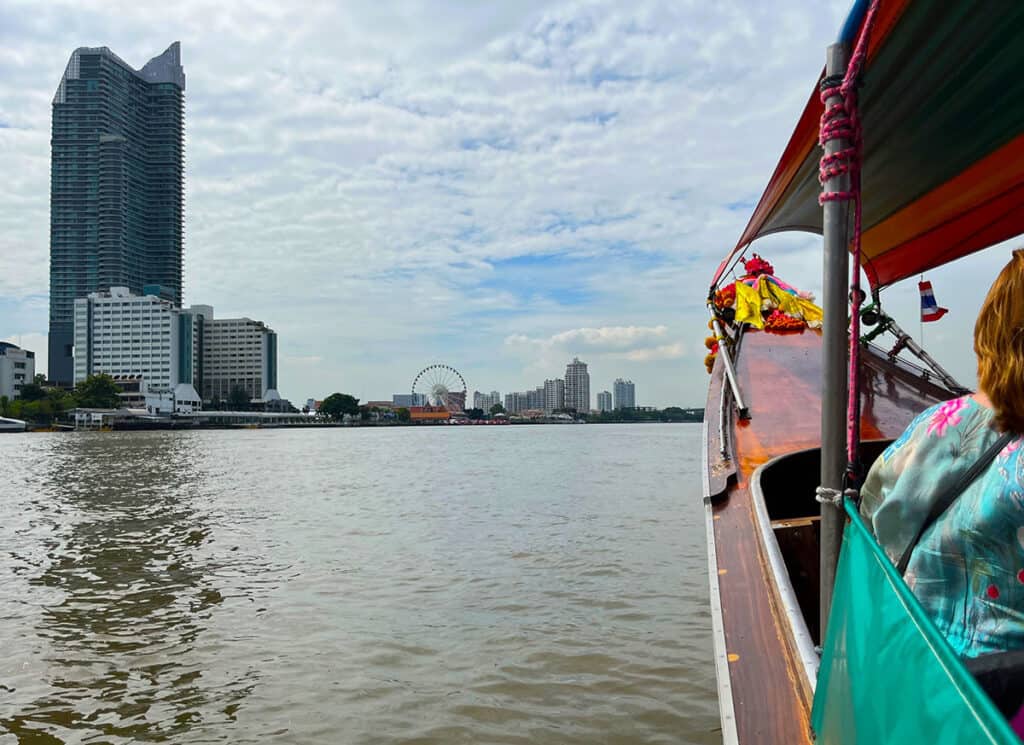 Visit a floating market
One of the most quintessential Thai things to do is visit a floating market. Come hungry!
There are several markets within cooee of Bangkok, but this tour is great because you'll head out of the hustle and bustle of the big city and into the quieter countryside and see two very different markets.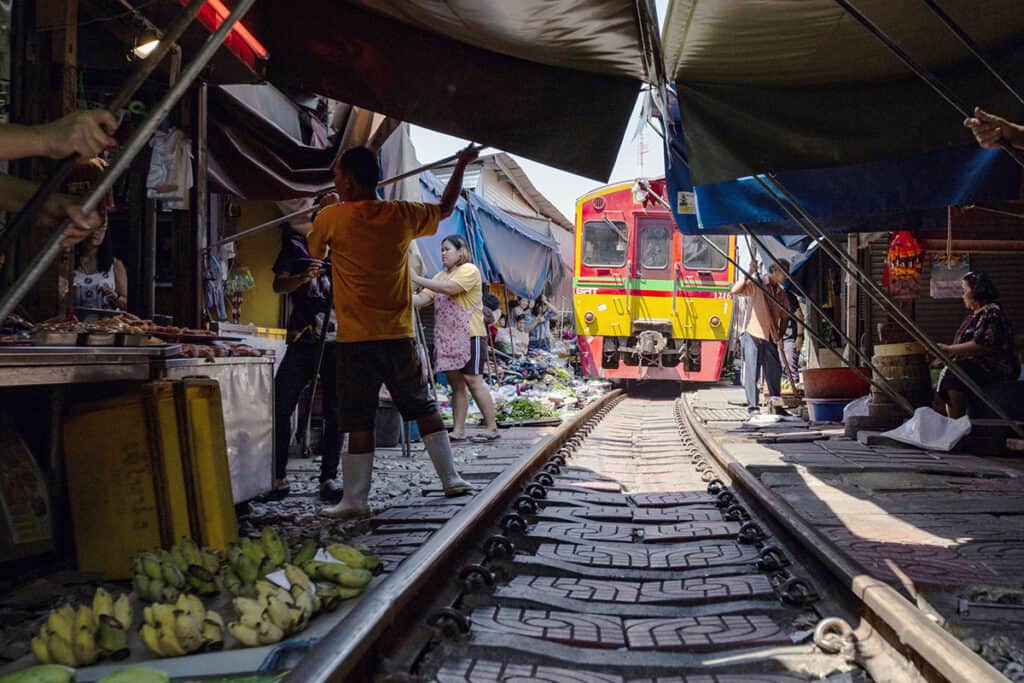 Choose a private tour or a small group and visit Maeklong Railway Market, which is located literally on the rail tracks and you've probably seen the photos, it's the largest fresh seafood market in Thailand.
It's such a photogenic place as all the awnings and produce are pulled aside to allow trains to rumble through. Not to mention the fun you'll have buying food and wares from the local vendors.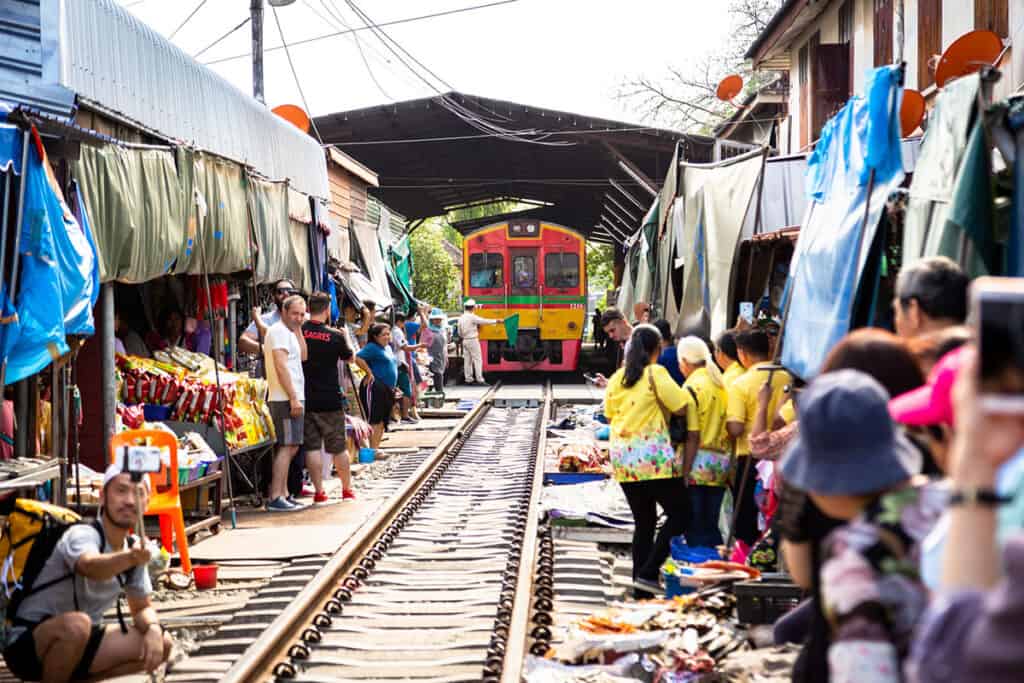 Then you'll visit Damnoen Saduak Floating Market by paddleboat. This is one of the most famous floating markets in Thailand and you'll meeting the vendors sell directly from their boats. Make sure you try the mango sticky rice!
For more details and to book your tour, visit GetYourGuide and lock it in.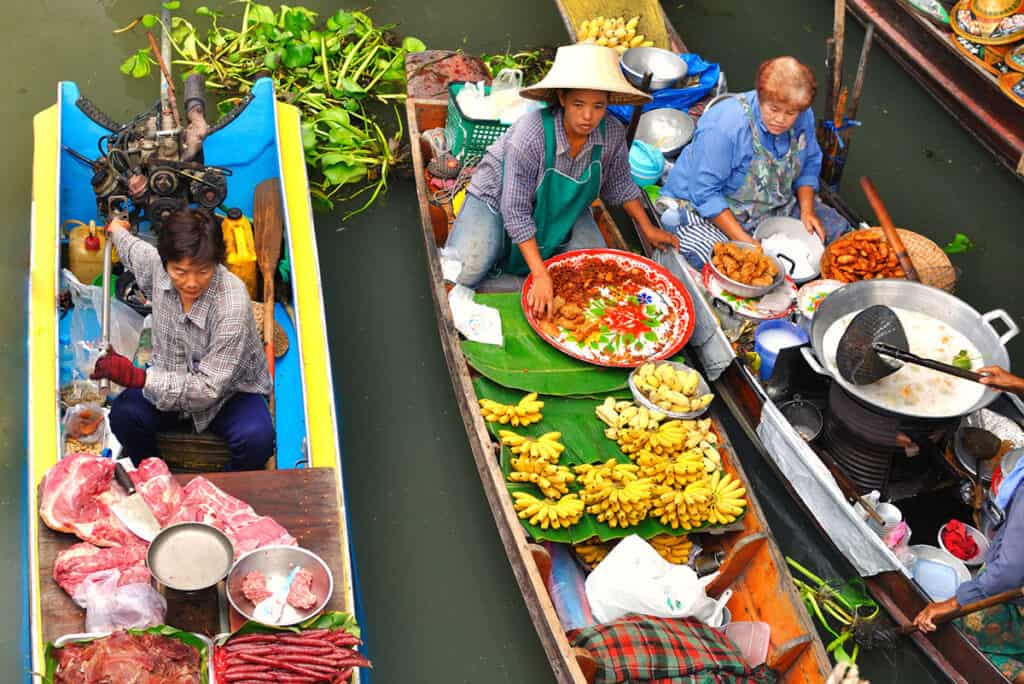 Take a cooking class in Bangkok
There is nothing as cool as learning to cook ethnic cuisine than in the country of ethnicity!
In Thailand cooking classes about where you can learn from a professional Thai cook about flavours, ingredients and techniques. Learn how to make pastes from scratch, then sit down and eat it at the end of your class.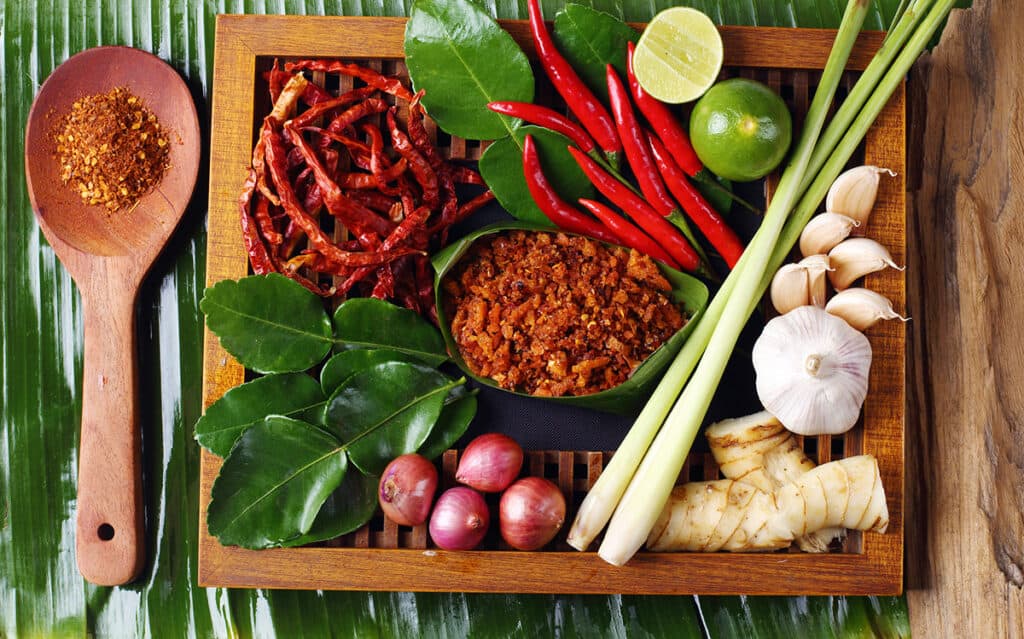 Try Baipai Thai Cooking School. They will pick you up from your hotel and take you to visit the market to taste and buy your ingredients, then onto their school set in a beautiful house with surrounding garden filled with herbs.
You will taste and learn and end up eating your creation and go home satisfied on so many levels.
Warning: be careful of chilli oil burns! I got some under my thumbnail at a cooking class years ago and my nail has never grown right since!
Visit Wat Pho
Less crowded than Wat Phra Kaew, Wat (meaning temple) Pho is one of Bangkok's largest temples and home to the largest reclining Buddha (46 metres long) and the largest collection of Buddha images in Thailand.
It's been built on the site of another temple which was destroyed by the Burmese in 1767. Pieces of that Buddha are inlaid into this one.
If you haven't been around Buddhism or seen the effigies that go with it, you need to know that it is very demon heavy. You'll see more demon sculptures and statues than you will buddha actually, so if this isn't your thing, now you know.
Wat Pho is also the national headquarters for the teaching and preservation of traditional Thai medicine, including Thai massage, with two massage pavilions on site.
Visit the Grand Palace
The dazzling official residence of the kings of Siam from 1782 until 1925 is still used for royal ceremonies and events on the banks of the Chao Phraya River today.
It's been expanded over 200 years with the addition of new pavilions, halls and buildings and is now 218,000 sq m, divided into several courts.
It also houses Wat Phra Kaew, the temple of the Emerald Buddha that dates back to the 14th Century and whose robes are changed with the seasons.
Take a cycle tour of Bangkok
It might not be the first thing you think of doing with so many tuk tuks and motorbikes with entire families on each one, but a bicycle tour in Bangkok means you'll actually get out of the hustle and bustle to green spaces and see a different side of Bangkok.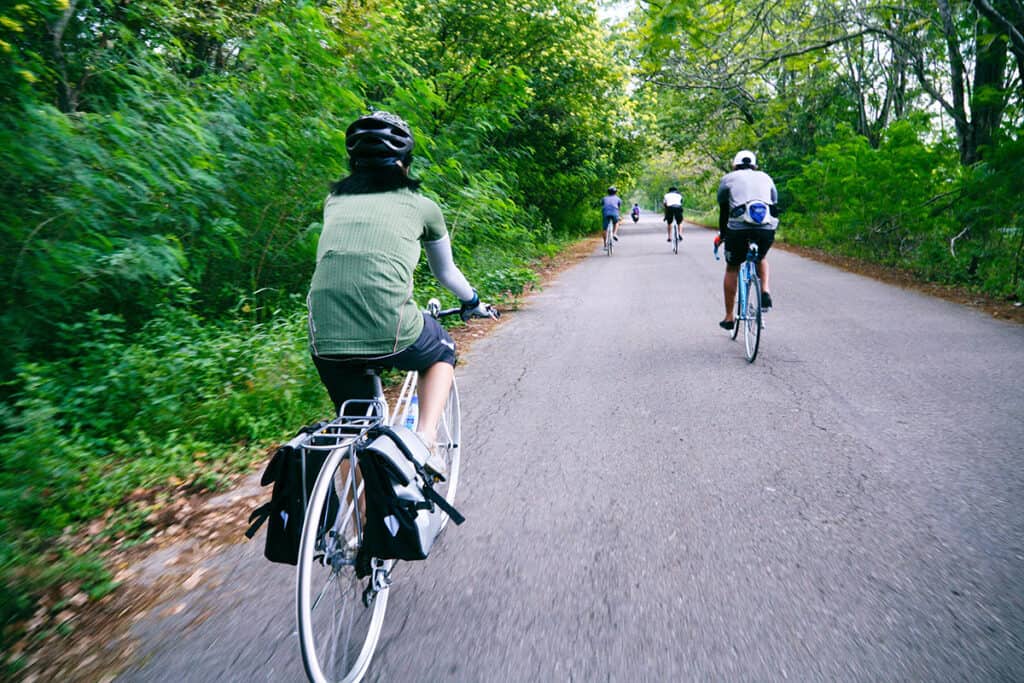 Have the best Spa Treatment in Bangkok
Thailand constantly wins awards for the Best Spas in the World, so while you're in Bangkok it's only right you should partake!
You'll find cheap and cheerful massage, facials and pedicures everywhere, but for the ultimate pampering, head to one of the hotels or a day spa.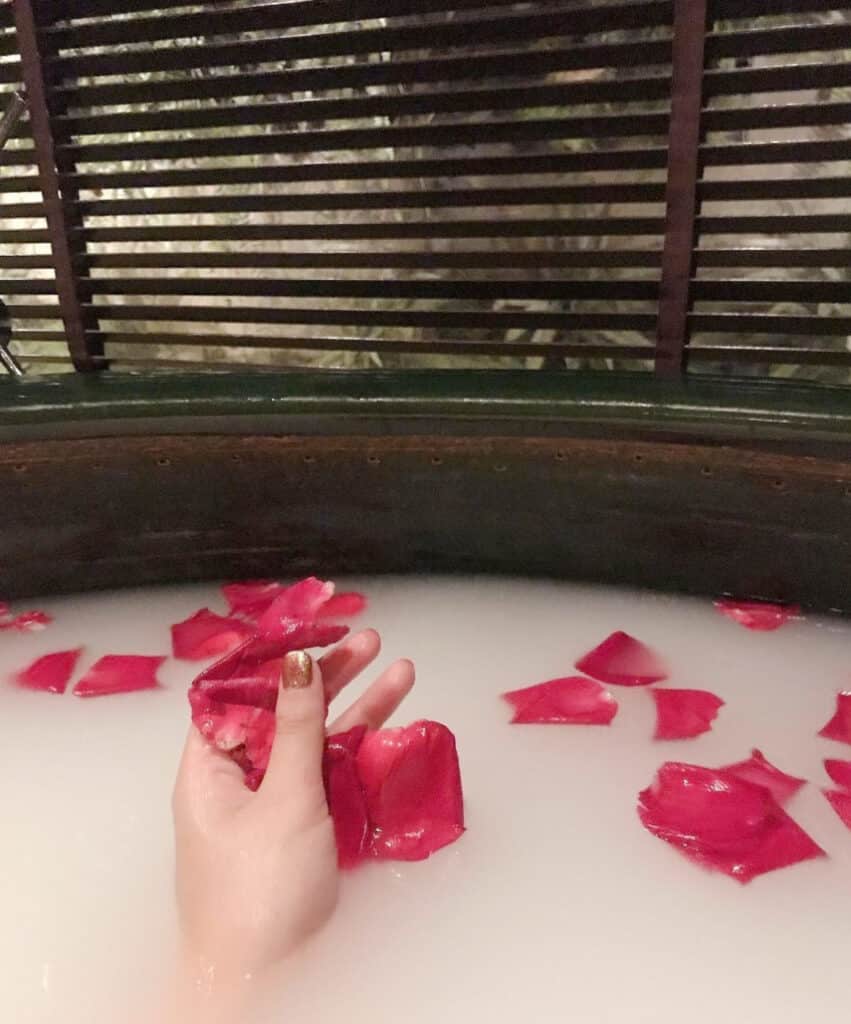 I had a glorious two-hour treatment at Oasis Spa, in Sukuhmvit. They have two spas in Bangkok and 15 throughout Thailand. (I had a four-hour treatment at their Phuket spa!)
Bangkok Songkran Festival
Join the biggest water fight in the world in mid-April!
Songkran is a celebration of Thai New Year and the water fight is about washing away any bad luck so good luck can come for the coming year.
Traditionally it's a time for washing Buddhas and your house and a formal cleansing ceremony. Businesses are shut for the week and families celebrate together.
But out on the streets it's quite a different matter. Bring your water pistols and put cameras and phones into waterproof bags to join the fun.
If you don't want to get wet then you need to avoid Bangkok's busy streets in mid April as it's hoses, buckets and water bombs everywhere!
Street Food at Sukhumvit Soi 38
Come to Soi 38 after 6pm when street vendors are dishing up affordable and great tasting street food while the other half hob nob at surrounding restaurants and bars.
You'll find everything from mango sticky rice to pad Thai and enjoy dining on the wobbly furniture along the street.
Take the BTS to Thong Lor and let your nose guide you as you walk past the restaurants lining Sukhumvit Road. Most menus are in English but the street is popular with locals and tourists alike.
Muay Thai Kick-Boxing
If kick-boxing is your thing, then the Lumpinee Boxing Stadium is where you need to go.
This 5000 seat stadium opened in 2017, so get amongst the music and cheering as the "warriors" face off.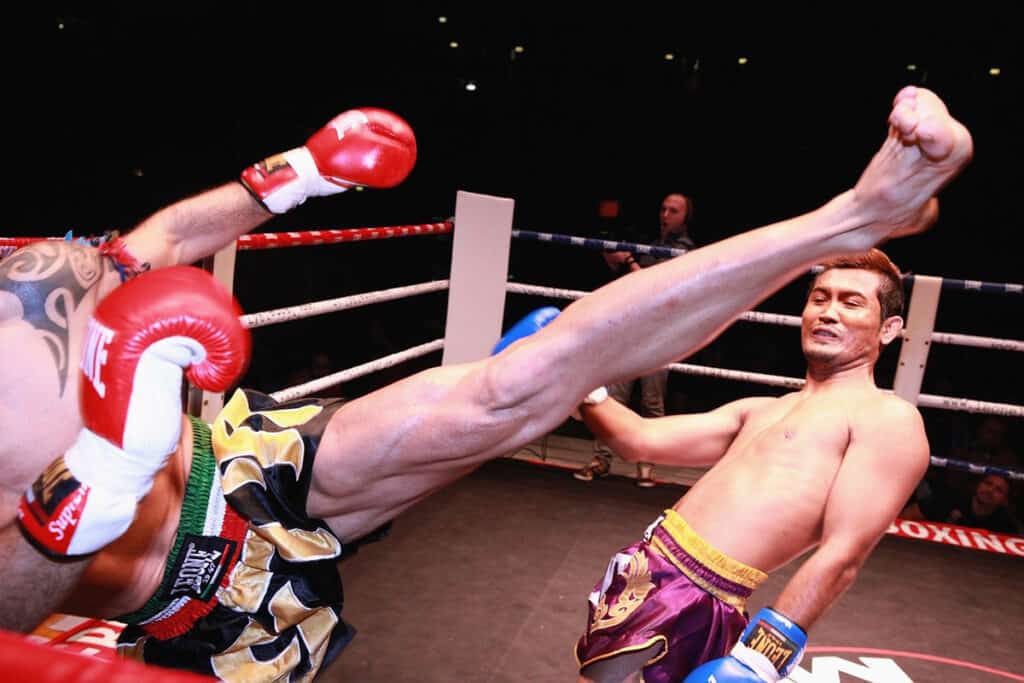 Matches are held throughout the week at various stadiums. Expect to pay around $100 for ringside seats and you can buy them at the stadium or from your hotel. Don't buy from the touts!
The new Lumpinee is out of the central city, so for something closer, you could try Rajadamnern Stadium (also spelt Ratchadamneorn).
Built in the 1940s, this also attracts great crowds. Check what fights are on, as you may end up with the lightweight young age group – and let's face it, watching teenagers fight is not what you came here for! Rajadamnern hold matches Monday, Wednesday, Thursday, Sunday.
For more posts about Bangkok:
Read all about shopping at Bangkok's best markets here (including enormous Chatuchak)>>
Plus you might like my Bars, Spas and Shopping post!
Save