I love Seminyak, Bali!
The Australians have been holidaying on the Indonesian island of Bali for years, but when direct flights flew out of New Zealand and they put on some killer deals to entice us there, my cousin Kate and I set off for a week.
The plan was shopping, daily massages, eating, drinking and exploring. We ticked them all off – and learned a few things that we'd do differently next time, hence this post – to help you make your Bali decisions easier.
Bali was the perfect place for our holiday and I will go back as soon as I possibly can!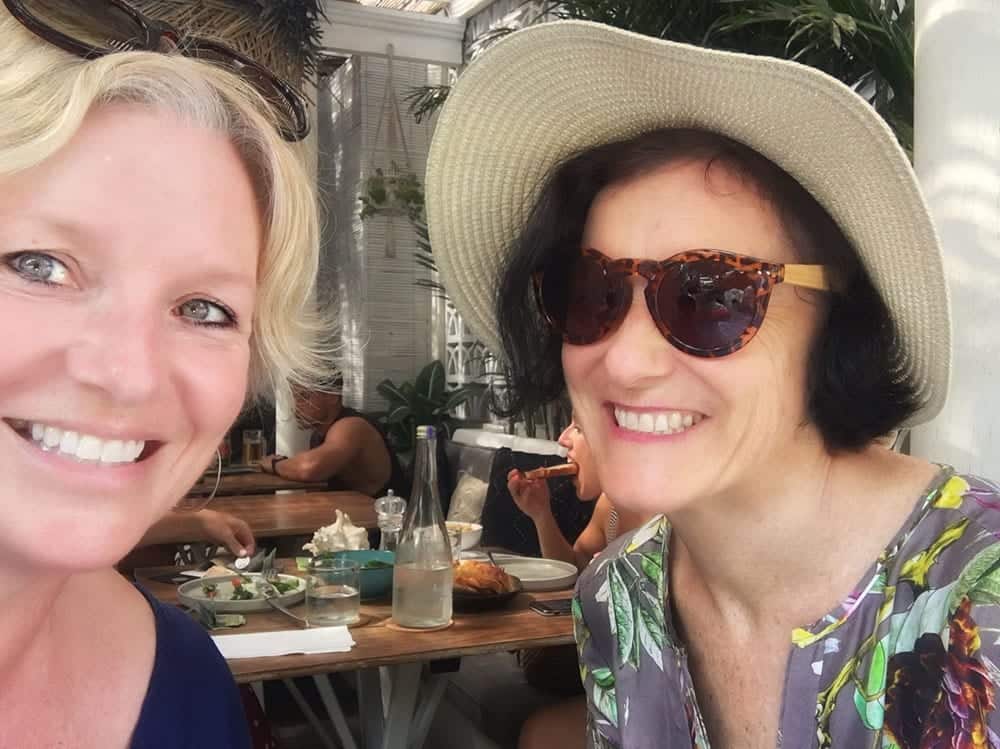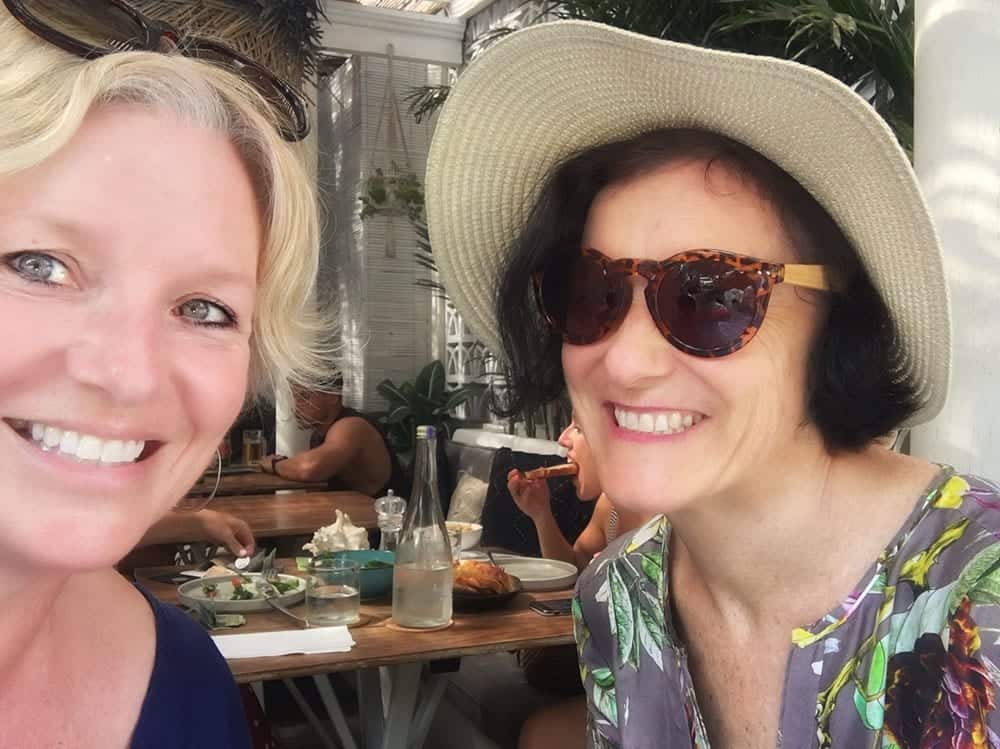 I have whizzed through Bali a couple of times before, once on a large media trip (40 of us!) to Indonesia and we had just one night there but did a very cool day trip to Ubud in a safari jeep (which you can read about here >>) and also had the huge privilege of walking with komodo dragons on Komodo Island.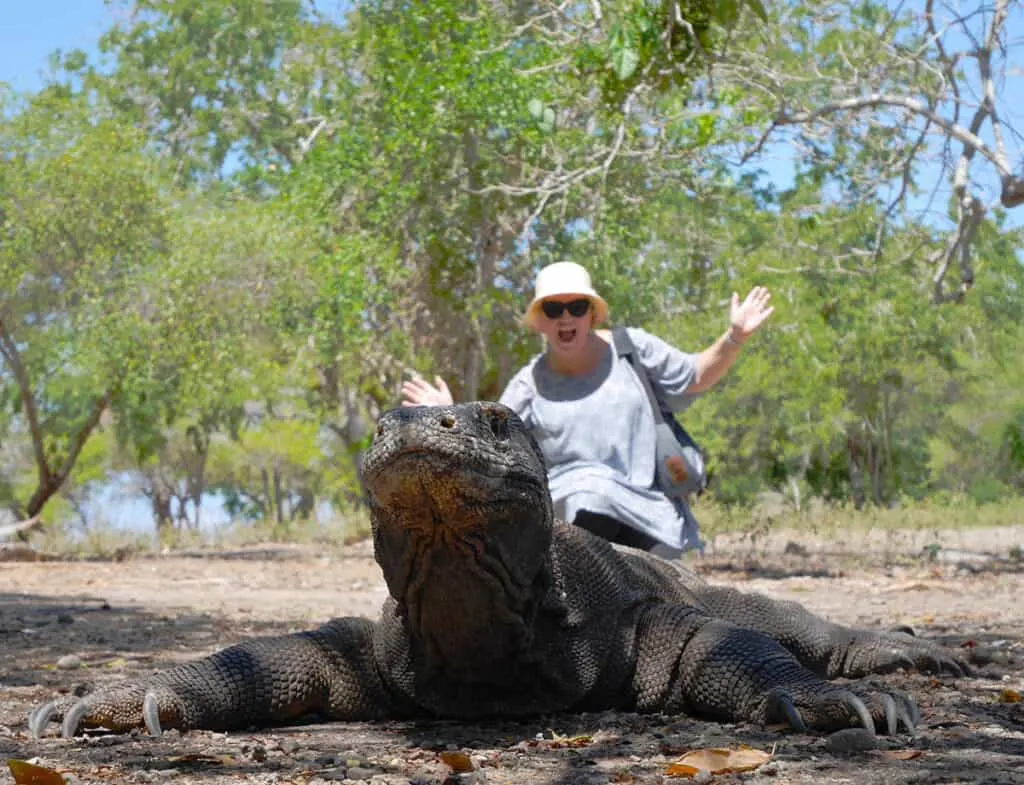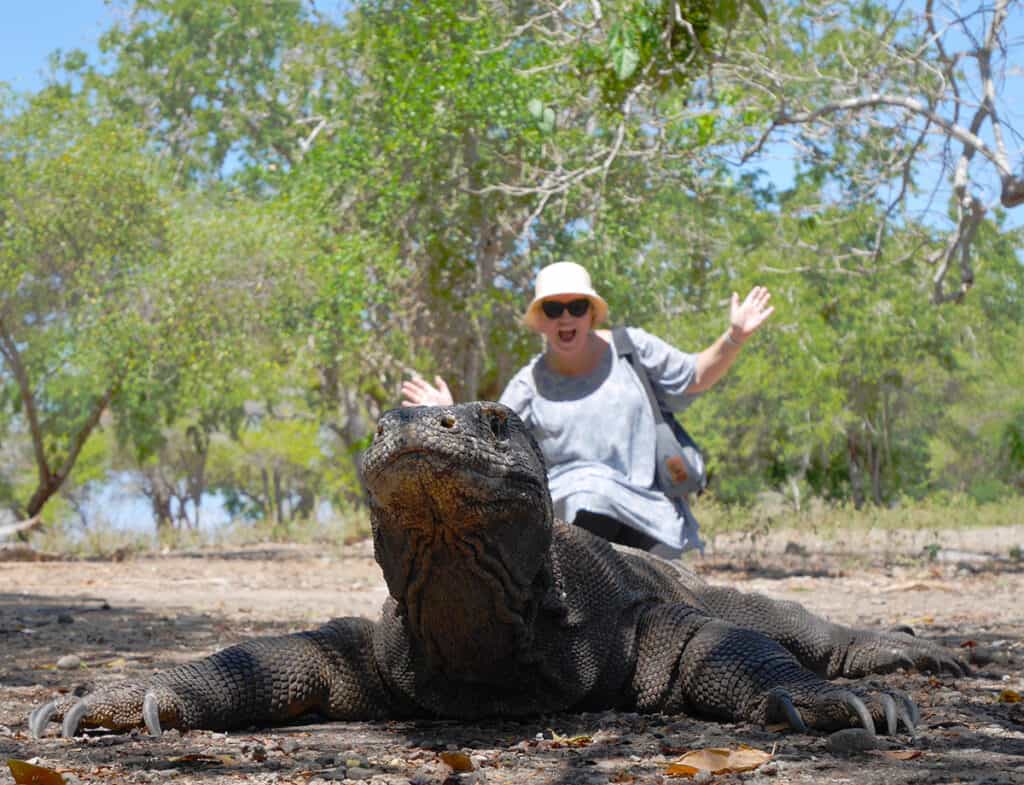 This time though Bali was a holiday. Just me and Kate and we were free to decide what each day would include – which always started with a latte and ended with a cocktail. We walked until our feet fell off and shopped until our luggage bulged and ate and drank until we could stretch our stretchy pants no more.
We also found a great guide for a day trip to Ubud where we shopped the market and ate lunch at a restaurant beside the rice fields.
If you're looking for the best surfing spots in Indonesia, you'll find a few beaches nearby here in Bali, and several more worth considering around Indonesia.
*This post contains affiliate links. That means if you make a purchase I will earn a small commission at no cost to you. Thank you for your support.
Why choose Seminyak Bali?
I had asked loads of people where the place best to stay in Bali was as I couldn't decide between Legian, Seminyak or Canggu.
I had ruled out staying in Ubud as we wanted to be near the beaches rather than the jungle, but we did take a day trip there with a private driver – click the link above to read that one.
Seminyak was our decision, it is a great location with a reputation for good food, good shopping, great spas, a lovely beach and incredible ocean views from plenty of hotels and bars and happy hour sunset cocktails.
Don't get me wrong, we did spend a couple of hours shopping in Legian (it's only a few kms away) and Canggu (pronounced Chang Gu) is meant to be great for those wanting less crowded shopping areas and more beach – but I'll have to save that for next time.
Read this post if you want to go off the beaten path in Bali.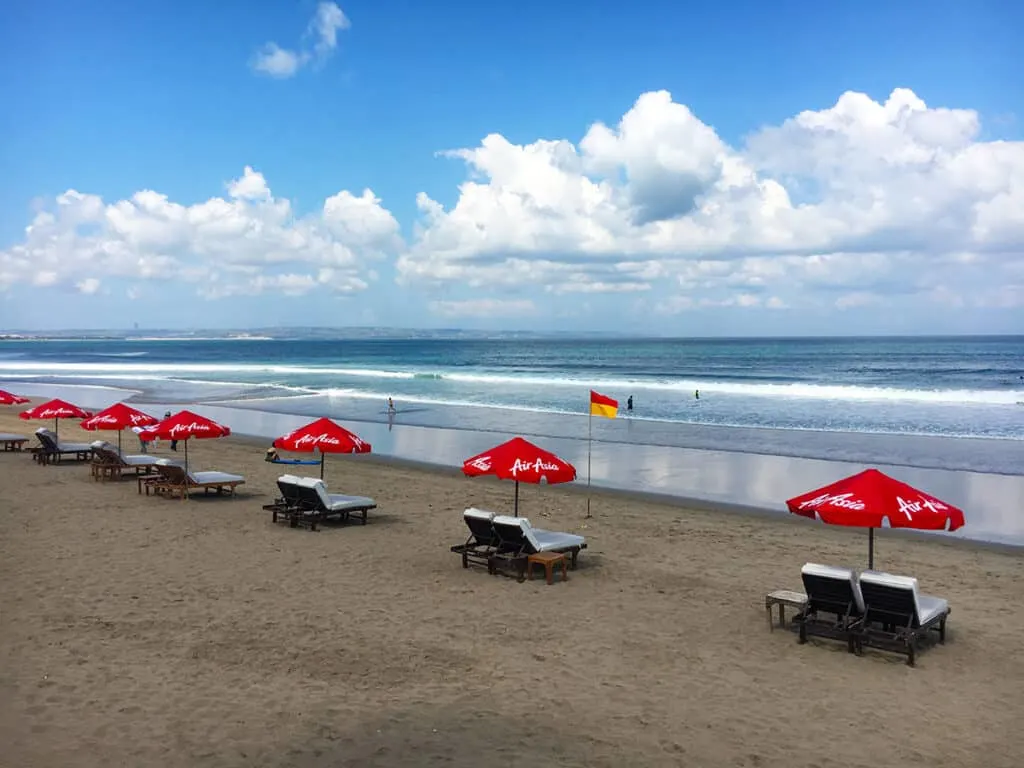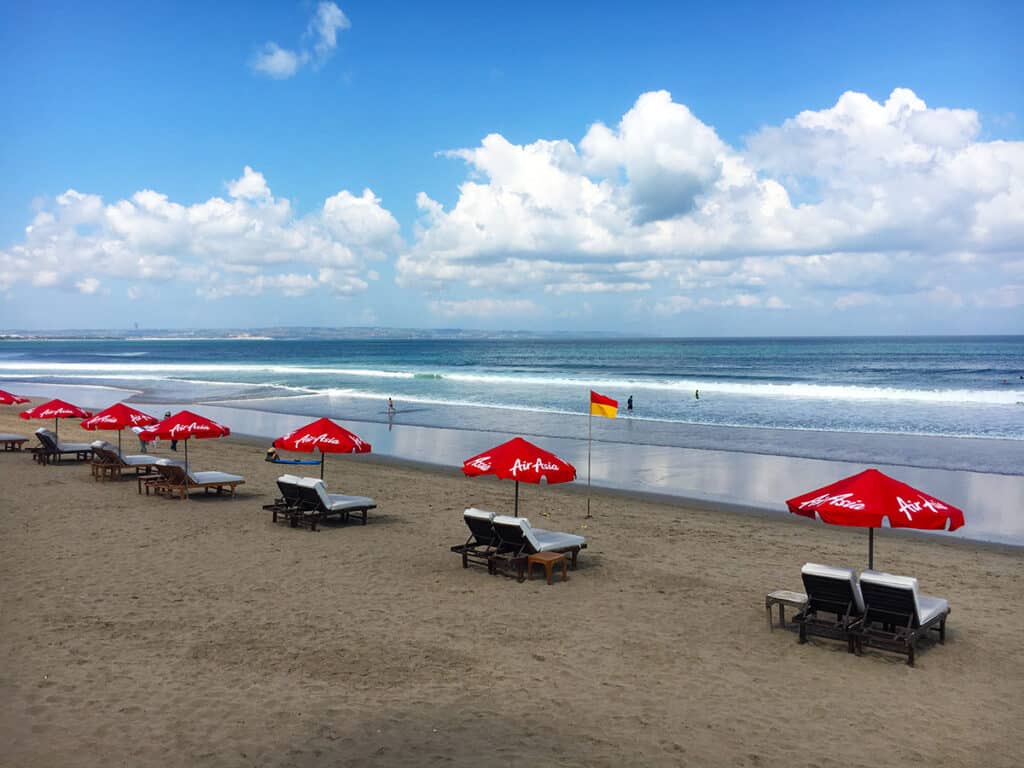 This post covers where to stay in Seminyak for easy walking to eating, drinking, shopping and the beach – and what I'd do differently next time.
Where to stay in Seminyak Bali
Accommodation options are varied and seemingly endless. You have beach front resorts, small hotels, private villas, luxury hotels and Air BnB.
We chose a private pool villa which I was most excited about. This, to me, was what a holiday in Bali was all about.
It was awful! Unfortunately for us it was not up to scratch and we tried to get out of it, but having booked it through Booking.com and liaising with them and the villa owner we ended up reaching an agreement for a discount and the promise that the place would be thoroughly cleaned.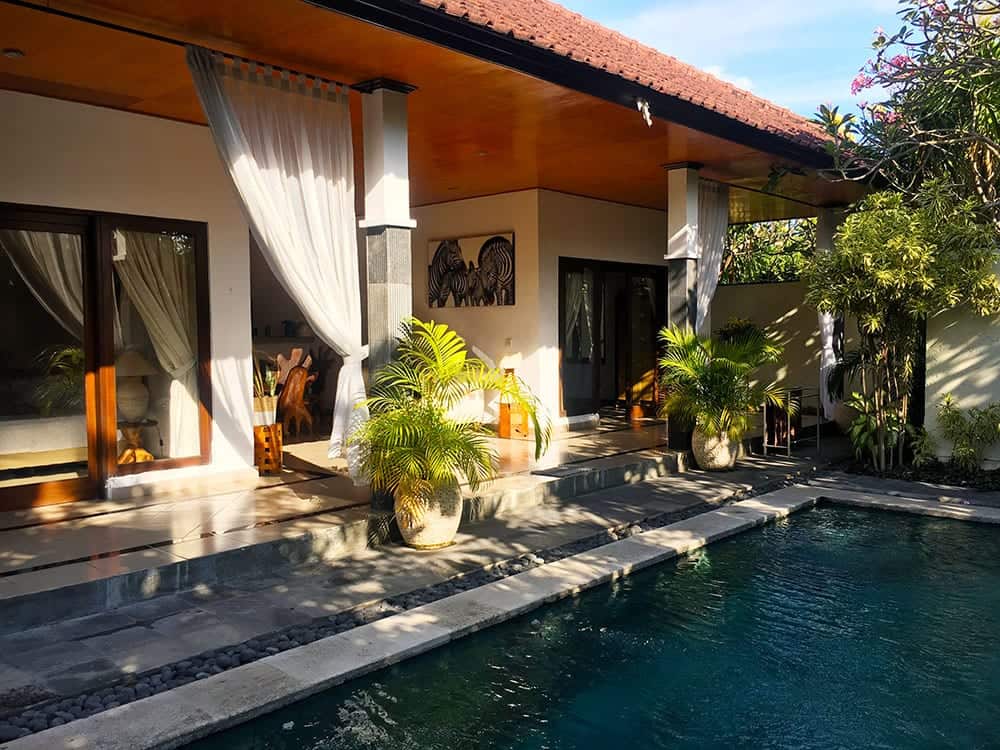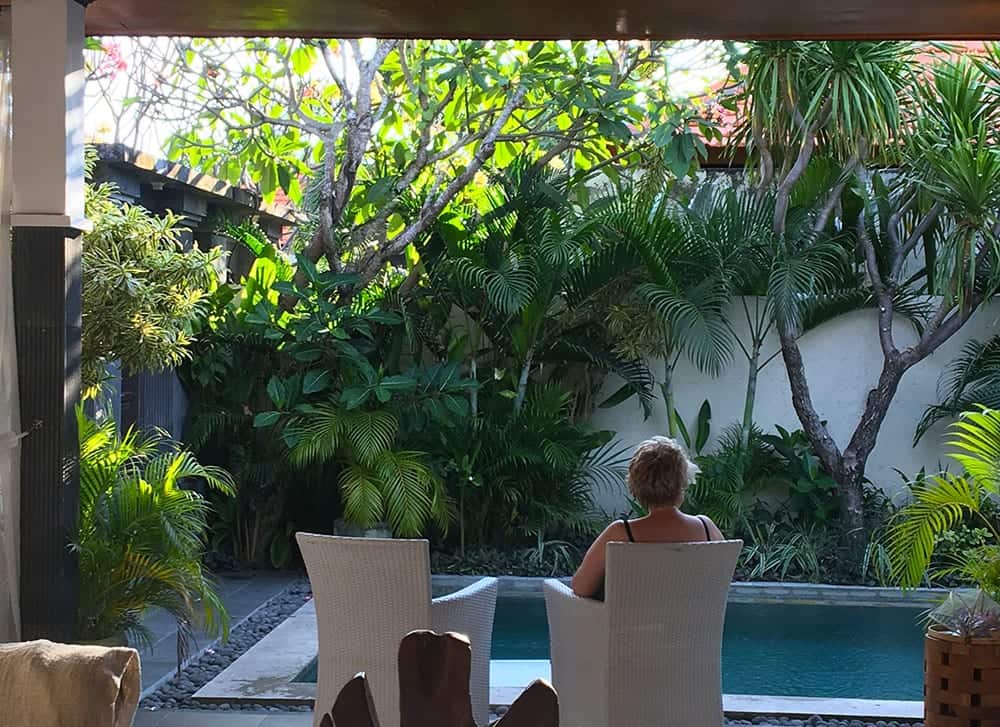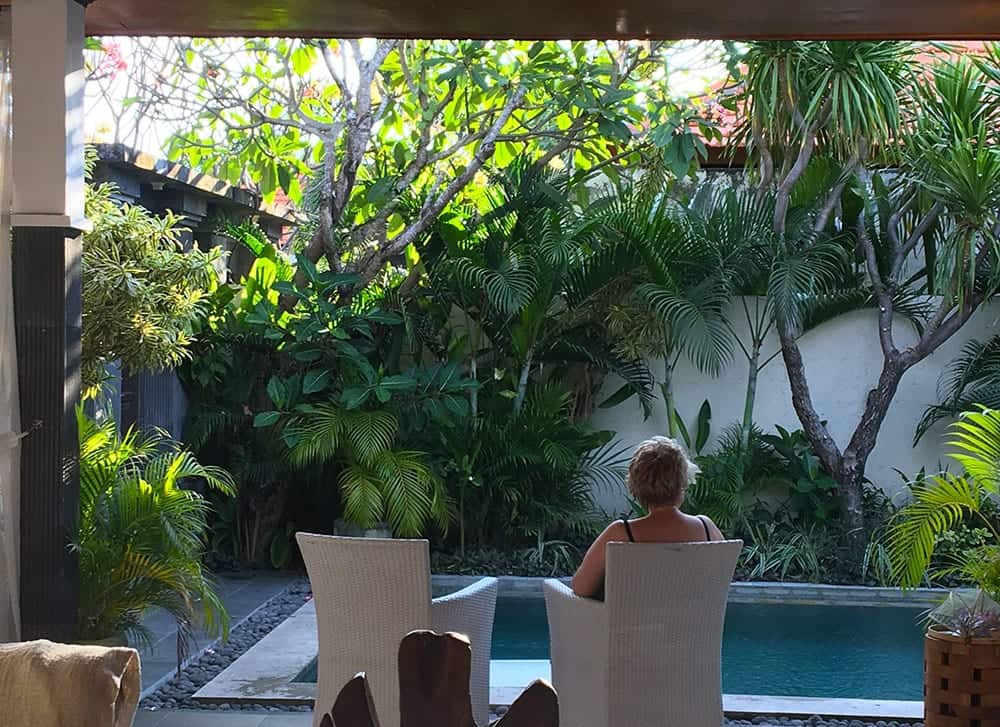 You can read all about that drama here. Suffice to say the cleaner was summoned back the next day but the pink mould remained in the shower and the whole place was just a bit icky.
Fortunately for me Kate is quite OCD when it comes to cleaning so before we poured our wine she'd rewashed everything!
Aside from the uncleanliness, next time we would stay somewhere a bit closer to the action, in the more popular areas (nearer Seminyak Square) rather than walk the 3km each way to and from the shopping centre (where the fabulous Spring Spa is located) and all the boutiques, cafes and markets along the way – and that's before you get to the beach beyond that.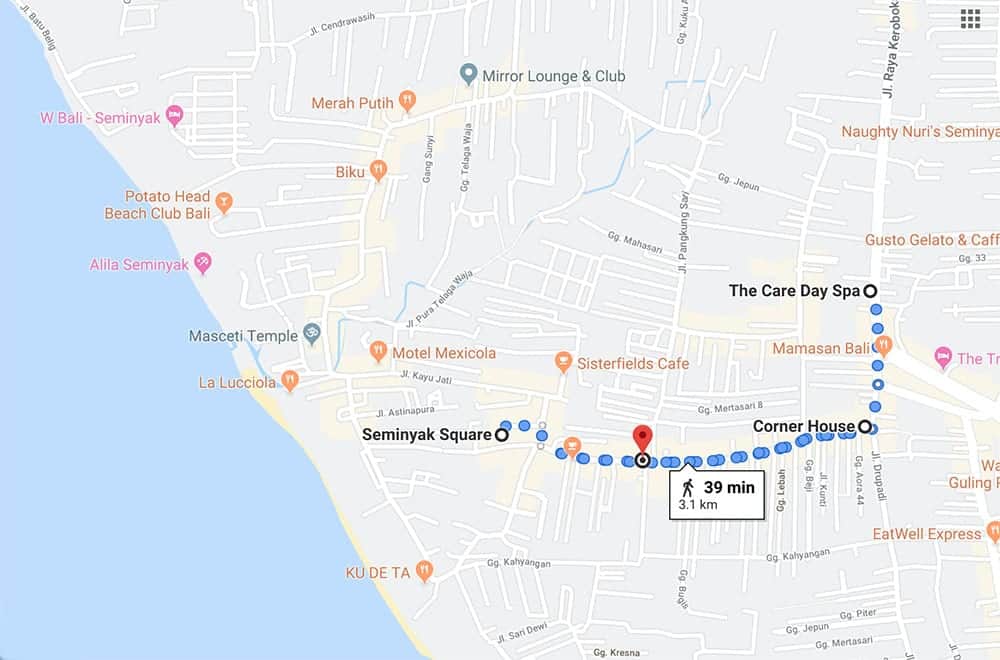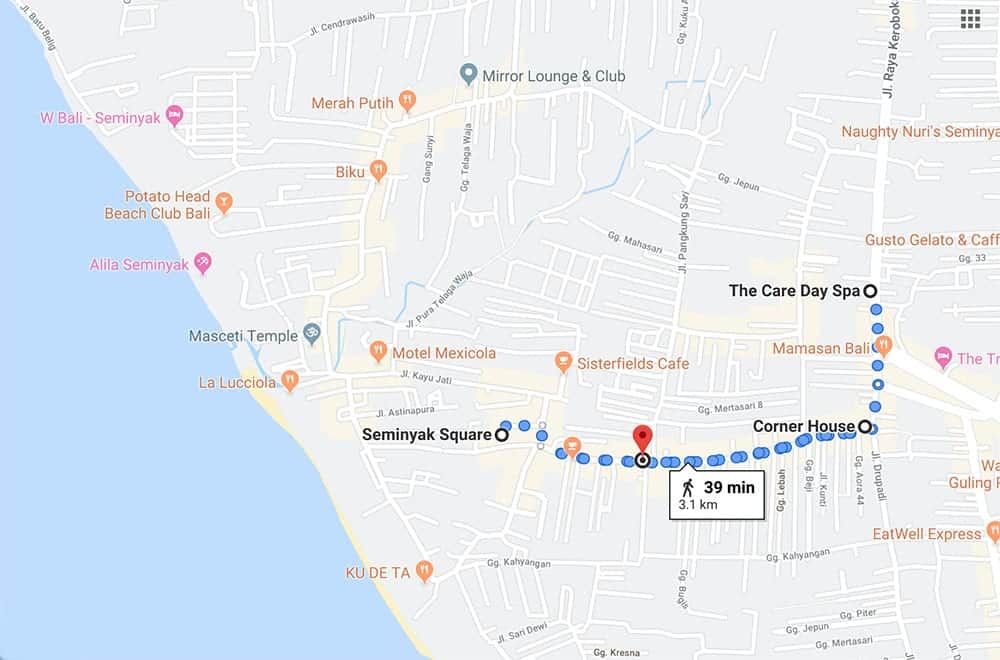 There is a lot of choice in Seminyak for accommodation so you can imagine how disappointed we were with our crusty villa, but after we "chose our attitudes" we came to like it and it really was great having a private pool for evening skinny dips and our own drinks without paying hotel prices plus being able to leave our mess all over the place.
I'd opt for a private villa in Seminyak again, but closer to Seminyak Square (and the great beaches) and I would ask more people for advice next time on their faves.
Next time I will look at one of these villas with a private pool: Bali Aroma and Agata Villas Seminyak and Gracia Bali. They are all 2-bedroom villas, nice and close to the beach as well the main shopping area and reasonably priced.
Where to eat in Seminyak
The variety of food is amazing in Seminyak and at affordable prices too.
Our first taste was a Western breakfast down the road from our villa at Corner House. The milk is long-life but the latte still tasted good. I had smashed avocado with feta and an egg on Day 1 (how very Millennial of me!). Also how very NOT Balinese of me.
Later that day we came upon a Greek restaurant with outdoor tables lining the footpath and someone's halloumi cheese looked amazing so we got a table and ordered fried halloumi sticks and Bintang beer. Getting closer to local dining…
The best restaurant we found was Batik, just along the road from the Greek restaurant (in the map above it has the red pin on it).
This is a lovely colonial style building with an extensive menu covering many ethnicities with great food – you really need at least one nasi goreng. But my fave was the laksa. I have been hankering for it since I've been home!
Batik also does brilliant mojitos (about NZ$12/ US$9) and another time we just stopped in and sat on their street-front veranda cooling off after a hard few hours shopping with a passionfruit mojo.
We stumbled upon Earth Cafe for breakfast and only found it was Vegan when we asked for milk in our coffee and couldn't believe they didn't have dairy. Then we figured it out! But their food was amazing and I would totally recommend it. I had black rice porridge with coconut sugar.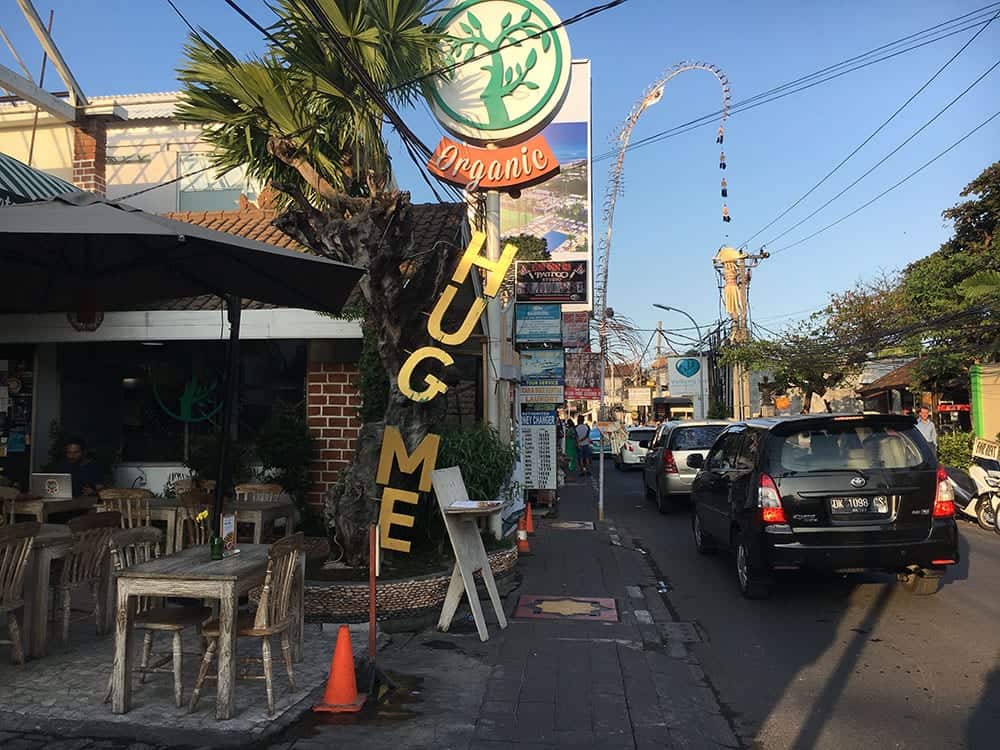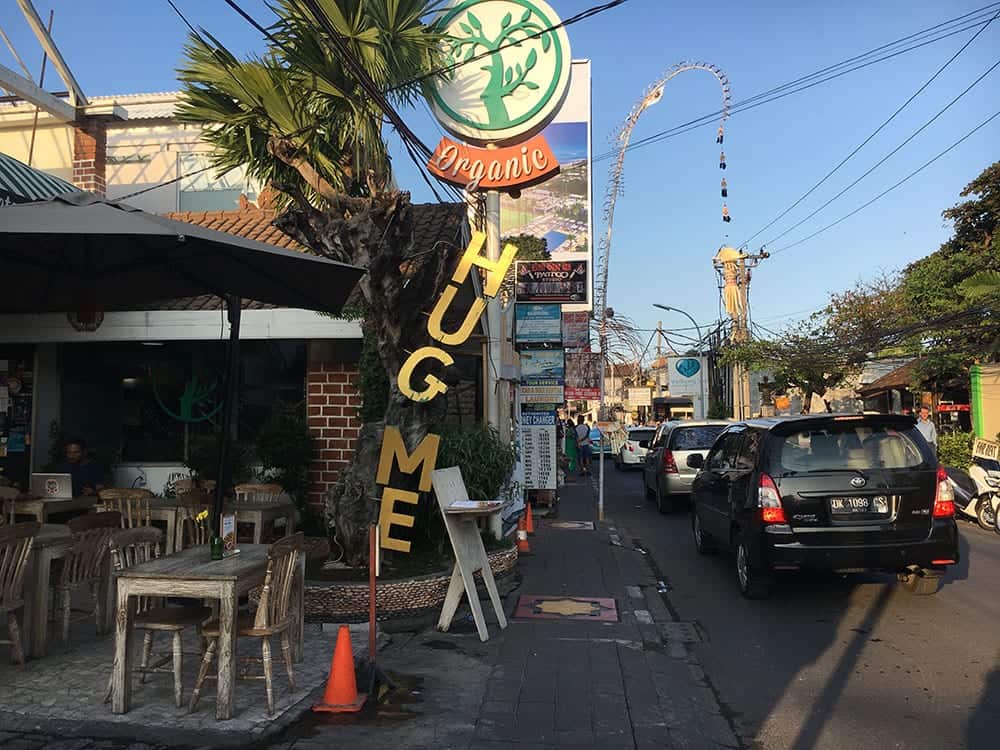 Walk along the beach and you can pop into any of the hotel beach bars and restaurants for a drink or something to eat. We chose Ku de Ta for a melon slushy served in a coconut shell to cool off one afternoon and watched the surfers on the crashing waves in front.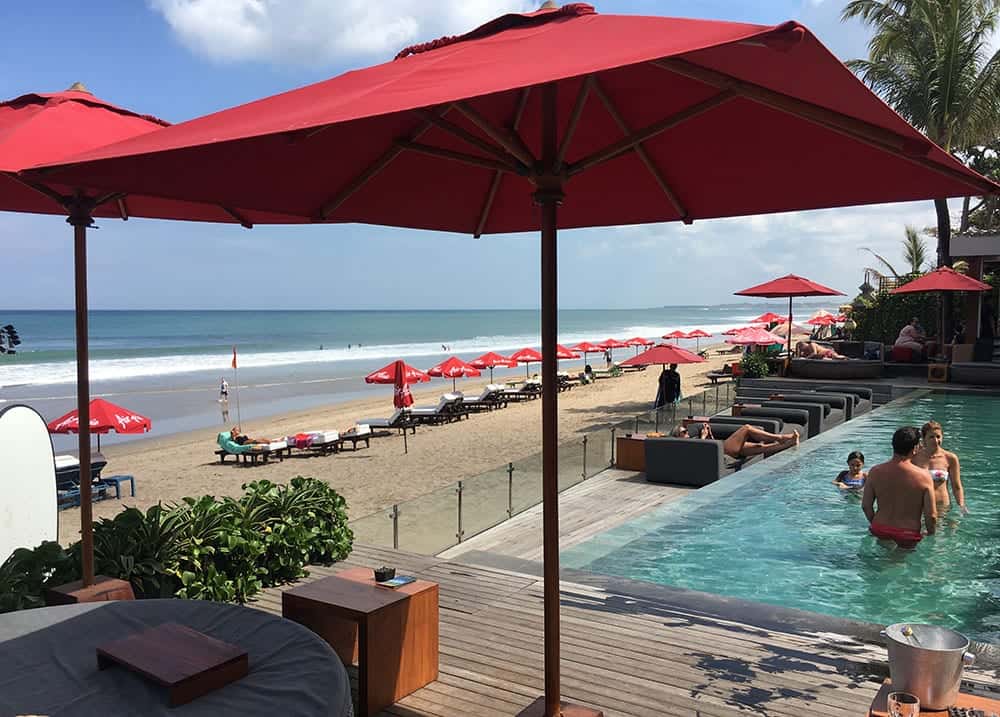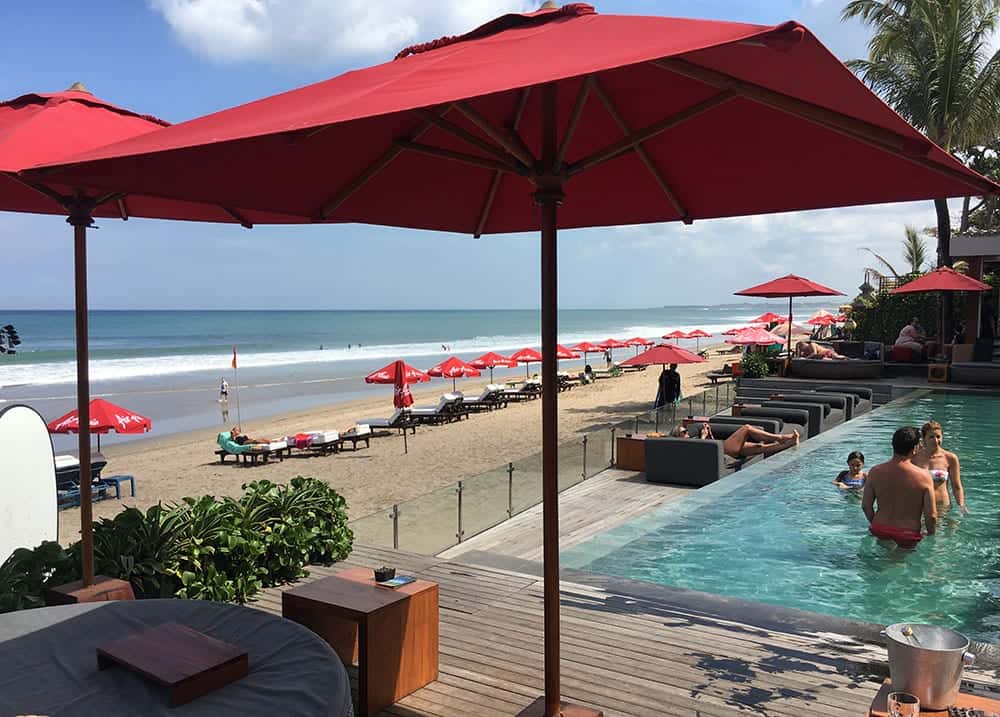 Potato Head Beach Club also deserves a mention, but only because it was SO not us! Everyone who goes to Bali has heard of Potato Head, so we thought we really need to get to this place. It's on the top lists of bars and clubs to visit and is an institution here. What a place!
It is located on Petitenget Beach, a little further north of Seminyak Beach (but easily walkable. The entrance is heavily guarded by security and was the only place we went to that was. Guards opened the taxi doors to see who we were and ran a mirror under the cars creeping up the driveway to the beach front club.
When we got out, we followed the foot traffic through a wooden tunnel to check in, paid our 150,000 (about $NZ15) entry which also entitled us to get that back on our drink/food then in we went.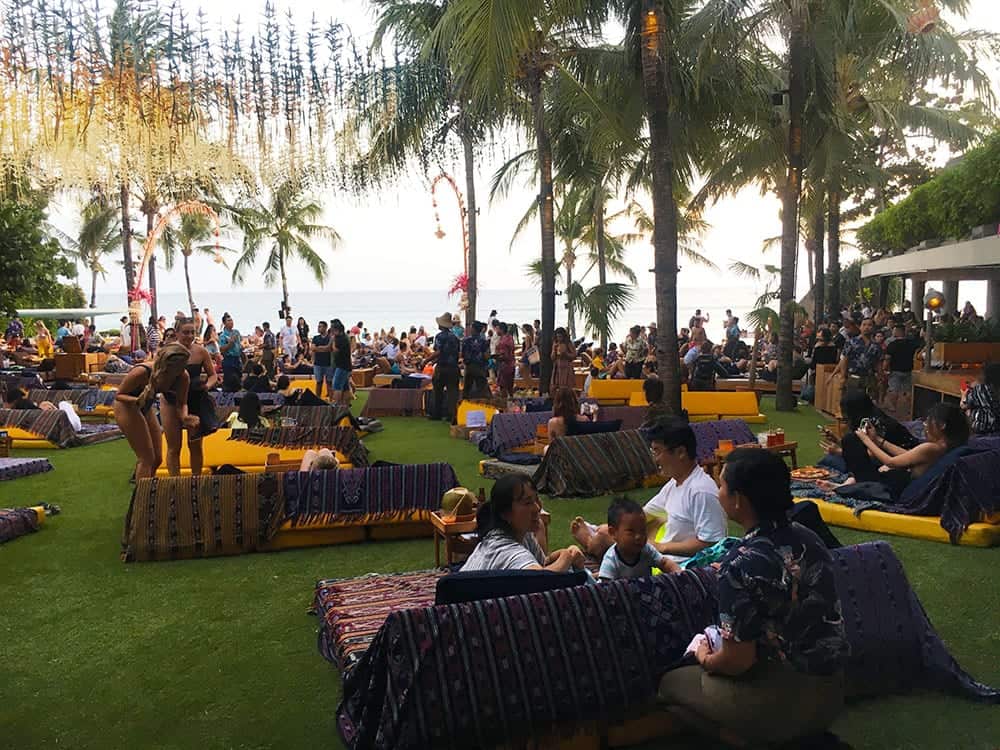 The music, the bodies, the busyness, oh my. And it's not just adults either. Whole groups and families had booked the huge day beds dotted on the astro turf lawn which was their base for the day with waiters bringing food and drinks and kids splashing in the infinity pool.
But beside the toddler in her princess dress are bikini bods and the selfie crowd and around the perimeter is seating and bar tables – for the back row like us without a booking just watching all the action.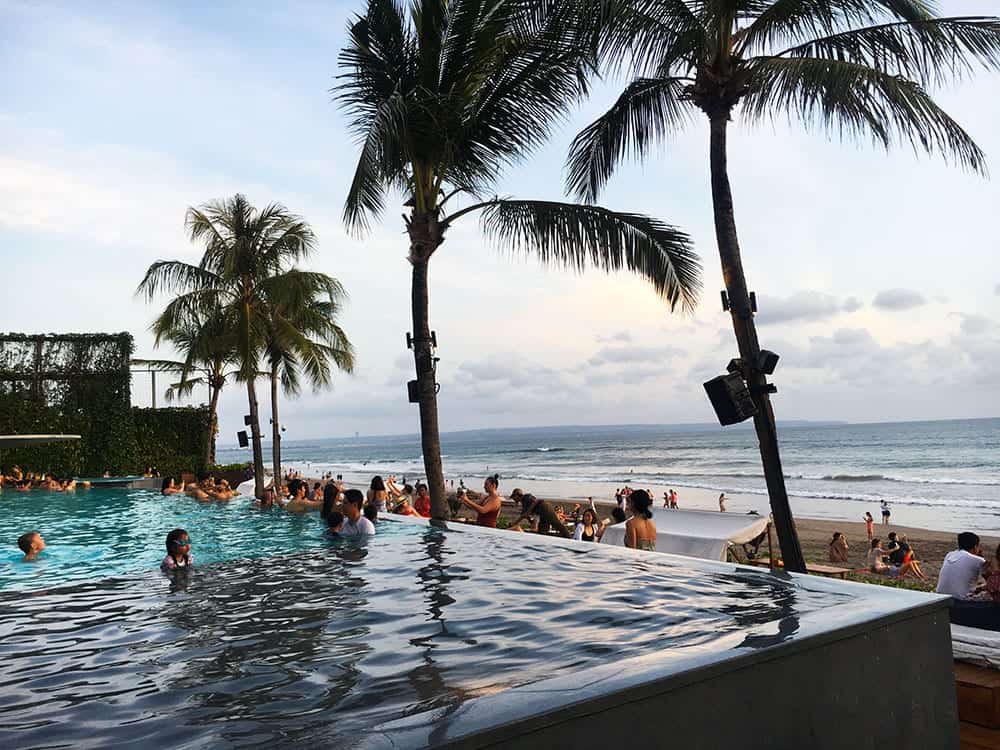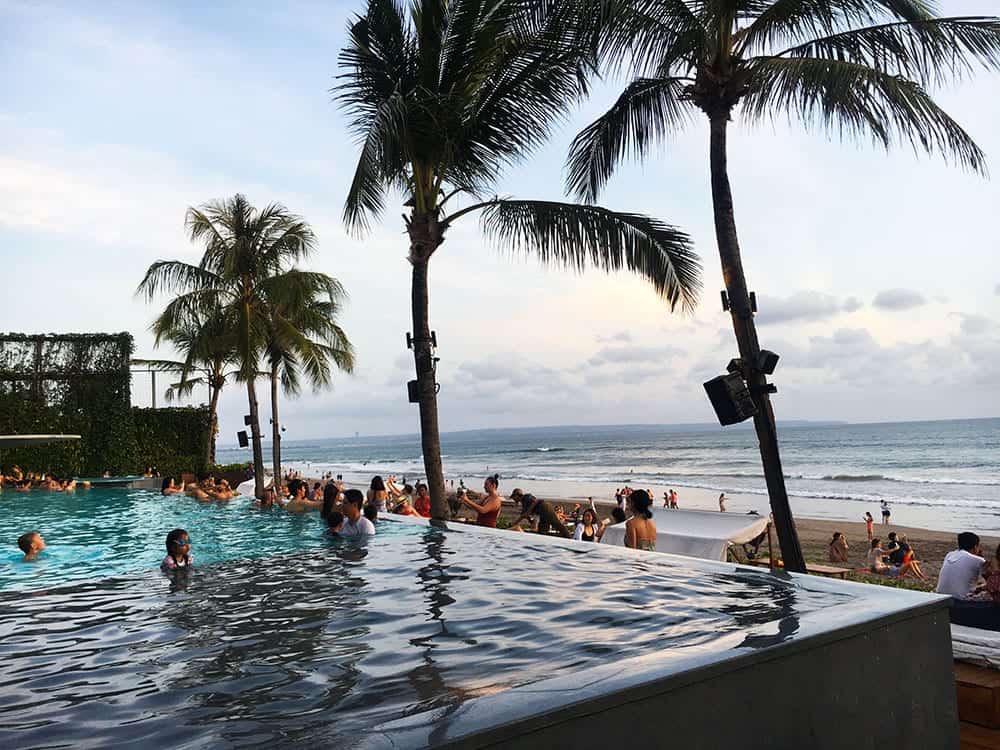 Potato Head is the place to come to be seen. We had one drink, took a few photos of the sunset and the scene then headed down the beach where it is unseen.
Is the tap water safe to drink in Bali?
In a word, no. Do not drink the tap water in Bali. Don't even brush your teeth in it. I have been sick here before with what people fondly call "Bali Belly".
But you will find the restaurants, hotels and reputable bars will only be serving ice from bottled water in your drinks and you don't even need to ask. The trick is to remember to dip your toothbrush into a cup of bottled water rather than under the tap!
Shopping in Seminyak Bali
Bali is a truly great place to shop. I can't wait to come back! And the shopping in Seminyak is my favourite thing to do – ok after a spa treatment and a sunset cocktail. The shops are especially great if you're female (clothes, jewellery, homeware). Probably not too many shops for the blokes, but plenty of bars to plonk them in!
You'll find local boutique jewellers and clothing, Indonesian stores selling the same and a few international stores all down the main street that we walked down every day.
Seminyak Village is the name of the shopping mall and H&M is here as well as shops selling antiques and souvenirs and market stalls in the middle. Spring Spa is on the roof and I visited three times (more on spas below).
Around the village are market style shops selling lots of tassels and wooden beads, sun dresses and hats. Plus the Flea Market which is a tent market with lots of dresses, tunics, jewellery and art.
You'll do more walking than you think with all these shops, so wear a comfy sandal! (Read my recommendation for a great travelling shoe here >)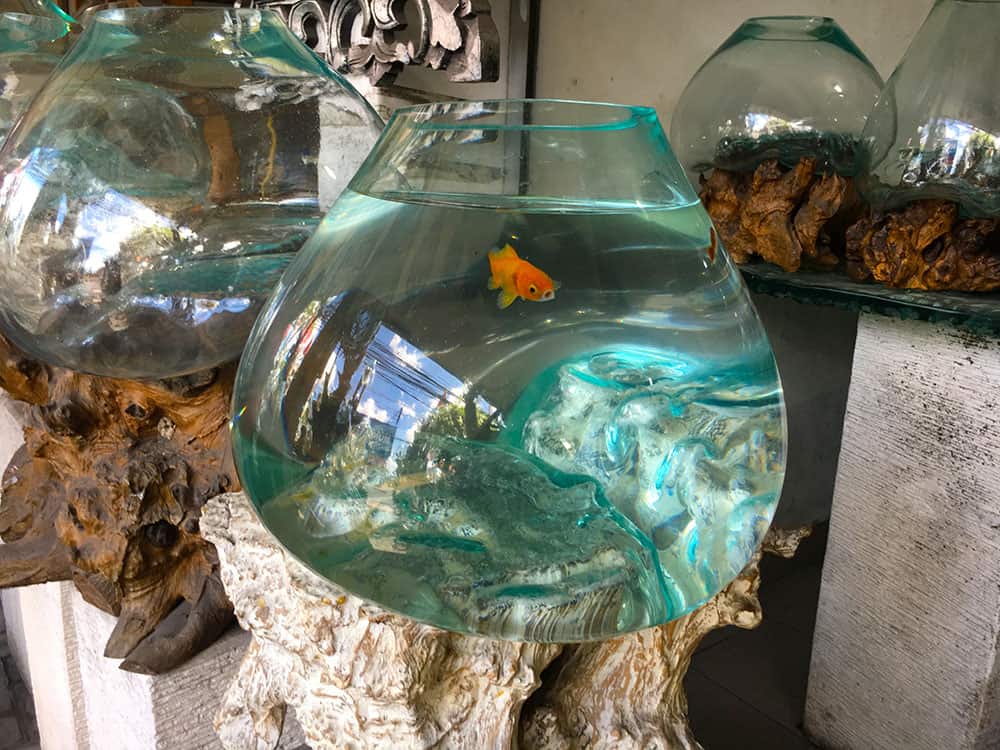 Spas in Seminyak
To be honest, this was the main thing I was looking forward to. The plan was to have a treatment a day: massage, pedicure, hair treatments…
In the end I only managed three times and I went to Spring Spa in the Seminyak Village Mall each time. Mainly because it was highly recommended and after I'd been once, I just went back. I would do it again too.
But you will find massage places all along the road with their staff sitting out front beckoning you in.
I had gone to Bali without a pedicure and my unsightly toenails were in dire need of some TLC. That was my first treatment: an hour long foot massage and pedicure. I can't remember what I paid for that, but Kate had a hair treatment, neck and shoulders massage and a blow dry and it looked so great I had one too and paid about $50 for that. It took more than an hour. Then I booked an hour-long body massage which was about $30.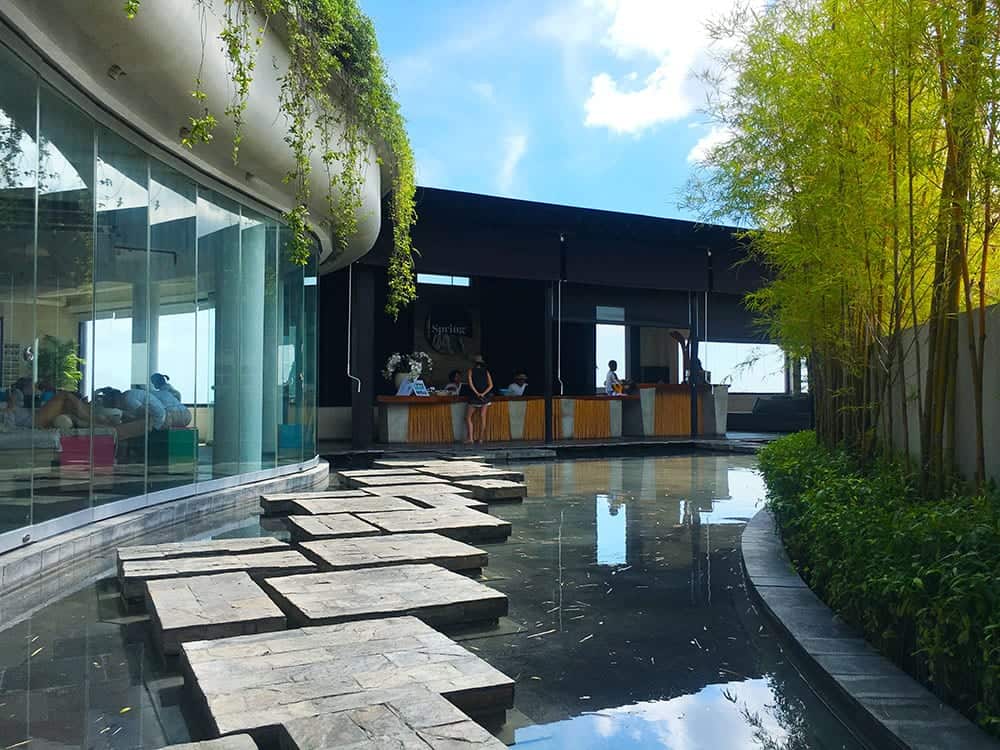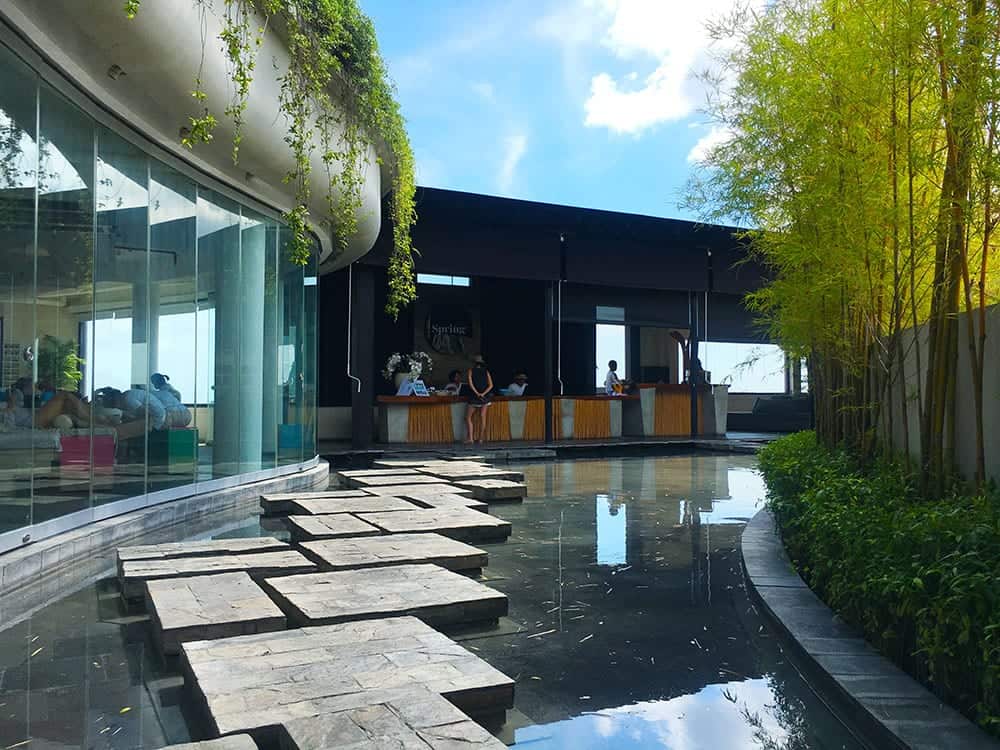 What to wear in Bali
The weather in Bali is not unbearable and when we went (August) it's technically winter, although if you're not Asian you'll laugh when they say they find the 20˚C nights chilly!
That being said, we never put a cardigan/jacket/pashmina on. Each day I wore leggings and a tunic or a dress (see my post for how to avoid chafing in hot climates here!)
I took a pair of good jandals (flip flops/thongs) that have some instep support for my now cured plantar fasciitis and a pair of trainers that I can wear without socks and also get them wet as they are quick drying.
Getting around in Seminyak
Taxis are cheap and are everywhere! They toot their horns all the time as they drive by you in the hopes you just happened to be asking yourself when the taxi might come past.
There are also plenty of motorbike taxis that will throw you on the back and weave through the traffic. I never saw an accident and the only idiots were the tourists gunning it down the crowded road to prove something about their anatomy, one suspects.
We picked up a taxi from near Ku de Ta to go shopping in Legian (the next beach town) one afternoon and it came to less than $2. But most of the time the main road we walked down each day from our villa was jammed with cars so walking was faster.
Tip: Make sure you either request the meter on in your taxi or negotiate a price before you start, there are sharks out there. We were advised to take the Blue Bird taxis (taksi).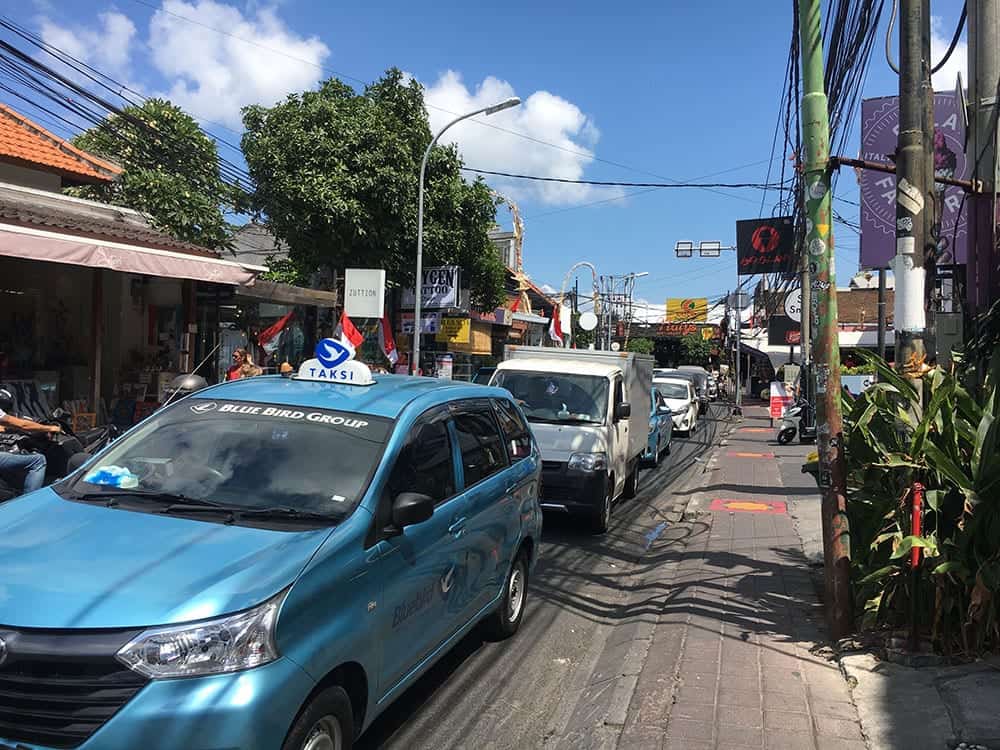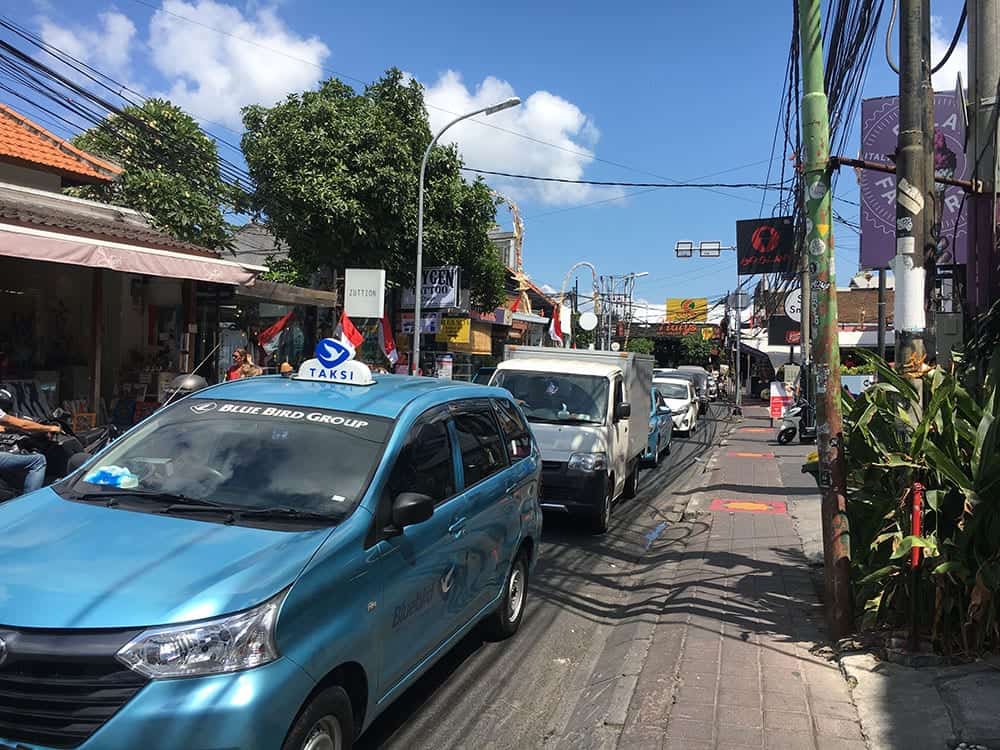 And speaking of walking, the footpaths are not great.
They are narrow and raised about 20-30cm from the road. That means you are constantly stepping up and down off them to get past people. Motorbikes also ride up on them to get past too, although I noticed some clever retailers had put concrete blocks in the way to stop them – which means you need to step over them.
If you had kids in a stroller it'd be very difficult in Seminyak, although people were doing it.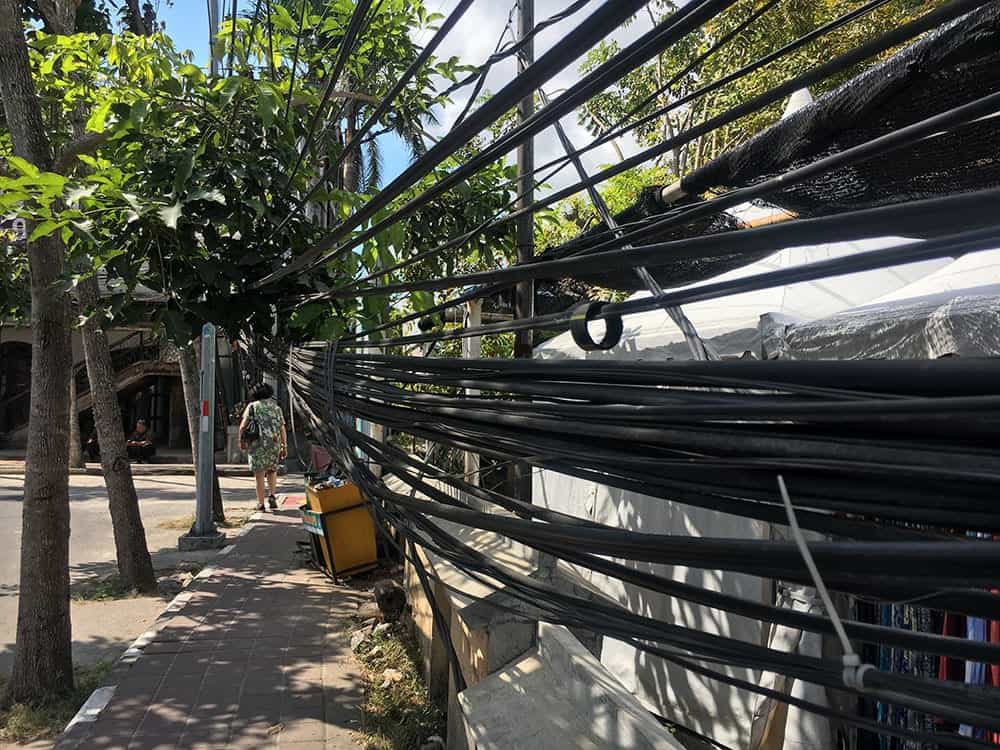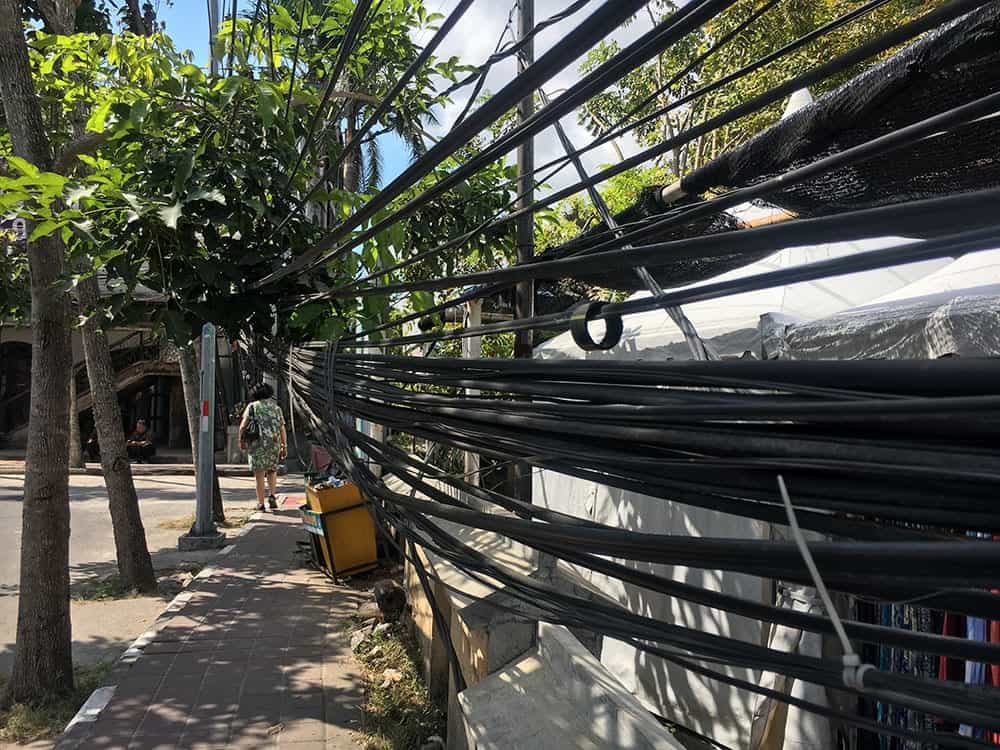 How to cross the road in Bali!
This is something you need to learn as the traffic is constant. Just like all busy Asian cities, the trick in crossing the busy road is to gauge your timing and step out slowly with your hand up in a sort of waving/please stop kind of way. Then be committed.
Do not run and do not suddenly step backward. The bikes and cars will gauge their speed around anticipating yours. No one will toot at you and everyone will be calm.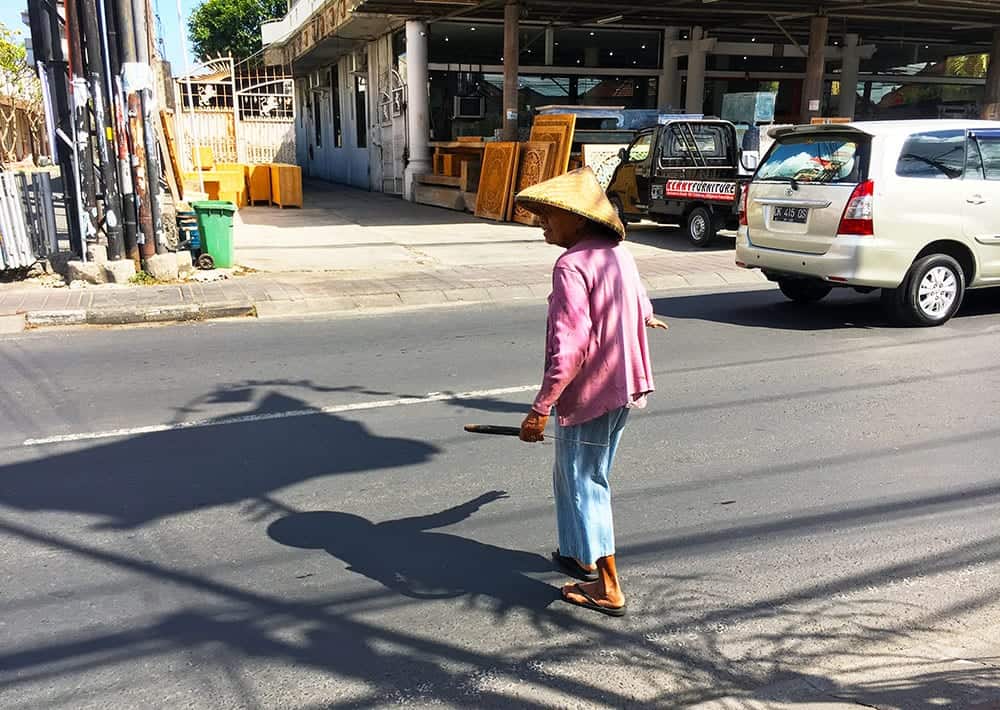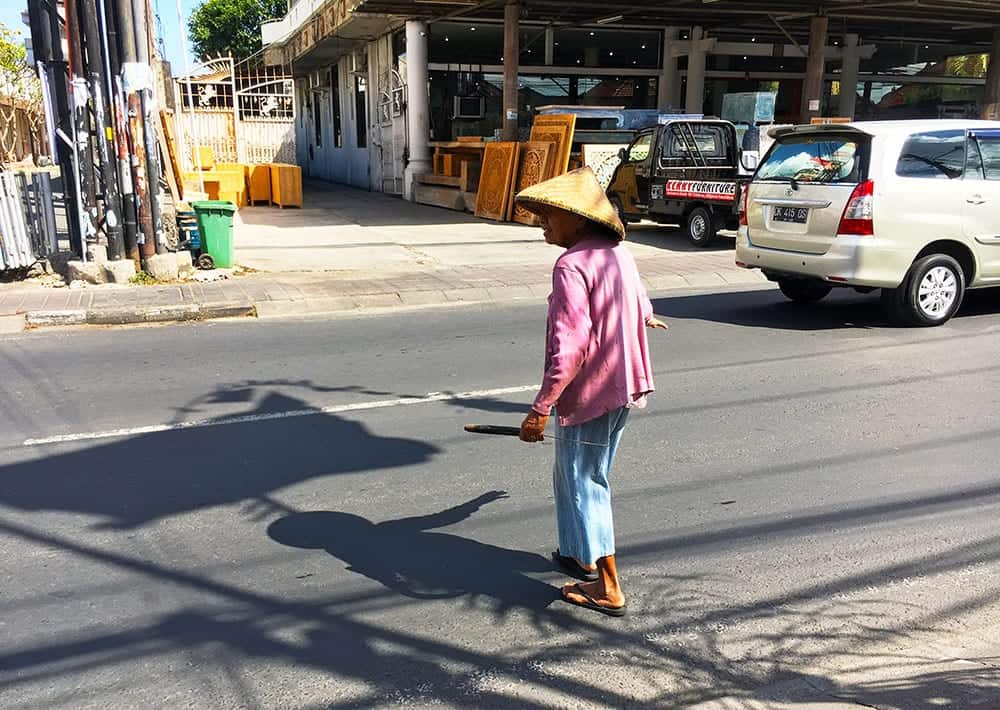 What do things cost in Bali?
Bali is renowned for being cheap – unless you're staying at a luxury hotel or fancy resort!
The currency in Indonesia is the Rupiah and they have way too many zeros! A 100,000 bill is equal to about $10 Australian/NZ dollars (about US$6.50), so you can imagine when you're paying for dinner and you see all the zeros on your bill!
In Seminyak we found cocktails to be around 120,000 (NZ$12), Bintang beer 5,000. A pair of handmade sterling silver hoop earrings 400,000 ($40), sundresses around 20,000. Entry into Potato Head was 150,000 and then we got to spend that at the bar. One million rupiah is only NZ$100 (US$75) and it goes a long way over here.
The best time to go to Bali
The have two seasons in Bali, hot season and rainy season.
Bali rainy season usually (and I say usually because the climate is doing all sorts of strange things these days) is from November to April. That doesn't mean it rains all day either. It might be just over cast and rain for a couple of hours at a time. Occasionally it will be torrential so that's a great time for a two-hour spa treatment! The rainy season also means cheaper accommodation prices, so that can make a visit to Bali during these months quite appealing.
The peak time is July/August – when I went! Temperatures were in the mid to high 20˚s C (75-85˚F). And it's humid. Some days were in the 90% humidity range. It's hot if you're doing loads of walking, but very pleasant for sunbathing and reading a book by the pool.
The best time to visit Bali is probably April, May, June and September, October – before the rainy season and avoiding the peak months. It won't be as busy and you're more likely to get a good deal on accommodation.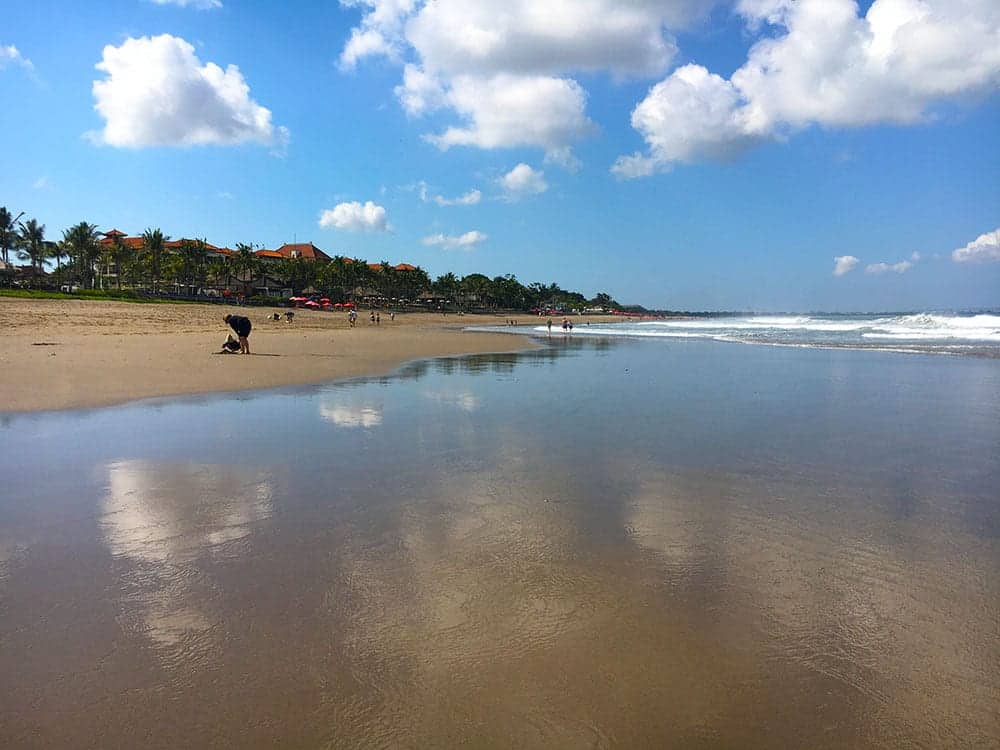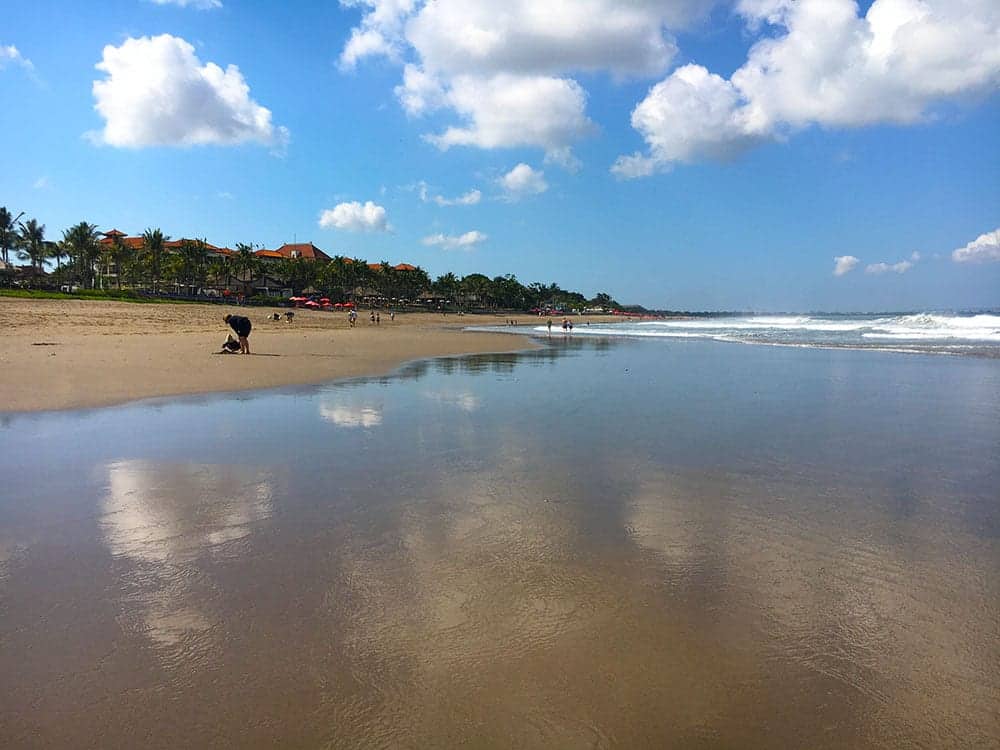 Day trips from Seminyak
We hired a driver/guide and went to Ubud for the day. Diwar tailored our day to suit the things we asked for, so he can do the same for you. Click here to read about our day trip to Ubud.
Another good day trip is to head to Nusa Dua and enjoy lunch in one of the luxury resorts and a cocktail beside an inifinity pool! You'll need to contact them ahead is this is an exclusive part of Bali and you'll need to be on the guest list!