If you're anything like me, you've probably seen some amazing things in your life. Things that really are wonderful. Wonderful wonders, even!
So I'm glad it wasn't me that had to narrow down some of the most astonishing landscapes and natural phenomena on our planet to just seven. But someone did.
So who chose the seven natural wonders of the world? Well, actually, they were chosen by CNN in 1997 through a public vote. Since then, the ancient seven wonders of the world and the new seven wonders of the world, have been added.
So what are the 7 natural wonders of the world?
Aurora Borealis (aka the Northern Lights)
Harbor of Rio de Janeiro, Brazil
Grand Canyon, USA
Great Barrier Reef, Australia
Mount Everest,Nepal
Victoria Falls, Zambia or Zimbabwe
Parícutin, Mexico
How can I see them?
Given that these wonders of nature are all on different continents and it's likely you don't have endless leave nor endless budget for a year of roaming, you'll need to try and group them vaguely geographically and plot out your attack.
For example you could plan a trip to Mexico in Central America to see Paricutin Volcano, then go on down to South America to Rio de Janeiro. Heck you could even try to add in the Grand Canyon to your Americas. Boom, three natural wonders photographed and socially shared in one wild and wonderful trip.
But in all reality, seeing these mighty natural wonders will take years. This post will help you decide which ones to put on your Must-See List first, and where to stay when you do go.
I've been lucky enough to visit four of them so far, three more to go…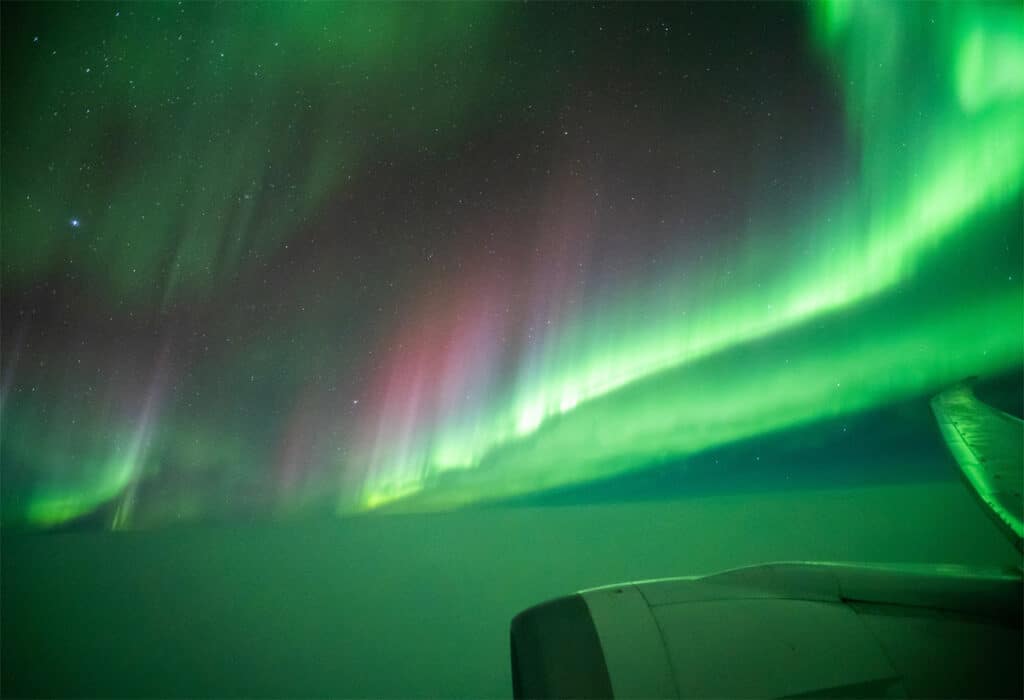 *This post includes affiliate links. That means if you purchase directly from the links, I will make a small commission – at no extra cost to you. Thank you for your support.
Northern Lights
The Northern Lights (Aurora Borealis) have been on my Bucket List ever since I heard about them, many years ago.
I was privileged to be invited on a Southern Lights flight to see the Aurora Australis, out of Christchurch, New Zealand, this year. A 10-hour flight to nowhere, just aurora chasing around the South Pole!
The Air New Zealand plane turned off its navigation lights and we flew in "stealth" mode for the best views of lights that stretch to infinity. If I was going again to see the Southern Hemisphere lights, or going to see them in the Northern Hemisphere, I'd take a quick course in how to photograph the Aurora.
But you don't need to be in the sky to see the Northern Lights, because they are dancing over northern hemisphere land. Lots of land. And lots of places to see them from.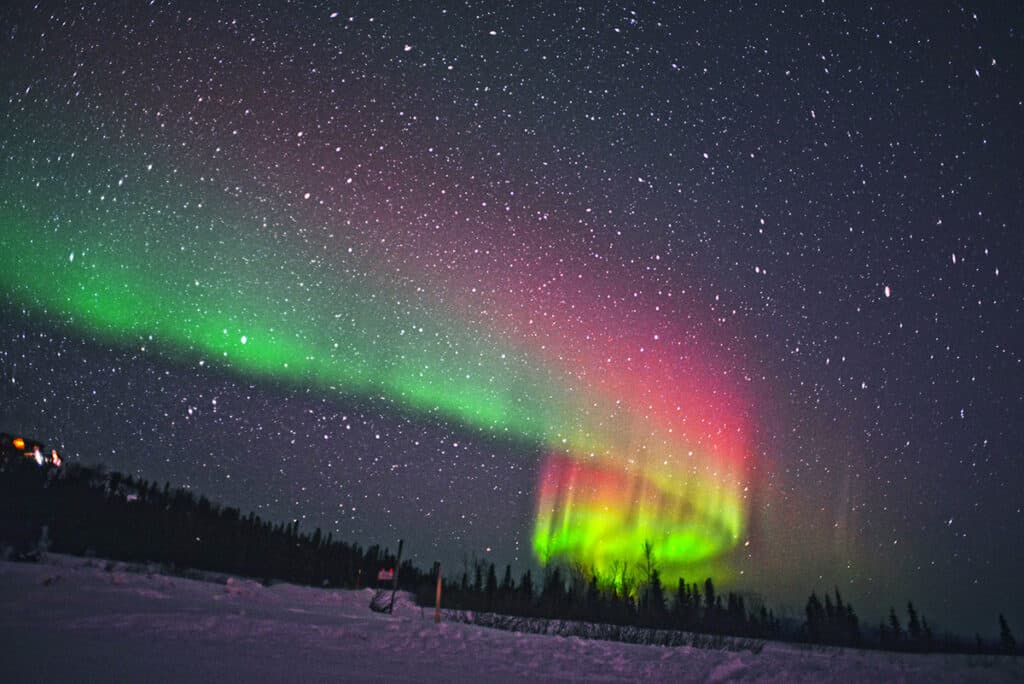 The auroras happen year round, but are only seen clearly during the deep night sky of winter. The best time to see the Northern Lights are between November and February in the Arctic Circle.
What causes the aurora? The aurora is caused by a solar storm blasting from the sun releasing gaseous particles into the Earth's atmosphere and as we have two magnetic fields, at the north and south poles, those particles get swept down causing the amazing light show – in lay terms! For the full NASA explanation and a diagram, click here.
How to get to the Northern Lights
There are several places from which to view the Aurora Borealis, so it's best to pick a destination that you'd be happy to visit for a week – because since you are not flying around above the clouds, if the weather is yuck, you might go all that way and not get to see them.
Your best places to view the Northern Lights are in the Arctic Circle which covers Norway, Sweden, Iceland, Finland, Greenland, Canada and Alaska.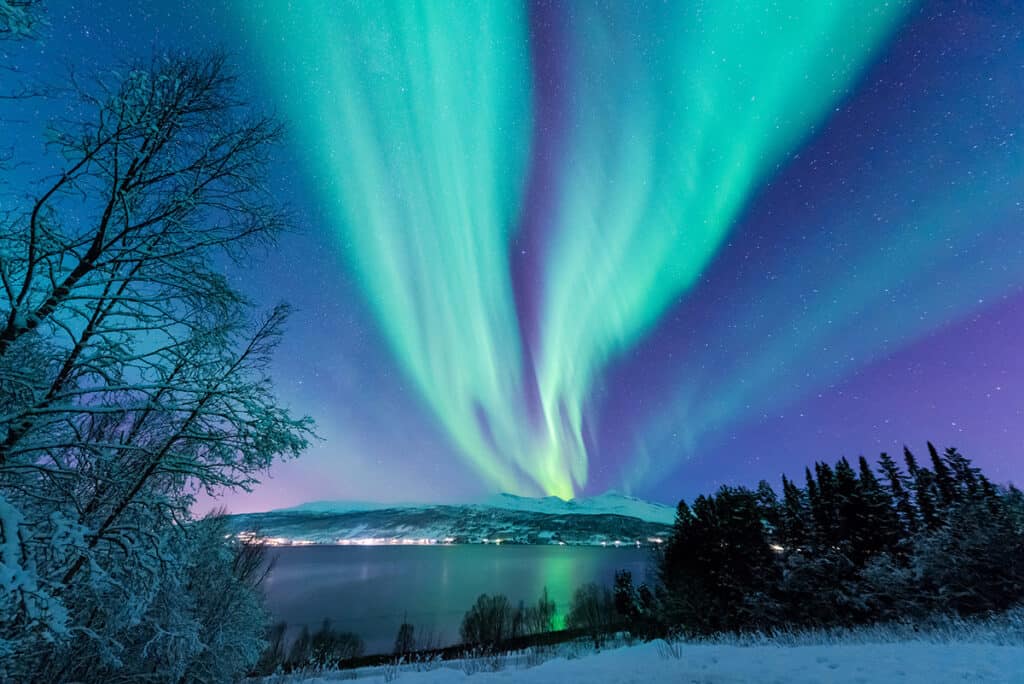 Where to stay to see the Northern Lights
On my Polar Lights Bucket List is one of those glass igloos in Finland (not to be mistaken for an ice igloo hotel!) This is my ideal scenario.
If you plan to see it from Alaska, this is the Alaska aurora forecast site.
---
Harbor of Rio de Janeiro
Rio de Janeiro translates to River of January. It was discovered by the Portuguese in January 1502 and of course, like all good conquerors, they re-named it. Its real name is Guanabara Bay, meaning the bosom of sea.
The irony is, it isn't a river at all, but the world's largest natural bay, surrounded by granite mountains with the Atlantic Ocean lapping on its doorstep. It's 19 miles (30 km) long and 17 miles (11 km) wide at its widest, hence it making this list.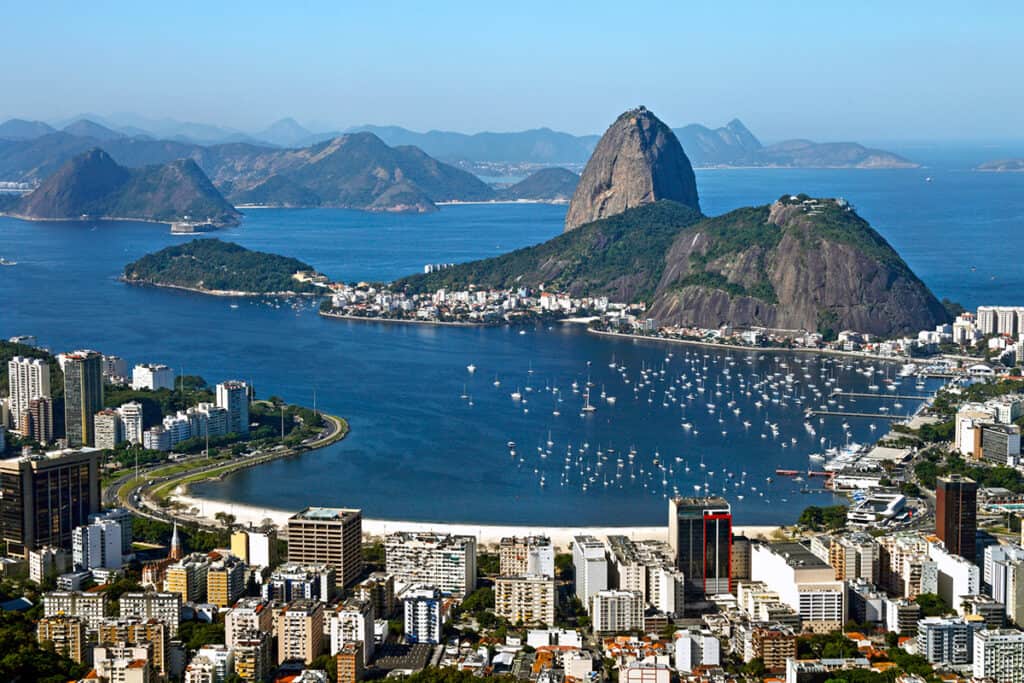 In the 1700's gold and diamonds were discovered nearby and Rio de Janeiro became an important port for exports.
Rio is Brazil's biggest tourist destination and receives more visitors than any other South American city. It has 80km of beaches, a famous nightlife and its most famous statue, Christ the Redeemer, is on the 7 new wonders of the world list.
Where to stay in Rio de Janeiro
Fairmont Rio de Janeiro is the number 1 rated hotel, with its infinity pool dropping in to the harbour view, walking distance to Ipanema, and right on Copacabana Beach.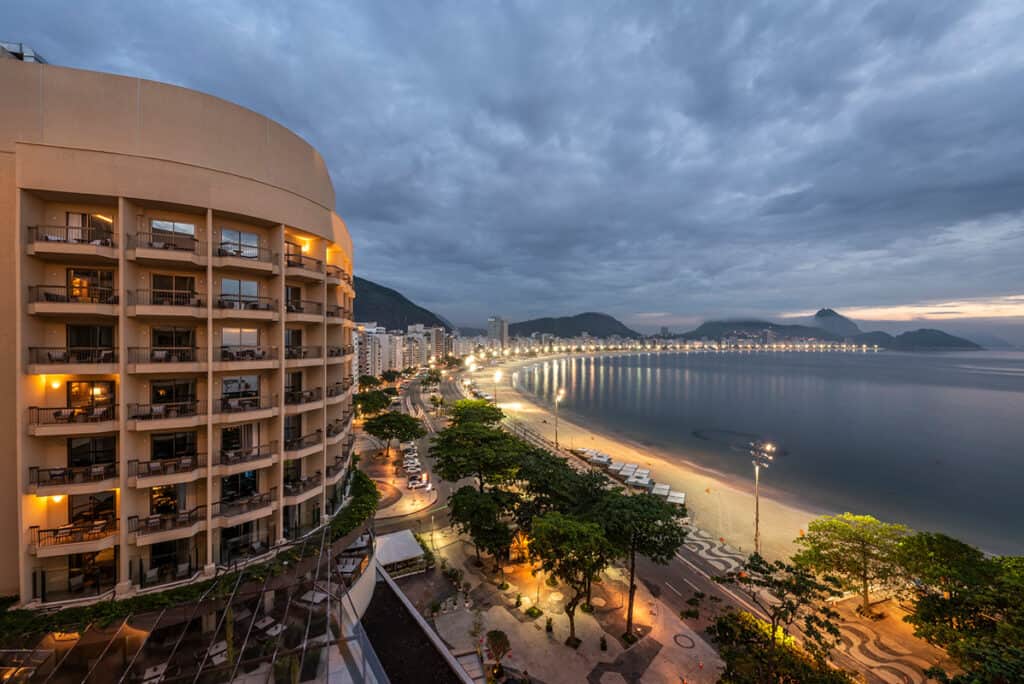 ---
Grand Canyon
The only "wonder of the world" in North America is the Grand Canyon, which really needs to be seen from down the bottom at sea level as well as at the top on the rim to grasp its full grandeur.
You might want to combine it with a few fun days in Las Vegas, Nevada, and then drive cross the Colorado River (over the engineering marvel that is the Hoover Dam) into Arizona to see the canyon.
Formed by the upward shifting of the tectonic plates and cut by millennia of the Colorado River rushing through, it is now a breathtaking valley of mile-high red rock walls striped with different colours as the rock geology changes.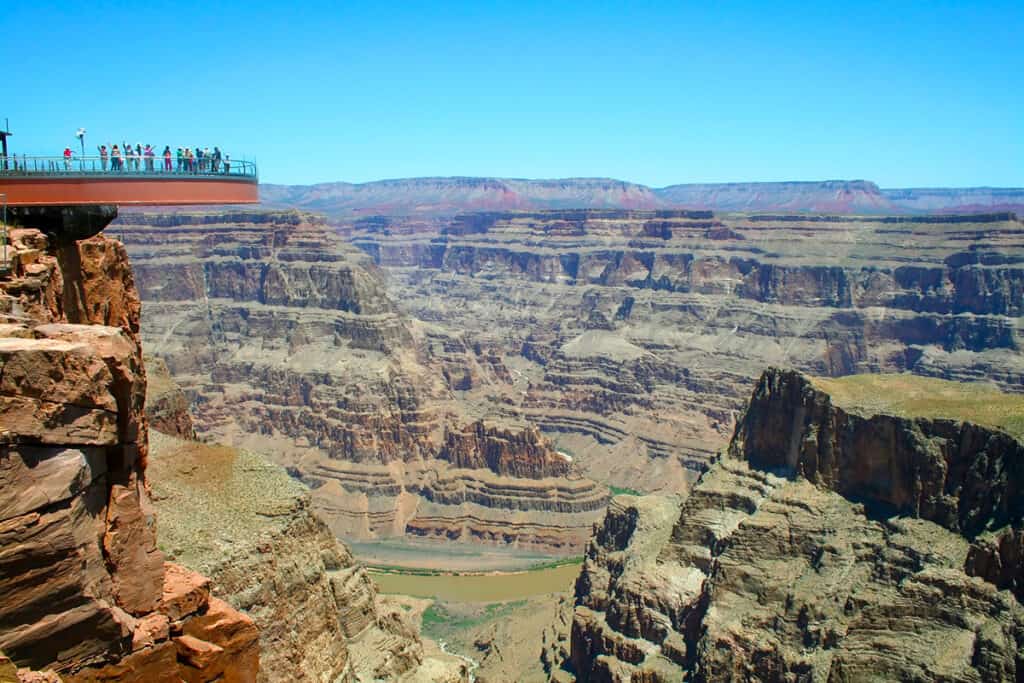 Interestingly, the Kaibab limestone, the uppermost layer of rock, was actually formed at the bottom of the ocean but is found here at elevations up to 9,000 feet (nearly two miles high!) If you're as geeky about the Grand Canyon as I am and want to know all the science, click here to the NPS and burrow down that rabbit hole!
When is the best time to visit the Grand Canyon?
Temperatures are soaringly hot in summer and it can get to freezing in winter. The last time I visited was fall and this is such a lovely time to get out and explore. Best time to visit is around October or March.
Where to stay to see the Grand Canyon?
You can stay at hotels within Grand Canyon National Park. There are several 1 and 2 star hotels, as well as higher end properties and amazing glamping pods under the stars!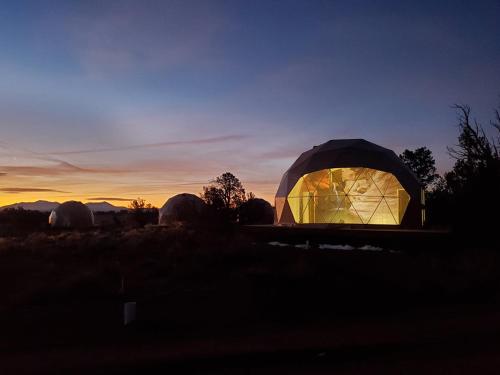 How to get to the Grand Canyon
You could add a few fun days in Las Vegas if you want another extreme (think glitz and over the top hotels and attractions!), but if it's just Grand Canyon National Park you're wanting to see, rent a car through Discover Cars, which list all the car companies and their prices on one page, from Las Vegas Airport and head out of dodge.
You'll need a National Parks pass ($25) to enter the Grand Canyon, unless you're on a tour from Las Vegas for example. If you plan to visit more than three national or state parks in the US in a year, buy an annual pass for $80, which gives you access to everywhere in the entire United States for 12 months.
Or take a Grand Canyon tour from Las Vegas. There are helicopter tours that include taking you to the canyon floor and lunch, bus tours that pick up from hotels and fixed-wing plane flights then a bus to the western rim.
---
Mount Everest
You might be delighted to know that you don't have to hike up the world's highest mountain, Mt Everest, to tick this one off the list!
I was volunteering in Pokhara, Nepal in 2017 (and wrote this post on Things to Know Before You Go to Pokhara) and at the end of that two week visit, I added on a couple of extra days in Kathmandu. What an eye-opener that city is! Traffic everywhere, animals wandering on the dirt roads, stall owners smiling and selling their wares.
I had booked a flight-seeing trip over the Himalayas to the tallest mountain in the world, Mt Everest. I was picked up at my hotel and it only took about an hour flying over the vast range of monstrous snow-covered mountains until we got to the highest of all – Mt Everest.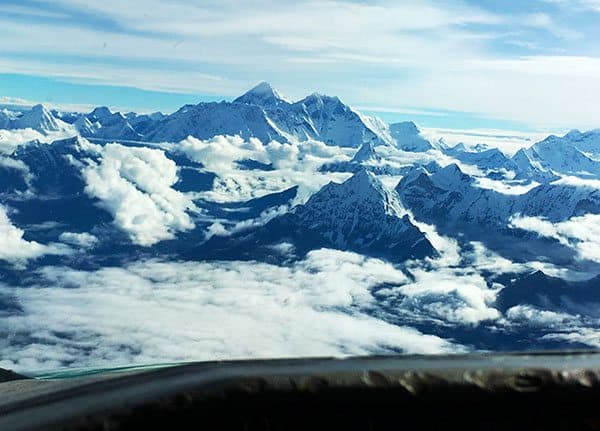 We were also each allowed a turn to step into the cockpit for full frontal views of the famous mountain – that New Zealander Edmund Hilary and his Nepali sherper Tenzing Norgay, climbed in 1953. It was the first time a westerner had "knocked the bugger off", in Sir Ed's words.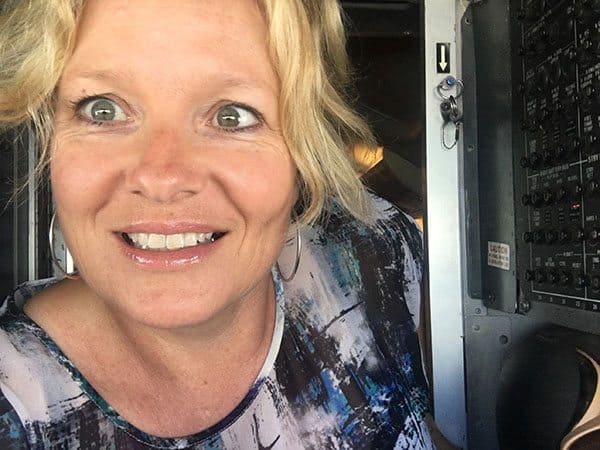 If you want to see Everest base camp without the hiking, you can also take a flight and land at this amazing part of the planet without breaking a sweat.
How to get to Mt Everest
If you want to fly over the stunning Himalayan mountain range from Nepal, check flights to Kathmandu. Accommodation is also super cheap and the markets and the food are good fun.
Check out Kathmandu accommodation options on Agoda.
---
Great Barrier Reef, Australia
For years they've been saying that the largest coral reef system in the world is dying due to climate chance.
So it's exciting to read latest scientific analysis that shows that while there has been a lot of coral bleaching due to warmer water over the past few years, the Great Barrier Reef coral is currently growing back.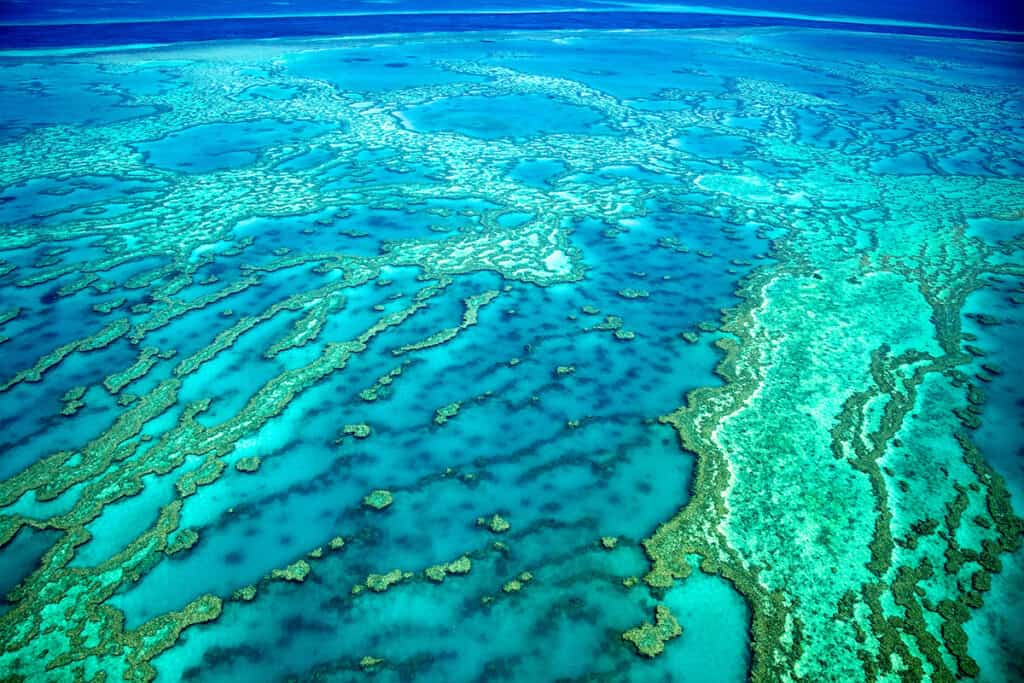 This enormous reef stretches 900km off the coast of Queensland, Australia and it's made up of living organisms of hard and soft corals. But there are also little islands with hotels on them, so you can actually stay on the reef rather than take day trips from the mainland.
Incidentally, George Clooney and Julia Roberts filmed Ticket to Paradise in the Whitsundays, Hamilton Island and other locations around the Barrier Reef and Queensland – pretending it was Bali.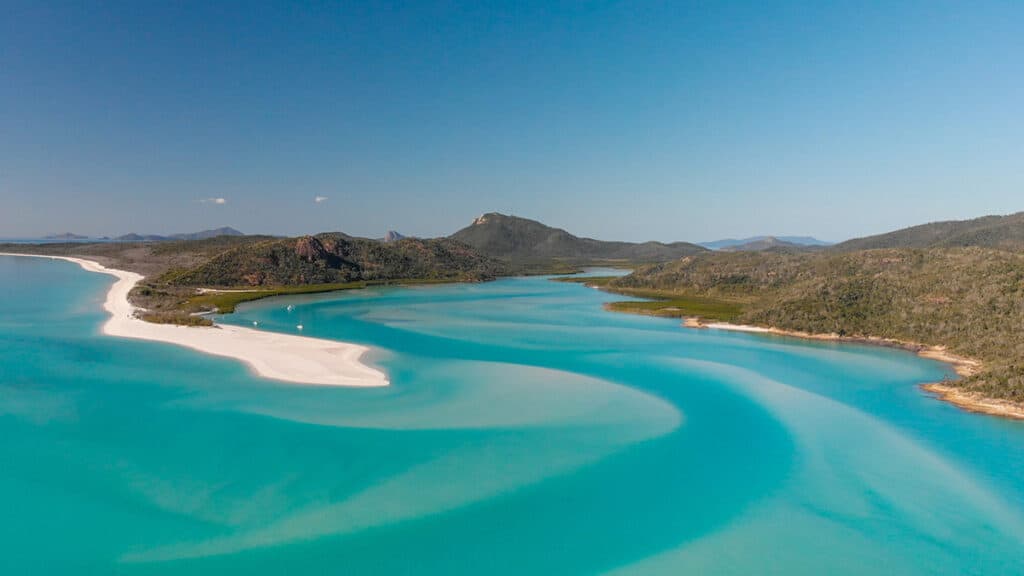 Where to stay on the Great Barrier Reef
Daydream Island Resort in the Whitsundays
qualia, on Hamilton Island
Fitzroy Island Resort in Cairns
Lizard Island Resort is all-inclusive
Lady Elliott Eco Resort. Calling it an eco "resort" is a bit of a misnomer. I've stayed here and it's very rustic. But that's what's lovely about it. No fancy frills, just get in the water and have a look around, or photograph the funny looking Noddies.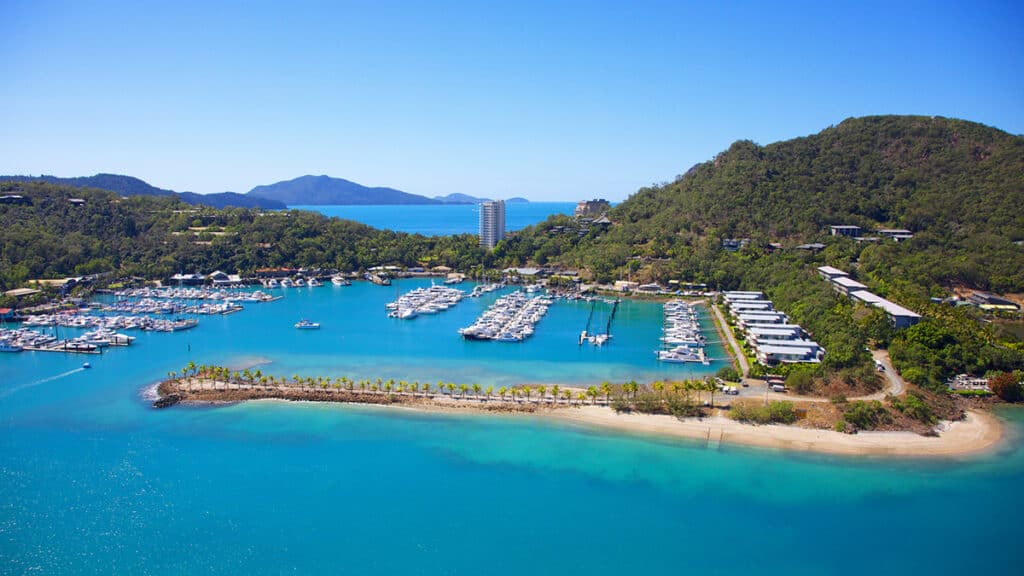 ---
Victoria Falls
I was fortunate to visit the mighty Victoria Falls from the Zambia side, in southern Africa, in 2010. It was dry season and we were able to walk out to Livingstone Island ("Dr Livingstone, I presume?" – yes), which is usually unreachable under the forceful current of the Zambezi River.
When it's dry like this, you can walk out and jump into the Devil's Pool, a small "pool" on the very edge of the falls as they literally drop 100m beside you. Umm, no!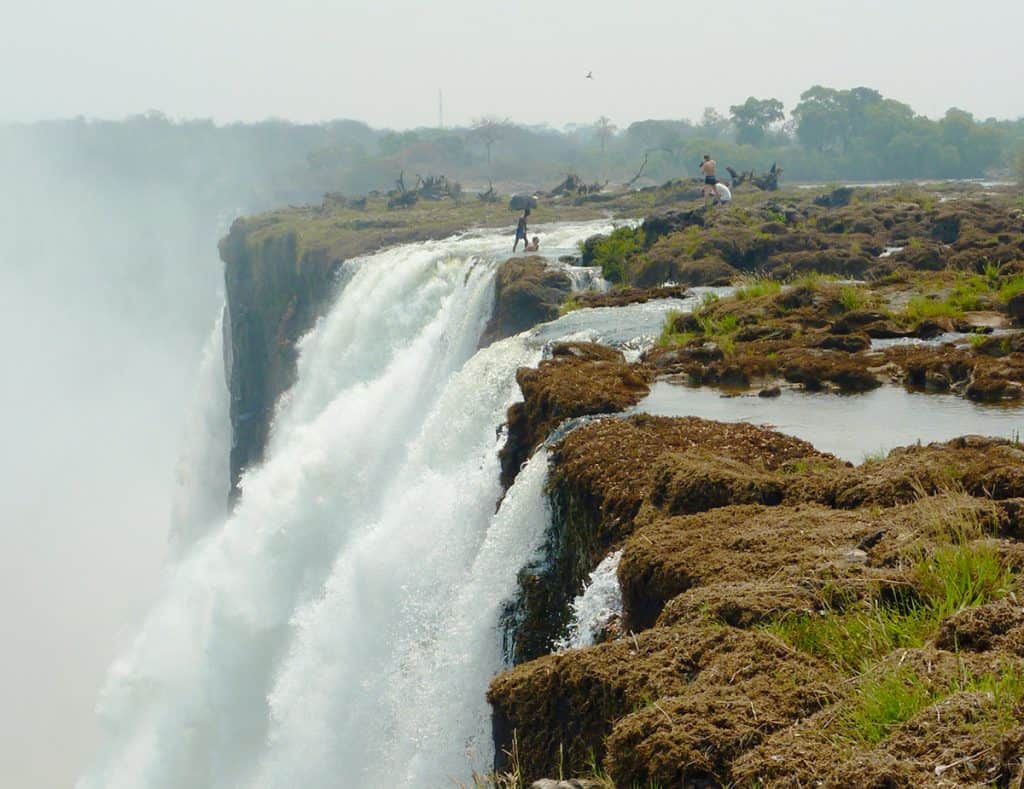 It made me so anxious just watching these fearless (actually I think a couple of them look fearful) tourists go out with two local guides to the Devil's Pool then jump. I made a video in the link above.
The Victoria Falls are almost twice the height of the Niagara Falls at 354 ft (108 metres). Niagara is 51 metres.
Zambezi River gushes over the edge creating the largest waterfall in the world and divides Zimbabwe from Zambia.
Named (again) by another white explorer, the Victoria Falls are locally known as Mosi-oa-Tunya falls, it means The Smoke That Thunders, and you can see the mist from miles away.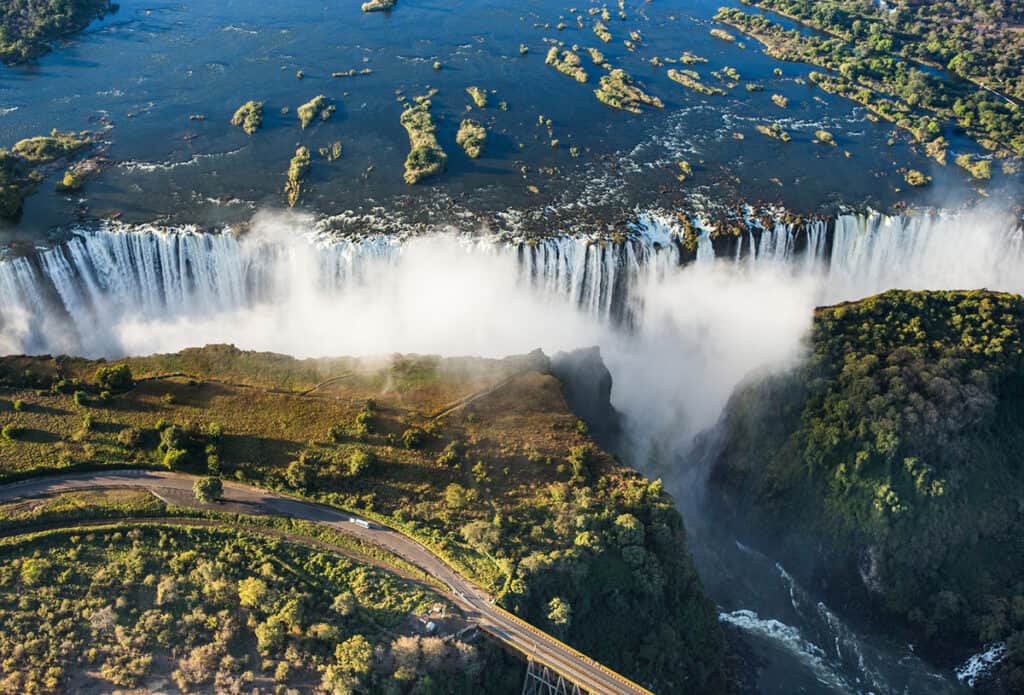 Where to stay to see the Victoria Falls
We stayed at the beautiful Royal Livingstone Resort, right on the edge of the Zambezi.
I took photos of zebra grazing around the pool area on dusk and it's just a short walk to the falls. Walk quietly and you'll see giraffe nibbling at leaves high in the trees right beside you, and other incredible African wildlife.
The river's edge is lined with large jagged rocks to stop the soft-footed hippopotamus and elephant from wandering in while you're having your sundowner gin and tonic!

---
Parícutin volcano, Mexico
I confess I hadn't heard of this place until I started putting this post together. I've been to Chichen Itza, where I learned about quite possibly the cruelest game ever invented. Incidentally, Chichen Itza is listed as one of the "new" 7 wonders of the world, but Parícutin volcano is a cone volcano located about 200 miles west of Mexico City.
Mexico has 77 volcanoes, 48 that are considered active, but what makes Paricutin Volcano so special is it erupted suddenly from a cornfield in 1942, giving the farmer quite a start I would imagine.
When he first saw it, it was 10m cone bursting out of his paddock. By lunchtime it was at 50m and within a week was 150m high. Its cinder cone is now 2800m above sea level.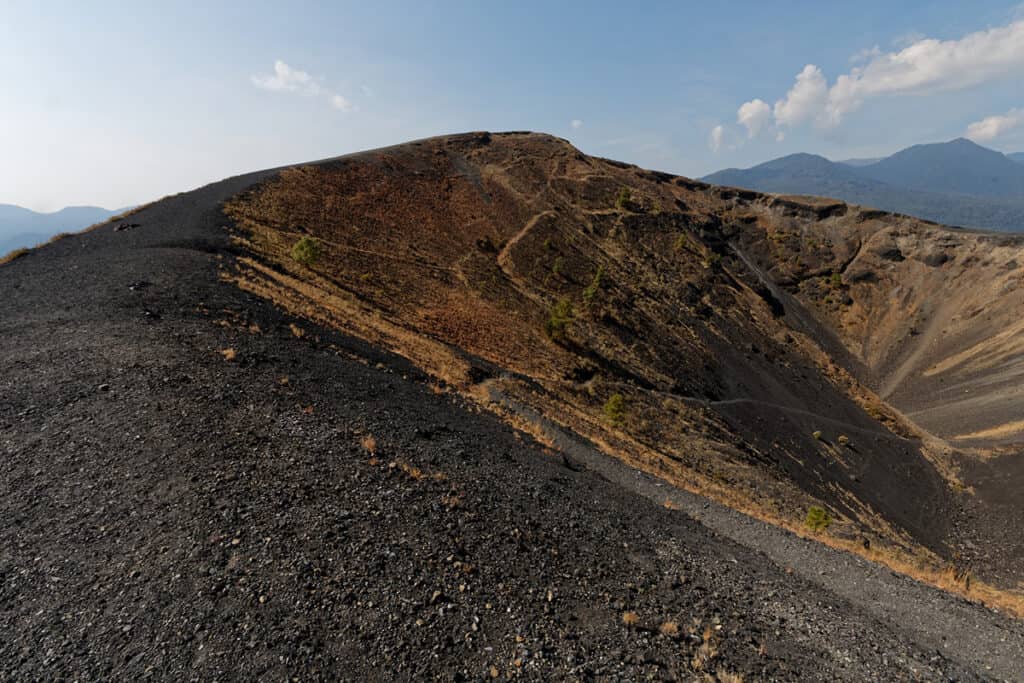 Because it is a very young volcano, scientists have been quite gaga over it, studying it's every snort.
In its first nine years it had caused damage to 233 square kilometres (90 square miles) of land, belching its ash and rocks and creeping menacingly close to this church. Remarkably only three people died, but many hundreds were permanently evacuated and new towns had to be built for them.
These days the volcano is dormant and tourists scamper up it for selfies.
If you are planning a visit to Mexico, I love it there. I've been to Cabo on the Baja Peninsula, which is so easy to get to from LA, and also Cancun. Cancun is a fantastic base for Caribbean vibes and exploring the ancient Mayan ruins and pyramids of Chichen Itza (where they played the cruelest game in the world) and the fabulous natural pools of Xel Ha.