Aitutaki is one of the 15 Cook Islands and a 40 minute flight from Rarotonga, about 220 kilometres away.
It is actually an old sunken volcano, now a huge lagoon surrounded by a barrier reef and with a few small islands (motu) lying within it.
There is one little motu (or really just a sand bar – until a coconut washes up on it and sprouts into a tree) called Heaven. Scroll down and you'll see a pic of me in Heaven. Literally!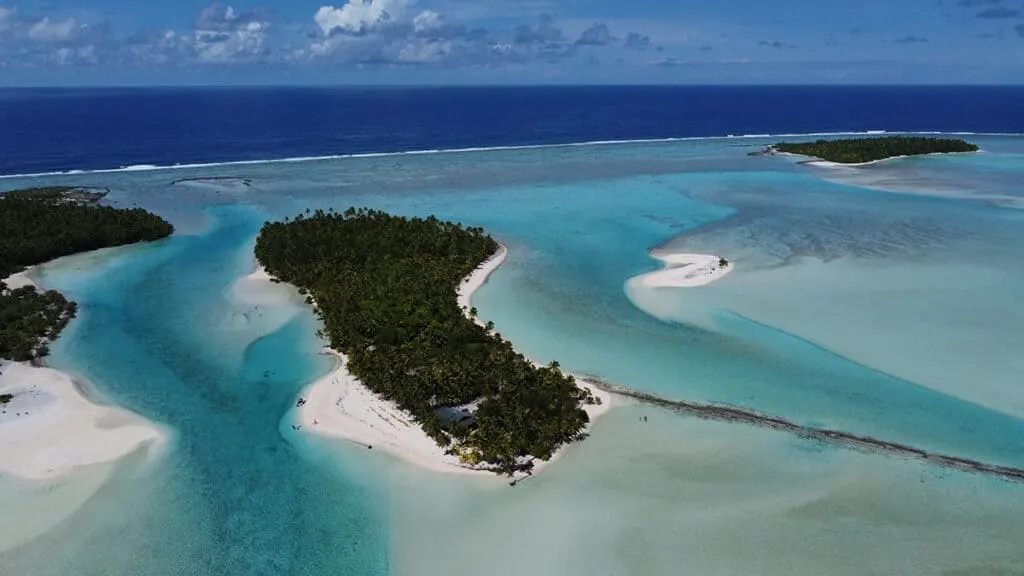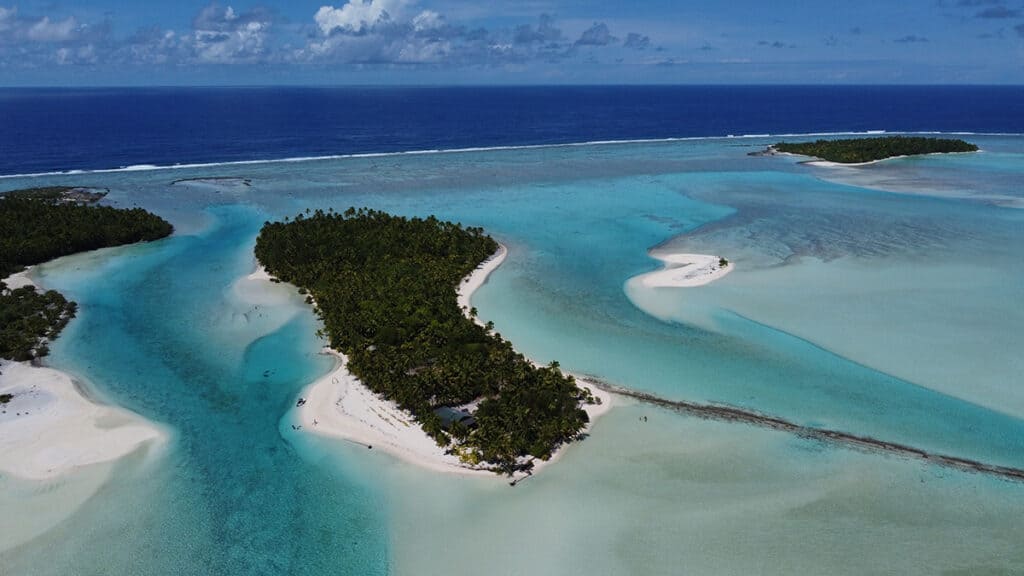 Aitutaki is super popular with honeymooners and those wanting a Pacific Island holiday which is more untouched.
There are things to do on Aitutaki, or just do nothing, and I think that's why Aitutaki will always be a little slice of heaven.
You might also like my post on how to pack for a week in the Pacific Islands!
I have added some of my favourite photos below of my brief (two nights – I need to go back for a week) time there.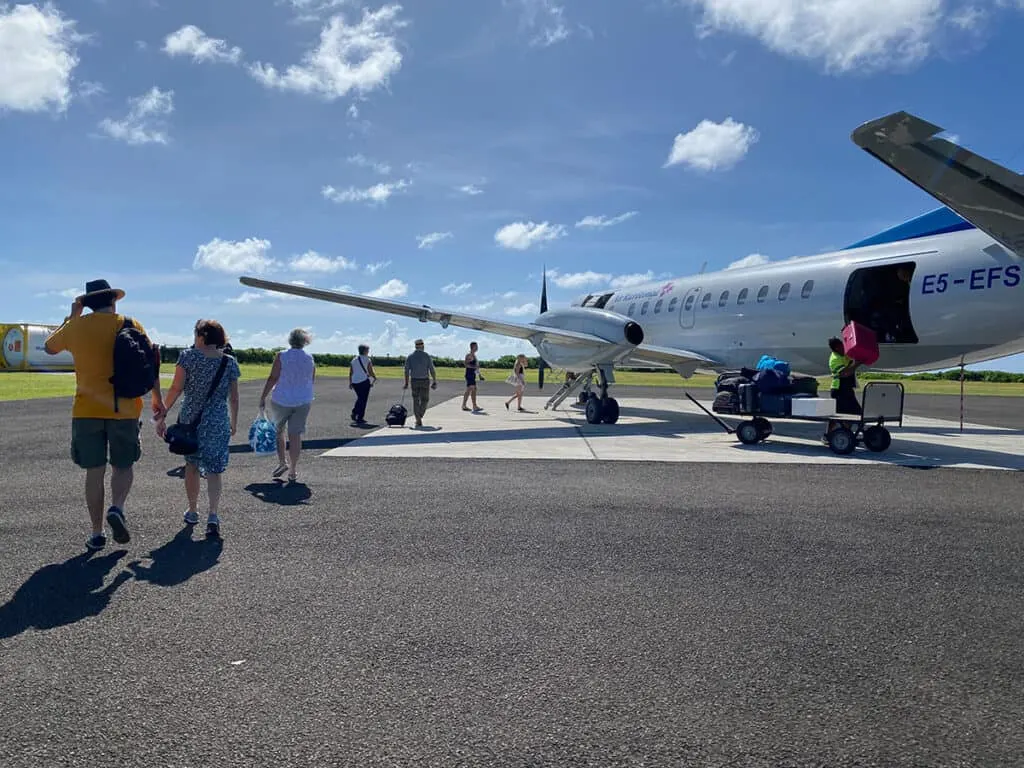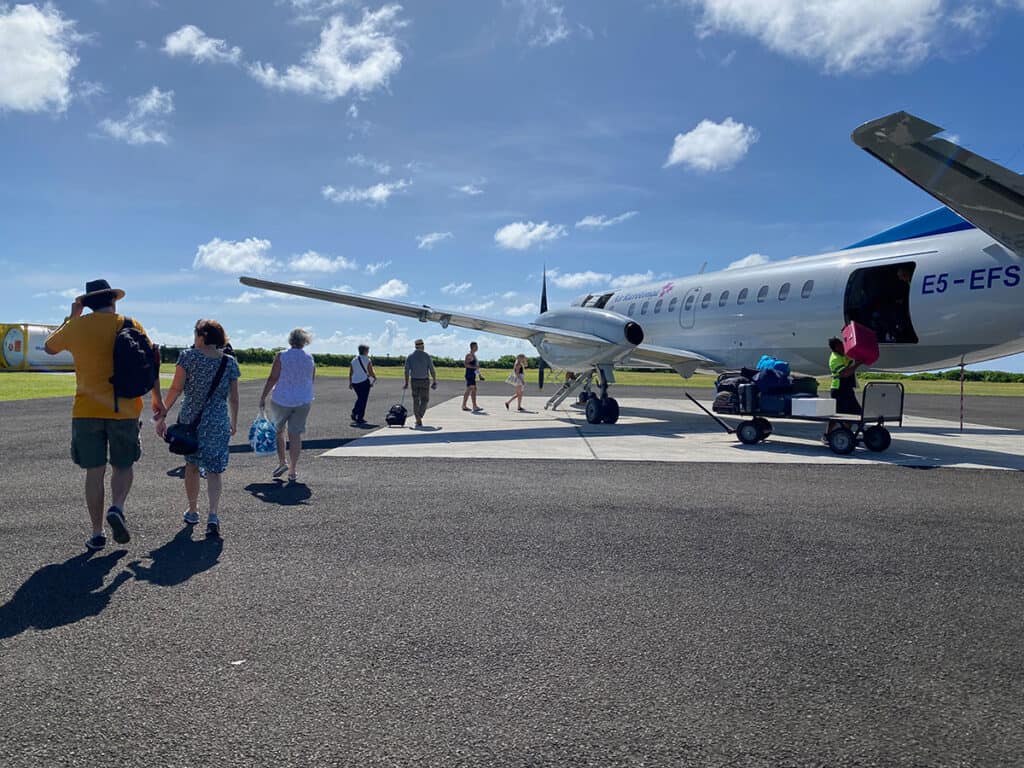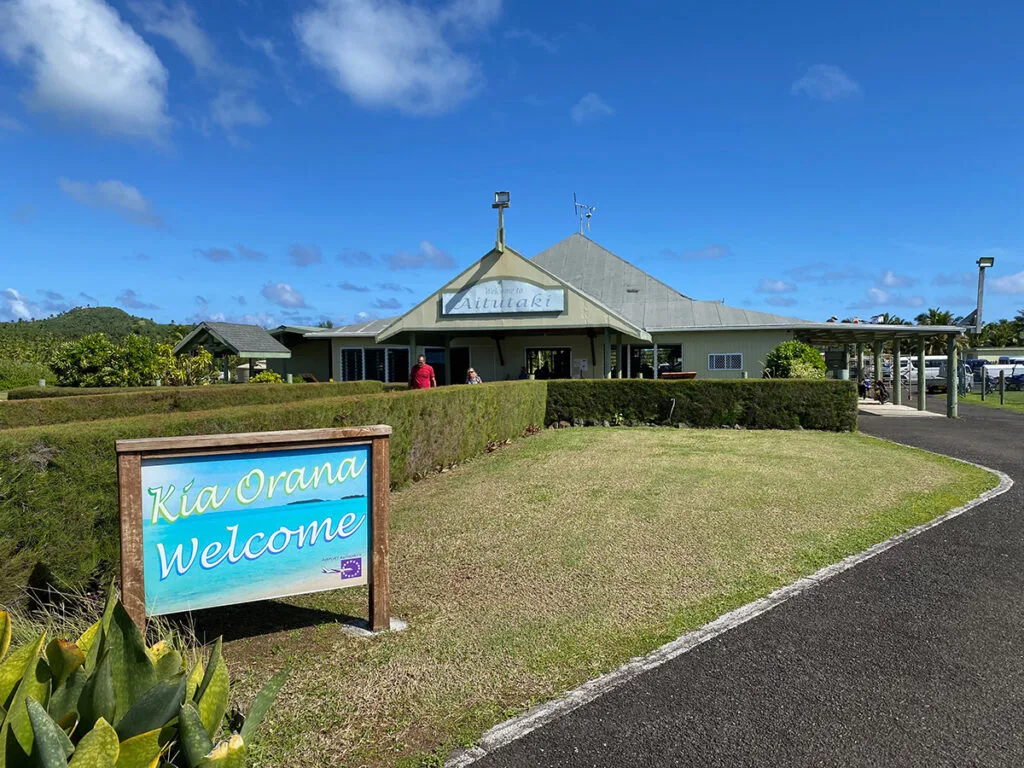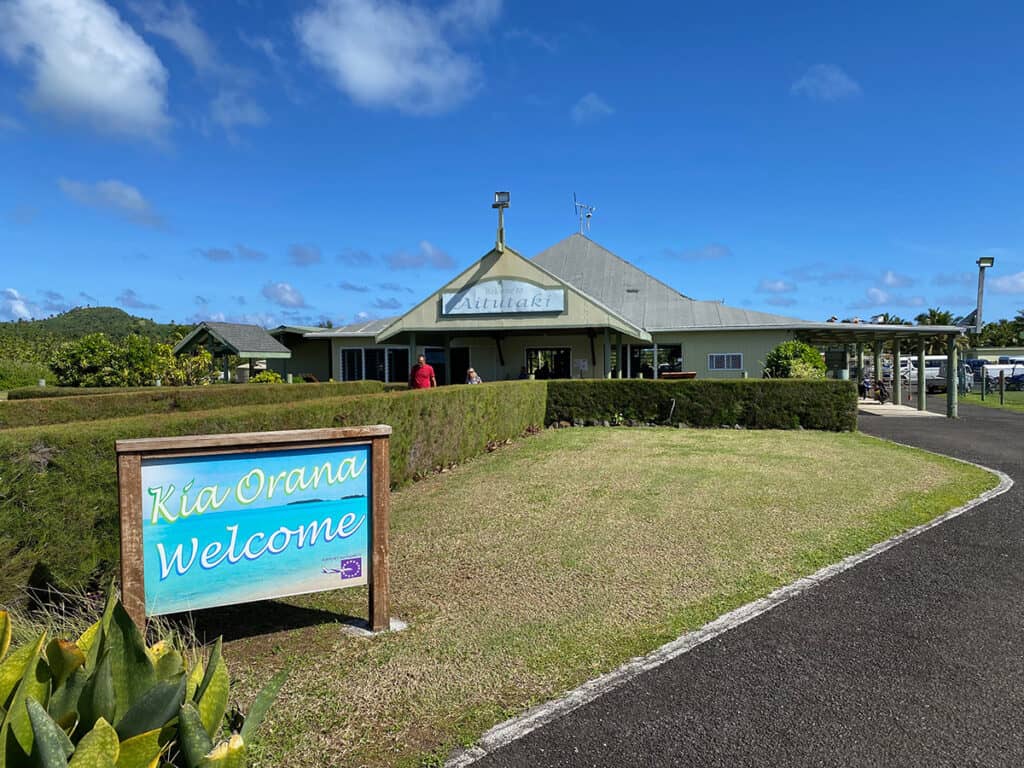 Things to do in Aitutaki
Take a lagoon cruise, go snorkelling in the impossibly clear sea, lie on pristine white sand beaches, go deep sea fishing beyond the reef and enjoy sun sets with a glass of something delicious.
Depending on which resort or private accommodation you stay at, you'll have options at your doorstep – like swimming and snorkelling in the lagoon and going for walks up to Maunga Pu hill for stunning views over the 50 shades of blue below.
But there are a few companies who will take you on lagoon cruises, sunset snorkelling cruises and deep sea fishing trips, and I have mentioned them below.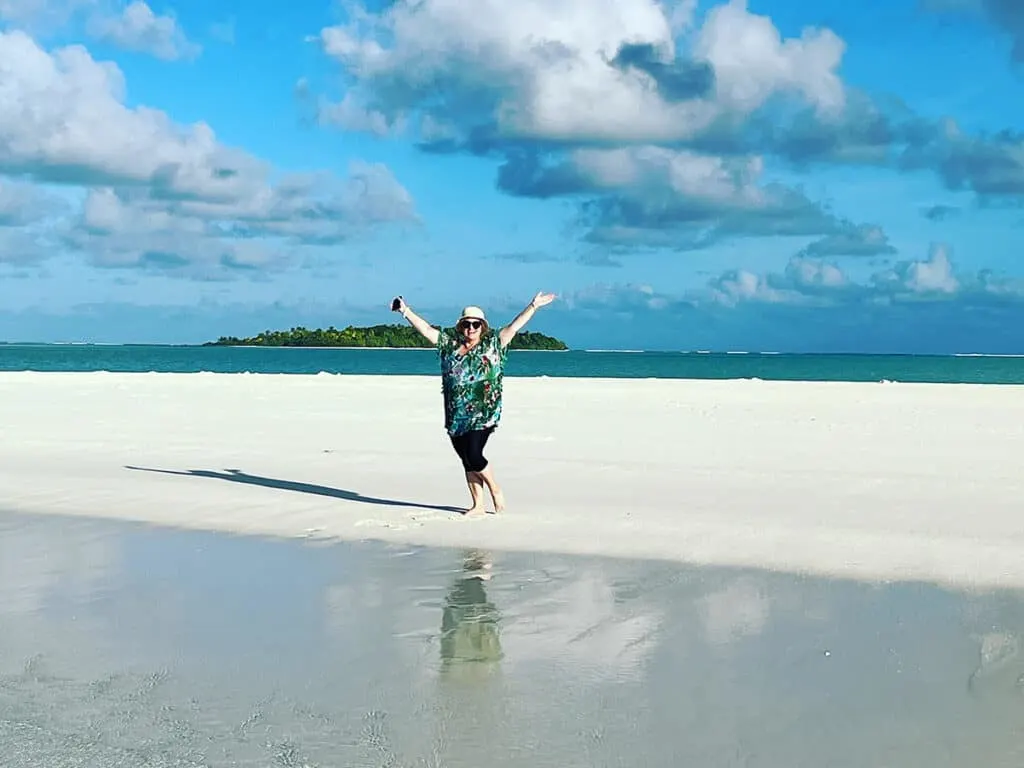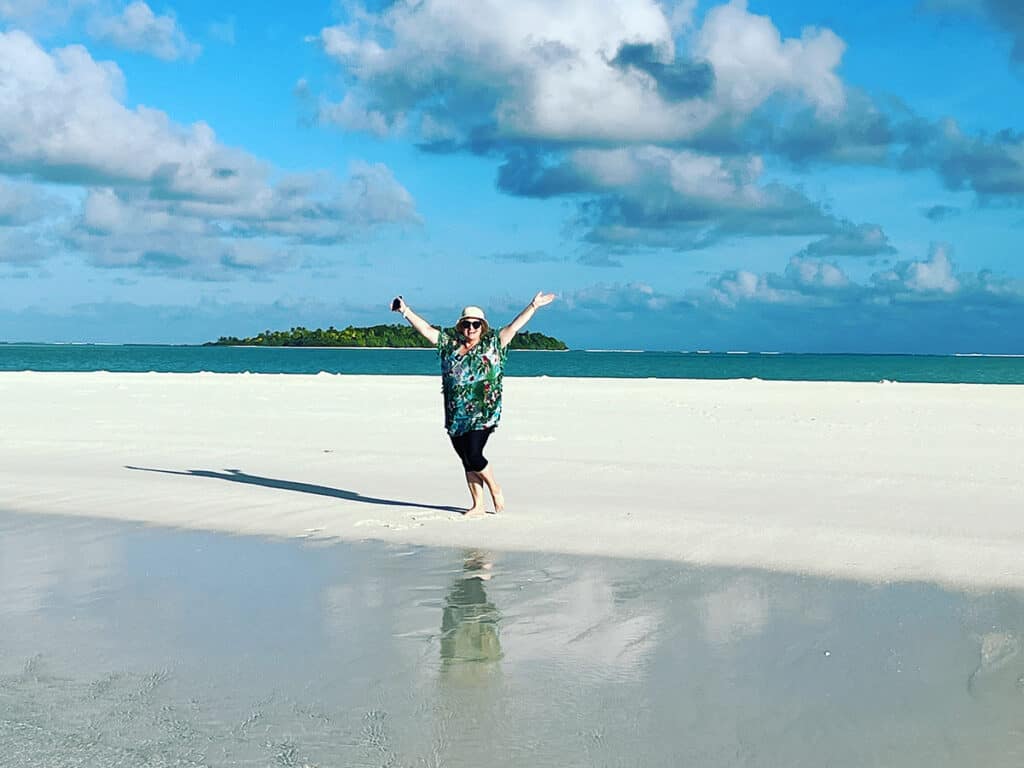 This picturesque white sand bar in the middle of the lagoon is called Heaven, so we had to step on to it!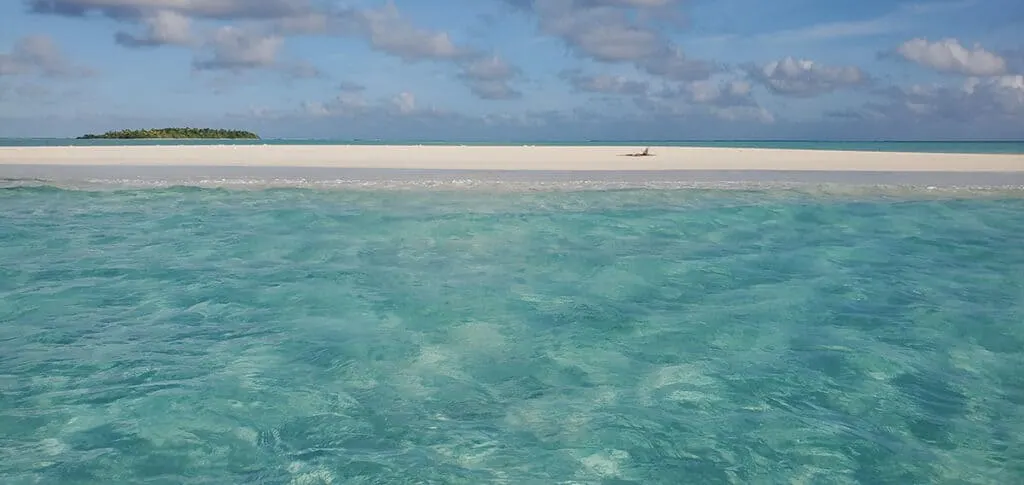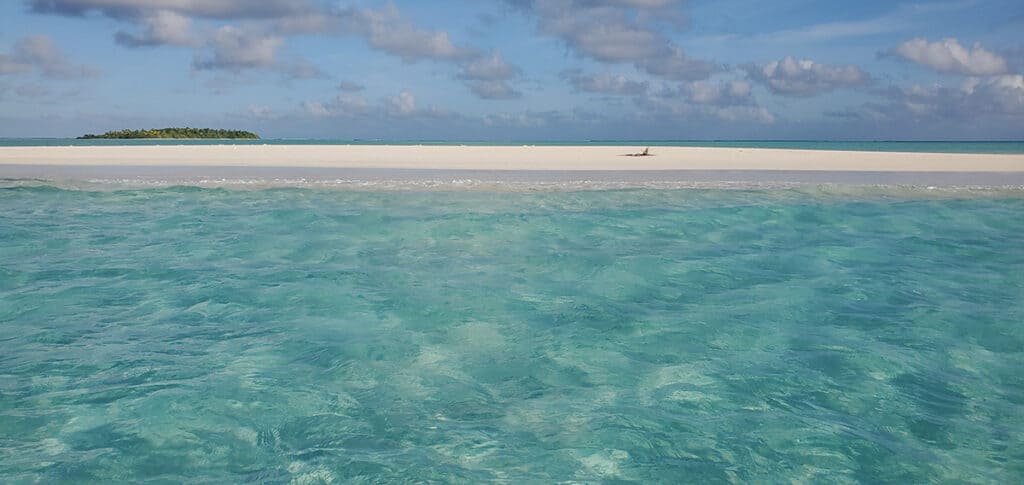 Hanging at the resort
I stayed at Tamanu Beach Resort where kayaks and paddleboards are provided free to use.
As you can see, my villa was beach front (there are three total beach front like this one), and it's facing west for fabulous sunsets from your veranda!
Each room has a fridge and coffee and tea making facilities, so bring your own wine and anything you want to keep in the fridge for snacking.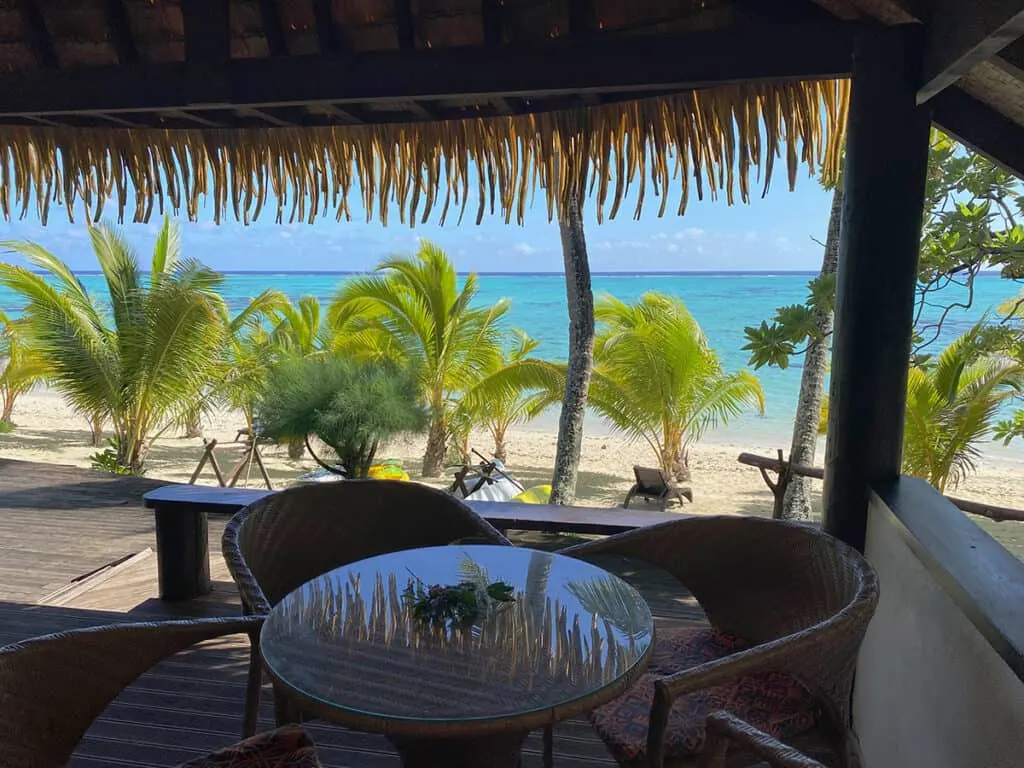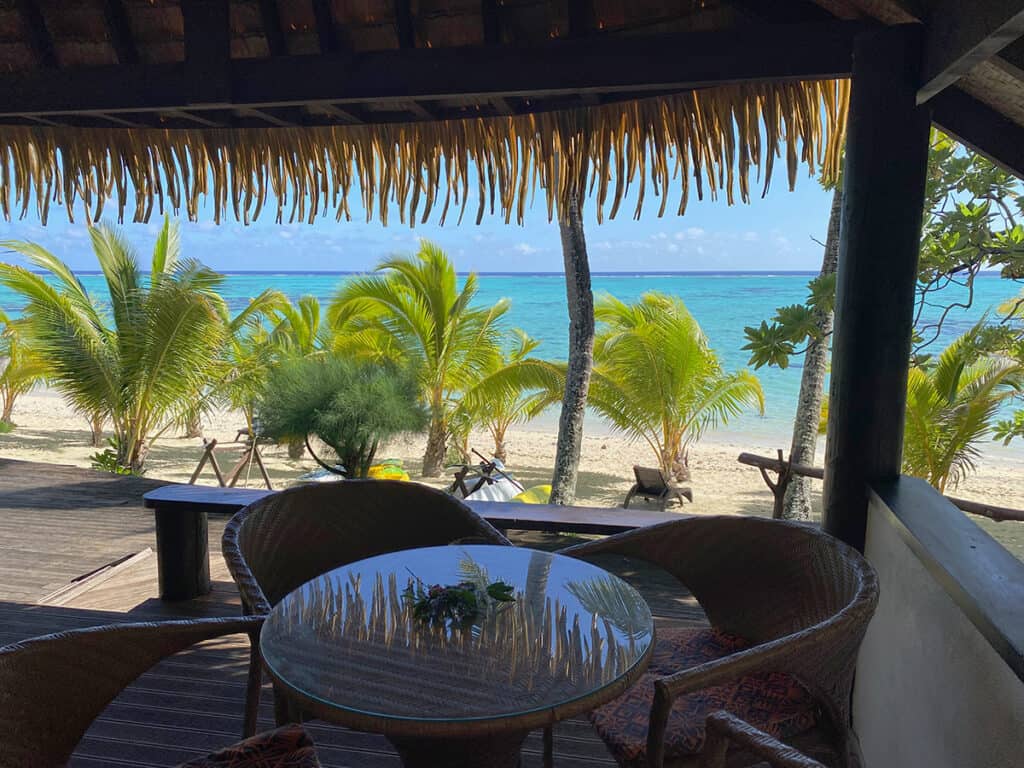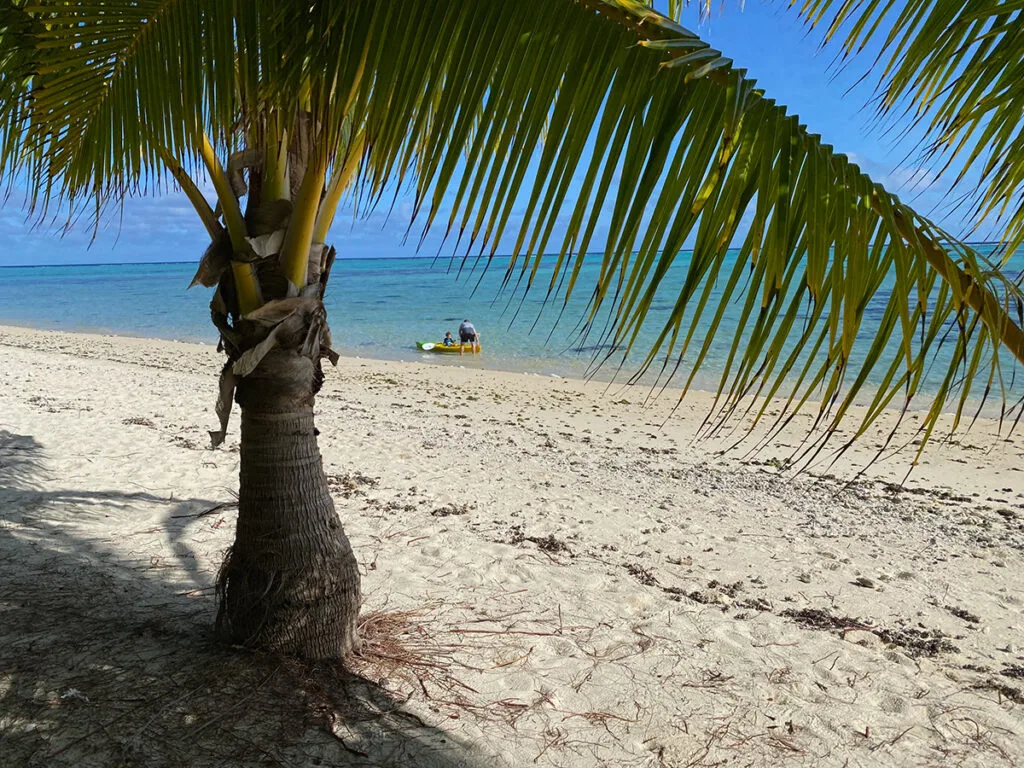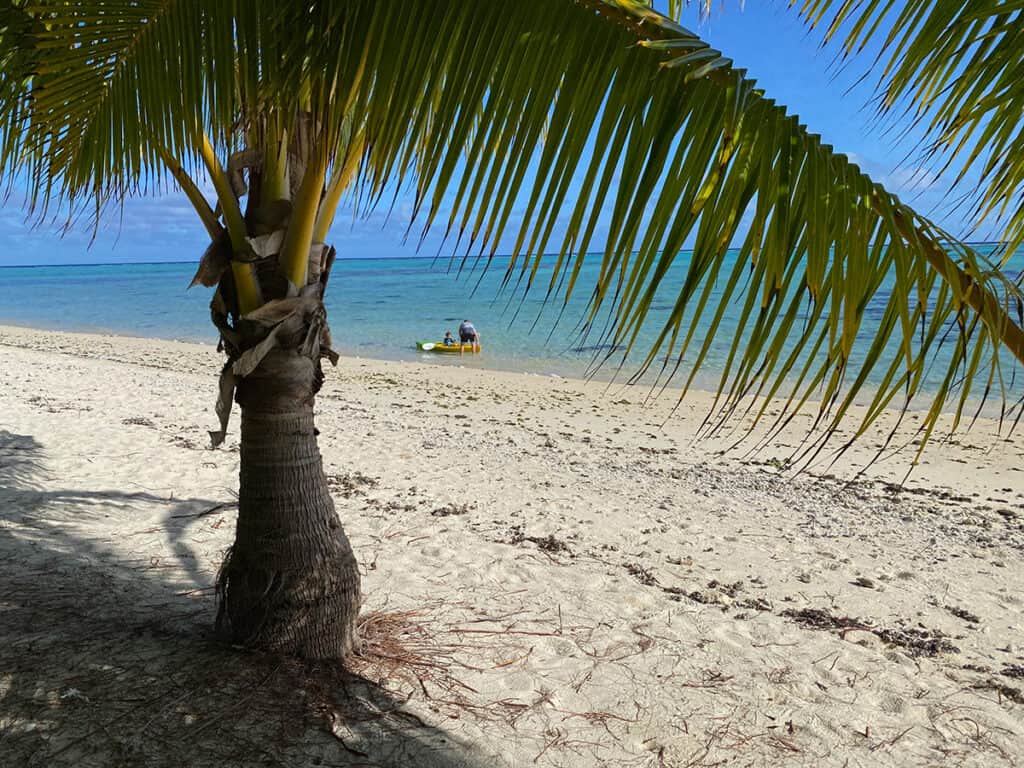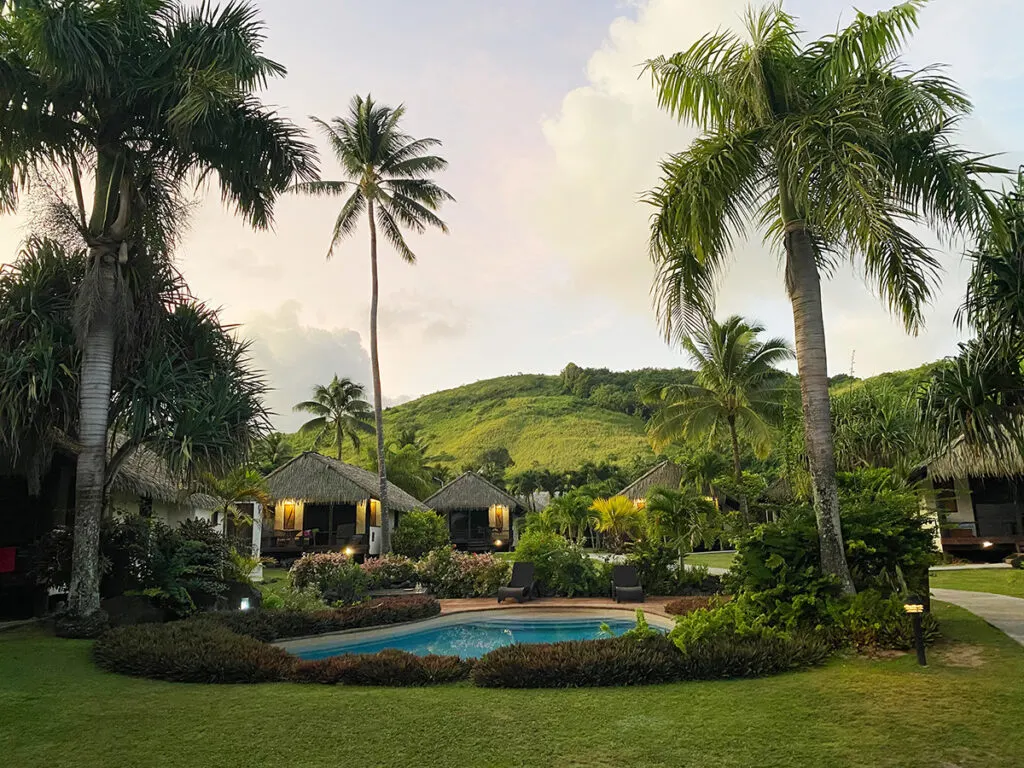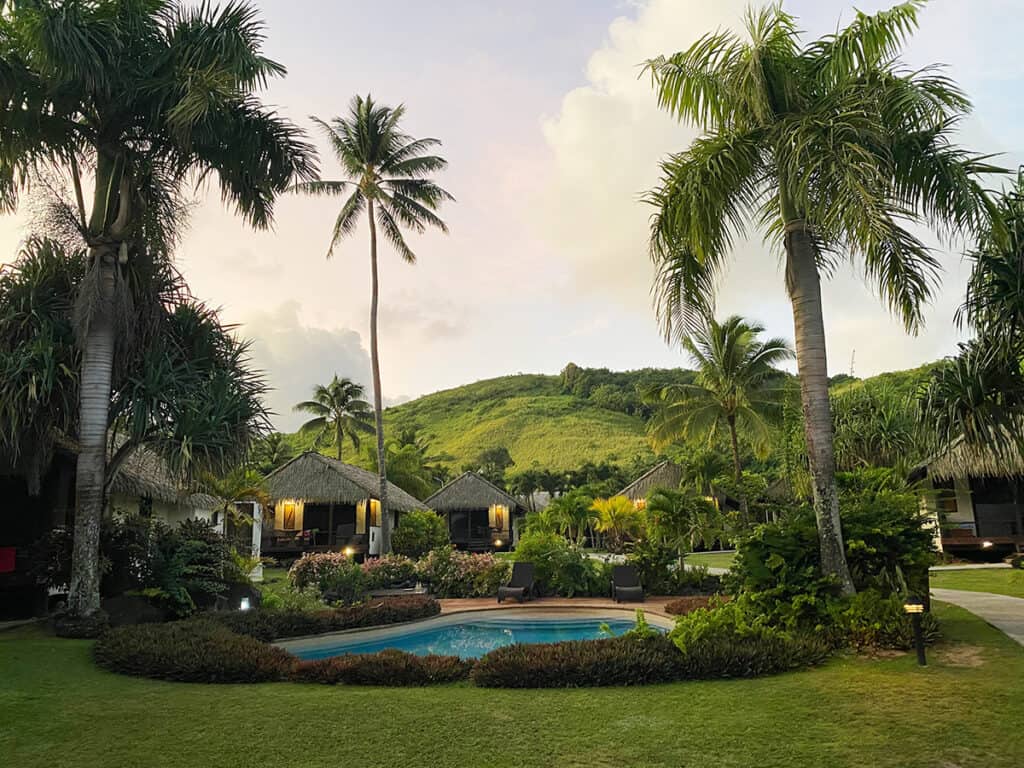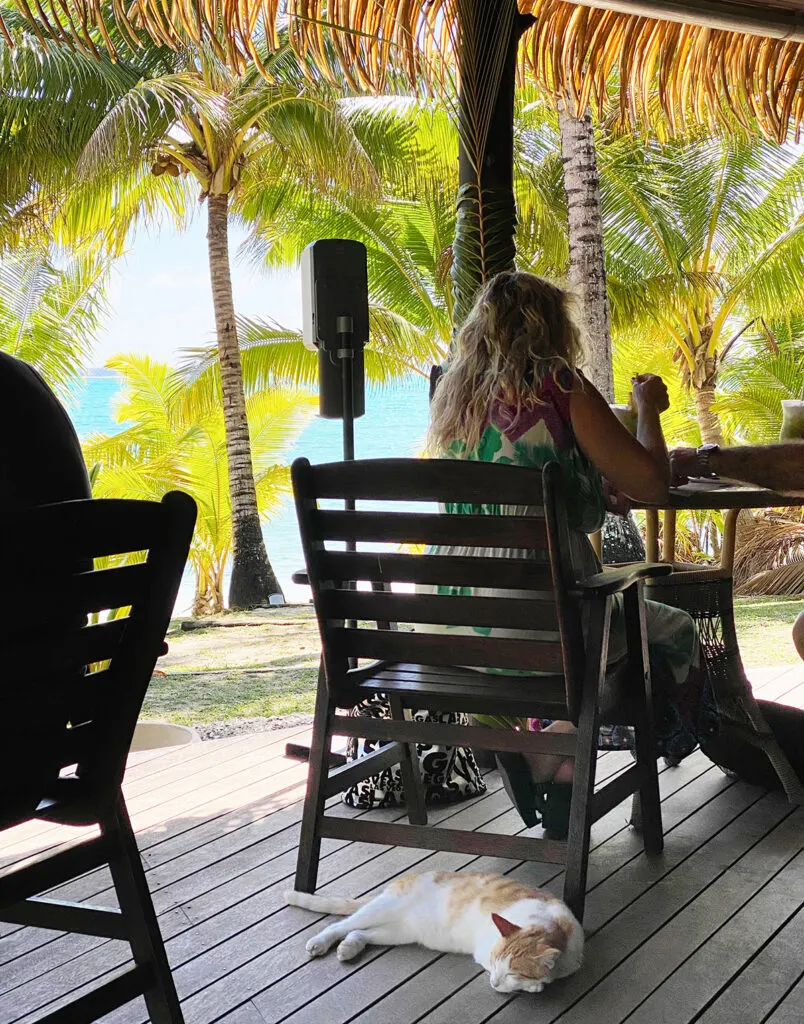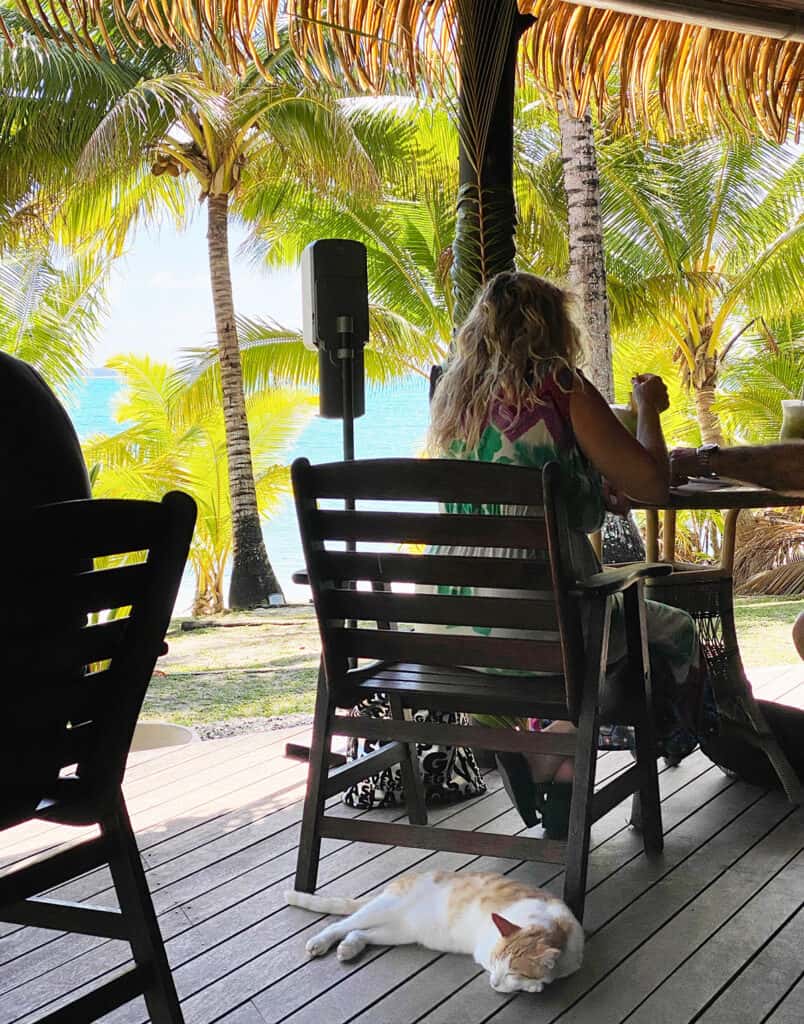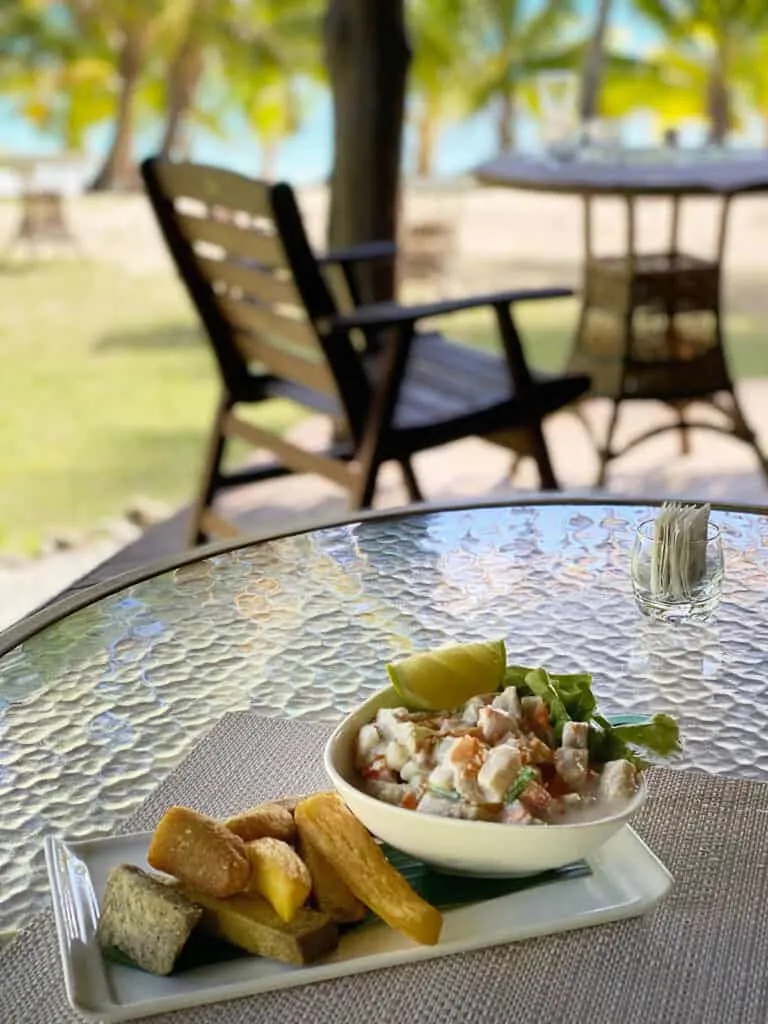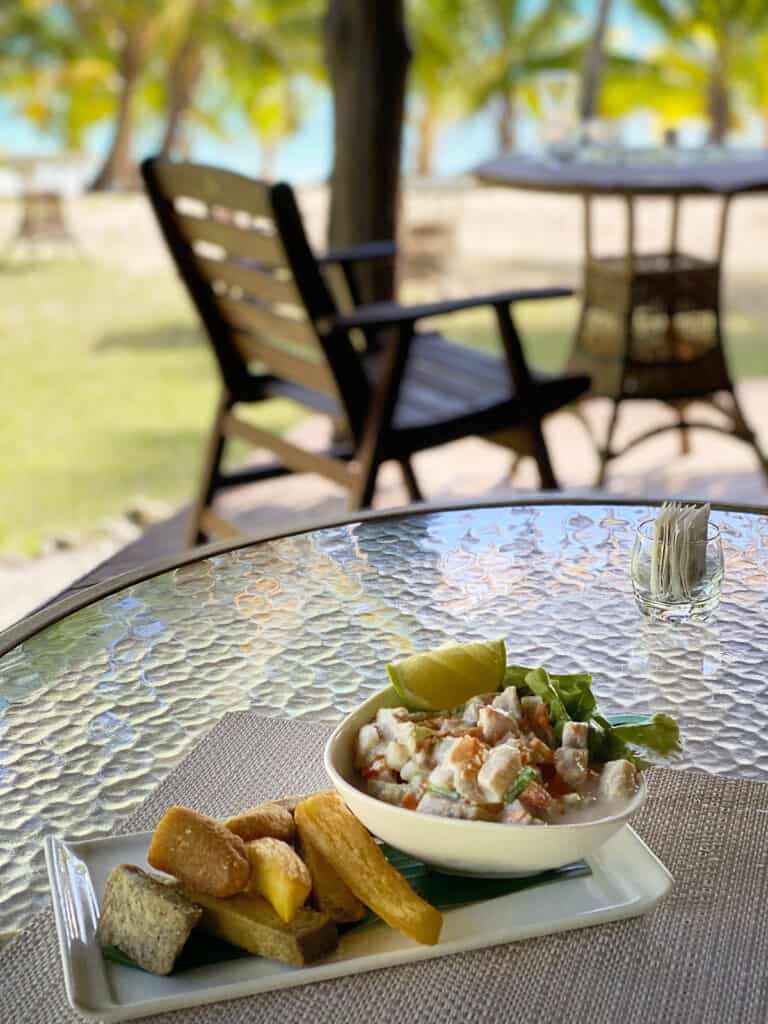 Go deep see fishing
I joined James of Aitutaki Wahoo Fishing Charters for a morning of deep sea fishing beyond the reef.
He picked me up at 7am, which is just about sunrise in winter, and had already prepared a cup of coffee and some bacon and egg toasties for breakfast.
We also went with Misepa Ismaela, from Cook Islands Tourism. I'd had a wonderful evening with her the night before, snorkelling and enjoying a sunset dinner on the beach (pics below), so asked if she was free to join me fishing. She was, so off we went, the three of us.
James put out four lines and we trawled about half way around the reef for nearly two hours before we caught anything!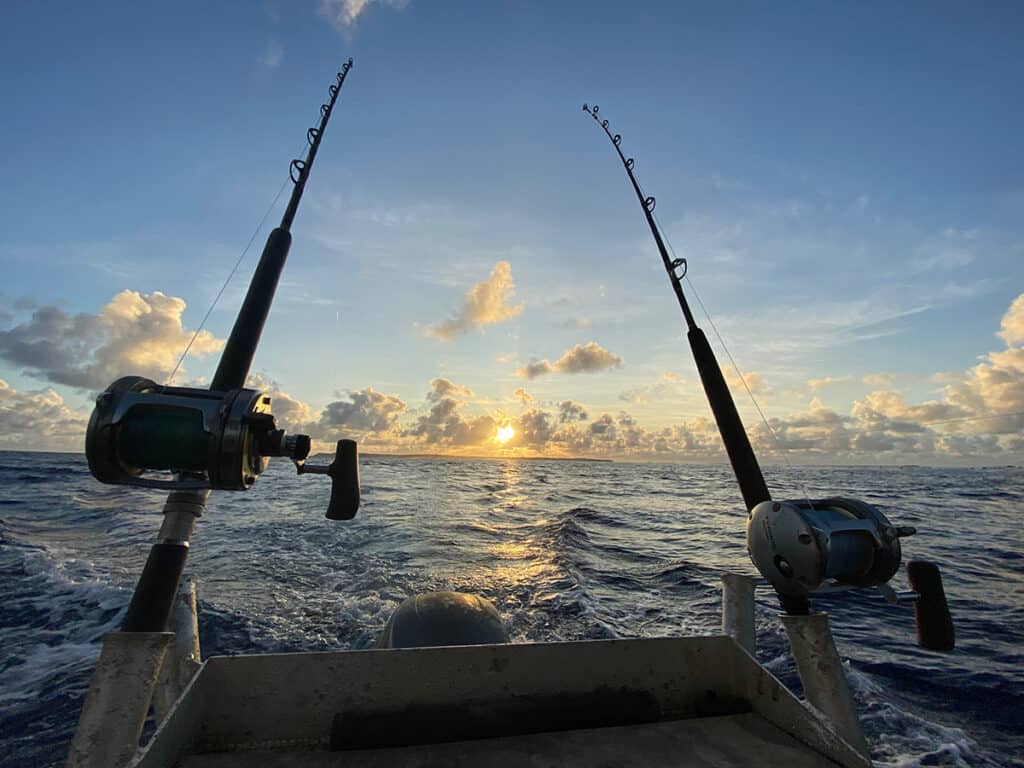 I was joking that there must be bananas on board when James offered us our toasties and I opened my box… HELLO BANANA!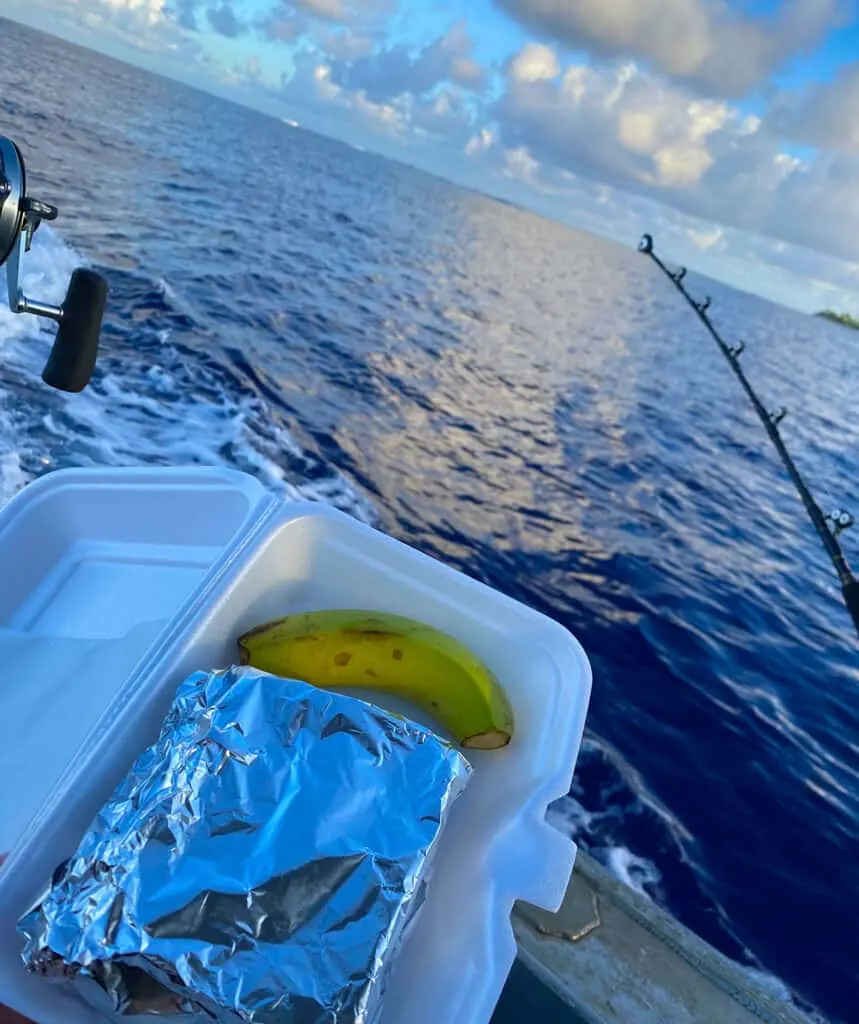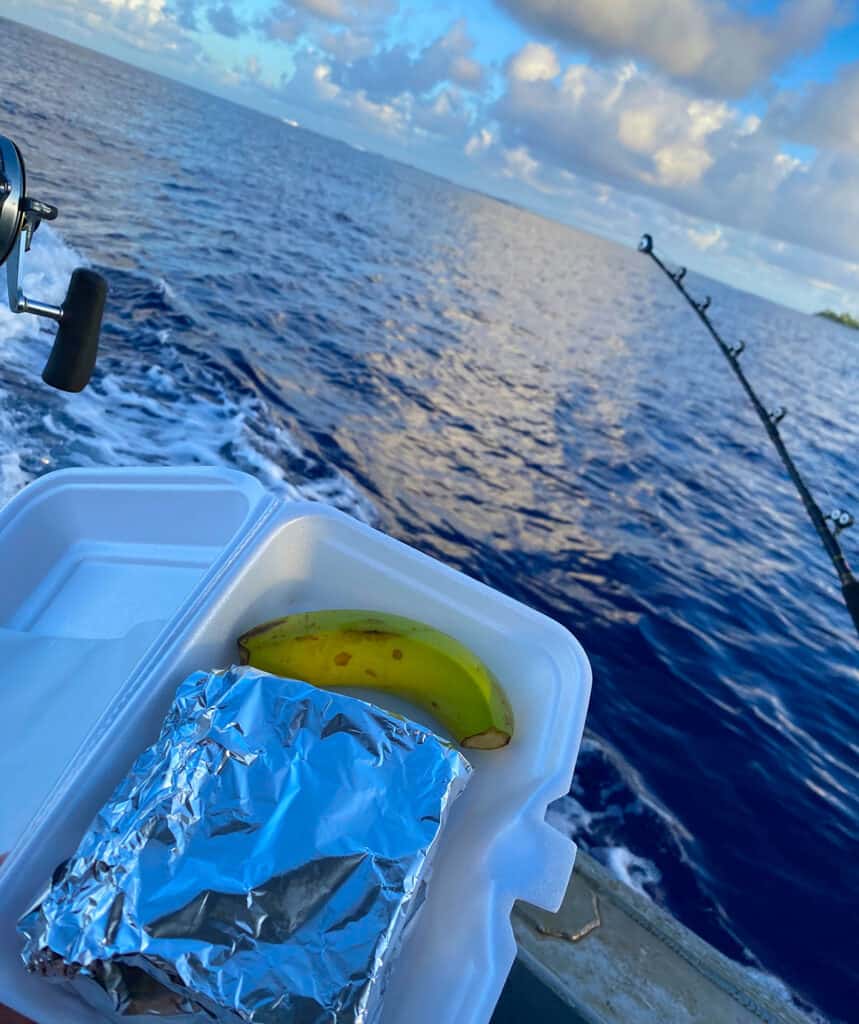 After eating mine and making sure no one else had theirs onboard, the line nearest me whizzzzzed and we had a big one. I began winding it in. It was a fighter, but honestly with the rig James has, it isn't too hard. Although I did resort to using two hands on the winder while he held the reel!
It was a barracuda. Not usually an edible fish due to them eating a lot of toxins, but apparently on Aitutaki you can eat them. (I didn't!)
Then off went the next line and this Misepa pulled it in – a huge wahoo! And yes, that is what I also shouted!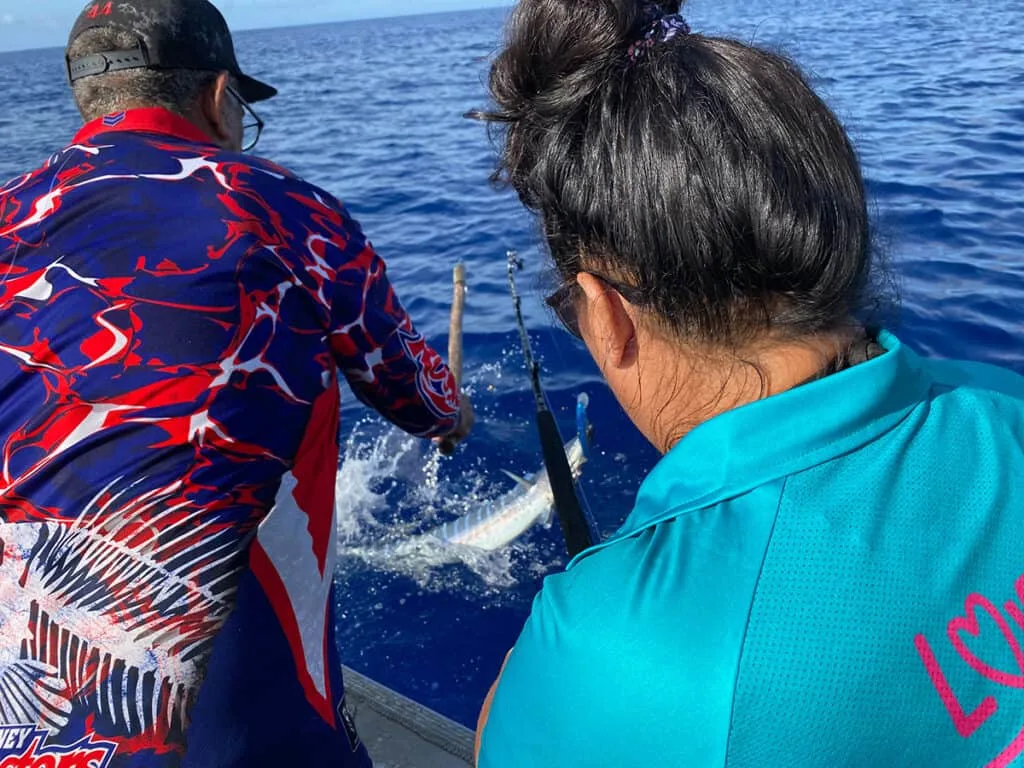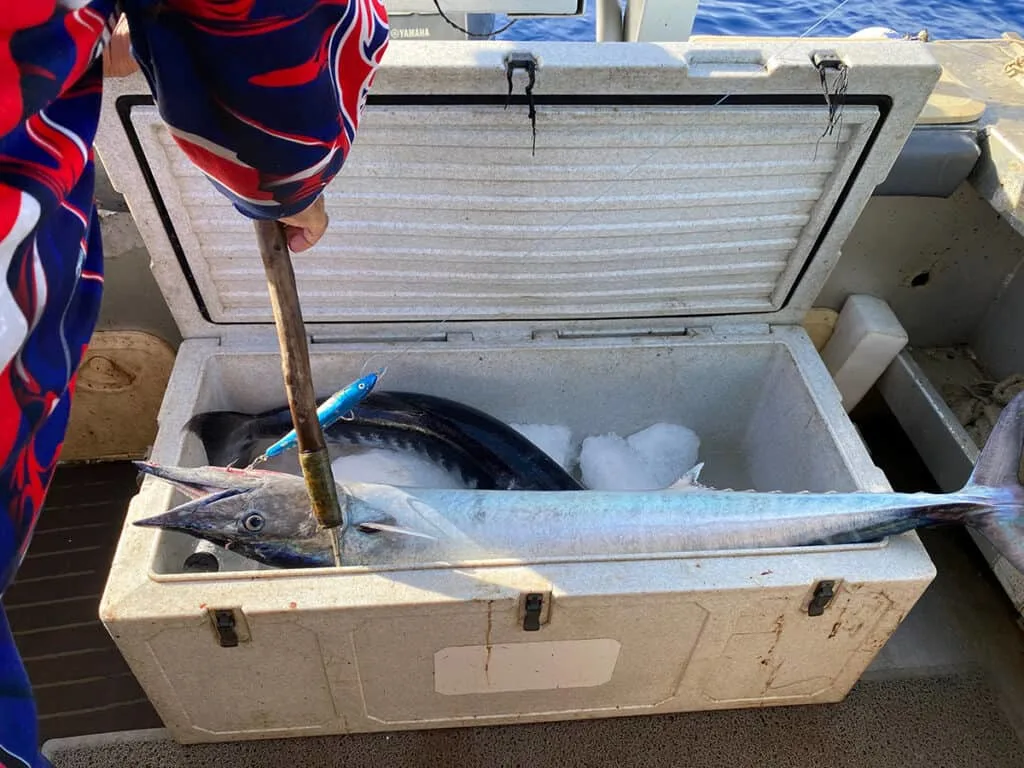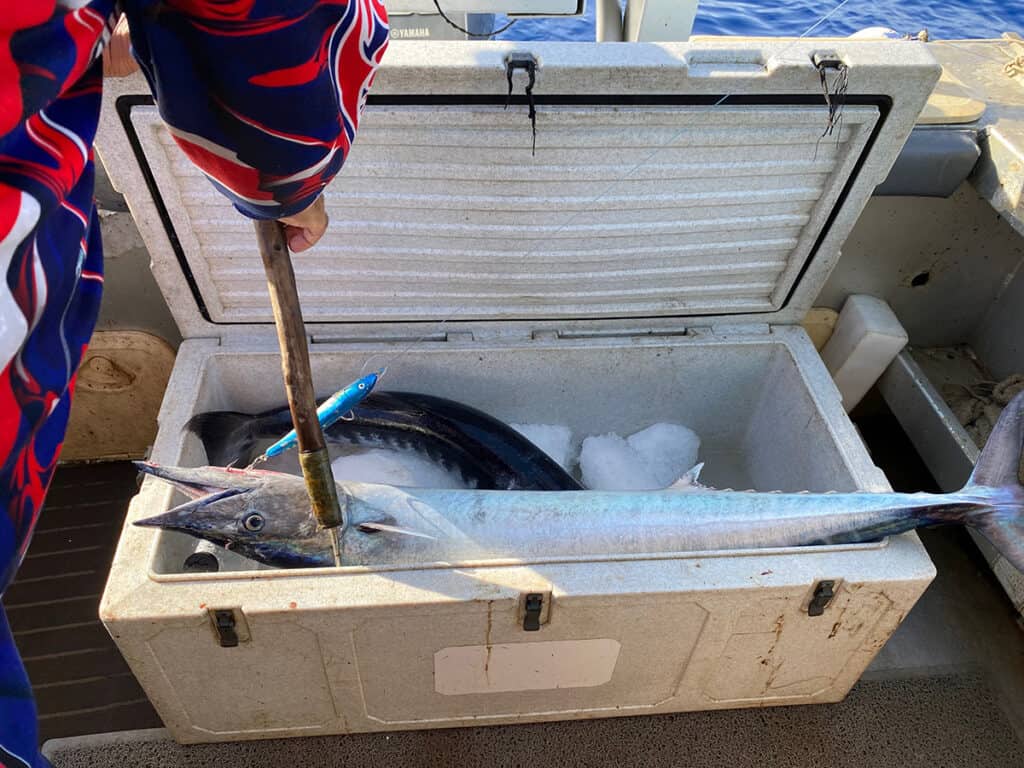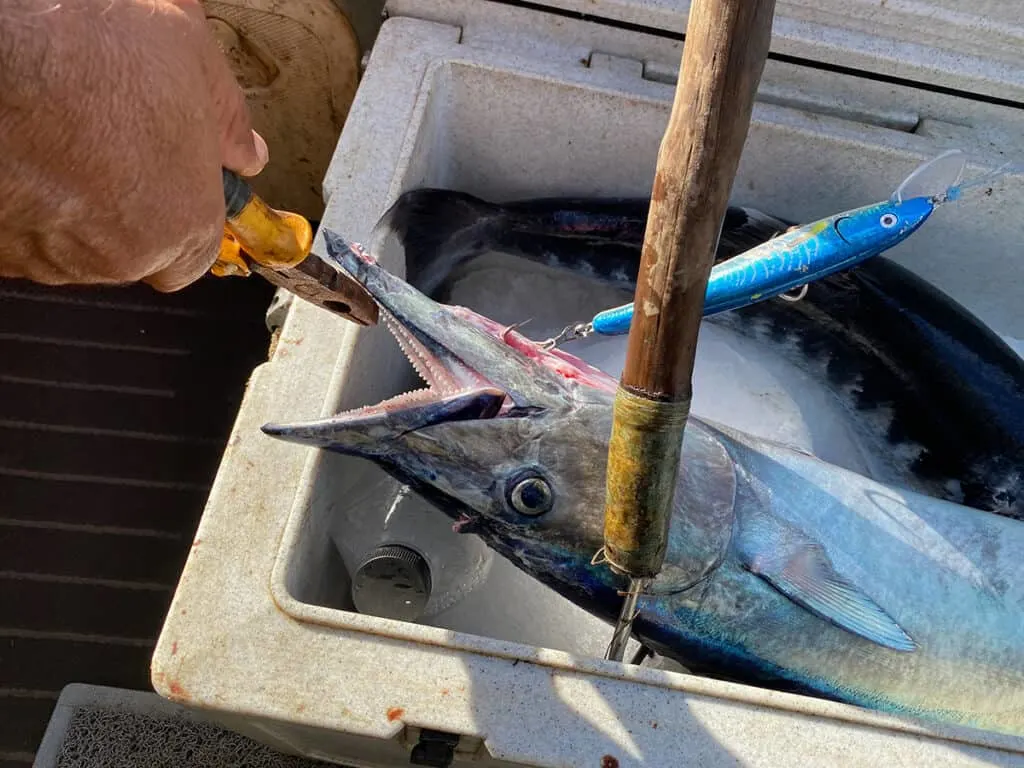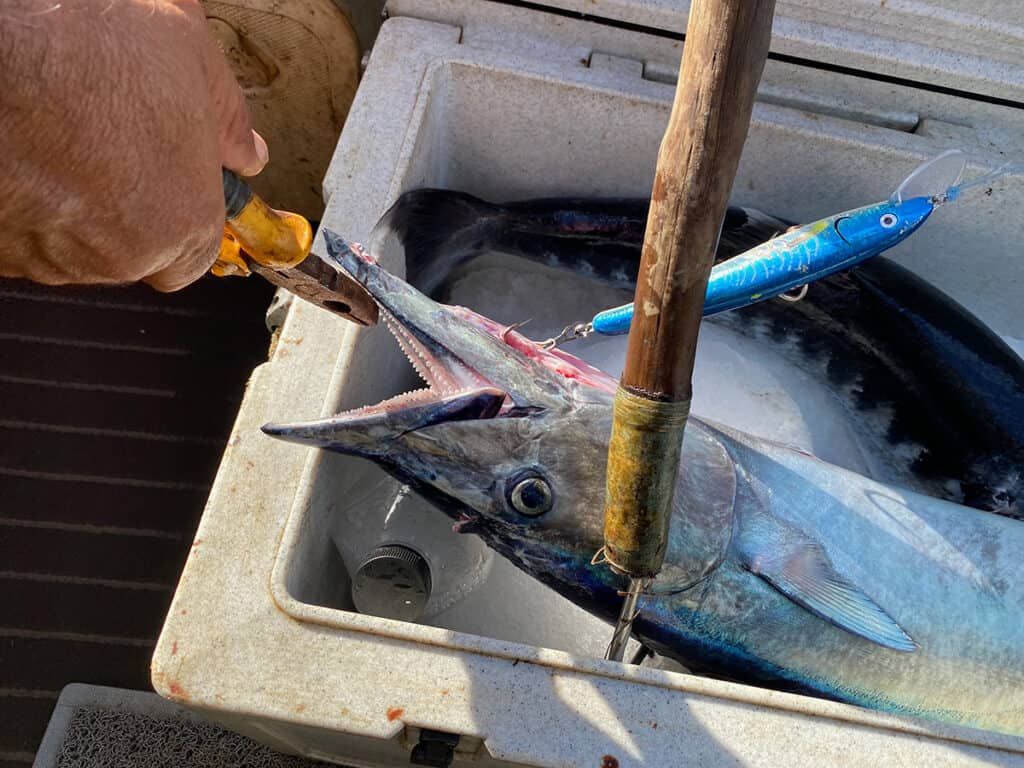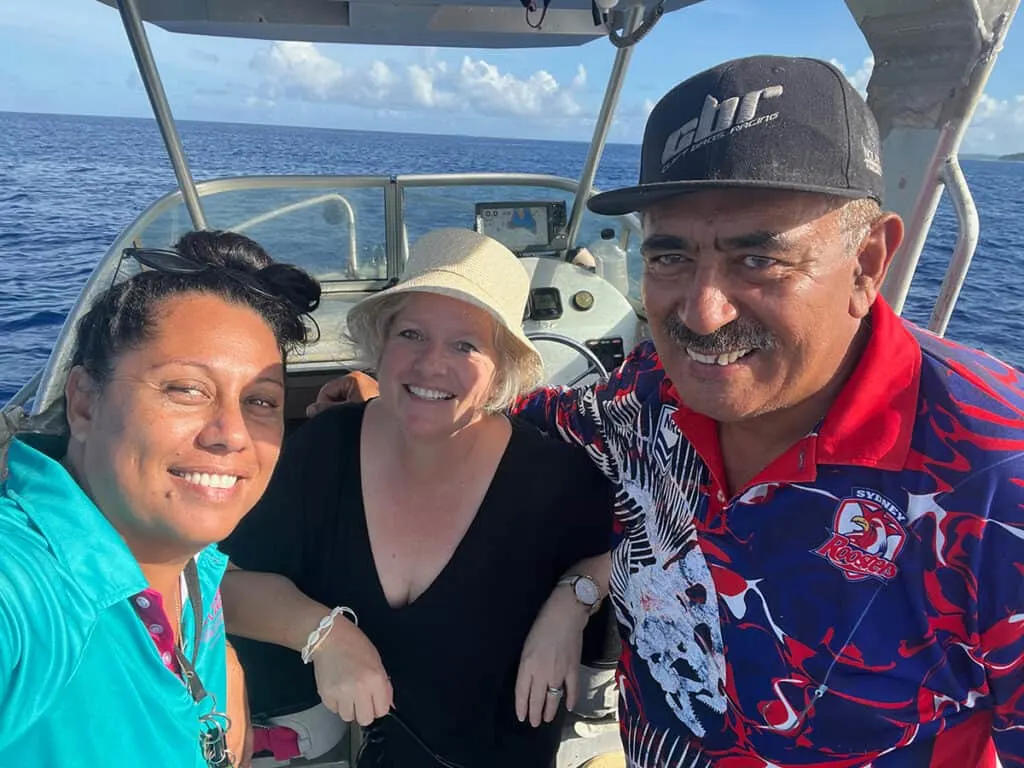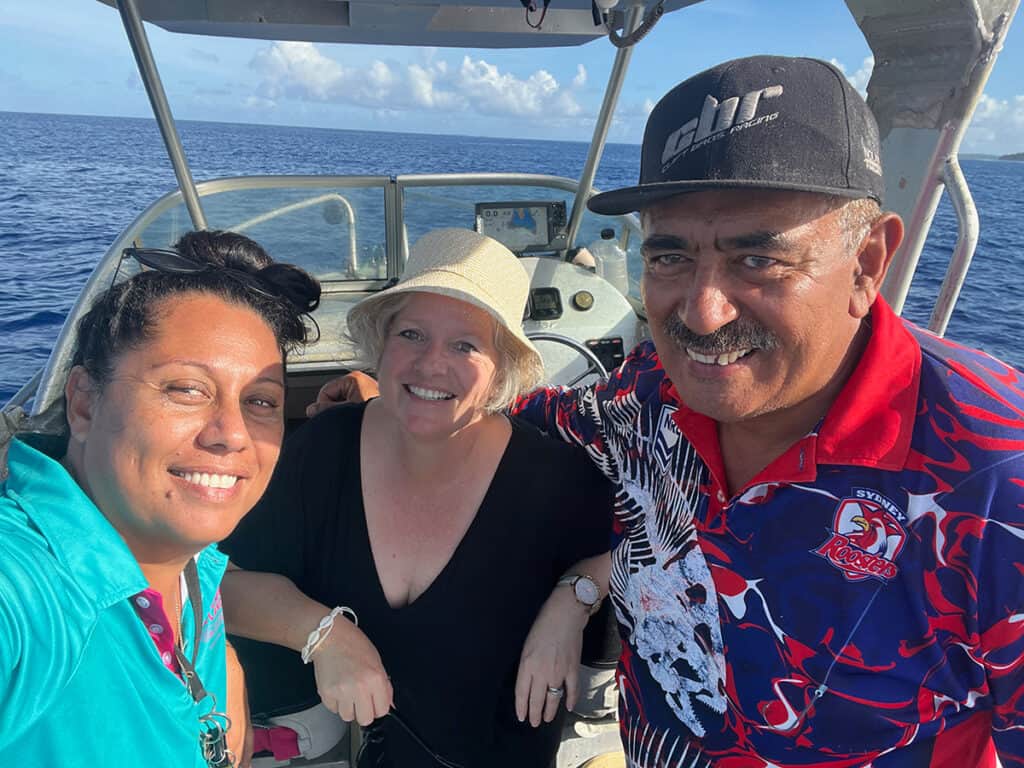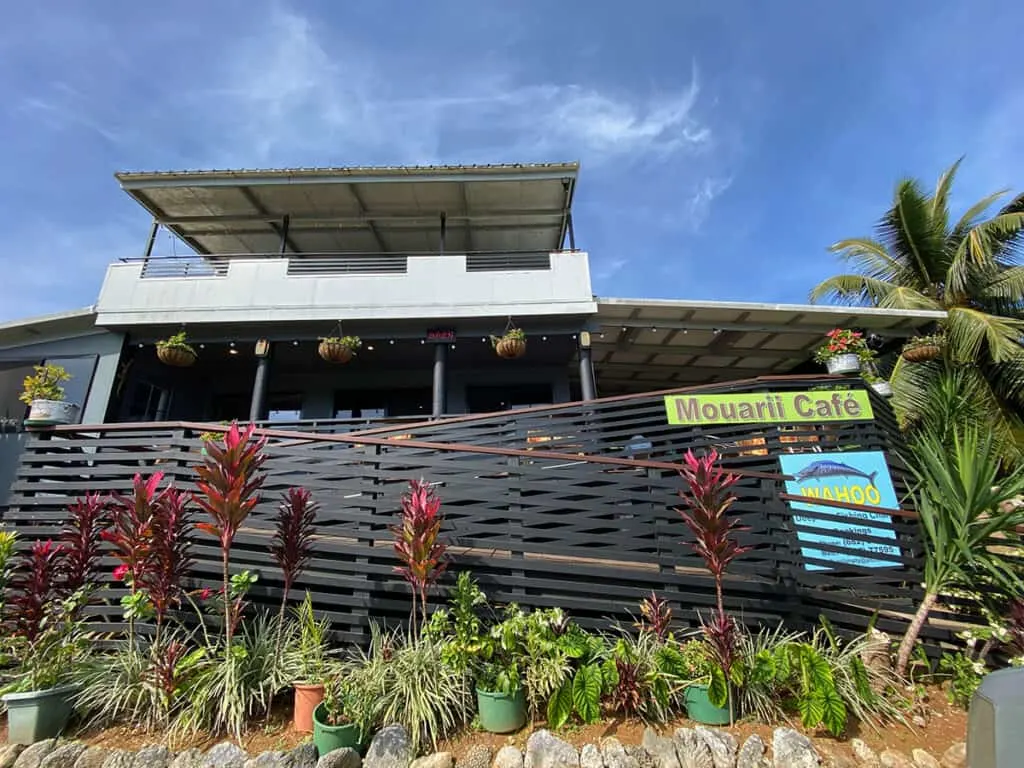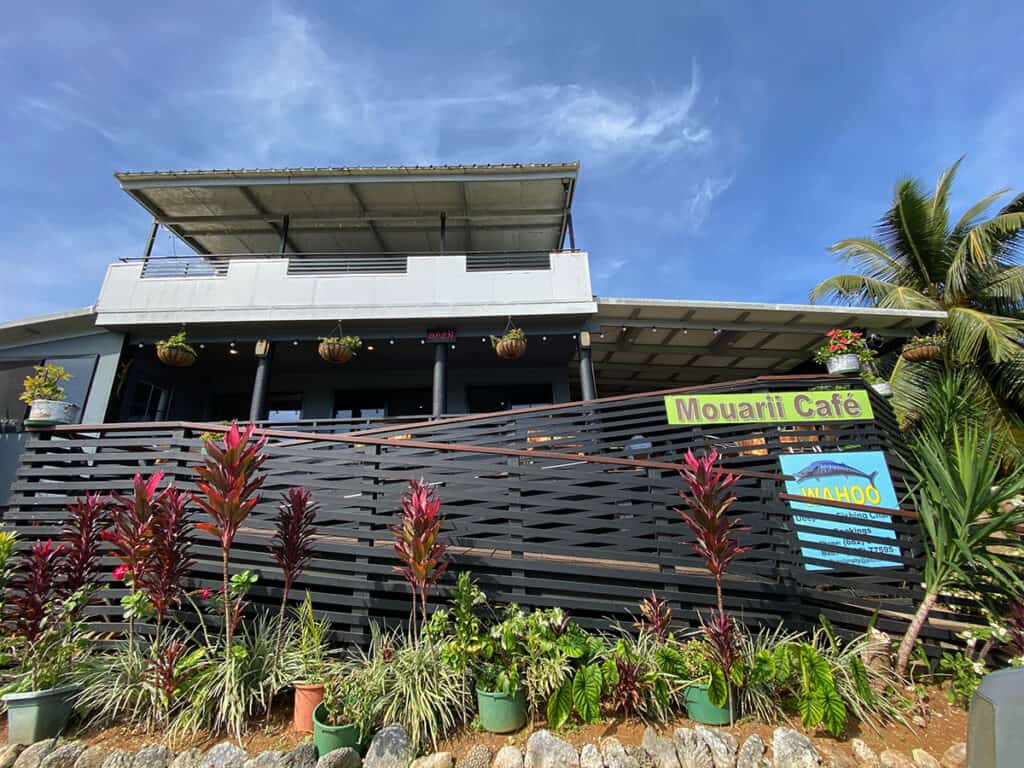 Of course the fish you catch isn't yours, but for $20 you can take to James' wife, Aunty Pipe's cafe, and she'll prepare it for you. I asked for it to be done every way she can, and she kindly obliged.
Wahoo four ways: sashimi, ika mata, pan fried and battered.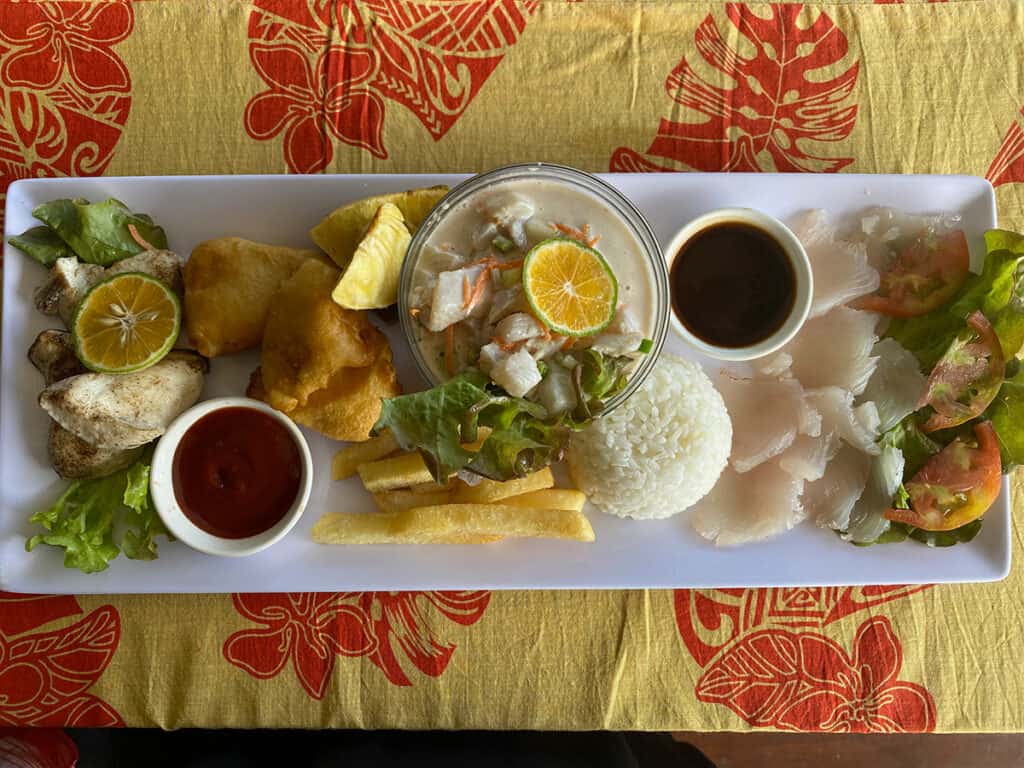 Lagoon cruise tour
I joined Maria Henry and Paul Green who run Kutekute Tours and Transfers, in their little 6-seater boat at about 3pm for a lagoon cruise, snorkel and sunset dinner and drinks on a remote motu.
I hadn't read the itinerary properly and didn't realise it included snorkelling, so was instead wearing my "cocktail cruise" outfit. Fortunately that consisted of simple black leggings, black singlet and a floaty top. So sans the floaty top, I went in and snorkelled!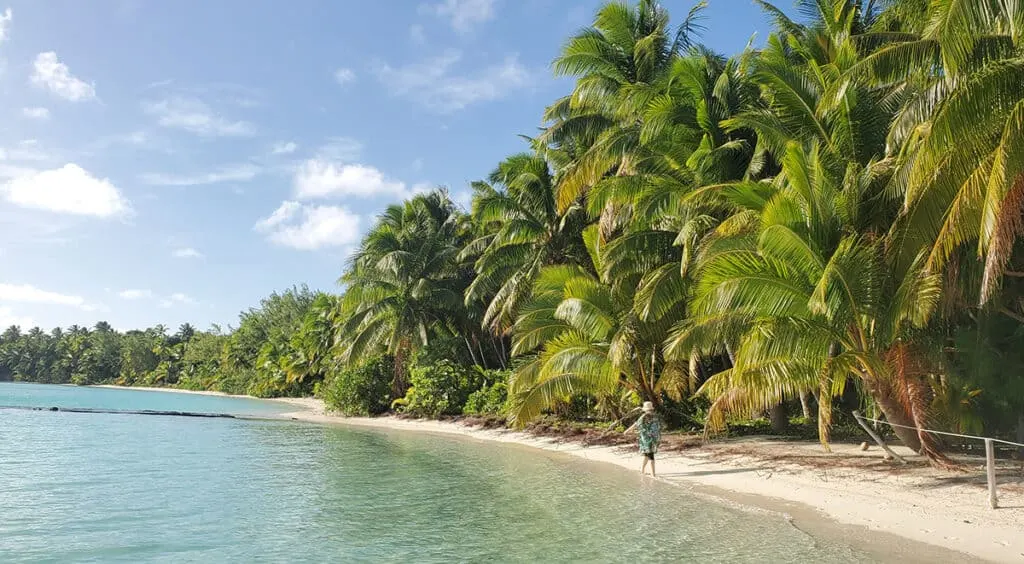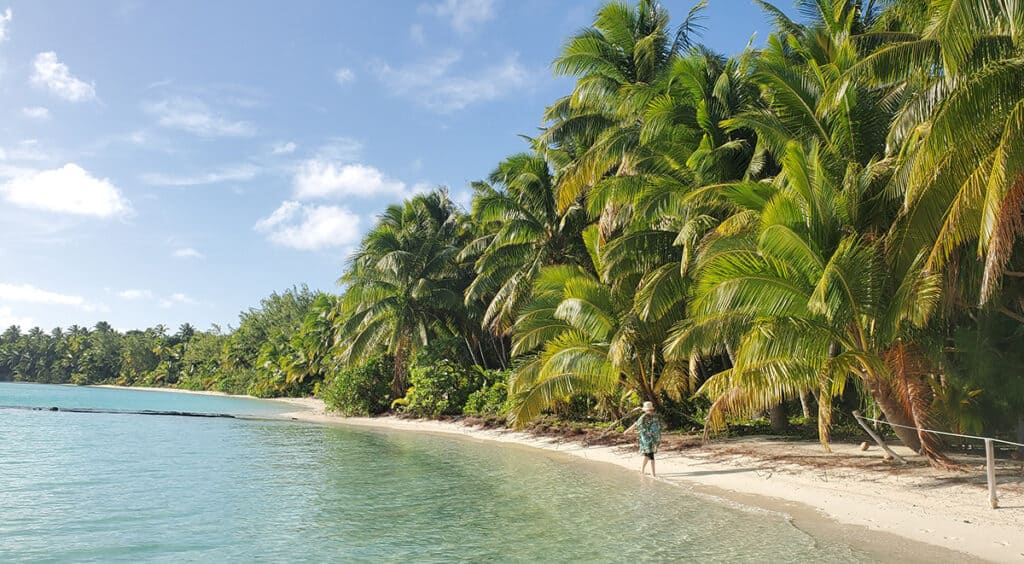 Back when TEAL Airways used to fly their sea planes for the wealthy over the coral route in the 1950s, they would land here on Akaiami. This is one of the remote motu on Aitutaki and there's some rustic accommodation out here if you want really remote.
The "reef" in front of me is the remants of the stone jetty the flying boat would dock at.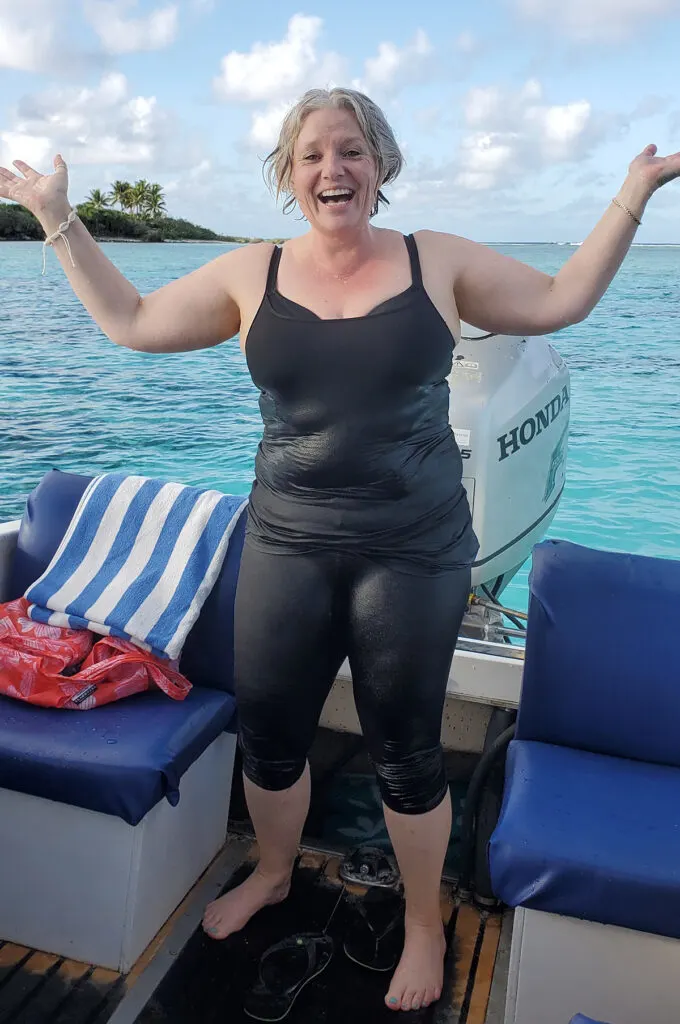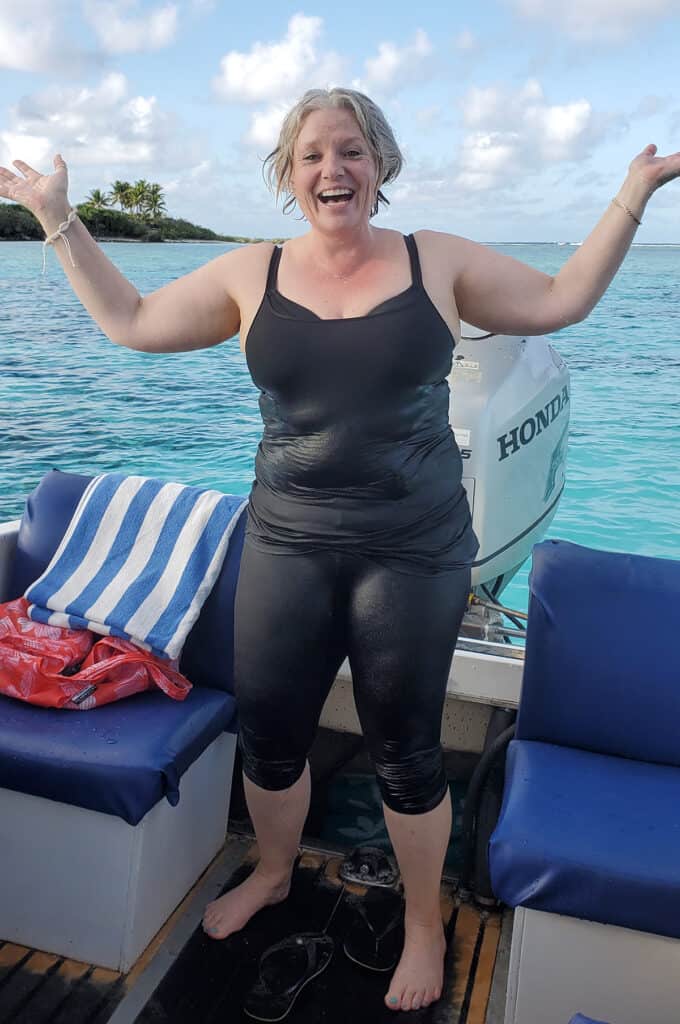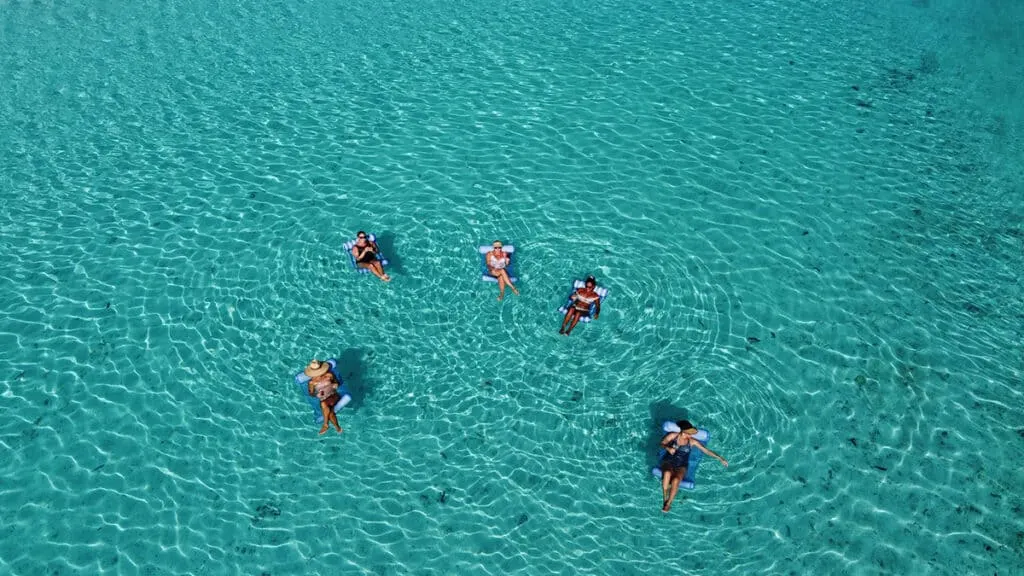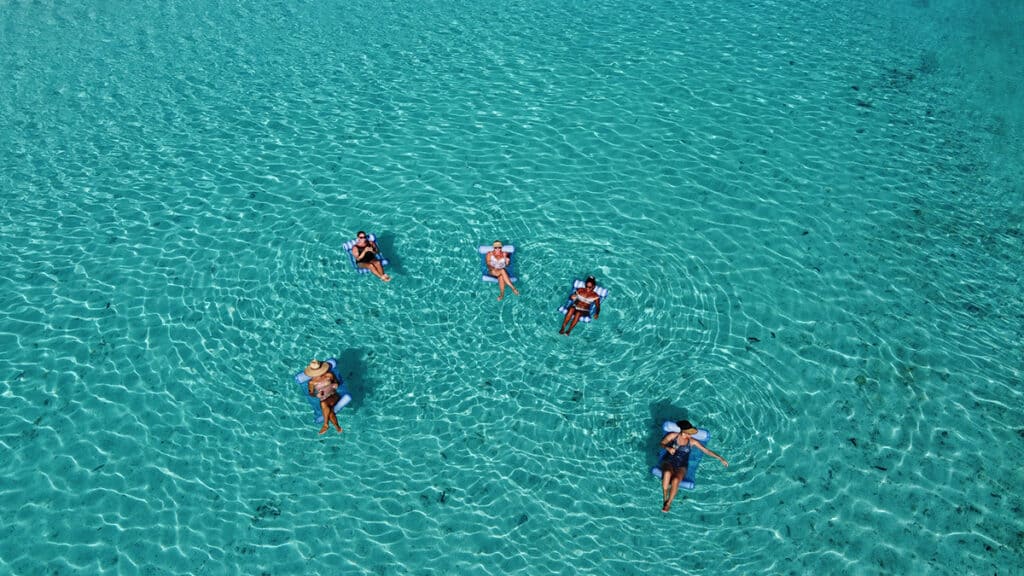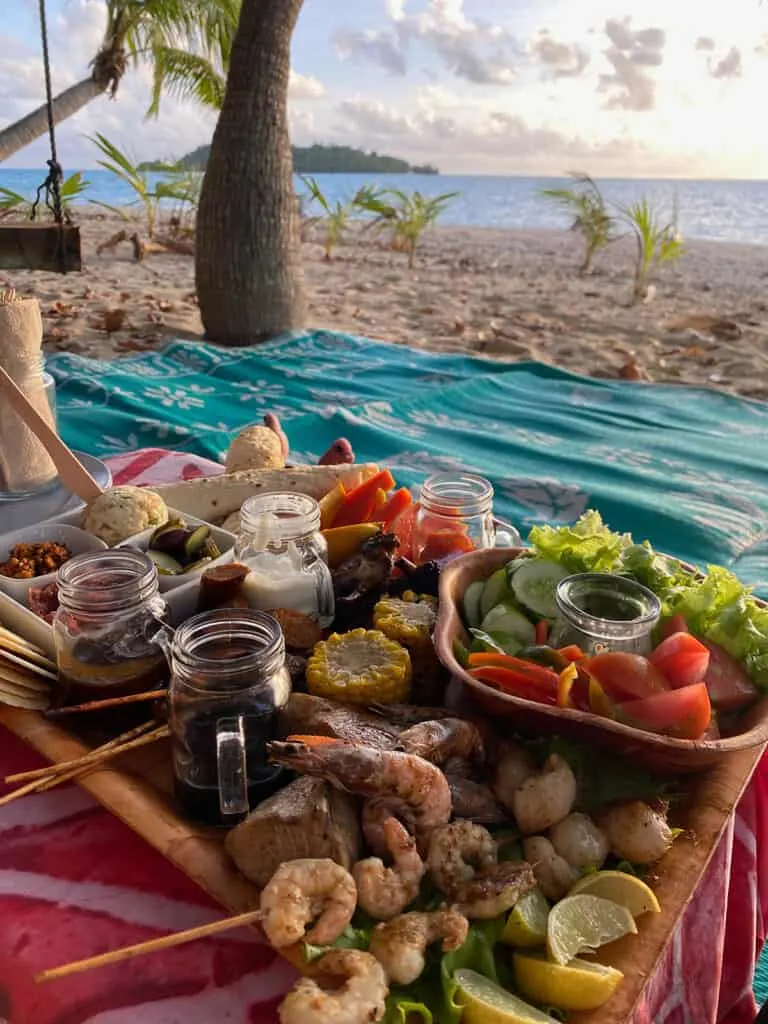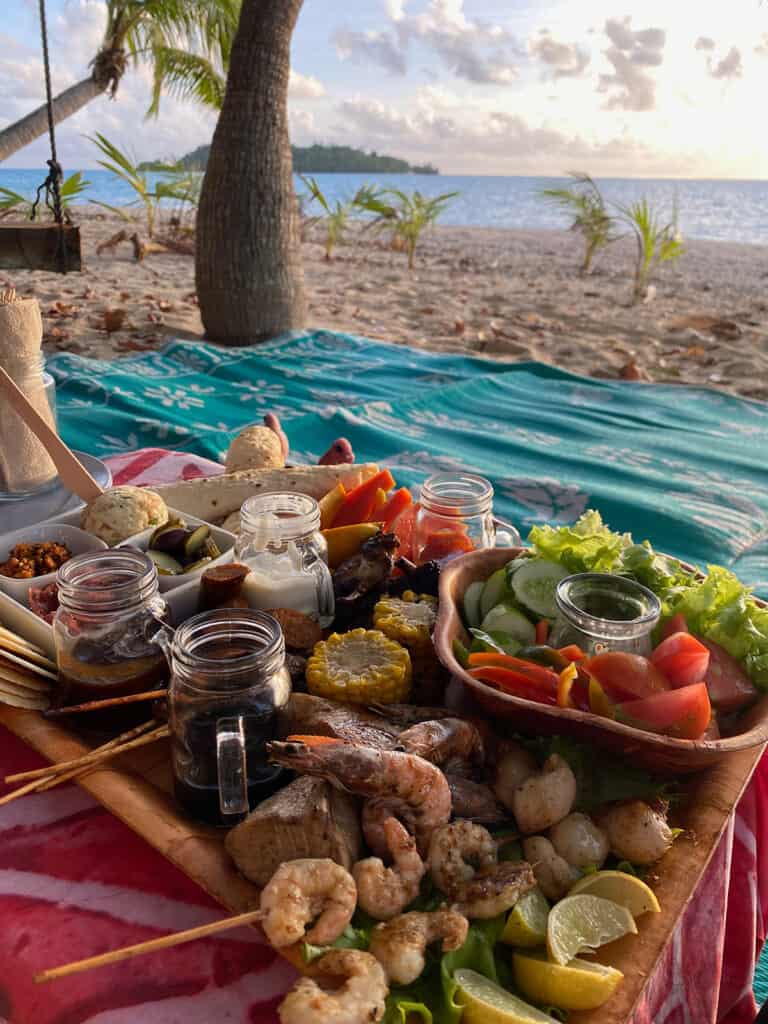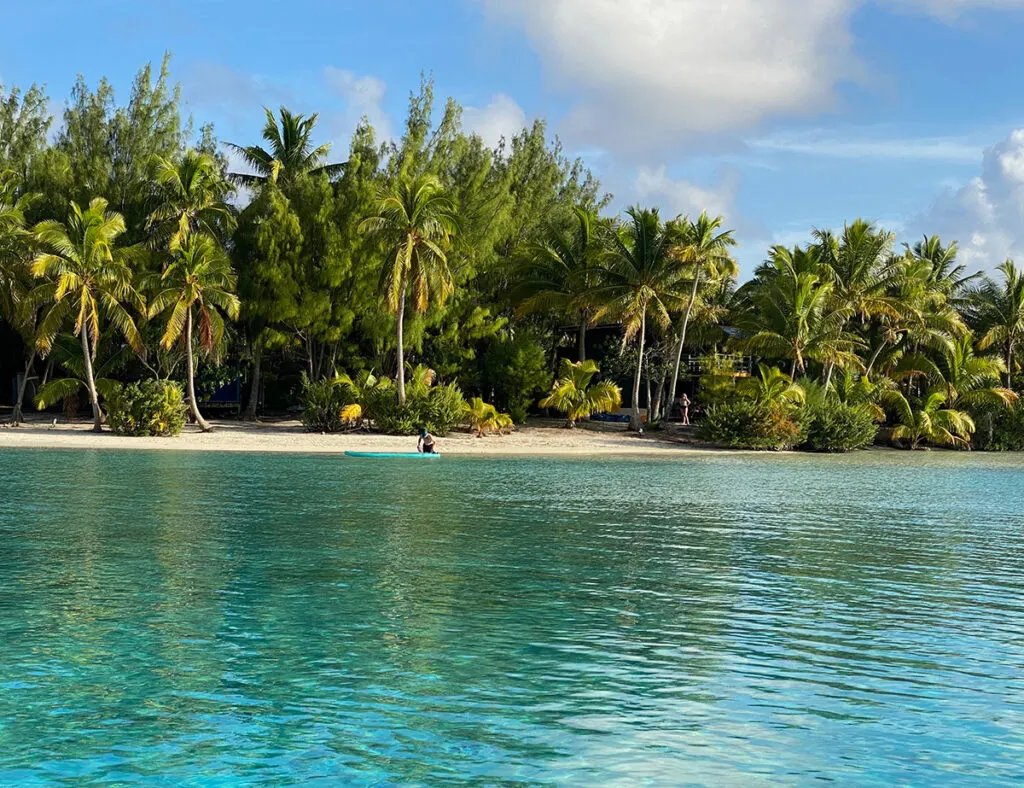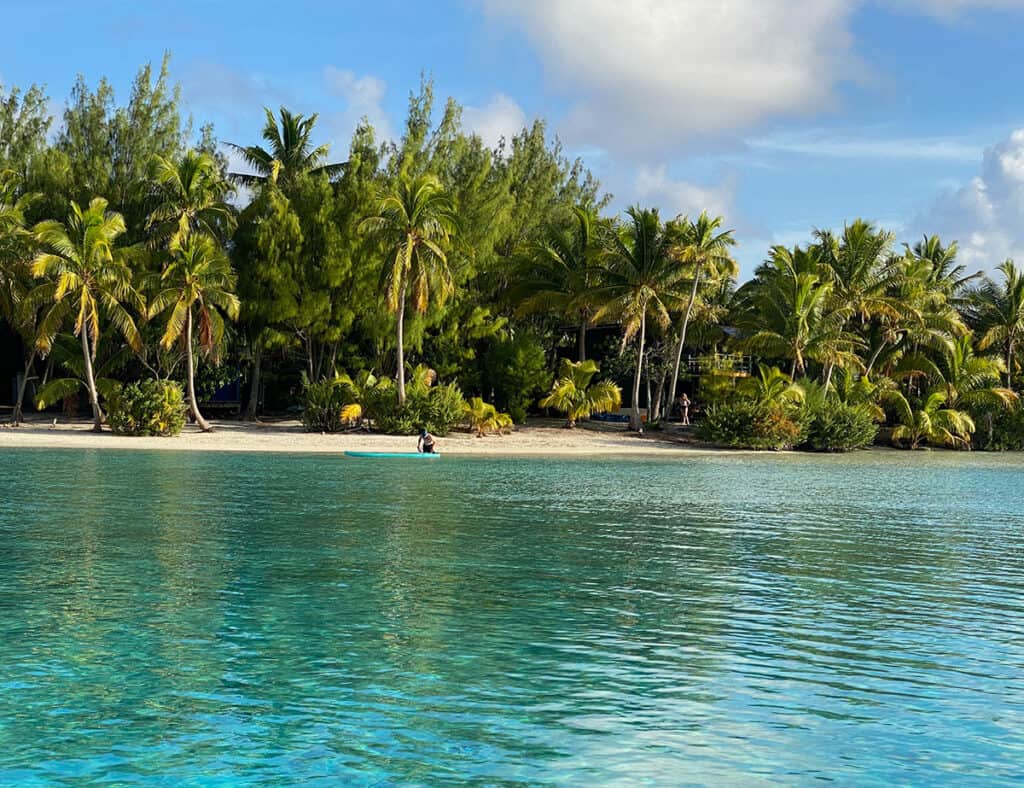 FAQs about visiting Aitutaki
How do you get to Aitutaki? You fly from Rarotonga. It's a simple process, with no luggage tags even issued! You just give them your name at check in, and you'll get your seat number printed out. You can take regular size luggage as it's a big (ish) plane.
Can you stay on Aitutaki? Yes! There are a few resorts as well as some private homes and Air BnB.
Can you take a day trip to Aitutaki? Yes you can, but you'd want to have pre-arranged a tour so you can make the most of your time. Either a lagoon cruise or maybe rent some bikes or a car.
Can you walk around Aitutaki? No, while it is surrounded by a coral reef, this is not walkable as it's where the waves crash from the ocean. There are smaller motu (islands) within the lagoon that you can walk around though.
Do I need cash for Aitutaki? I would advise bringing some cash as if you eat in a local cafe or restaurant you might want to pay in NZ dollars. Credit cards are widely accepted and usually a 3% fee is added.
Is there WiFi on Aitutaki? Yes there is. I bought a local Vodafone SIM card from Rarotonga airport for $49 and that lasted me all week. It had 5GB data, 300 texts and enough calling minutes to make bookings at restaurants or change plans. You'll find a mix of 3G and 4G.
I've also written this post on Things to know before you go to Rarotonga with lots of helpful answers to your questions.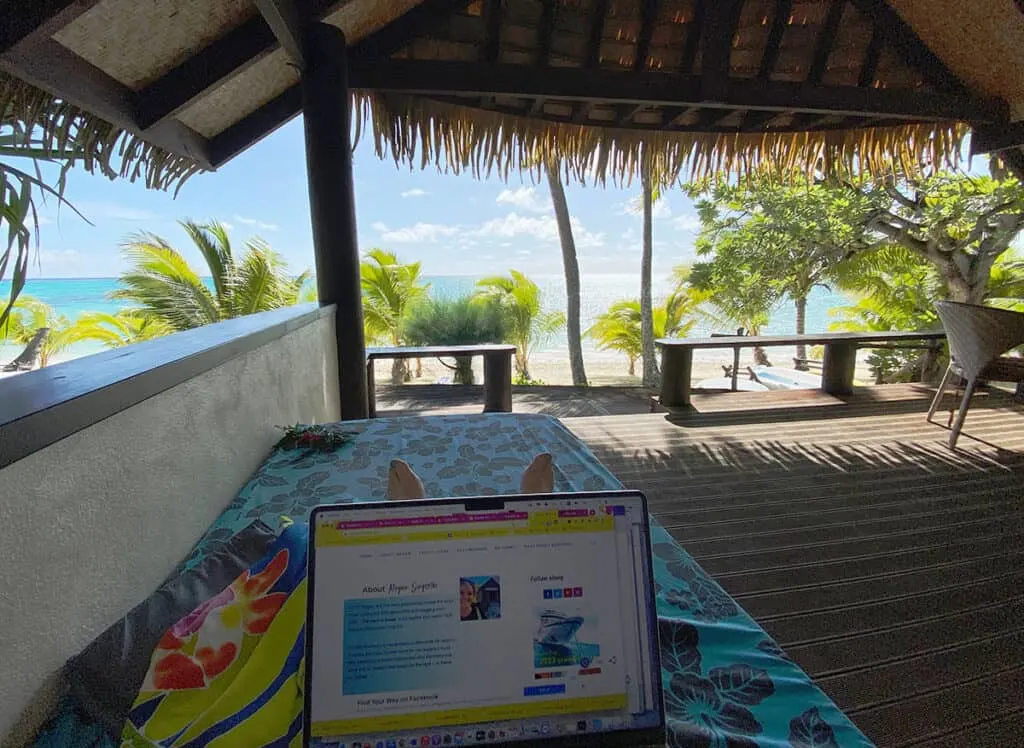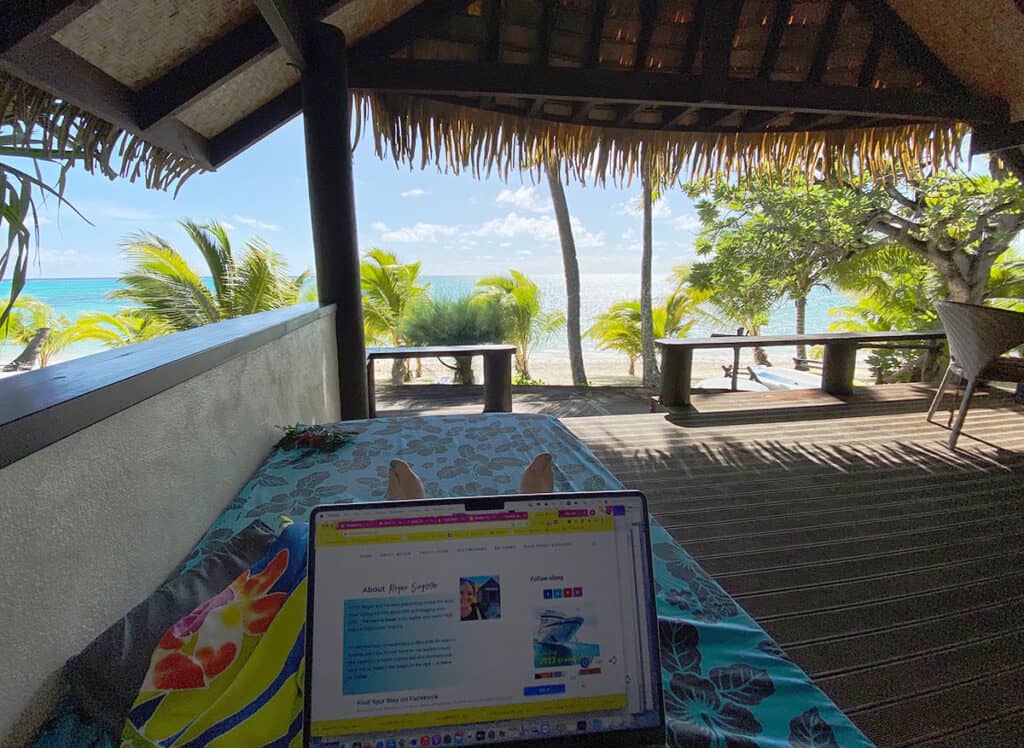 If you're heading to the Cook Islands, have a read of the travel entry requirements first so you're prepared with your documentation.