Air New Zealand's innovation has come a long way since they were the first airline to boil water in the sky in 1940, when known as TEAL!
Amid the pandemonium of airlines trying to get as many aircraft into the skies post Covid, retrain pilots and crew, and hoover off the planes that have been parked in the desert for two years, Air New Zealand released their newest big secret.
It's all about sleep!
Because of our location at the very end of the Earth, it takes Kiwis so long to get anywhere, so the customer feedback to Air New Zealand was mostly about how to get some sleep on a long-haul flight.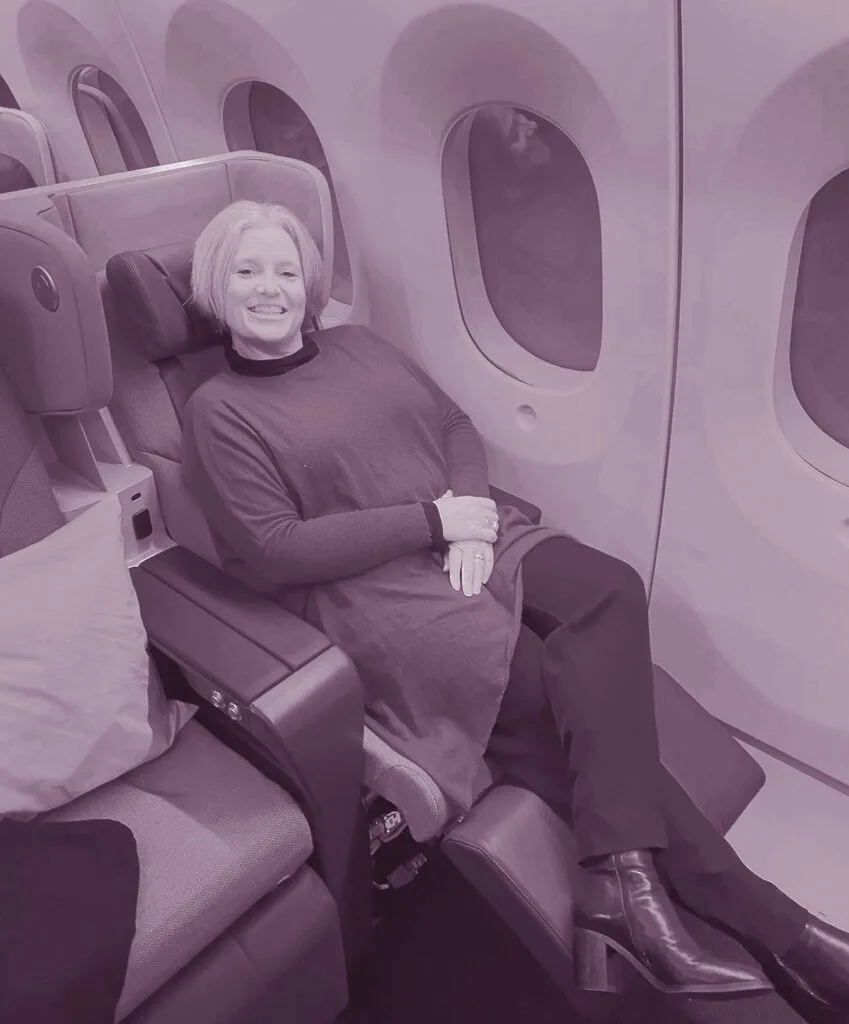 The new Dreamliner (787-9) planes due to land in 2024 will have world-leading sleeping bunks – in economy class!
Plus a new level of class: Business Premiere Luxe, with a bigger seat/bed/dining table suite per person. It even has little closing doors for extra peace and privacy. See my pics below.
I went along to see the prototypes dreamed up by Kerry Reeves (Head of Aircraft Programmes, Air New Zealand) – and his team, he's quick to point out.
Those of you who fly on Air New Zealand will know all about the Skycouch, which launched to much fanfare in 2010, was a ground (or air?!) breaking piece of engineering, which they were able to get a patent for. It's earned them a bit of coin over the years too as other airlines took it up.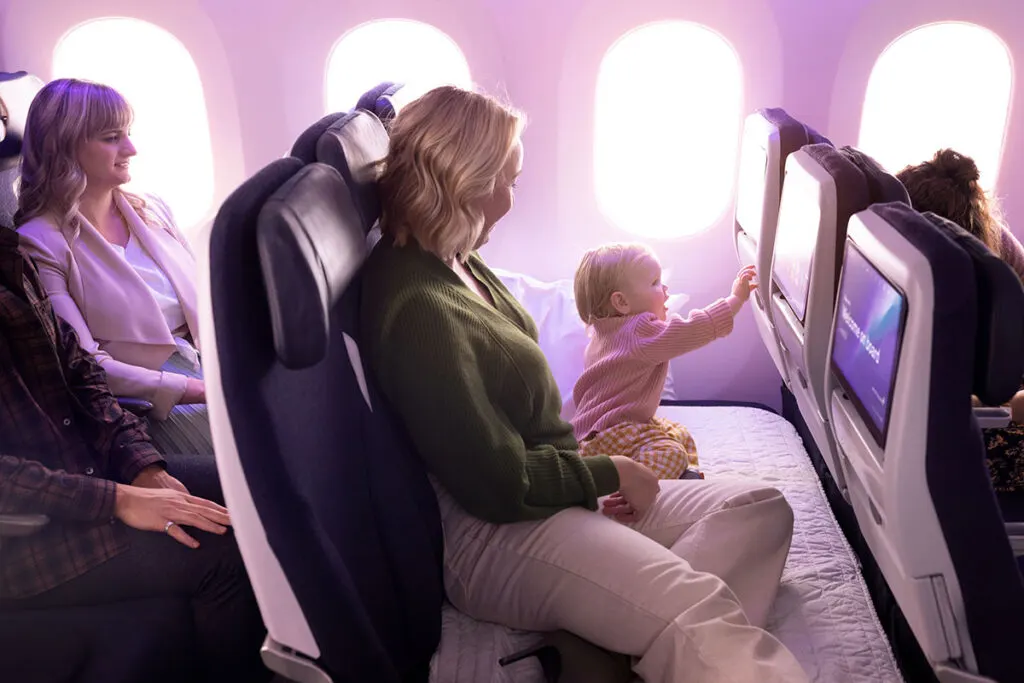 Well, I'm proud to say, Air New Zealand has done it again.
Peek inside the new Air New Zealand 787-9
They've built a bunk bed pod in Economy! They've done other things with seats too which I will show you below, but the bunks first.
If you can picture what the crew rest area looks like, it's that – only for passengers. The new sleep pod holds six individual bunk beds stacked three-high. Scroll down to see a photo of me in one. They look narrow and tiny, but they're surprisingly roomy.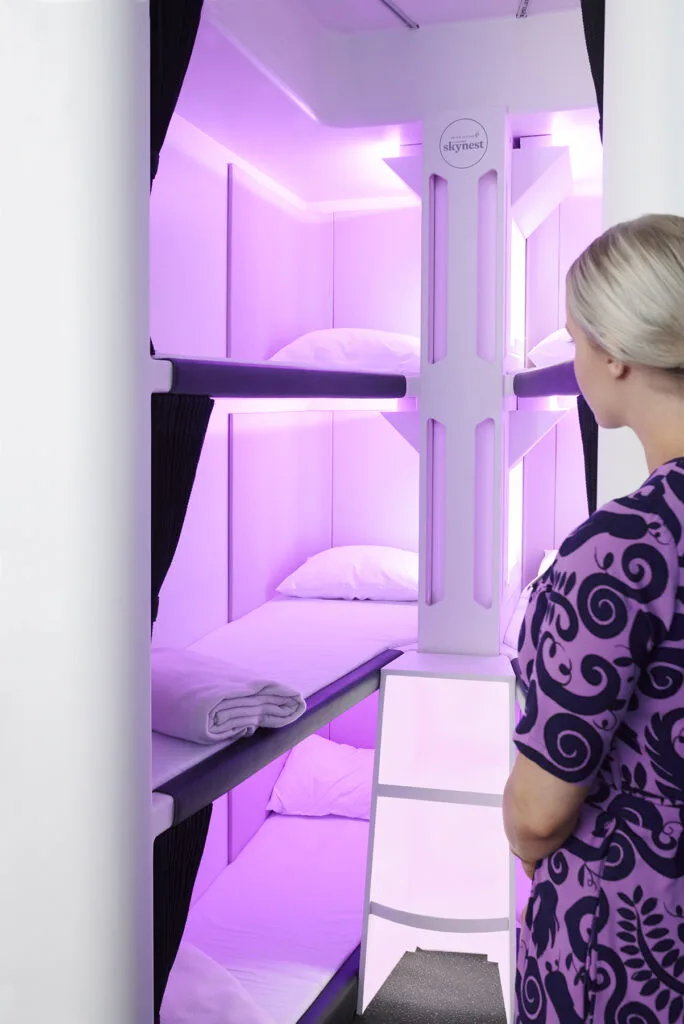 You'll book a sleep session in one, then when it's your turn take your earphones (or maybe ear plugs), your book and prepare to settle in. A pillow and blanket will be provided. Draw your curtain and switch out.
Passengers will need to have their own Economy seat, then they can book a four-hour stint (I guess that depends on the length of the flight) in the pod for a sleep. Linens will be changed between passengers and there is a curtain that can be pulled across to give you privacy.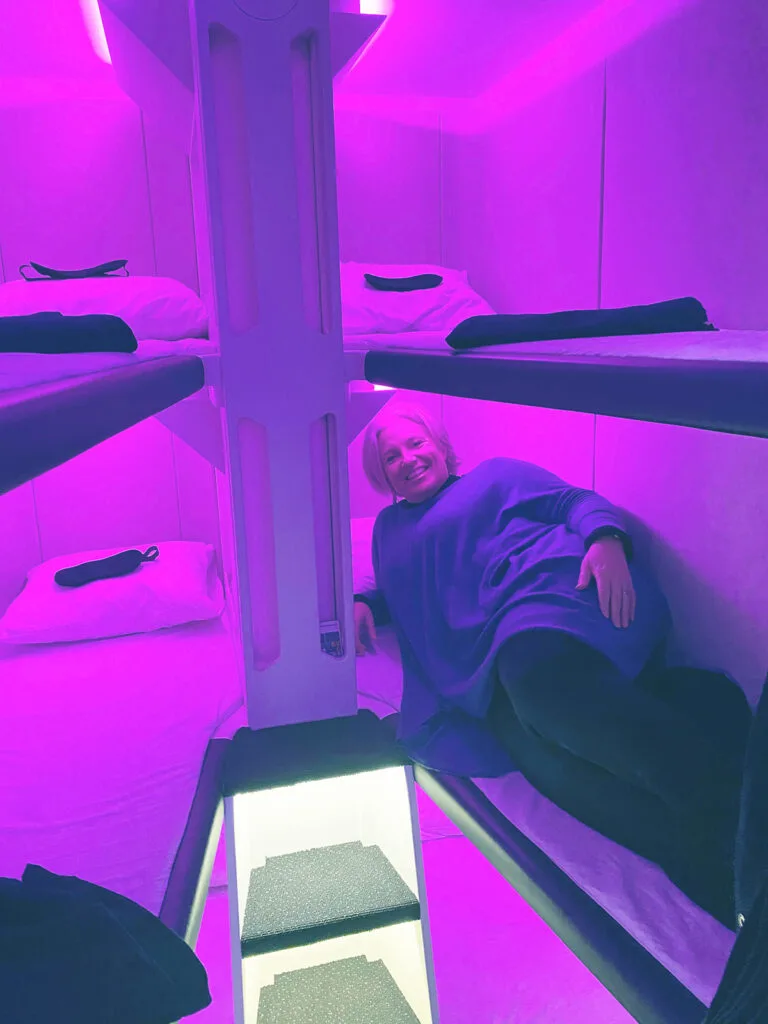 Here's a tip: if you're travelling with a partner/friend, and you both want to book a sleep session, don't book it at the same time. That way you get two seats to yourselves each while you take turns having a sleep.
New Air New Zealand Economy seat too!
But now back to the newly revamped Economy class seats.
They are designed with more storage, comfort and space and a 50% bigger screen for entertainment. You can connect to Bluetooth audio and pair your device to act as a remote control or second screen.
They have also added side supports for a comfier fit.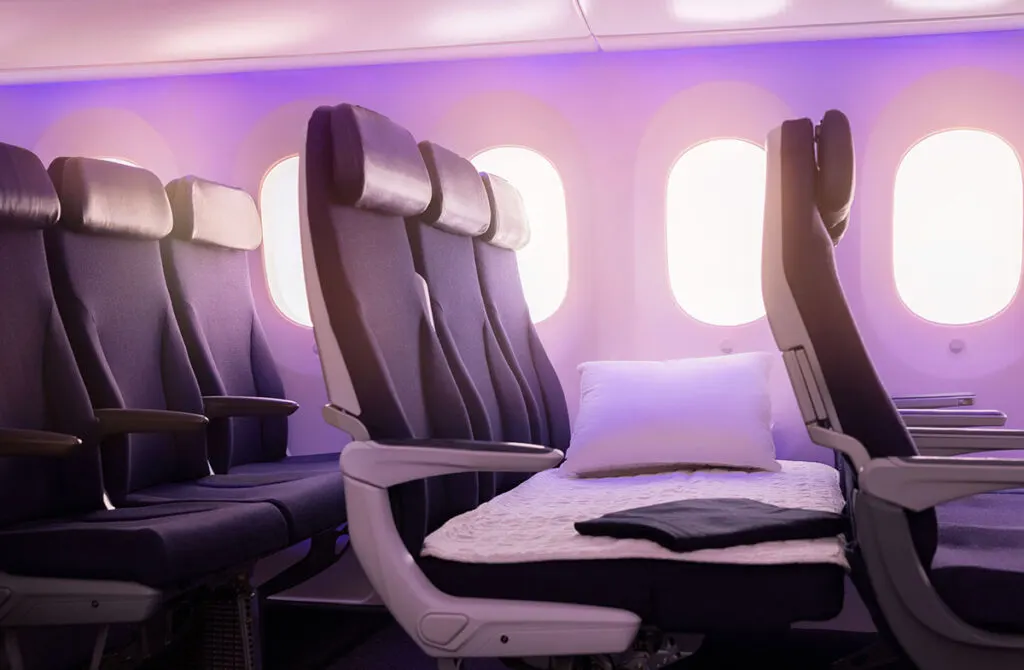 Economy Stretch
There is also an Economy Stretch seat coming with more leg room. But in the new Economy seat alone I noticed the extra knee space.
Kerry explained that they've been able to redesign the seats so that the one in front of you is now angled in, giving the passenger behind more knee space.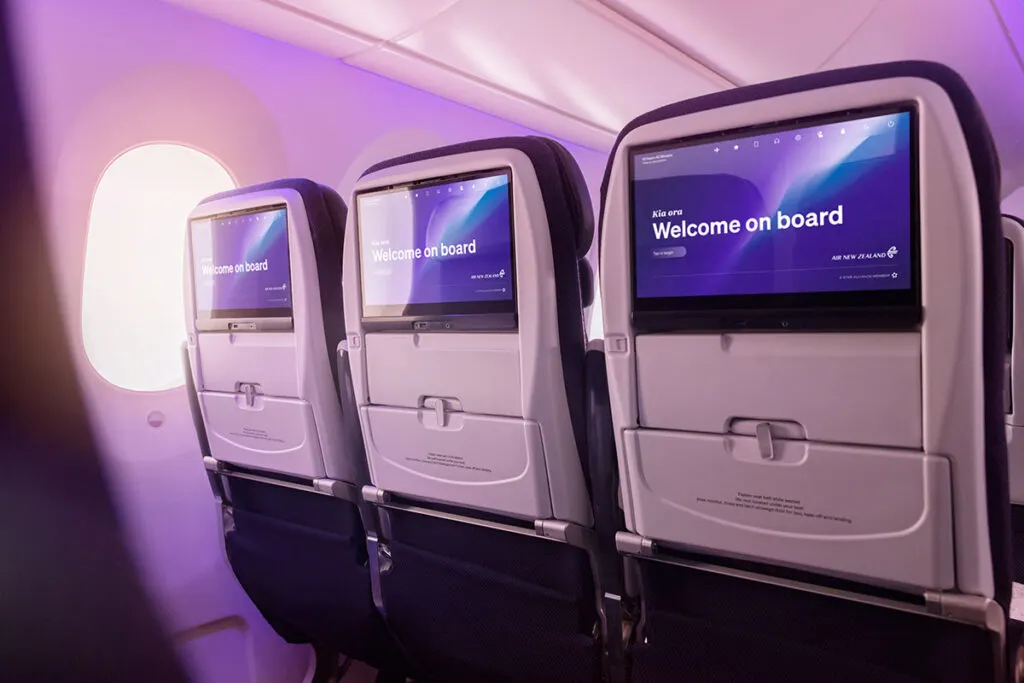 New Premium Economy seats
All the seats across all cabins are now fabric, not leather. Leather is a heavy fabric and creating a lighter fit out was part of the remit for this overhaul.
The new Premium Economy seats has more space to recline and not get trapped in by the reclining seat in front as their seat-back will not recline into your space.
Now to the new class: Business Luxe
Kerry and his team have gone away from the herring bone seat layout up the pointy end, and straightened them up. That means the window seats actually get to see out the windows now.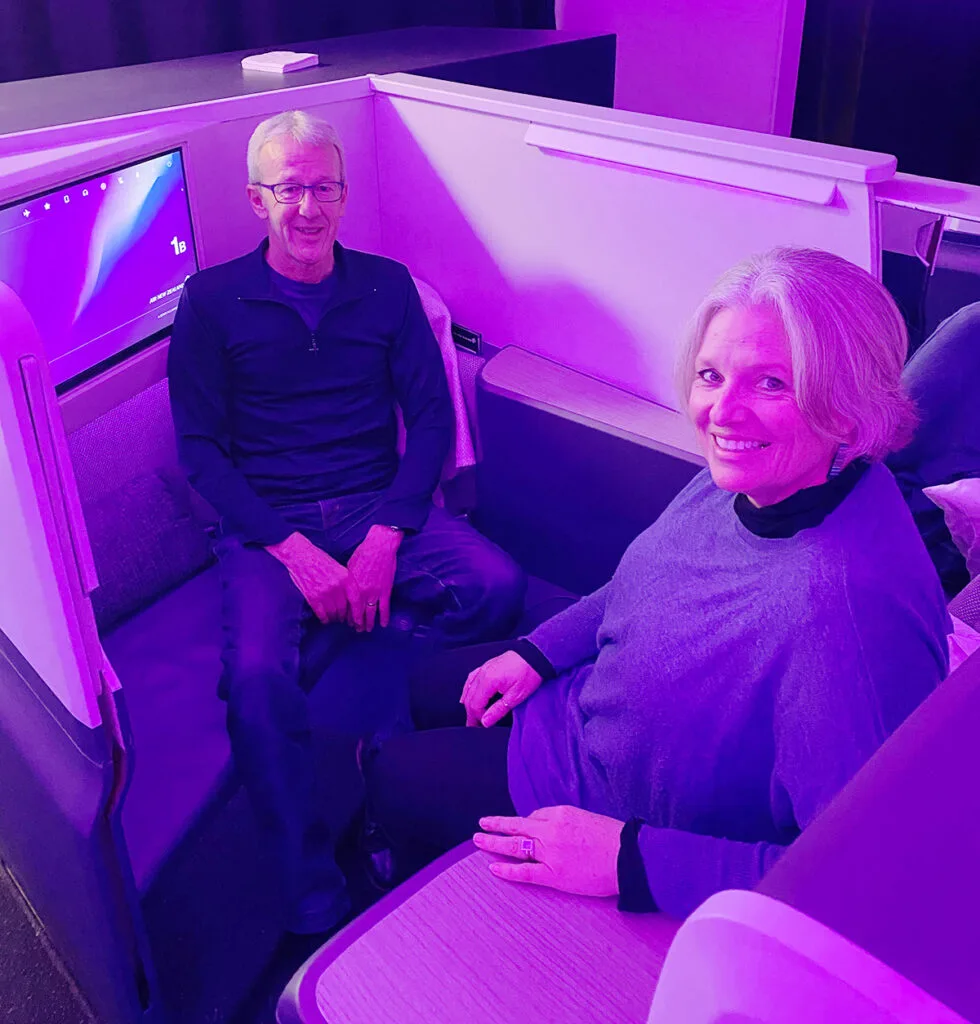 But the new class has a couple of clever features that they've worked on which is to still have the same length as before, but now your feet poke into the space beside the person in front and they've found some new space to open up your own tiny room in the sky.
In fact it's so roomy that your traveling partner can join you in there for dinner. A table will pop out of the wall and you can dine together in the sky.
Closing doors!
And like some of the other First Class cabins in airlines like Singapore Airlines, they've added little sliding doors so you can shut yourself in for some shut eye.
The doors only go as high as the seat back, but when you're lying down, they create a lot of privacy.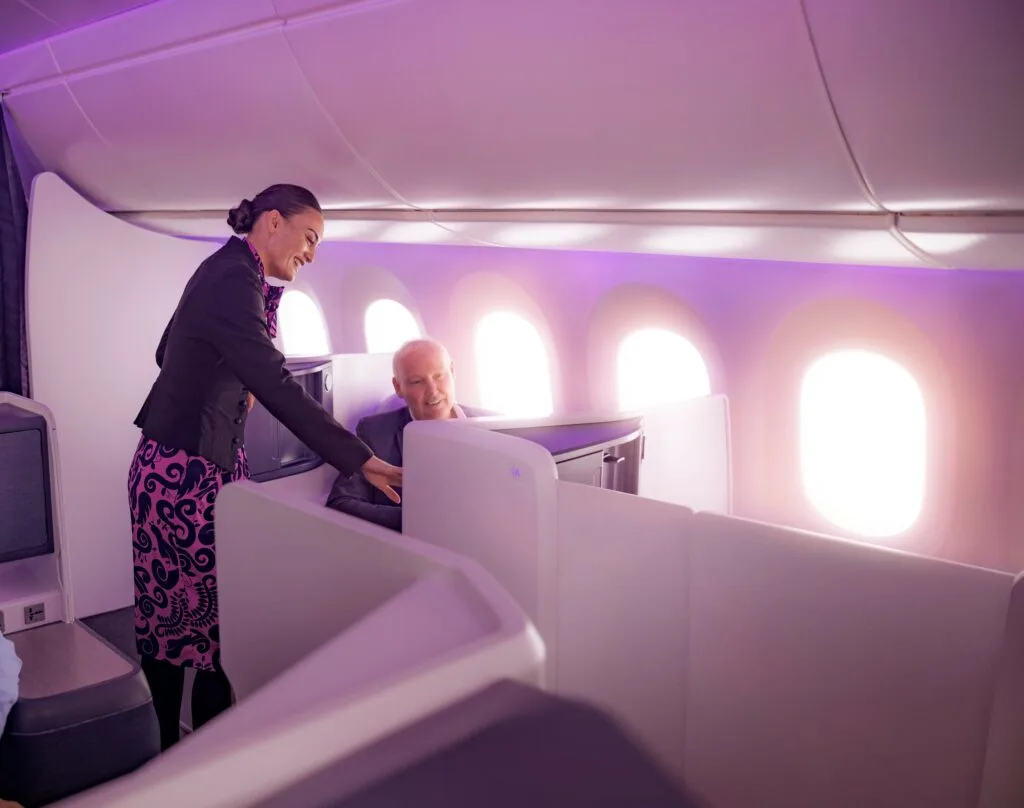 Chat to your neighbour
The new Business Luxe cabin is laid out 1-2-1. But with the abandonment of the herring bone style, the two seats in the middle can lower a little screen and chat to each other. So if you're traveling with someone up the front, these are seats you might want to book.
The Economy Class Sky Pantry
You'll no longer have to tentatively head to the galley in the back of the aircraft in the middle of the night and bother the crew if you want a snack or a drink.
The airline has also added a Sky Pantry to the Premium Economy and Economy cabins, so customers can stretch their legs, grab a bite to eat and hydrate at their leisure throughout their journey.
A great idea for scratchy kids too. Go for a walk to get a packet of chippies and every one is happy – not least the person sitting beside them!
New Business and Premium Class crockery
The crockery has had a makeover too! Gone will be the heavy rectangular plates and square spoons and in is coming a lighter weight dinner set.
It's super cute too. In fact the dinky milk jug is so cute I suggested they might want to sell them on-board or people will nick them!
I must have banged on so much about how cute it was with its little finger and thumb dimple in the sides, that they surprised me by giving me one when I left!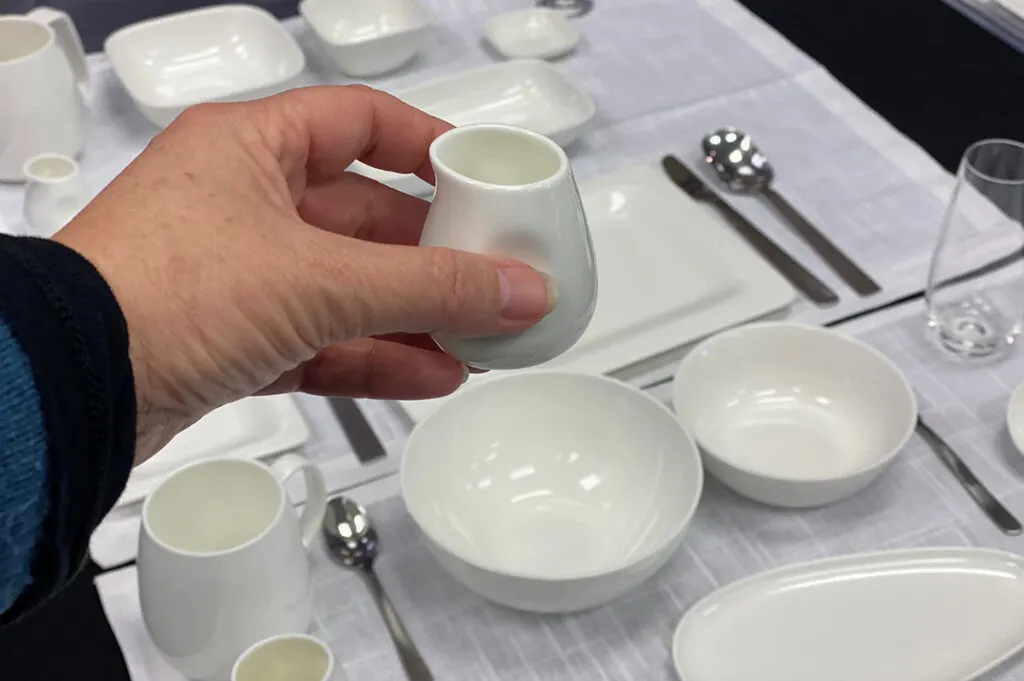 Here's what's coming and when
The eight Boeing 787-9 Dreamliners arriving from 2024 and retrofitted current 787-9 fleet will have either eight or four Business Premier Luxe seats, 42 or 22 Business Premier, 52 or 33 Premium Economy, 125 or 213 Economy seats, and specifically on the ultra-longhaul aircraft, six Skynest sleep pods.
If you're planning on flying the new direct flights between Auckland and New York City, you'll like my post on 17 things to do on a 17 hour flight!
I was lucky enough to be invited to the Boeing factory in Seattle to see the new Dreamliner 787-9 and flew on the inaugural flight to Auckland. Here's my tour of the Boeing factory.