I didn't think about writing this post until I had a desperate email from a friend today: I'm off to Fiji tomorrow, she said, and the thought of packing terrifies me!
She has got all her work finished and the house in order, but, she told me, her suitcase is sitting outside open in the sun getting some airing while she despairs about what to put in it.
She Googled how to pack for a Fiji holiday, she said, but a bunch of packing lists that you have to pay for come up, so she emailed me to suggest I write this post. So I did.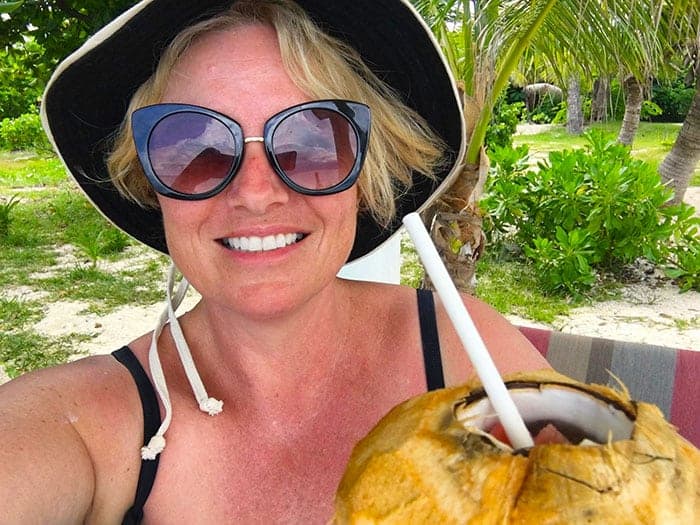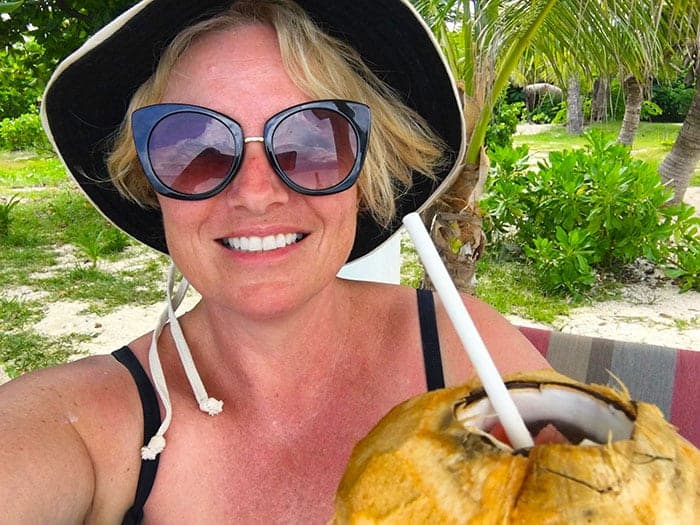 She had already found my post on how to pack a cabin bag, which covers my essential travel must haves for a long haul flight, but I didn't think throwing a week's worth of clothes together for a warm vacation was that hard!
I kind of thought it would be like teaching a someone how to boil an egg – and then I remembered, I can't boil an egg. I have to ring my mum to ask her how long they need for soldiers vs hard boiled. Every time.
So if this is you, the idea of packing (and not overpacking or under packing) fills you with as much dread as my mate Kim, then I hope this packing list for a week in Fiji (or any other island holiday) will help you:
Oh, and I'm going to assume you do not want to do any laundry on your one-week holiday (why would you??), although you may not be adverse to washing your smalls if need be (!)
I love Fiji, in fact it was the last destination I visited before Covid stopped all overseas travel.
I had my 50th birthday there recently and spent the day in our own private cabana at Malamala Beach Club – a private island near Denarau.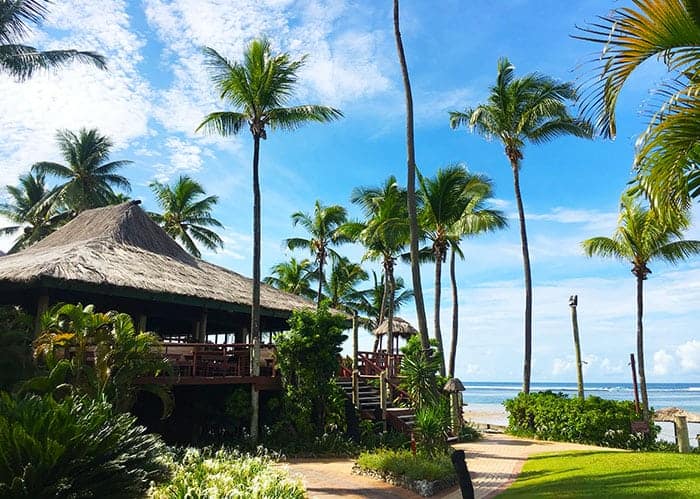 So here we go…
My ultimate packing list for a week in Fiji
Note: if you're a "list" person, feel free to jump here and grab my free printable packing list for any trip.
Undies x 8 : that gives you a couple of spares, but I have even been known to pack 10 or 12 so I can change into new ones out of my togs at the end of day for dinner.
Bras x 2 : you will be wearing one and you should pack only one more (maybe two if you plan to get physical and sweaty – like a sports bra). Why? Because you will spend most of your day in your swimsuit I imagine.
Nighty x 1 : yep I just wear one for the week!
Swimsuits x 2 : the reason for two is that you won't need to worry about getting it dry in between swims. If you're like me and HATE buying togs, then buying online will be your answer.
I bought two swimsuits online for my birthday trip to Fiji and they arrived the day before we left. Phew! Allow 3-4 weeks even though it says 7-12 days for international orders.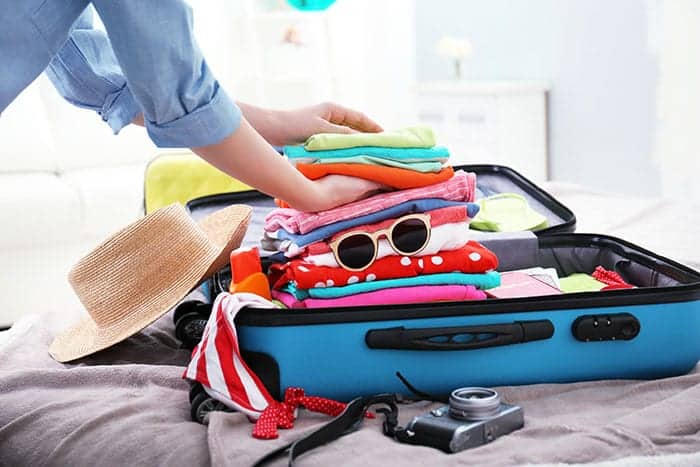 Sarong x 1 : this is just your little coverall for walking from your room to the pool or beach, or throwing around yourself when you've had too much sun but want to keep laying out.
Leggings x 5 : I pretty much live in my black 3/4 length leggings from K Mart ($7) and just switch out my tops and tunics. These roll up nicely too taking up less space.
Tops/tunics x 4 : I say 4 because you will not be wearing them ALL day every day, so you'll end up wearing them again.
Sundress x 2 : if you're a dress girl then you should switch these numbers with the leggings/tunic combo above. But take some easy to wear sundresses that can be worn over your swimsuit or as a dress. The kind of ones that will work for breakfast in your hotel and a trip out to the market, or for dinner.
Here's my best ever tip for us girls with thighs that like to rub each other up the wrong way! If you think you can't wear cute sundresses because of chafing, think again. This trick is a game changer!
Cardigan/pashmina x 2 : and if you're smart you'll wear one of them on the plane. Bearing in mind that temps in the winter in the Pacific can be around the low 20˚C in the evenings, you may need something a little warmer for sitting outdoors with your cocktail. Make sure they work with your dresses and tops.
Shoes x 2 : be ruthless here! Wear a little pair of slides or even trainers if you plan on doing any walking/hiking on holiday and pack one pair of jandals (flip flops) for the beach and one pair of cute sandals for dinners out.
Sunhat x 1 : put your sunhat, brim up, into your suitcase first and pack your smalls into the head and prop up the brim with things like your leggings. If you love sunhats, then packing two inside each other won't take up any more space.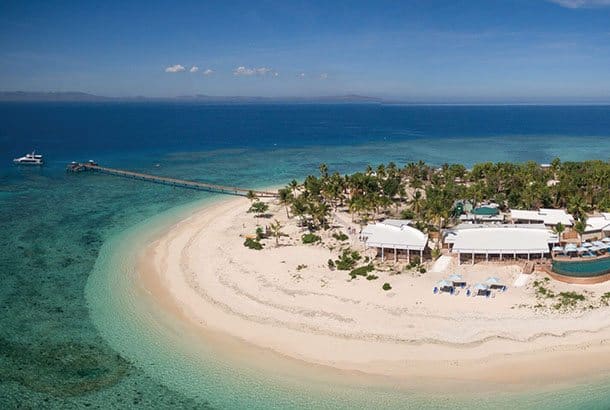 Toiletries : this is where the most of my weight comes if I'm honest!
I really HATE being sick so I have Nurofen, Betadine throat gargle, asthma inhaler in case I get wheezy even though that's hardly ever, as well as the usual shampoo and conditioner, toothpaste and tooth brush, day cream (with SPF at least 30 for an island holiday), night cream, sunscreen, mosquito repellent and that's before I pack my makeup! Oh and a nail file. I hate snagging a nail when I can't get to a cutter.
Electronics : confession… I'm not one for "going off the grid" when I'm on holiday.
One reason is that my business is online with this blog as well as my Travel Store, and I'm the only one who runs them. The other is that I just like being connected. I Snapchat my family, post Facebook updates to my friends and also on the blog's Facebook page. I take photos with my iPhone, listen to podcasts and music and use my phone to hot spot on my $7 per day data roaming plan (with Vodafone) to get online if I'm needing to email or blog. I find it enjoyable.
I understand people who want a vacation off the grid as their online use is not enjoyable, but for me, we're all good.
So with that in mind, I'll pack my chargers for my laptop and phone.
A multiboard is useful to get everything charged at once too, especially if an adapter plug is required and you just have one. I'll take my earplugs for my phone to use on the plane to watch a movie.
See my post on how I lost 2 lithium batteries to airport security and my tips for retaining them >>
Reading material : I had bought a new novel specially for the trip, but I also splashed out on a couple of magazines at the airport. Pack your Kindle or a book.
Duty free : or not! I actually packed two bottles of wine in my luggage as the sauvignon blanc I drink is just from the supermarket and a LOT cheaper than duty free. However, picking up a bottle of duty free gin etc for your hotel room is a nice idea. Just make sure your flight is direct so you won't get it confiscated if changing planes anywhere.
There! How's that? Please feel free to add your must-haves in the comments below 😀
What size suitcase should I use for a week?
I use a medium size suitcase whether I'm going away for a week or a month. On longer trips, remember you'll do laundry about once a week, so really you only need to pack for a few extra days more than a week anyway.
Currently I use the Antler Juno in medium. It's robust and cute, has 4 spinner wheels, TSA lock and I can pack on both sides to keep things in order. If you want to check that and more suitcases out, jump right to it here in my Travel Store
______________________
And one more handy post for holidaying in hot and humid climates and avoiding thigh chaffing ….. this is my personal hack for the girls (trust me, if you don't know this tip to stop your thighs chafing and your boobs sweating, you'll thank me!)