So you're hitting the high seas and going on a cruise and now it's time to pack! This cruise packing list will take you through the essentials you need to take and you can also print it out.
A cruise is always a good idea. I've been on more than a dozen cruises now and each are so different and wonderful, that I'm not sick of them yet. A cruise is such a great way to visit so many different places without having to pack and unpack every few days – and the captain does the driving!
But before you pack for your cruise, you need to do a little bit of research and find out the answers to these questions:
Where is the cruise going?
This is obviously something you can answer – because you booked your cruise vacation! But delve a little deeper into your cruise itinerary and make a note of cities and towns so you can check on a weather app to see what the typical weather will be in that location when you are there. Will you need your bathing suit or hats and scarves? Adventure cruise? River cruise?
You can do this from weeks to months in advance, but check again just before you leave home as you might be able to see an actual weather forecast for the dates of your travels if it's within 10 days.
Your cruise itinerary is also very important to thoroughly read through as you might have the opportunity to do some shore excursions that you'll need hiking boots or rain coats for, for example.
Which cruise line are you travelling on?
This is important as some cruise ships expect a high standard of dress in restaurants and even have formal nights where men must wear jackets.
We didn't know about this on a Silver Sea cruise (no, we hadn't read the itinerary properly!) Fortunately our butler was able to help us out by lending my husband a jacket – they keep some for people like us!
Who are you cruising with and how long is the cruise?
This will determine who else you need to pack for – like the kids – and how many outfits you might need for dinners and various excursions on shore or just so you don't have to bother getting laundry done on board.
For the sake of this post, I'm going to assume you are an adult and you only need to pack for yourself.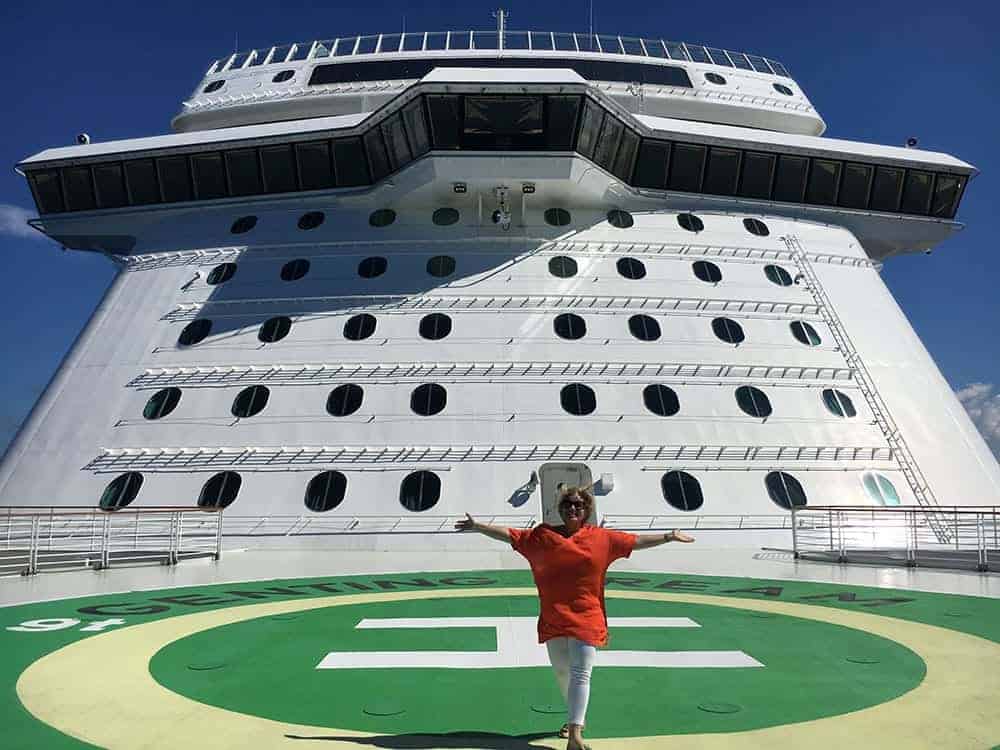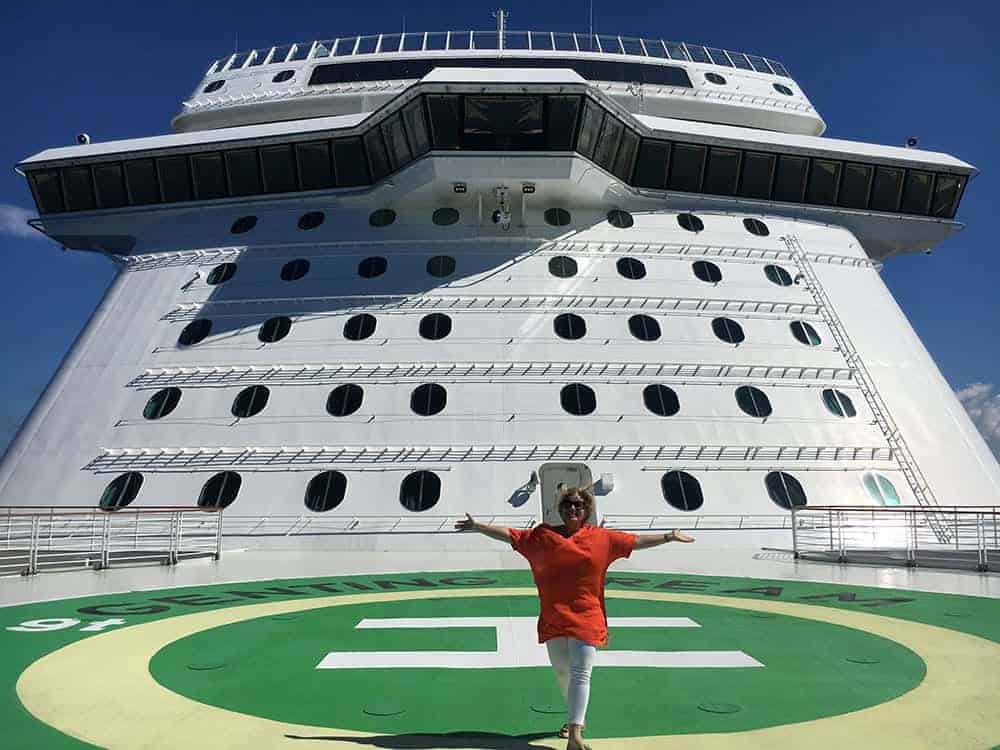 But before we get to the clothing list, there are a few cruise essentials and handy packing tips you'll want to read first.
You'll need a day pack or beach bag
A carry-on bag is great on your first day when you get onboard as your luggage may not arrive for an hour or more (depending on how many thousands of your nearest and dearest are cruising with you!)
Tip: if you can take your own luggage on board with you, it's much much quicker. Do it!
What to pack in your day pack/bag:
There are three reasons to take a day bag/tote bag with you. The first is to put your swimsuit, Kindle/book, change of clothes in so that you can find your cabin then immediately hit the pool or your balcony and not have to wait for the porters to drop off your luggage to get to what you need.
The second reason to take the extra bag is because your luggage needs to be put outside your cabin door the night before you arrive at your final destination for debarkation. If they don't let you take your luggage off with you, you'll need to put your nightwear and toiletries in to it after you've dressed and had breakfast on the final morning because no one wants to leave the ship in their nighty.
And the third reason for your beach bag is for your shore excursions when you'll want a water bottle, camera, sunscreen, etc. Plus it's handy to throw your book and sarong and sunscreen in for just lying by the pool. Towels will be provided for the pool either in your cabin or at the pool. While you won't need your credit cards or any money onboard – you will need them or some cash on shore if you plan to do more than lie on a beach.
Which luggage is best for a cruise?
If your cabin is small you'll probably prefer a suitcase that opens from the top and not fully in half as the latter takes up so much more room. Most soft shell suitcases are designed with top opening, and some hard shell ones.
However since you will be onboard for several days, the best way to keep your room tidy is to fully unpack into the cupboards and drawers and I put my luggage under the bed or in the closet. Much easier all round!
The key is packing cells! I just unloaded them into the shelves in my cabin closet. I was unpacked within five minutes! (See pic below).
What you can also see in the photo below is the room safe for your important things like travel documents and credit cards and cash which you won't need on board.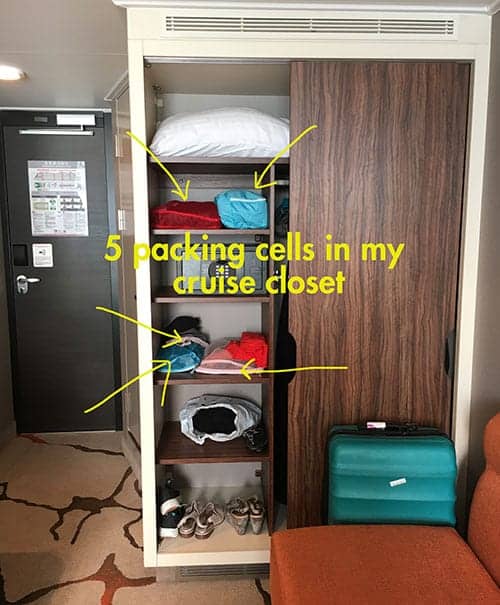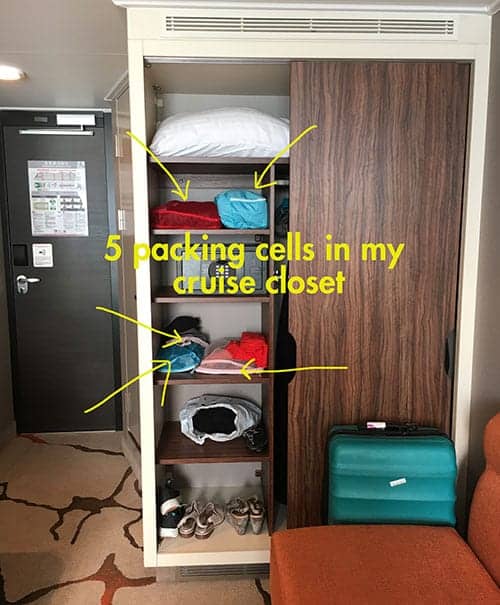 The miracle of packing cubes/cells
I love packing cubes – or packing cells! I use them all the time when I pack a suitcase. Sometimes I pack them one per day – like the time we went away for four days to a wedding. I had my wedding clothes in one, my day before and day after clothes, nightwear and workout gear in 2 more.
If you are packing for kids, choose one colour per child and you can see at a glance where everyone's things are.
What to pack for a cruise: Here we go!
Ladies, you want to pack light so your clothes can be unpacked into the drawers and cupboards, so smart casual is the go.
Mix and match pants and skirts with tops/tunics and take a couple of sun dresses. Pack something elegant for one or two formal nights or specialty restaurants.
Usually I go black on black and bling it up with jewellery (it's so easy for us girls!). A cute scarf or wrap is handy to change up an outfit or throw it round your neck on a chilly evening.
Don't bring heels. Seriously, teetering around on deck is not a good look and unless your shore excursions consist of the theatre, you don't need them.
Gentlemen, jeans, shorts and casual tops are fine for day wear on almost every ship. (I can't actually think of one they're not, but want to hedge my bets).
Bring button shirts for evening meals and on formal nights. On some cruise lines you'll need a jacket and tie (or a bow tie if you're so inclined). You'll need dress pants too, but they don't take up much room. Your butler may be able to provide a loaner jacket (thank you Silversea!)
Formal nights on a cruise
Many cruises include formal dinners, so check your itinerary in case there are also themes you might want to pack for – like Aloha night or black and white night. And no, these are not requirements – unless you've booked one of those super expensive cruises!
What should women wear on formal nights?
We women have it easy when it comes to formal wear! Just a simple black dress with variations on scarves, wraps/pashminas and jewellery and we can pretty much rock the formal dinner anywhere. However, depending on your ship, you may see women in long gowns and blinged up to the nines.
It's nice to dress for dinner, especially if you've had a long day out and about on shore, so I will pack nice tops/tunics that I can wear with different pants and a pair of nice shoes, although as I'm not a fan of heels I don't travel with them – not to mention they are impractical on a ship.
I also take a small evening purse, usually one that I can throw over my shoulder, for my room key, phone/camera and lipstick.
What should men wear on formal nights?
Most often men don't need jackets, but if you've booked a fancy cruise there will be a dress code. You can either bring your own jacket or borrow one. Some ships also have tuxedo rentals, which will save a lot of luggage space!
Men usually need to wear at least a collared or polo shirt and dress pants – no jeans into the dining room and maybe some of the posher specialty restaurants. Although I think my husband may have got away with black jeans and a nice buttoned shirt. This is a good solution if the cruise is just one component of your travels and you won't need dress pants and jackets anywhere else.
Sensible shoes: Ladies don't need heels for formal nights, but I will allow one pair (I know, I'm generous). But you will certainly need some good walking shoes for excursions. Also a pair of flats that are good enough to wear to dinner onboard is essential (I had to borrow my cousin's on one cruise). Flip flops with a little bling can usually cover all bases. I limit myself to just three pairs of shoes on most of my trips.
Gym gear: If your chosen ship has a gym (most do) then bring your trainers and if you're anything like me, you can wash your gym clothes in your shower and hang them either on your deck to flutter in the ocean breeze, or in your room with the air conditioning on full roar and they'll be dry in no time. Or if you're actually anything like me, they won't get used and you'll unpack them when you get home…
By the pool: Pack a couple of swimsuits so you don't have the nasty job of pulling damp costumes on when you want to hit the pool again. Take a hat, sarong/kaftan and jandals (thongs/flip flops for my international readers) and sunscreen. You can dine poolside in this getup and wrapped in a sarong or throw on a coverall beach dress and you'll be rocking the lunch buffet or on-deck-barbecue.
Laundry: Some ships will have a laundry that you are able to use with coins or tokens (although these are being phased out and your cabin attendant will take your clothes to the laundry service – for a fee). I usually take a small packet of laundry powder to use in my bathroom for hand washing.
Toiletries: I recommend a hanging toiletry bag as space is a premium, so if you can hang your bang on a towel hook (with your towel over it if necessary) that will save you vanity space.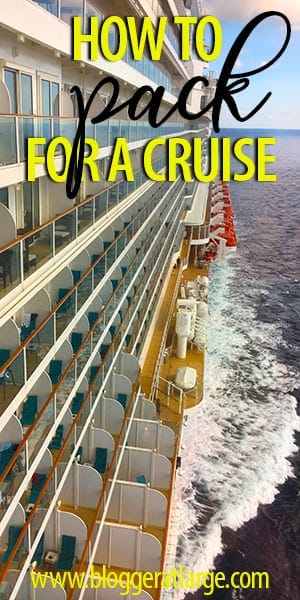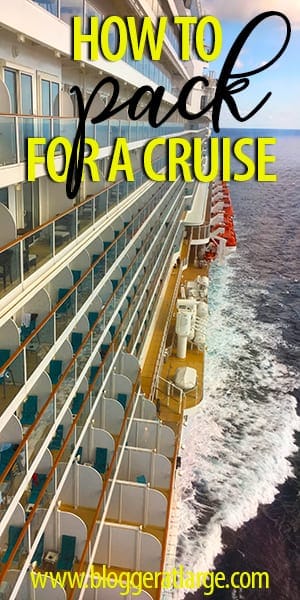 What to take for Entertainment on a cruise
In your cruise packing list I also like to add these accessories…
Binoculars are a great idea wherever you are cruising. Spot the whales breaching in Alaska, see the far off Italian village before anyone else, find a castaway lost at sea. We've also got a monocular which is a bit smaller to carry and is fun a home too for taking to concerts or just bird watching.
Take a good book (or 2) for sitting by the pool or on your balcony for some quiet time. I'm also a Kindle fan, so whatever your reading poison is!
Take a mini blue-tooth speaker to play your music from your phone. They're cheap as chips!
Shoe holder – a door shoe organizer, is a great tip I've seen for storing all sorts of whatnots like sunscreen, yes shoes, makeup bag (if it's small!), foldaway umbrella, chargers. Because you've unpacked for the week, you can end up with a lot of clutter on your table. I like this idea.
Power adapter: Depending on what ship you'll be on that could be an American or European converter. Note that you may not be allowed to take a power strip (which I always pack to use in hotels) as these are considered a fire hazard and a no-no. I suggest you pack it anyway (they take up no space) and that way you can easily charge your cell phone, laptop, tablet, Kindle, camera and extra battery pack every night.
Walkie Talkies are a suggestion from a reader who says they're great for finding each other – especially your teens as no one wants to have their cellphones on global roaming. Because, yes, even out in waters around your own country you hit "global" charges.
Highlighter pen. This is a great suggestion for marking on your daily schedule (which is delivered to your room each night) which activities you want to do the next day! There will always be Bingo 😀
What will be provided on board?
Hair dryer, soap, shampoo, conditioner. Clothes hangers (you might want to bring extra hangers), towels – that you can use by the pool and even sneak off with you on a day out. Possibly a kettle to make a cup of tea.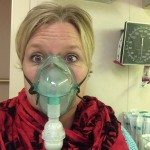 _______________________
If this post was helpful, you'll love this one: 19 things NOT to do on a cruise!
You might also like my post of Clever Travel Hacks which covers all aspects of travel from saving money to just helpful tips to know for a stress-free holiday!
SaveSaveSaveSave