I've just had a monstrous birthday and to celebrate I had quite possibly the best day ever…
This post is how to turn 50 in style!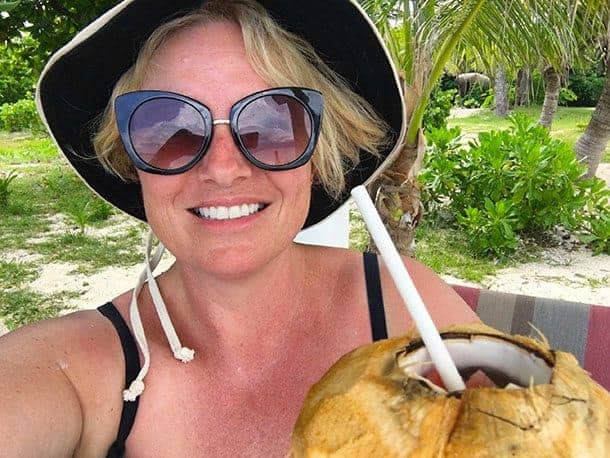 My husband and I went to Fiji for my 50th and stayed at one of our most favourite resorts, the Outrigger Fiji Beach Resort (read my post here) around on the coral coast. We'd booked a great deal for five nights and then added a sixth which meant we got an hour spa treatment each (but I digress).
For the big day itself, we went on a day trip to Malamala Beach Club back off Denarau (where all the major resorts are located standing side by side). Malamala is a fabulous concept, and just half an hour by fast ferry from Denarau.
It is a tiny private island which is edged in cabanas tucked into the lush foliage with your own butler service from the restaurant and all day access to the infinity pool and paddle boards and kayaks. If you choose not to book a cabana, you can prebook a pool side day bed, or just book the day access to the island and use the other sun loungers at no extra charge.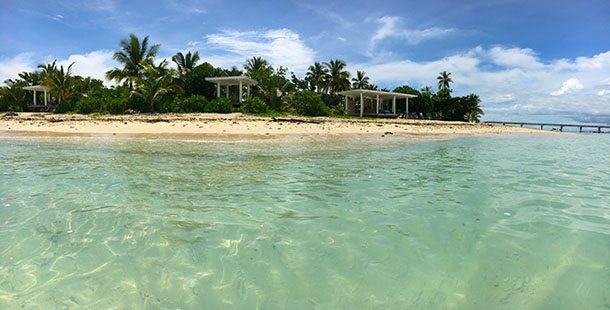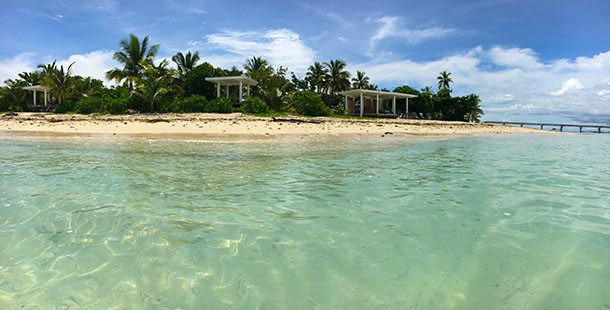 Bookings and transfers from hotels are arranged via South Sea Cruises. We were an hour and fifteen minutes drive away from Nadi so our pick up time was 8am for the 10am ferry and we stopped a couple more times to pick up more couples and groups of friends excited about spending the day on this teeny tiny private island.
The ferry also dropped off others at another island nearby, but those for Malamala descended the boat ramp after 35 minutes and were greeted in the booming and welcoming Fijian way we had become accustomed to. Bula!
We'd booked a cabana and there are two sizes, some for couples and two larger ones for families or bigger groups. These are dotted around the perimeter of the island and secluded by shrubs and coconut palms with the beach in front just waiting to be flopped into.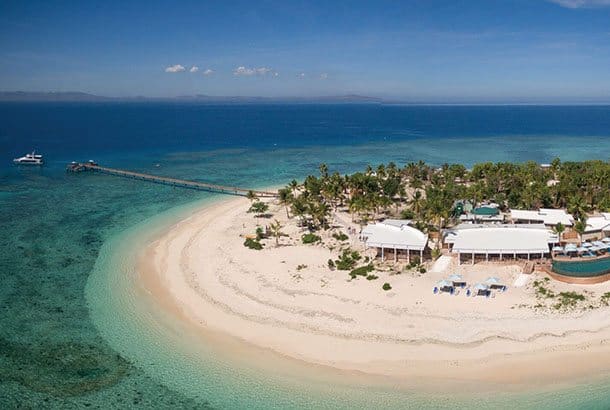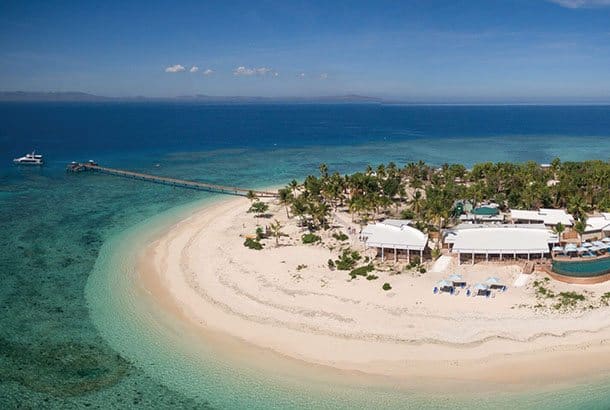 The cabanas have butler service and Pauliasi looked after us bringing us delicious lunch and snacks and drinks over the next five hours. By the way, the kokoda (Fijian raw fish salad, pronounced kokonda) here at Malamala is the BEST I tasted in Fiji and that was at four different restaurants. The reason is they scorch the coconut before making the milk. They gave me the recipe which is in this post…
But it was out with the latest Michael Connelly book and within minutes we were reclining on our triangular pillows on our day bed before the first dip in the sea, followed by that kokoda and fish and chips with a fruit cocktail served in a coconut shell. This is the life!
The main part of the island, just two minutes walk away, has an open veranda restaurant, toilets and large double day beds edging an infinity pool (you need to book these though) which we swam in at the end of the day to wash the salt water away.
I honestly had the best ever day. I hadn't been looking forward to turning 50. I still feel like my mother is 50! But to come out here with a book, my husband and my togs with nothing to do but eat, sleep, swim and read, it was absolute bliss.
*Update: From June 2018 you can now enjoy sunsets and a barbecue dinner on Malamala. More details by clicking the link at the top of the post.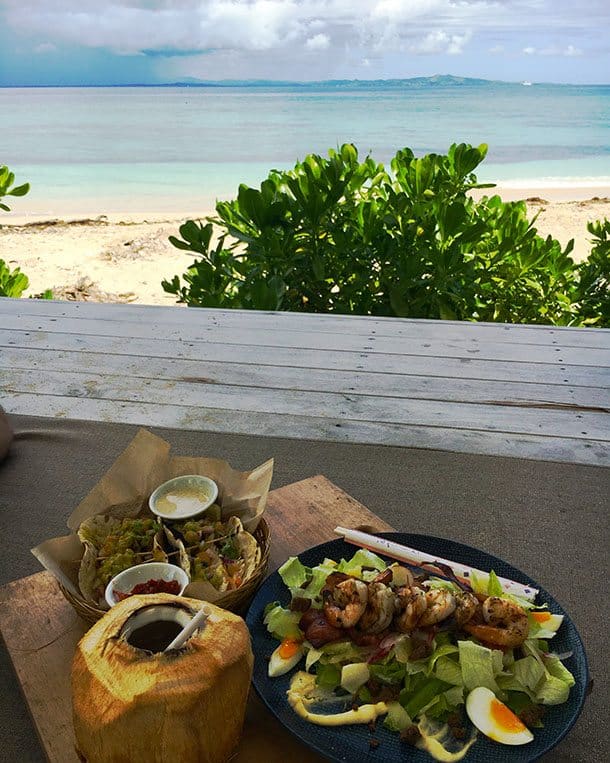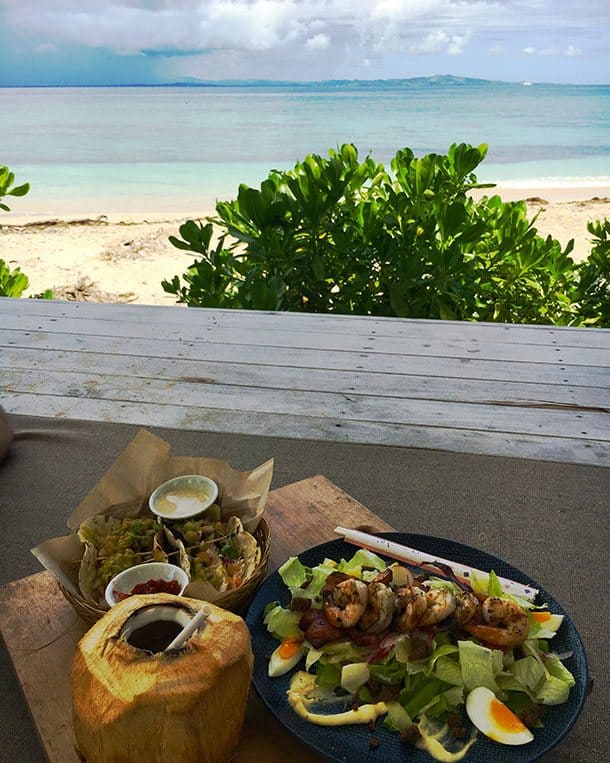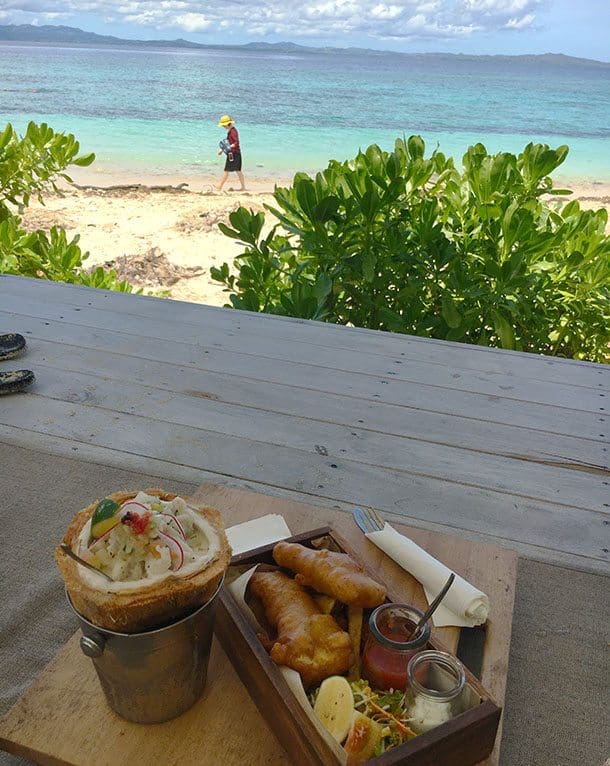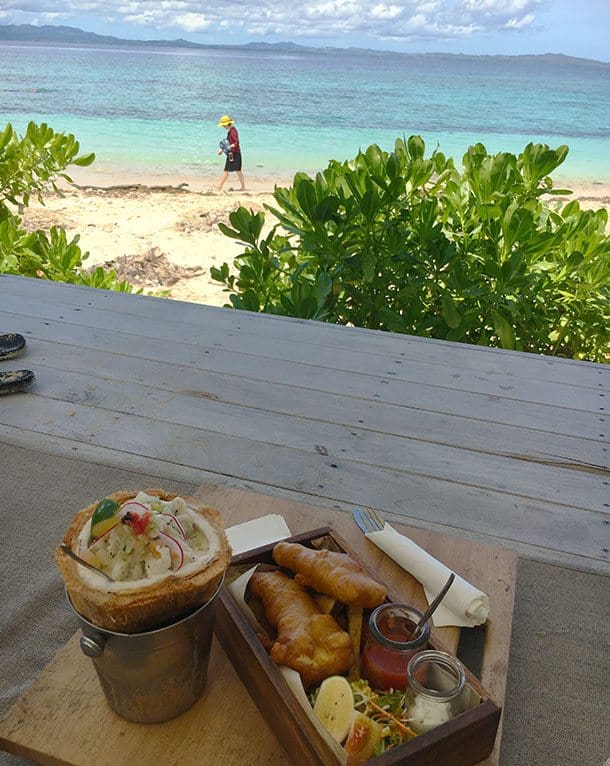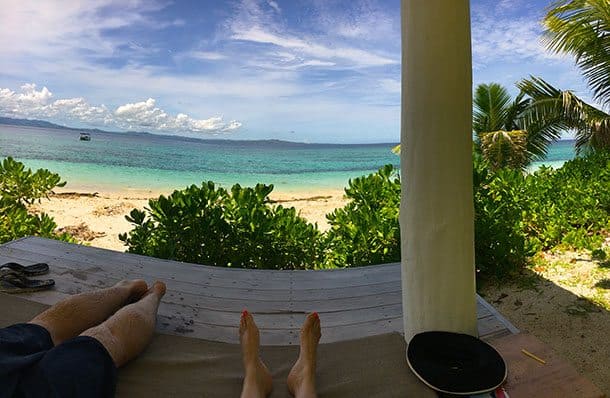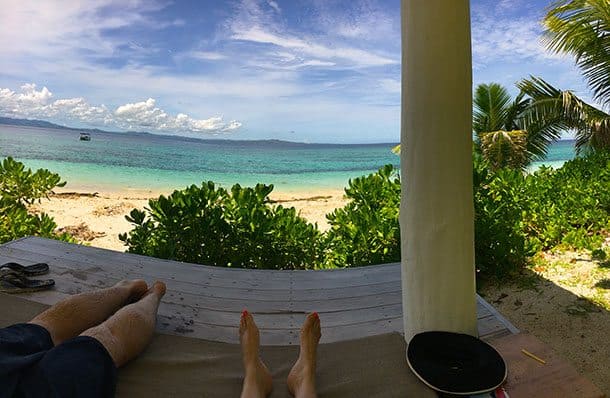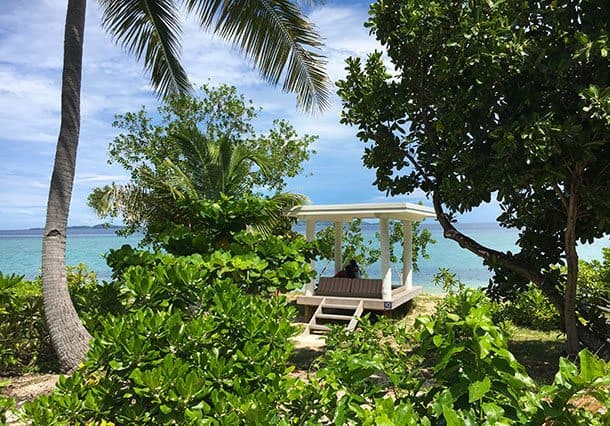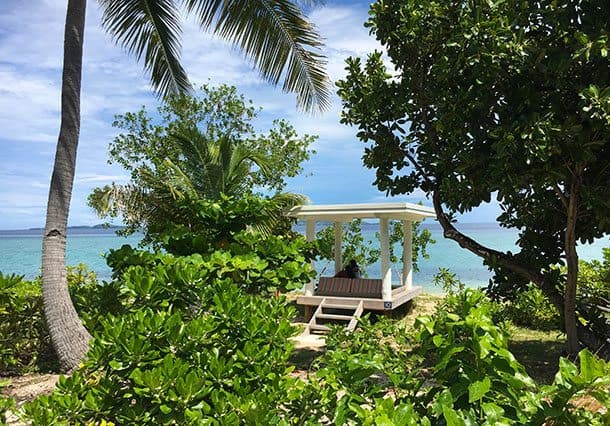 What does it cost to visit Malamala Beach Club?
There are several options to choose from for your day at Malamala Beach Club.
Prices valid 1 April 2020 to 31 March 2021. Prices are per person.
Transfers from Nadi, Denarau, Wailoaloa, Coral Coast, Natadola, Momi Bay, or Sonaisali hotels and resorts – FJD $169 per person including use of non-motorised water sports equipment for snorkelling, kayaking and stand-up paddling. Complimentary towel service. Complimentary Wi-Fi.
Extras
Poolside day bed (for up to 2 persons) – FJD$50
Beachside Cabana with butler service (for up to 2 persons) – FJD$85
Beachside Grand Cabana with butler service (for up to 8 persons) – FJD$160
Food and beverages
Pin this pic to find the post later!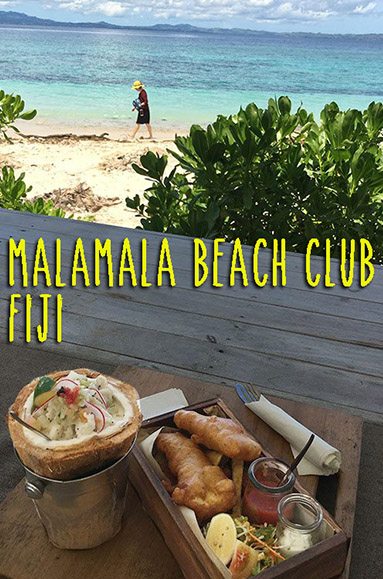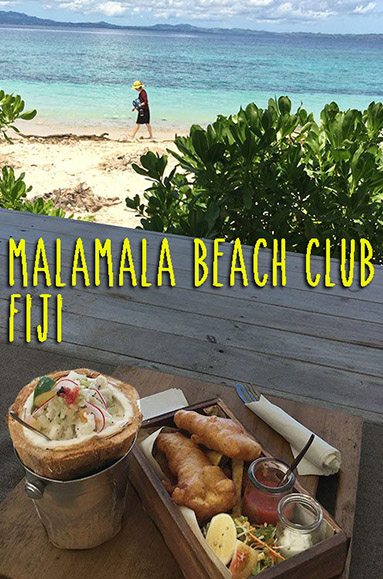 Watch and read how to make the amazing Fijian kokoda, raw fish salad, here…
(Malamala's is complicated but the best you'll EVER taste. Outrigger's is easy and delicious. You could make it every day – and I possibly will.)
You might also like to read my post on How to Pack for Fiji >
If you like diving, then check out this post on LiveAboard dive boats in Fiji >