There's an art to successfully eating from an all-you-can-eat buffet and this post will show you how 😀
We all know that buffets are fraught with problems, no matter how fancy they are. There's the whole decision-making process, the plating up dilemma, the eyes bigger than the stomach inevitability…
As a kid we had a famous smorgasbord restaurant in Hastings, the Old Flame, and I remember being there with my family one night, probably someone's birthday, and I ate as much as I could fit in, then went and had a lie down in the car and came back in and kept going!
I have made my share of rookie mistakes at buffet restaurants over the years filling up on bread or putting too many things on the one plate and having all the sauces run into each other and ruin the lot, so having earned my (waist-expanding) stripes, I now have some strategic tips for how to conquer the buffet…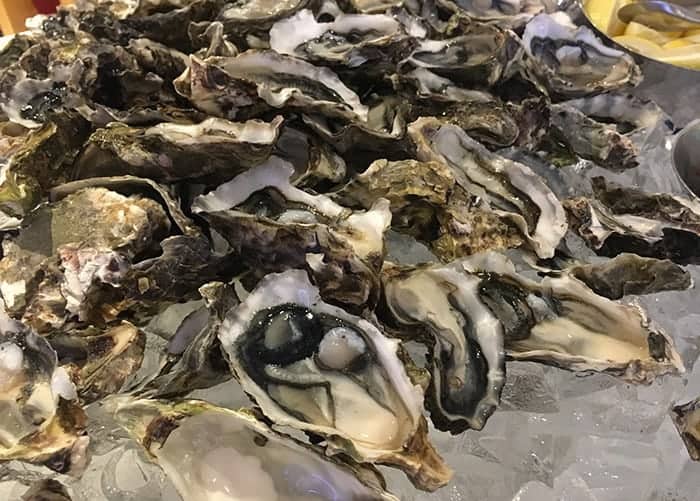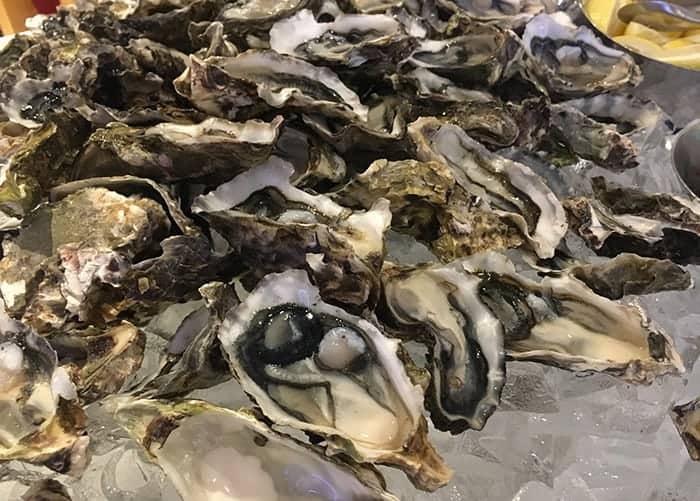 Where is the best buffet restaurant in Auckland?
Hands' down, the best buffet restaurant is Eight at Cordis. In fact they don't call it buffet (don't even mention the word!) they call it "interactive kitchens".
Eight interactive kitchens to be precise, each with a chef waiting for you to pick out what you want and them to sizzle it up for you.
You could also call it fine dining self-service because it's nothing like the long lines on cruise ships or cheap Las Vegas all-you-can-eat buffets where people pile their plates to the ceiling and carefully pick their way back to their table like competitors in an egg and spoon race.
Eight Restaurant is nothing like that. Or at least it shouldn't be – if you know how to do it right… and therein lies the art of buffet dining.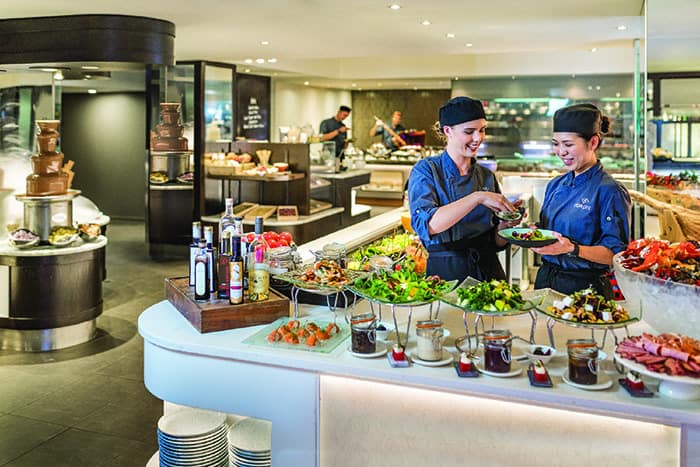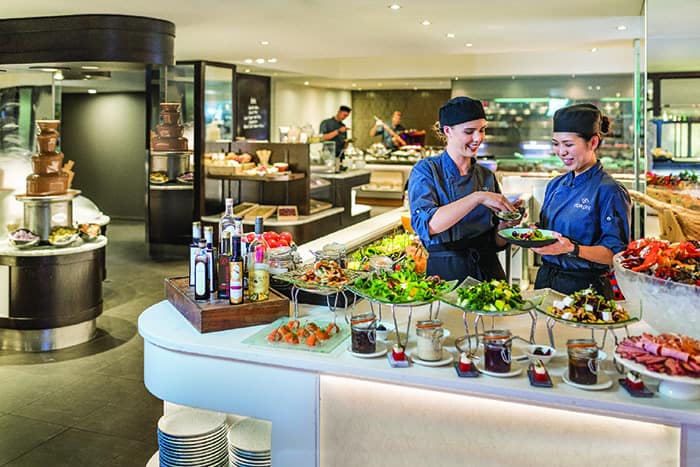 At Cordis, eight themed 'kitchens' each carry a daily changing signature dish or you can ask the chef to whip you up your own personal delight.
I've had dinner here three times now over the years and honestly it's exceptional. The dining room is quite separate from the large kitchen, so you're not looking at everyone choose their food while you eat – it's just like a regular restaurant. If you're a first-timer the very helpful staff will give you an orientation tour where you'll likely do a figure of eight (see what I did there?) seeing, smelling and drooling over all the possibilities. Well not literally as that would be gross.
So, to ensure your buffet looks like a beautiful degustation restaurant style meal there are definite strategies one must employ:
Two tips for how to master the buffet…
1 Take your time
Walk in and don't pick up a plate immediately, just walk around drinking in the offerings. But on your recce, while salivating your way around, mentally design your meal.
Maybe you'll start with raw oysters. Personally I say ick, so I started with the sushi standing in little orderly lines. Or maybe the dim sum or pork buns will entice you.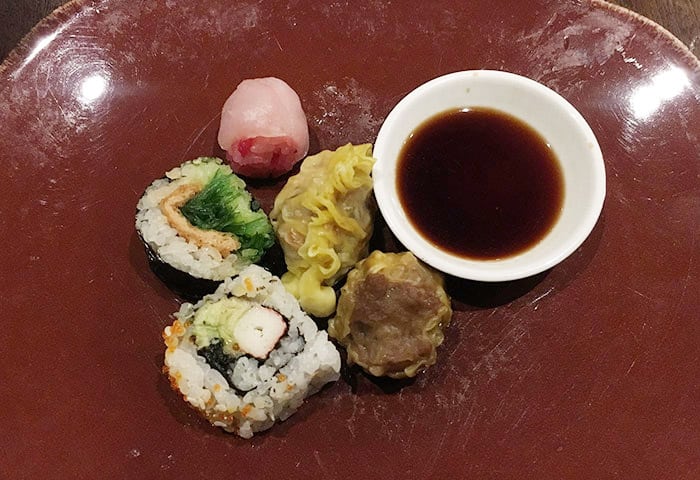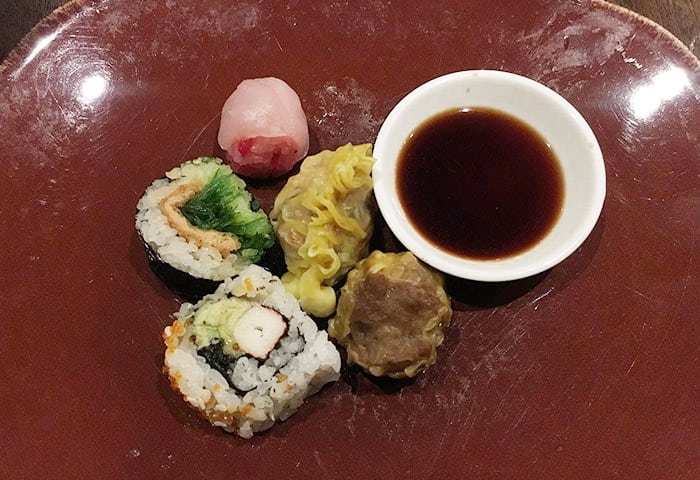 2 Treat the buffet like a degustation restaurant
Sure you could pile three meals onto one plate, but the way to do it with style is to take a plate and start small.
Avoid loading a little of this and a little of that on it until you have a mountain of greed to take back to your table. What you'll end up with is meat juice blending with your raw oysters and curry sauce on your salad. Bleurgh!
Here are pictures of my plates showing how I tackled four courses at Eight:
I started with sushi and dumplings. Just 5 little morsels and a dipping sauce.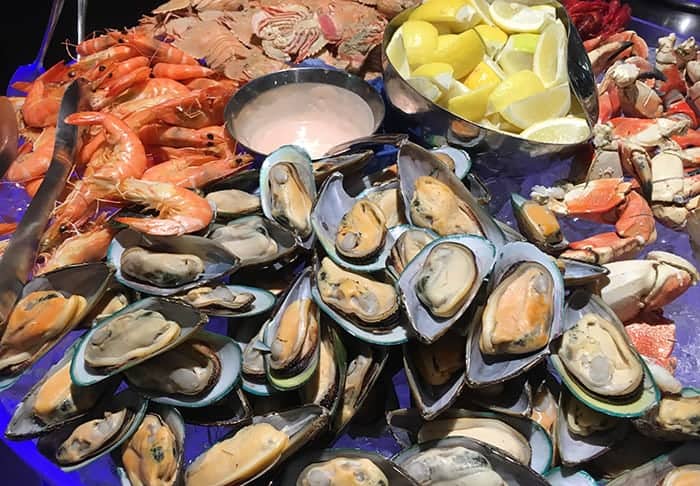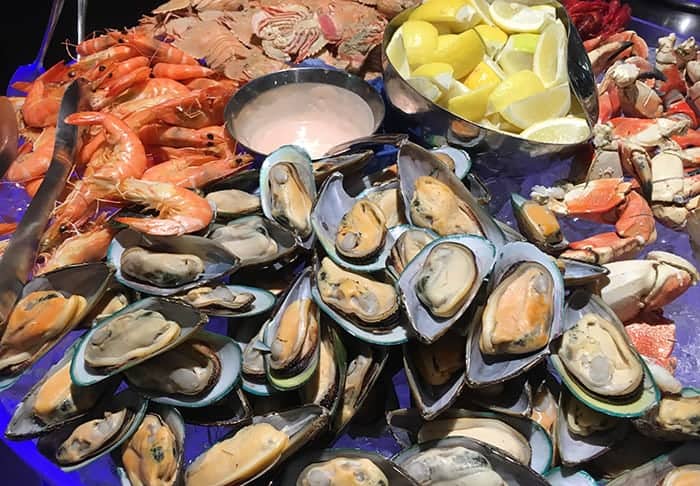 Next I went to The Grill for sizzling meat chosen from the raw meat cabinet. I fancied a couple of lamb cutlets which the chef cooked medium rare and this time it happened to be mid-winter Christmas so there was a ham on the bone with sticky glaze so I added a couple of slices of that too. My mum wasn't there so I didn't bother with vegetables!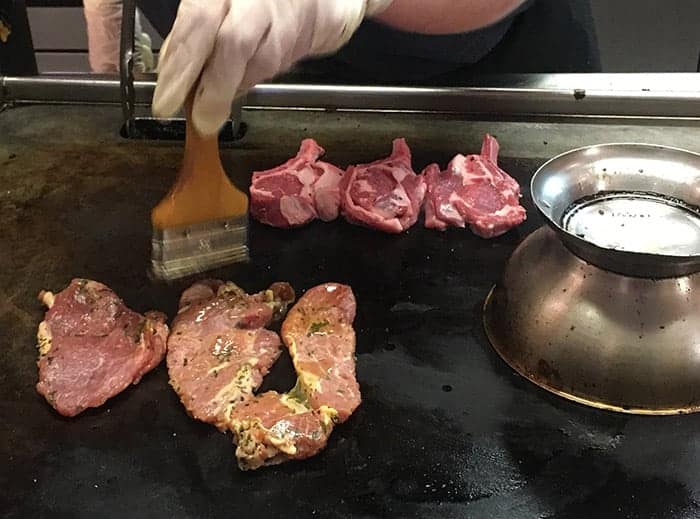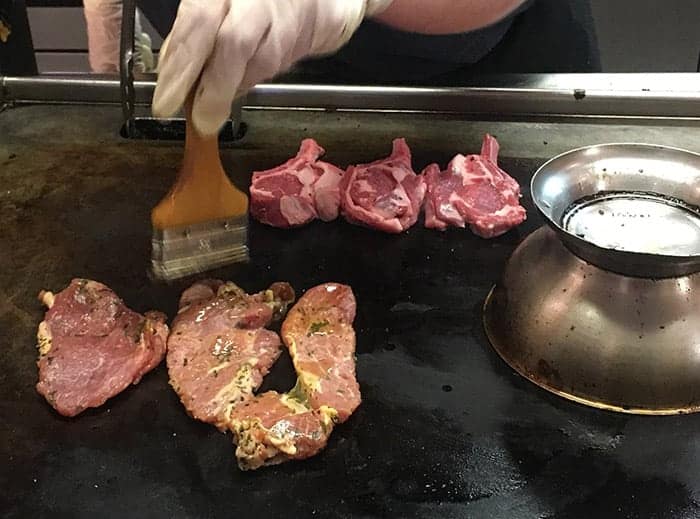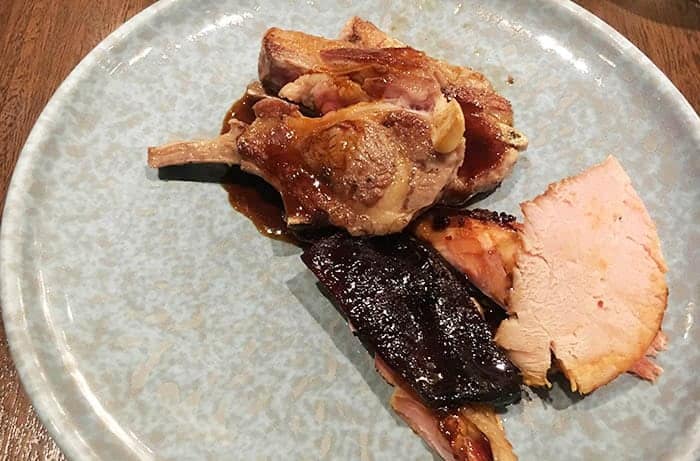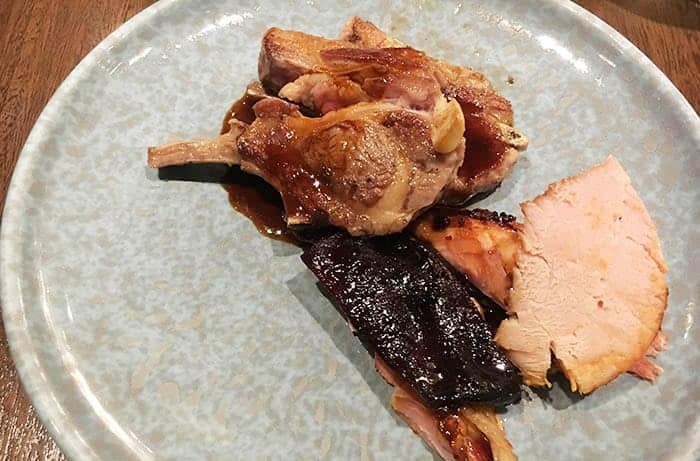 At the Eight The Grill is a meat lovers heaven. Choose your pound of flesh from the raw meat cabinet bearing just about every animal you can think of. Venison? Thanks, medium-rare. And a marinated Portobello mushroom thrown on the grill and while that is sizzling open the pre-prepared Le Crueset dishes bubbling away with beef stroganoff, creamy mashed potatoes, crunchy veges and a huge rib-roast under a heat lamp waiting to be sliced and plate up a little taste of something that partners with your meat choice. Think like a chef as you plate up!
The Seafood bar had teryaki salmon ready to throw on the grill to then be added to noodles (if you wish), fish skewers, prawns and other many kinds of neptune's fancy. I by-passed that however and headed for the Indian Kitchen, where I tried one of the best butter chickens ever.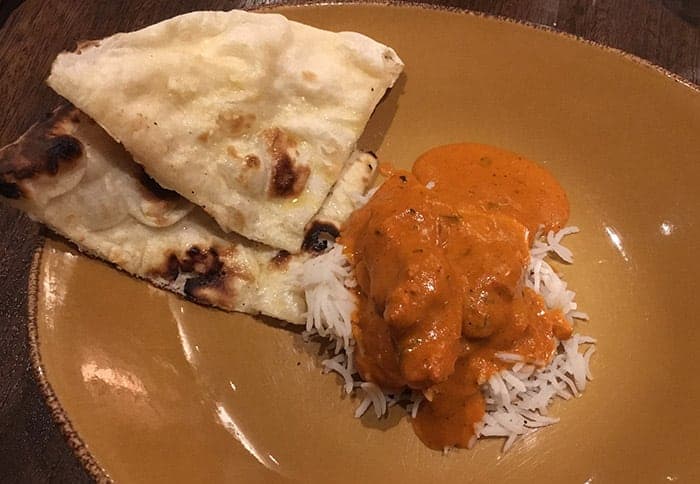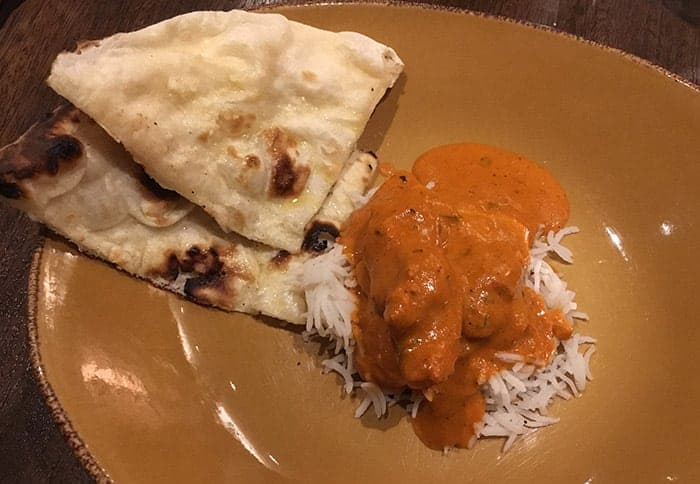 My husband made a rookie mistake and at this point got a full sized portion of curry with rice and naan bread and ran out of room for the steaks!
The Salad Bar, is either help yourself or the chef will toss you up a speciality – like a Caesar or Greek. There's a giant parmesan wheel beside it filled with delicious scrapings too which you could loop back to with your bowl of pasta from the Pasta kitchen which offers your choice of pasta to be thrown into water and cooked to order and three daily toppings.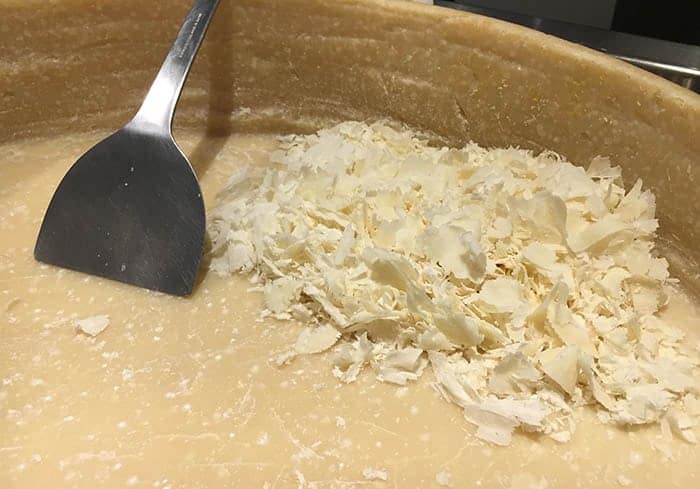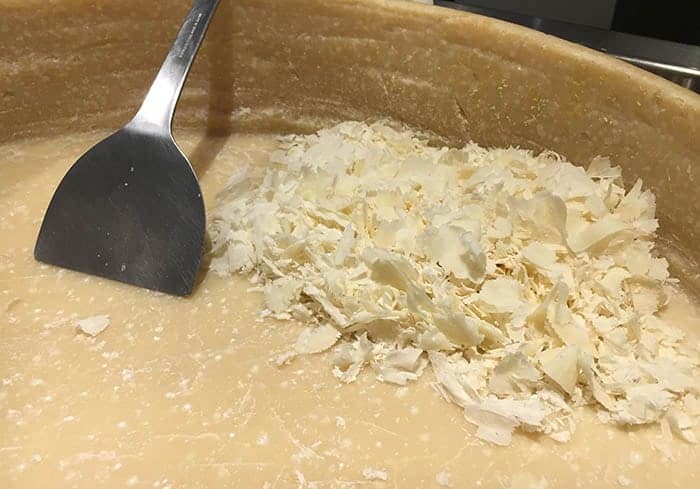 And finally, save room for the ultimate event: Dessert with teeny plates of lemon meringue pies, chocolate brownies, pannacotta, cheesecake, fruit salad and ice cream with toppings.
I confess to maybe overloading my pudding plate, but the sauces were contained so no contamination!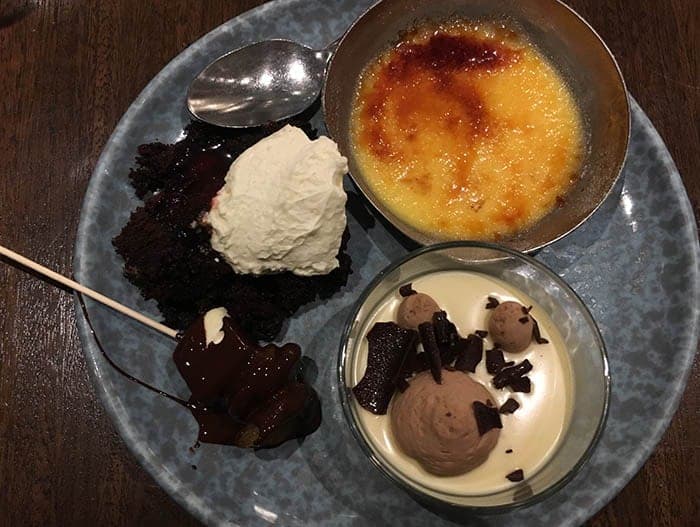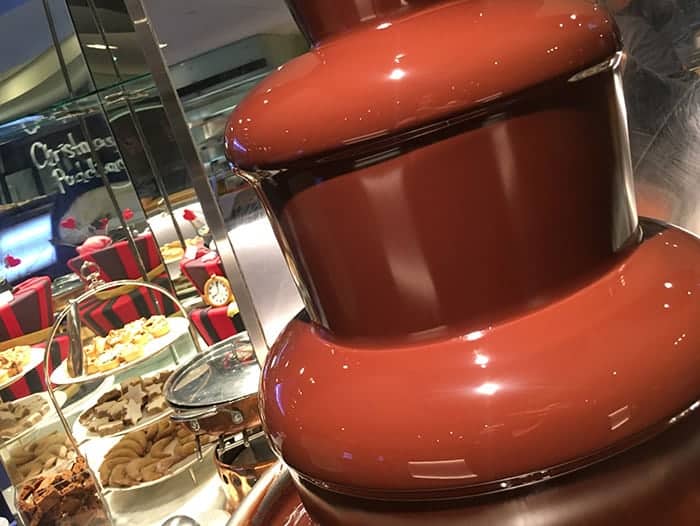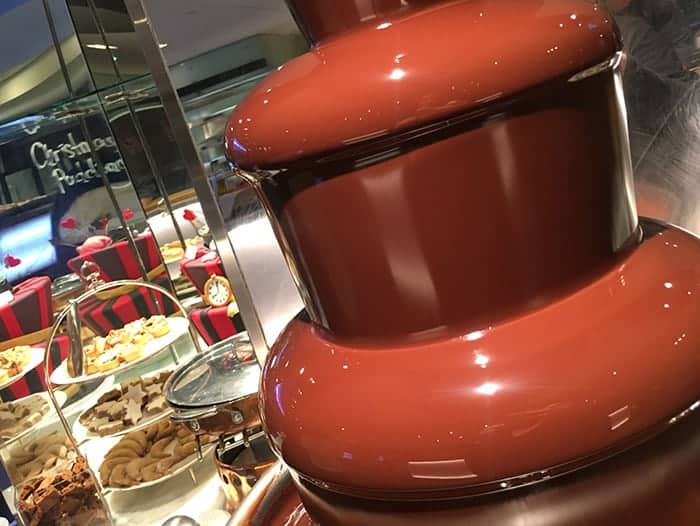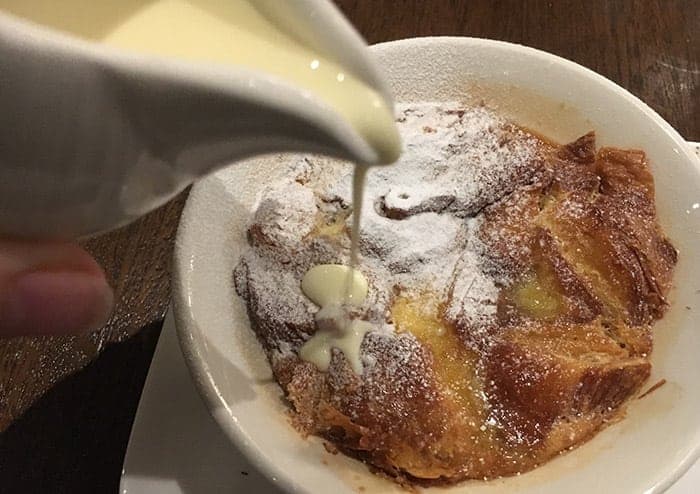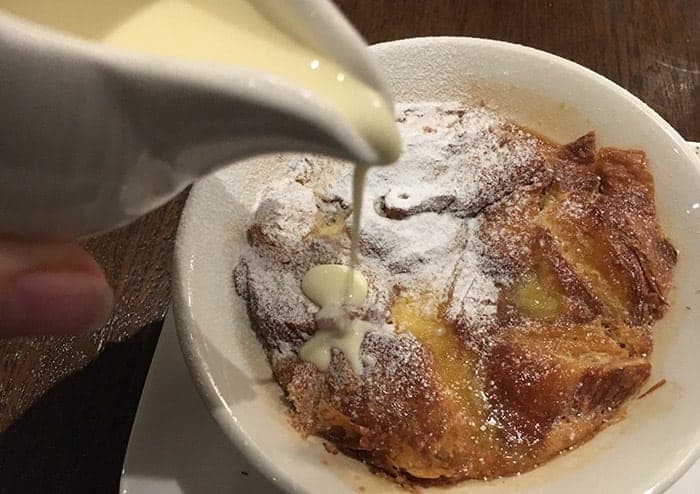 Come hungry, because even if you pace yourself getting through Eight is no mean feat.