Oman is not as remote as you might think (an hour's flight from Dubai and Abu Dhabi) and is still wonderfully traditional retaining its heritage and culture with stunning scenery ranging from golden sand dunes to rugged wadi (gorges) and ship-wreck dives in the ocean.
If you haven't yet put Oman on your bucket list, do it – and here are five reasons why…
Oman is very different to its glitzy cousins Dubai and Abu Dhabi.
While the capital city Muscat does have fancy hotels, this country is steeped in history. Real history. Biblical history. The frankincense that was brought by the magi of the East to the new baby Jesus came from these trees. (I bought some at the souk to bring home. It is dried sap from the frankincense tree – who knew?)
In Oman, you'll see camels roaming freely (once you get out of the capital Muscat) along with frankincense smouldering away at the local souks. The food is delicious (think a combination of Turkish dips and kebabs, Indian breads and curries) and you'll be sober unless you bring duty free or are staying in hotels where alcohol is allowed to be served.
What you'll also notice is no graffiti or petty crime such as you find in countries where young people drink alcohol. Much have changed since my first trip here with the world's fastest Omani many years ago, but the peacefulness of the country remains intact.
If you're planning a trip, here are my 5 must-sees in Oman:
Stay in Muscat
Spend a couple of nights in the capital city.
The Grand Mosque is breathtaking for its architecture, Italian marble, 21-tonne hand woven rug and swarovski crystal chandelier that eight people can walk inside (although not you). Women will need to wear long sleeves, trousers to the ankles, and a head scarf. Men should wear long sleeves and trousers.
Muttrah Souk is the city's favourite market. It is on the corniche along the seafront and is famous for quality Arabian wares from silver to incense, authentic rugs, pashminas, artifacts and spices. Store holders will urge you to come and buy and haggling is expected.
It really is like delving through time when you pick through a barrel of silver jewellery and imagine the pieces at the bottom have probably been sitting there for 300 years!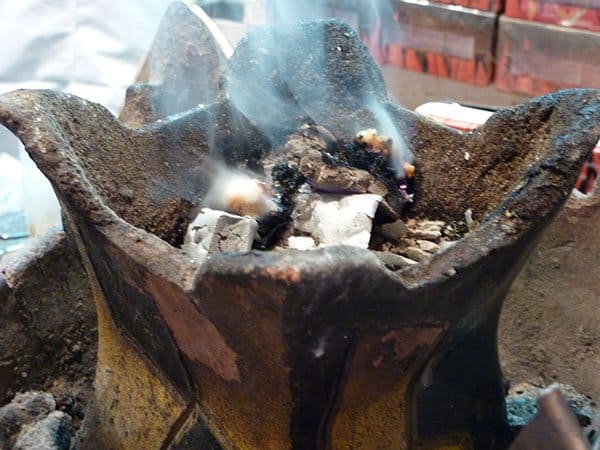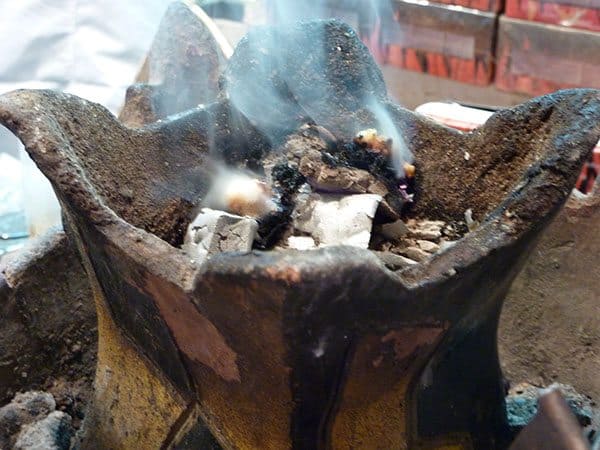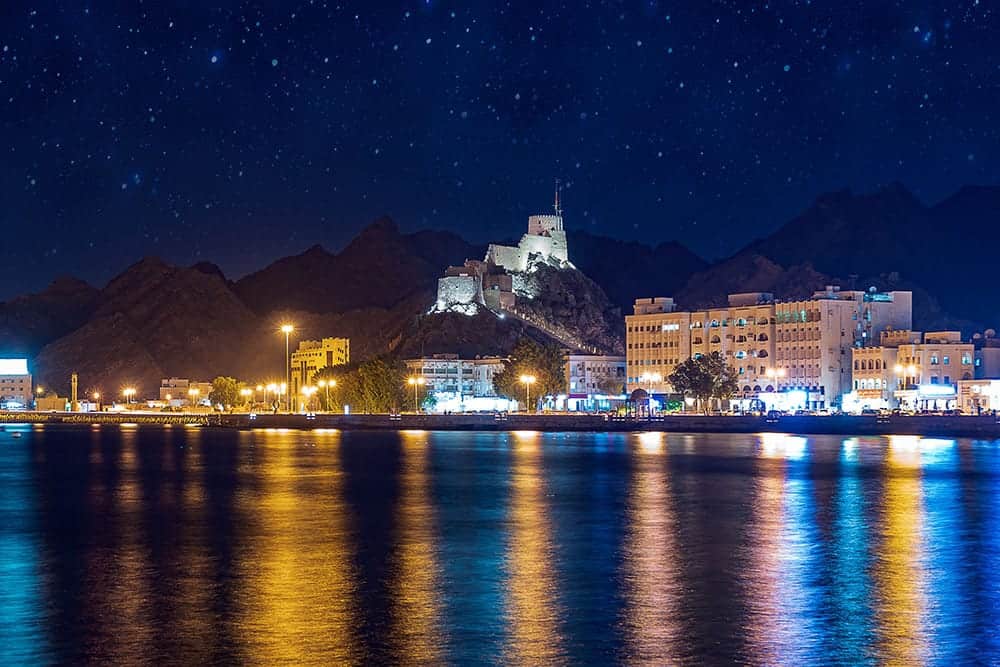 Do a Desert Crossing
Like the famous English explorer Wilfred Thesiger, the first European to cross the desert in 1948, I followed in his camel prints for two days across the Wahiba Sands. Only I was in a four-wheel-drive. From rolling sand dunes to the vast flatness of the Empty Quarter, this is harsh but picturesque country.
You can read my post on the desert crossing we did here – pup tents and all!
Stay at luxurious Desert Nights Camp. If you're planning an exotic honeymoon, this is the spot. There are 24 permanent five-star tents, each with bathrooms and handmade furnishings and a restaurant with live music under the stars and a visit from local Bedouin to paint henna on the ladies. A sunset drink at the top of the surrounding sand dunes is magic. Try to arrive an hour beforehand as the colours are incredible across the golden rippling sand. They also offer camel rides and quad bikes for some noisy dune bashing.
(Check out the rates for Desert Nights Camp at Booking.com>>)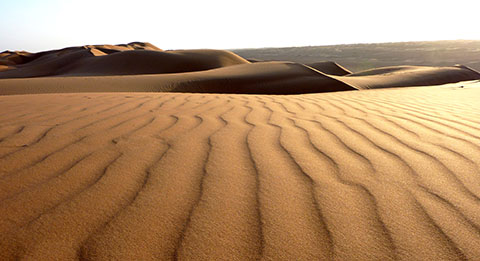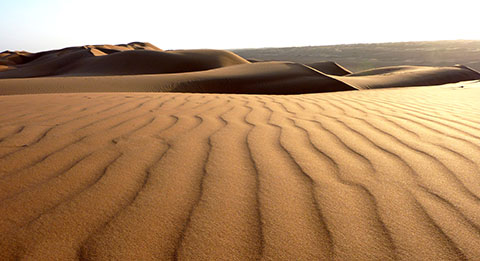 Visit Nizwa on market day
There are 500 forts in Oman and the 400-year old Nizwa fort is the biggest in the Arabian peninsula. It has been restored back to its original and murderous splendor. Climb the narrow staircase and look up at the murder holes where boiling oil or burning date juice could be poured over marauding enemies trying to enter.
Nizwa Souk is not to be missed, particularly on a Friday. Thursday and Friday is the weekend in Oman and Friday is also the holy day so you will hear calls to prayer from the many mosques and see people shutting shops and dashing off to pray. On Friday the livestock market is the place to be until 11am to watch fervent bidding on camels, cattle and goats. You'll also find stalls selling furniture, frankincense, sandalwood, pottery, incense burners and more.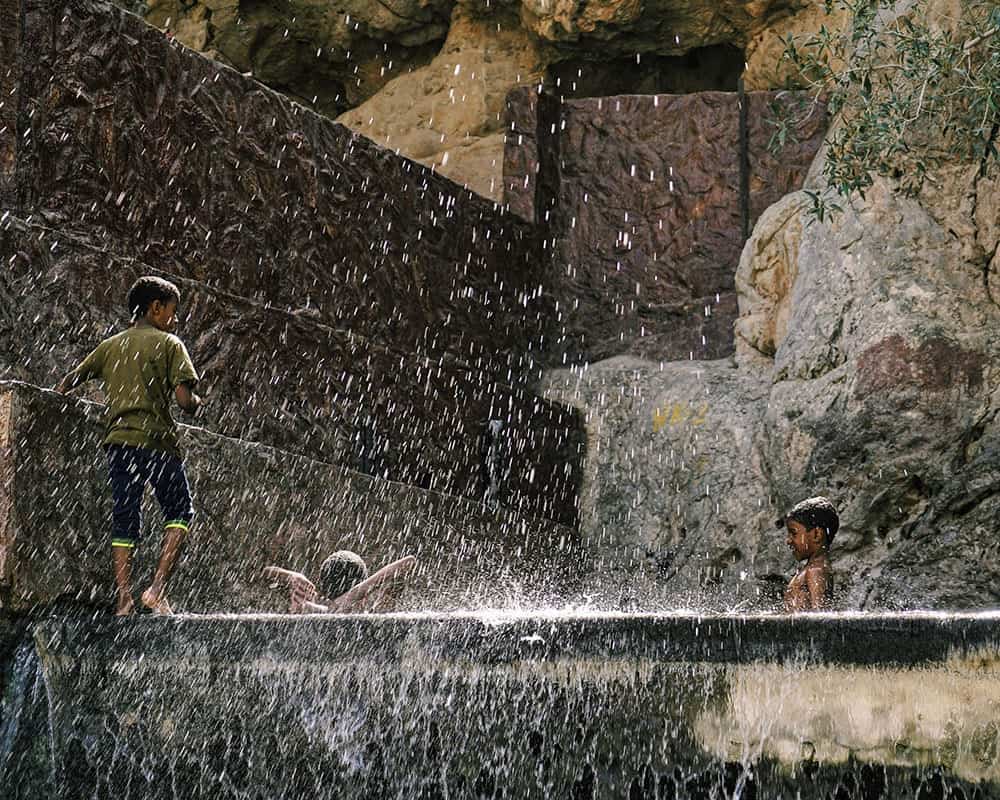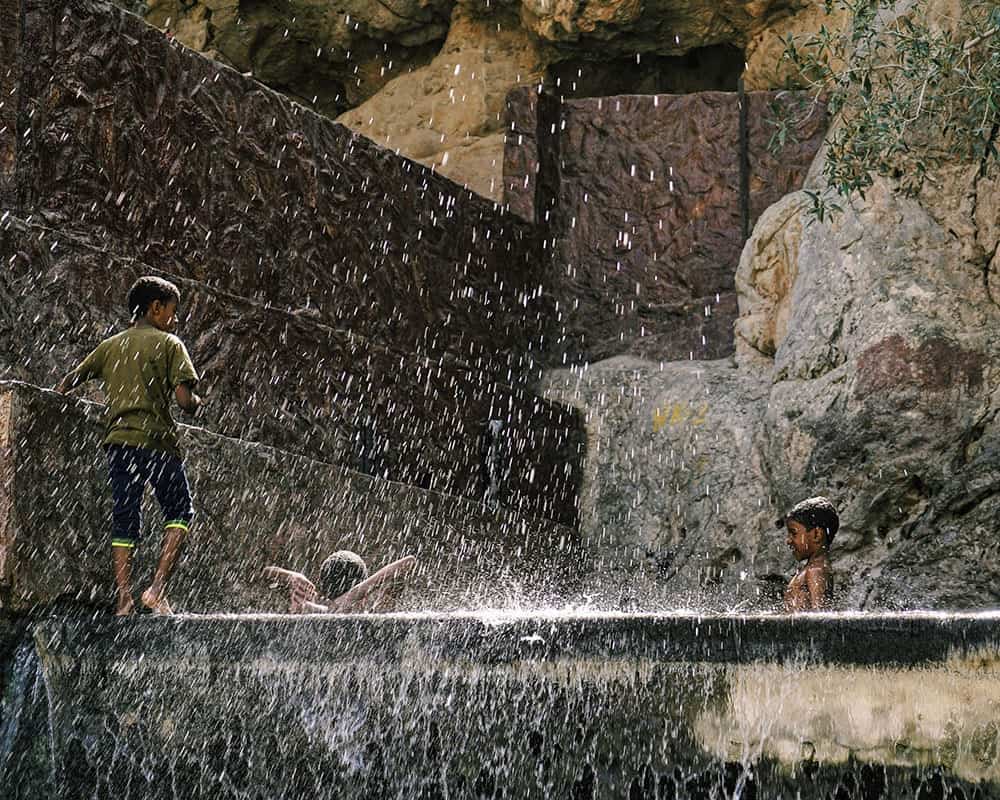 Drive Wadi Bani Awf
A wadi is a dry gorge which can fill very rapidly during the rains – and you don't want to be in one when that happens. Several have dirt roads through them which are kept well graded and mostly free of pot holes.
Wadi Bani Awf is one of the most popular four-wheel drive routes. But hold on to your lunch, this is two hours off serious off-roading and while it is open to tourists in their own hired vehicles, I'd not recommend it. Besides, taking a local guide means you get much more out of the trip than the scenery.
Visit the Al Hoota caves to view the stalactites and 'mites then stay at Jebel Shams, near Nahkal, in motel accommodation or permanent tents with mattresses, or even bring your own. The dining hall offers a simple dinner of curries, dips, salads and breads followed by juice, instant coffee or tea (unless you brought your own wine, which manners would dictate should be consumed in your room).
(Check the best rates at Jebel Shams Resort on Booking.com>>)
Stay in Salalah
In the 45C+ summer heat, Oman's southern city of Salalah is a welcome respite. Ironically this is where everyone flocks for the monsoon season as it's cool, wet and they love the fog that hangs over the mountains between June and September.
From here you can make a day trip to the lost city of Ubar, which disappeared from maps and was thought to only exist in legend from 3000BC. But in 1992 using remote satellite sensing, Ubar was found, a developed desert settlement with an octagonal fortress and eight towers, plus numerous pots and artifacts dating back thousands of years. Today it is still being excavated and you can only make out a vague semblance of a city, but for archaeological boffins, this is a gem.
Here is a link to my Oman series for more information on my 8-days and 2200km trek through the Sultanate.