Did you know you can actually stay the night in Auckland's hallowed Eden Park, aka the Garden of Eden, home to the first ever Rugby World Cup and host to hundreds of rugby and cricket matches ever since? Why yes you can.
But where on earth do you sleep, you ask?
Good question! In a glamping dome, a la Escape to the Chateau – that fabulous do up home (in this case castle) makeover show with Dick and Angel which I love so much. Staydium glamping, it's called, so off we went to stay-dium in Eden Park.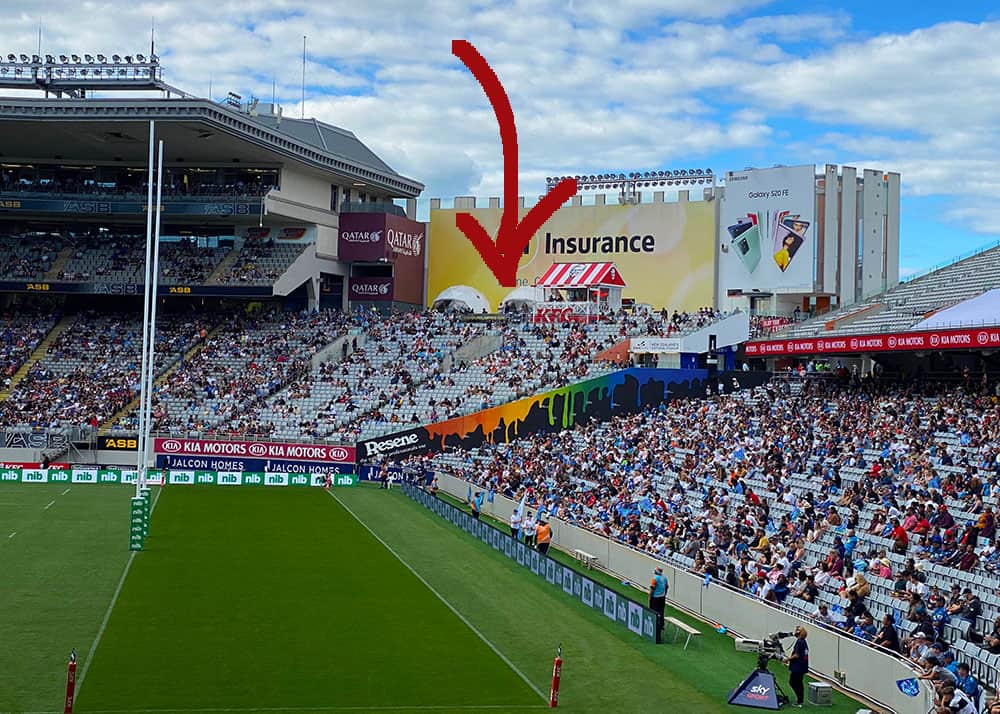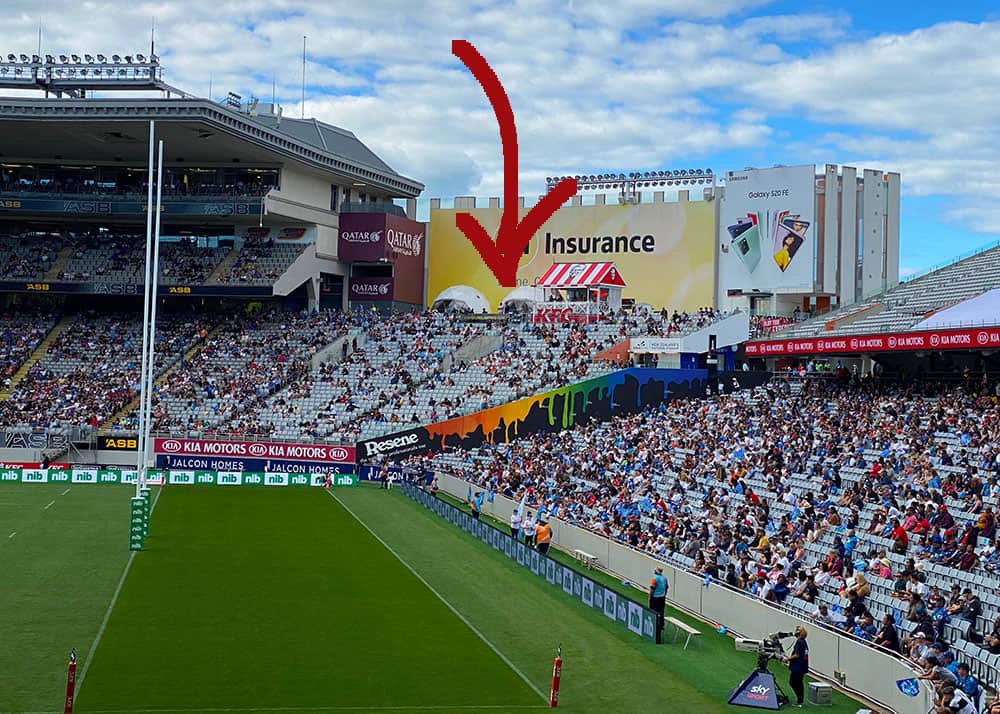 There are two glamping pods spaced a couple of metres apart (how socially distanced of them!) and they're located in the corner of Eden Park's North Stand by Gate D. They are surrounded by a dinky white picket fence and both have a little picnic table and two outdoor chairs.
They come with a comfy bed and cotton linens, a little table and a couple of chairs, a TV screen and mini bar – and yes they have a toilet and a shower so you don't need to use the public loos in the middle of night (which is what I did wonder!)
We stayed on a week night when there was no event on (and you might be surprised that many people do that) with two friends (Bryce and Shaz) in the other pod. I'd already looked up on the Staydium website that there was a little fridge and wine/beer glasses so we brought our happy hour goodies and arrived about 5pm.
Disclaimer: I got to stay here courtesy of Eden Park who let me tee this up as a Christmas present for my husband. I know – ideal! We were delayed due to Covid twice, but finally got to stay last week.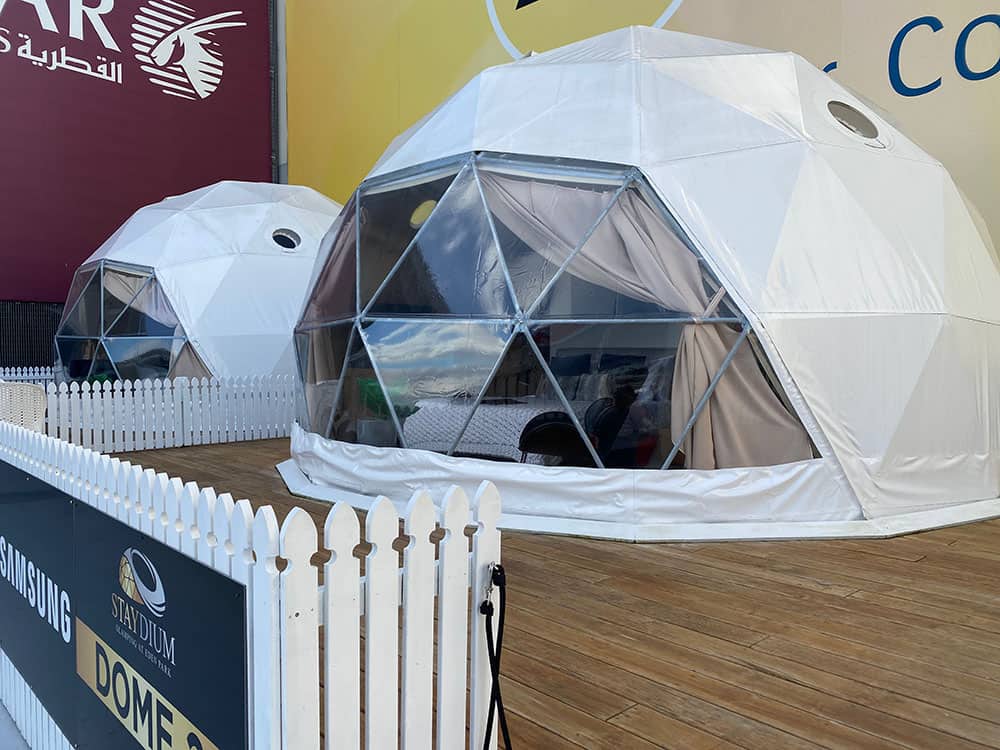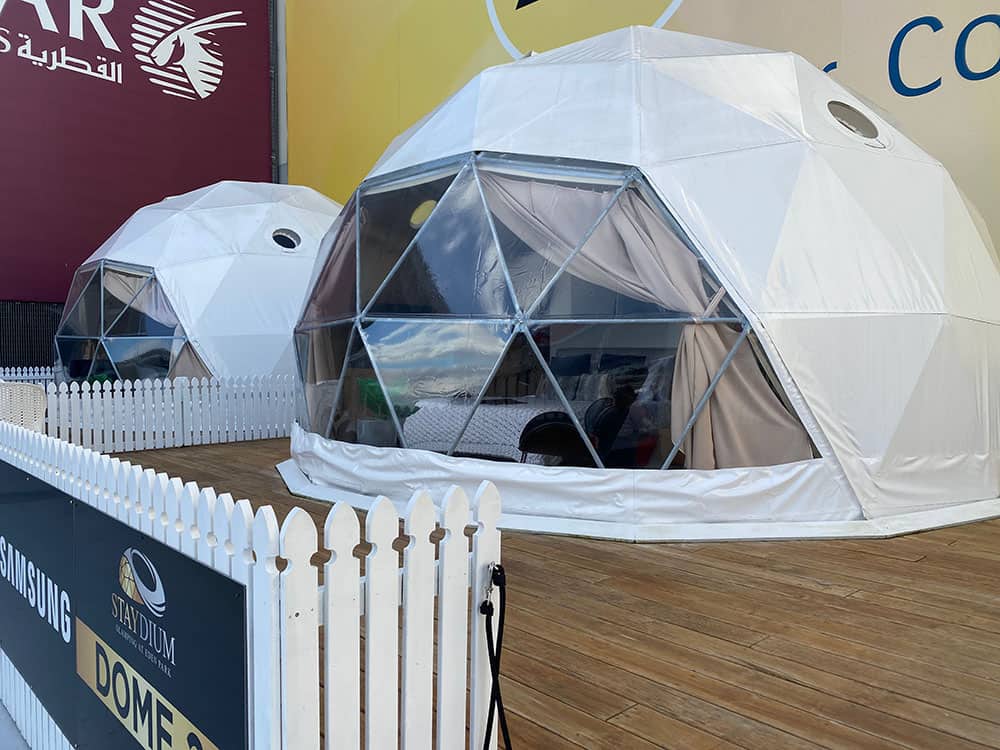 It was a stunning evening and the groundsmen were preparing for a cricket match the next day, painting logos on the grass and lifting covers. Other than them and a security guard, there was no one else there. It was fabulous!
Can you streak across Eden Park when it's empty? Reader, that is a good question, and one that I wanted to know, but alas no. The field is alarmed at night, I was told – and also (I checked this out) it's a big drop from the seating to the grass, so knowing me I'd break my leg and be lying there in the nick waiting to be rescued.
With your stay you also get a free stadium tour – although they do not run every day. You book this online with a code you'll be sent to get it free. At the time of writing they run Thursdays to Sundays at 2pm and must be pre-booked online.
If you are having an Auckland vacation/staycation, you might also like this post on my visit to Weta Workshop Unleashed.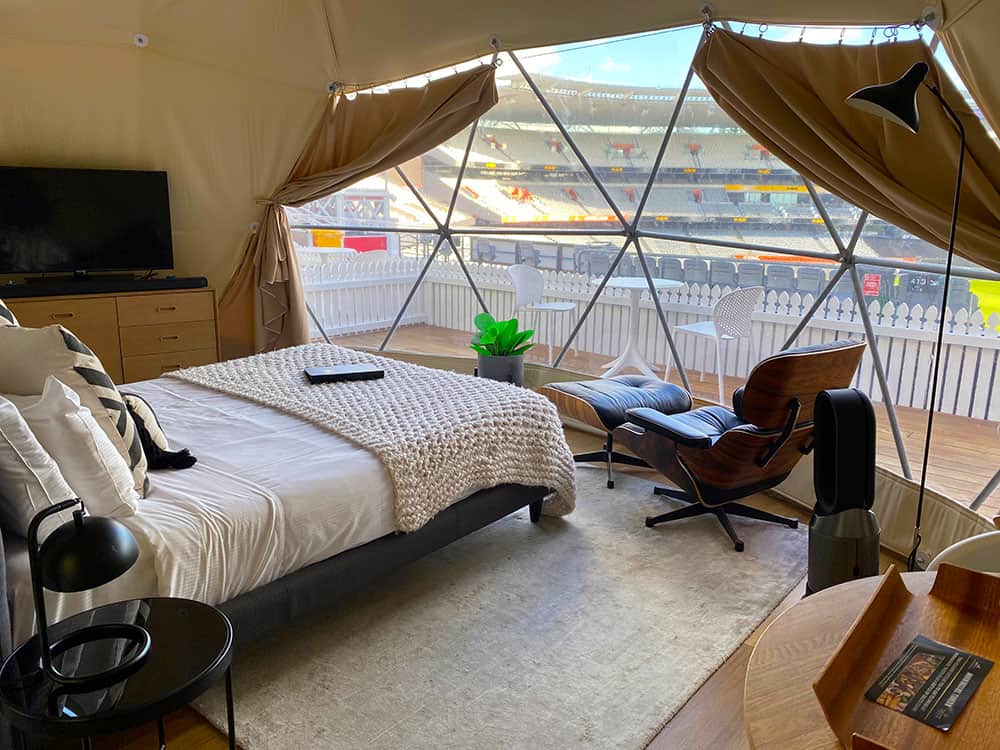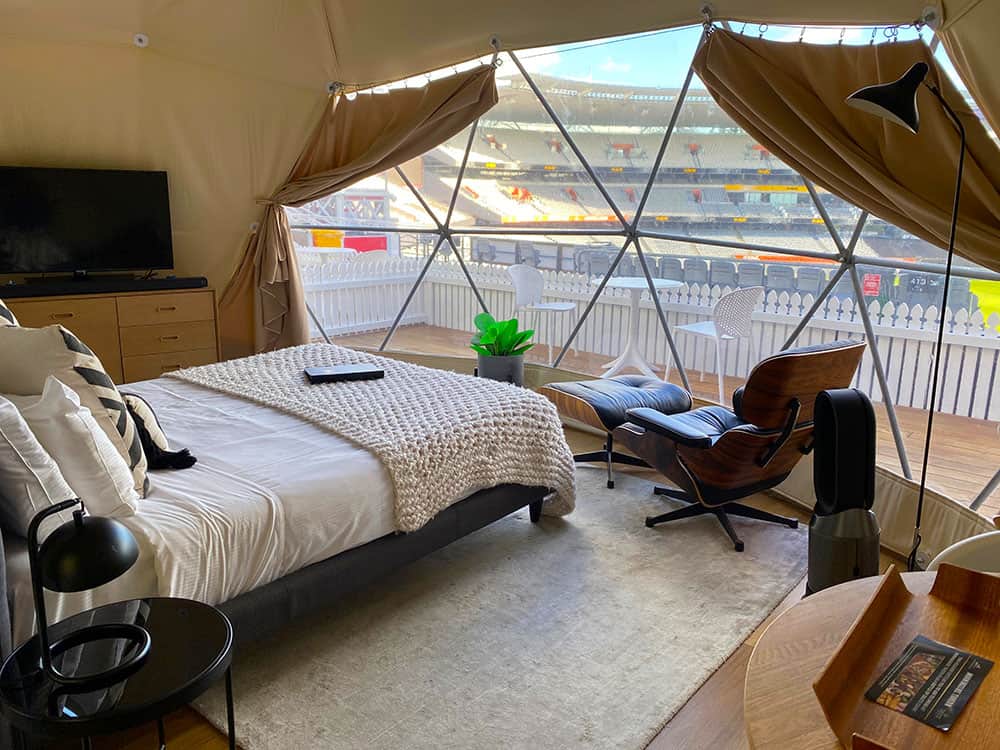 FAQs for glamping at Eden Park
Is there car parking?
Yes, secure car parking is available in the stadium grounds off Walters Ave. One spot per dome and they are marked.
What time is check in and check out?
You can check in between 3pm and 10pm as you'll be emailed the gate code and another code for the lockbox of your dome where your door key is, so you can come and go as you please. Check out is 11am.
How do you get in after hours and can you leave?
Yes you can leave! I asked this very question before we went and as you just need the code for the keypad to get through the gate you can go out as long as you like.
Is the bed comfortable?
Yes, it was very comfortable! The queen sized mattress was firm and there were four pillows. Two were heavy foam and two were light and squishy.
What's in the bathroom?
Soap, bath towels, hand towels, face cloths, bath mat, hair dryer. The shower is gas heated but the water went cool after a couple of minutes – so be quick. This might be a fault, so I will follow that up.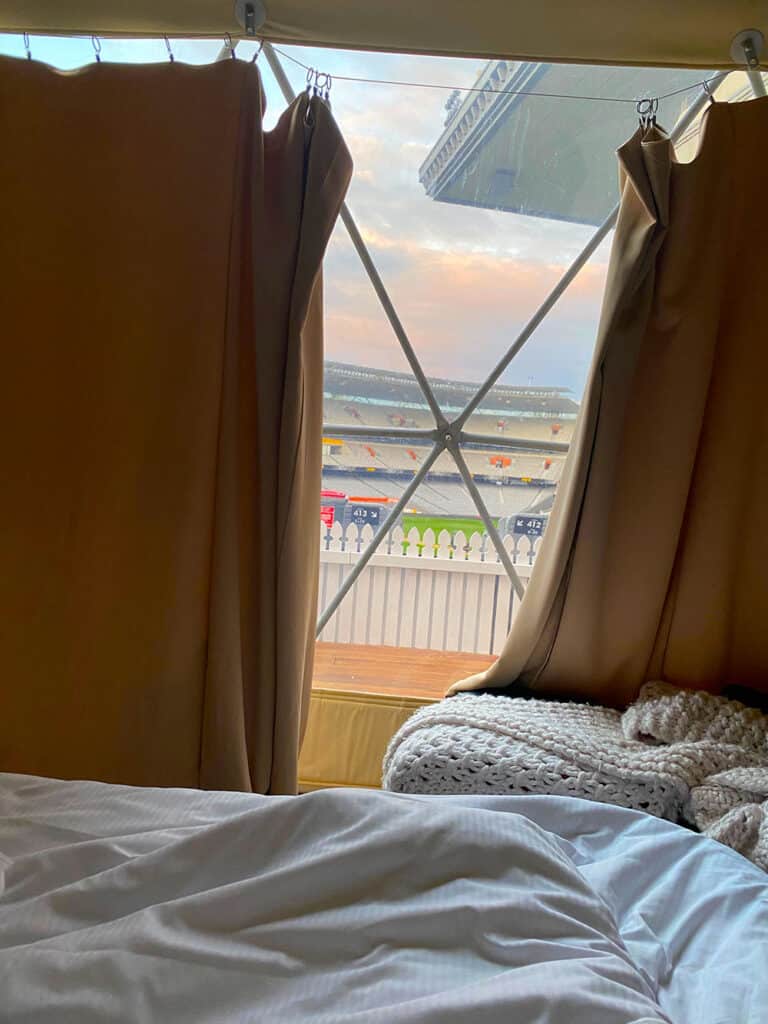 Is it warm inside the pod?
Yes. There is a Dyson heater and an air conditioner for hot summer nights. We didn't need either of those in our end of March stay.
Are there power outlets?
I located one on the floor under the dining table with four power points in it, so if you need to charge your phone or bring your hair dryer or straighteners, you'll be on your hands and knees on the floor to plug it in.
Can you watch the game from your dome?
Not easily. You'd need to be up about another metre higher. But you'd buy tickets to sit in the stand, or if you were going to a concert at Eden Park you could just hang in your pod. And of course, concerts are a new thing, so they would certainly be worth grabbing a night for.
Can you take food and drink into your pod?
Absolutely! There is a small mini bar fridge (with a couple of bottles of water and some milk pods, plus a couple of beers). Plus utensils, plates, glasses. Bring your own drinks and any snacks you like – or even get food delivered if you want to pop out to the gate and meet your delivery. There is also an espresso coffee machine with pods and a kettle and tea bags.
Where can you go for dinner?
Kingsland is a 5 minute walk away, so we wandered up there, over the railway line (on the foot bridge!) and down the other side. There are several dining options here. We chose Citizen Park. It's a pub with good food (although they'd run out of steaks, much to Mark and Bryce's horror). The boys had beef brisket on mac n cheese, Shaz had nachos and I had a chicken burger, washed down with a cheeky bottle of rosé.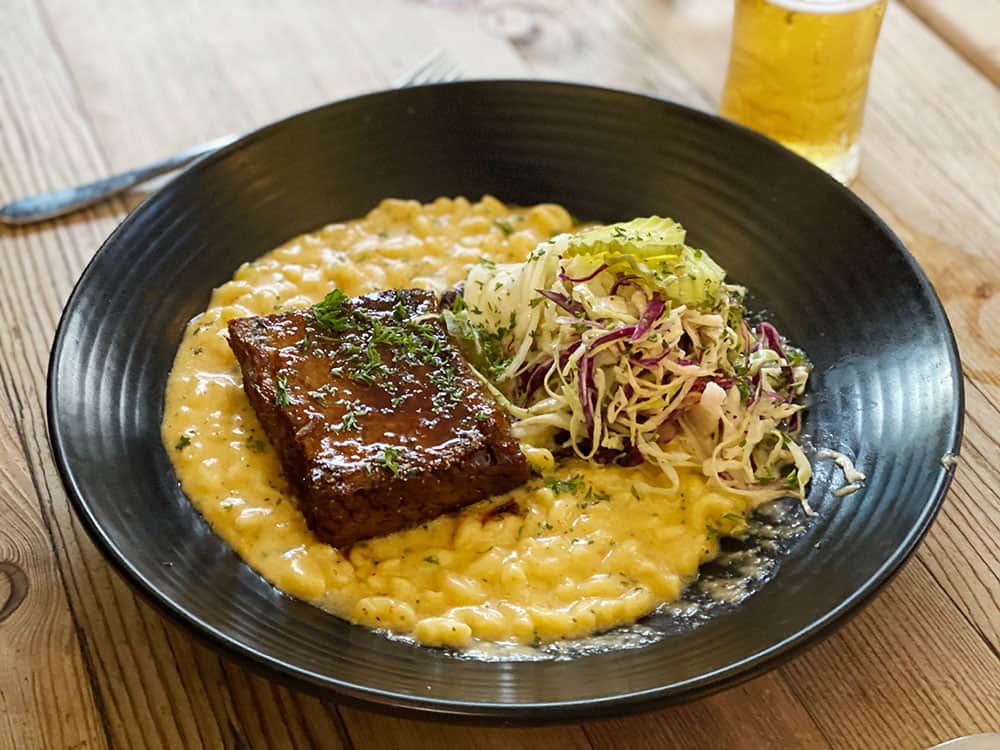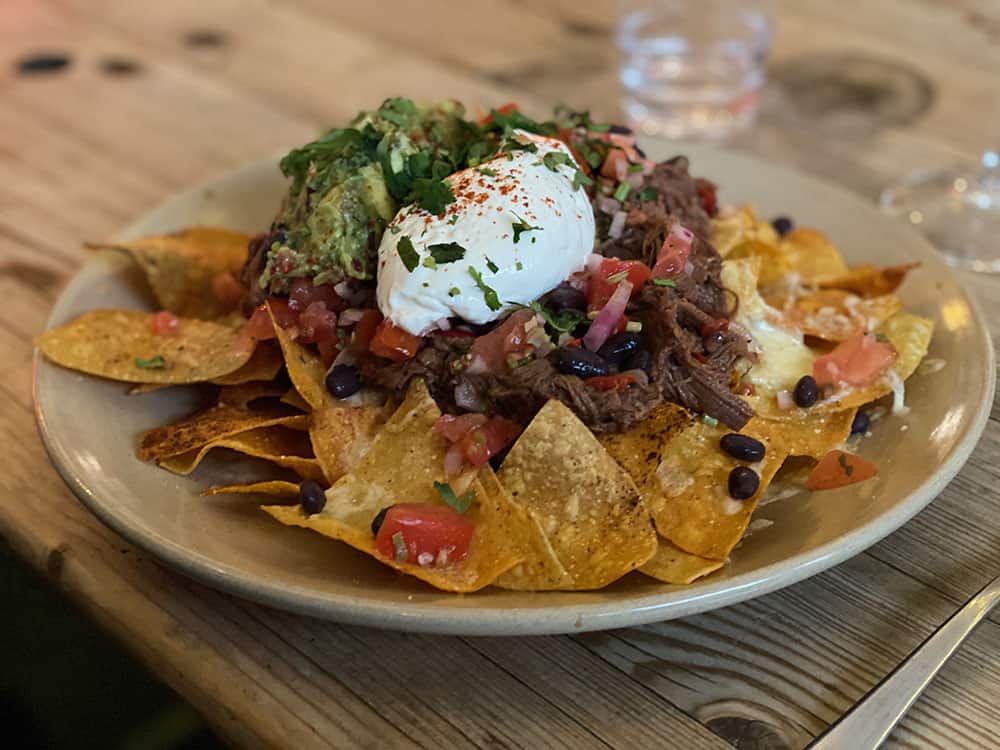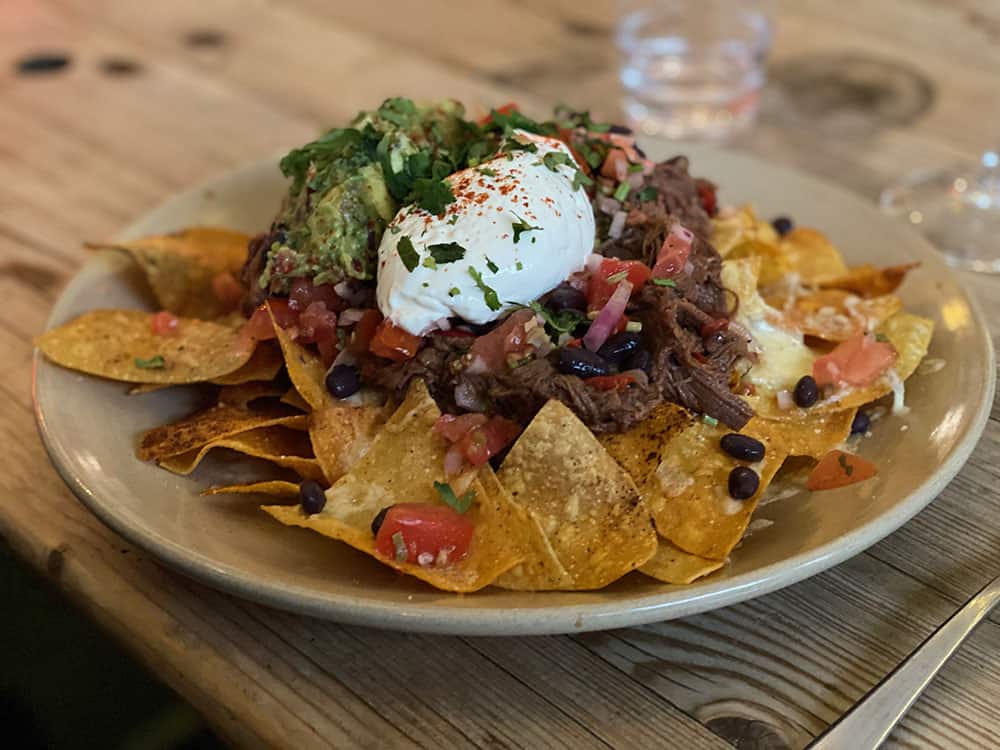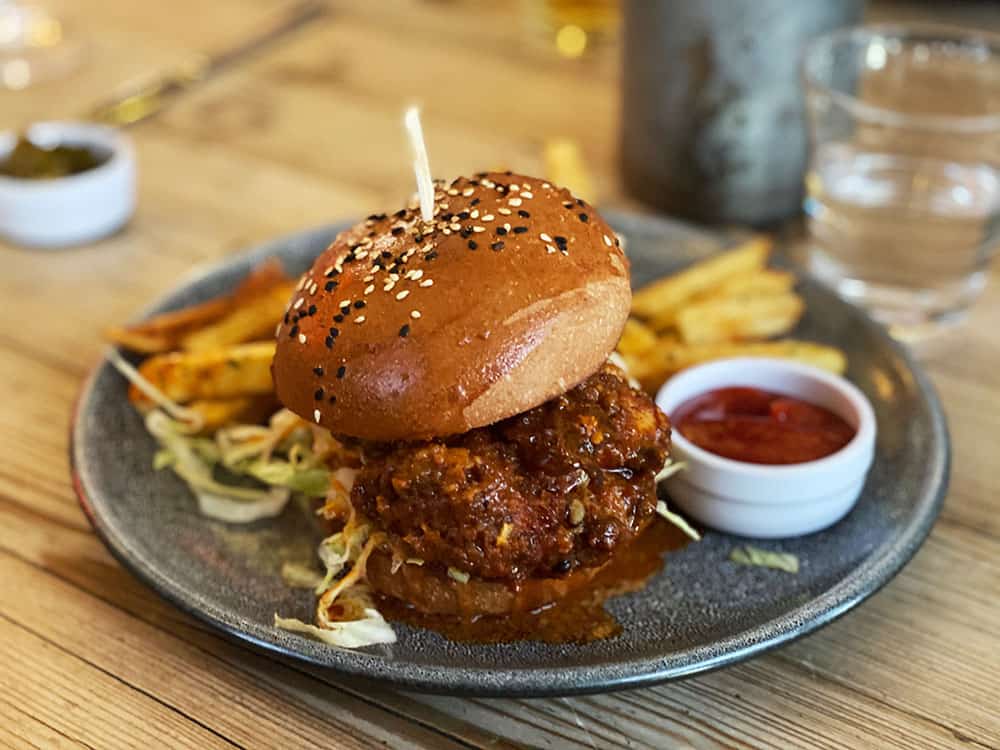 What do I need to bring?
Just your snacks, drinks and overnight bag. Oh and two friends for the other dome would be ideal. It's a fun experience! (But they are private if you're not staying with friends as the doors are at the rear and you'd have to be sitting right in the window to see into the other dome.)
Oh, and you might want to pack a sleeping mask. The stadium lights beside the domes remained on all night and some light can filter in around your curtains!
How do I book?
Jump online to www.edenpark.co.nz/experience/staydium-glamping and check the calendar.
Other things to do in Auckland
Take an art and culture walk. Whether it's street art or galleries, you'll enjoy some hidden gems on this walk.
Enjoy free (or heavily discounted) facials, massage and hair and nail treatment at one of the many beauty schools the city!
Take a tour through Weta Workshop's special effects exhibition Weta Workshop Unleashed in Sky City Convention Centre – if you dare!
If you're here in summer, why not hit the city for dinner and a drink in one of Auckland's amazing rooftop bars before you head off "camping".
Head out on the 30-minute ferry to Waiheke Island for a weekend at one of these private holiday homes.
Keep up with the latest happenings, new restaurants and events over on my baby site AucklandScene.co.nz