Now that MIQ hotels are a thing of the past, Auckland has its rooftop bars back!
And not only the ones that were seconded into the Covid response, but new hotels and rooftop bars have opened in the City of Sails for a cocktail with a view.
Sadly you'll be hard pressed to find one open on a Sunday or Monday night (in fact you won't!), but these five rooftop bars in Auckland's newest and coolest hotels are worth booking in to midweek, or at least include Friday or Saturday night.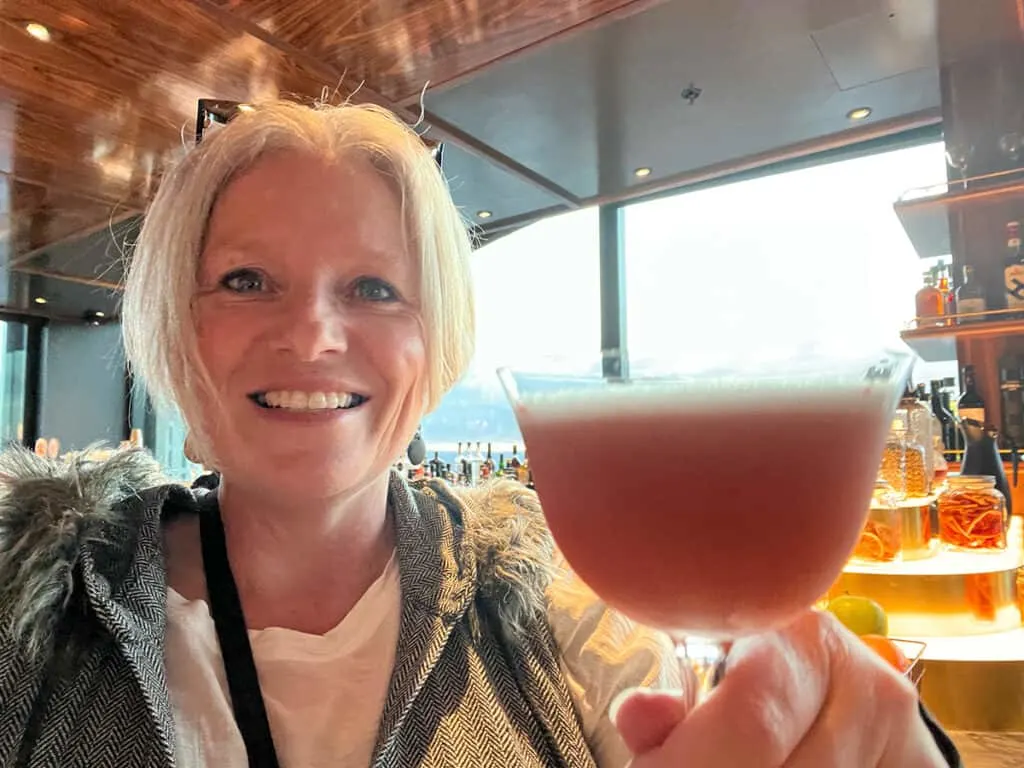 I spent the night at Voco recently, a new 38-floor hotel on the former NZME site, previous home to the New Zealand Herald and its armful of magazines.
The reason was for Bar Albert, the rooftop bar on this Albert Street/Wyndham Street property. The highest and newest bar in Auckland with sweeping views across the Harbour Bridge into the horizon.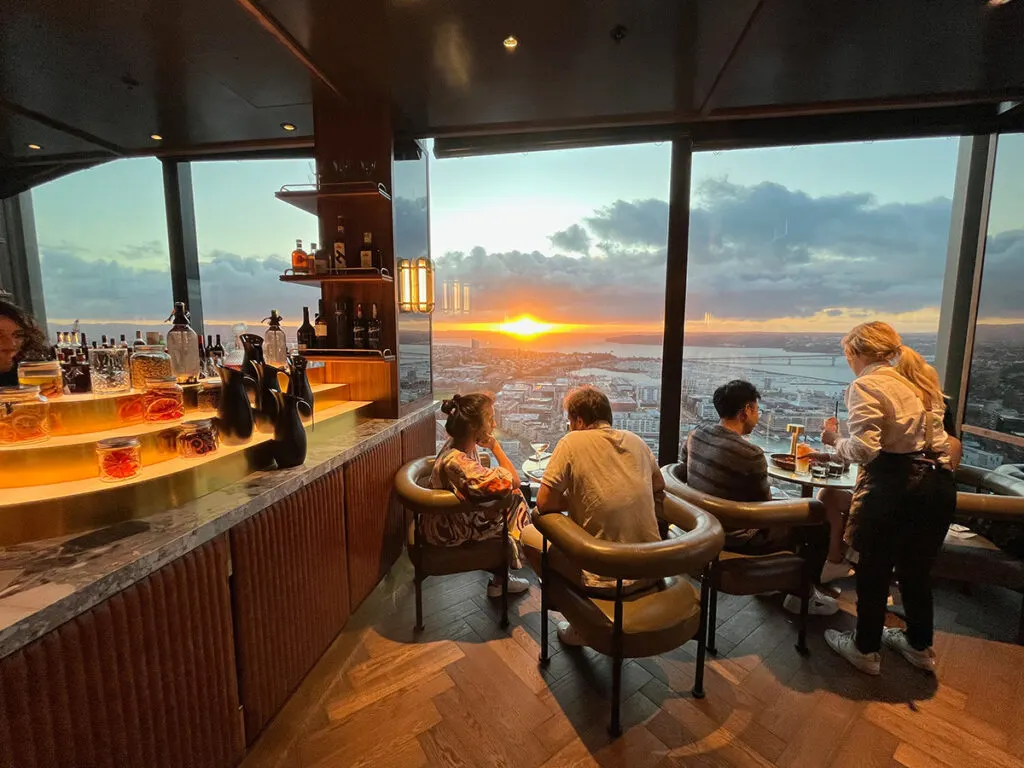 You could be anywhere in the world up here. The playlist created a downtown Los Angeles rooftop kind of vibe. The mixologist, Chelsea, is from Seattle and has invented locally named cocktails. They'll set you back about $25 each, but the views across the city and water could be downtown San Francisco or even one of London's rooftop bars if you imagined the Waitemata Harbour as the Thames.
There is an indoor and outdoor seated area, a look-through gas fire, lounge chairs in small clusters, high tables with a couple of stools at each, or if you get here early enough, low tables with seats facing that view.
To your left the Sky Tower looms and you look down over all the "skyscrapers" dotted around the city. Hotel guests get first preference, but you don't have to be a guest to go to Bar Albert, although staff do have to swipe you up, so it would pay to book a table ahead.
Open Tuesday to Saturday from 4pm.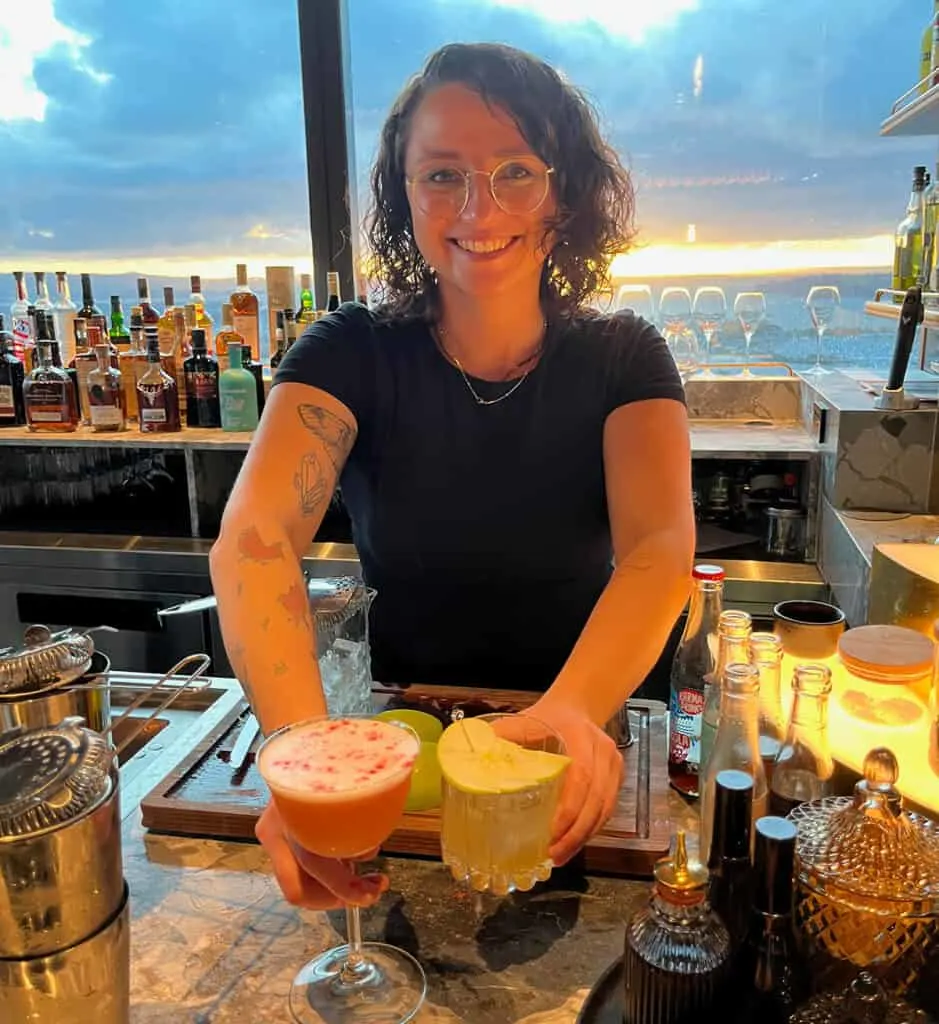 My next favourite rooftop bar in Auckland is the top of the QT Hotel in Viaduct Harbour. Another quite new hotel, this was not seconded as an MIQ hotel, so was our only fancy bar for a couple of years, and also has a great vibe.
In fact so fancy, the hotel has won awards for its Nick Graham design drawing inspiration from the oyster. You'll find fabulous pearl artwork in the wallpaper everywhere from the rooms to the hallways to the bathrooms and even the lifts.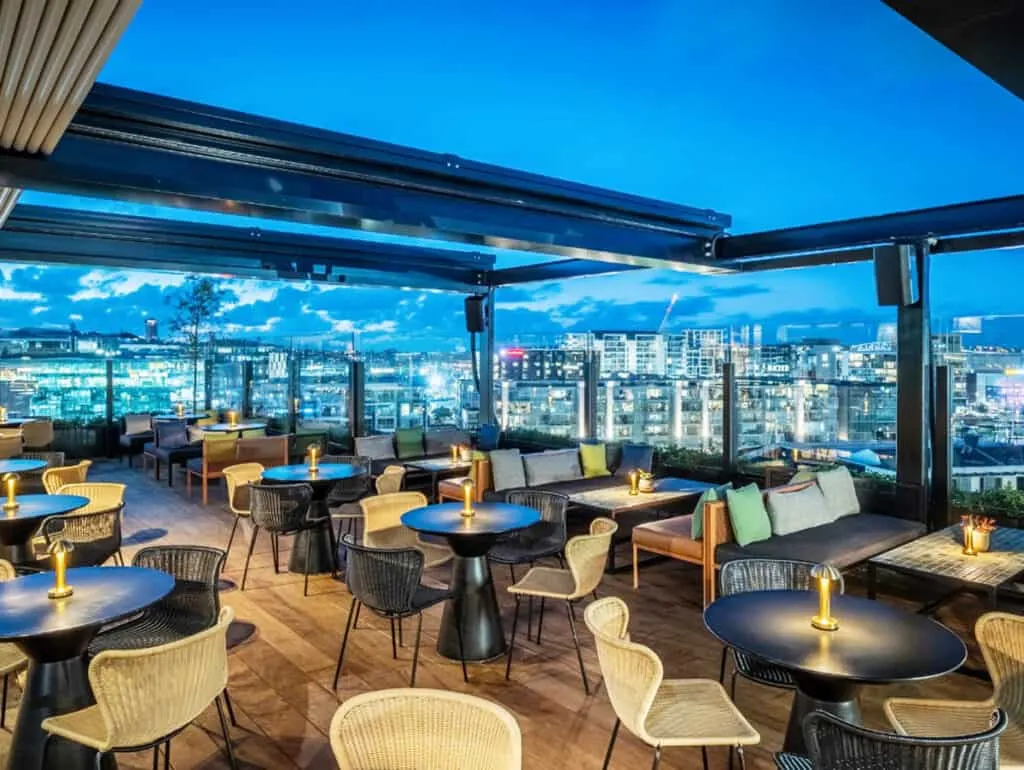 It's one the 6th floor, not as high (obvs) as Bar Albert, but it's fabulous sitting outside up here in the sun. There is also a restaurant on this level and high tables for bar snacks and more. Down on the ground floor, their award-winning Esther restaurant is an Auckland favourite too.
Open Tuesday to Sunday from 3pm.
The rooftop on the 15th floor of SO Auckland has been given back to we the pubic after about two years as an MIQ hotel.
I've been to a few private events up here, located just behind the Britomart precinct and your views start from the eastern most beaches with an outdoor veranda and sweep round to the western sunset from inside.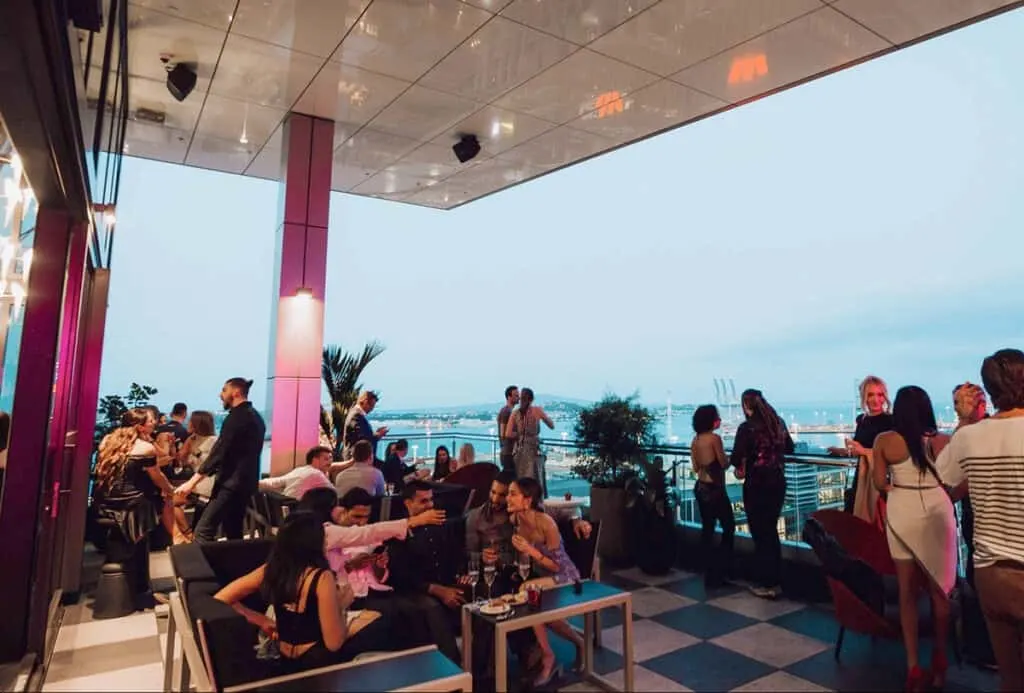 You'll find DJs mixing tracks and mixologists shaking your drinks with a full program of events to keep you coming back and a menu that includes sharing boards and hot and cold finger food small plates.
Open Wednesday to Saturday from 4pm.
On the 20th floor of Four Points by Sheraton on Queen Street, The Churchill is in another hotel that Aucklanders are now able to let loose in.
It's actually not that easy to find the main entrance, which is not on Queen Street, but around the building on Mayoral Drive. If you come by taxi it's a nice entrance, but if you're walking around the building like I did for a lunch meting in the ground floor restaurant (the food was outstanding by the way), you'll walk past closed down businesses that are still waiting for a post-Covid recovery.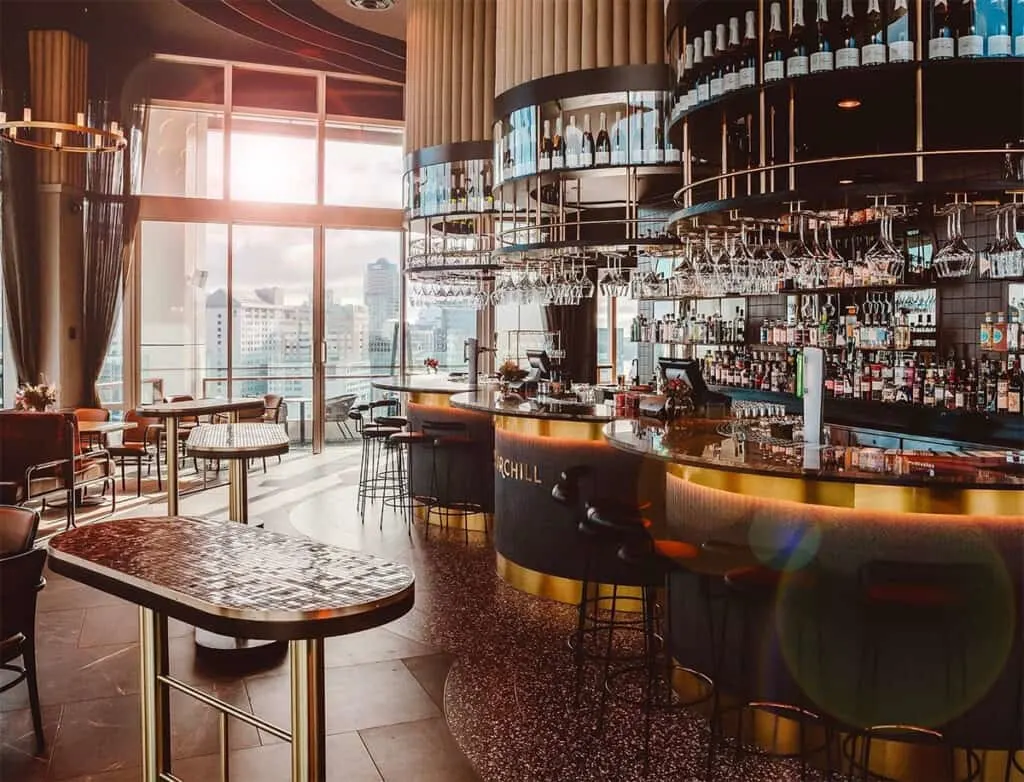 The Churchill offers nearly 200 gins in a Winston Churchill-themed cocktail menu and a shared small-plates menu.
Open Tuesday to Saturday from 4pm.
The bar on the top floor of the Sudima Hotel does what it says on the box. It's faces the sunset and is another great spot for a rooftop tipple with friends.
The hotel opened in July 2022, and the 10th floor Sunset bar has a 70s vibe in its retro decor and pastel colours with a west facing terrace for those who can nab an outdoor seat.
They have a large list of local and international wines, local beers and an Asian-inspired cocktail list with their in-house DJ spinning a bit of disco and house music.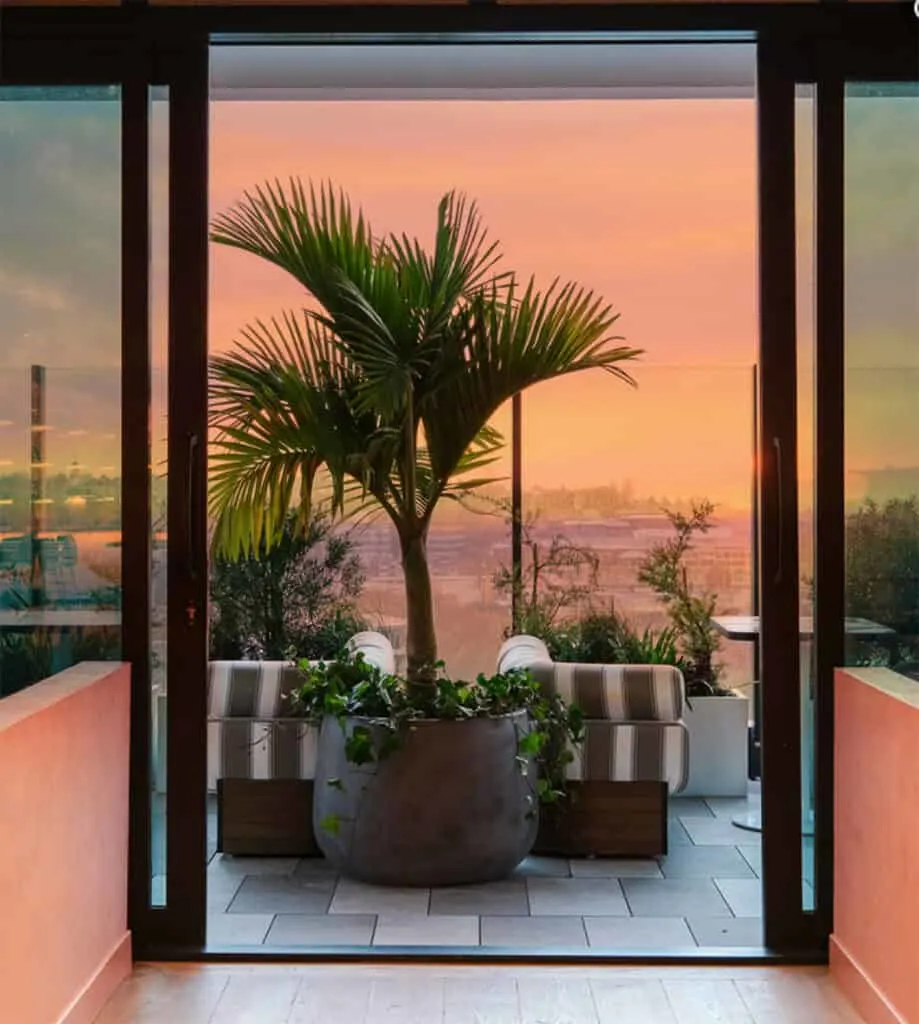 This will be the venue for my next girls' night, I've decided. The menu is inspired by Mumbai street food with things like poppadoms and whipped avocado, masala fries and grated parmesan and lamb skewers with Clevedon buffalo curd.
Open Thursday to Saturday from 4pm.
If you're in Auckland midweek, check out the beauty school in Newmarket for free massages and facials.