I lived in central Auckland for about five years, just literally in front of Karangahape Road, and never have I seen the cool murals and learned about the importance of some of the early families who settled in Auckland and then artists who have left their mark on this cool inner city neighbourhood.
I do love street art. They're so clever, so cool and brighten up what would otherwise be boring car parks, construction sites or massive grey walls. Like this one in Christchurch on the back of the Riverside Market building, which is actually one flat wall and not 3D at all!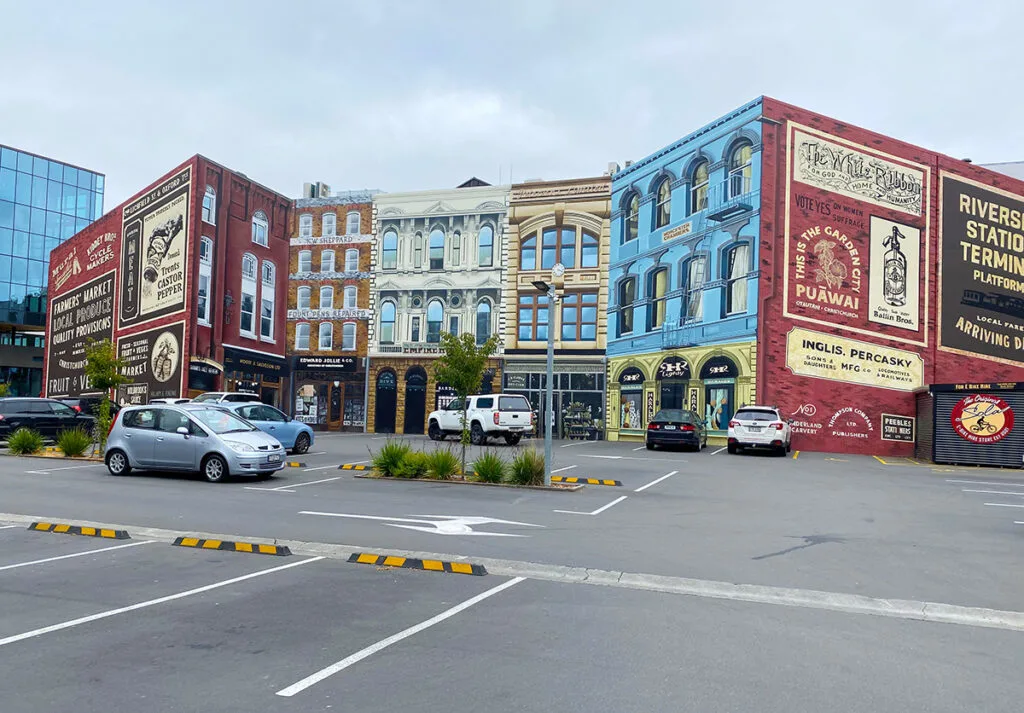 I've also done my own walking mural tour in Napier and found all these pieces of art on buildings, and I was impressed by the Mural Arts Program in Philadelphia, which was designed to harness the creativity of youths who were getting into trouble through tagging and graffiti, and turning them into sought-after street artists who work on commissions.
But back to my Auckland art tour and some really fab murals that I photographed below!
Our two-hour walk with White Glove is the brainchild of Jacqui Wilkinson, who has embraced the pivot from running art and cultural tours for visitors to New Zealand, to catering for a domestic audience.
It was such a great time, that I wanted to share it because even if you've lived in Auckland as long as I have (and I know lots of you were born here) you may not know all these hidden murals and sculptures exist.
We started at the fascinating Jewish cemetery on the corner of Karangahape Road and Symonds Street. I wish I'd arrived an hour earlier just to wander through the place. I quite like cemeteries and have even taken a cemetery tour in New Orleans, which is utterly fascinating.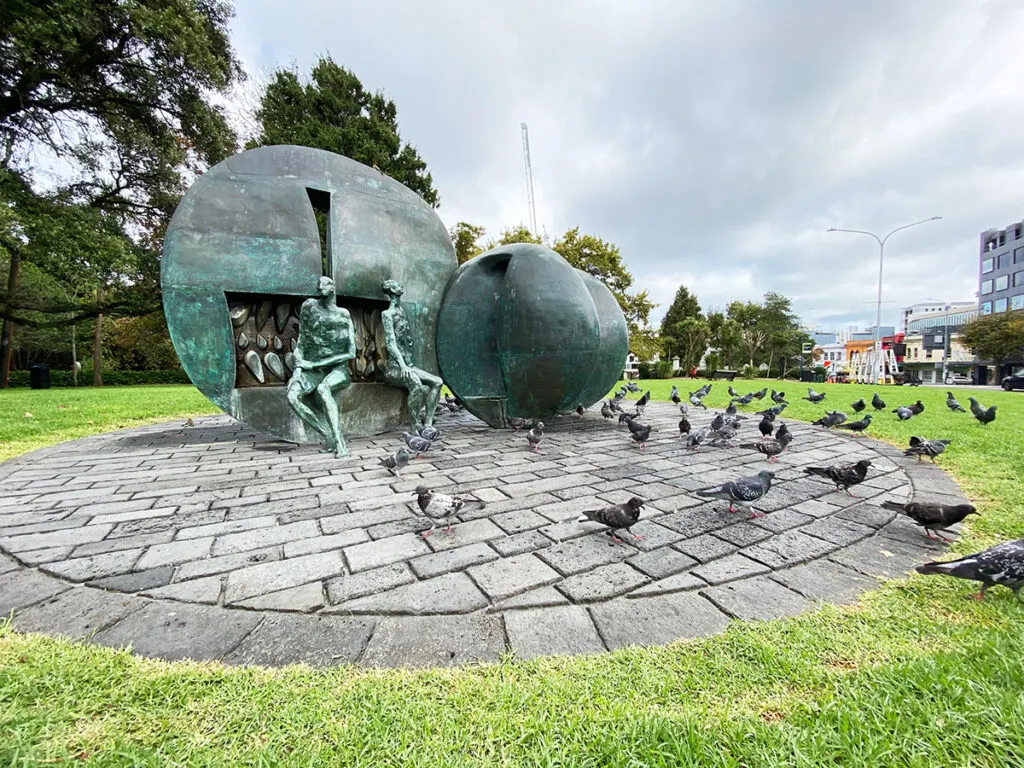 The bronze waterfall sculpture, 'Karangahape Rocks' in the aptly named Pigeon Park by Greer Twiss has been here since the 1960s and has weathered into 50 shades of green. Much of his work features textiles and sound.
Then we walked to just a small part of the cemetery where the well known Nathan family lie. David Nathan of Lion Nathan, was a huge benefactor to the city and moved his family to Auckland from the Bay of Islands in 1840 when he learned the capital of New Zealand was being moved from Russell to Auckland.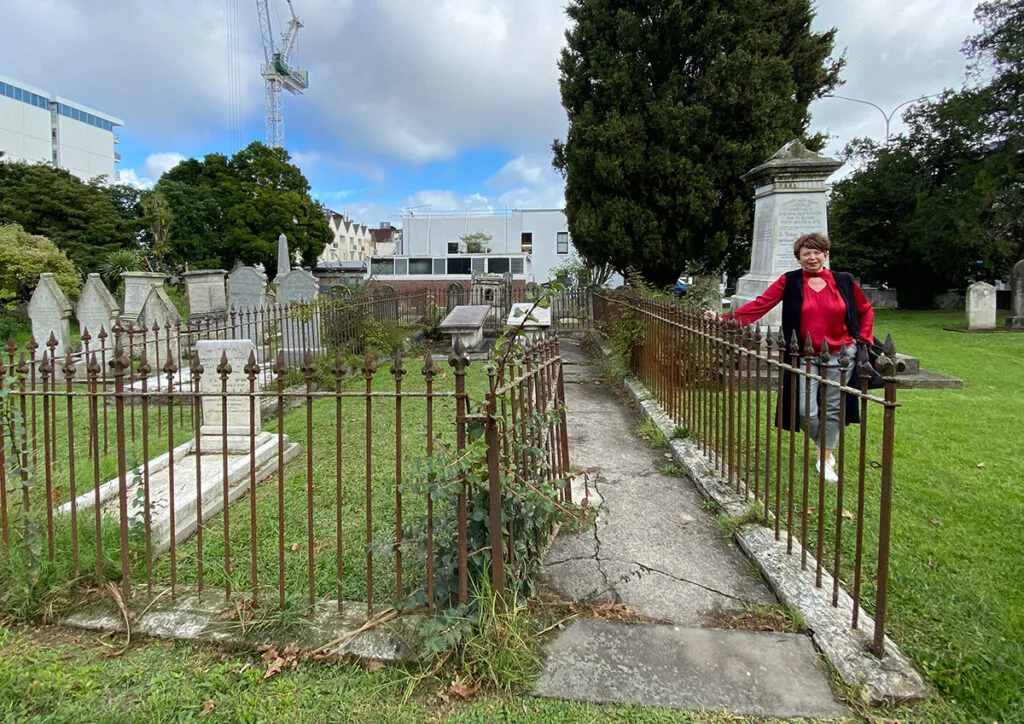 He belonged to one of the first Jewish families to arrive in New Zealand from London, just around the signing of the Treaty of Waitangi. In fact he and his wife from another Jewish family had the first Jewish wedding ceremony in this country.
He purchased a block of land on Shortland Street (not the TV show, for those who watch the soap!) which used to be the foreshore, and set up a tent trading Kauri gum, tea and opened storage facilities. He made a lot of money and was a benefactor of many Auckland societies and institutions.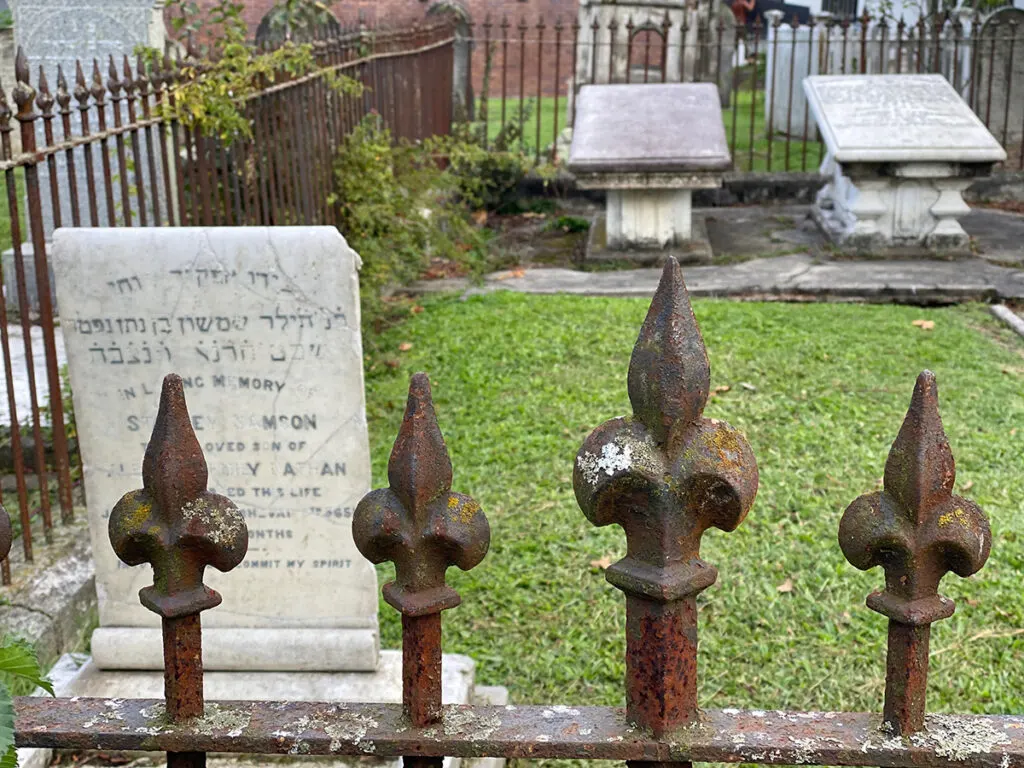 Then we walked to the iconic Rock Shop on K' Road to see the ever changing mural. Today it was Dusty Hill, bass guitarist and vocalist of ZZ Top who died in July 2021, by street artist Paul Walsh.
This is Paul's wall, sponsored by the Rock Shop. He changes his rock tribute mural every few months, so swing by and check out who's here soon. (Sad to see that some wannabe graffiti artist has vandalised it.)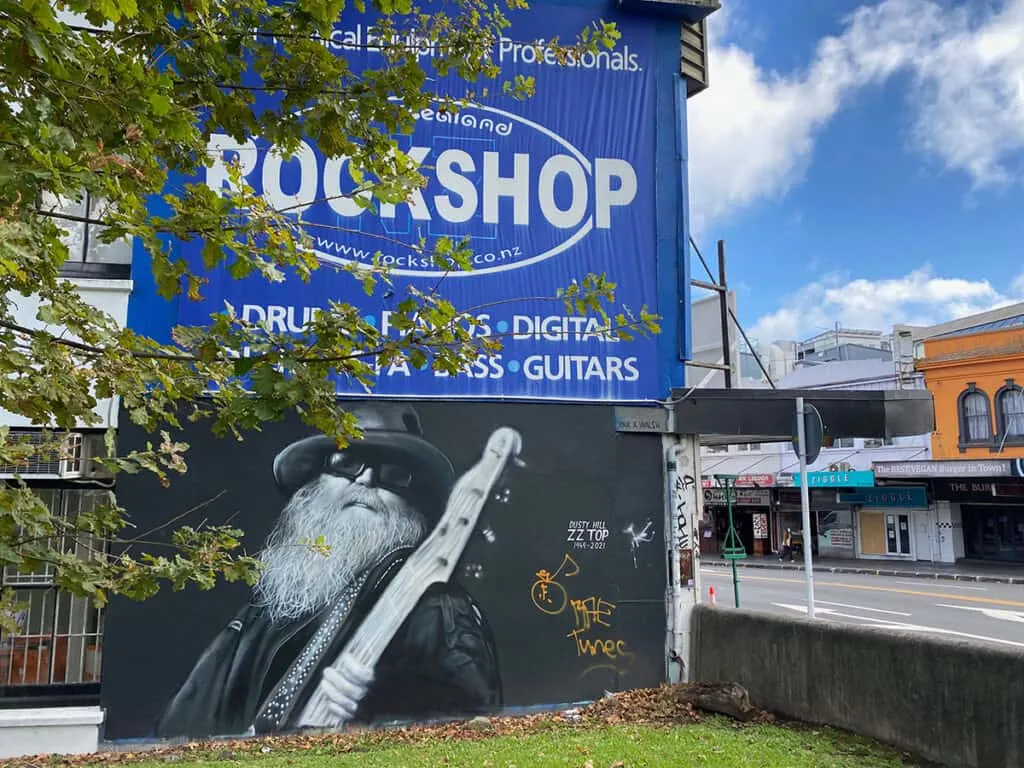 I've driven past this gorgeous mural (below) of the Maori woman wearing tā moko and never knew who she was or who painted her. Well all that has now changed, thanks to our walk out of the Catholic part of the cemetery and right past her.
Titled 'Hine', she's a three story high mural of Tania Cotter, painted by Owen Dippie. They are friends and Owen had been wanting to paint her for years. Her husband Stu McDonald is her tā moko designer.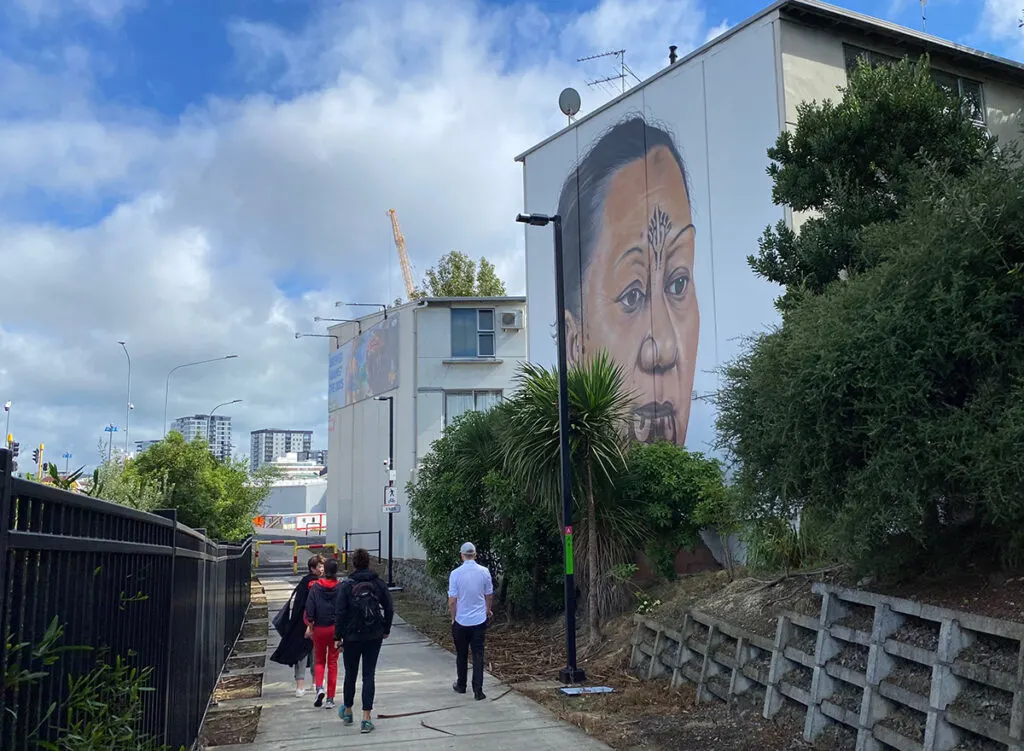 We crossed Upper Queen Street and walked to the new, yet-to-be-completed Karangahape Train Station, which is the monstrous construction site where the Mercury Plaza used to stand.
But it's the beautiful hoardings around the site, designed and painted by Paul Walsh again that you want to see. In these boards he depicts the "urban jungle", the characters of K Road, and you can see the naughty billboard of the Vegas girl in the photo I took below.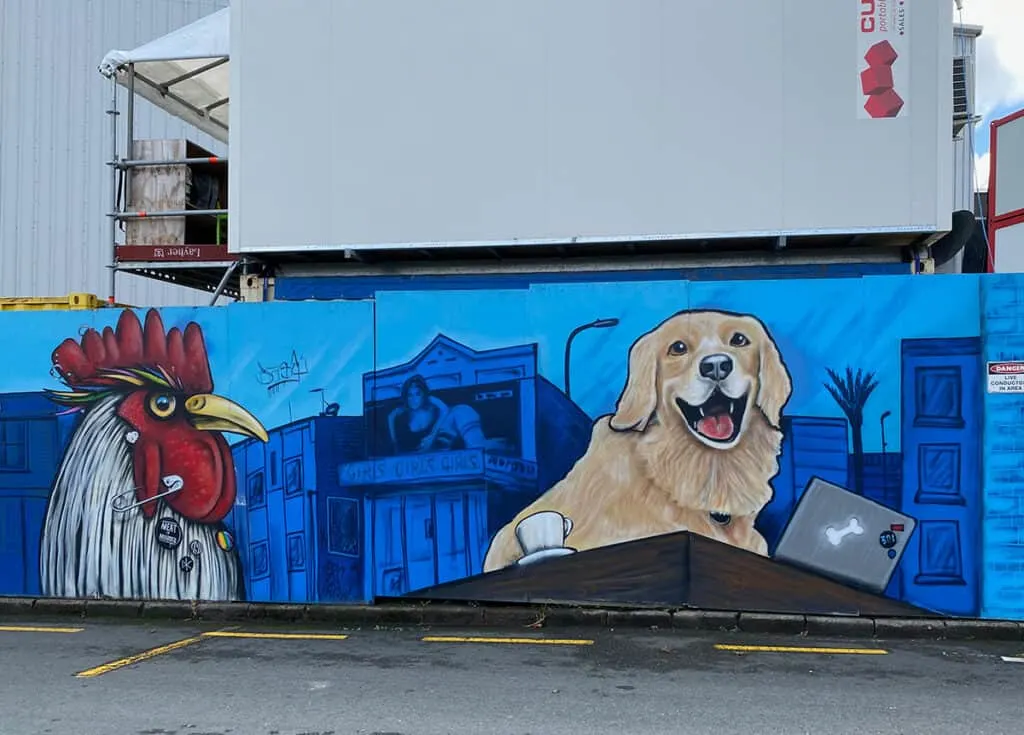 Walk up Mercury Lane, past more beautifully designed and painted billboards (and we all hoped they will be hung in the new train station around which they guard.
The boards below are by Misery (Tanya Jade McMillan) and Tomtom (her partner), icons in the NZ street art field and she is one of New Zealand's most beloved female wall and pop artists. Tomtom is a tattoo artist and you can see his influence. You can also see her Tahitian / Chinese heritage in these images.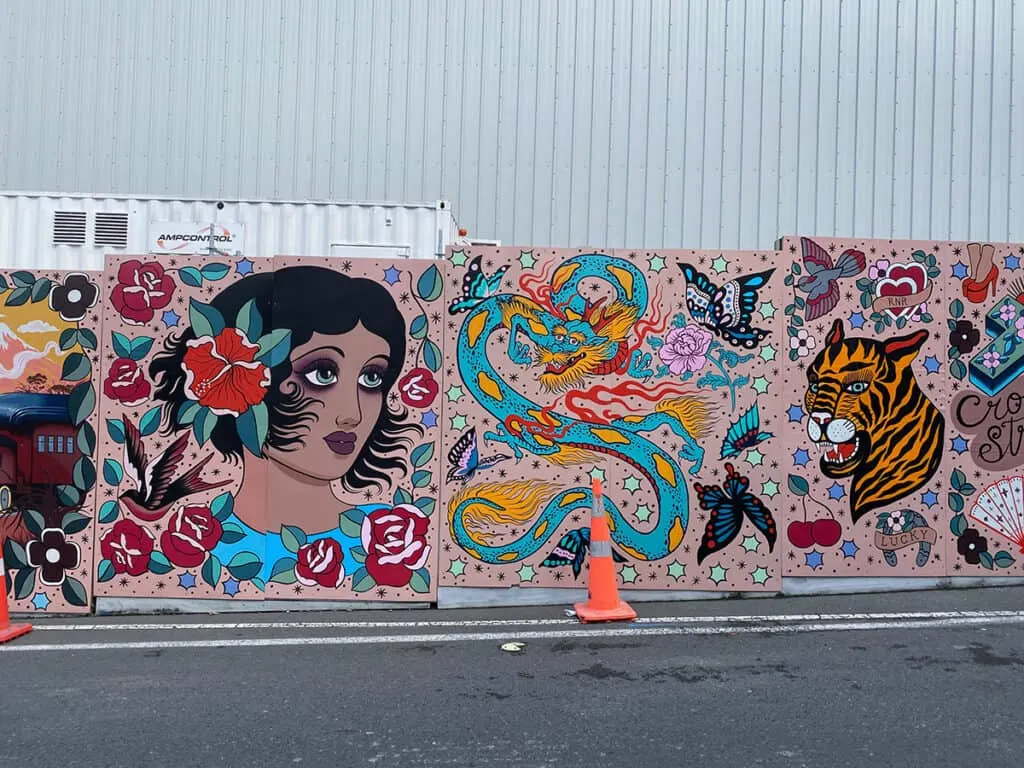 Opposite the Karangahape Road station on Mercury Lane (looking at the images above), is this huge wall mural (below) by Askew One, aka Elliot O'Donnell.
He's an Auckland native and now spends his time divided between here and Brooklyn. His roots are in the 1990s graffiti scene in Auckland, he has been instrumental in setting up multiple gallery spaces and set up Auckland's first graffiti festival.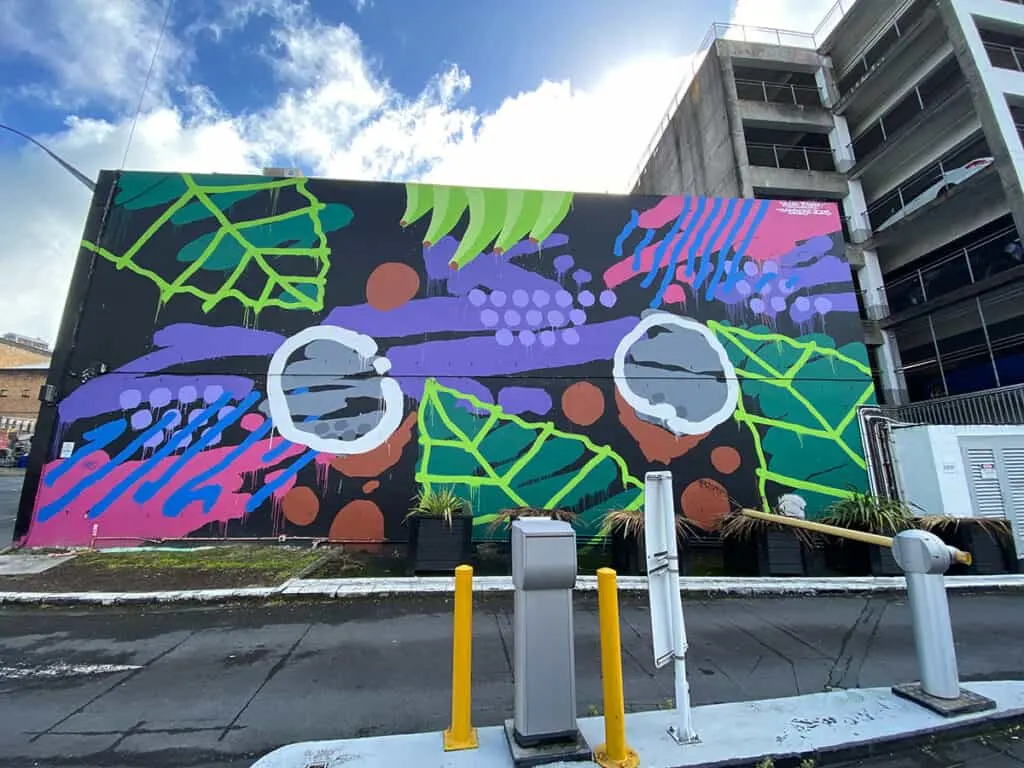 We then hung a right into Cross Street to walk down this side street that you'd not normally venture into!
Some will remember this is the back of Rendalls and the George Courts. Today you'll find a tattoo studio and more street art towering in front of multi-level car parking.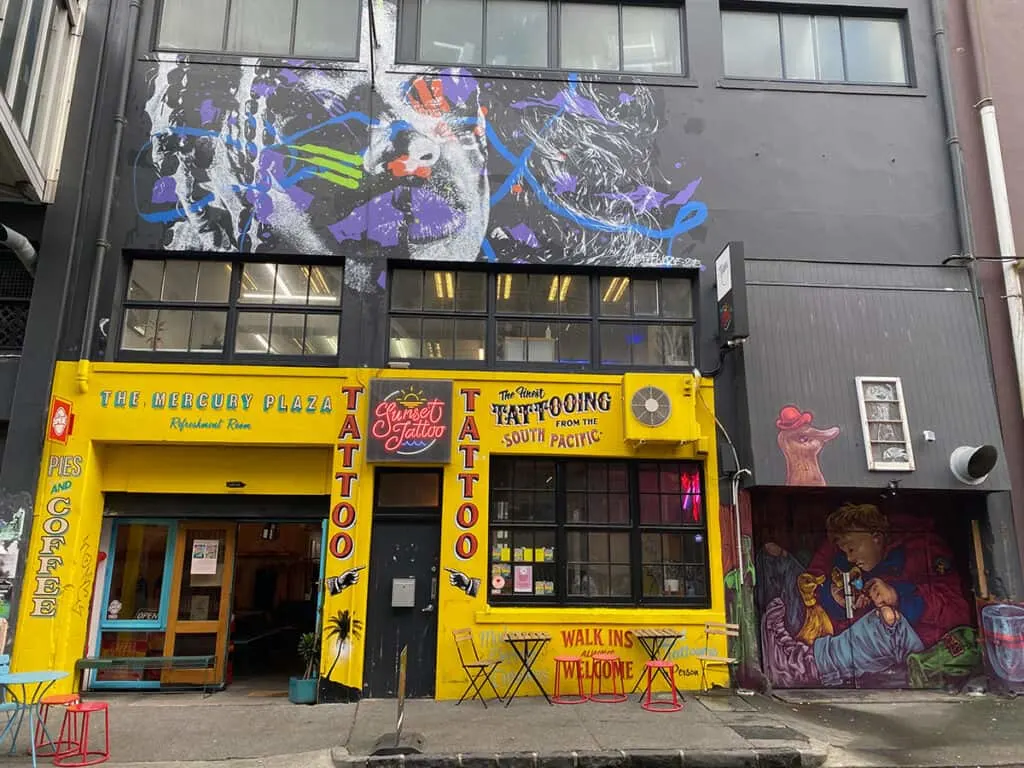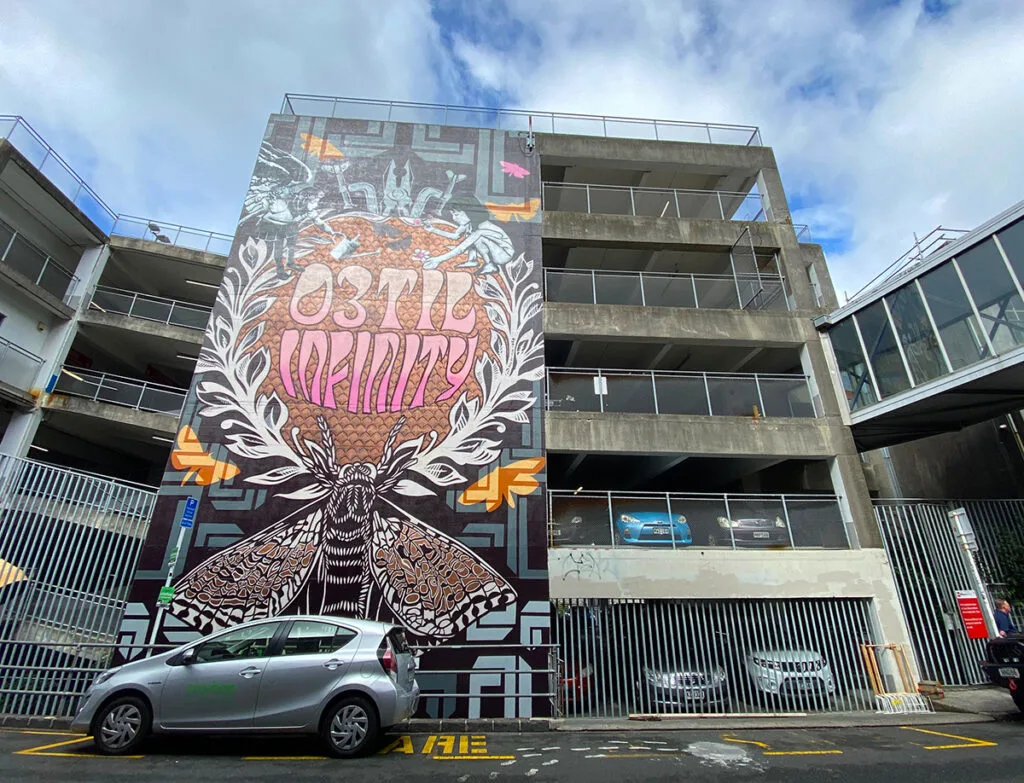 We took a shortcut through the Asian Grocer and food hall to get onto Karangahape Road, alas there was no time for a Sneaky Snacky (184 Karangahape Road), which was a pity because they are known not only for their ramen but their donut burgers too!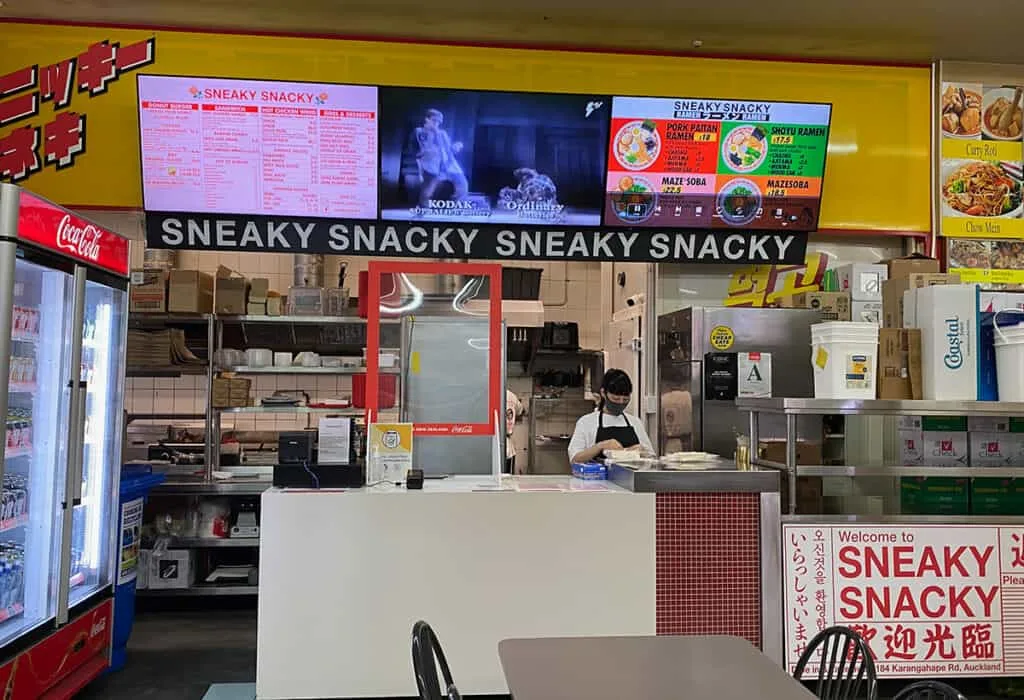 Then out we popped onto Karangahape Road opposite St Kevin's Arcade where this bronze sculpture by Misery in her cartoon style is located.
"The Thief" (2015) is on one side and another one sits across the road at the entrance to the arcade.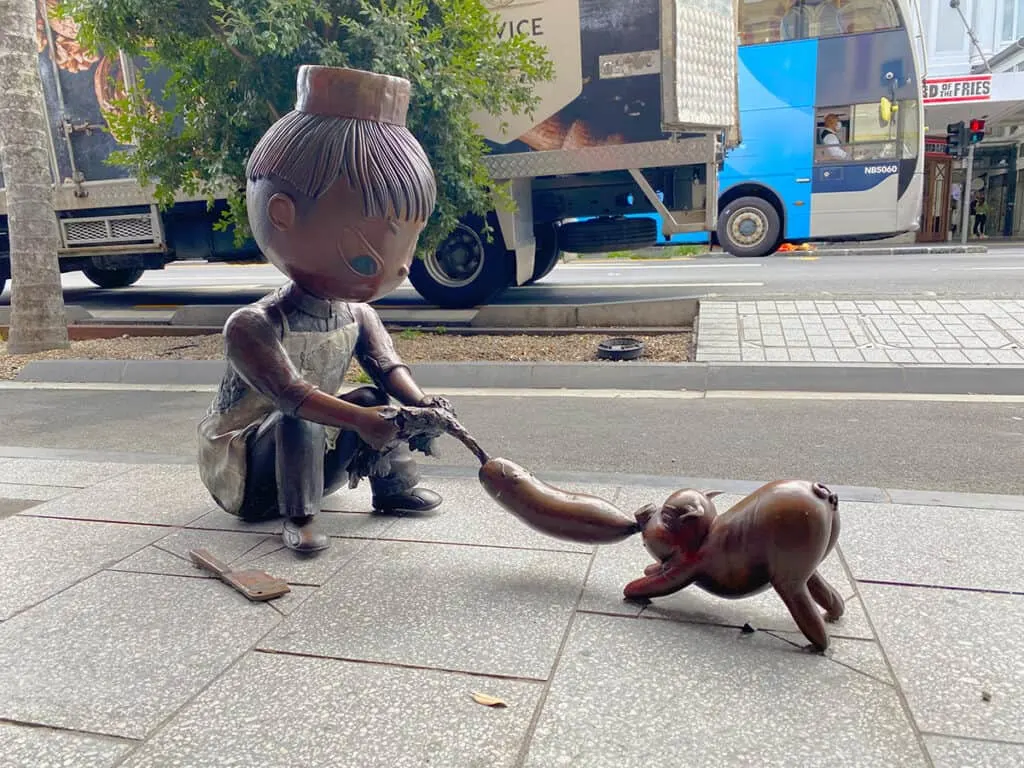 How did St Kevin's Arcade get its name?
The Nathan family owned a large estate here and the house was called St Keven's with a tennis court and gardens that meandered down through Myers Park. They gifted this strip of land in 1920.
St Kevin's Arcade was built in 1924 when K' Road was a thriving shopping district, even described as the equivalent of London's Oxford Street. St Kevin's was home to tailors and dressmakers, tea rooms and photography studios with flagship department stores along the street.
This street, as locals will know, fell into disrepute for many years and, while still dotted with strip bars, it's enjoying a renaissance with artists and Millennials moving into the area.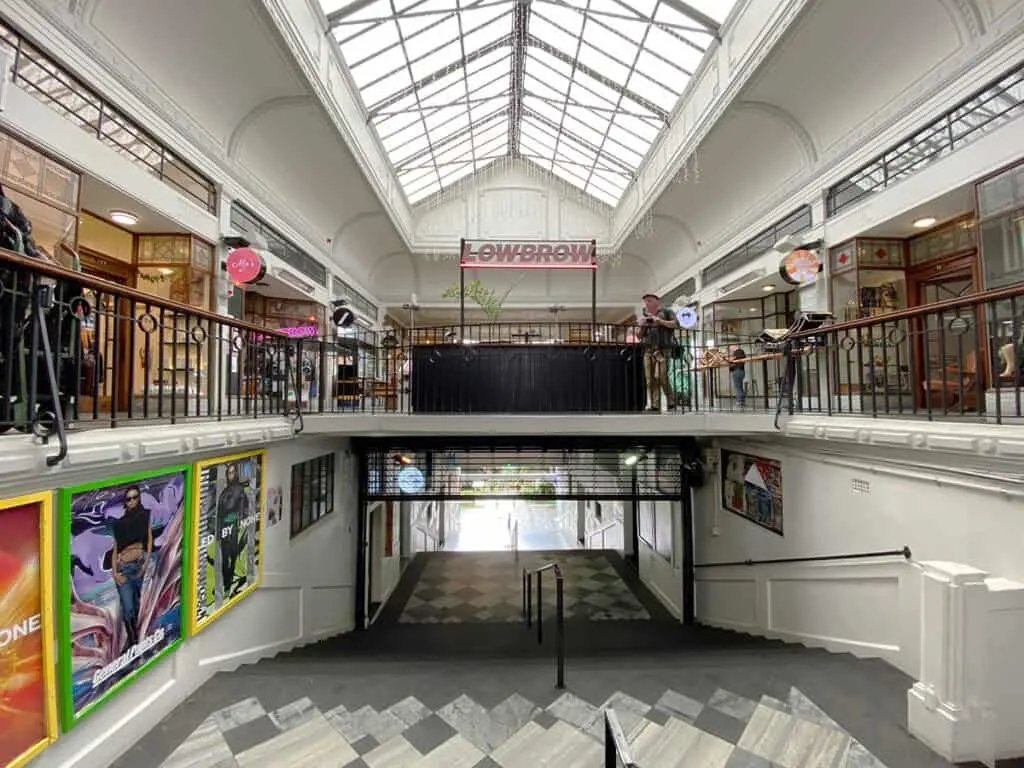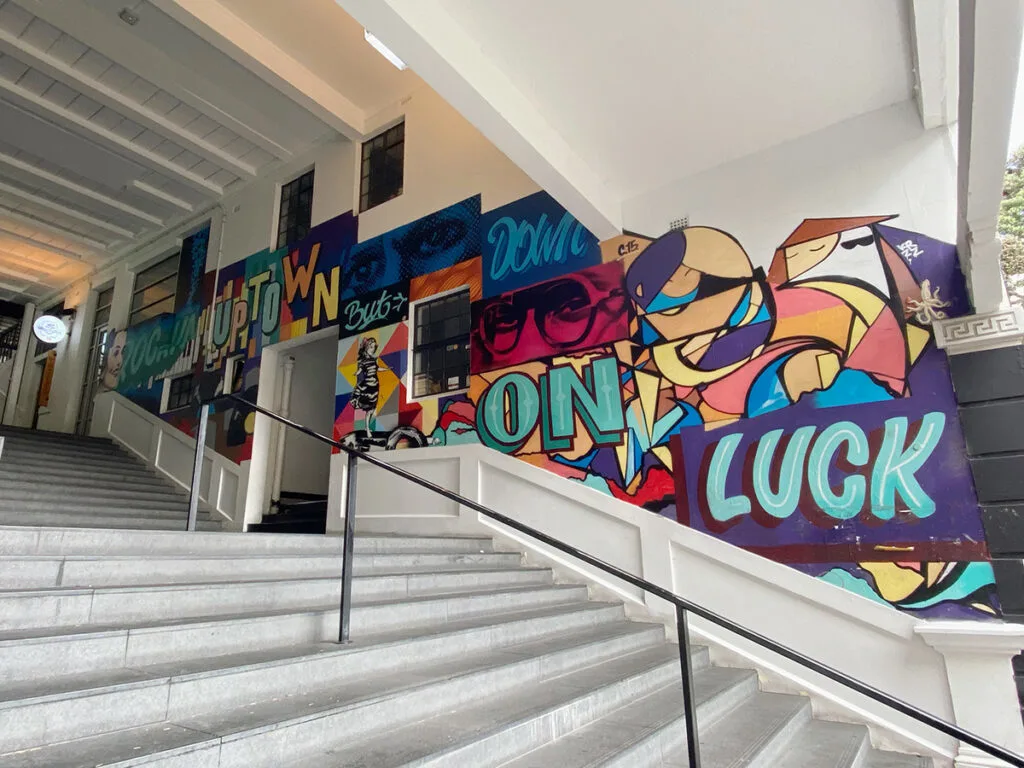 You can see Misery's distinct style in this four-story mural on a lift shaft behind K' Road (below).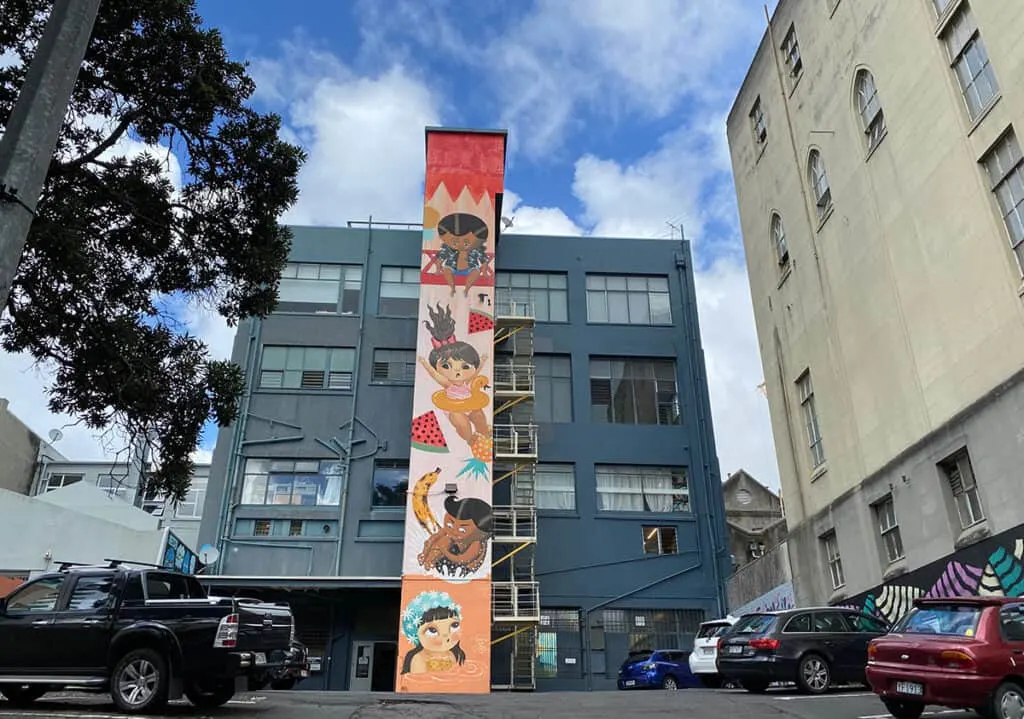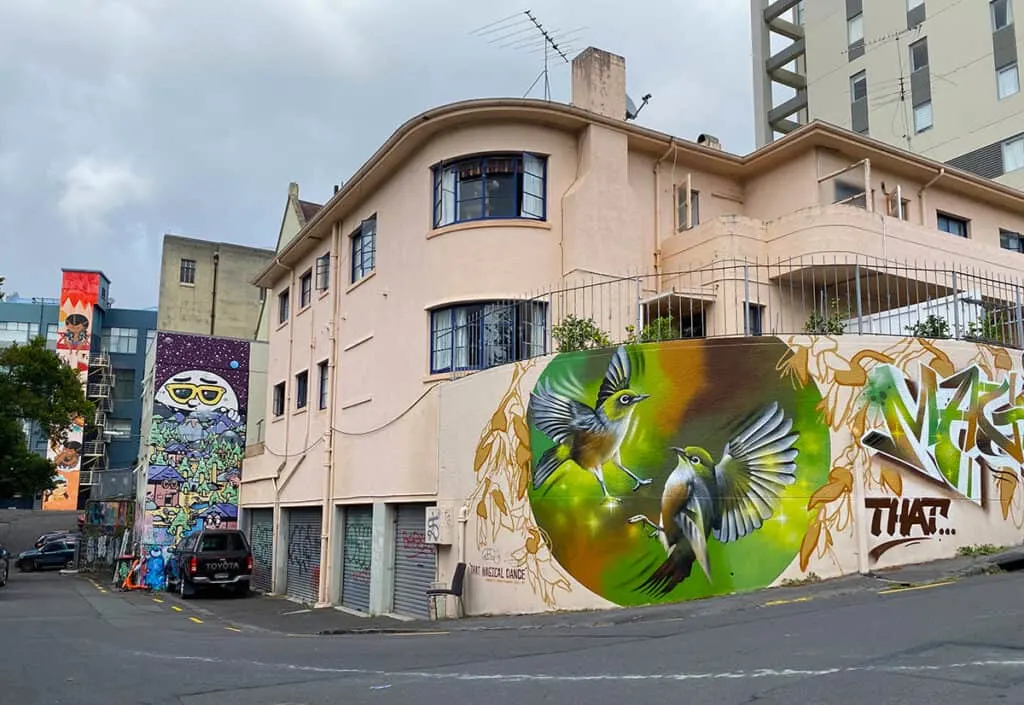 Charles and Janine Williams did these tauhou (aka silvereye). They specialise in large scale murals and are known for their native birdlife depictions and indigenous stories. You'll see more of their work around Auckland in the Wynyard Quarter and Halsey Street.
Charles is part of a team called Ironlak that holds the Guinness World Record for the worlds longest graffiti scroll, in Dubai.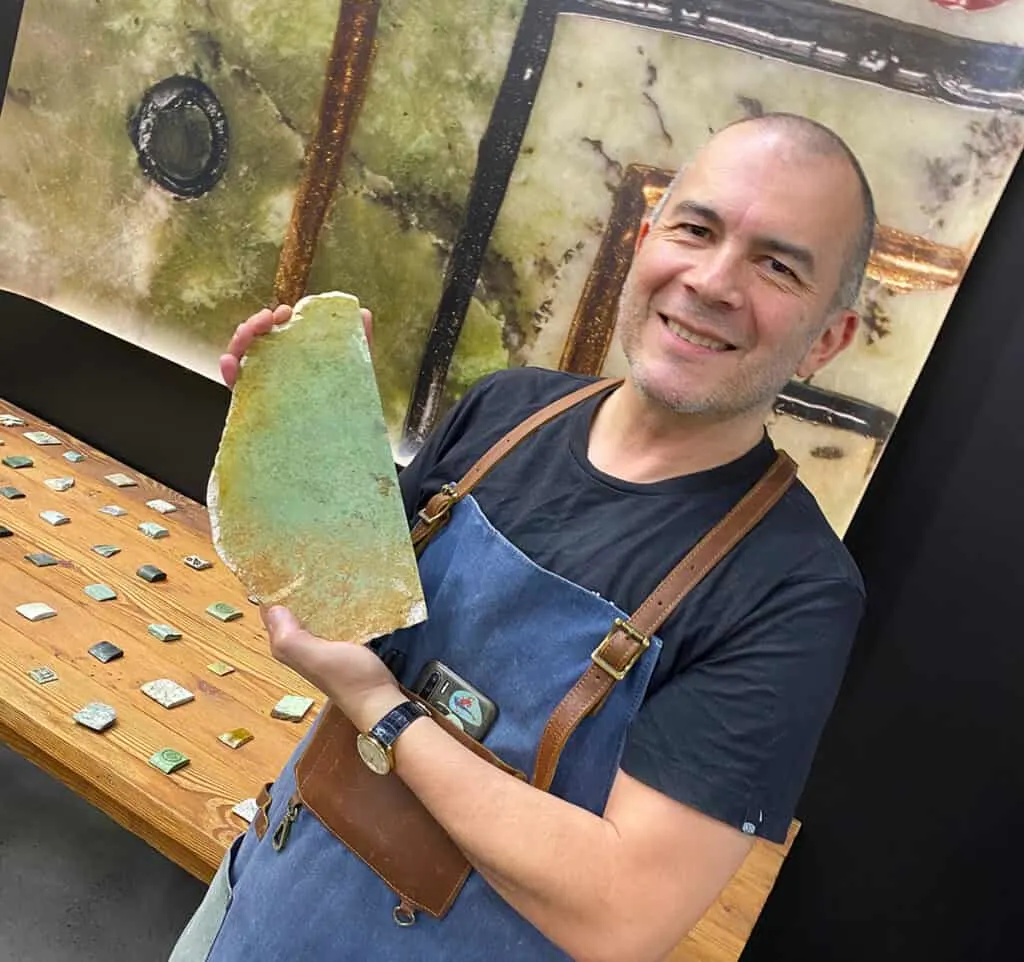 Our walking tour covered more than street art, ducking through from Beresford Street back onto K' Road via a visit to Ernesto Ovalle's carving and jewellery workshop, Oro Negro Jewellery Studio.
He's a third generation Colombian jeweller and is a registered Ngai Tahu pounamu (greenstone) carver, having been carving pounamu in New Zealand for 20 years keeping all the protocols that entails so his pieces come with a certificate of authenticity.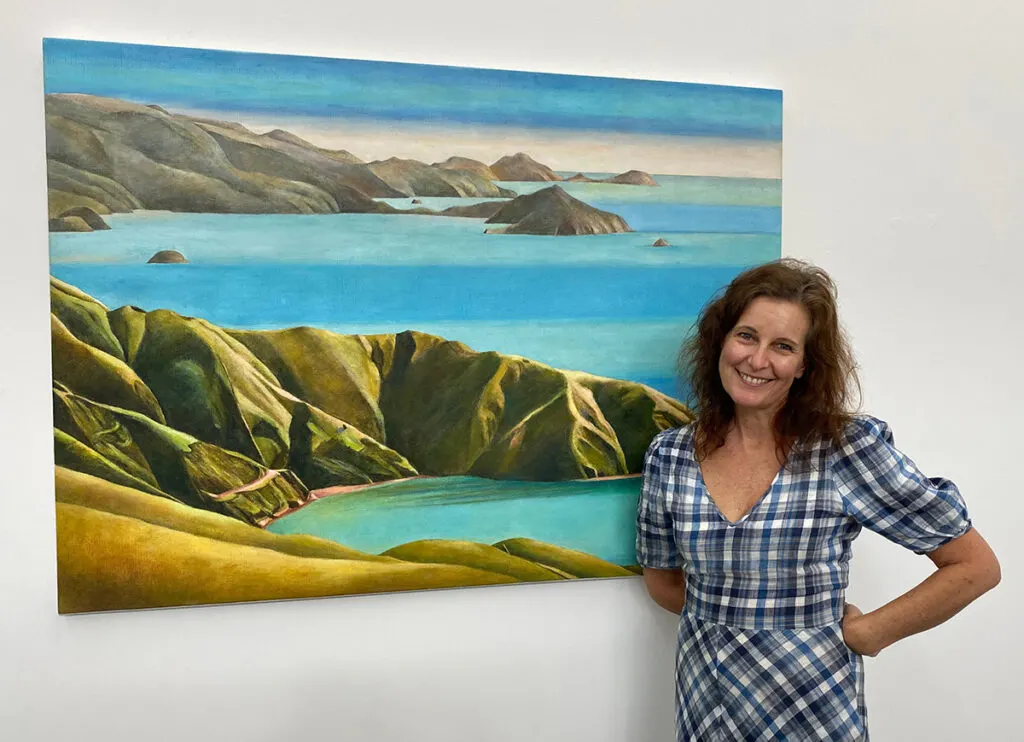 Then finally it was a stop at Melanie Roger Gallery, further up K' Road (opposite Caluzzi for those who've been to a drag queen dinner here!).
This month she has a collection of Stanley Palmer paintings. The 86-year old artist has been exhibiting since 1958 and been a full time artist for more than 50 years.
His work invites the viewer to drink in the landscape, windswept or manicured. Native New Zealand land and sea scapes.
"I am interested in a lot of things at the end where the road peters out, the edge between the civilised and where we have no control… the oceans and the sky." – Stanley Palmer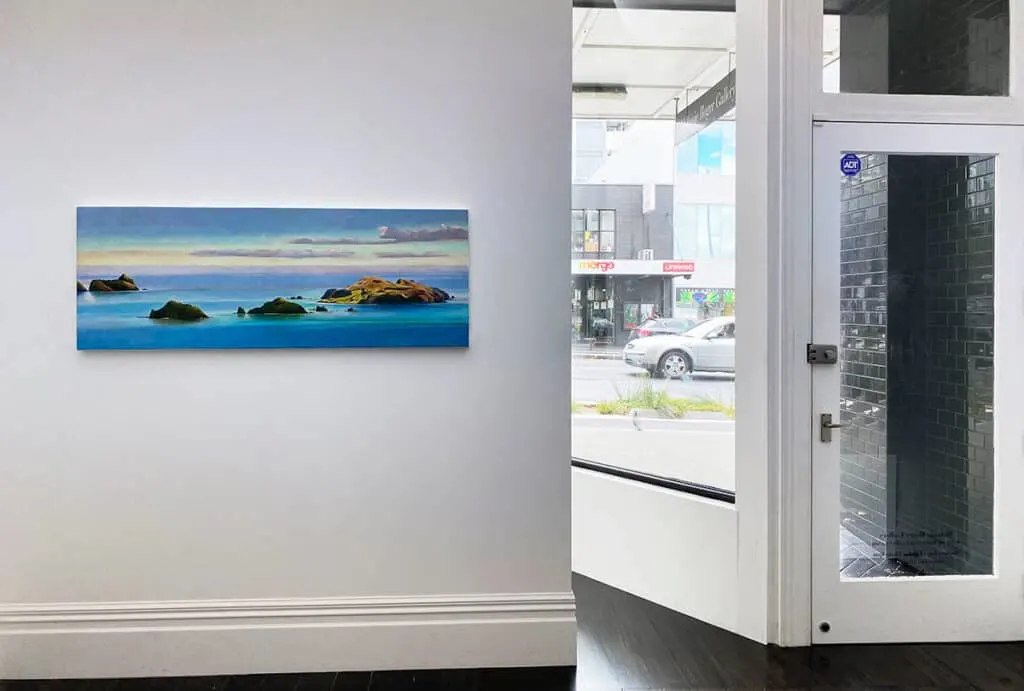 Then we popped down Karangahape Road towards Queen Street and had lunch at Atelier (at 292 K' Road). Their wild pork croquettes were so good we ordered a second round! Sorry, no pics of that. We must have been too excited about eating!
Check out the many walks and tours around Auckland at White Glove.
Other things to do in Auckland
Take a tour through Weta Workshop's special effects exhibition in Sky City Convention Centre – if you dare!
Enjoy free (or heavily discounted) facials, massage and hair and nail treatment at one of the many beauty schools the city!
Camp at Eden Park in a fancy glamping pod! Whether there's a game on or the stadium is quiet, it's a fun thing to do and makes a great gift for your hard-to-buy-for sports nut.
Any time is a good time for a cheeky cocktail with an amazing view! Head to one of my favourite rooftop bars in Auckland for a drink.
Head out on the 30-minute ferry to Waiheke Island for a weekend at one of these private holiday homes.
Keep up with the latest happenings, new restaurants and events over on my baby site AucklandScene.co.nz