I've just spent two full days storming the streets of Philadelphia – trying the best Philly cheesesteak, ogling historical sites, quirky art and posh galleries.
I've shopped at outlets and department stores, I've been eating, drinking and generally pulverising my feet into stumps.
Gone is the industrial city of old and in its place is a groovy, bustling city that is easy to walk and with plenty to do.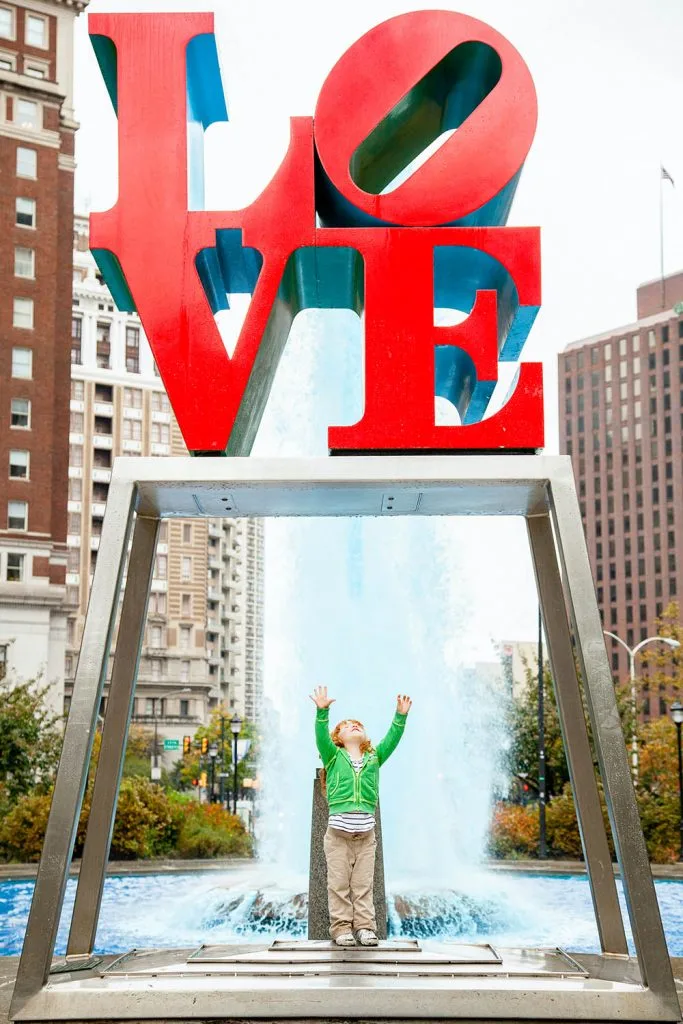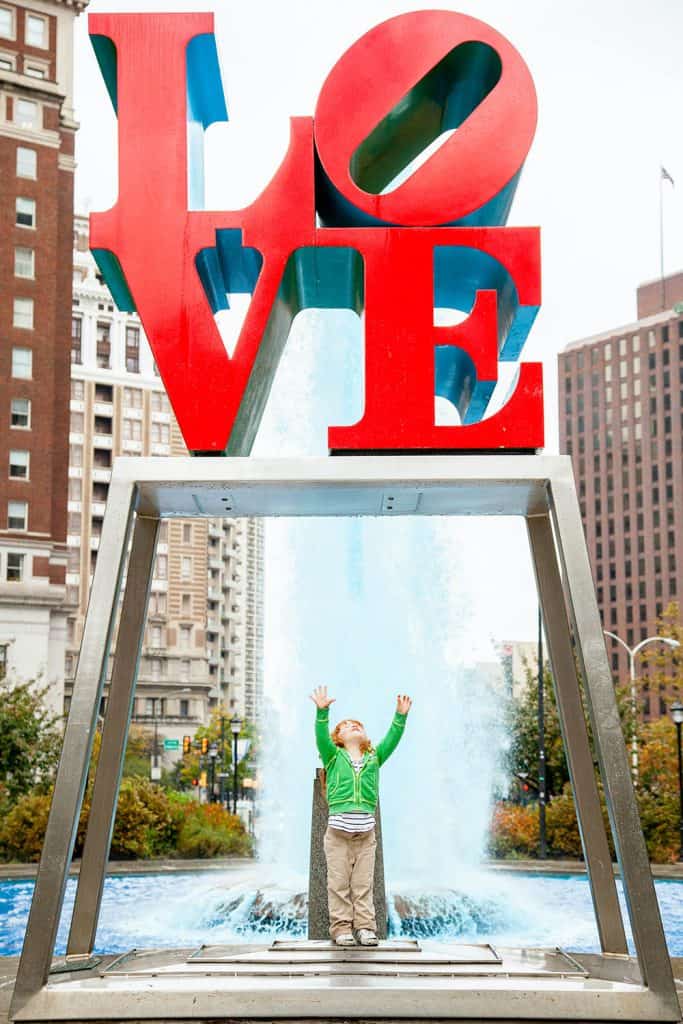 Here's my list of the 5 things you won't want to miss in Philly
1. Philly Cheesesteak subs
You must try a Philly Cheesesteak! These are the most delicious hot beef rolls you'll ever wrap your laughing gear around and the battle for top shop is fierce.
The tourists (so I'm told) head to where they were originally created in the 1930s, that would be Pat's Steaks.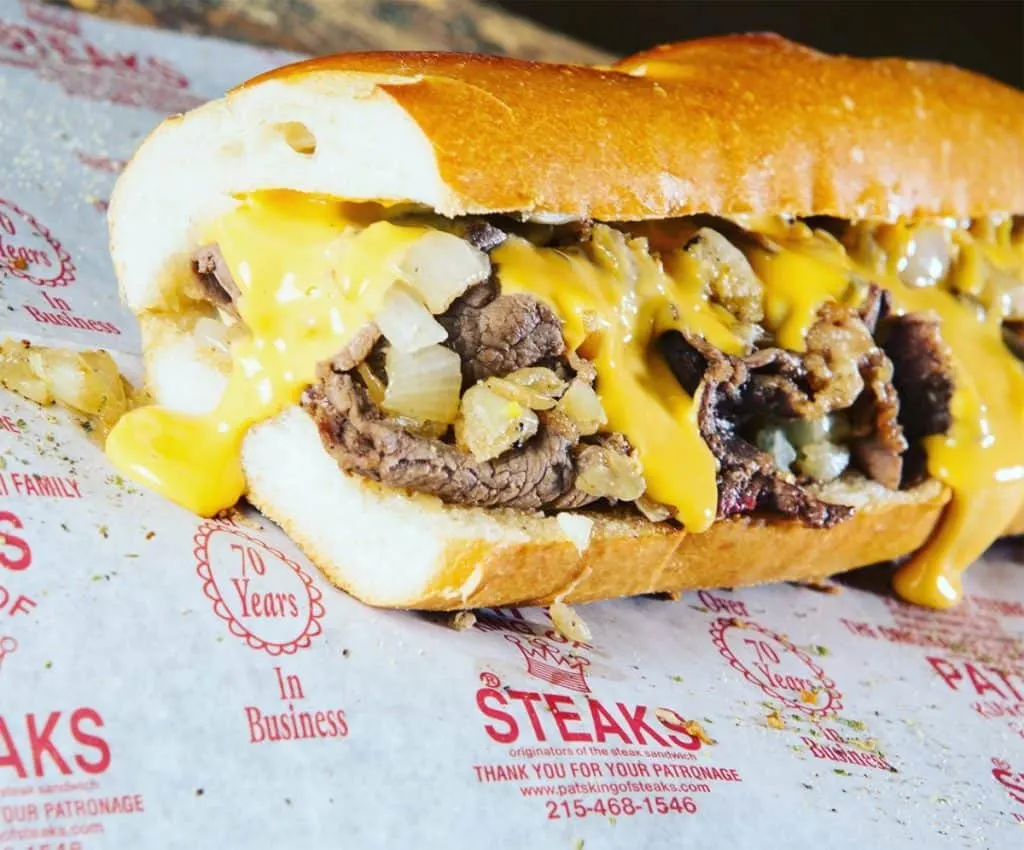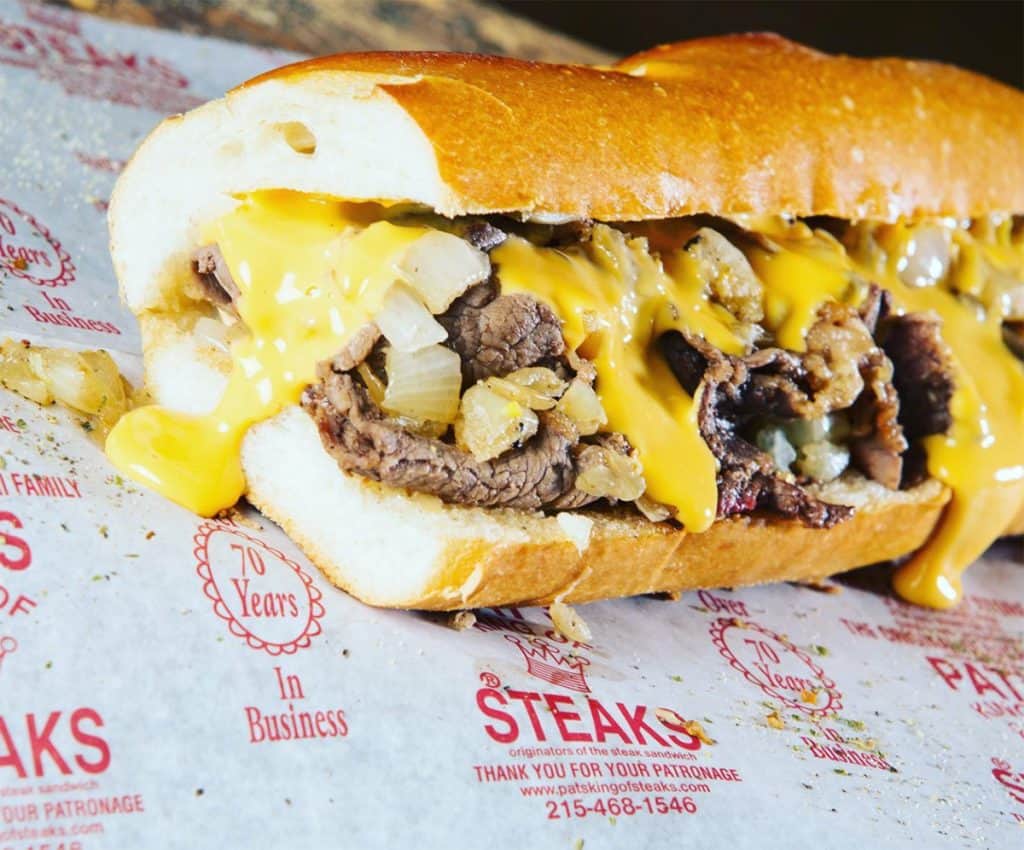 They also flock to Geno's Steaks – down the street, as you can see below.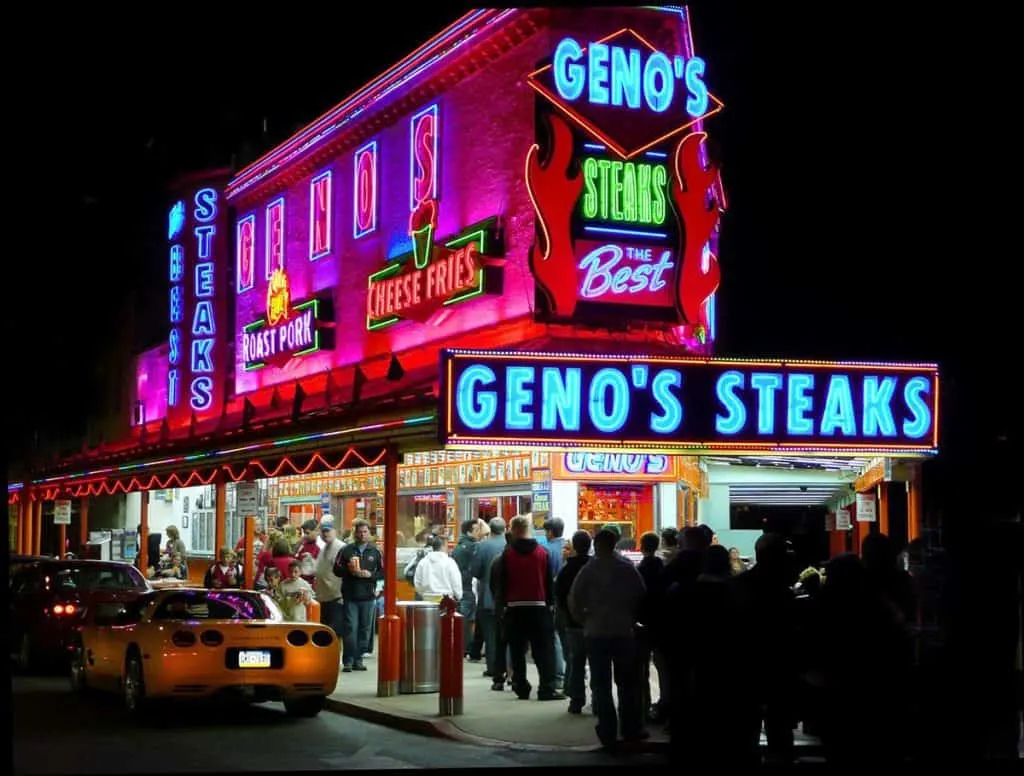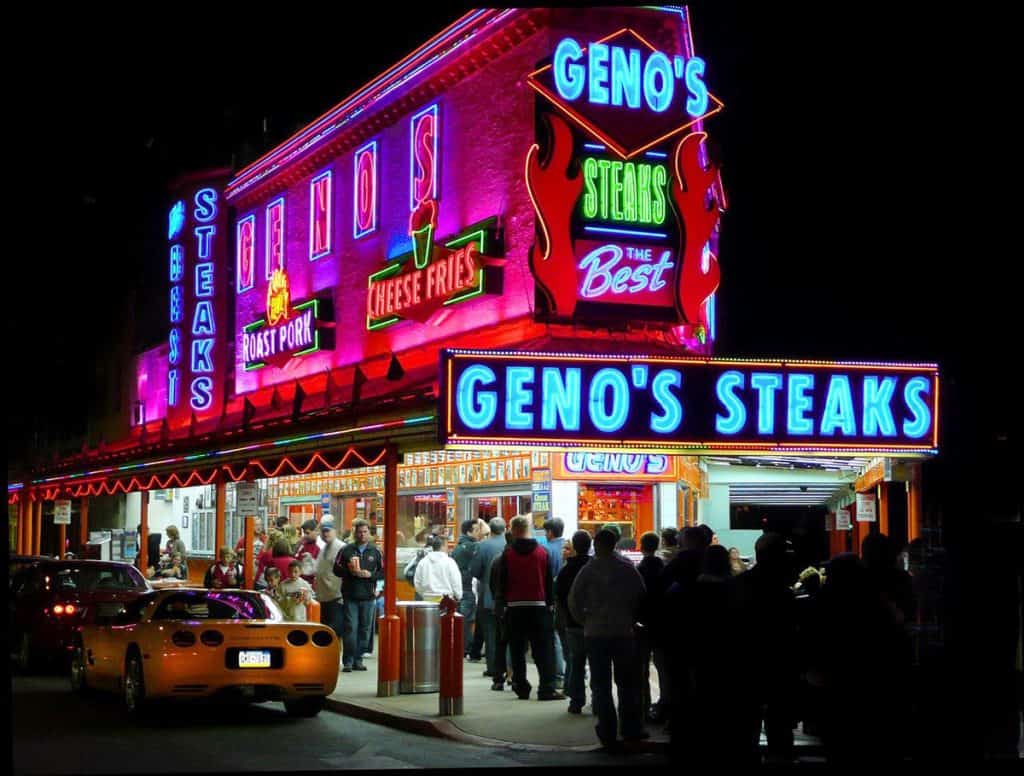 But the favorite of the locals, they told me, is Jim's Cheesesteaks on South Street. So that's where I went.
Jim's has been around for 65 years and we waited in line outside for 45 minutes (in the rain), watching the guys through the window ploughing through kilos of finely sliced beef on the hot plate.
Make sure to order in the local way: "pepper steak wit whizz" (wit/with means onions), "whiz" (means that plastic orange cheese that I love so much. You can also get American or provolone cheese). That was my order. It took 5 minutes to eat and we were out again, but delicious and worth the wait.
This was an unexpected find. There are about 3000 murals painted on and in buildings all over Philadelphia and they feature on hidden gems in Philadelphia lists.
Initially it started as an anti-graffiti push back in the 1980s to get (the very talented) taggers and graffiti artists to channel their spray cans in a more appropriate direction.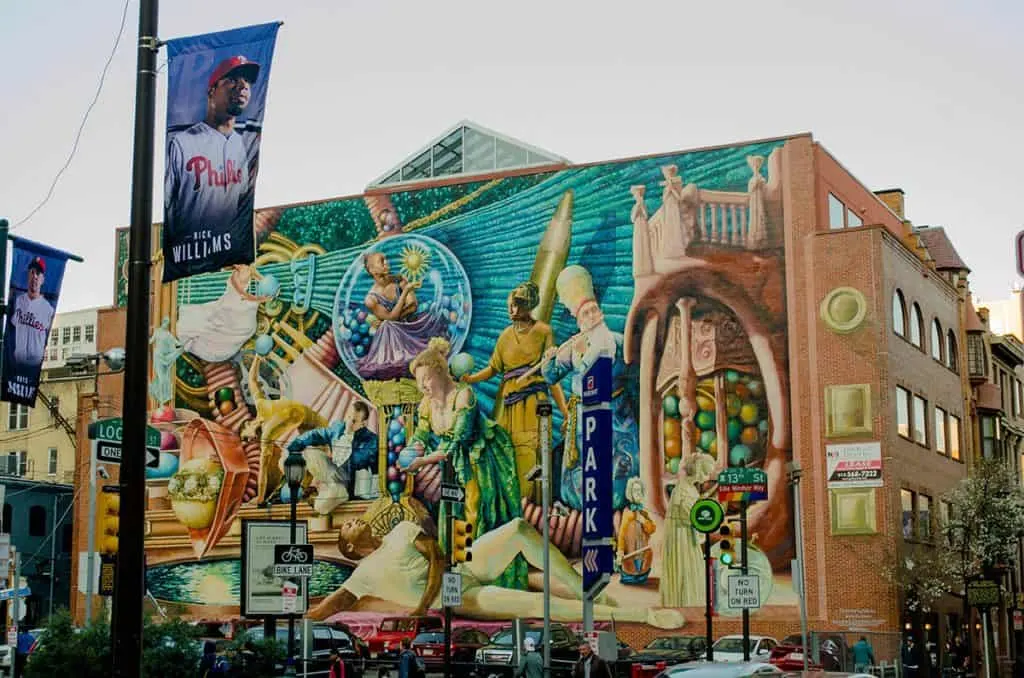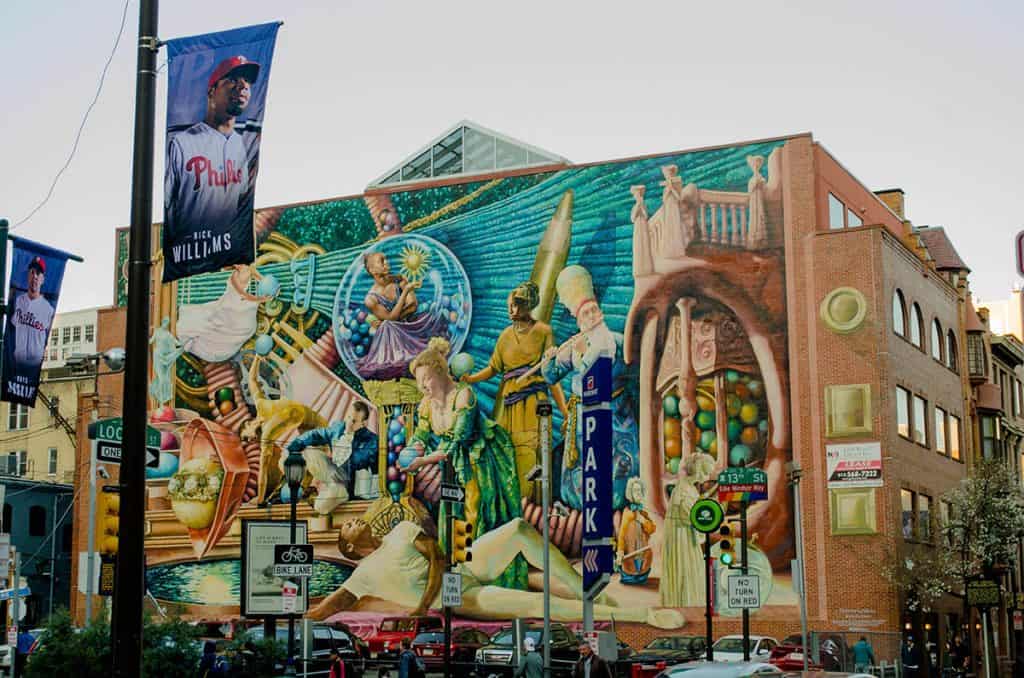 They did and thanks to the Mural Arts Program, entire communities are involved in commissioning mural walls (some are up to 9 stories high and others line public school hallways).
This is more than just wall art though, this program has literally changed thousands of kids (now adults) lives and has an intake each year of hundreds of kids who might otherwise be up to no good (if you know what I mean).
There is also a wait list of buildings that want murals.
You can take tours of themes or locations. Love Letters is via the subway or a guided city walking tour takes about 1.5 hours. Or you can do your own tour listening to the unique story behind each painting. Click here for more details.
3. Climb the "Rocky steps"
No visit to Philadelphia would be complete without shouting "Adrienne!!" at the top of the famous steps to the Philadelphia Museum.
You'll find a statue of Rocky Balboa with tourists lining up for photos to the right of the steps, and it would be rude of me not to do the same.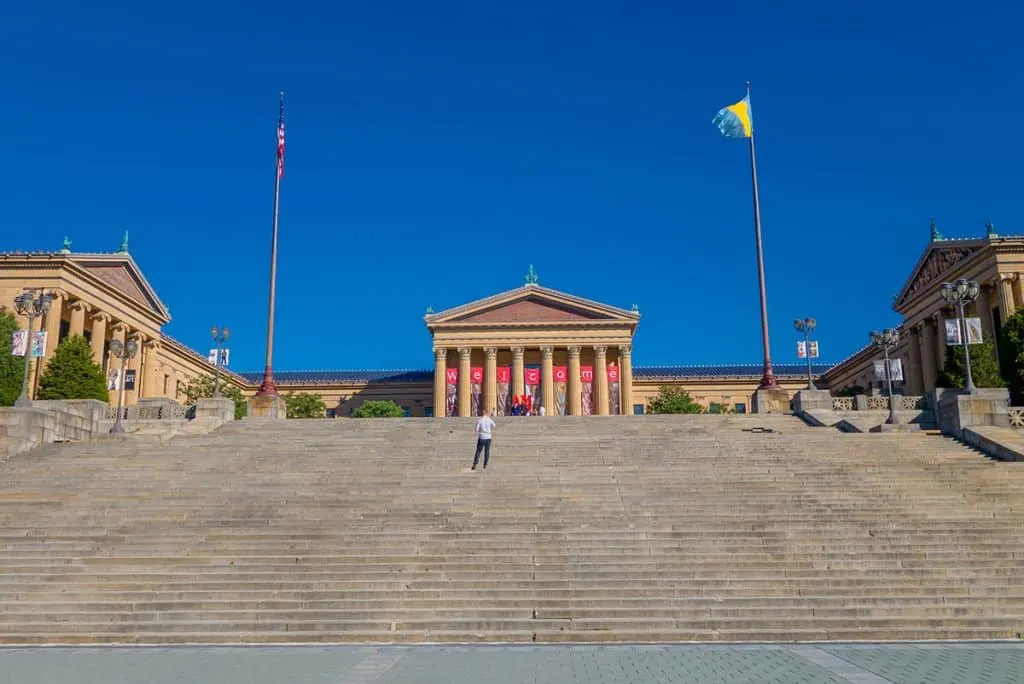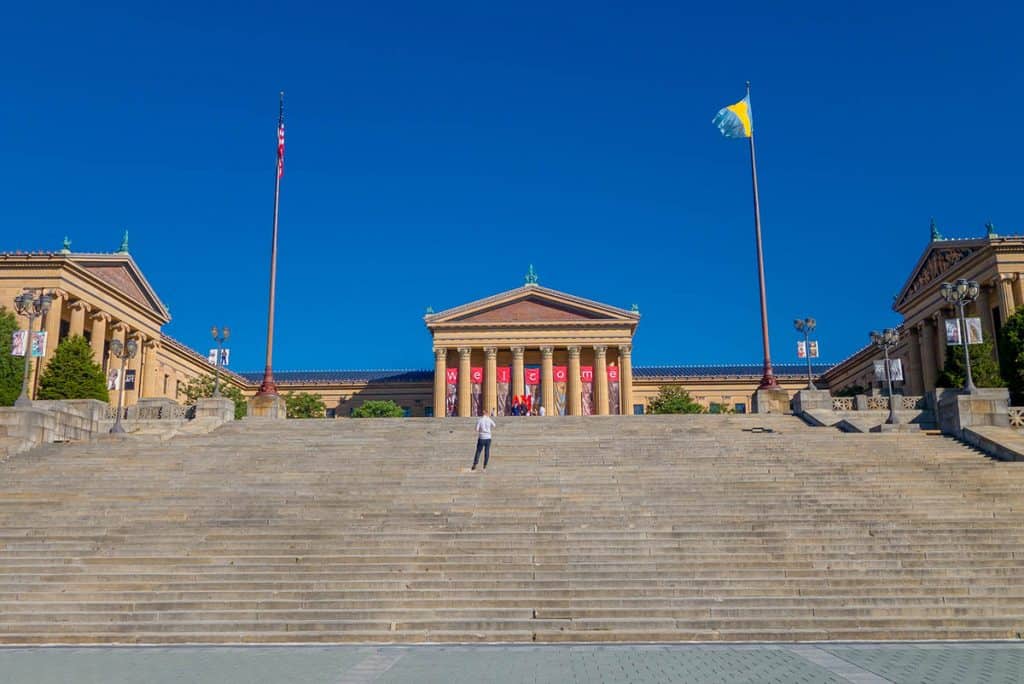 You'll also get the best view over the city from here. It's a popular spot for wedding photos too, but beware of tourists doing the 'Rocky' behind the bride.
Inside the museum you'll find some cool Medieval cloisters that have been installed (they're the real thing) and another section of Asian art with a Japanese tea house. This is not currently serving tea, however. Constantine tapestries, presidential china, horse and rider armory and European and American art.
As luck would have it, Reading Terminal Market happened to be only two blocks from our hotel – Le Meridien.
(It was the newest hotel in town and has been funkily created inside the former YMCA building, a stone's throw from City Hall – the pivot point of the city.)
We could have had breakfast at the hotel's restaurant of course (we'd done some damage to a bottle of port at the bar the night before), but Reading Terminal Market is a jumping hive of edible activity.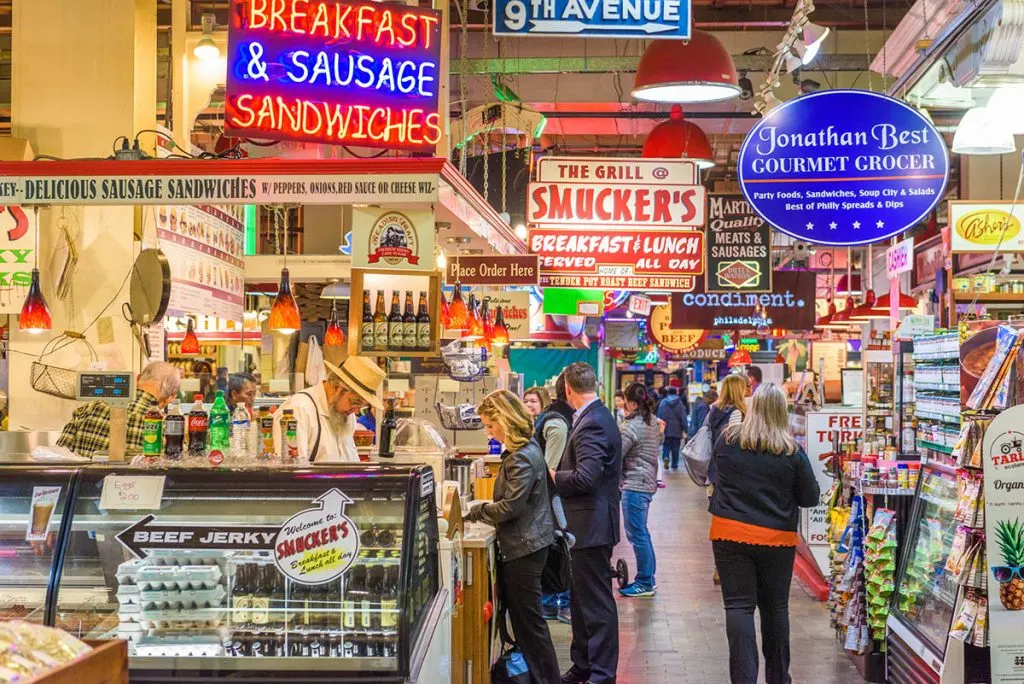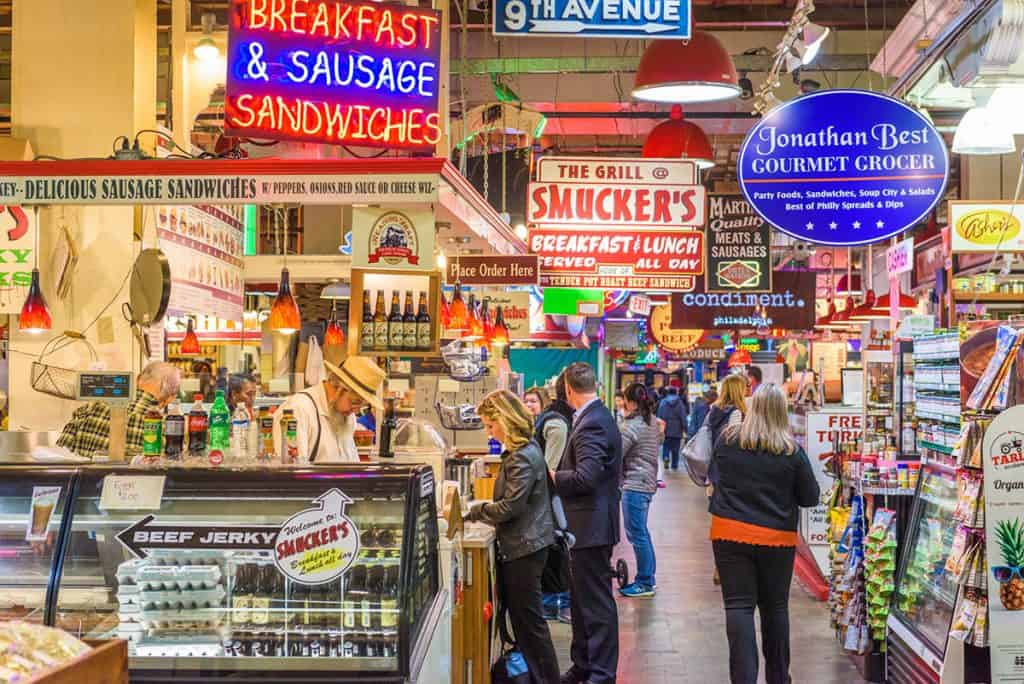 It's been here since 1892 and is a farmer's market where you can buy fresh produce and flowers, but more than that, it's row-upon-row of food outlets ranging from Amish cakes and pastries (made in front of you) to French crepes, cheesesteaks and burgers. A cheap and very cheerful start to the day.
5. Happy Hour
Ok, so number 5 should probably be Visit the Liberty Bell. Or maybe take a tour through Independence Hall where the founding documents of the United States were signed.
But I say no. Happy Hour at Palomar Hotel is my number 5!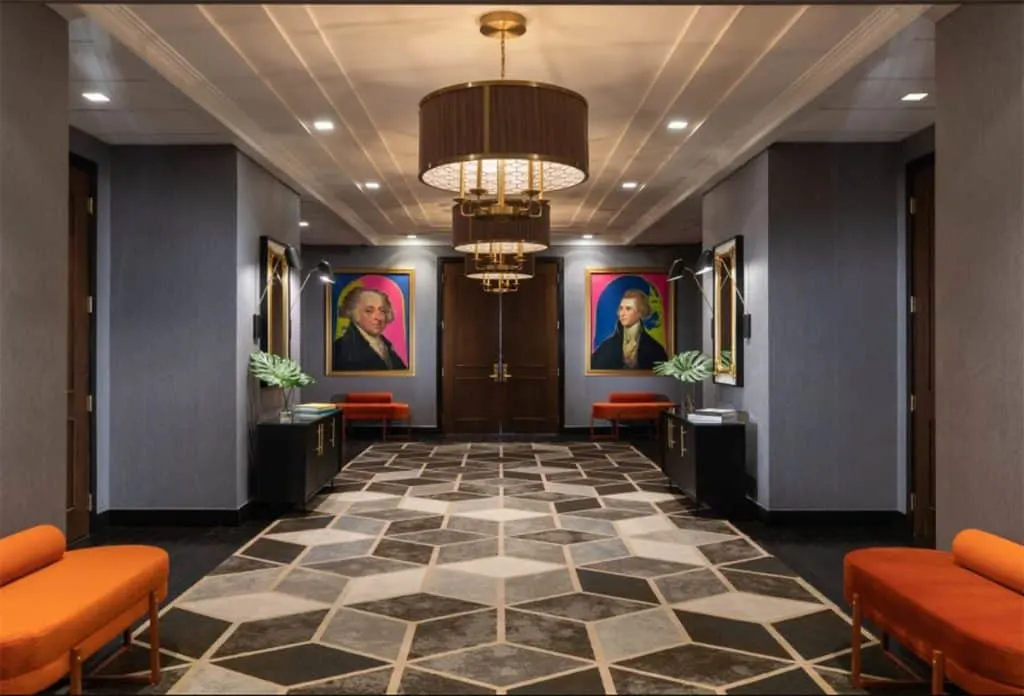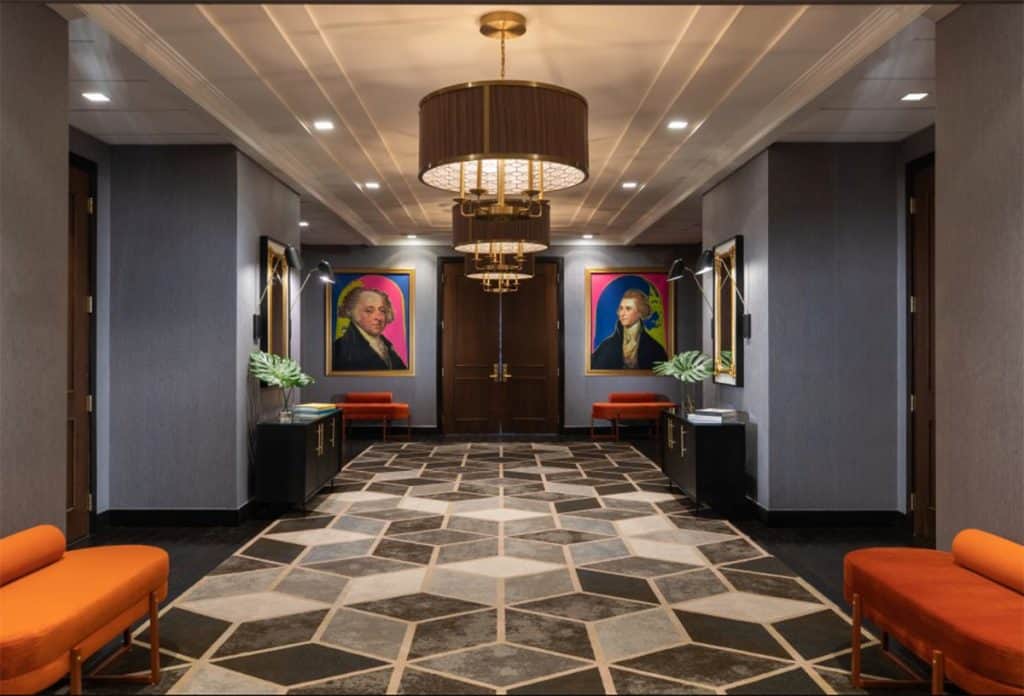 You'll do those touristy things anyway, let's face it. And AFTER you're culturally aware you will need a drink.
Kimpton Palomar Hotel is in yet another historic building, this time a 1929 architects building in the posh Rittenhouse Square neighbourhood. It was a stunning evening so we sat outside under umbrellas and ordered "small plates" from Square 1682 – their restaurant.
I tasted lots of food (yes I did) but my pick for this Top 5 list has to be the goat cheese-stuffed dates wrapped in bacon. They came hot on sticks and went perfectly with a cheeky pinot gris.
6. Visit Eastern State Penitentiary
This former prison was so harsh with many inmates in solitary confinement, even being taken outside for exercise with a bag over their heads so they would see no one.
The idea, of course, was that they would become penitent.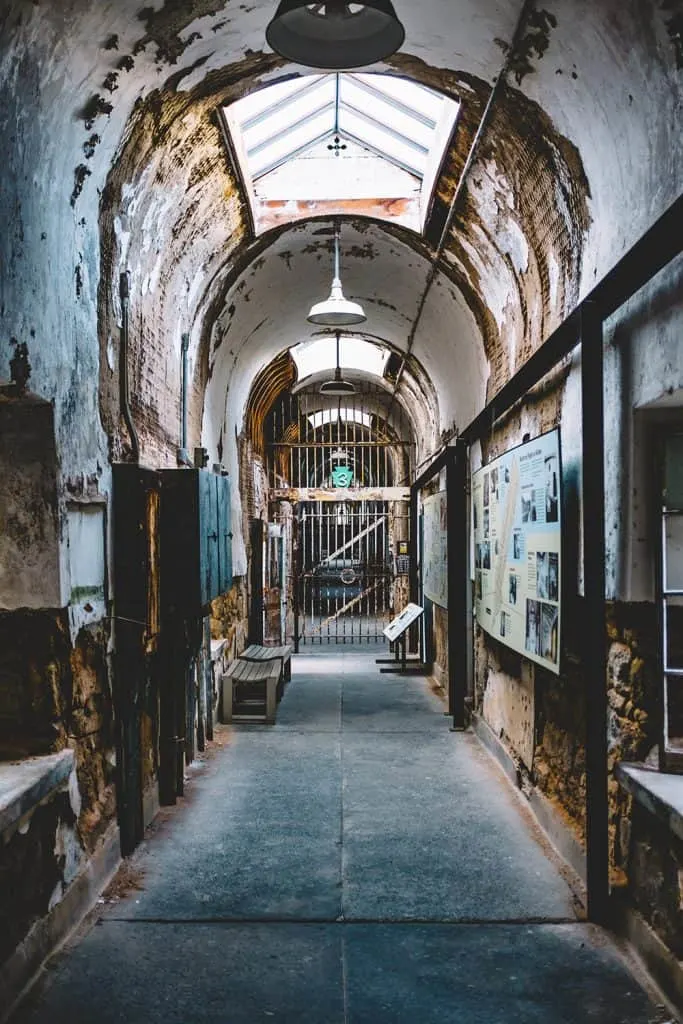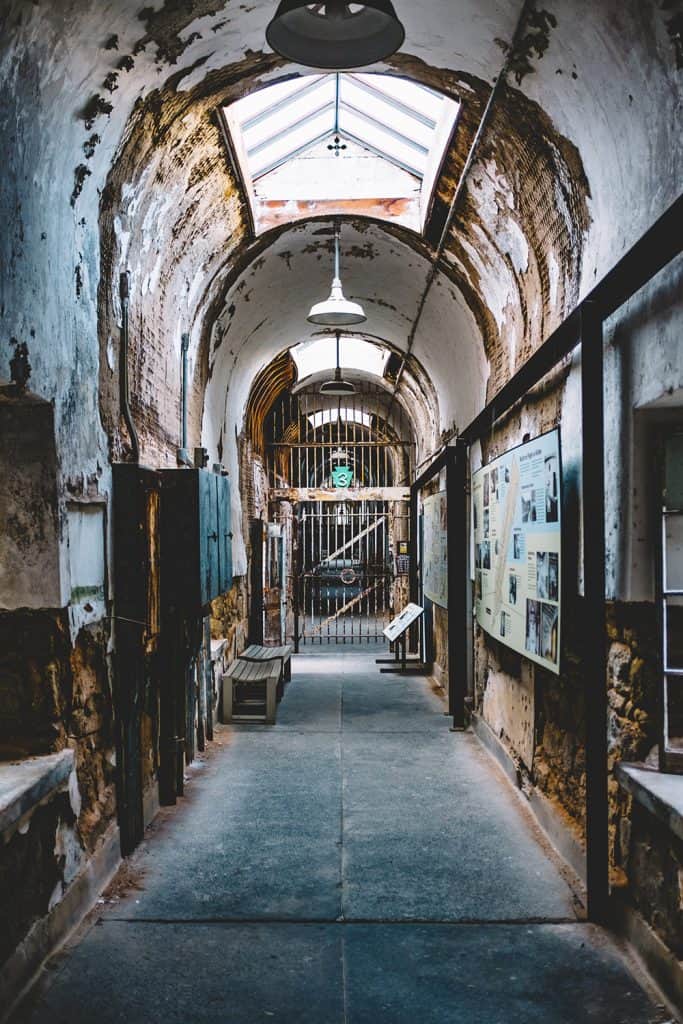 The most famous inmate was Al Capone, the 1930s Mafia gangster who was allowed to have luxuries in his room like a desk, chair, lamp and floor rug.
The coolest (spookiest) thing you can do now is visit through September/October when "Halloween Nights" is on and 140 actors play zombies and scary characters as you tour through trying not to poop yourself!
But for scaredy cat's you can just have a cocktail and learn a little history! You can read my terrifying experience here >>Save