If you want to fire a submachine gun or a pistol, then you need to head to the Gun Store in Vegas!
Everything about Las Vegas is over the top. From hotels built to look like other places in the world – the Luxor pyramid, New York New York complete with a roller coaster zooming past the Statue of Liberty, castles and Italian cities, to heading out to the Gun Store to fire a few rounds.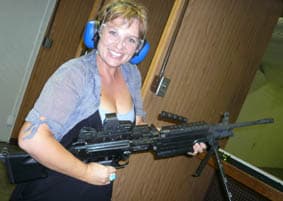 This place is jaw-droppingly, eye-poppingly Oh Tee Tee! Weapons line the walls – everything you've ever seen on any movie, and indeed the very same weapons that are used in Iraq (et al) as we speak.
I'm here doing an 'Only in America' story for TVNZ's Breakfast show, but here's a sneak peek – I could hardly contain my excitement – which quickly turned to hand-shaking adrenalin as I was taught how to use the MP5 sub machinegun and shot at a poster of Osama Bin Laden. Then my teacher – Tommy McLees who actually trains military soldiers as well as self-defence types – gave me a Glock 17. This is a little hand gun which is still pretty heavy and I fired some 9mm's into Osama's face. Then the big kahuna! The SAW – Squad Automatic Weapon – which is all military. Even the kiwi armed forces use it. And this baby is worth US$125,000!
They can't believe our cops don't carry guns over here – especially the guy who'd wandered in, gun in holster, to fire a few rounds from his own weapon. Just for fun.
All I have to say is 'don't mess with this broad'.