If you're looking for a fabulous dinner in Los Angeles with a dose of celebrity watching, head to West Hollywood's Sunset Marquis hidden on leafy Alta Loma Road, just a stone's throw from Sunset Strip, to Cavatina Restaurant.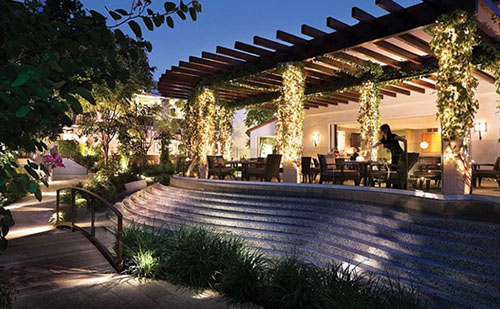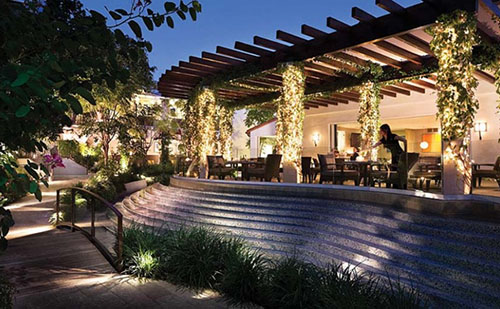 I know that celebs call the Sunset Marquis a home away from home, and not just because their website says so, but because I was kept waiting by one for my mani/pedi earlier in the afternoon. I didn't mind when I found out who it was: only Matthew McConaughey's wife! She was apparently heading out to a do with the children, so I figured Matthew would most likely be at the veranda restaurant with us later. He wasn't. But the chef's treat of walking my husband and I through some of his best dishes more than made up for my heart break.
When you arrive at the hotel you should take a moment to check out the Morrison Hotel Gallery in the lobby. It's a photography exhibition to celebrate not just the rock stars over the decades, but the photographers too and is co-owned by Timothy White, one of the most sought-after celebrity portrait photographers in the field for over twenty years.
We walked past the pool, turned left and slowed down to look at more photographs and art pieces before crossing the little footbridge to Cavatina Restaurant with its wide veranda dropping over the water garden.
Before the maitre D had a chance to tell me that chef wanted to showcase some of his best dishes, I had spotted bacon bourbon salted caramel popcorn on the menu so ordered a bowl quick smart. When the sommelier came over to tell us about his job of wine matching our dishes for the evening he was sent into a spin: how to pair said popcorn, he mumbled, before heading off and returning with a big red wine to start our evening as we meant to go on!
Get ready to drool…
(Note: apologies for the quality of these pics, it was very low lit in the restaurant and I never use flash. I have pimped them in Photoshop to make them as pretty as I can)
Then we started at the very beginning…
_____________________________________