Staying in an Airbnb can be a risk, I know. If you're anything like me you scour each listing to look at every nook in every room, read the reviews and even then, you're never quite sure.
But staying in an Airbnb is a great way to get to know a city, because the hosts often meet you or at the very least leave a list of recommendations for things to do in the neighbourhood.
And you tend to stay in neighbourhoods rather than right in the city too. If you only have a weekend in San Francisco, these are my best suggestions for how to blitz it!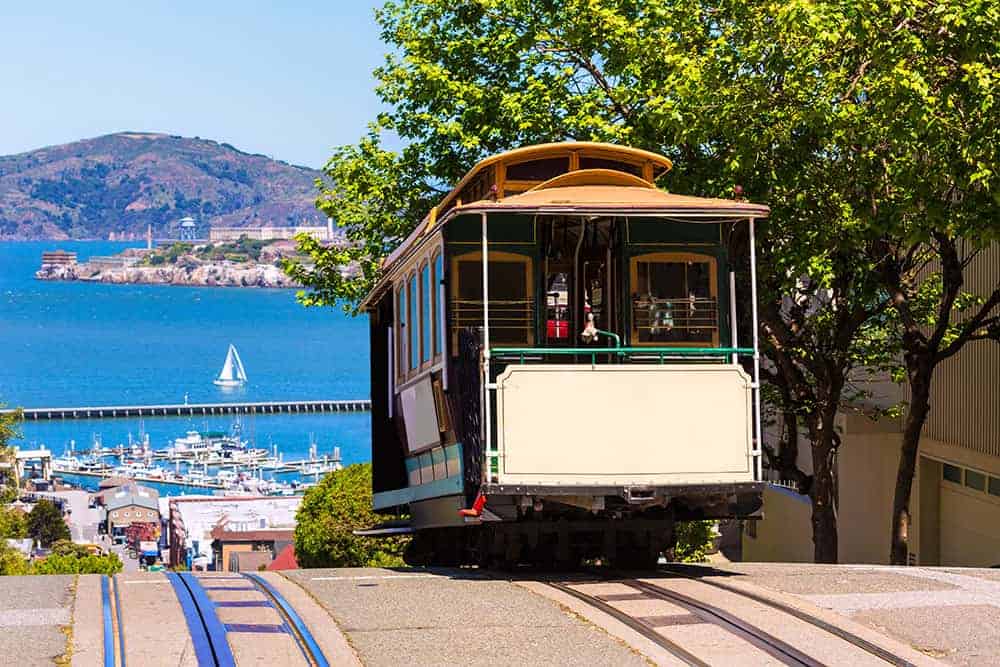 It's also usually more affordable than a hotel (although you can still go top end!), and they are unique (well at least these ones are).
San Francisco is a super photogenic city too and you'll find several amazing Instagram spots for a selfie or an image that will have your fans emoji-ing like crazy!
In this post I've picked 6 cool Airbnb's in San Francisco at various prices and with different highlights, from quirky elements to great views and even one where you can fall asleep to the magical sound of the crashing waves…
Some of these accommodations are pet friendly so if you're bringing your dog you'll like this dog friendly guide to San Francisco.
So if you've just read my 5-day Los Angeles to San Francisco road trip post and now need a place to lay your head, read on!
*Please note: if you book through these links I will earn a small commission, at no extra cost to you.
Chinatown with Views
This hip Chinatown Airbnb in the heart of the action is just perfect for that. It is super close to many of San Francisco's highlights, including Fisherman's Wharf and Alcatraz, and you can see Coit Tower, the Bay lights, and the Transamerica Pyramid from here.
Is there anything more adorable about a location than a stunning view? I don't think so! Especially when you can see the skyline and landmarks from the comfort of your "home".
The interior is hip and modern with quirky elements and it accommodates up to 4 people.
Steps from the beach!
Imagine falling asleep to the sound of crashing waves but you're in San Francisco with easy access to everything!
This apartment comes with a sweet garden and can sleep up to three people (one bedroom plus a couch in the lounge). It is only steps from the beach and Golden State Park so is perfect for the nature loving city dweller.
This location is for exploring San Francisco from a peaceful base to return home to. Sip your morning coffee in the private garden surrounded by beautiful plants and flowers, or end your day back here with a glass of wine.
You're also close to the Zoo and only two blocks from the MUNI train.
House boat in Sausalito
Fancy staying on a houseboat? This Airbnb is not the typical accommodation you would expect on the website but let me tell you… it's even better!
It's a boat with the luxury of a 5-star hotel over the Golden Gate Bridge in the adorable village of Sausalito. It fact it's a ferry which can sleep up to six people with huge open areas to entertain even more (however you are docked in a close-knit boating community so no parties allowed).
It has three bedrooms, two bathrooms and easy access to the city. The hosts describe it as "The American equivalent of renting a castle in Spain". If that's not convincing, I don't know what is!
Officially you will be staying on the SS City of Seattle (Yellow Ferry) which was originally launched in 1888 and is the oldest surviving ferryboat on the West Coast.
It is 2,500 sq feet with a large lounge room divided into spaces and floor to ceiling windows onto the Bay. It has a master bedroom upstairs and two more down with windows on the water line where you can literally ogle seals and sea birds.
The Ferry combines luxury and convenience in a spectacular and memorable setting. Surrounded by open water, she is simply the best houseboat in the best berth. Suitable for couples, or families, the Yellow Ferry offers the vacation experience of a lifetime.
Modern chic in Marin
This spot is a good idea if you plan to drive into wine country. Oh and if you like modern and chic that oozes lavishness, this might be the Air BnB for you.
Situated in Marin, about 10 minutes north of the Golden Gate Bridge, you'd want your own car to get out and about, as this place is super handy to the Napa and Sonoma wine regions. An Uber into San Francisco is about $40.
You get the lower level of this luxurious gated apartment (the owner lives upstairs), which can sleep up to six in three bedrooms (bedroom three has bunk beds), plus a family room, kitchenette and laundry – always handy to be able to do your own laundry and another reason for choosing an Air BnB over a hotel room.
You'll also get the use of a heated lap pool, a gym, a jetted hot tub and a lovely garden!
Telegraph Hill views
This Airbnb is a stone's throw from Fisherman's Wharf and can sleep up to four people (two bedrooms) in Telegraph Hill dates. It's an historic building dating back to 1908 but the unit was refurbished in 2009.
You'll need to weigh this one up with the cost for hotels in the area and the use of things like a laundry – if that's important.
But with over 20 windows and light from every side, this place has views to forever! You also have exclusive access not just to the entire living unit, but also to the private 1,000 square foot roof deck with one of the best 360 degree views of San Francisco.
Russian Hill cottage
This sweet ground floor studio cottage with a 4-poster bed sleeps two and is located in the Russian Hill neighbourhood, within easy walking distance Fisherman's Wharf and Chinatown and half a block from the cable car.
There is a private porch for your coffee and wining pleasure looking over a sweet little garden. It has many lovely touches with all the comforts of an historic home with a 20th century vibe.
There is street parking – if you can find a space – which is free on weekends.
Click on this image (below) to see more Air BnB's in San Francisco, including in hotels. Plus lots of great experiences you can also book through their website.