If you love the All Blacks, New Zealand's totally awesome and invincible rugby team, then you'll have seen the haka. And if you love this war chant as much as we Kiwis do, then you should download it as your ring tone! (Link below).
But what is the haka? It's a traditional war dance that Maori, the indigenous people of New Zealand, have done since the beginning of time to scare off their enemies before fighting – and killing. Now days it's not quite so vicious. The haka is performed for a couple of reasons, namely at the beginning of a rugby match when facing another nation. It's also only meant to be performed by males.
But to New Zealanders the haka is a very special ceremonial chant performed to honour notable people too. I personally well up with tears when I see Kiwis (slang for New Zealanders – and named after our national bird NOT a kiwifruit!) performing a haka at a funeral or to honour a hero or outstanding achievement, like an Olympic gold medal.
There are many different hakas too. Ka Mate (ka-maatee) is the one most commonly used and the one the All Blacks use most often. But they also perform another haka which was written especially for them, Kapa o Pango.
Many schools in New Zealand have their own haka that their students perform on special occasions.
New Zealand is the Rugby World Cup champion so it's only right that every kiwi (and traveller who loves this country and our men in black) have the chance to download a free haka ringtone for their phone.
Here are a bunch to choose from and download at Zedge>>>
Choose the sample you like, double click on it and you'll see an arrow appear on the right to download it.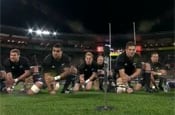 Click here to see a video of the All Blacks performing the traditional Ka Mate and it's English translation.