Thanks to Air New Zealand's adorable little Airpoints Fairy, where you can make a wish and hope she will wave her little cartoon wand and grant it, I was granted Gold Status a couple of months back and found myself upgraded to Premium Economy on the 777-200 NZ6 to Los Angeles last night. (It would have been Business but the plane was chocka!)
In the Koru Lounge I hob nobbed (in a non-stalkerish manner) near Andrew Adamson (director of Narnia) and his wife and 2 daughters. They turned left upon boarding, to the pointy end, and I went right. Although I was in the front row of Premium Economy with a premo view of the Adamson family's feet.
The seats are 4-5 cm wider than economy, have 5-6 cm of extra recline and come with foot rests. We, being the semi-posh passengers, were served champagne in plastic cups (the Adamsons and a film crew from the Discovery Channel in Canada who had wrapped in NZ sipped out of stemmed glasses).
Apart from the baby who whined/cried/screamed for at least the first 2 hours (even making his exhausted mother cry and his father frantically pour more milk and administer potions) it was a pleasant 12 hour flight. At least we had the Business Class earphones which handily served as noise cancellation and I found a jazz/world music channel and went to my happy place.
To make things happier, Premium Economy passengers get the Business Class meals, albeit on slightly less fancier trays but waaay better than cattle down the back. Last night we started with 2 king prawns served on potato, horseradish and chive salad – delicious.
Then the main courses were a choice of beef (for my new friend Ken by the window), salmon (for me) and chicken pasta (for Ken's wife Jennifer from the Gold Coast). The macadamia nut crusted salmon with ginger and lemon beurre blanc, crushed peas, carrot, courgette and baby pototoes (I know all this because I nicked the menu and am copying it out) was really delicious. Ken and Jennifer loved theirs too. They're off on a cruise to Alaska and were preparing themselves for American eating.
Dessert was served at the time of the starter and sat patiently waiting, but I only tasted the corner of the chocolate opera cake – kind of a layered cake, gateau thing. I had to pass on the NZ cheese and fresh fruit, but certainly did not pass on the Sauvignon blanc (or 2) and nodded vigorously to the sticky wine.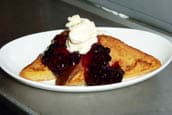 And by the time I peeled off my eyemask and headphones, I was being served this French toast with berries and real cream. 8/10.
My travel tips for surviving longhaul flights:
• Bring your slippers so you can whip your shoes off and not have to wear socks on the skanky toilet floor.
• Take a blow-up or soft squishy pillow for sleeping comfort (blow-up is more practical but squishy is way more comfortable).
• Take a good book (I'm reading Mao's Last Dancer. Jennifer is reading Ten Years about a lady wrongly imprisoned in Australia by corrupt police. She's finding it a bit harrowing!)
• Say yes to the wine (and the sticky or port).
• Always pack a bag of sugary jubes. My faves are The Natural Confectionery Co soft jellies.
• And lastly, get your doctor to prescribe a sleeping tablet. I take Temazepam. I have taken Immovane in the past but the metallic aftertaste will last all day. I swear by sleeping tablets for flights over 10 hours.
Read my review on flying Air New Zealand Business Class here >>>