I get asked this question a lot: how do you make money? Usually the person is a little sheepish, the question whispered quietly, but their genuine interest is bulging out of their eyeballs.
This post is the cold hard truth about blogging, its ups and downs and the answer to THAT question.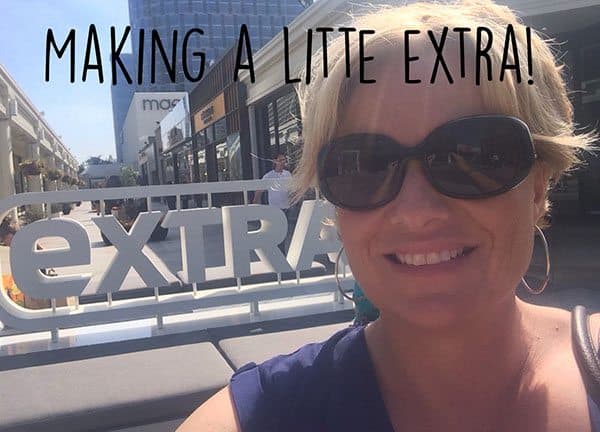 I started blogging in 2006. I was paid a handsome sum to write two posts per day, five days per week for a national online travel agency in New Zealand. For three years I was disseminating travel press releases and breaking news, posting about great deals to places I'd been to, lamenting travel foibles, laughing at travel hiccups and horrors and generally learning how to grow an audience online. In 2006 I was quite possibly the only person in New Zealand making a full-time living out of blogging. Certainly travel blogging.
BUT (there's always a but…)
In 2009 the company, who was the basket that all my eggs were in, terminated the blog to do other things online, and I was encouraged to go out on my own and start the blog you see before you. Those of you with long memories will remember that 2009 was also the beginning of what we "fondly" call the Global Financial Crisis. *sigh
So, not only were businesses pulling back on their advertising/marketing spend in traditional media like newspapers, magazines and radio because of the GFC, but they had no idea about how a blog (online content) could increase their sales and if they did, they didn't have the dollars to throw at it. (It, means me).
BUT (this is a happy but…)
I knew that banner ads online were not going to be the answer. Even back then, people seldom clicked on a banner ad. Today, they say it's about 0.1% of readers of online content will actually click on an ad. I like to ask people in my Content Marketing Seminars when they last clicked on an ad that wasn't for a sale or to be in to win a prize. Yep… You need a HUGE amount of daily traffic to make a living out of banner ads on your site.
The topic of keywords was being bandied around and that seemed to be the holy grail. Write an article and stuff it with enough keywords so search engines would feature you up the top of their list, we all thought. However, this was soon able to be manipulated by brands and publications, so Google got smarter and if you simply wrote a bunch of keywords or hid them in your meta data or saved images, they knew. Google is bigger than Big Brother.
The latest thing is audience engagement and now, to rank at the top of search results, you need to be focussing all your efforts on your community. Which is actually loads of fun, but very time consuming.
So, how do I make money from a travel blog?
Here are 6 ways I make a living, some with great results, others just a trickle at the moment…
1. Affiliate links
This is typically the first thing new bloggers hook up to make money. The problem with this income stream is that unless you have an extortionate amount of followers and page views, your stream will be a trickle. At the end of the day, this is a numbers game and while you're building your audience and your brand, this won't make enough to keep you in lunches. And I don't mean long, boozy lunches!
I sell 1Cover travel insurance and CityPASS discount vouchers for cities in the US. I sell Expedia and was selling Booking.com but they seem to have disallowed my affiliation – probably because I also have Expedia. Ah well.  I also prefer them to allow 30-90 day cookies for my viewers to make a purchase. That means if I introduce a reader to say 1Cover but they don't purchase right away, if they make a purchase within 3 months I still get a commission.
2. Native advertising/Sponsored content
This is my main source of income. After 16 years of travel writing including 10 years of blogging, I have put together a professional media kit to work with brands and destinations.
This is where my heart lies too. It's where I can work with people I like on their key messages, plan the itinerary together around my interests and what I also know my audience likes, who understand the potential of online content and who want to share it on their own social media channels for a WIN/WIN situation. It doesn't happen on every trip by any means, but I get commissioned to write about a destination or brand, work with them on angles and story ideas, help to shape the stories that I know my readers will want to read – and ergo do better on social media and in search results.
3. Outsource your writing talent
This takes longer to establish, but is a great way to add extra revenue, or strings to your bow. You can write blog posts for brands, or hook up a few outlets that will syndicate your work and thus spread your influence across more than one blog or even one platform. I have a newspaper column, two a weekly radio gigs and my blog.
I also freelance for magazines and am sometimes approached by corporate clients needing website copy, but this is not a regular stream for me. However I can cobble together enough of an income if I can place stories in all the above to compensate the time away that famils require and the work involved in writing, photographing, editing images, sharing on social media, etc.
4. Teaching/training/mentoring
This is my latest venture. After working with the amazing Laurel McLay for three months last year as my mentor, I have been working on the premise of "think once, deliver often" and have begun to write various training sessions, workshops and coaching programs around using blogs to grow your business, how to get the most out of your website and social media channels and also for destinations and brands who host media, how to understand what the media are looking for so they can get their business "out of the fact box and into the feature".
I am running another Blogging is the New Black blog training course in Auckland on March 12. Read more here >>
5. Sell stuff
I know bloggers who have written ebooks, online training courses and destination guides. I sold luggage for a while. But like point one, this is a numbers game. But the money is much better if you can sell stuff and make more than just a 5% commission, especially if you don't have to hold any stock, but customers can pay for the goods via Paypal and you just get it shipped!
6. Brand ambassador
This is something I'm not (yet) involved in as I don't want to limit myself to one brand or a small group of non-conflicting brands, but once you have the numbers (both on your website in terms of page views and unique visits and your social media reach) you can expect to be approached by brands, or approach them yourself and receive a retainer for promoting their product, attending events and generally giving them your love.
You might also like this one: How to Write a Great Travel Story >>