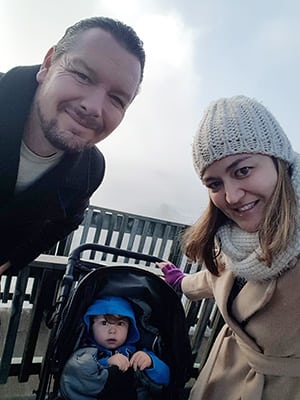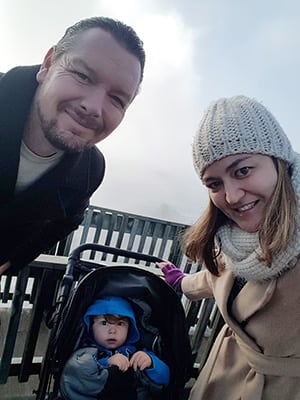 Sarah Wrightson took her little family from Wellington to Rotorua for a weekend. Here she shares some great tips for travelling with little ones and also reviews some of the best things to do in Rotorua with kids.
______________________________
When planning a family holiday with a baby or toddler in tow, there's a few things you want to consider before hitting the road. Firstly, you don't want to have to travel too far to your destination as a long road trip with a crying baby stuck in the back seat ain't really the best start to get those holiday vibes on!
You also want to go somewhere where there'll be lots of fun family-friendly activities you can all enjoy doing together. Keep it simple with bite-sized outings that won't tire your wee ones out.
Accommodation is also really important as you'll tend to spend a lot of time there and want a place that has everything you need for bubs such as kitchen facilities, space for them to sleep in/near your bed, safety gates, no stairs, a bathtub if possible etc. Basically your home away from home.
Our little family packed up our big bags and took a well-deserved break to one of our all-time favourite holiday spots, Rotorua, in the Central North Island. It has everything you need for families – adventure-filled activities, cultural experiences and some amazing thermal activity, complete with that famous welcoming sulphur smell you get as soon as you arrive. We've been looking forward to this trip for a wee while now as it's a chance for us to spend some quality time together and build some fun memories in this perfect family-friendly destination.
Tips for the drive
Driving from Wellington to Rotorua takes over five hours which is a long time for little ones so best to plan a few pit stops along the way to break up the trip.
Taupo is a great place to stop for lunch as they have a cool kids playground to stretch your legs at and you can also use the famous Superloo, a great family-friendly toilet facility with baby-changing tables, microwaves to heat bottles, sinks to wash up in etc.
On the way back home, we found the National Army Museum in Waiouru an interesting place to learn all about our war history and there's also a cafe to grab a bite to eat if you're hungry or want a coffee.
Both ways, we also discovered Flat Hills Cafe, a hidden gem on State Highway 1, halfway between Bulls and Waiouru. As well as a children's play area inside, they also have an outdoor farm area with animals to pet, a bouncy castle to jump on and maze to get lost in if that weren't enough!
What to do in Rotorua
You can fully immerse yourself in Rotorua's Māori culture at Te Puia set in the historic Te Whakarewarewa Geothermal Valley and home to the famous Pōhutu geyser, mud pools, hot springs and stunning silica formations. This magical landscape looks like something from another world with lots of geothermal activity happening everywhere you look – it's alive and happening!
We arrived early in the day greeted by the morning frost for a brisk walk through the park. Te Puia is also home to the New Zealand Māori Arts & Crafts Institute where they teach wood carving, weaving, stone and bone carving to students so we decided to keep warm inside and watch these talented artists working on some amazing pieces from the viewing platform. It's so cool to see these taonga (treasures) shared with visitors from around the world and know these traditions are being passed down through generations.
There are daily tours that run from 8am – 5pm for about 60 – 90 minutes and are a great way to get the lay of the land and learn about it's history from their knowledgeable guides.
It's a big place covering 60 hectares but the main star attraction we all want to see is of course the Pōhutu Geyser which is the Southern Hemisphere's largest active geyser. Unfortunately the day we were there it was cold so lots of mist had formed around the geyser making it hard to see what was going on but judging by the amount of steam, noise and heat it was giving off, we're sure there was lots of activity bubbling away just beneath the surface.
They've also created a model Māori village and marae to give you the full experience of how Māori people lived before European settlement. If you do the Te Rā + Haka daytime package this includes a Māori performance with a traditional Kapa Haka. As our group gathered at the front entrance to the marae, we chose a chief amongst us to represent and lead us in the welcoming pōwhiri ceremony onto the marae.
It's a moving experience and once inside you can sit down to enjoy performances featuring traditional ancestral storytelling, songs and dances and you'll even get the chance to join in a poi dance or haka, something many of the group enjoy giving a go – why not!
_____________________________
Rotorua's Skyline Gondola is one of its most popular family-friendly attractions, seen rising up high over the hill overlooking Lake Rotorua. It's the best spot to get panoramic views of the surrounding area and a fun day out for all.
We pre-booked a table for our family and friends for buffet lunch at Stratosfare Restaurant and were happy to see the queue for this line much shorter than the one for those who didn't book – it definitely pays to plan ahead! Once our tickets were sorted, we quickly scooted into a Gondola with our 18-month old in his pram and made ourselves comfortable for the ride for the spectacular views of Rotorua and its lake as we went up. Our little one kept oohing and ahhing at the sights from up high!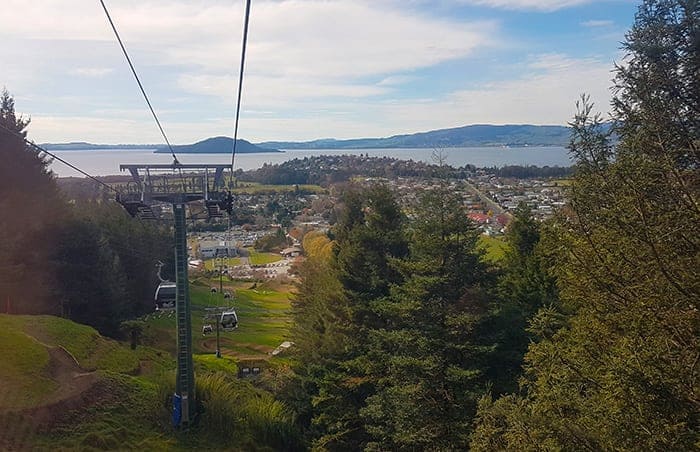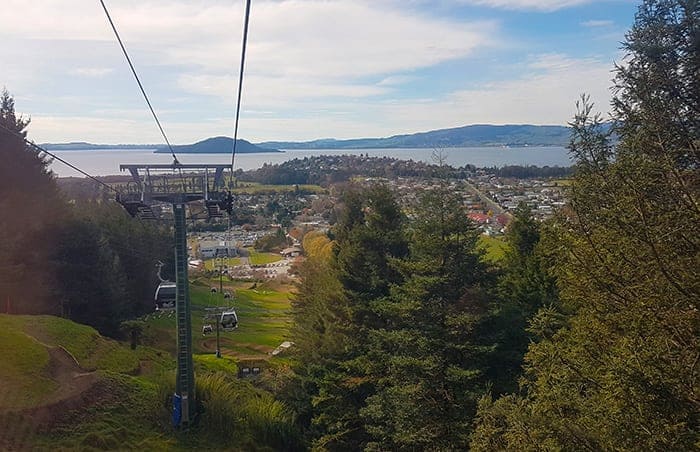 Once we got up top, we went to Stratosfare Restaurant for our lunch booking and were very impressed with the food. Our waiter showed us to our table and on the way explained what was on offer.
To start with, there's plenty of salads, seafood, vegetable dishes and then there's the hot food section with your classic roast meats, curries, stews, soups etc. Last but not least there's dessert which we were all eyeing up and sure to save room in our bellies for. You almost don't know where to start!
They'd arranged high chairs for our little ones and also complimentary chips and nuggets for them to nibble on while the adults went and gathered food from the buffet. Our boy was fascinated by the view so I'm glad we were sitting next to the big windows giving him a good chance to really look around and take it all in.
The food was so tasty and fresh, I tried to fit a bit of everything onto my plate to sample it all. My personal fave was choosing a piece of meat from the cabinet for the cooks to grill right in front of me – can't get much better than that. Before you knew it, we were onto dessert and there was even a chef making fresh crepes with a selection of sauces and toppings for you to choose from – something the kids loved to do as they created their own works of art or should I say sweet pile of mess!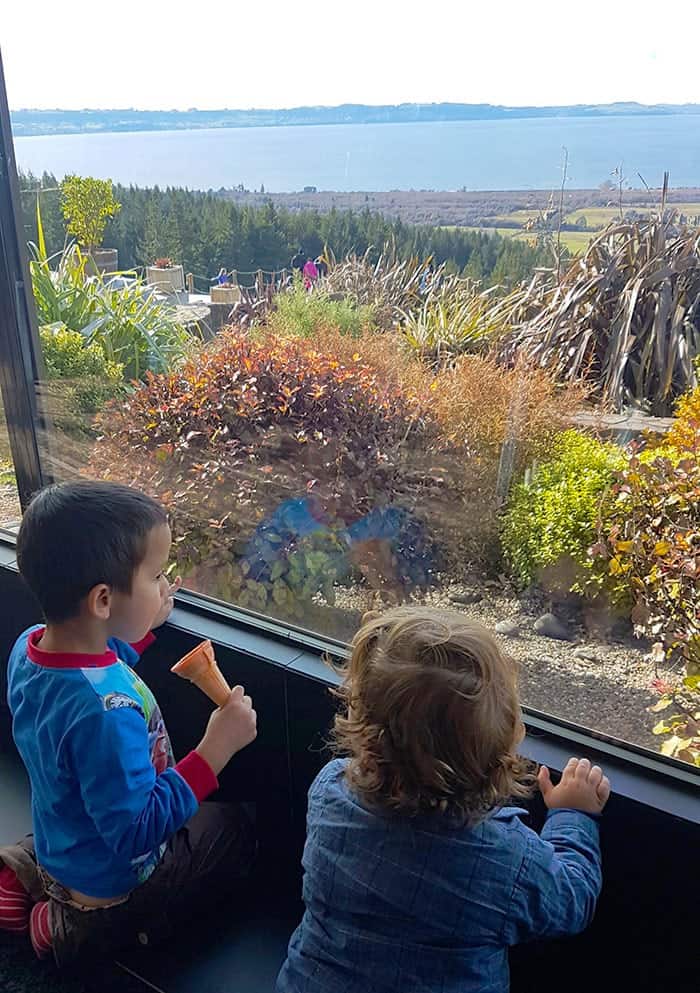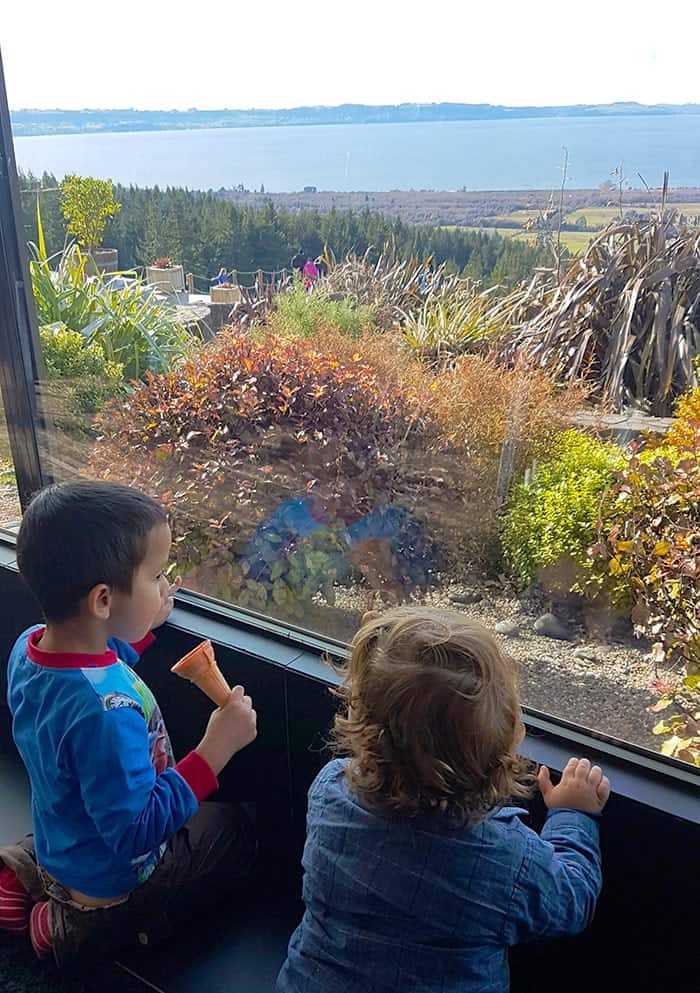 Of course no visit to Skyline would be complete without a ride down one of their luge tracks. We were up for a bit of fun so while the grandparents babysat, we seized the opportunity to give it a go.
These little luge carts can get quite a bit of speed if you let them rip but instead we opt for the scenic route to take in as much of the views and surrounding woodland forest as we can. It sure is fun trying to race each other though – we felt like big kids!
_______________________________
Right next door, just across the capark is where you'll find Rainbow Springs, a wildlife park that lets you get up close with native birds, bugs, trouts and other animals. Our son loves to explore nature so it was a good chance for us to get amongst the beautiful forest and see some interesting creatures you wouldn't normally see in the wild.
There are Animal Encounters you can do with trout, reptiles and native birds and a free-flight Bird Show each day. However, we had fun just exploring their playscapes and water play area where we got to see lots of Whio (blue ducks) and geese, much to our son's delight.
Hubby and I decided to jump aboard the Big Splash ride while the grandparents minded bubs. Similar to the log flume at Rainbow's End, you hop in a boat and float up the river travelling back in time past displays of dinosaurs, Māori villages and what life was like for early European settlers.
Once you reach the top, make sure you hold on tight to the side of your boat for a thrilling fall down the water slide with a big splash at the bottom so prepare to get wet! Thankfully they give you a raincoat when you board so you don't get too soaked although you can't really avoid getting your shoes drenched at the end!
Another special feature of the park is the opportunity to see real life kiwis. New Zealand's iconic shy little birds only come out at night but you can easily see them fossicking about in their nocturnal enclosure here. You can also do a behind the scenes tour where you'll get the chance to see kiwis up close and learn about how they're helping them in the hatchery. All funds raised from these tours goes to their kiwi conservation programme.
Speaking of night, the park is also open late and lights up at night illuminating all the trees, walkways and enclosures making for a really unique and different experience.
_________________________________
After all that adventure, it's time to relax and unwind and what better way to do that than with a soak in the natural geothermal hot springs of Waikite Valley Thermal Pools.
Just a 20-minute drive south of Rotorua is where you'll find this magical place hidden amongst beautiful native bush. This unique spot is fed by the Te Manaroa Spring, New Zealand's largest single source of pure geothermal water so no nasty added chemicals – a great bonus for sensitive skin. You can actually feel the hot spring water cascade into their main Settlers pool which is usually about 35 – 38°C.
At the other end is their toddlers' beach area for the wee ones to play in so it's perfect for our family to enjoy a swim together. These waters are so healing, I could already feel my muscles start to relax with the heat after just a few minutes soaking.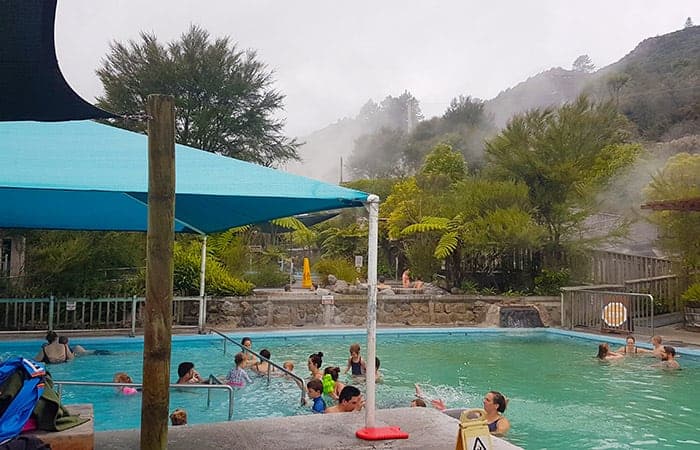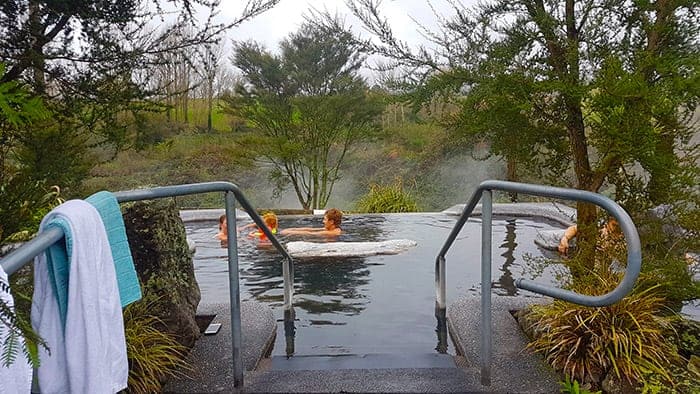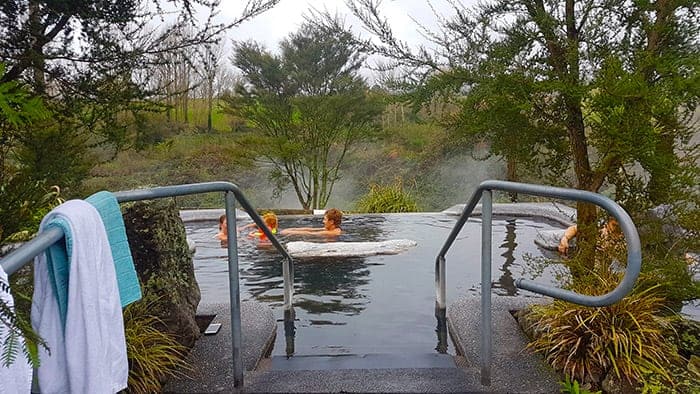 For adults or those who like it a bit hotter, there's also the sit 'n' soak pool at 38 – 40°C set in their luxurious tranquil garden. The view from these pools overlooking the countryside is peaceful and relaxing and gives you a chance to take it all in.
After you've finished your soak, their spacious family-friendly changing rooms have toilets and hot showers with areas to change baby. There's also a cafe to grab a bite or you can bring your own food – a great option for bigger families on a budget.
Where to eat in Rotorua
We celebrated our first night on holiday with dinner out at a nice restaurant. "Eat Streat" at the lake end of Tutanekai Street is one of Rotorua's coolest hot spots and the place to go for quality restaurants, cafés and bars. Its covered central walkway and vibrant lighted rooftop makes it an ideal place to take the wee ones – our son couldn't stop oohing and ahhing as he pointed up at all the pretty lights!
We booked a table at Atticus Finch, a restaurant with a relaxed-looking vibe and family-friendly atmosphere. The writer in me also loves the literary reference to Harper Lee's Pulitzer Prize winning novel To Kill a Mockingbird with everything themed from the decor with cages and birds to special cocktails such as a Scout Sangria or Atticus Martini. They had a highchair ready waiting at our table when we arrived – a great start to our family night out.
Our waiter explained to us the evening menu is to be shared and suggested we order two large plates and two small plates so we can enjoy a few different tastes.
My favourite dish of the night was the haloumi salad with roasted pear, pecan, cranberry, rocket and lentils – an amazing combination of flavours that perfectly compliment each other. The large spice-rubbed lamb rump with roasted vegetables, red pepper and tomato sauce with feta crème and green olive tapenade was also a highlight which we happily devoured – even bubs enjoyed his hearty meat serving.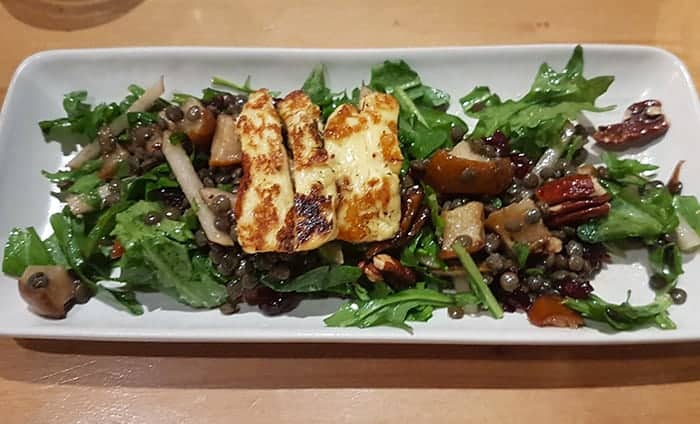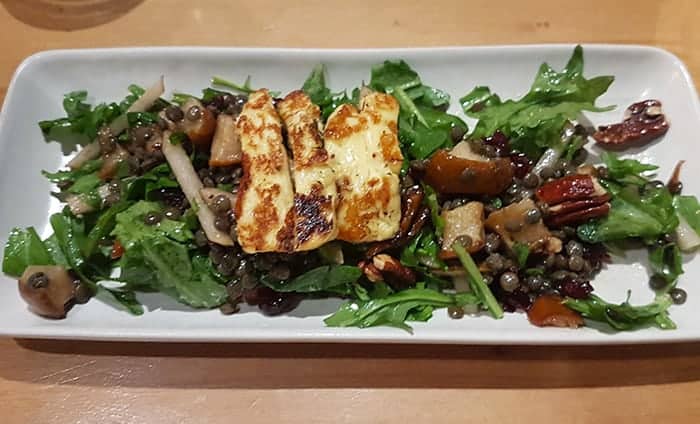 Afterwards, we walked off our dinner down Eat Streat, popping into Rotorua's famous Lady Jane's Ice Cream Parlour on the corner for a sweet treat as the perfect way to end our night out!
For brunch on our last day in Rotorua, we decided to go to Abracadabra Cafe. Don't be fooled by its unassuming 1940s house frontage as there's more than meets the eye with this groovy cafe by day and restaurant and bar by night.
As we walked through the front door, we were welcomed by its relaxed family-friendly atmosphere. There was conveniently a high chair parked up for our son although, as most parents know, sometimes toddlers don't want to sit still and behave.
Thankfully one of their helpful staff came to our rescue telling us we can have our own private room if we like. What luxury! We were led down the hallway past many plush Bohemian/Mediterranean-themed rooms to our very own room complete with a comfy corner lounge suite to relax on, a box of toys for him to play with and a safety gate to keep him out of trouble – perfect for our little family!
Their brunch menu features a lot of Mexican and Moroccan cuisine so I figured this must be their specialty and decided to try the gringo's nachos – homemade crispy corn tortilla chips topped with mexican black beans, melted cheese, jalapenos, red onion and peppers, served with a side of homemade guacamole, sour cream and rattlesnake salsa.
This dish had just the right amount of spice to give it a good kick and I just couldn't get enough of the homemade guacamole and salsa dip. Hubby opted for something a bit more hearty and filling – the open steak sandwich with a seared marinated sirloin steak, Bees Knees streaky bacon and caramelised onions stacked on top of toasted ciabatta.
A great meal to start the day and give us the energy we'll need for our road trip back home!
All in all, Rotorua is a great family-friendly destination with much to offer all ages and one we'll definitely return to soon.