We might not be able to visit Singapore at the moment, but here's how to make a Singapore sling and pretend!
You can't visit Singapore and not indulge in a Singapore Sling at Raffles!
However I nearly did that just that, as I didn't know where to find Raffles, the hotel that serves the iconic pink drink in their Long Bar.
I'd heard of it and I'm sure I've bandied the phrase around like a pro drinker, but it was as if the planets had aligned when I just stumbled upon Raffles Hotel after shopping my way through Haji Lane to where I thought I was staying.
I realised then that I was meant to punctuate my afternoon with the famous pink tipple. (Besides, it was about 35C outside and the air conditioning was as essential as a mid-afternoon cocktail.)
The deliciously naughty drink was created here at Raffles Hotel at the turn of last century by bartender Ngiam Tong Boon.
He kept his recipe locked away in the hotel safe, along with a scribbled copy on a bar chit that a visitor managed to get a waiter to give out in 1936. It was originally designed as a woman's drink – all pretty in pink – but today it's slung back by anyone and everyone.
Pre pandemic, they served 1000 slings per day at the princely sum of $26!
Raffles is an icon in Singapore. The Long Bar (which is now on the 2nd floor and not as long as it once was) serves peanuts in their shells and the etiquette is to eat them and throw the shells onto the floor. It looks like a shambles in here!
These days The Long Bar is more about a photo op with its colonial touches, décor and that famous drink. But when in Singapore, it'd be rude not to drop in, if just for that photo.
Even if you only have 24 hours in Singapore, plan to spend an extortionate amount of money on a sling just to say you did!
Singapore Sling recipe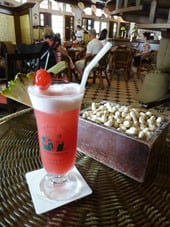 Here's how to make the Singapore Sling – straight from Raffles:
30 ml Gin
15 ml Heering Cherry Liqueur
120 ml Pineapple Juice
15 ml Lime Juice
7.5 ml Cointreau
7.5 ml Dom Benedictine
10 ml Grenadine
Dash of Angostura Bitters
Garnish with Pineapple and a Cherry and sling back!
If you want to read my review of Singapore Airline's double-decker A380, click here for the story and pics.
And here's my one on Singapore's best bars and nightlife – once you've ticked the Sling off your list.