To have a great work/life balance, I'm all for being able to pack up at a moment's notice, grab a deal and head off somewhere amazing.
But packing light – whether it be for short trips or several weeks – is a skill requiring great mastery and years of practice. Fortunately for you, I have been attempting this endeavour for the last 15 years as a full time travel writer. Not that I have my masters in Packing Light yet (it is a very long degree), but I have learned a trick or two along the way…
Many airlines charge extra for luggage these days so if you want to snap up the cheapest deals, you need to know how to throw yourself together in under 7kg. I know!
In keeping with the mantra #lifetakecharge inspired by Sovereign, I've put together six tips to help you do just that: take charge of the life part of your work/life and save money on baggage fees so you can spend it on things to put in them:
1. Roll v Fold
My husband is a roller and I am a folder. As much as I hate to admit it, he gets more into his bag than I do. Fortunately, he is not likely to find this post, so I can retain my superior status in our household. I have now become a semi roller. I roll anything cotton like leggings and tops. I fold anything floaty like tunic tops. I also squeeze. I squeeze socks into shoes and smalls into a sunhat to make sure it keeps its shape.
2. Wear it, don't pack it
Even if I'm flying to LA via Fiji or Tahiti, I wear my boots and jacket on the plane because they are usually the most awkward items to stuff in. I've even been known to wear my sunhat when leaving Auckland on a winter's day because I don't want it to get squished. (Except for the tip above which I only mastered recently).
3. Wash on the road
I always take a little container of washing powder so I can wash my underwear, leggings and tops every couple of days. If you're staying in the same place for two nights or more, wash and ring them out by rolling and twisting them in towels, then hang them on coat hangers with your air conditioning left on. They'll be dry in no time. (I have added a twisty clothesline in my online store which solves the coathanger issue! Visit my Travel Must Haves store here >>)
4. Black is the new black
The Kiwi penchant for black comes into its own when travelling. Throw your best Farmers black look together and you can wear this same ensemble every day and no one will notice if you just add a cheeky pop of colour via a light floaty top, simple cardy or even a scarf.
5. Multi use
I always hate when I get home from a trip and haven't worn everything in my bag. Fail. That's why I haven't yet earned my Packing Light Masters degree. You always wear things more than once, so be ruthless and leave that extra skirt behind. Besides, you know you'll buy stuff! AND I never take more than three pairs of shoes. In fact no matter how long I'm travelling for I pack for about seven days, because I will wash, buy and rotate clothes.
6. Toiletries
Little bottles are the trick. Save your hotel amenities and refill them with your own products from home. Also if they are under 100ml you can take them on international flights in your hand luggage.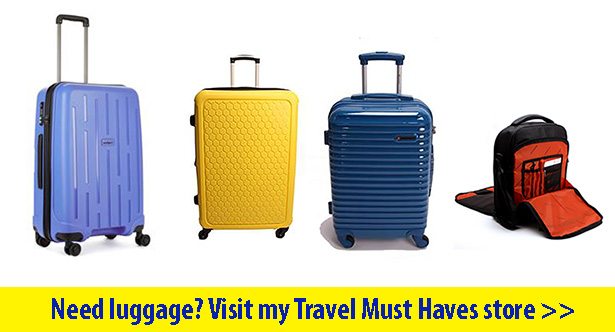 Visit my Travel Must Haves store to browse my collection of beautiful, top quality lightweight hard and soft suitcases, neck pillows and other travel comforts. All items are shipped to NZ addresses.
Save
Save
This post was made possible thanks to Sovereign.