I have a friend who when she spends a night with her husband in a swanky hotel takes only her toothbrush. I hear you, yes she must have looked like she was doing the walk of shame the next morning.
This post is not for her because I can't offer any advice on packing much lighter than that.
This post is for those of us who travel for two or three weeks and want some tips on packing light to save money on baggage fees – and still have room for shopping.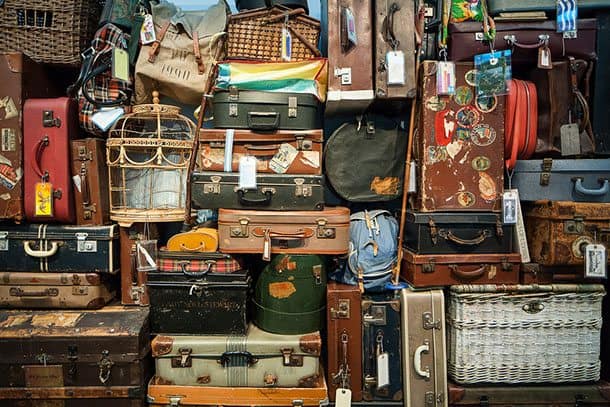 1. The roller v folder
I am a folder, my husband is a roller. It seems a lot of people are rollers. They coo that they can fit more in and the clothes are not creased. Pffft, I say to that. I am a neat and tidy folder, but I have become a half-n-half roller/folder and tightly roll things like leggings and cotton knits and shove socks and belts into my shoes which saves a lot of space.
2. Wear it don't pack it
If I'm travelling in winter to a hot climate I wear my boots and jacket on the plane. It does mean that I almost faint when I disembark, but the room saved is worth it. If you're flying somewhere warm but hate getting cold on the plane, throw a pashmina around your shoulders. It's lightweight and easy to squish into your luggage when you arrive.
3. Wash it!
I'm a handwasher of knickers and socks, and the occasional top, and usually I throw them in the shower with me. Here's a tip: wring them out as best you can, then lie them flat on a bath towel or hand towel and roll up like a sausage roll and wring again – or better yet, stand on the whole roll. Hang on a coat hanger and leave your air conditioning on. They'll be dry by morning.
4. Multi-wear
This gets me every time. I always wear my clothes more than once and consequently bring home clean, neatly folded, unworn items. Also bear in mind that you most likely will shop. You know you will! I take 1 pair of trousers, 1 skirt and 4 pairs of leggings from K-Mart for $7 a pop – both long and 3/4 length for 1 or 2 weeks away. I'm ruthless with jackets/cardigans too. Two warm layers is plenty. And remember you have that pashmina.
5. Crease-free fabric
Genius! I wear heaps of those floaty tunic things that can be paired with jeans, leggings, long tops underneath for warmth, a scarf one day and cardy the next and voila, I have new looks from the lightest of wear.
6. Black is the new black
I actually don't wear a lot of black any more. I was a typical Aucklander and lived in black, now I just have the black leggings and wear colour on top. But black works incredibly well when travelling as mix and matching is easy and as above, just a scarf or jacket adds a pop of colour to turn day into night. Monday into Tuesday.
7. Shoes!
Be brave and leave most of your shoes behind. For blokes with big clompy feet, shoes take up a huge amount of space! Wear your bulkiest on the plane and pack one pair of casual shoes and one pair of jandals/thongs/flipflops. For ladies, a pair of evening shoes and one pair of walking flats for day wear is all I take. Obviously jandals take up no room, so I'll squeeze them round the side and they're not counted.
Tip: Pack a pair of slippers in your cabin luggage for wearing on the flight. That way you can whip your boots off and stow them "under the seat in front of you" but I NEVER wear socks only into the bathrooms. Those floors are nasty!
8. Toiletries
My bathroom bag is my biggest pain. I have a double bag that opens flat and I lay it across my clothes before closing my suitcase. Miniature bottles are the key here. Save all your hotel lotion bottles and refill them at home from your own shampoo, etc. I'm not a fan of hotel shampoos unless they're from a really posh one. And remember, you can always stock up on the road if need be.
9. Lightweight Luggage
If you're in the market for a new suitcase, get one that is ridiculously light. I like Antler and they have some incredibly durable light weight bags. In fact I'm such a fan, I asked if I could sell them. So now I do.  But over the past few months I have added some other really gorgeous luggage and travel accessories.
__________________________
If you're after hard shell or soft suitcases, cabin bags and cool travel accessories like neck pillows (my must-have) and even an electric water boiler to make a cuppa on the road, please jump over to my new Travel Store and have a look! I can only ship NZ-wide though. Click on the pic below and have a browse!
Save
Save
Save
Save