Forget diving, snorkelling, visiting pearl farms and swimming with dolphins – sometimes you just have to go tropo…
The glow of tiny lights appeared out of the night sky not five hours after we left Auckland. Tahiti and her 117 other islands are about to welcome me, this time, for my honeymoon. A three-night/two-day stopover to charge our batteries before we storm the USA for three hectic weeks.
With our wedding only days earlier and a busy time leading up to it we are looking forward to the break. This time we're not going to pursue all those activities Tahiti is famous for: diving, swimming with dolphins, feeding rays, quad biking, visiting pearl farms, and I'm even going to forgo an evening at the roulottes (my favourite eating spot in Papeete).
This time we're looking to relax in our luxury accommodations, swim in the infinity pools of Manava Suites and Legends Resort and turn our winter skin into summer.
Arriving at nearly 10pm means the first night is in Papeete. Manava Suites, a new condominium hotel with self-contained kitchens, an infinity pool with a swim-up bar that drops into the sea under the hazy view of Moorea in the distance, is only a few minutes from the airport. It's stylish and comfortable with views across the reef to the crashing waves pounding the rim and outrigger canoeists train in the calm water at dusk.
Just 100m down the road is a small bottle store where you can pick up a Hinano (the local beer) for 210 XFP (NZ$3.20) and a baguette or a Magnum ice cream – made in New Zealand. The hotel also has its own restaurant if you don't want to avail yourself of your kitchenette.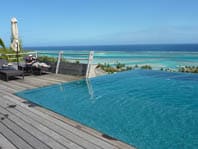 The next morning we took an early ferry on the 35-minute ride to Moorea. The sky was bright blue and the strong breeze whipping up white caps turned into welcome relief beside the pool at Legends Resort. This property is only four years old, built on the hillside overlooking the Intercontinental Resort with stunning views of the coral reefs and tiny motus surrounding us. Each room is an individual villa and ours could sleep three couples if we so desired. We didn't desire, so used the room with two single beds and windows overlooking the ocean as a day room for a little siesta after sunning ourselves on our private courtyard with its cold Jacuzzi.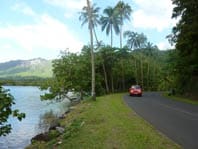 Our lazy day included renting a car for the afternoon for an exploration of this rugged mountainous island shaped like a W. The sea laps up to the one road that wraps the 60km circumference. We passed pineapple stalls and mini supermarkets. But as it was Sunday alcohol is not sold after 10am and the many art and craft stores were also closed. However it wasn't shopping we were wanting, it was a picnic on a perfect beach and we were well stocked for that.
On the way we detoured up to the Belvedere lookout on one of the craggy mountains which affords lush jungle views over Cooks Bay. A few wild chooks were pecking around the handful of people who got here before us, so we took a few photos and headed back down in search of that beach.
What we missed was the ancient Marae halfway up the winding mountain road. Afareaitu dates back to 900AD and its rocks and rooms are still laid out where ancient rituals were carried out.
Just a few kilometres along we came to a public beach and tree-studded reserve where friends played volleyball, a family swam in the clear water, couples read books, and two women sat in the tiny waves drinking Hinanos. We found a palm tree on the water's edge and threw our towels under it. Someone had a Bose iPod dock and his playlist danced through R&B, reggae and techno. It was perfect.
Sometimes in life you have a 'snap shot' moment. This was one of them. A moment so relaxing and sublime, I have photographed it in my mind to hang on my memory forever.
Before we headed back we visited the Moorea Green Pearl golf course. This Jack Nicklaus-designed, par 70 championship golf course opened in 2007. Its signature hole on the back nine overlooks the lagoons and ocean back to the main island of Tahiti. After a quick Hinano in the clubhouse we set off back to our villa.
We had a full kitchen, so chose the takeaway option in our room, which I didn't realise until after we'd bought it from the café at reception, was a microwave meal. Chicken fricassee with mushrooms for me and Moonfish with mornay sauce for him. With hindsight, dining at their restaurant or popping over to the Intercontinental would have been a better option. Two minutes on high is never going to do favours to a beautiful meal. However the tuna sashimi and tuna tartare starters were delicious and eating them in our courtyard with a nice bottle of French wine was another snap shot moment as the sky darkened and lights began twinkling below.