If you go down to the Pier today, you're in for a big surprise. The 100-year old Santa Monica Pier is the official end of Route 66 – and also where Forrest Gump ran to, before turning around to run back to the east coast.
You could spend hours here – and we did.
First we visited Bubba Gump, the shrimp restaurant bearing said Forrest and his mates where you flip a card that says "Run Forest Run" or "Stop Forest" for the wait staff if you need them.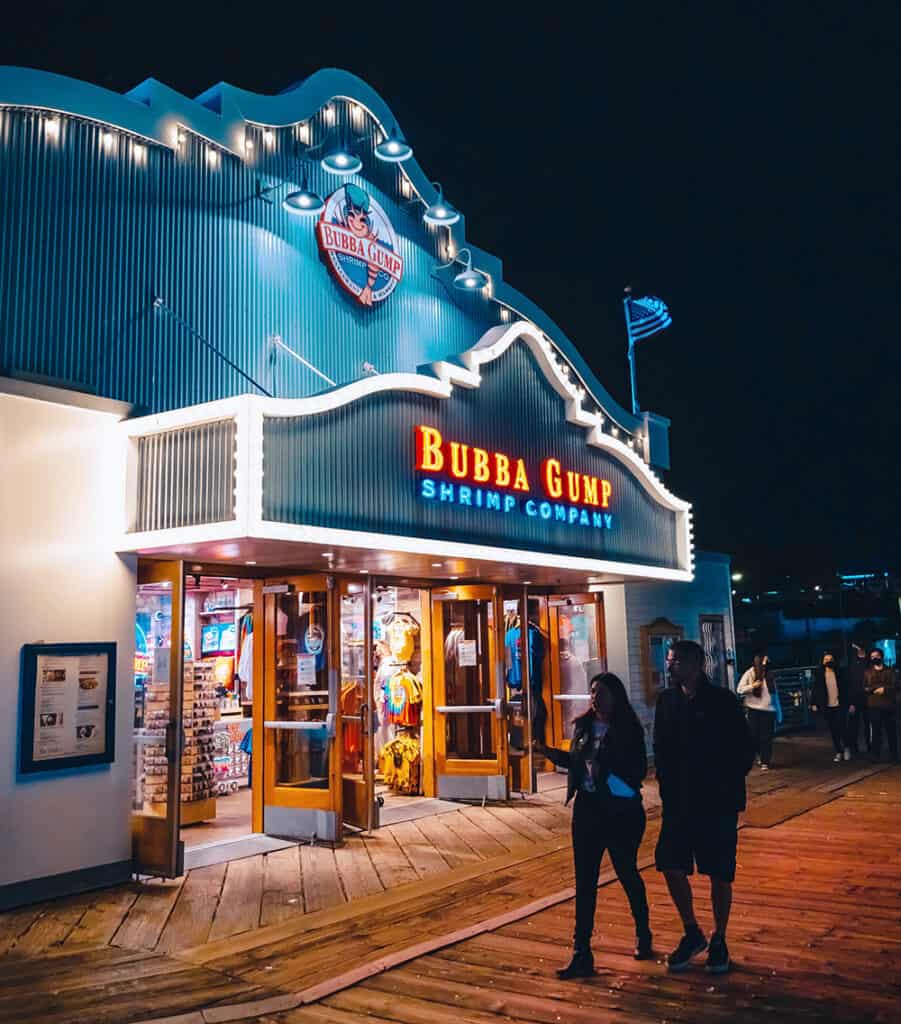 We shopped at the gift store for Gump paraphernalia then wandered across the wooden road to Blazing Saddles and rented two bikes to cycle the concrete bike track running for 13.5 km along this Pacific Coast beach.
We only chose the short distance between Santa Monica and Venice Beach.
Take a right turn and you'll zoom north past the most expensive holiday houses in all the land (I just Googled one as an example – a cool US$9 million) plonked right there on the beach. Behind them is the Pacific Coast Highway roaring to and fro and up the cliff sits Santa Monica sprawled out to make the most of the ocean view and killer sunsets.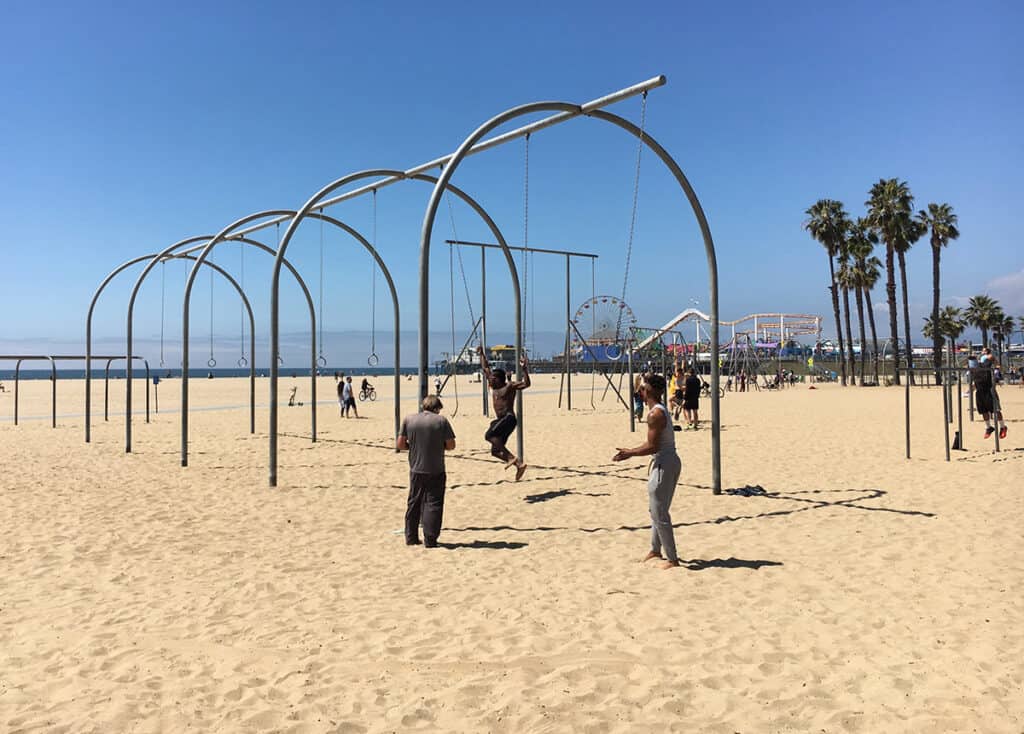 We reached as far as one of us was willing to go (that would be me) and turned around – keeping on the right side of the marked pathway. We pedalled back towards the pier and this time south past Muscle Beach, where muscly men bulge their biceps and compare abs, towards Venice Beach.
What a different vibe this is: medical marijuana for sale, reggae prints, hippies, bohemian types and roller bladers. Tat shops selling screen-printed T-shirts and cheap sunglasses as street performers tap out a beat or wail on their pianos and guitars in the hopes of a dollar coming their way.
Where to eat or drink at Venice Beach:
We love the Sidewalk Cafe on the boardwalk for people watching. It's always busy so expect to line up, and try to get an outside seat by the open air "window".
If you're wanting something a little stronger, head to the rooftop at the Erwin Hotel. It's an open air bar with loungers and the most amazing sunset views over the Pacific Ocean.
Back on the Santa Monica pier you can ride the Ferris wheel, eat funnel cake and have your face modeled onto a plaster-cast doll head.
Walk to the very end and you get to the official end of Route 66 (and Forrest's turning point).
For a fabulous dinner of fresh seafood, we got dressed up and went to the best place in town: The Lobster, at the entrance to the pier.
It's been here since 1923, although had a decade of neglect in the 80s. It reopened in its current reincarnation in 1999 and is packed most nights. With 180 degree ocean views, it's no wonder. Four of the 10 owners were dining in the night we went and our server, Robert, not only did a great job dancing between the VIP tables, but recommended a few favourites – and threw in an ice cream sundae to celebrate our honeymoon visit.
We started with a tasty crab cake and a glass of Napa Valley Sauvignon Blanc, then I had the Butter Poached Lobster which came with farm fresh peas, wild mushroom ragout and a creamy lobster mash.
It was fantastic, but so rich it nearly did me in. My new hubby had an Angus New York steak (medium rare) with a lobster tail and we shared a bowl of their legendary truffle fries.
We were replete beyond compare, yet remarkably our pudding stomachs still had room for that ice cream!
A short waddle up Ocean Drive took us back to our primo art deco hotel, The Georgian, built in 1933, where we slipped into an over-indulged coma until morning.
To read my post about the Top Bars Around Santa Monica, click here >>>