Three days in Venice is barely enough time to figure out how to get to St Mark's Square across the labyrinth of bridges and through the network of piazzas, let alone see and do everything this incredible city has to offer!
But three days was all I had, leading my tour group of 11 of us, eager to get the most out of this picturesque, charming and mesmerising city.
We'd started in Rome where we'd seen some off-the-beaten-track things and had some fabulous dinners, then to Florence via some cute hilltop villages, Cinque Terre, and now Venice.
I think the key to enjoying Venice is to take your time. Stop. Sit. Twirl. Drink it in.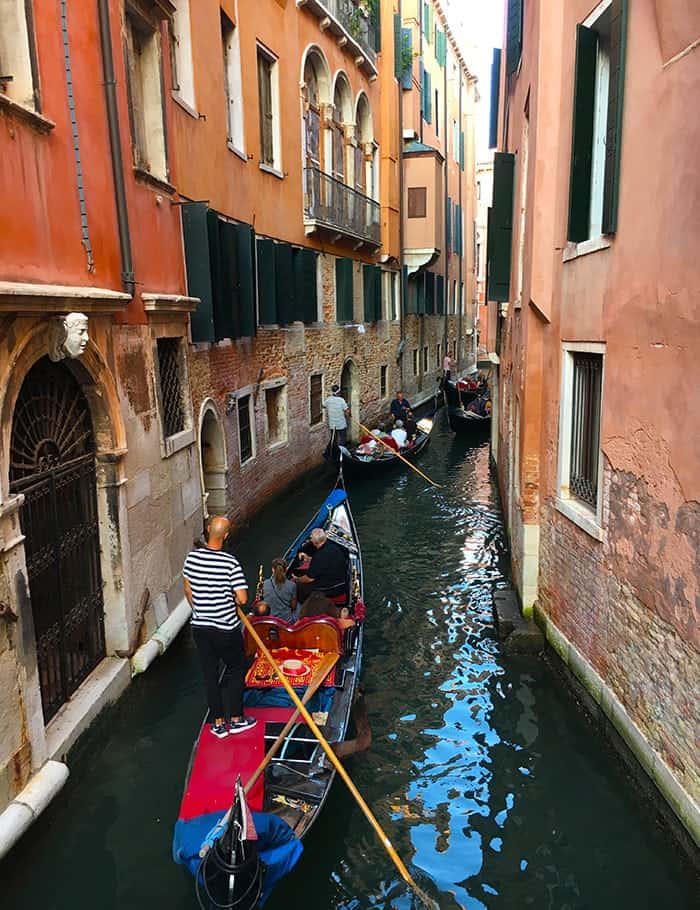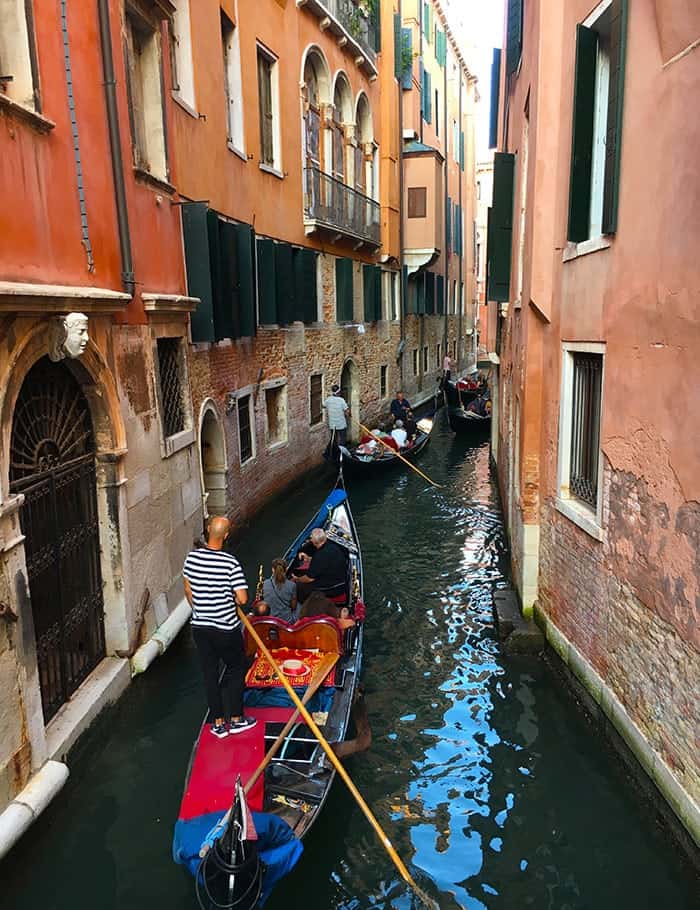 What is Venice like?
Venice can be overwhelming with tourists everywhere (cruise ships stay over night in port so the place never really empties out) and there are so many photo ops causing you to stop on every bridge to photograph yet another gondola or peer into every shop window at the dazzling Murano glass, handmade paper, leather bags and the riot of colourful masks that Venice is known for.
You'll find cafes and restaurants down just about every alley and making time to sit in one with a cold beer on a scorching 30˚ day is probably about the best thing you could do. The food is great too and in my three weeks in Italy I never had a meal I didn't like – and never had the same taste twice.
We had taken two vans from Cinque Terre (about a 5-6 hour road trip away punctuated with a toilet and panini stop at a truck stop) and were picked up by pre-booked private water taxi from Venezia Santa Lucia railway station, loaded our luggage in the boat and sped down the Grand Canal along with everyone else.
READ MORE: You might like to read my post on Cinque Terre here >>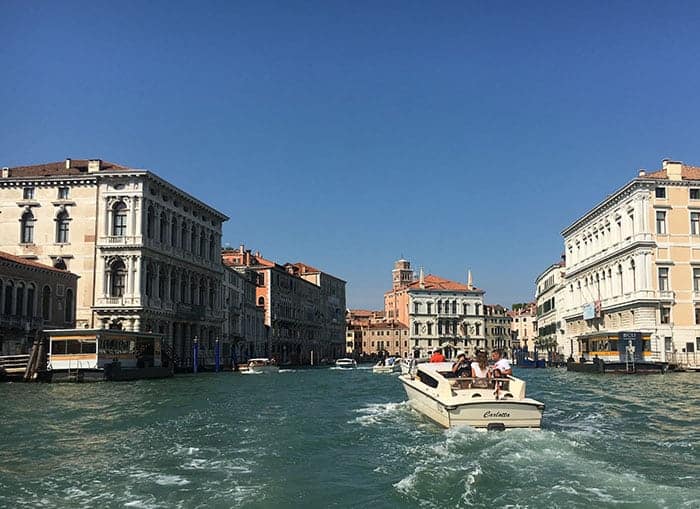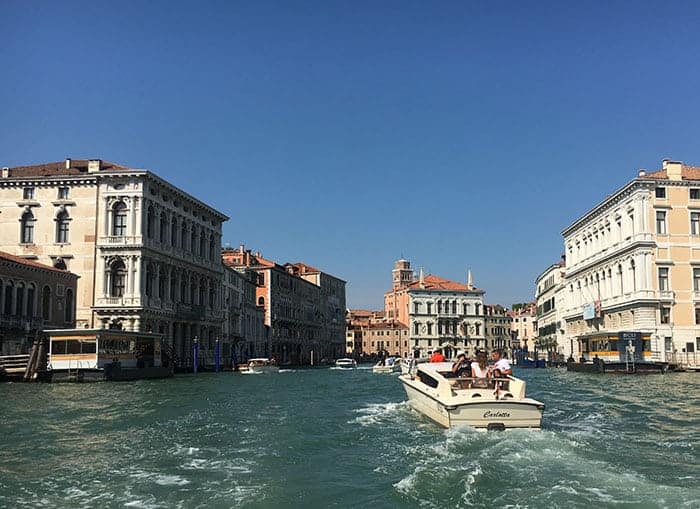 It's like Auckland's Southern Motorway on this stretch of busy water, only there are less rules and the boats just work around each other, pulling over at jetties to pick up and drop off and the public water "bus" just heaves through the middle of the hubbub.
Here's a tip: book a private water taxi to take you to the station when you leave as locals have right of way when it comes to boarding the public ferry at the various stops. If you're going public, they told me to allow up to two hours in case you get bumped!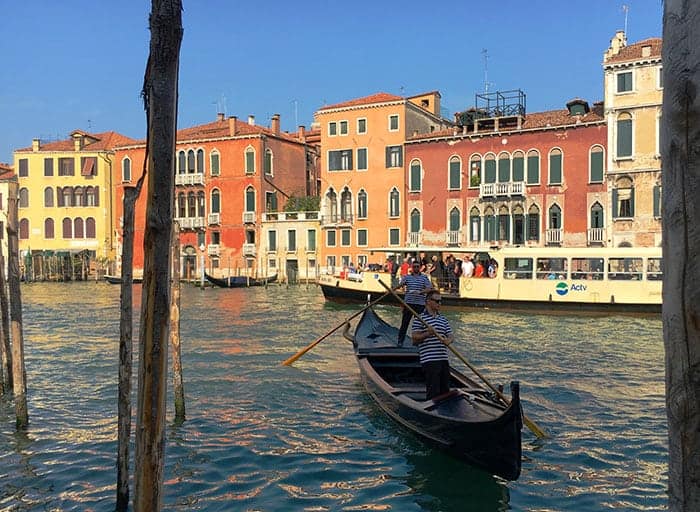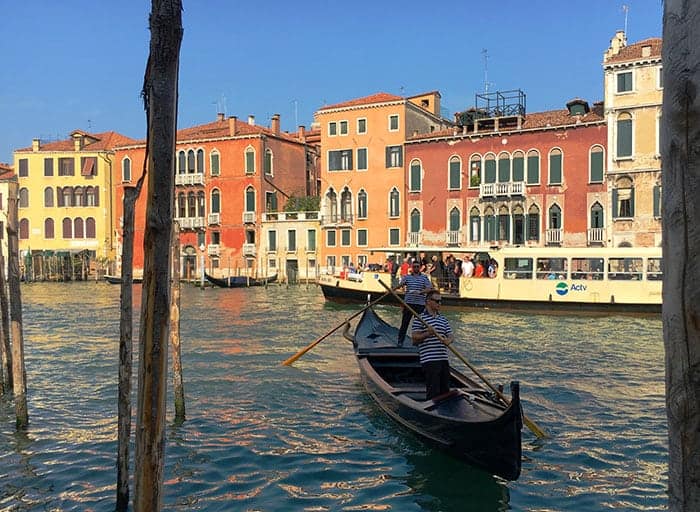 Day 1 in Venice
Hook up a local guide and get lost with them on a walking tour. That way you'll learn some of Venice's intriguing history, architectural influences and skulduggerous (not a real word) past as well as some of the background to the incredible art works you'll see inside and outside ornate buildings and magnificent churches.
It's also a great chance to talk to a local and find out what it's like living in a city where moving furniture into your new apartment is a logistical nightmare and how they manage living in a city with as many water streets as land streets.
(Jump on to Weka Travel and have Josh and his team sort you out the perfect tour with one of there great guides).
Once you've orientated yourself for the morning, and figured out how to read the yellow signs that point to either San Marco (St Mark's Square) or the Acadamia so you have your bearings back to your hotel, get lost down the maze of alleys and browse the shops and stop for lunch somewhere.
But here's a tip: if you see something you like get it because the chances of you finding that shop again are slim!
Finally, at the end of a big day of walking (bring good trainers!) treat yourself to an expensive cocktail late in the afternoon in front of one of the live music stages in St Mark's Square for some people watching accompanied by violin, cello, grand piano and a squeezebox. I reasoned that if I was to attend a live performance I'd pay at least €20 for a ticket so €20 for a glass of wine was worth it!
Turn your speakers on to play this video below of my request for Nessum Dorma – and the cute smile from the violinist. Gold.
There is no shortage of great restaurants and even in Venice you don't need to break the bank to eat a delicious meal. Allow about €18 for a pasta dish (all homemade of course!), €8-10 for a caprese salad, €6-8 for a glass of wine.
Day 2 in Venice
Take a boat trip out to the islands of Murano and Burano to shop and have lunch. *See the bottom of this post for advice on buying your ferry tickets.
Murano is famous for its glass blowing studios with skilled artisans heating and blowing and twisting and moulding incredible glass figurines or chandeliers and shops selling hand made glass jewellery, vases, baubles and everything in between. You could spend half a day here – and you probably should.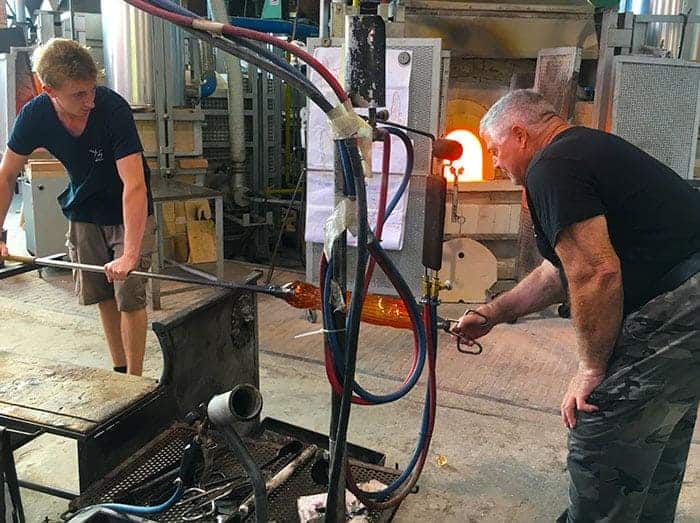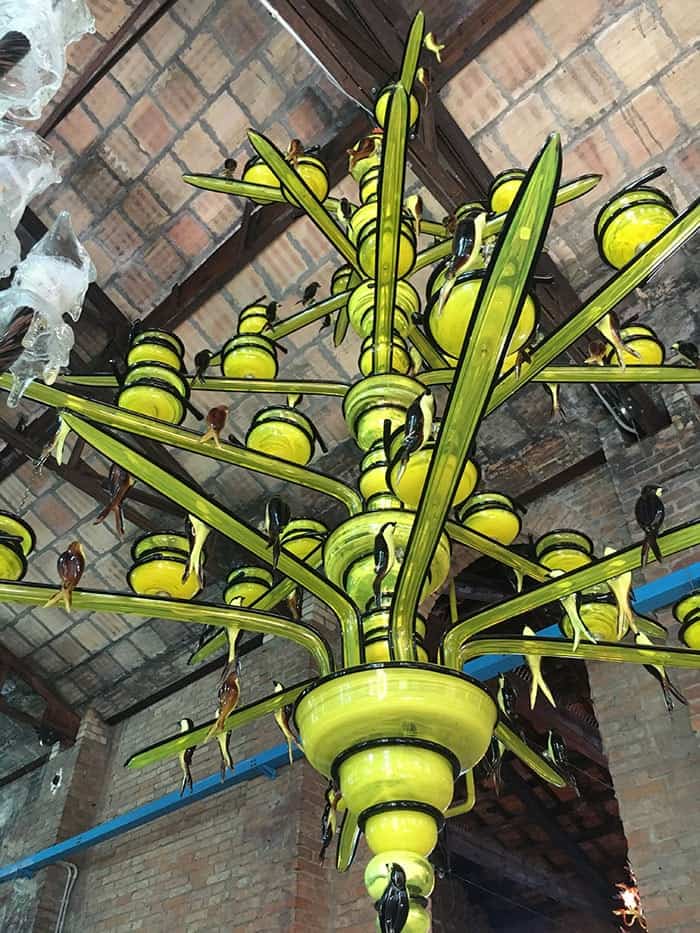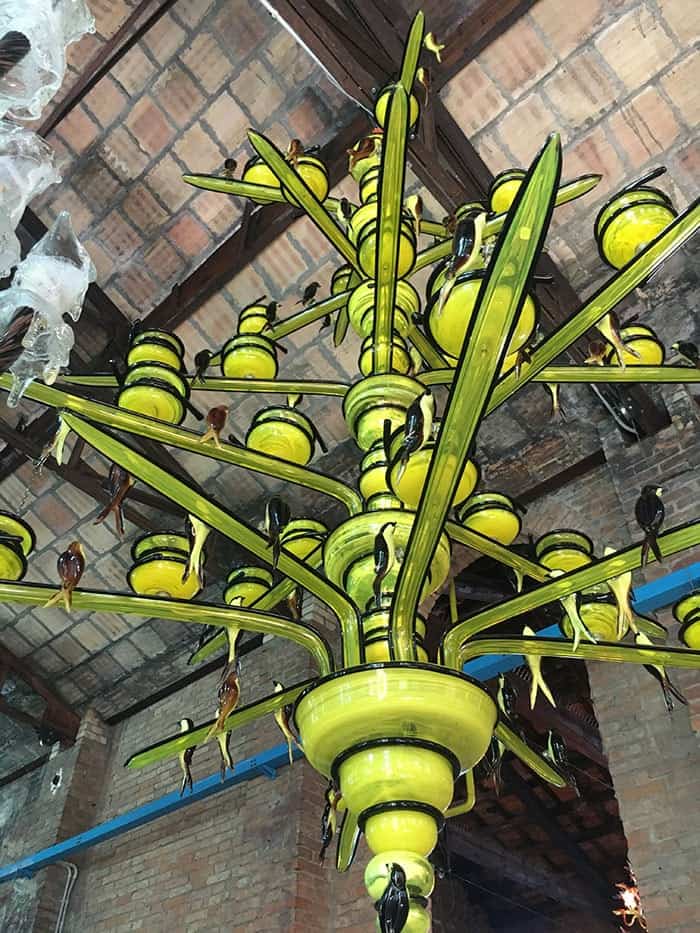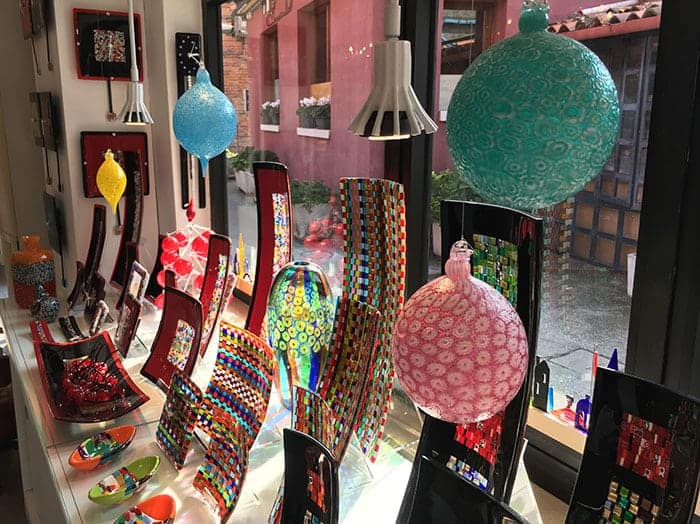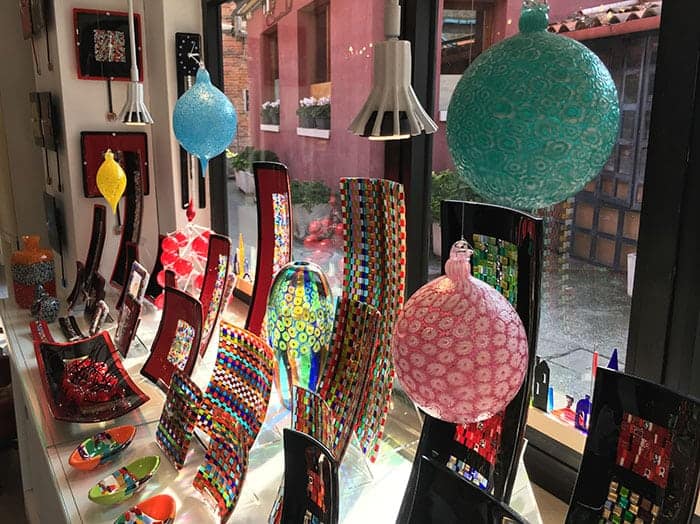 Then take the ferry on to Burano which is famous for lace (doily anyone?). It's also the most picturesque town you ever did see and honestly that is probably the reason for a visit if you could take or leave the whole lace thing.
Come here for lunch and a little shop then head back to the main land (which is not really a main land at all) of Venice.
If you love photography, there are so many exquisite photo ops to be had on a day in Burano.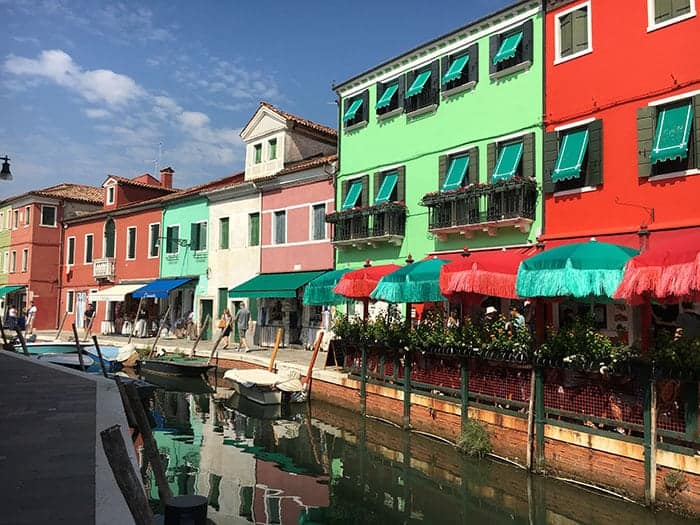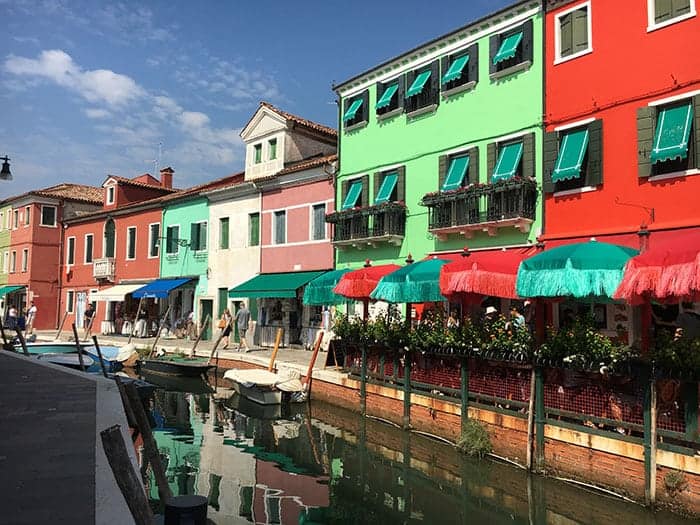 If you still have some energy when you get back, take a tour inside either St Mark's Basilica (Basilica di san Marco) or the Doges Palace next door. I wouldn't advise you do both in one late afternoon because they need time and you'll be pretty knackered if you spend the better part of the day out on those islands.
If you choose Doges Palace (also known as Palazzo Ducale), buy skip-the-line tickets on line to avoid the queues and also pay the extra €5 when you get there for an audio guide or you'll have no idea what you're actually looking at.
It really is worth spending a couple of hours in here to see the enormous paintings in the vast vast spaces and learn about the doges (the rulers) – and enter the largest hall ever built in Europe without pillars at that time. You'll also look up and see portraits of all the doges lining the wall – but one has a black curtain in place of his face. Why? He was beheaded for treason.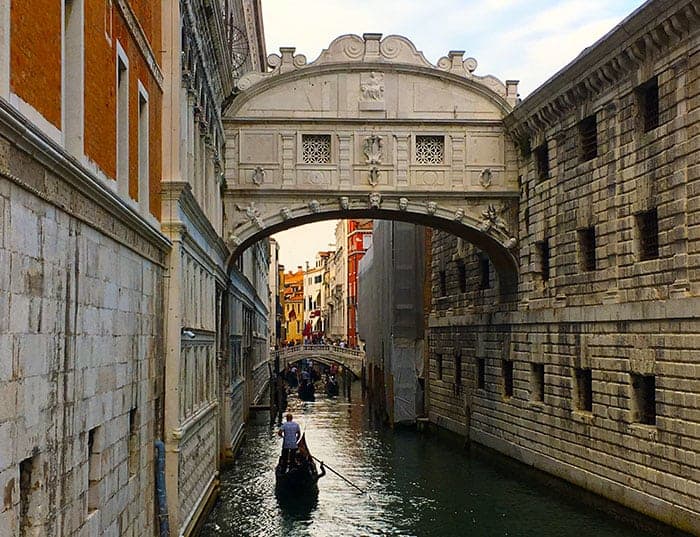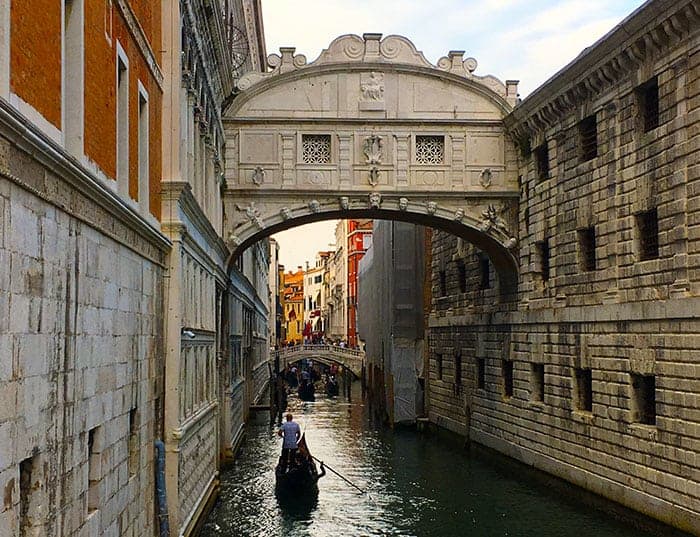 Then you'll walk across the Bridge of Sighs and down into the prison cells and see "graffiti" left behind by a fresco artist inmate in 1549 (as well as some disrespectful tourist graffiti of more recent times) and only uncovered 10 years ago depicting the Virgin Mary, Jesus and angels as he was apparently told this would be an infirmary and to paint it. It's just a sketch because he was released – and then burned alive at the stake 20 years later. Okaaaay.
Finish the day with a canal boat ride (that'll cost €80 for 4 of you) but is a wonderful 45 minutes and of course all the feels and photos.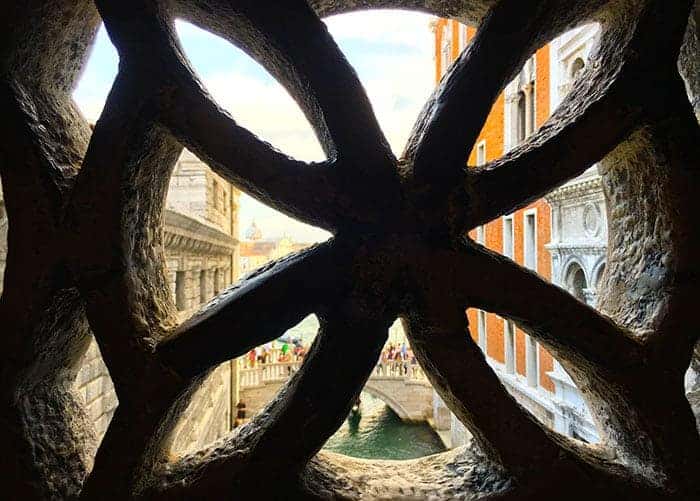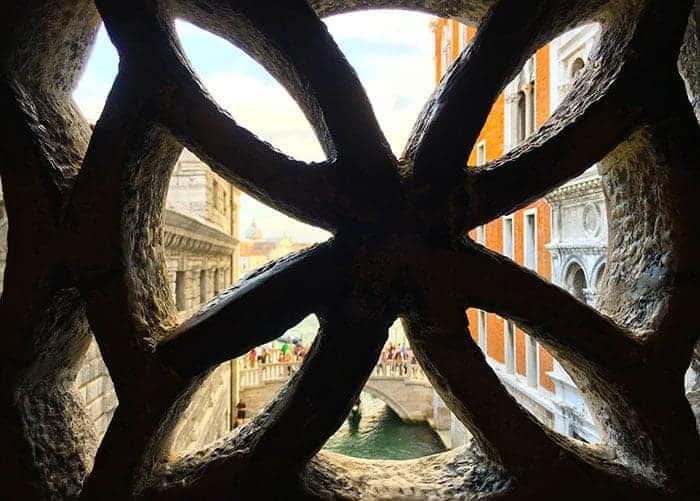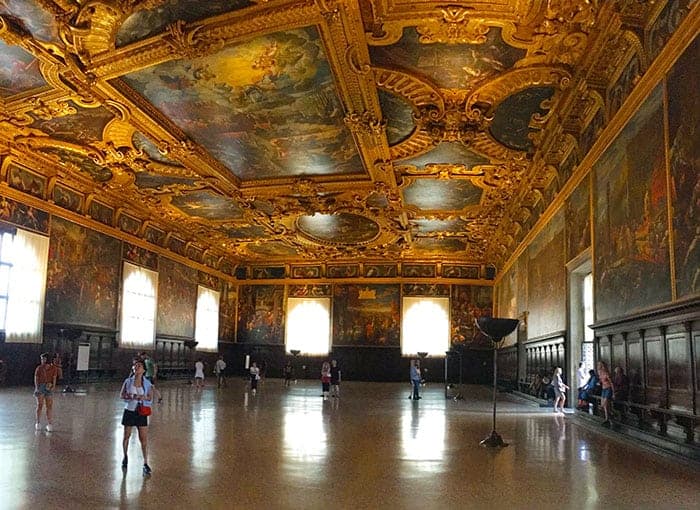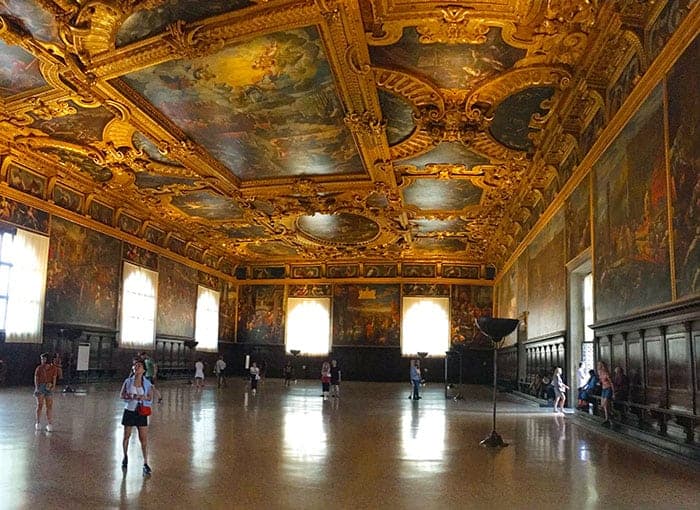 Day 3 in Venice
Today is your cultural day!
Hop up early with the church bells and head to mass in St Mark's Basilica. This is free and you enter on the left side of the building (not the main entrance in front) along with just a handful of locals. Then enjoy watching the city wake up as you stroll the misty squares and stop for coffee and a pastry at one of the delicious bakeries.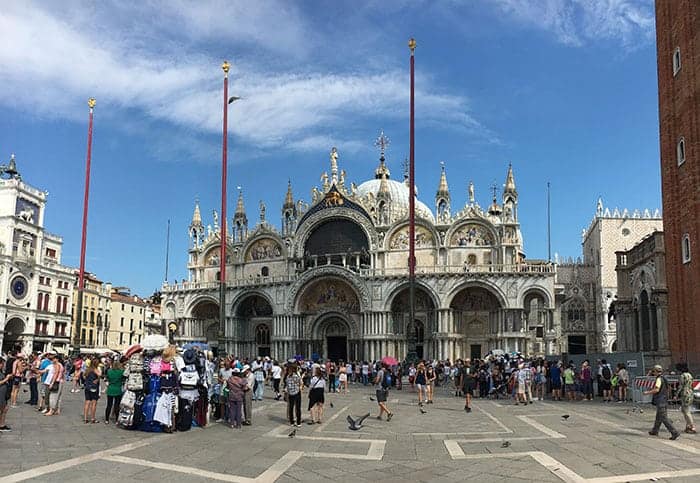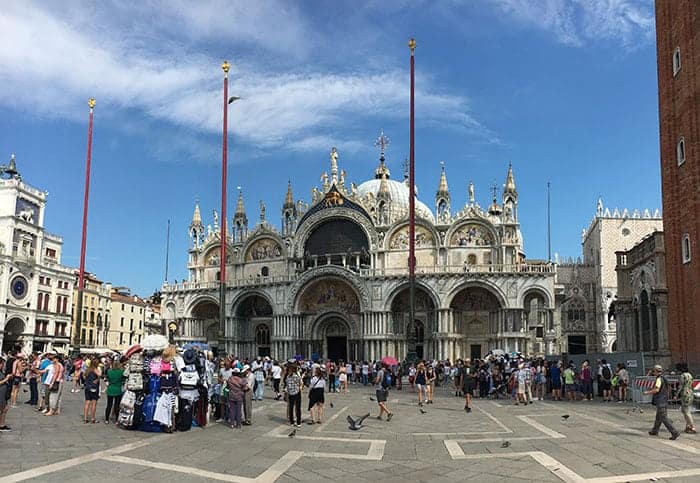 The Peggy Guggenheim Collection is across the Grand Canal and is a satellite of the Guggenheim in New York located in the 17th-century Customs House. A good tip is to go later in the day when there are likely to be less queues and art lovers will love it, as well as architecture lovers who want to see inside the building. The collection includes Picasso, Ernst, Pollack, Kandinsky, Klee, Dali, and more, paintings and sculptures.
Go to the opera! At La Fenice Opera House (Teatro La Fenice) you can sometimes get same day tickets and one of our group got a ticket for €50 for Madama Butterfly. She said she was the worst dressed person in the building as she'd gone at the end of a busy day of sight-seeing (and may or may not have been wearing jandals) but the whole experience from the venue to the audience to the opera itself was wonderful.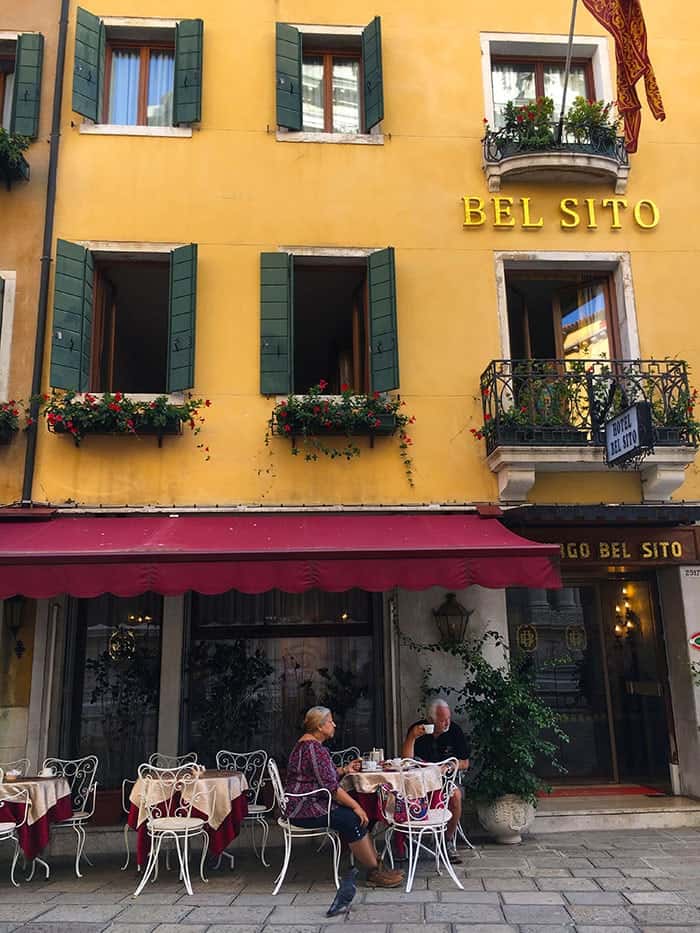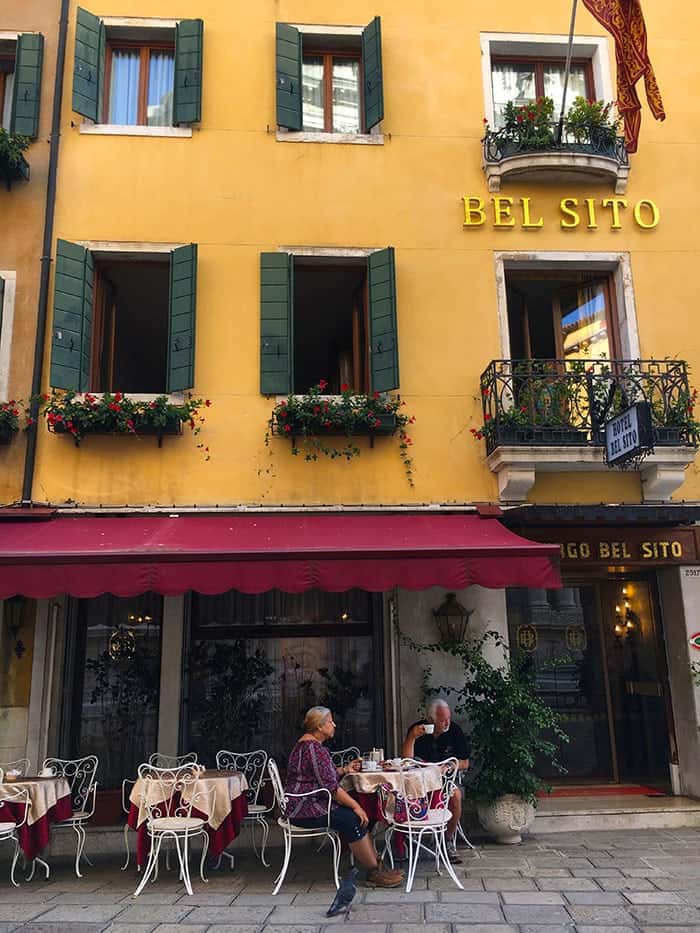 You'll no doubt be passing through St Mark's Square regularly (depending on where your hotel is) so it's fun to come back early evening and just wander between the live music stages trying to avoid the hawkers shooting glow in the dark whirly-ma-gigs into the air.
Just a warning: they are not legally allowed to sell them, but if you do want to get one for the kids, don't pay more than €3. One of our group was negotiating a price with the guy when he suddenly turned and walked off and then a police man came over and picked up the offending plastic widget off the ground and confiscated it. She moved silently on.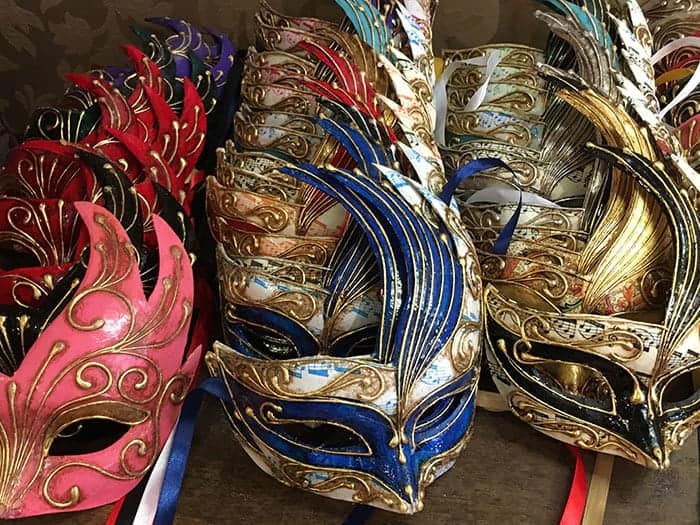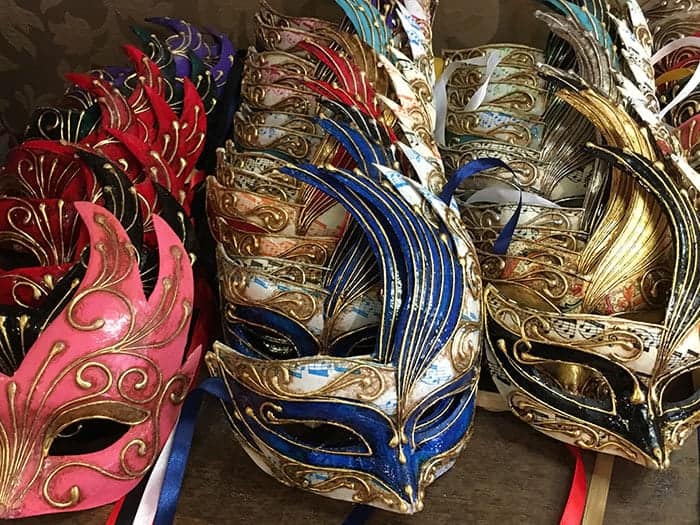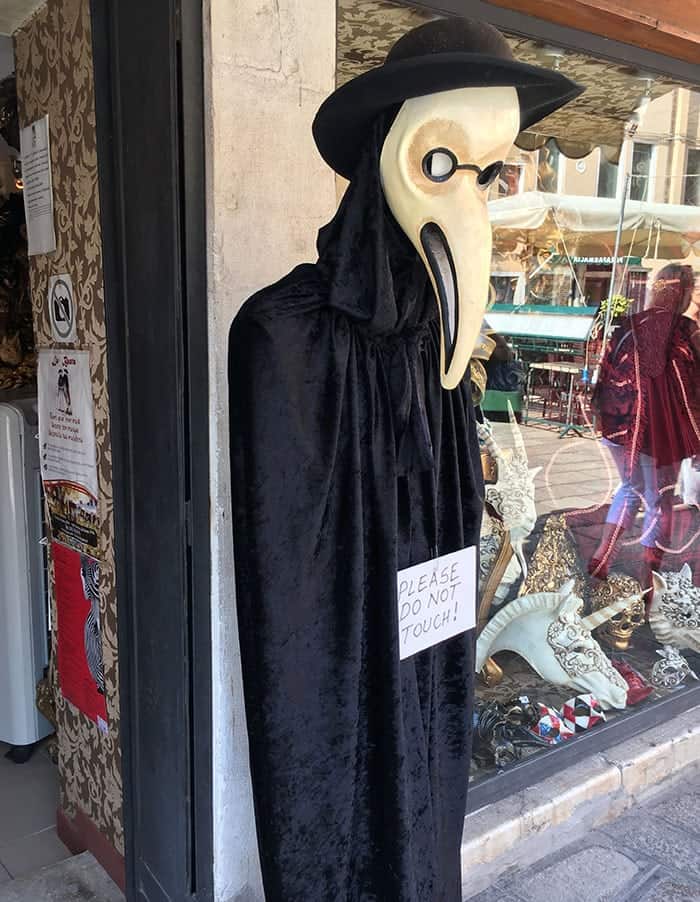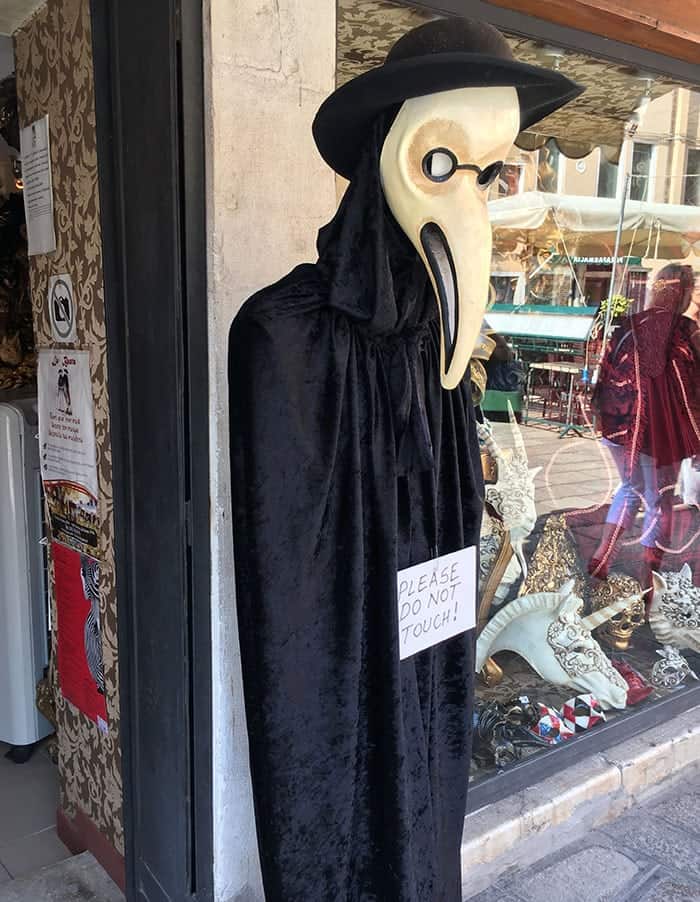 *How to buy ferry (vaporetto) tickets
Ask your concierge to point you in the direction of your nearest water bus stop and wait for the vaporetto to come.
There are about 20 water bus lines and a single ticket is about €7.50 (about six times what the locals pay!). But it's more economical to get a day pass or a multi-day pass called a Tourist Travel Card. Buy these in advance as paying on the boat is not possible at some stops without a ticket office, although you'll also find ticket vending machines and can recharge the card with more money as required.
Look for signs that say biglietteria or ticket point. A one-day card is €20 and two days is €30 and so on. In the three days we were there we only used the vaporetto for our island visits and a one-day pass was plenty. It also meant we could tootle up the Grand Canal and use it as a bit of a sight-seeing pass too.
All you need to do is scan your card when you get on and you're done. Your ticket doesn't activate until it's been scanned the first time so you can buy it in advance.
And one last tip, or warning: you may also see guys selling knock off Prada, Gucci, Furla, etc, handbags laid out on the ground. Just know that this is illegal and Venice authorities come down hard on not only the seller but the buyer too and you could be facing a hefty fine for buying one. So hefty you might as well buy the real thing in the mall!
Where we stayed in Venice
Hotel Flora was our home for three nights. It's a gorgeous family-run hotel with a lovely garden (bring mosquito repellent) and a really delicious breakfast of fresh pastries and cakes, fruit and cereals. It was so cute and in such a great location we all agreed we'd love to stay here again.