It's always hard deciding on a hidden gem of a holiday. If you haven't heard of it, then how can you go?
Well, I have the perfect destination for an off-grid, remote family vacation that will create memories for a lifetime…
I was on Newstalk ZB recently for an hour talking travel. It's a talkback radio station broadcast throughout New Zealand and I've done these "summer broadcasting" hour long travel shows for the past four years. I absolutely love it! You can really get into talking about a destination or hear callers own travel tips when they phone in and squirrel them away to try out some time.
But on Sunday someone texted in and asked where would I recommend for someone who wanted to go to an absolute hidden gem, a place no one really even knows about. The most remote vacation destination I could think of.
I thought about it for a bit (I only had a few seconds because dead air is never good on radio!)
Of course the minute you tell people about a remote hidden gem that "you won't find in all the guide books", then voila. It becomes a blog post!
But two years ago I think I found it:
The best hidden vacation spot, far from it all, off the internet grid, close to the rawness of nature and really an undiscovered gem by many is…
Tanna Island, Vanuatu.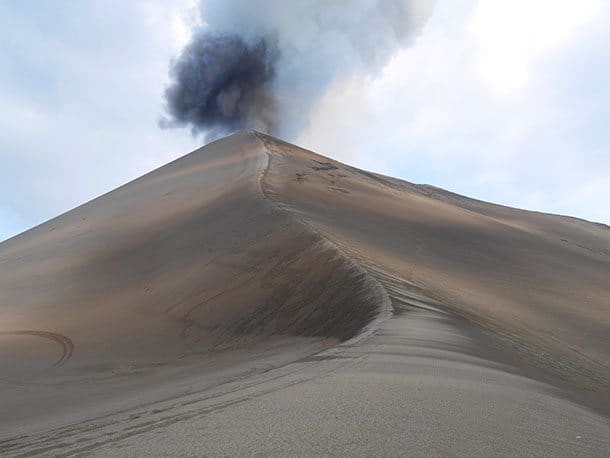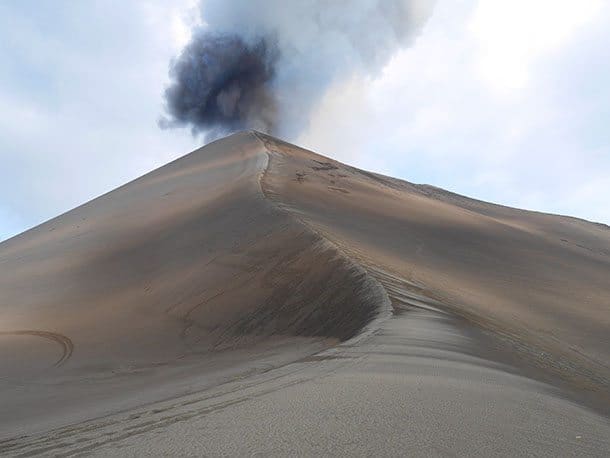 There are only one or two flights per day from Vanuatu's capital Port Vila, on the main island of Efate, to Tanna. It takes 40 minutes on a little prop plane over the glistening Pacific ocean.
Tanna Island is rugged and remote and its main drawcard is the constantly exploding Mt Yasur volcano that you can actually stand on the edge of with nary a fence nor even a row of pebbles to stop you stepping too far and falling into the abyss that sounds like the washing of a fierce ocean roaring way below.
We were filming a video for Vanuatu Tourism and flew a drone over it – hoping not to lose it down the fiery hole! Another guy was doing the same.
Here is our final cut 90-second Tanna Island video which you are welcome to share with your intrepid friends!
It was a two-hour drive each way from our hotel, White Grass, where we had pre-ordered our evening meal in the afternoon for eating when we returned after dark. Then off we went, driven by the official local guides in their 4-WD trucks which are beaten up every day on this crazy bumpy road. It hadn't helped that part of the road up the volcano hadn't been repaired or graded since the 2015 cyclone and huge slabs of roading concrete lay strewn like a staircase. I think work has been done since!
We bumped along the wild road sometimes sealed, sometimes dirt, with grass higher than the car on each side, broken every now and then by a gateway into someone's home where men would be gathered outside awaiting the traditional evening kava meet-up. We drove through small villages with cell phone top up shops and small grocery stores and kids playing and kiosks selling pineapples. So green. So lush. We stopped on a bend in the road, high up with views to forever and in the distance we could see the smoke.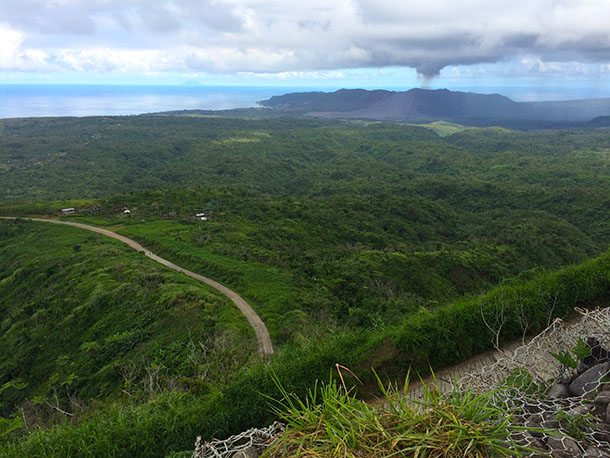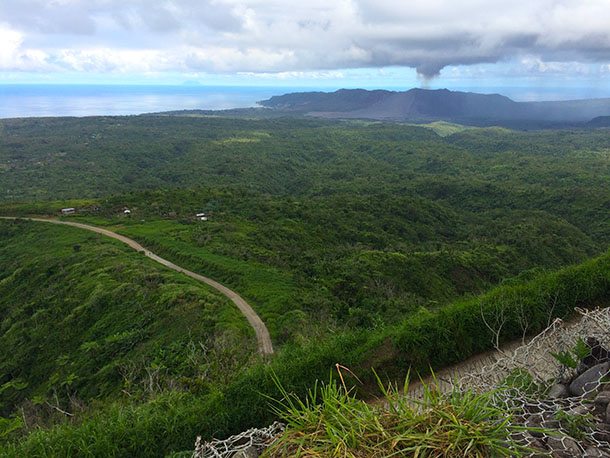 Finally we turned off into a paddock with a building where we paid an entrance fee to the local owners, which our driver took care of on our behalf, then on we continued, holding onto the door handles to stop bumping into each other, then across smooth, wind-swept black sand with no roads, steam rising from the cone in the distance as we circled around the back of the mountain.
You'll arrive in the late afternoon and the trucks drive really close to the crater so all you are left with is a quick 5-minute climb up the steep sandy steps. That was enough for me though, I was pooped!
A HUGE open crater edged in black sand with steam rising greets you at the top. You'll also see the blue smoke of the sulphur and black smoke clouds billowing out. About every 30 minutes you hear an almighty BOOM and then a pitter patter. It's not until the sun goes down that the red molten lava begins to glow and you realise the pitter patter is the sound of the rocks being hurled up and falling back into the mass of steamy crater upon which you stand.
It's mesmerising and exhilarating and I could stand here for hours and hours just watching and listening and shrieking at the noises. It's probably not for everyone though. A French family were visiting and one of the boys (about 10) sat with his back to the volcano waiting for his parents to hurry up. He flatly refused a family photo on the edge.
Then before it gets impossibly dark, it's time to head back to the resort, clean up in your little bure dotted in the lush gardens and meet back in the restaurant for dinner. It was the lobster for pretty much everyone in our group to top off one of the best experiences in my life!