It was my first foray on a stand up paddle board and I was a Nervous Nellie.
"Are you going to do yoga on the board?" they asked. "Or you could take the martial arts class," they said helpfully as we sat with a glass of wine overlooking the calm water at Marina del Rey where tomorrow's lesson was to take place.
This little coastal town in Los Angeles is just a stone's throw from LAX airport to the south and Venice Beach and Santa Monica to the north where surfies and beach babes decorate the ocean like confetti. (You can read my post on 7 great bars in Santa Monica here >)
I gulped, for they were not talking about stretching my lycra in the gym or even on the beach. They meant doing stunts (I shall call them) while standing on a giant surf board out in the marina where boats come and go.
I do like my travels to be holistic. In other words, I like to find local cuisine and watch the sun set for the happiness factor but I also like to try a new skill and be active.
Don't get me wrong, I'm no sporty spice, but when the opportunity arose to give SUP (stand up paddle boarding) a try, I was in!
I'm also a late adopter. Clearly. I thought just standing on a paddle board and moving across the water without falling in was the aim. But that is so last decade – or even century. These days it's about more than the all-over body workout that comes with curling your toes and using your torso to balance as people swim past creating a virtual tsunami of a wake.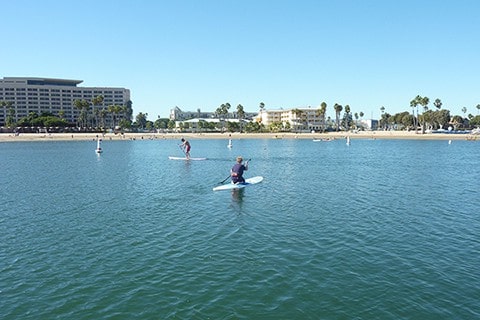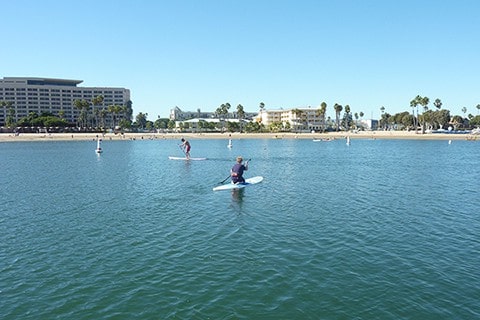 Who knew SUP (stand up paddleboarding) could be an extreme sport?
As the scent of summer begins to waft into our crisp evenings and barbecues and bathing suits are almost upon us, I have begun to think that this summer I want to perfect my SUP. I want to stand up and paddle as easily as those who do it on their heads. I want to learn how to speed across the water with the wind in my hair and not a whiff of trepidation on my face.
Spoiler: the 10 tips below helped me ace paddle boarding!
What to wear paddle boarding
The reality is you are most likely not going to fall in. I haven't fallen in paddle boarding and I'm no pro!
So what you should wear paddle boarding is just a swimsuit, or if you're not comfortable in your bathers in front of the ocean-going public, just wear exercise clothes.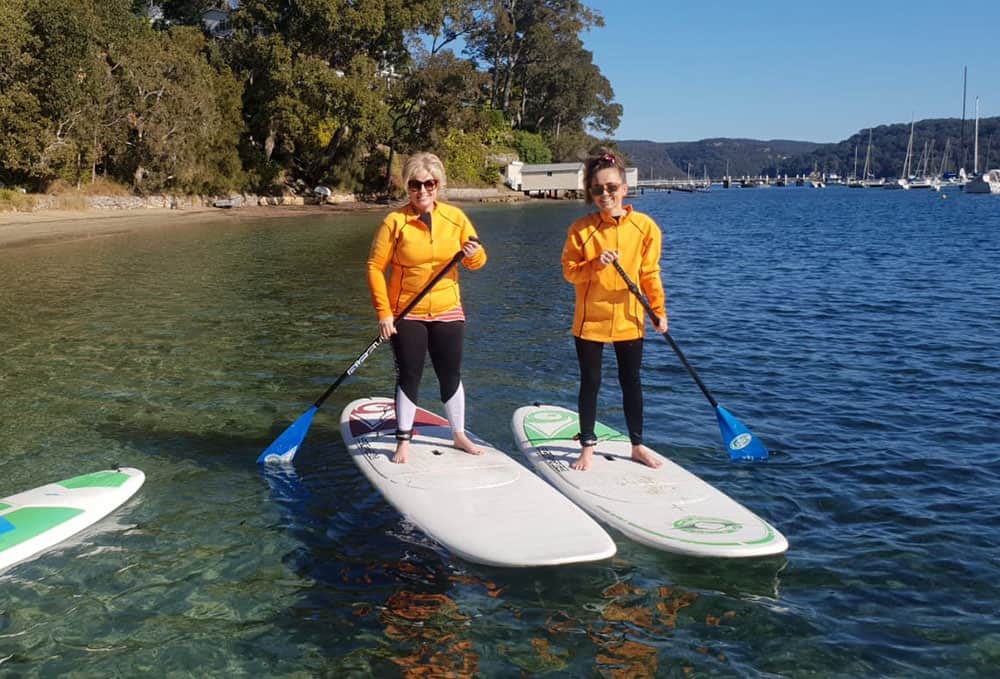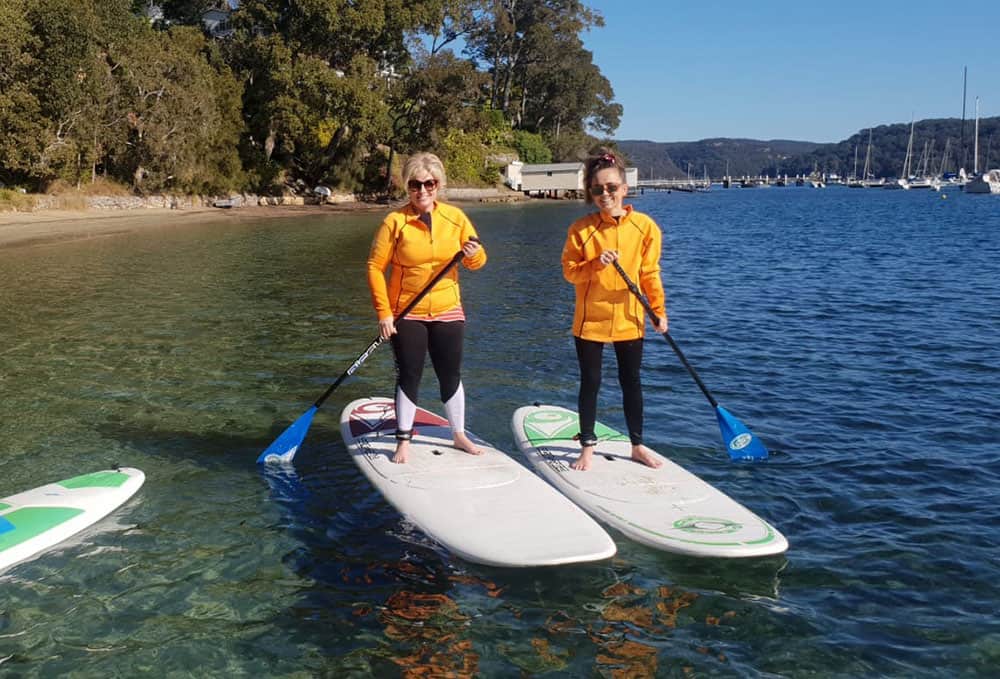 I put a swimsuit on underneath (I don't know why!) and then wore my lycra pants, a T-shirt and, if it's chilly like it was in Sydney, a hoody. You can choose to wear a life jacket which will also provide some warmth, but as you don't paddle board on rough seas, I'm pretty much going to promise – you won't fall in!
You don't wear anything on your feet paddle boarding. The boards have a grip mat on them and you'll need to use your feet and toes for traction on it.
Oh, and always remember to wear sunscreen as even on overcast days there is so much reflection from the water that you can get burnt, a hat (if you want to) and your sunglasses.
10 tips for Stand Up Paddleboarding:
1. It's easier to start from a pier or in shallow water for climbing on board.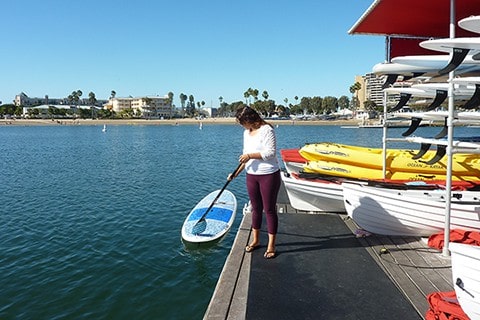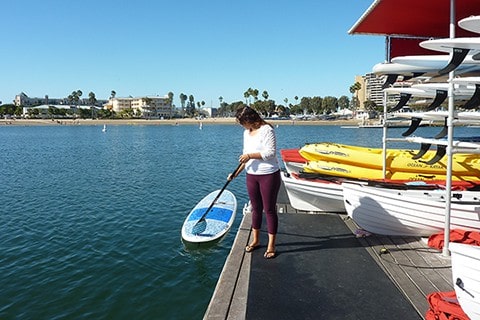 2. Place the paddle across the board just forward of halfway, then kneel with your knees about hip-width apart just behind it.
3. Push off and get familiar with your balance. Note: the slower you go the more wobbly you will be, so be confident with your paddling even in the kneeling position.
4. Get ready to stand up! Place your hands on either side of the board beside your knees and stand up, putting your feet where your knees were, picking up the paddle as you go.
5. Shout woohoo!
6. Keep your feet parallel, still about level with your hips, just behind the centre of the board. Don't look down! Look at the horizon and not your red toenail polish.
7. Hold the paddle with the scoop facing back. This is how you go forward. If you want to back up or turn, just turn the paddle so the scoop comes around the other way.
8. Bend your knees and straighten your back so you can use your hips for balance and twist your torso as you paddle.
9. Keep your arms straight with one hand on the grip at the top of the paddle and the other on the shaft.
10. Short strokes are good at first. Put the blade all the way under the surface and pull it back to your ankles.
And before you know it, we'll be watching you doing yoga on your board this summer!
I had another SUP, this time in Sydney, and with a proper guide I loved it and we paddled around anchored boats in the bay for a couple of hours!
If you're in the market to buy, check out this guide to the best stand up paddle boards.