Assuming you have already partaken of a wine (or two) in one of the 158 vineyards and more than 30 cellar doors in New Zealand's largest wine region (Marlborough accounts for nearly 80% of ALL New Zealand's wine production), here are three other things to do in this pristine and perfect part of the country.
But first, for readers who are unsure of New Zealand's geography:
Where is Marlborough?
Marlborough is the region of the top, north-east of the South Island. Its main towns include Blenheim (where you'll probably fly in) and Picton (where you come by ship or ferry from Wellington and also take boat tours of the sounds).
But Marlborough is a huge region and stretches down almost to Hanmer Springs (just an hour and a half drive north of Christchurch) taking in mountains and valleys – all ideal for delicious sauvignon blanc growing.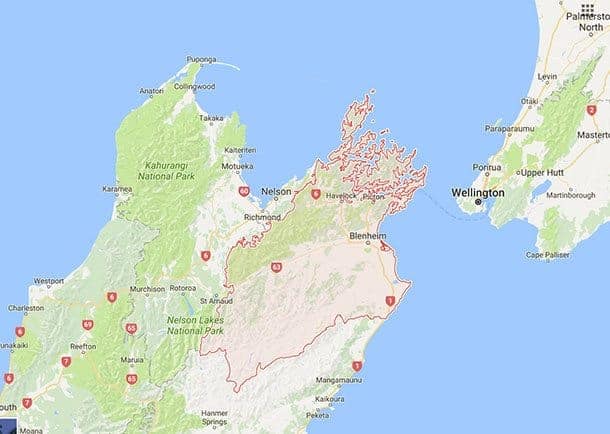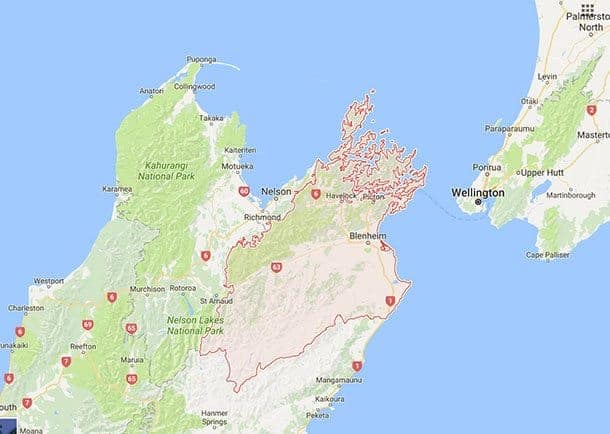 Must do's in Marlborough
Lochmara Lodge and the Reef Project
From Picton wharf book a day or an afternoon – or even plan to overnight – to Lochmara Lodge in Queen Charlotte Sound. It's only a 15-minute water taxi ride across the bay which gives you a glimpse at the beautiful sounds as you go.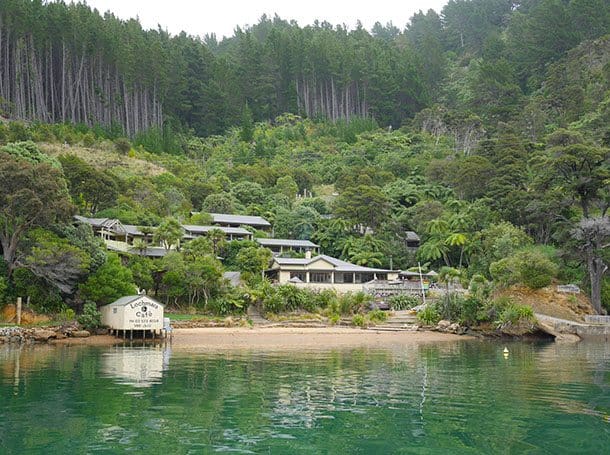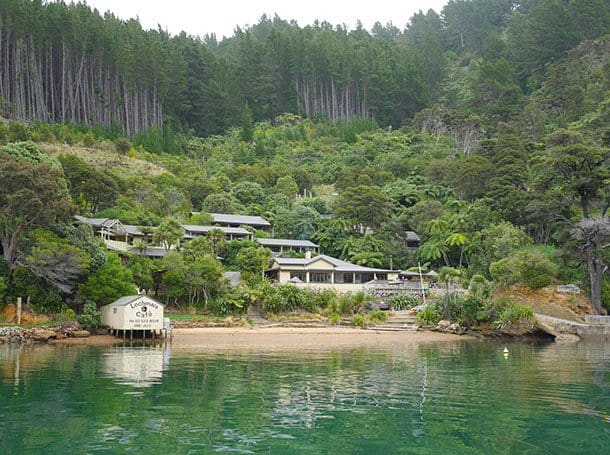 As well as providing lovely (but not salubrious) accommodation and a restaurant for guests and day trippers, Lochmara Lodge is a wildlife recovery sanctuary.
When I last visited they (happily for the animals) didn't have anything there, but in the past they have had rehabilitating native birds and reptiles. They also have their own alpacas, kune kune pigs, a dog called Locky (who wants you to throw a stick constantly), and a paradise duck with an attitude they call Madam. They found her a mate but she won't have a bar of him and prefers to follow her human boyfriend around!
There are kayaks and rope swings for jumping into the sea, of course swimming and great snorkelling, but what is the most exciting thing (for me anyway!) is the new Reef Project they've built.
They've bought a former glass bottom boat and have anchored it and built a concrete reef (kind of like a veranda) under the sea right in front of the windows. With the help of plenty of locals, they carefully planted sea anenomes and introduced a few mussels into specially cut out buoys.
This only happened seven months ago (at the time of writing) and already the reef has taken on a life of its own. I never knew we had such creatures as the 11-legged sea star, a brittle star with legs like brittle worms, and bright orange fluffy sea corals.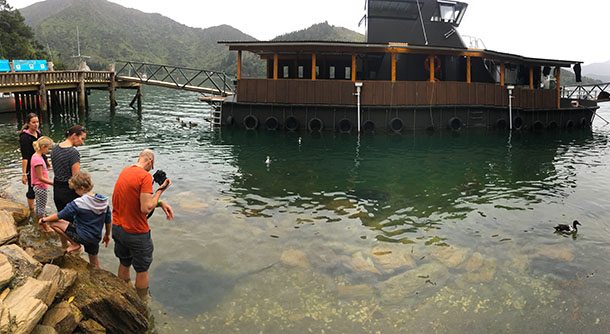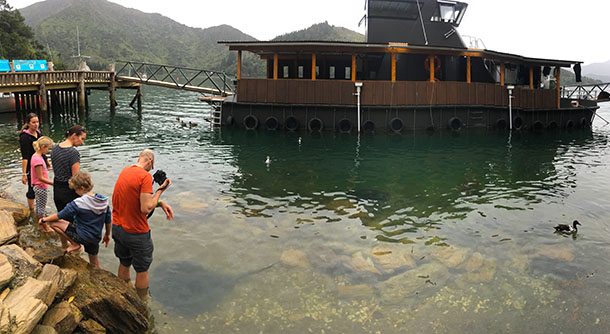 Stingrays now hang around and you can feed them with the guides (they have an undeserved bad reputation and are really very docile). Blue cod and snapper have come and when the shags aren't eating the food that our guide Miah threw in for us from above, we could see them swimming past the windows. Little translucent puffs of jellyfish parachute by and the longer you sit and look, the more you see.
This is more about being an underwater observatory too. A place for studies to be carried out as well for tourists to gawp at. Up top the touch tank is a fascinating display of sea cucumbers, hermit crabs, scallops, blinking sea worms living in coral rock and star fish, all of which Miah picked up for us to touch or hold.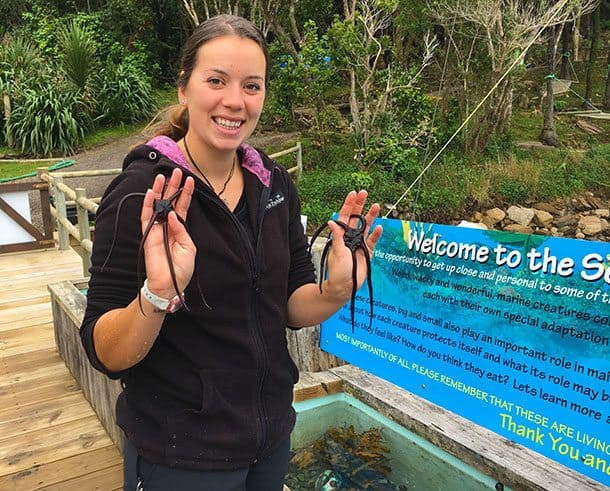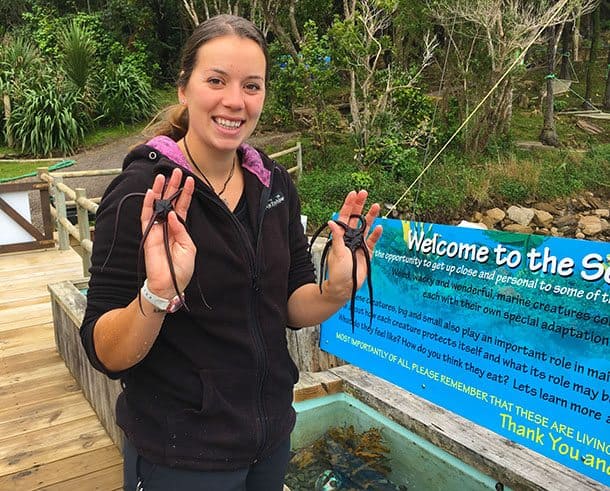 I could have sat down here for days. But then again I am also a fan of test cricket, which says a lot about my propensity for waiting long moments for something to happen.
Guided tours are at 10.10am, 11.00am, 12.50pm and 3.00pm. Bookings essential and can be made on arrival at Lochmara Lodge.
Tickets $15 per adult, $10 per child. Family pass $45.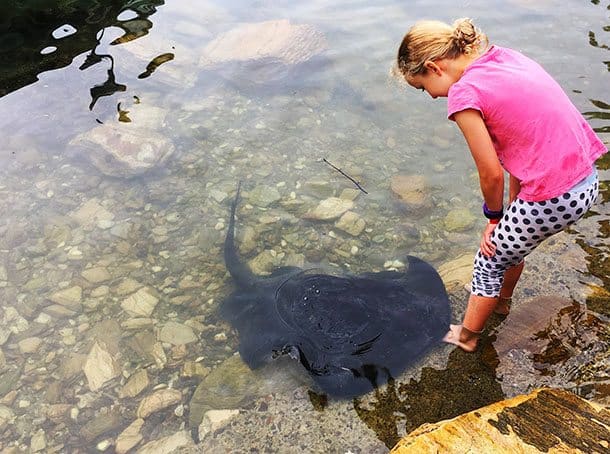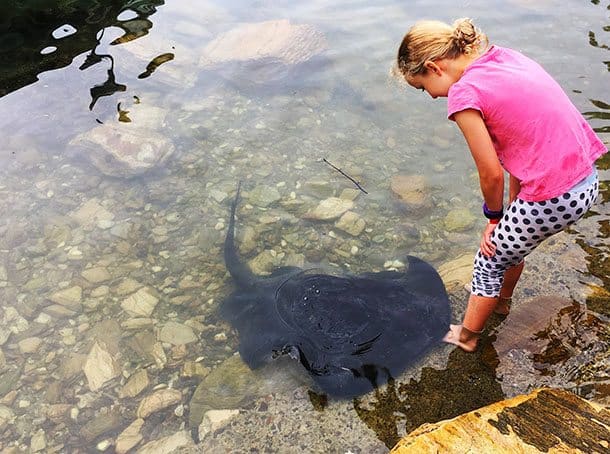 Omaka Aviation Heritage Centre
You don't need to be a war history boffin to appreciate this place, it's awesome! It houses movie director Sir Peter Jackson's personal collection of WWI aircraft and artifacts. He has collected so much amazing memorabilia, that he now houses it all here and the roof had to go on last after the planes were craned in!
Mannequins made by Weta Workshop and set design by Wingnut Films means these fighter and reconnaissance planes come to life. You'll find clothing worn by British and German soldiers, silver trophies won by the Red Barron and an awesome reenactment of his plane crash and demise.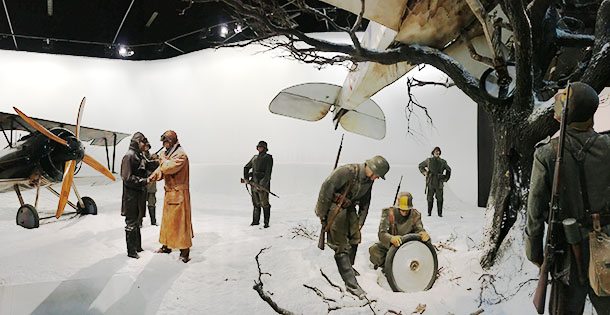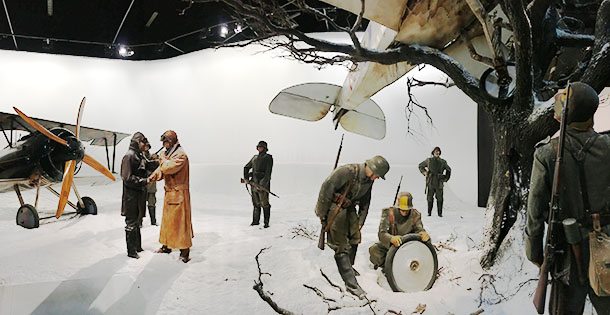 But the newest development at Omaka is the WWII Dangerous Skies exhibition with classic fighter planes from that era that are still flown during special events like the biannual Classic Fighters Omaka Airshow, last held over Easter weekend 2017.
For me though, the piéce de résistance is the 8-minute Stalingrad Experience. This is a surround-sound immeresive experience as you stand in what looks and feels like a bombed out building and depicts the war on the eastern front between Russia and Germany, which is not a story we often hear about. The casualties ran into the multiple millions of soldiers and is a truly amazing yet sombre depiction as the room vibrates and the bombs fall.
Also at Omaka is a cafe for when your husband is still inside and you need a flat white while you wait.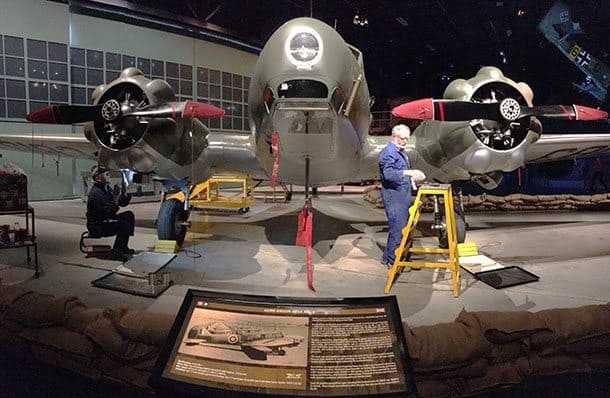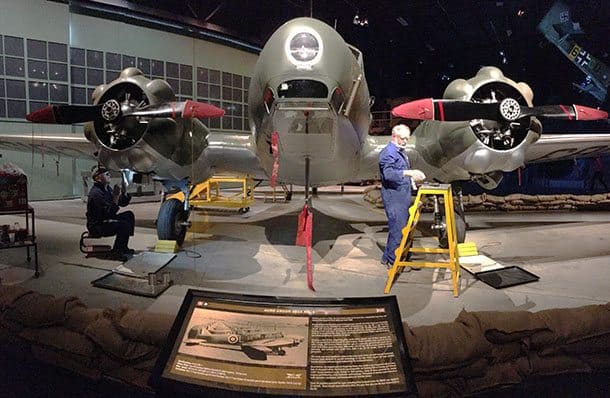 Knights of the Sky WW1 Exhibition
Adult (15 yrs+) $25, Child (5-14 yrs) $12
Dangerous Skies WW2 Exhibition
Adult (15 yrs+) $20, Child (5-14 yrs) $10
Both Exhibitions
Adult (15 yrs+) $39, Child (5-14 yrs) $16, Infant (under 5) Free, NZ Student $35, Seniors (60+) $35, Family Concession (2 adults, 2 children) $99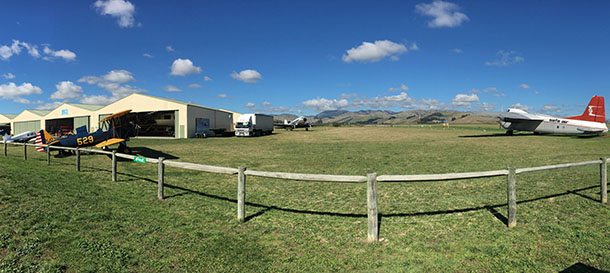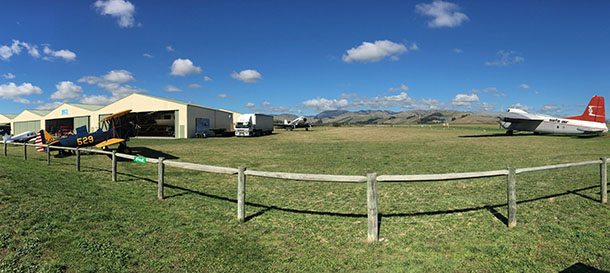 Seafood Cruise in the Sounds
On a beautiful afternoon there is truly nothing more relaxing and at the same time spectacular as a 3-hour cruise with the Marlborough Tour Company on a huge catamaran out into the sounds to visit the mussel and salmon farms, and having them served up steaming hot for you to sample.
The Seafood Odyssea Cruise features sashimi style Regal Salmon, steamed Cloudy Bay clams and steamed Greenshell mussels paired with a local Marlborough sauvignon blanc as the boat rides through the channels of the sounds and stops for a photo op at the mussel and salmon farms.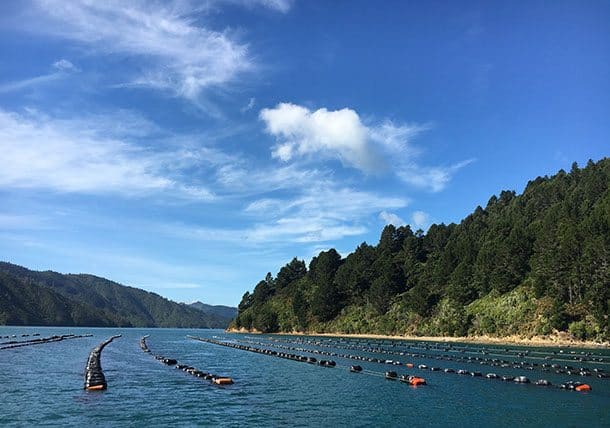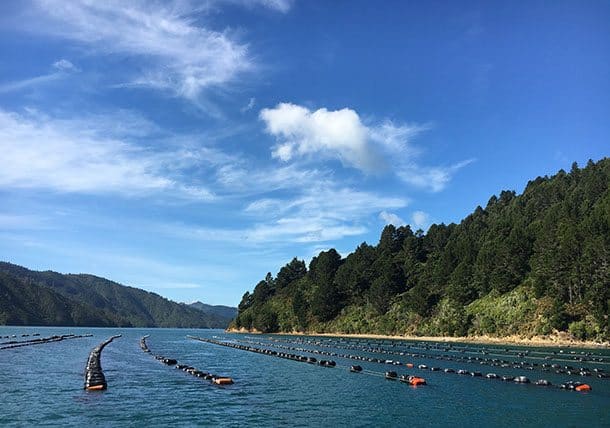 We joined our captain Matt and his 12-year old son Toby who is following in his dad's footsteps, so much so that he parked the massive boat at the marina while dad supervised. It was a stunning day to blat out into the sounds and drink in the landscape of this part of the world as ferries and other boaties joined us in stages and we heard all sorts of interesting nuggets about the wildlife.
Of course the highlight was the glass of sav and the hot steamed shell fish, but this cruise truly made me feel proud to be a Kiwi with the English and South American visitors on board experiencing a little slice of paradise of an afternoon.
Cost: NZ$155 per adult, $59 per child (5-15 years), children 0-4 years FREE. Tour operates daily 1 October-30 April (except Christmas Day)