Do you ever wish you could just drop everything and escape?
Well, not to sound too gloaty, but I did just that last week thanks to a new app called Booking Now from Booking.com.
It's for accommodation tonight or tomorrow night, so it really is for that moment when you're either going to throw your toys in the air or head away and indulge yourself 🙂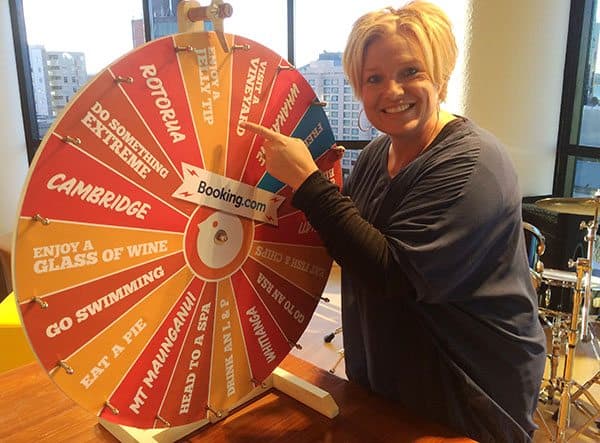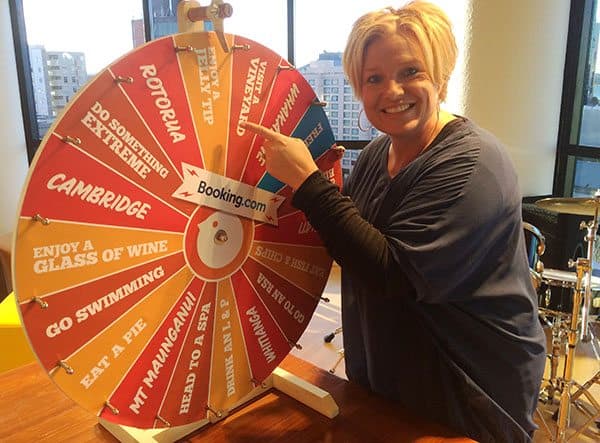 Here's how to use it:
Download Booking Now from the App Store.
Add your credit card details (but note: the accommodation will not charge you until AFTER you have stayed).
Open the app and select the city you fancy visiting.
Swipe through the accommodation offerings that pop up. You can tap the name of the hotel/motel/B&B and up will pop photos and a description of the property.
Go back and keep scrolling until you find one you like, or one that fits your budget.
Hit book.
Pack your bags and go!
Here's my little 80-second video showing you what I did after spinning the roulette wheel!
Where I stayed in Rotorua:
I had only ever been for dinner to the Regent of Rotorua, so when it popped up on the Booking Now app for $255, I snapped it up! This used to be a funny little brick motel but has had a true metamorphosis into the amazing butterfly it is today with lush decor and bold use of black and white with splashes of colour.
What to do in Rotorua:
I was pleasantly surprised upon check in when the concierge asked what we thought we might do and I replied, the Polynesian spa. He gave me a 10% discount coupon for being a hotel guest and off we went and booked a private pool opening onto the lake as the pink sun warmed the end of the day across the water. (See it on my video above)
Where to eat in Rotorua:
The Regent of Rotorua is right next door to Tutanekai Street, aka Eat Streat. This covered, pedestriansed street is lined with (you guessed it!) restaurants. It was Friday night, so the place was busy, but thankfully the Indian could fit us in!
_________________________
Then we were off to Whakatane. I'd actually never been before so used only the ratings on Booking.com's site to make my decision about where to stay. I went for the "superb" 37 The Landing motel which is only three years old, modern and really comfortable. I chose the king room for the gigantic spa bath – then ended up not using it!
Where to stay in Whakatane:
There are loads of motels and hotels here and over the hill in Ohope. We chose the modern 37 The Landing which is on a main road, but with car parking in front of our ground floor door, was ideal.
What to do in Whakatane:
For us it was a visit to the Irish pub to watch a rugby game on the telly. The Maori All Blacks v Fiji, as it happened. We left at half time as NZ was playing so badly, only to win by 1 point! (I felt quite sorry for the Fiji team and thought they should have won it).
Where to eat in Whakatane:
Soulsa, Popsies and Roquette came highly recommended by my helpful Twitter friends, but I am about to make a terrible confession…. we stayed in with takeaways and watched the ridiculous Machete Kills on the movie channel!