It's been a year since my cousin an bestie, Kate, visited me in Auckland, so to celebrate the occasion we decided to go somewhere we hadn't been before. Out west.
Auckland's wild west coast is a bit of an undiscovered gem. Well to me at least. It's spacious and rugged. The sand is volcanic black and the Tasman sea washes the dog prints and horse hooves away as surfers armed with their boards make their silent way out to the breaks.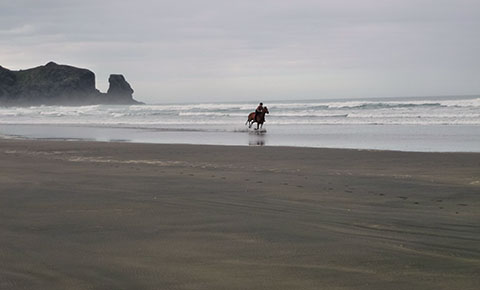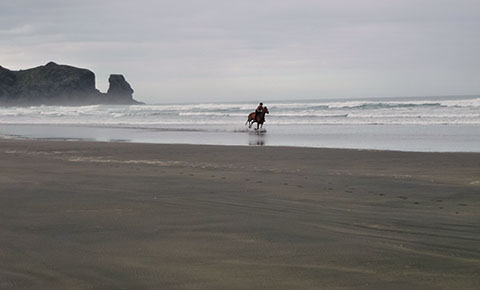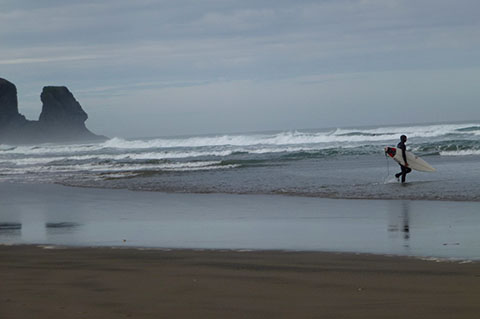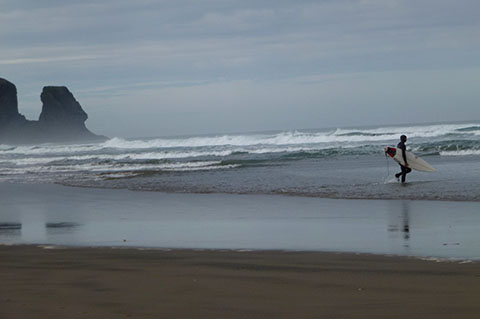 It's September, barely spring and the rain was falling intermittently as we set off towards the view from our window for a walk along the beach as the tuis sang of their love for the kowhai trees.
Where to stay at Bethells Beach
Ara Station stands halfway up the bush-covered hill facing the sea at the end of the silver slither of river that runs past the road below.
I must admit we cheated and took the car as far as we could, but if we'd felt so inclined, or the weather was more reliable, we could have walked across the Lake Wainamu sand dunes draped towards the east and running down to the beach.
It has a rustic farmhouse feel, Ara Station. Named for its position on the Hillary Trail, this is a great spot for walkers and hikers – or those like us who just fancy hunkering down in front of a roaring fire out in the wops. Ara means a traditional Maori pathway and the 'station' denotes the style this timber house is built to replicate: an old railway station.
If you have the run of the place, there is one huge master bedroom upstairs with a bathroom and large living/dining room with a balcony edged in party lights to signify a good night. Or when the owner is in residence (she was in Spain when we stayed, as you do!) you can take the ground floor and she'll provide breakfast.
Downstairs there are 3 double rooms and another bathroom. About $400-$450 a night gets you the whole place.
Tip: You can't buy wine from supermarkets out west, so a separate stop at a bottle store is required. Or do what we did and stock up with happy hour nibbles, dinner ingredients and wine before you hit the motorway.
I reckon this would be a great place for a group of friends who want a week far from the madding crowd, and in summer the burger caravan is open at the bottom of the road which sounds like such fun!
_____________________________________