The Ritz Carlton here in South Beach Miami has a Tanning Butler. Yes indeedy.
Two lads of striking good looks who do modelling on the side and spend their Fri/Sat/Sun rubbing sun screen on those hard-to-reach places.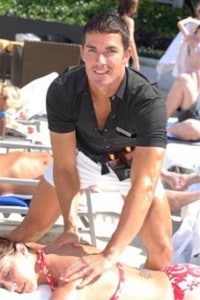 The concept was dreamed up Michelle Payer at Ritz Carlton who now calls the hot 30-year old Malcolm Vincent and the Brad Pitt-like 29 year old Ben Becker her "babies". Well actually she calls the concept her baby, but this is my blog. So these trademarked "Butlers" patrol the pool deck and beach wearing tool belts bulging with bottles of Hampton Sun lotion ranging from SPF 2 to 30 around their tightly clad waists and apparently give a "nice little massage" of the back and shoulders.
The service is complementary. Staying at the Ritz isn't. I think they call it "value add". Indeed.