This was one of my biggest highlights of the two week tour of China that I just led: visiting the Chengdu giant panda base.
But I was pleasantly surprised to find there are a lot more things to do in Chengdu after you've seen these cute, cuddly bears.
Read on and check out my photos below of the quirky things that happen in People's Park and the incredible Changing Faces show we went to. I reckon you'd want to stay about two nights in Chengdu.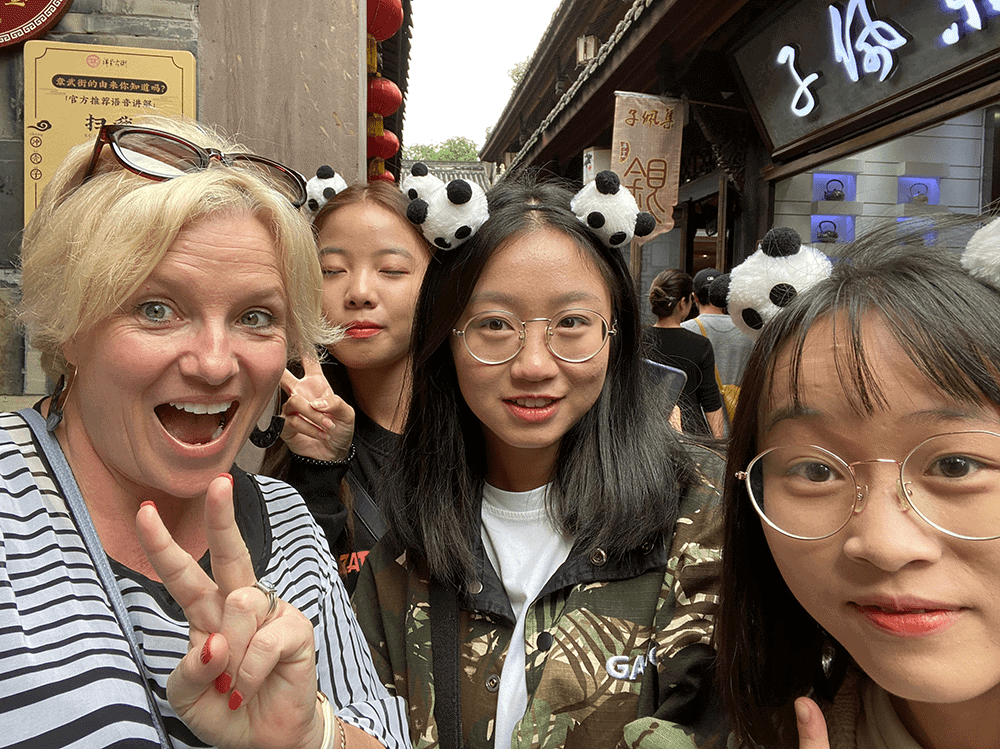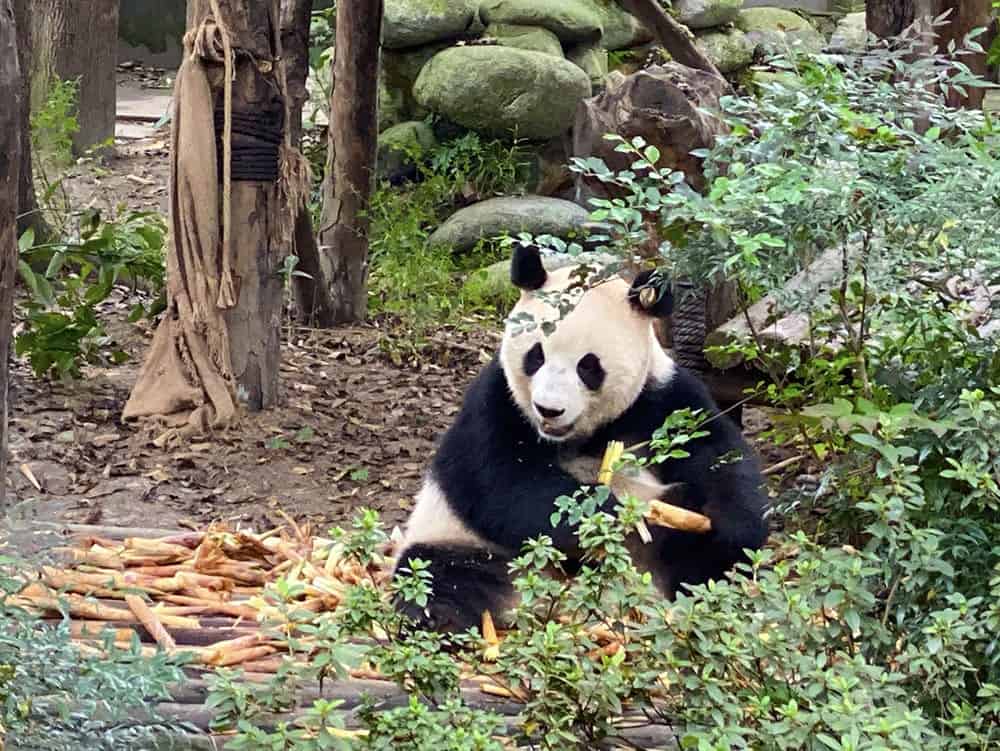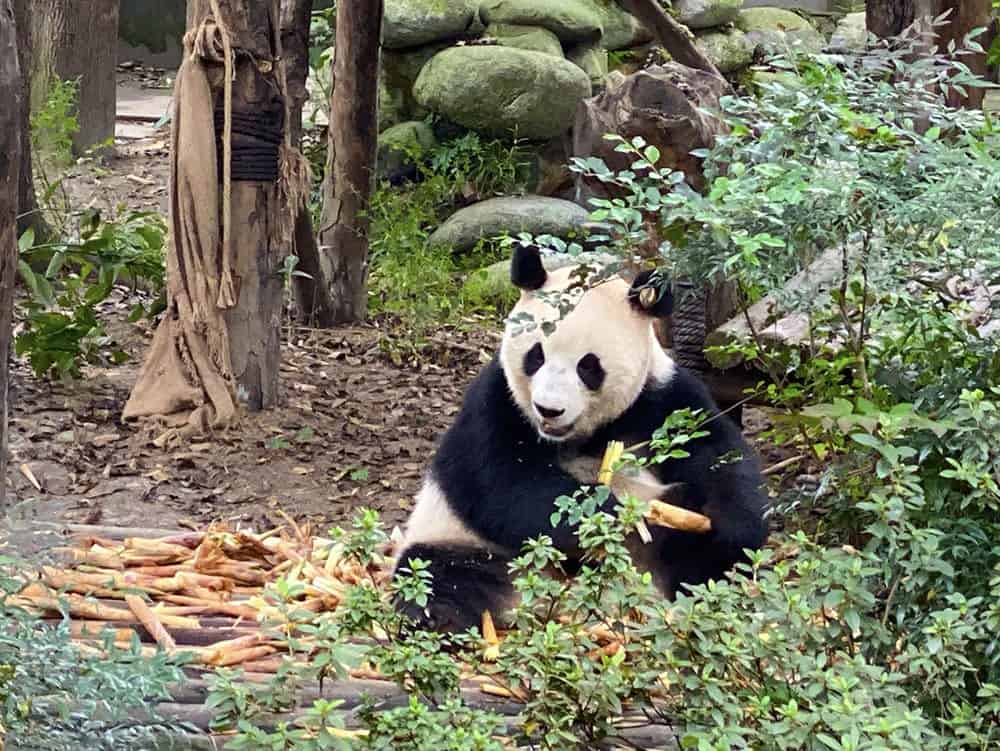 But seeing the beautiful giant panda is what most people travel to Chengdu for.
One of my first questions I has was, can I hold the panda? I guess I'd seen so many pics of people in there with them I thought, I want to hold a panda!
The short answer is no you can't, but the long answer is yes you can if you join the one day panda keeper program at Dujiangyan. You will clean out their houses (of dung and bamboo!), feed them and get a chance for a hug and a selfie.
They just seem so CUTE. They're probably not cute in the wild, in fact they are definitely not cute in the wild. In their natural habitat they live alone and are very territorial so they fight a lot. They like a lot of space and because of that they are on the brink of extinction thanks to urban sprawl and loss of habitat.
These pandas here in Chengdu are not being bred for release. They're being bred to keep the species alive and healthy and this is a research facility. However there is another panda breeding facility north of here where they are being bred for release, albeit with very slow results.
So I put my "hate of animals in captivity" attitude to one side, and understood that the main reason for the Chengdu Research Base of Giant Panda Breeding, a sanctuary and breeding programme, is to save the species.
It opened in 1987 with six giant pandas rescued from the wild. By 2008 it had had 124 panda births and the captive population had grown to 83. In 2019, nine panda cubs were born with 100% survival.
Check out my video highlights of the pandas below!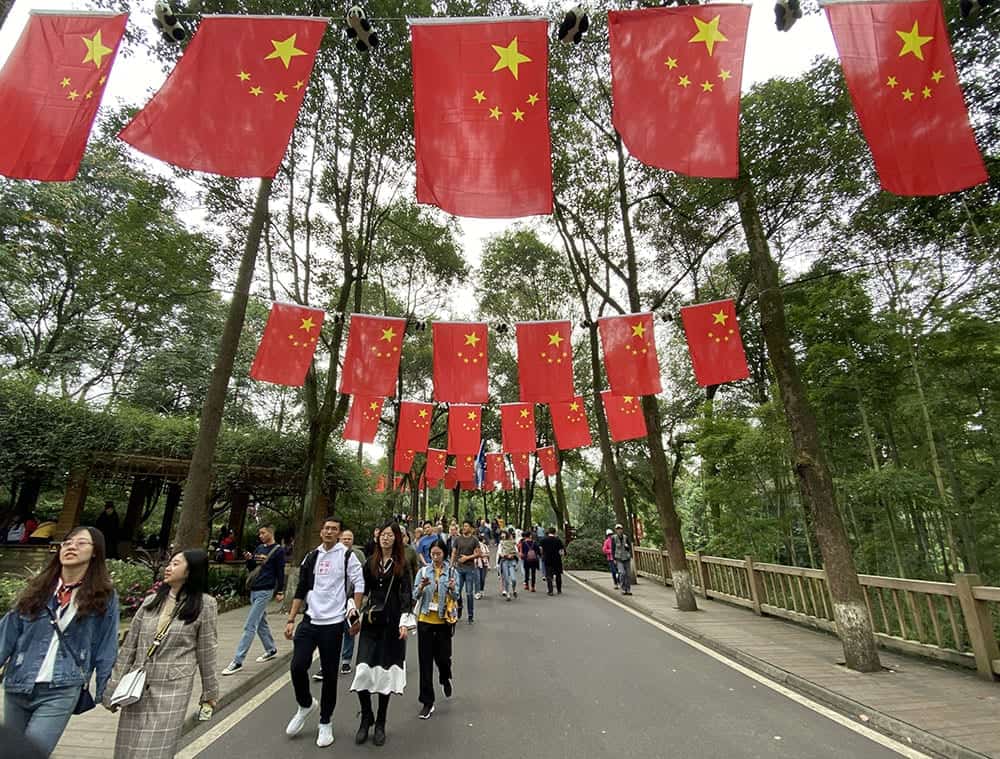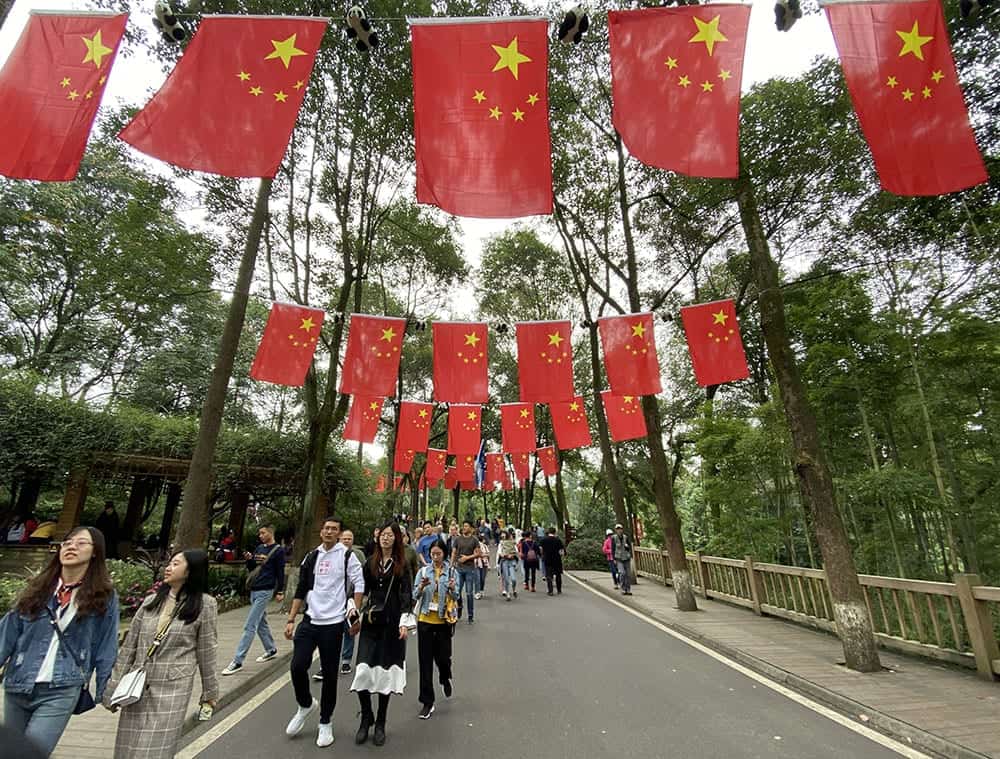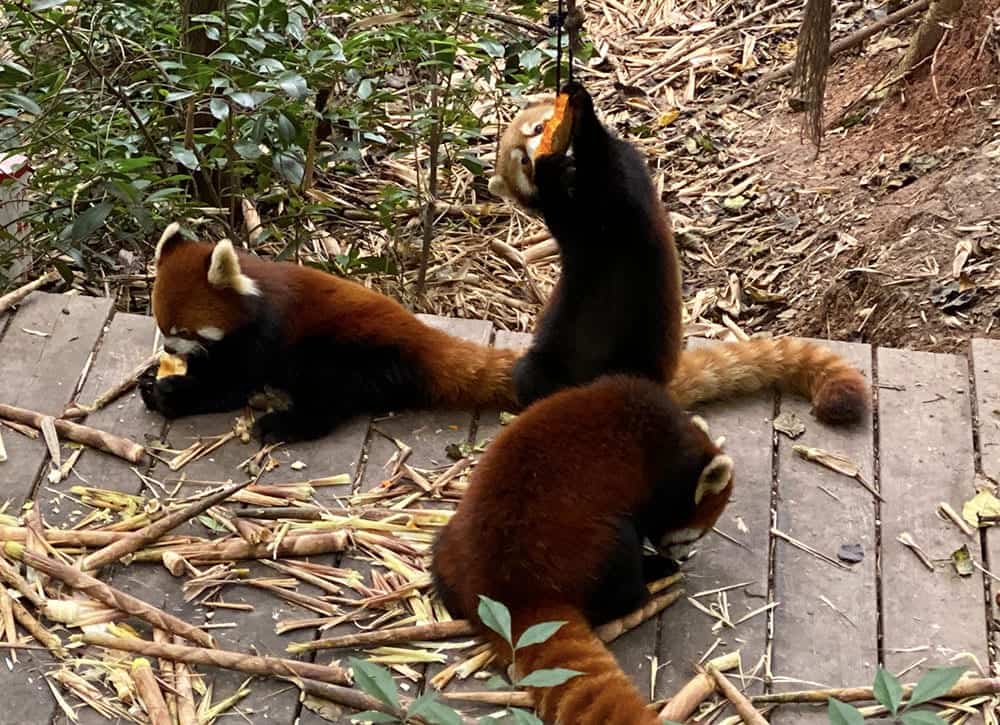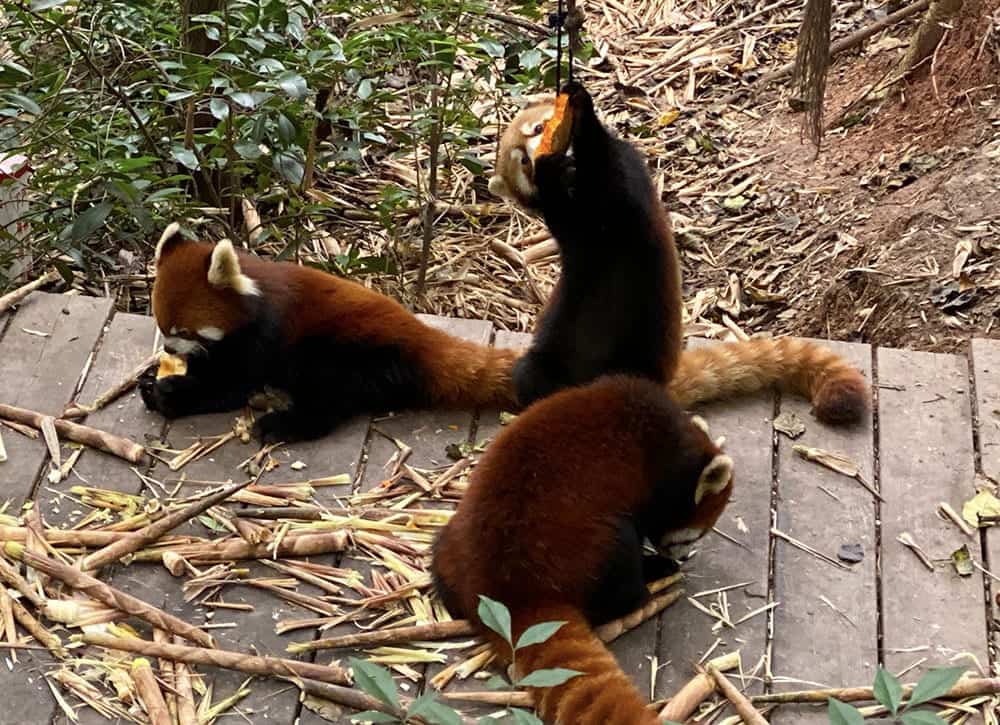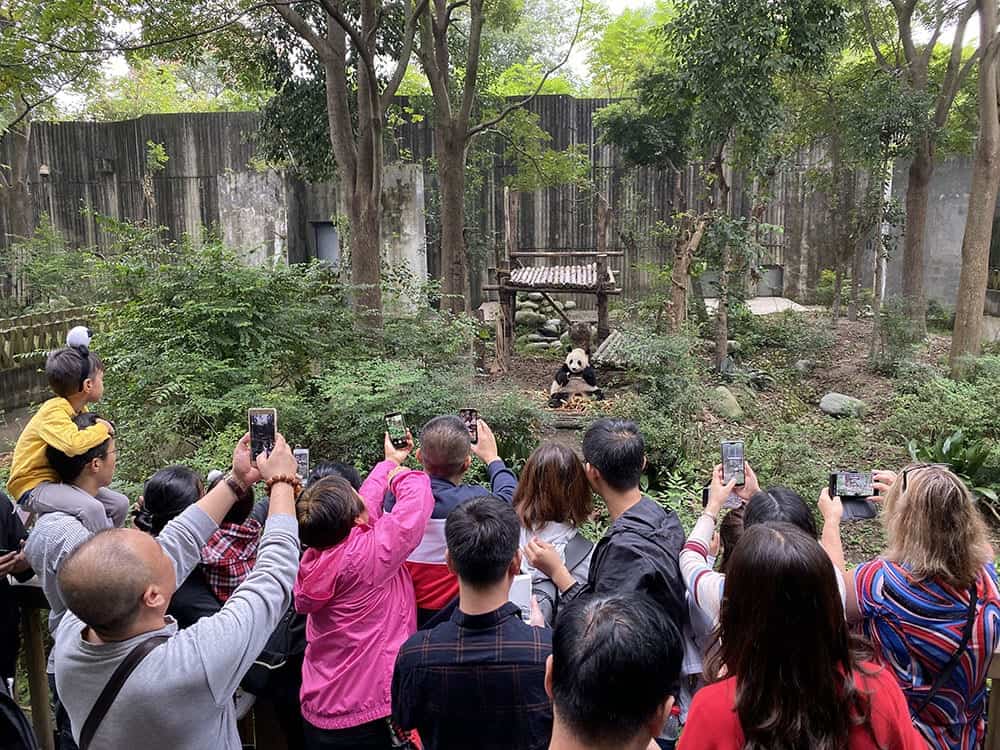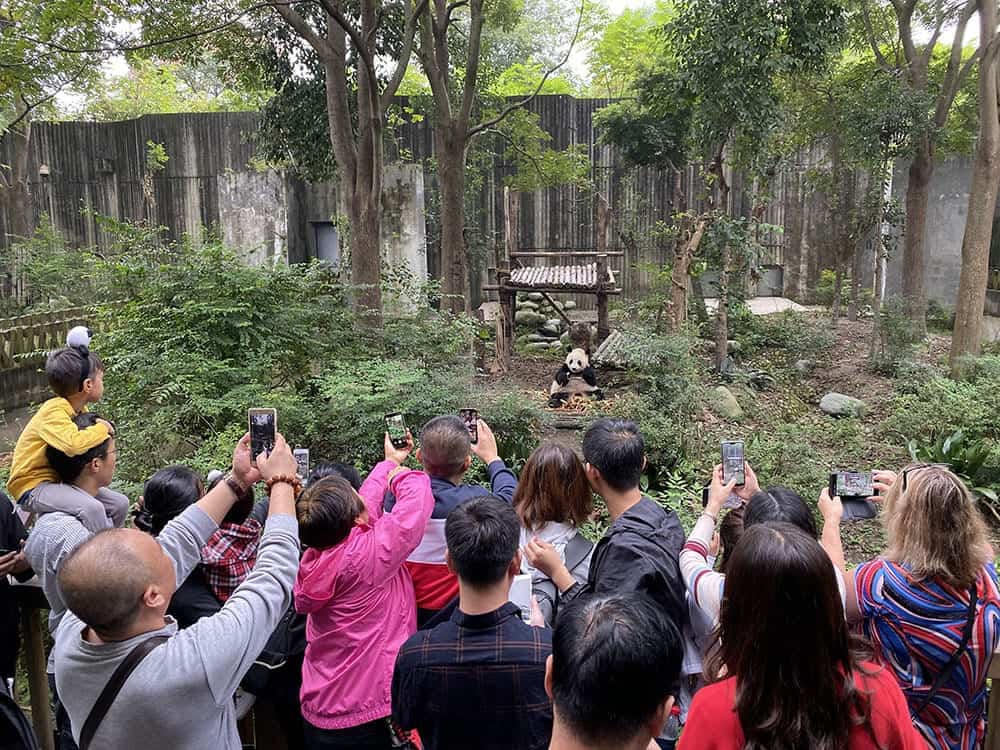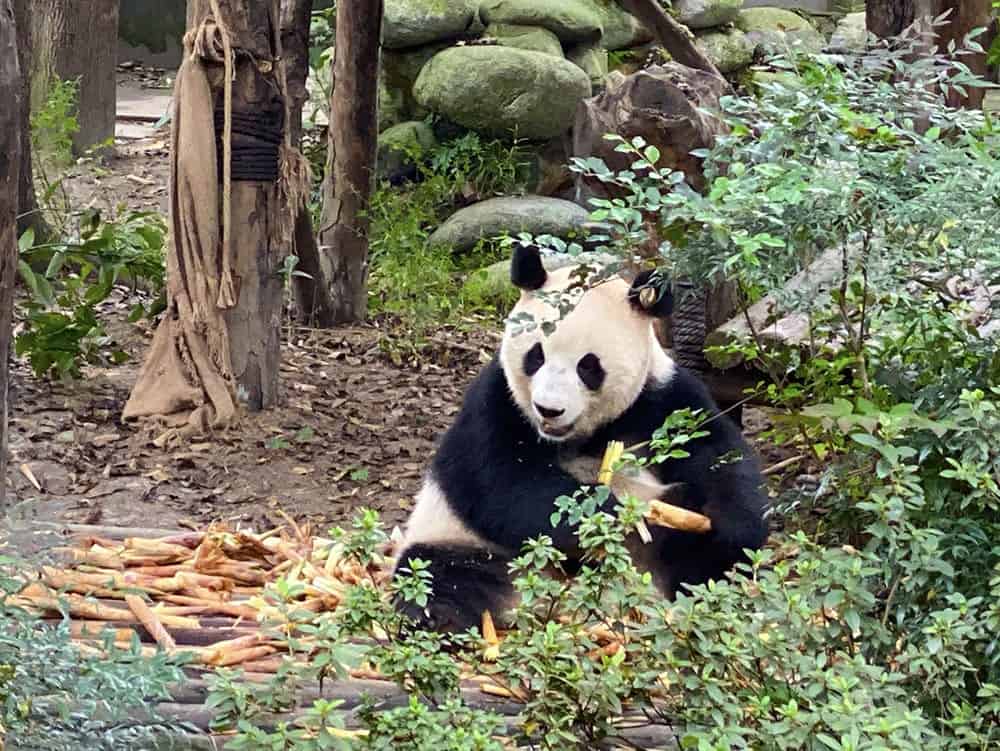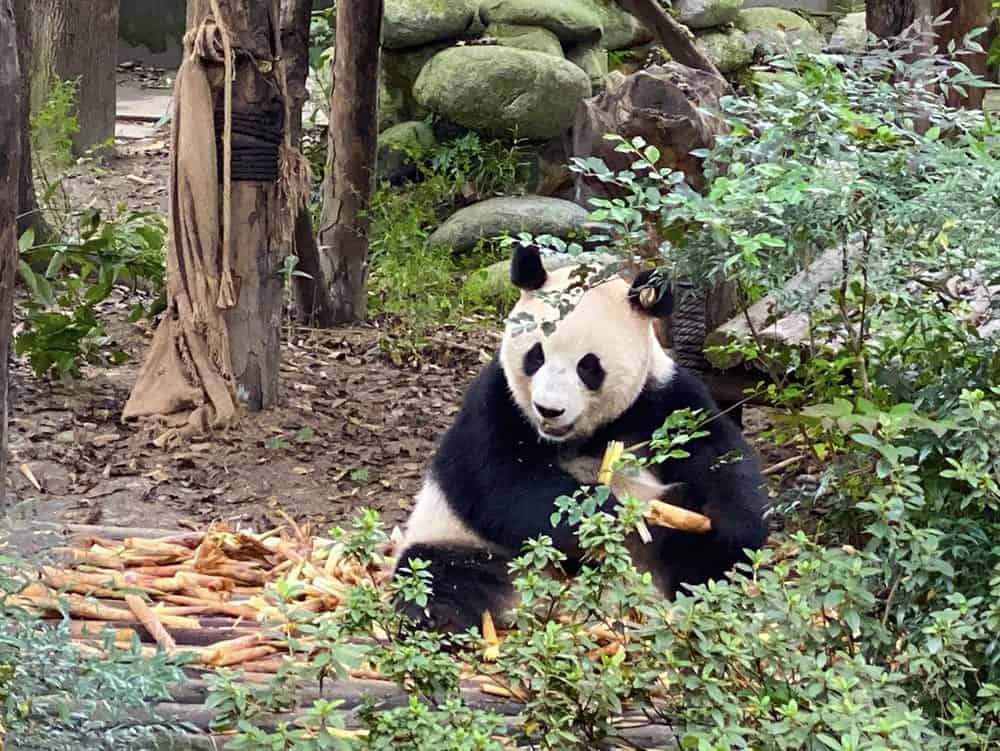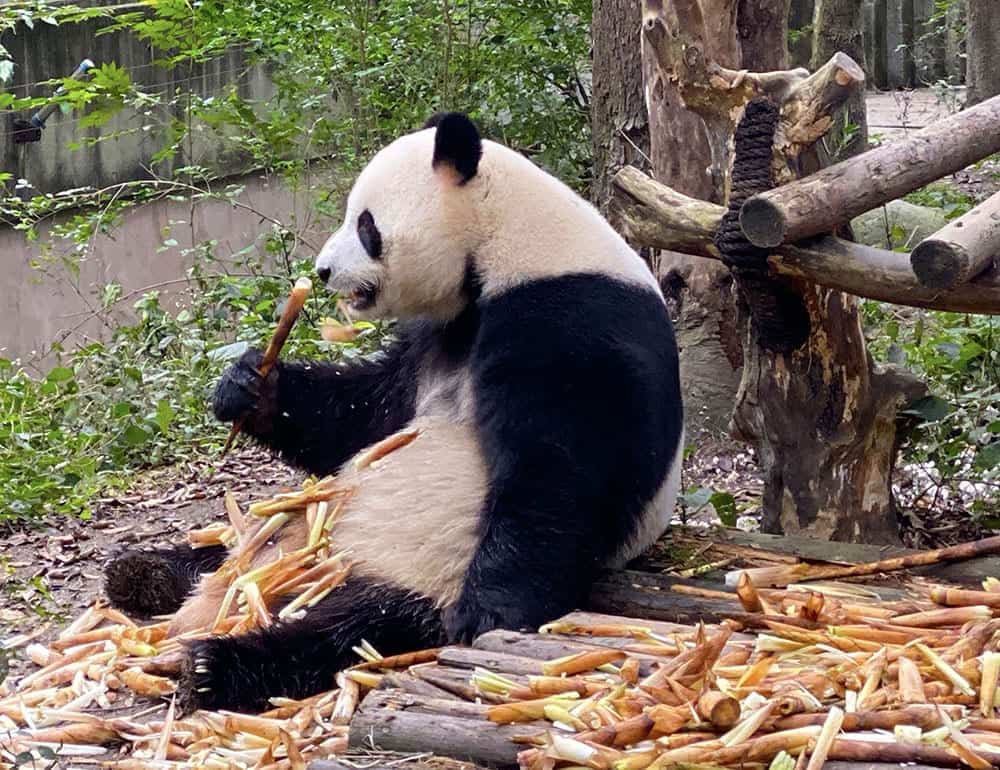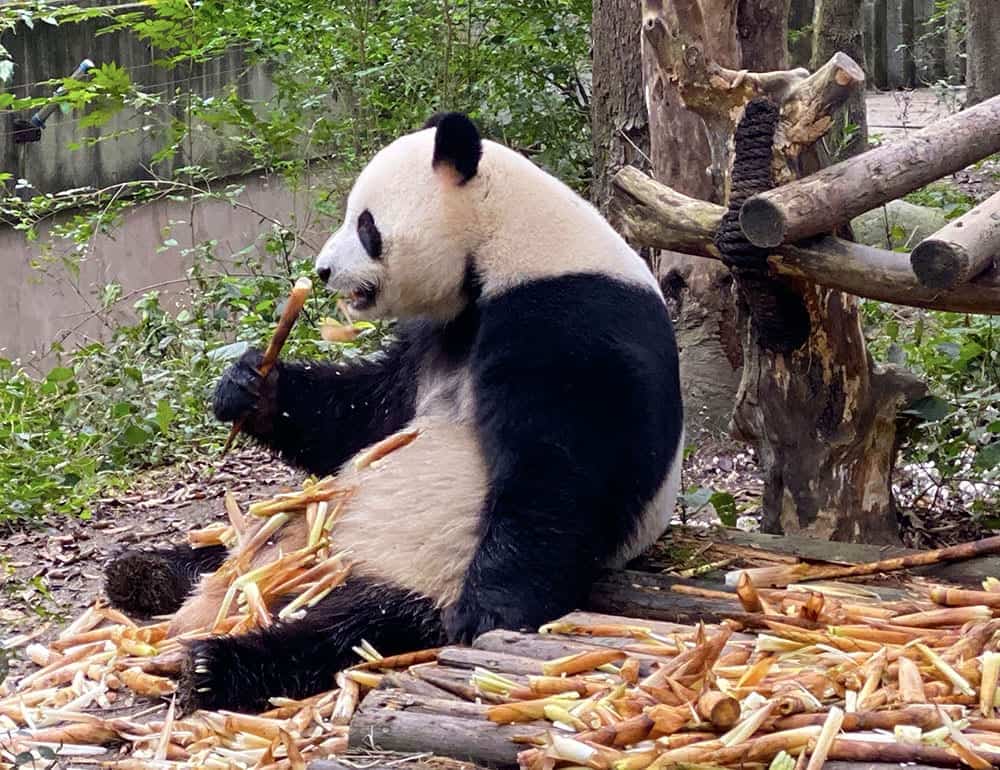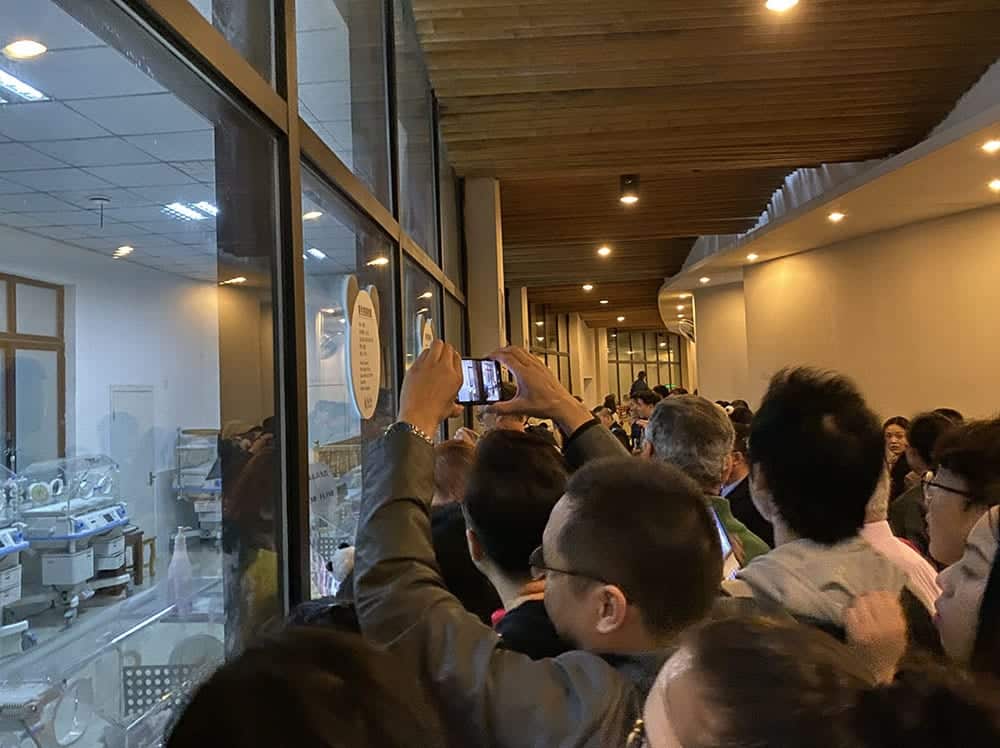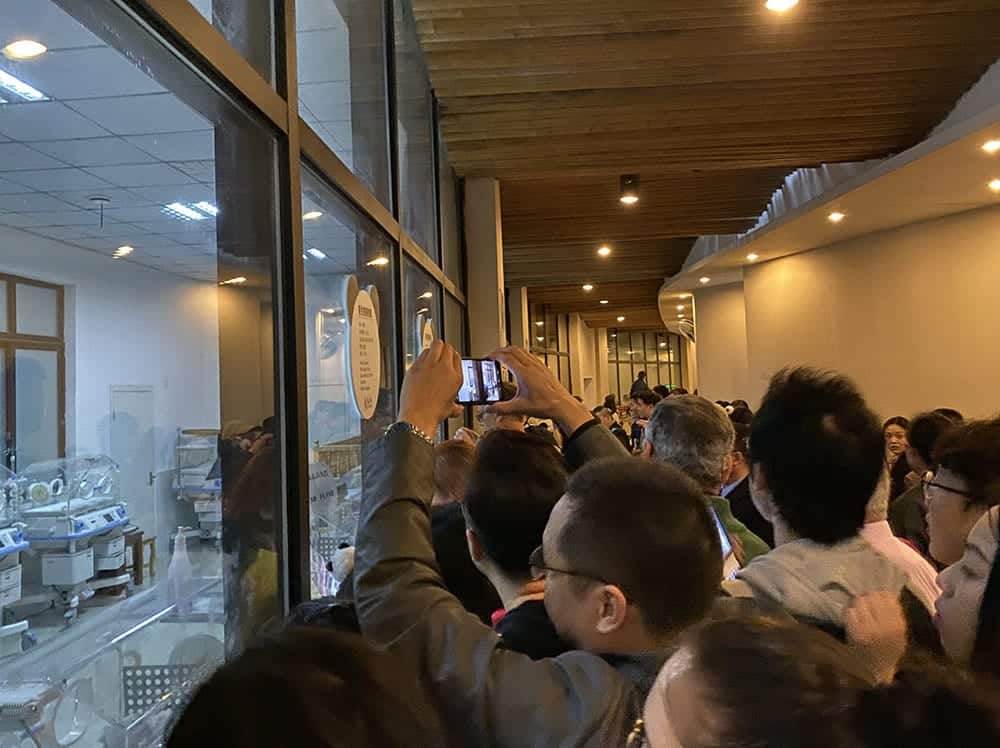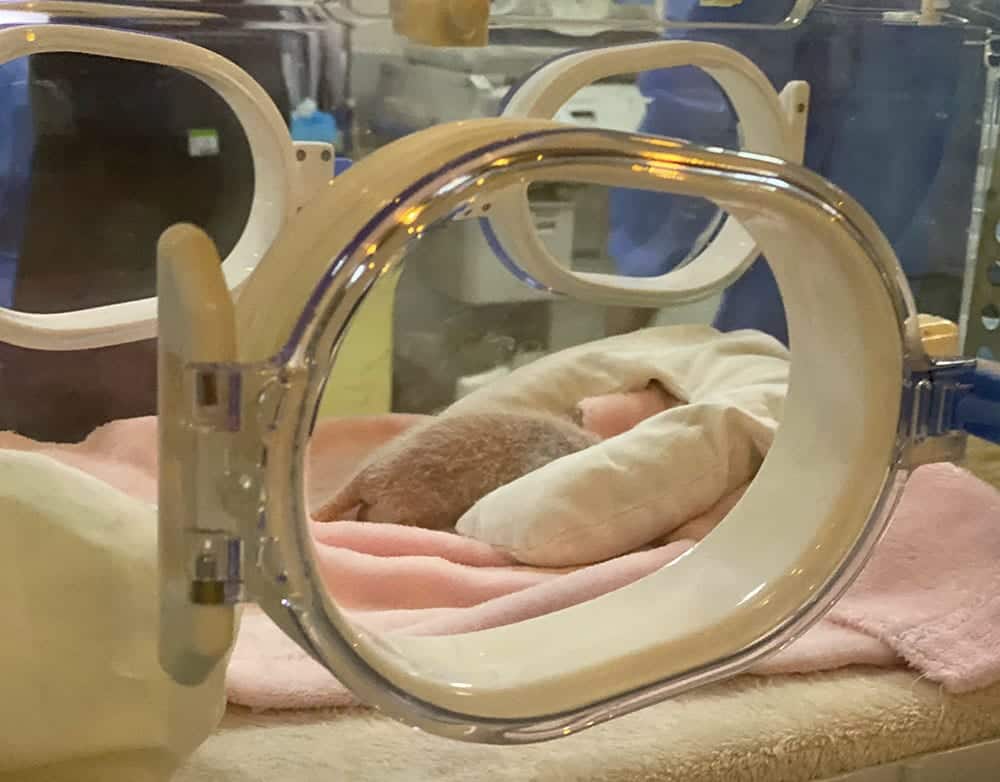 Actually the world's lightest panda weighed just 42.8 grams at birth and the world's heaviest was born in 2019 weighing 200 gm.
In 2018, they had 18 panda cubs born here. The conservation efforts have taken about 30 years as researchers have tried, and some would say succeeded, to manage the giant panda breeding problems.
But the reason I say these ones will never be released is because of the ways researchers try and encourage them to interact and to remain active. They do things like hide biscuits in hard to reach places and put out frozen fruit so the pandas have to handle them to thaw them. Like that's REALLY similar to real panda life!
But on the other hand, about 50% of panda births are twins, but the mother only looks after one. Here they swap the cubs in and out so mama will care for them both.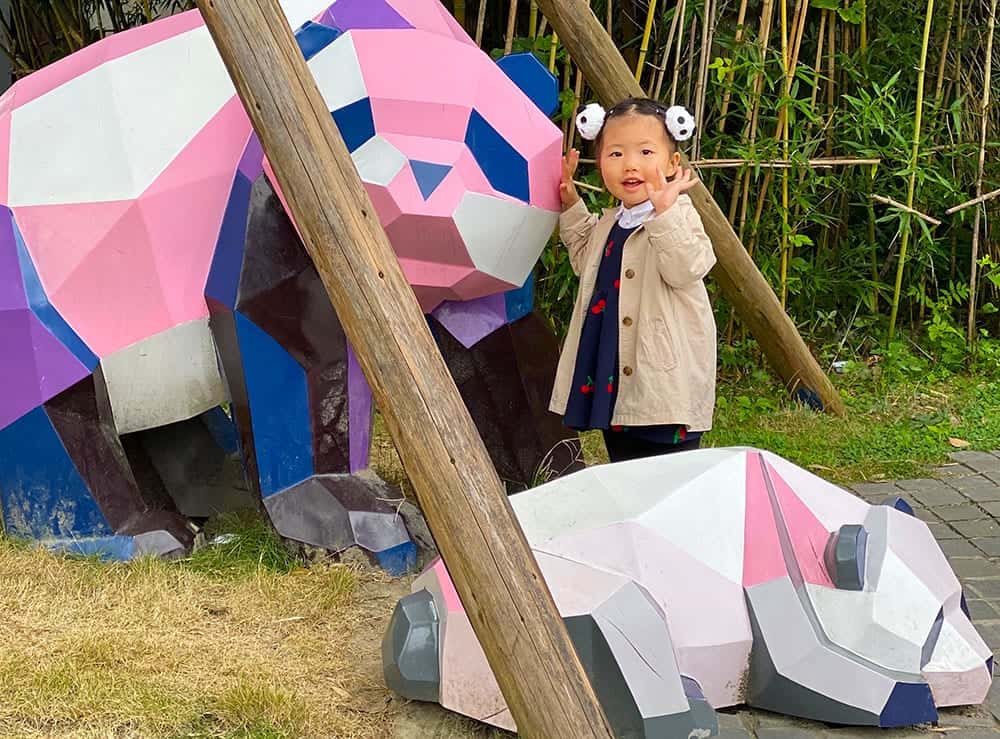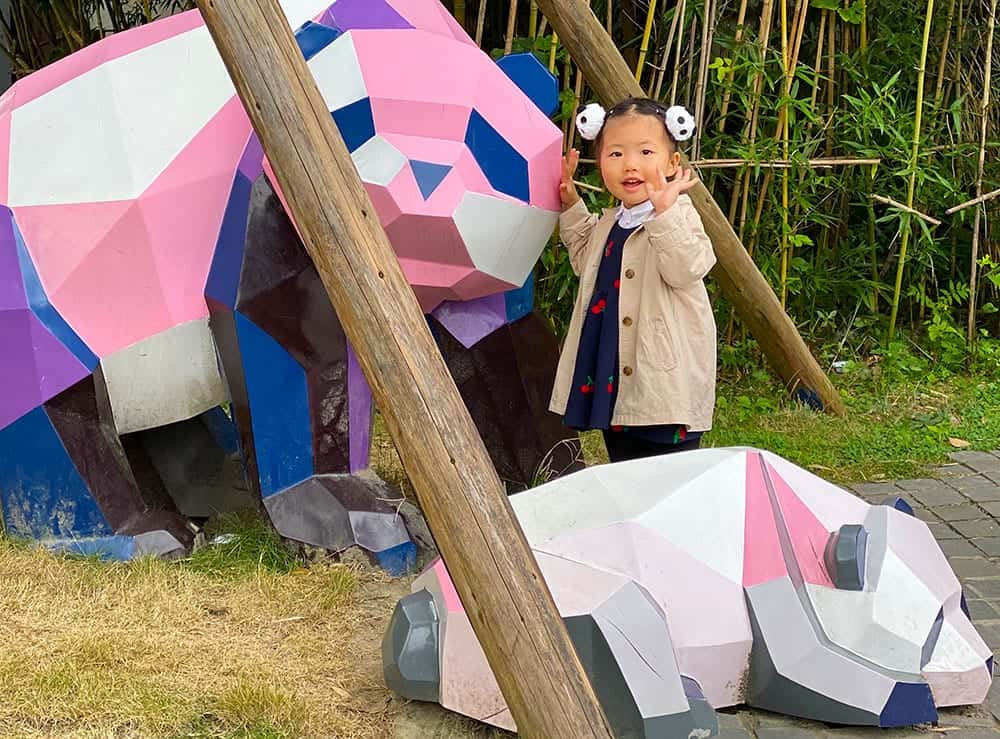 Next we headed to Jinli Street
This is an ancient street filled with vendors selling weird food and souvenirs – and calligraphy pens made from real horse hair!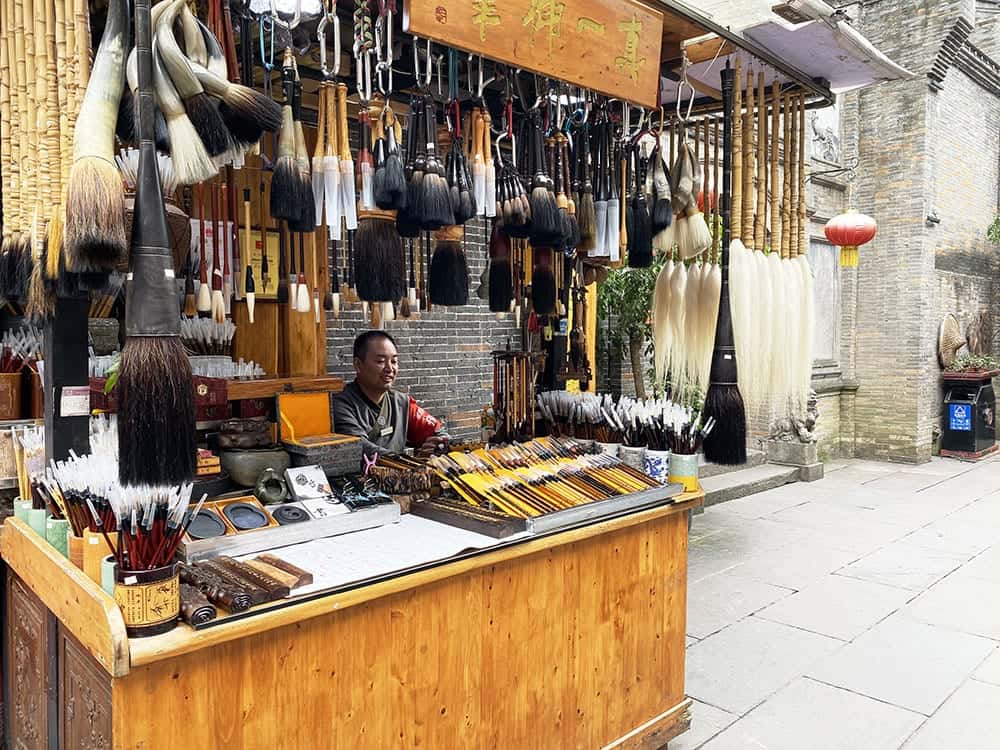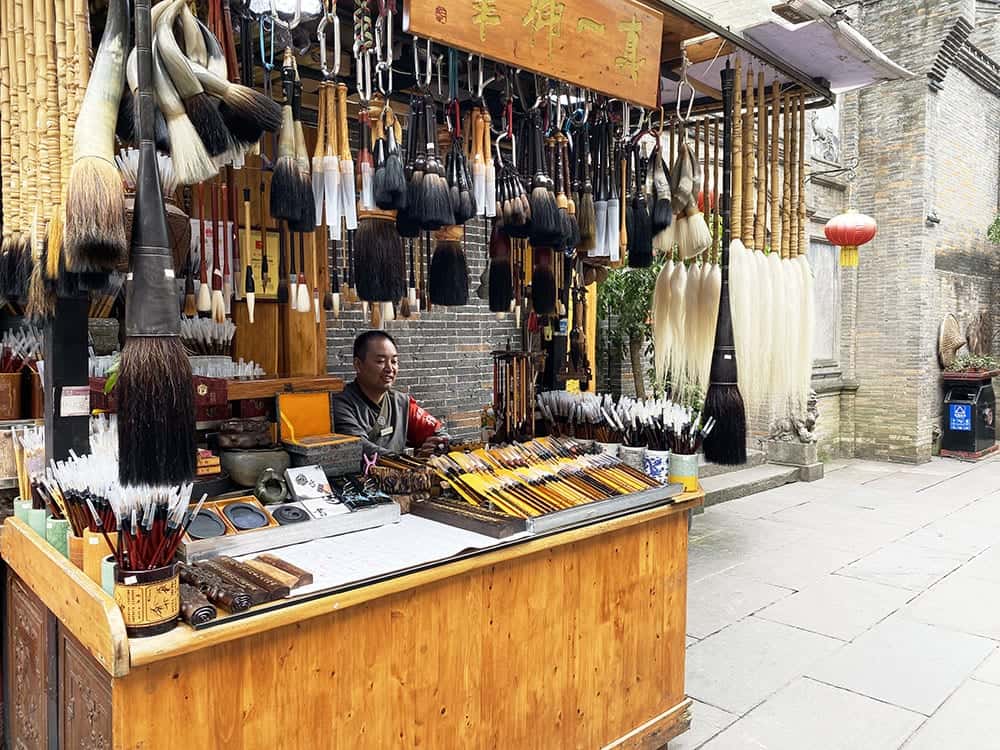 Next stop was a visit to the People's Park
What an amazing place! A huge lake sits in the middle where families rowed on boats and people did exercises, danced together, watched a performance, ate and drank tea and even had their ears cleaned. I know, ew!!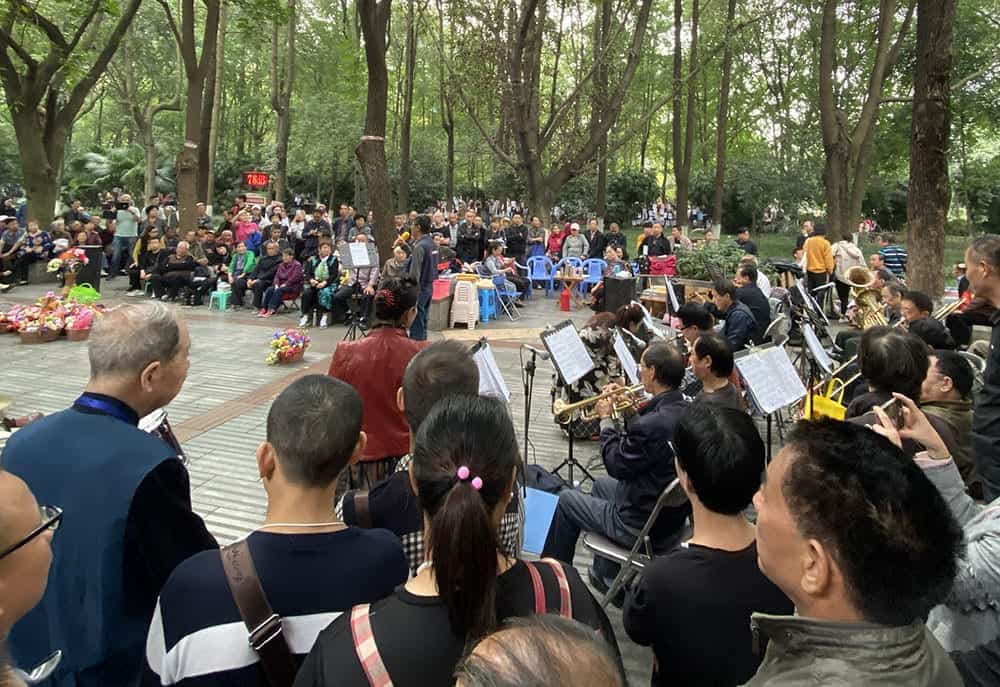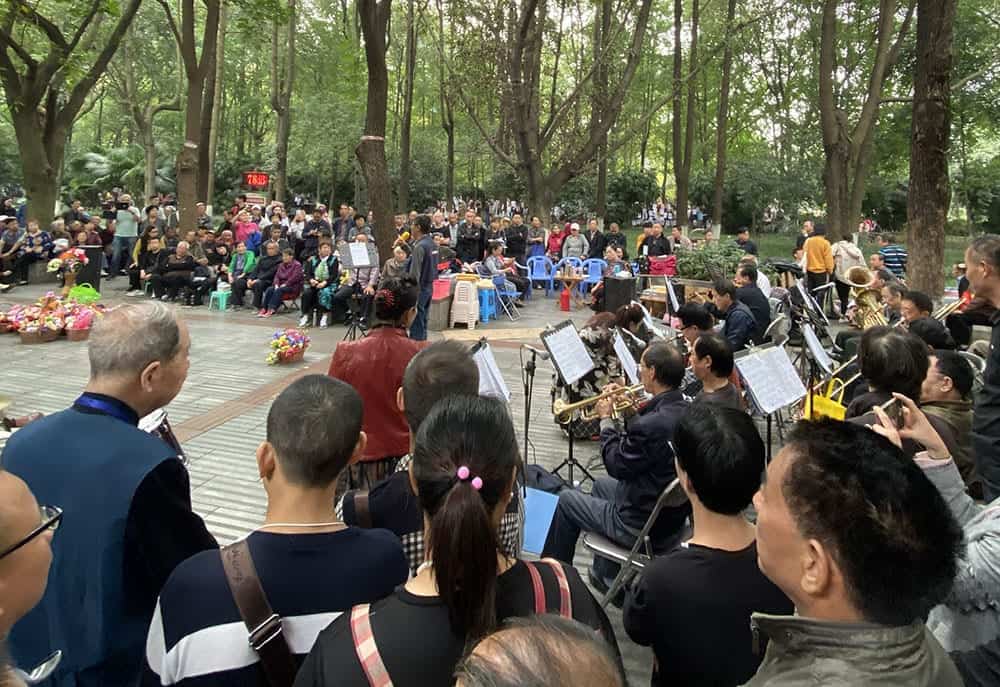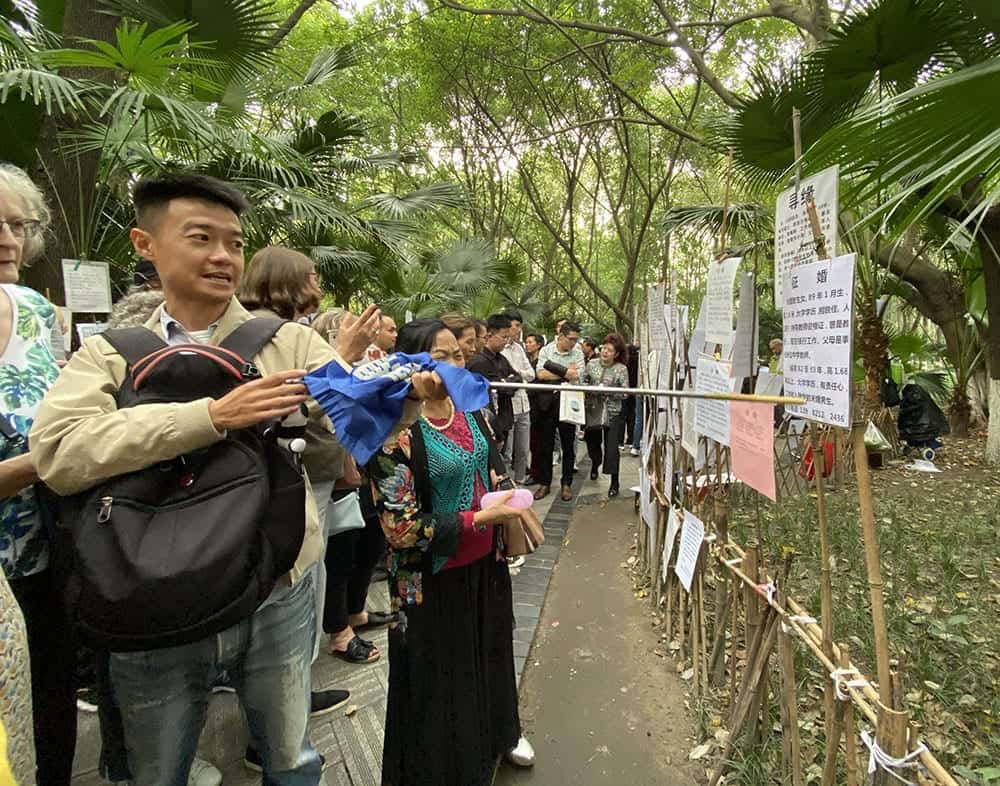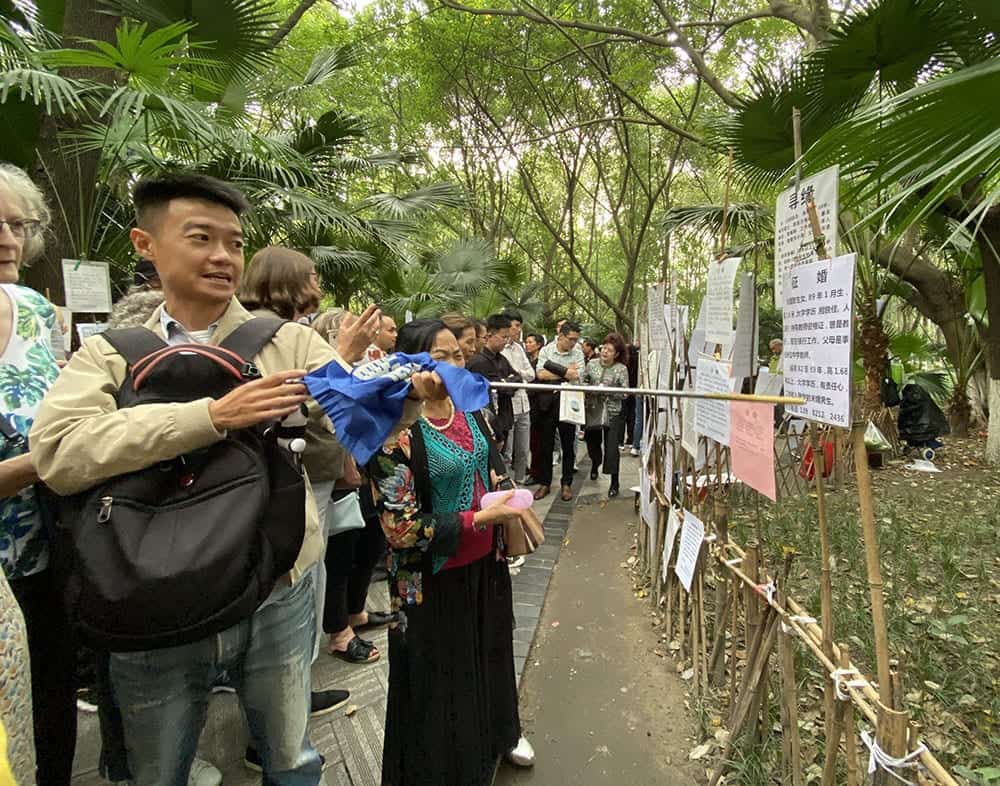 This was a fascinating walk along match making strip! The posters you see are dating profiles put up by the parents of the potential mate. Our guide is reading the profile to us. Most were born in the 1980s and 1990s and it's typical that the kids would not even know their parents were doing this!
It's pre-internet dating! If someone does have a kid who could be a match, they make contact via the phone number on the profile and then the parents hatch a ruse to get their kids to meet, and never confess to having advertised them. LOL!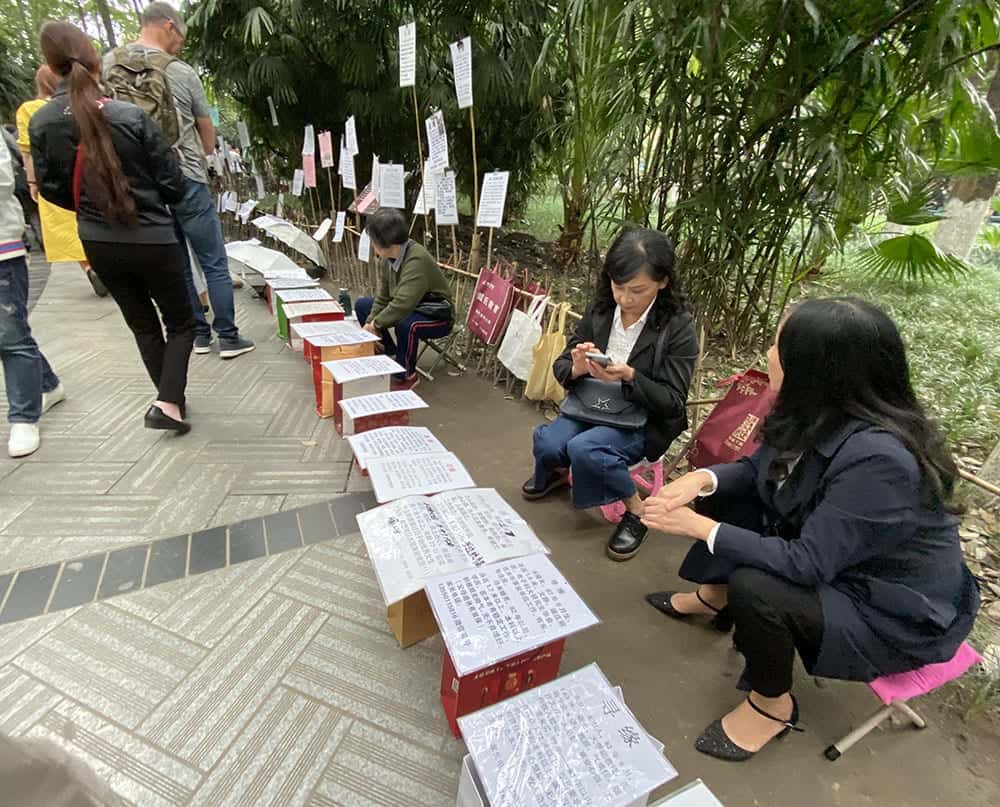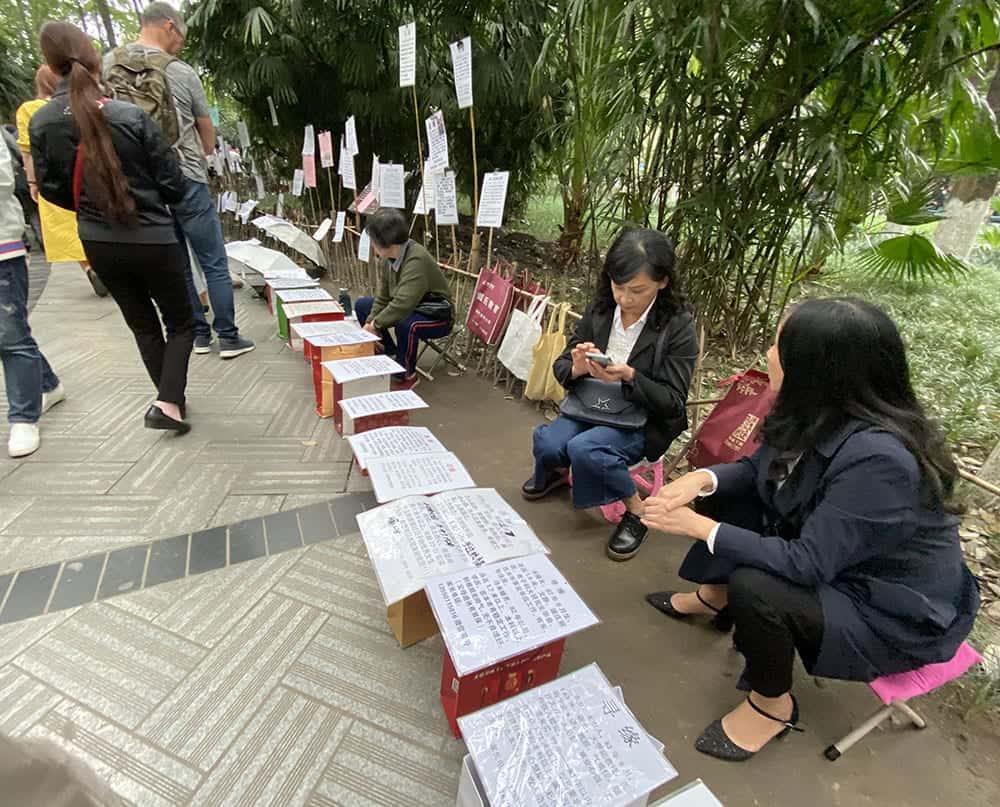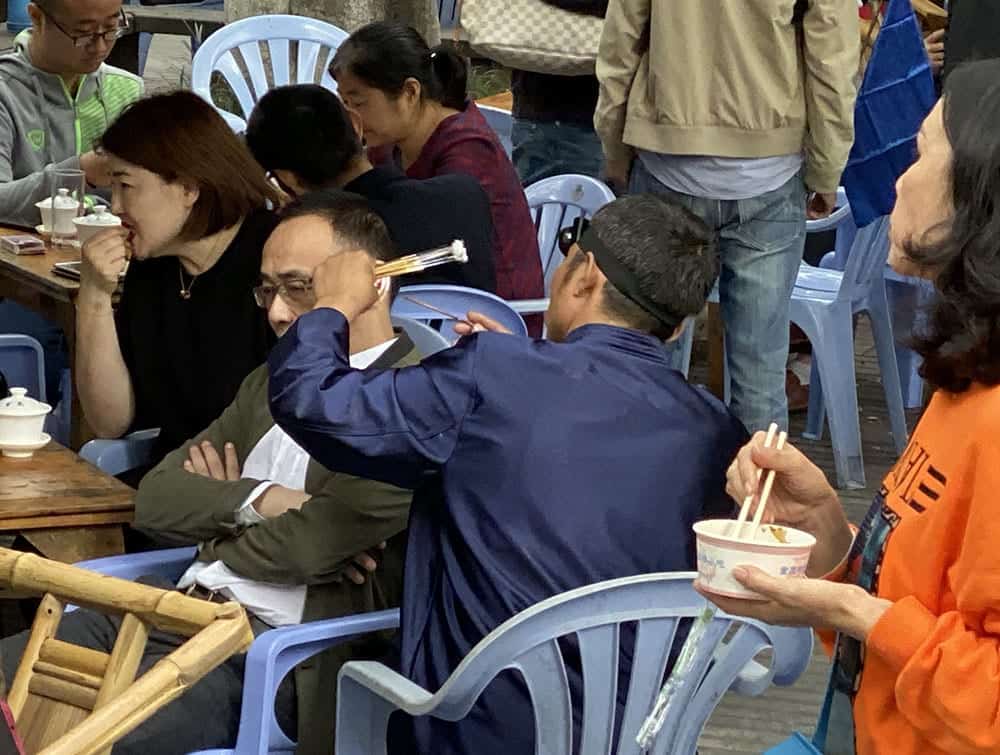 Tonight is the Sichuan Opera at Jinjiang Theatre in Chengdu!
We had the opportunity to see the amazing Chinese Changing Faces at this show where we drank tea (and may have smuggled in our own gin and tonic in water bottles!)
Before the face changing finale, we were thoroughly entertained by the incredible costumed and face painted actors and performers. Dancers, singers, a hand puppet with wires and a very clever hand shadow show. I am going to try some of her moves on my bedroom ceiling!
Watch closely at the incredible mask changing performance in the video below. Actors study for years to perfect this art, unique to Sichuan opera, which is considered a national treasure. It is said only 200 people know how to do it, the quick mask change of up to 10 times in 20 seconds all done behind the wave of a hand or part of their clothing.
Here's a glimpse of the show we went to. Try and see how it's done!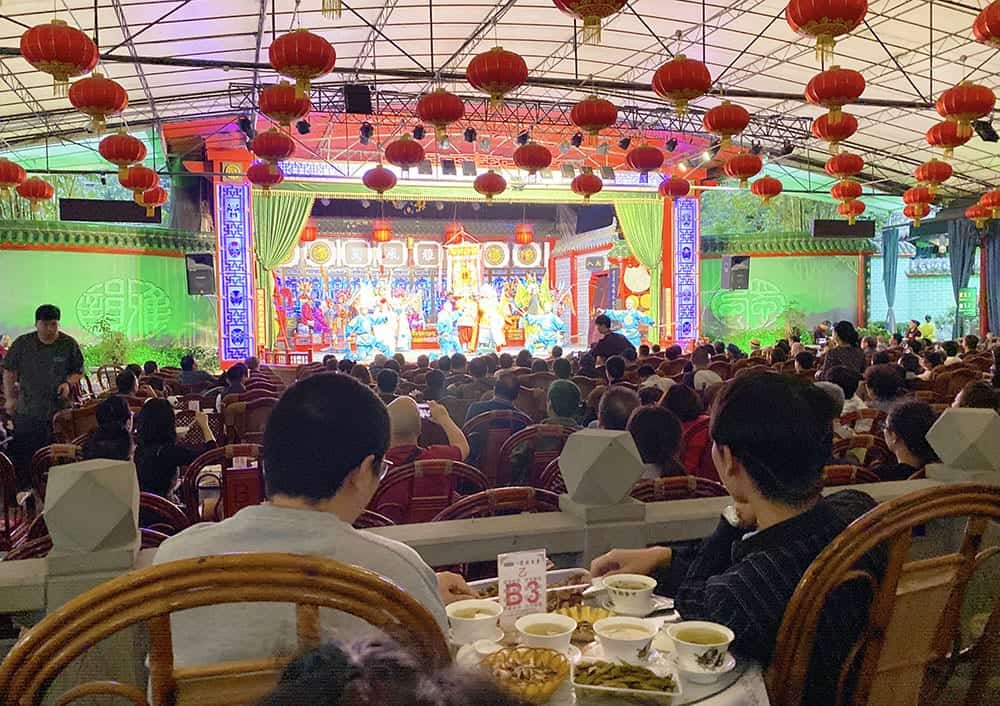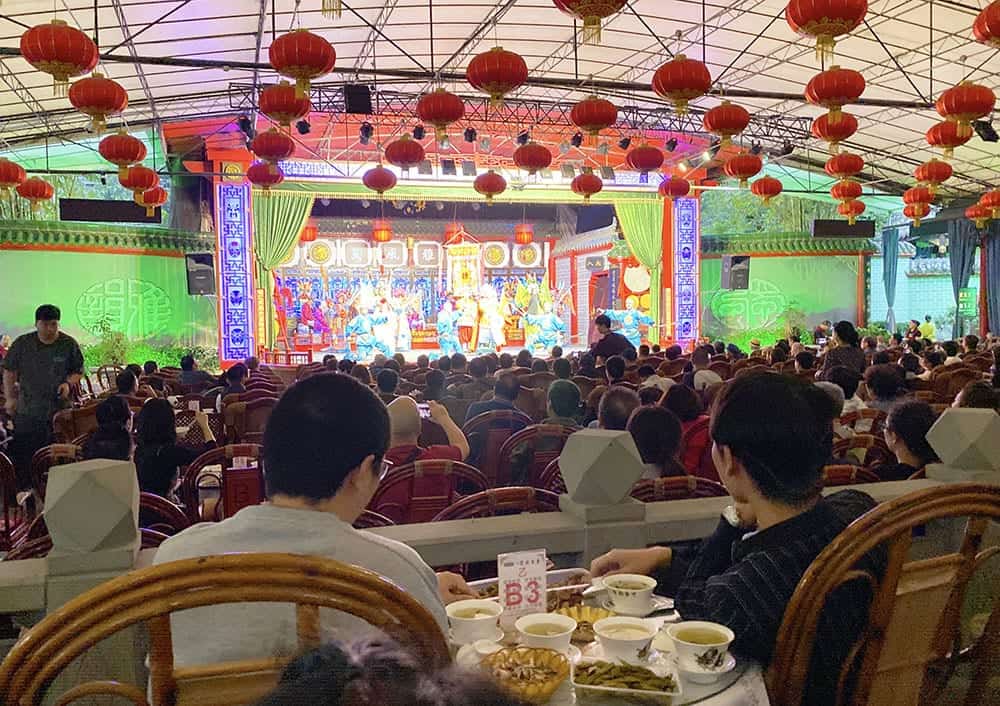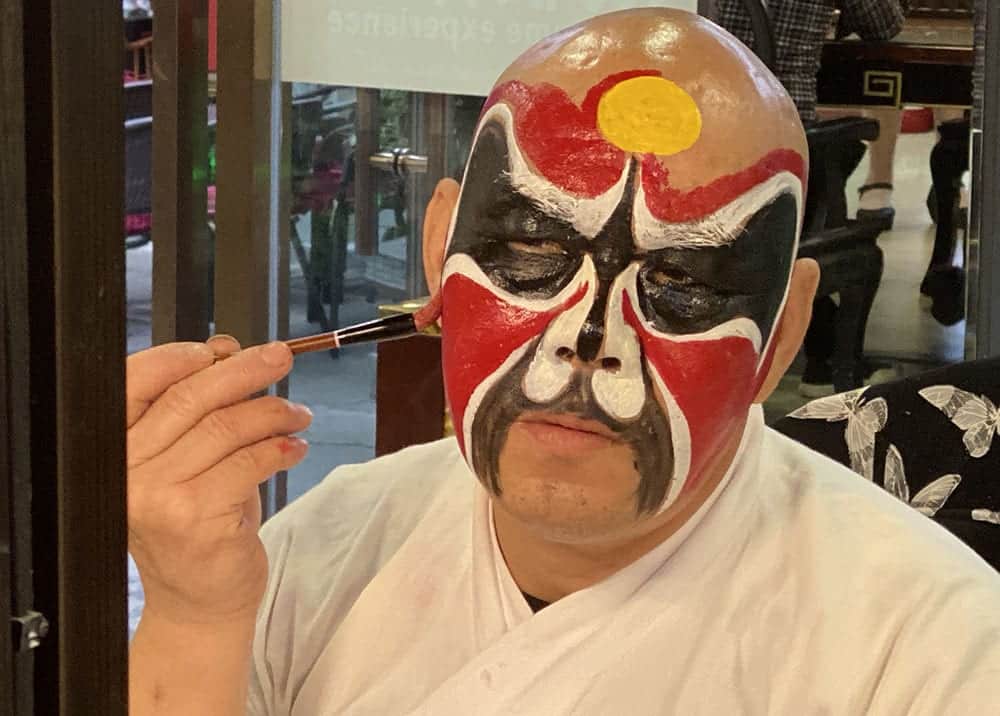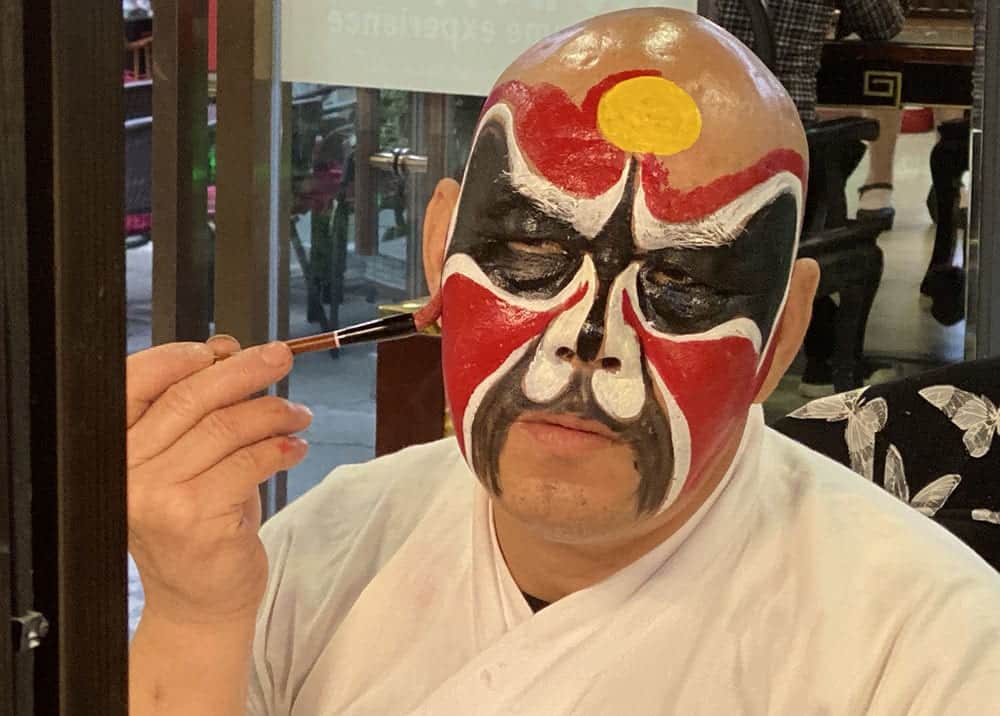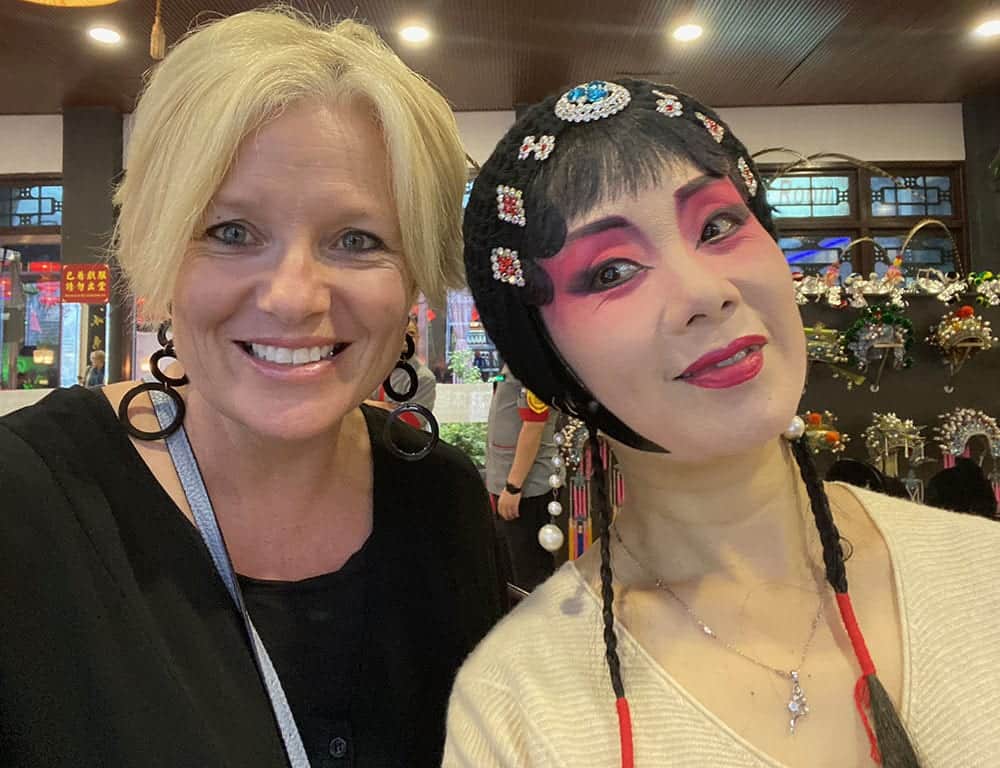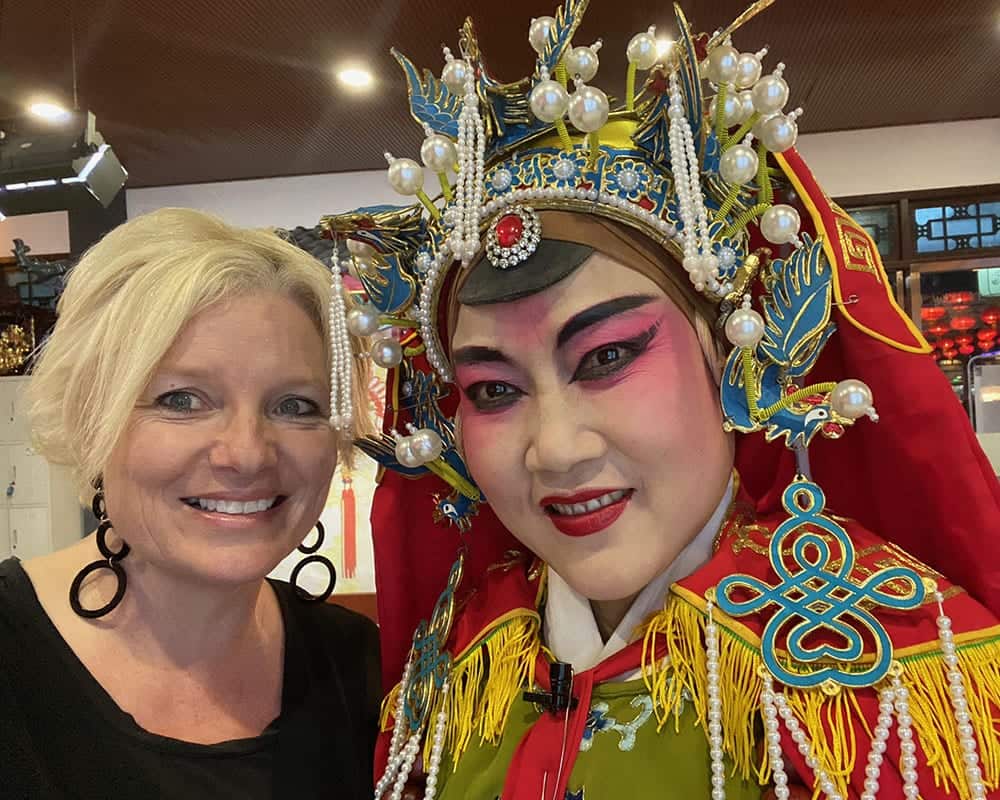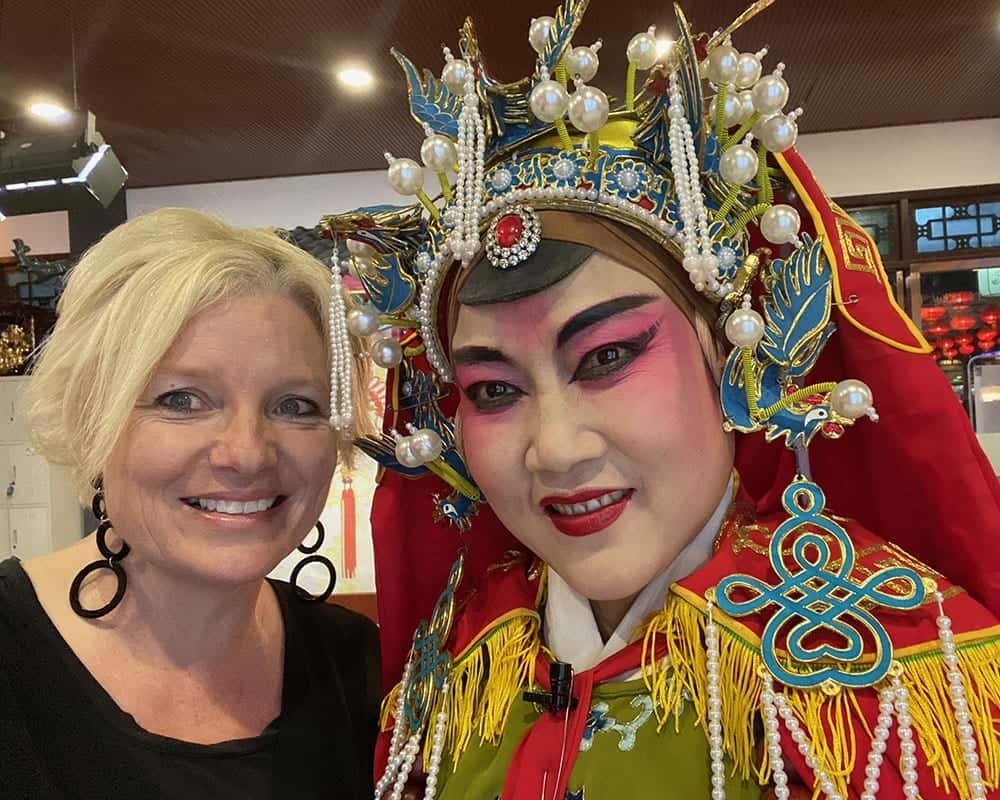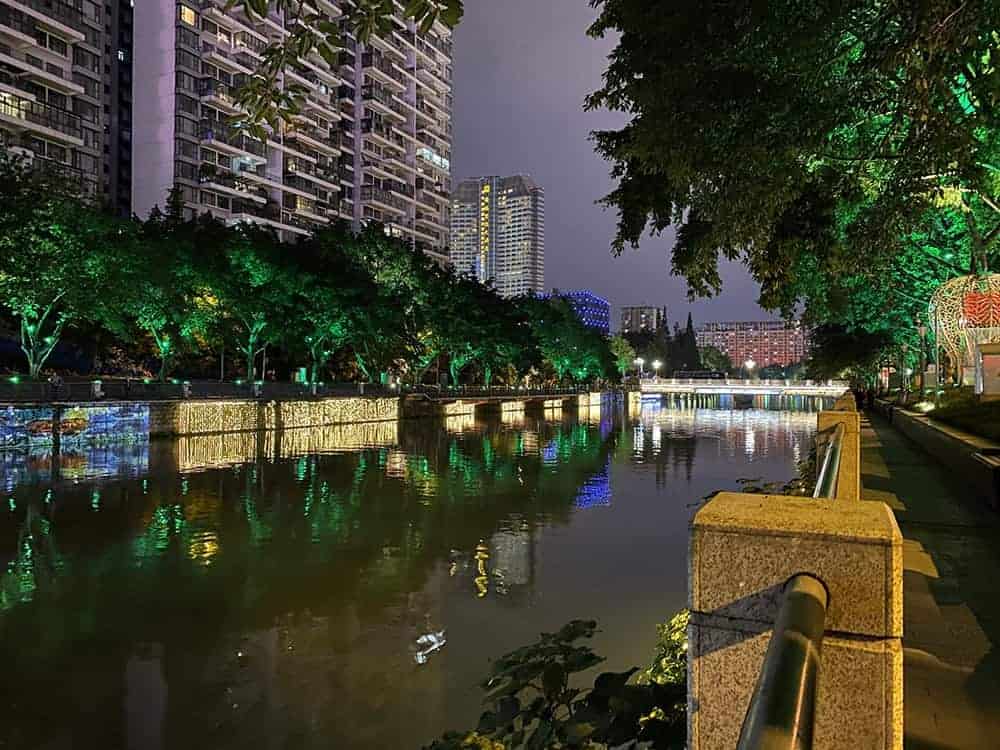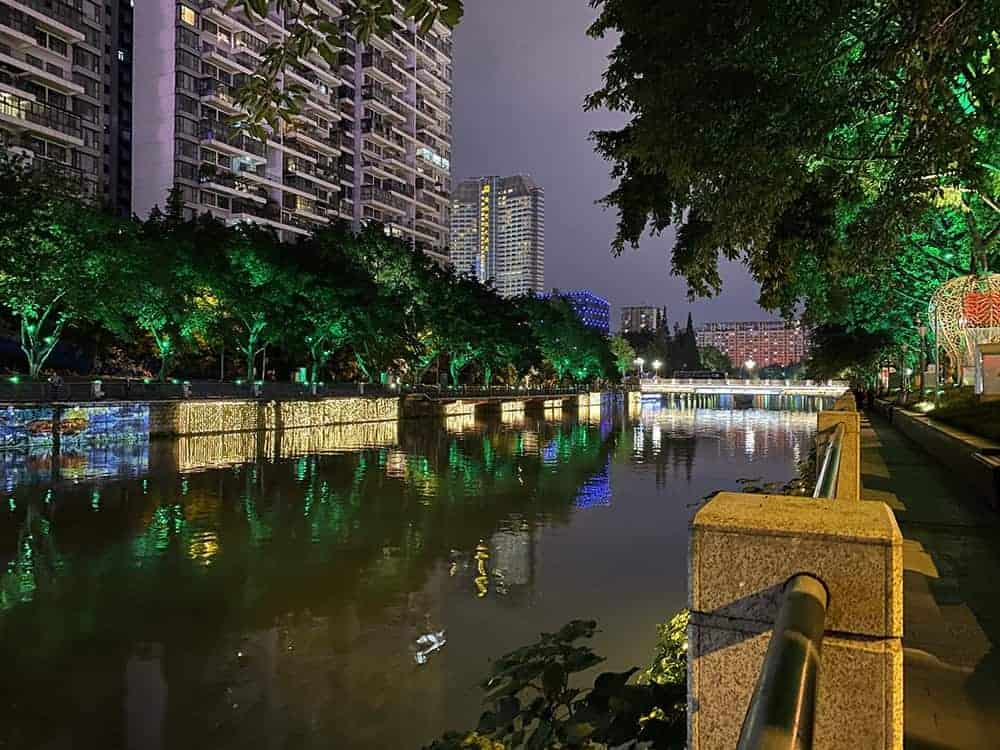 Where to stay in Chengdu
We stayed at the Holiday Inn Oriental Plaza, which is a really lovely hotel with generous sized rooms and a delicious daily buffet breakfast. The first evening we arrived we wandered down here for a stroll along the river. It was a gorgeous, balmy evening and they love their lighting in China I have found!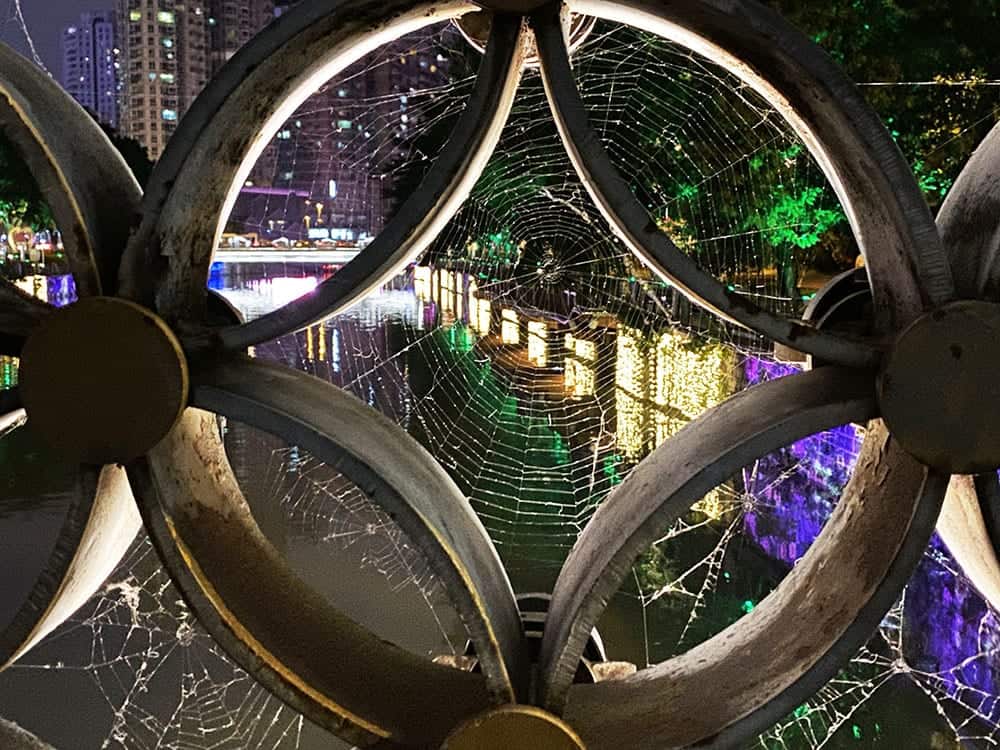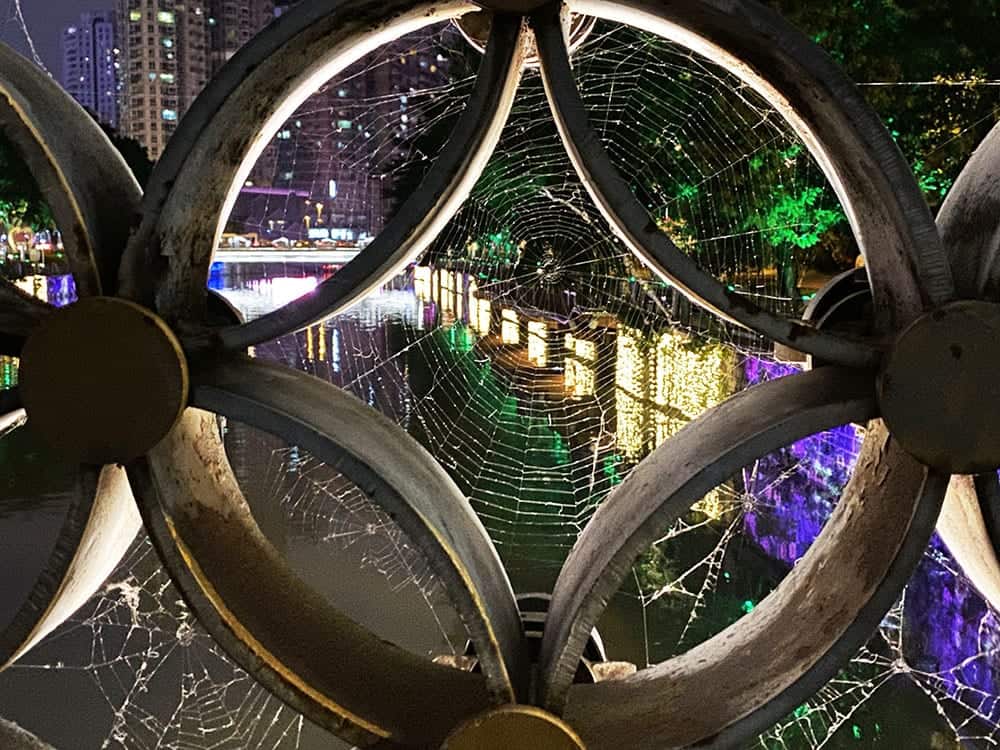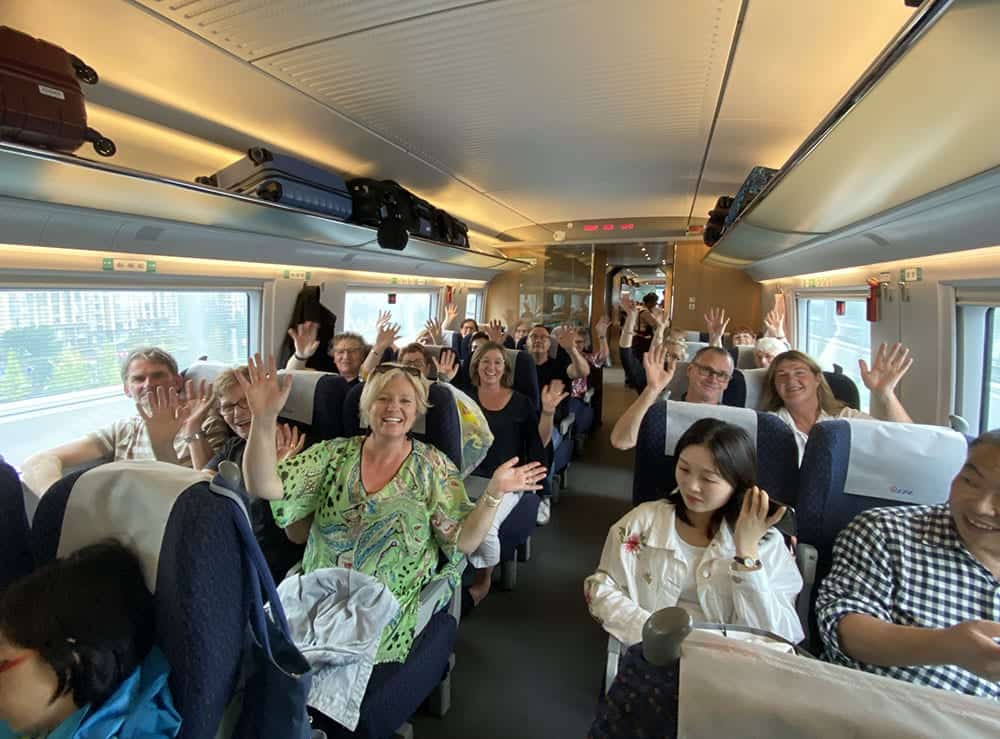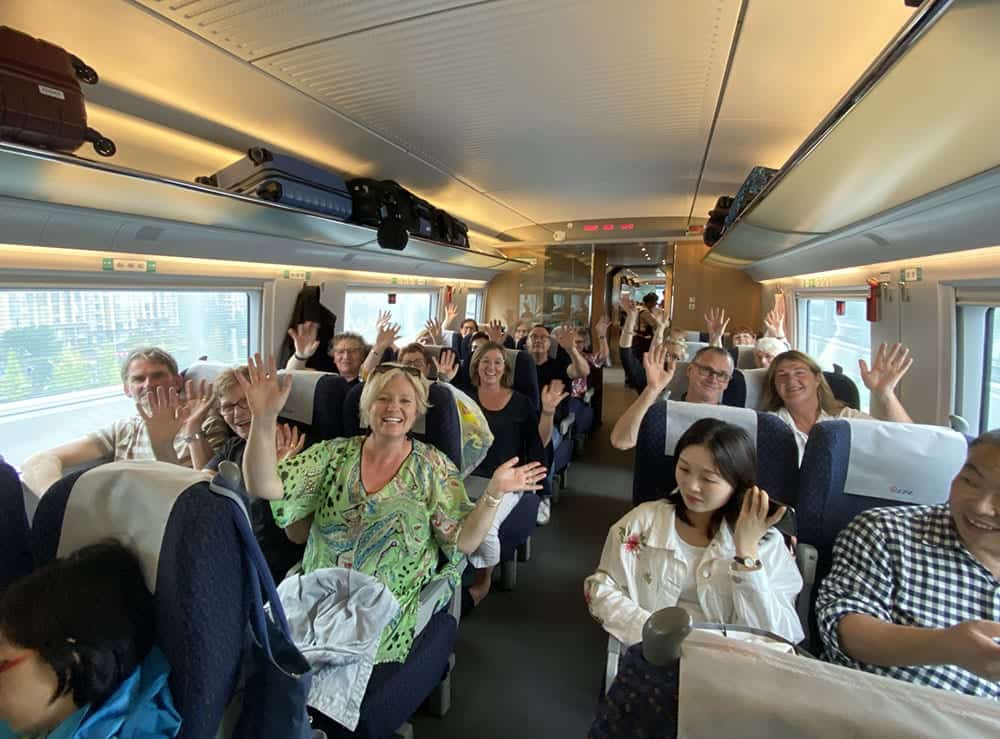 We then spent three nights on a Yangtze River cruise out of Chongqing and ended with seeing the massive Three Gorges Dam.
Here are more posts about our brilliant two-week tour of China starting with two nights in Beijing (which I would make three next time), followed by two nights in Xi'an to see the Terracotta Warriors.