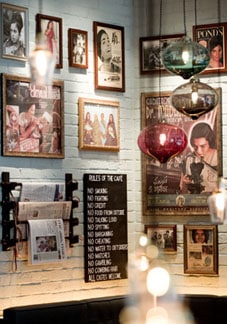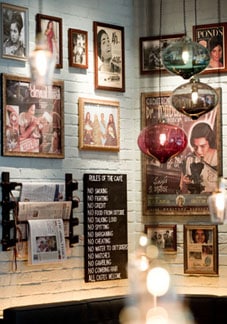 When in London, one of the first places I want to go for dinner is a curry house.
I first tasted Indian food in London – back in the 1990s, and no doubt much to the horror of true Indian foodies, I loved the UK version of a creamy korma and bright orange butter chicken.
Strangely, Indian food in Britain is incredibly popular and curry houses are everywhere (think Rowan Atkinson's sketch as an Indian waiter with the lager louts -( here's the hilarious Youtube clip for your viewing pleasure). But with one night to make the best choice, how does one choose?
We were sat in the Porterhouse Brew Bar at Covent Garden, cousin Kate and I, having a pint and deciding on our taste bud desires, so I used their free WiFi on my phone (thanks!) and looked up recommendations for Indian restaurants within an onion bhaji's throw of our bar stool.
Scrolling through the star ratings we decided upon Dishoom, designed to resemble an old Bombay Cafe and, more importantly, plenty of stars and only a couple of blocks away.
You know when a 2-level restaurant is packed requiring a 10-minute wait at the bar for a seat, that it must be a goody. Sure enough.
Without a butter chicken or rogan josh in sight, we were guided through the menu by the lovely Indian boy (women of a certain age can describe waiters as such, I have decided).
We'd already had 2 piping hot lamb samosas at the bar downstairs (£4.20) so went for a Murgh Malai (chicken marinated in garlic, coriander, ginger and a little cream. £6.90), the Dishoom signature black dahl, simmered for 24 hours which was creamy and delicious (£4.90) and lamb boti kabab which were spicy pieces of lamb marinated in red chilli, garlic and ginger (£8.50). We sopped it all up with a roti and a naan and washed it down with a cheap red wine.
In fact, house reds in London are surprisingly good for under £5 per glass.
And because of the huge success of this Indian street food style restaurant (which is also open for breakfast and lunch), they have just opened another one in Shoreditch. I can totally recommend.
If you're keen on great Mexican in London, have a look at my blog on the pop-up Wahaca restaurant at Southbank here>>>