Lunching at the Cabbages and Condoms Restaurant in Thailand's northern most city of Chiang Rai was an experience I was not sure I was totally up for.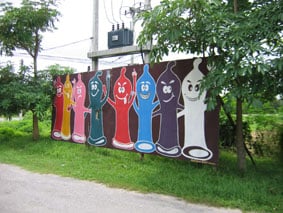 I was on a whistle-stop three-day tour from Bangkok to the Golden Triangle where Thailand borders Laos and Cambodia. My itinerary indicated the drive from Chiang Mai to Chiang Rai would take about three hours and along the way we'd visit ancient ruins, 1000-year old temples and poke around villages and factories of artisans busily creating paper parasols, carving wooden elephants and gluing egg shells onto lacquer vases to stunning effect.
Chiang Rai and it's sister town Chiang Mai are where many of the quality handmade crafts you find in Bangkok markets are made. This region is also a favourite stomping ground for backpackers keen to trek through the jungle for a bit of flora and fauna appreciation, and for the less intrepid, cheap Thai massages (about $14 for an hour) and of course, shopping.
My afternoon was going to be spent visiting the monstrous new Hall of Opium Museum, which documents the history and misery the opium trade had on the region and its people during the lucrative 19th century, and the ensuing battles that came with it – like the British and Chinese invasions.
But a single sentence in between the paragraphs on my A4 printout simply said "dining at Cabbages and Condoms Restaurant, Wiang Pa Pao".
If there's one thing I can't handle about Fear Factor, it's the food they make the money- and fame-hungry contestants eat. So when condom salad appeared on the menu I nearly fled. But realising I would only get as far as the bus in the carpark waiting for the rest of our group, I decided to brave the prophylactic dish.
Cabbages and Condoms is a restaurant chain with five outlets in Thailand. This one in Chiang Rai also has budget accommodation on site by way of cottages designed more for the backpacker. It's comfortable and simple, but by no means swanky.
The whole condom concept would be humorous if its mission wasn't so serious. These restaurants help to raise funds for the Population and Community Development Association. PDA was founded 35 years ago and is one of Thailand's most well established non-government funded organisations. Its primary concern is for the welfare of the country's rural poor and when it started in 1974 it provided education on family planning and sexually transmitted diseases.
I have to admit, this worthy explanation didn't assuage my trepidation. But a billboard at the entrance, painted with ten brightly coloured condoms, arms waving and faces smiling, proved they do see the lighter side of their mission.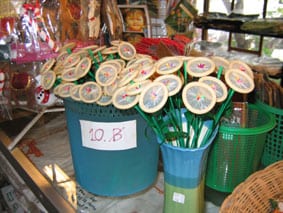 I entered through the gift shop selling many quality souvenirs which also included a bunch of condom flowers. I couldn't think who I'd give them to, so abstained from purchasing. They also sell the real thing, but I was more taken by the bouquet.
Cabbages and Condoms restaurants have a reputation for good, cheap food but that salad was freaking me out. I sat down, ordered a coke and proceeded to the buffet to load my plate with Thai style chicken, rice and other delicious-looking yet unidentifiable goodies. The salad sat ominously at the end of the table.
Bravely I walked over and joined the small party of onlookers who were peering into the bowl. Tiny, rolled up condom-looking rice crepes decorated the dish which turned out to be a regular salad underneath. Very clever.
The name is a gimmick that the locals understand. Cabbages are plentiful up here and the hopes are that condom use will be just as common. A line at the bottom of the menu read, "Our food is guaranteed not to cause pregnancy."
Only thirty years ago it seemed everything caused pregnancy in these rural areas. Thai families averaged seven children. Today the average is two and the PDA is proud to have been a part of this shift, particularly for poor families who also remain largely uneducated about HIV and AIDS.
Many of Chiang Rai's youngsters leave their jungle backyards and head south for a better life in the big smoke of Bangkok. Instead they end up lured into the lucrative sex industry, ignorant to its dangers.
But during these family planning programmes, it became apparent that the rural communities required far more than a reduction in fertility rates. The PDA has since established medical, training, conservation and business education programmes. One of the most recent initiatives is the Vegetable Bank which links underground irrigation to small plots so families can cultivate fast growing, high value veges that require only small amounts of water. This style of farming enables villagers to earn up to $100 per month from their 800 sq metre lots – about three times what they were earning before the system was started.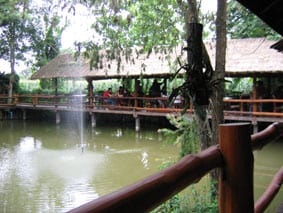 PDA's original family planning campaign was started by a Mr Mechai Viravaidya in the 1970s. His mission was to attract as much media attention as possible in his quest to change society's values particularly to taboo subjects like sex, contraception, vasectomies and now abortion. He has succeeded. Now best known as Thailand's advocate of family planning and safe sex, he is fighting to bring change, not only in Thailand's bedrooms but at government level. Twelve thousand volunteers have delivered contraceptives to over 16,000 villages and today PDA programmes cover a third of the country. Mechai is now slang in Thailand for 'condom' and the safe sex activist has become a senator.
So after the salad had been sampled and my horizons widened, I left the restaurant with more than just my appetite sated. And instead of a mint, everyone received a free condom.