I am in Pokhara (pronounced Pock-ira) volunteering for a week and I need you to let you know what to expect if you've never been here before – or indeed never visited Nepal before!
I'm joining with Go Kiwi Go, an arm of New Zealand's AFS – of which I was an exchange student some multiple years ago and will check out their various volunteer programs which you can immerse in for two weeks to six months.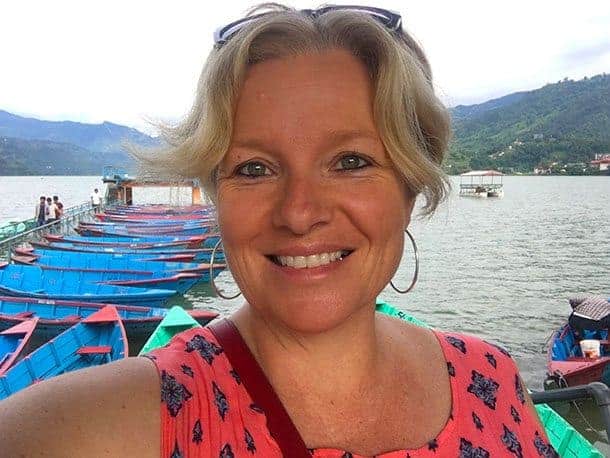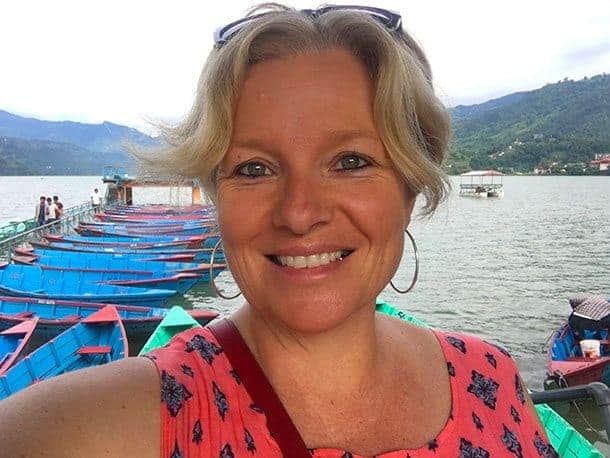 So after a 12 hour flight from Auckland to Guangzhou, China, then two hours to connect to my Kathmandu flight, I ended up having a stressful two more hours at Kathmandu airport trying to file a form to locate my missing luggage that China Southern left in Guangzhou.
I thankfully had the contact number of Cheryl, the Australian woman who runs the Pokhara volunteer projects I was heading to, and she got a local Nepali colleague to speak to them and I was assured it would be alright! (Spoiler: it was alright, it arrived on day 3).
So I took my other bag filled with school resources (those could have waited!) and walked the 1 km stretch of road, past teeny tiny taxis and people weaving past on motorbikes, from the international to the domestic terminal for my flight to Pokhara (a bus ride would be about six hours).
This is my first time in Kathmandu, or KTM, as the locals call it (which happens to also be the airport code). I am going back to the big city on the weekend for three days to have a look around and take a flight-seeing trip over Mt Everest (can't wait!), but for now I am spending 10 days in Lakeside Pokhara with volunteers from all over world coming for between two and 24 weeks to work on various projects, which you can read about in this post.
At the time of writing I really have no idea what is in front of me and to say this is stretching me is an understatement. I've always said I was more duvet than sleeping bag. I'm a glamper not a camper. But all that is about to change in Pokhara – or is it?
My concerns/fears about Nepal before I left New Zealand were:
What are the toilets like in Nepal?
If I have to squat, how do you poo on a squat loo?
Is there hot water for a shower in Pokhara?
Shall I take my hair dryer or is that being too flash?
What is the food like in Nepal?
What will my fellow volunteers be like in Pokhara?
Where will I stay – am I being billeted in a family that speaks no English?
What is the condition of their home and, most importantly, how many share the bathroom?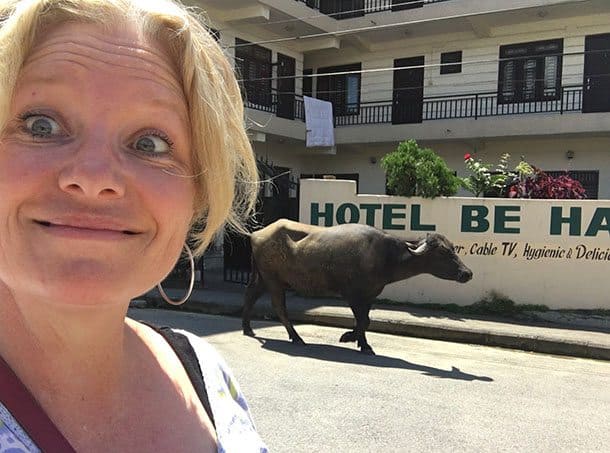 So here are my first impressions of Pokhara and things I wish I'd known before I came:
Pokhara is a large city in the centre-north of Nepal on the edge of Lake Fewa or Phewa. It's 200km west of Kathmandu and is incredibly hilly from the lakeside at 1000m above sea level, where I am, to the top of the Annapurna mountains at 7,500m.
A lot of people visit Pokhara to hike the Annapurnas. Here's a 2-week Annapurna Circuit itinerary that you will find very helpful if you plan on hiking.
Consequently it gets a lot of rain – coupled that with August being the monsoon season and each afternoon the heavens usually open for a couple of hours. Bring a brolly!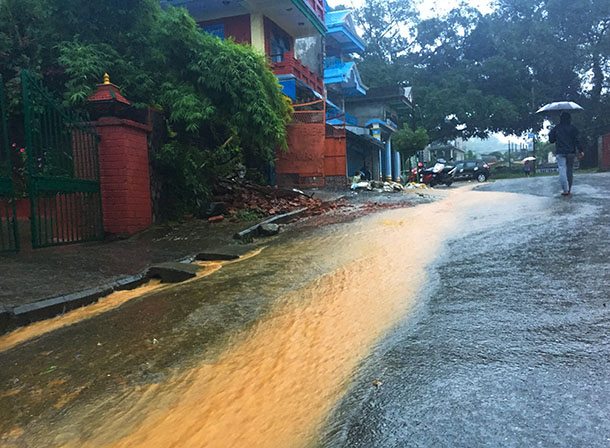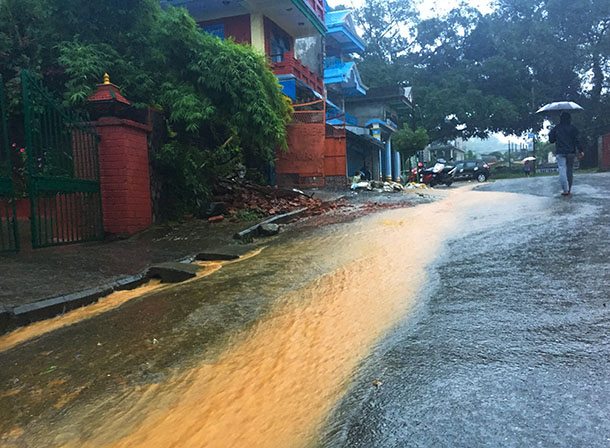 How do you get to Pokhara?
From Kathmandu you can come by public bus for about $5 and it will take 5-6 hours. Dan, one of the English guys I've met here, came that way and said the bus was overcrowded with people squeezed in and some sitting on the roof.
You can come by coach for about $8 and it will take around 8 hours due to the multiple stops for toilet and food breaks. For $15 you can have Wifi, and for $25 you get lunch on the way, I'm told by Jenny, also from England, who chose the $8 option.
Being more duvet, I flew on Buddha Air! You can also fly Yeti Airlines or Simrik. The flight from Kathmandu to Pokhara takes about half an hour and costs about NZ$300 return (US$200). Now you can see why the teenagers took the bus!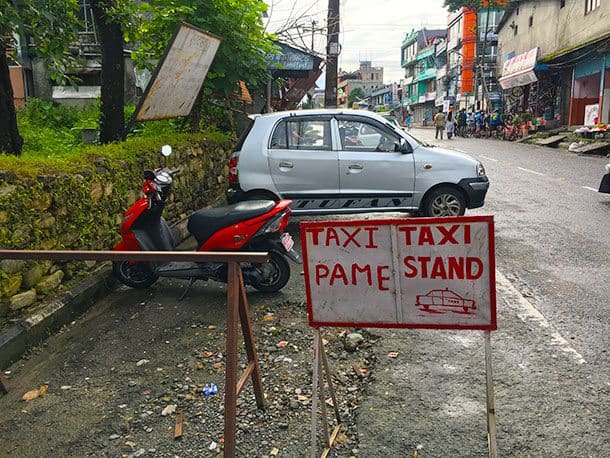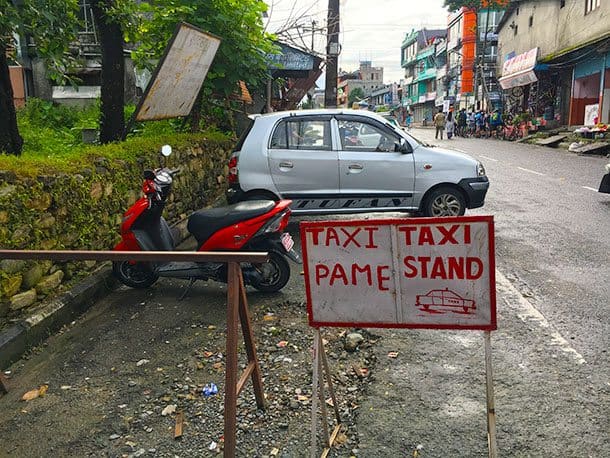 My eyes were filled with Pokhara!
Driving to my hotel my neck was turning and my eyes were darting, drinking everything in.
A driver from my hotel met me at the airport and we waited for my luggage to be brought off the plane on a hand wheeled trolley, then we weaved down a labyrinth of narrow alleys past a gazillion hotels, shops with clothes dangling out the front and the lake on the left. And no, you don't swim in the lake!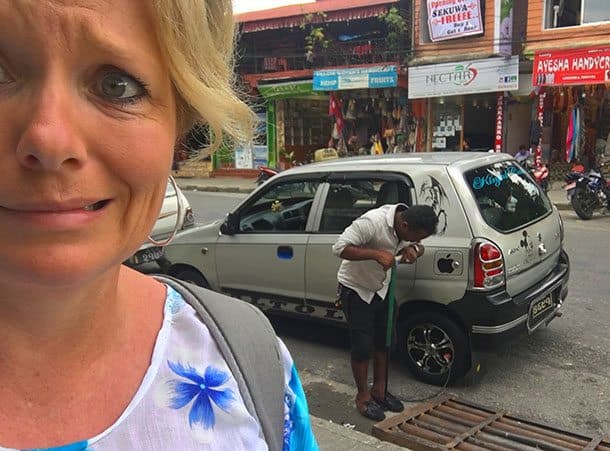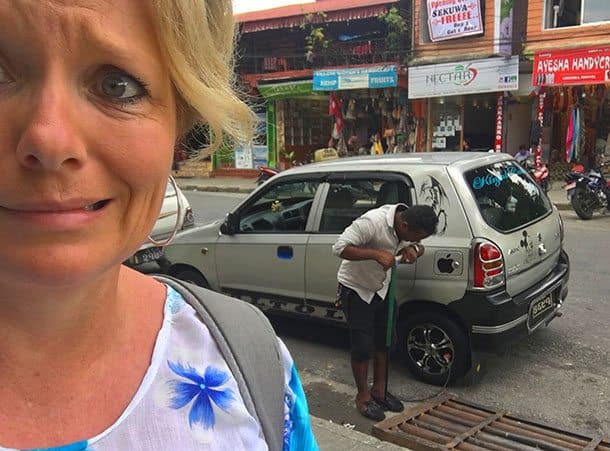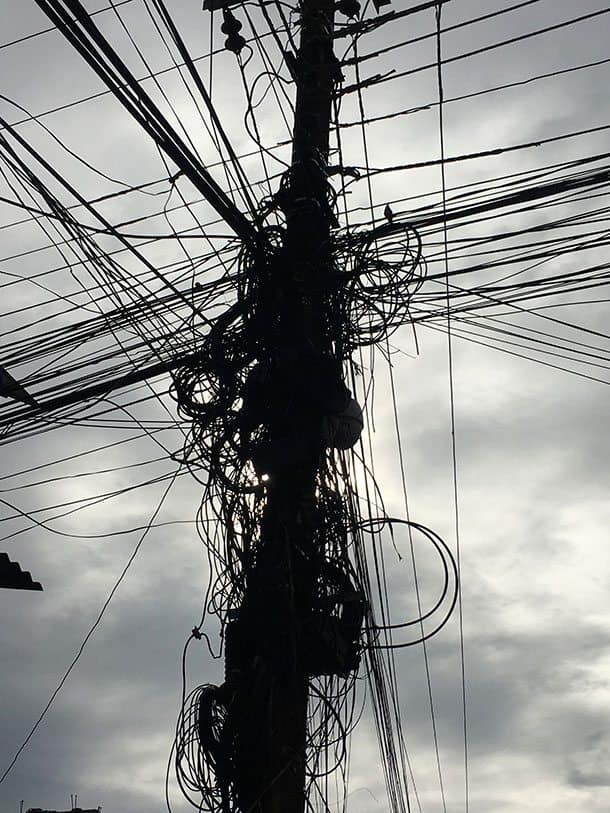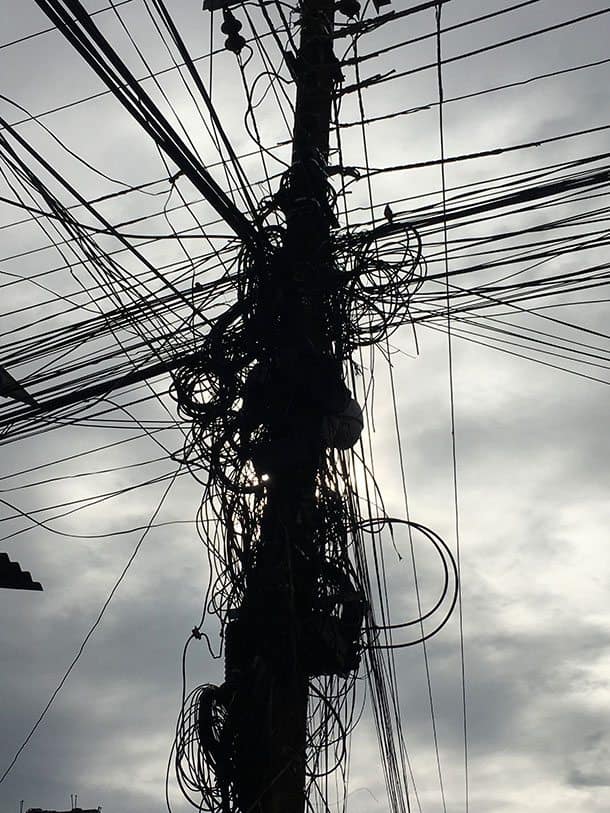 Powerlines knotted at the top of poles are strung like highwire fencing along the streets. Cows sit in front of shops and stand in the road or wander along paying no heed to anyone or anything. They don't even seem to care about what they eat. I saw one eating a sock when alongside it was some grass, albeit a smidgen!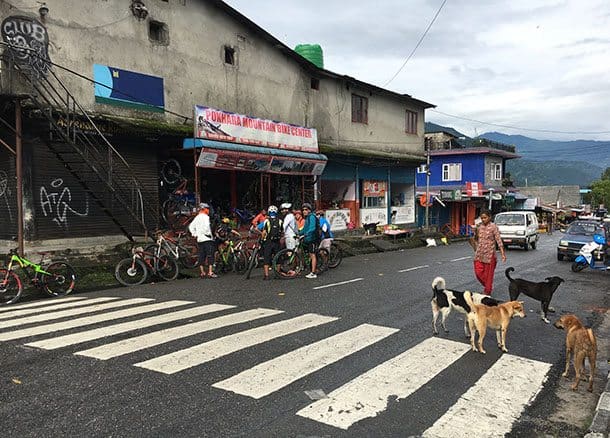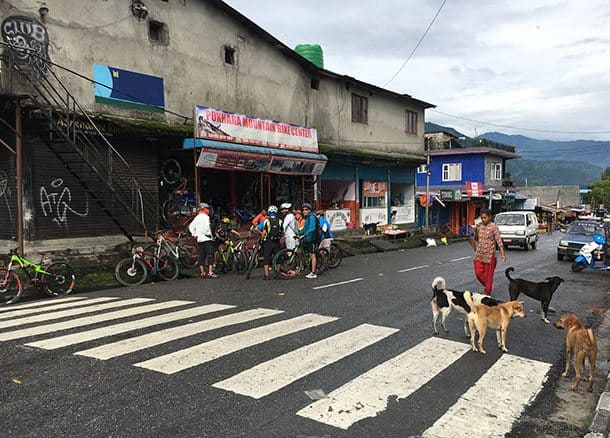 Children in school uniforms gather in clusters and taxis the size of matchbox cars are ready to take you anywhere.
The women are dressed in bright colours this week as it happens to be Women's Festival week, and look so glamorous, especially when sitting side-saddle on the back of a moped, their men just in nondescript pants and shirts. Maybe a small child or a baby is wedged between them, only the driver wearing a helmet because that's the law.
Early to bed, early to rise. It gets dark quite early here and most places will be closed by 10pm. School doesn't start until 10am either so the kids can help their families in the mornings. Huckory old school buses will cruise slowly along the street each morning and children come running, no designated bus stop needed.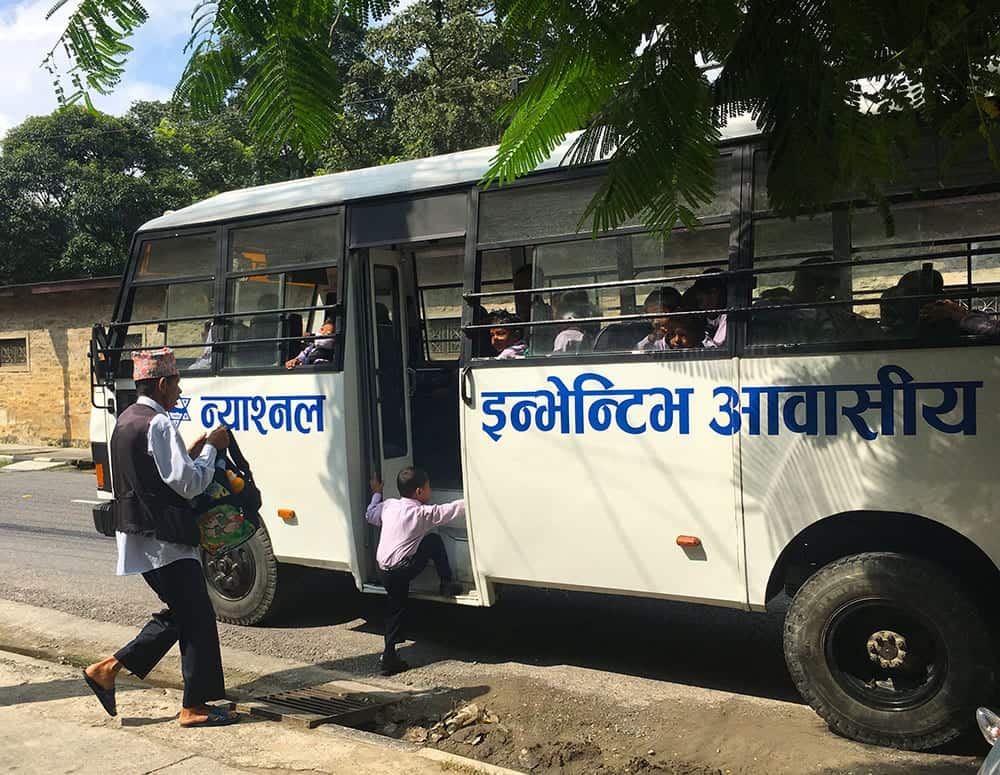 The Nepalese currency is the rupee and 100 rp is about US$1. You can bring US currency and change it all over the place. Exchange rates are published on blackboards, just beware of any extra fees but most don't charge. You can also withdraw rupees directly from ATMs with your own cash cards. Credit cards are accepted in restaurants and the larger stores.
If you plan to buy a sim card (which I did) you'll need a photo. I didn't have one so NCell, one of the leading providers wouldn't sell me one, instead directing me next door to Telecom where they took my photo and sold me the card. I paid 35,000 (US$35) for a month and 10GB of data.
What's the shopping like in Pokhara?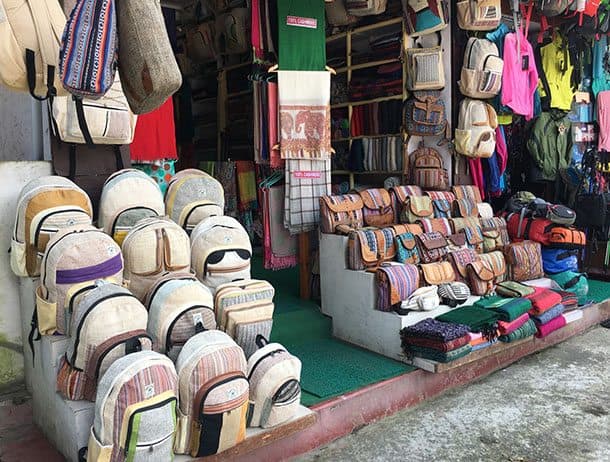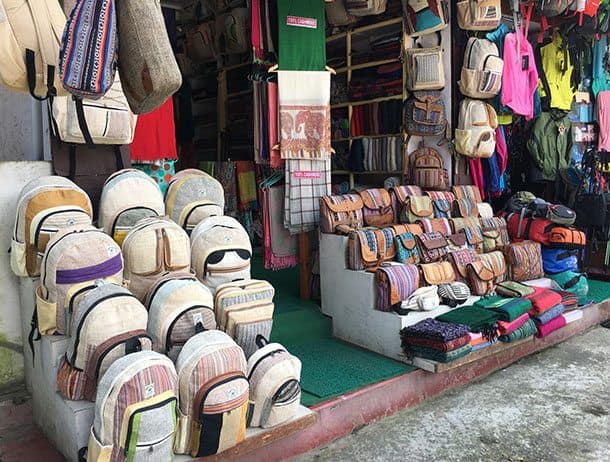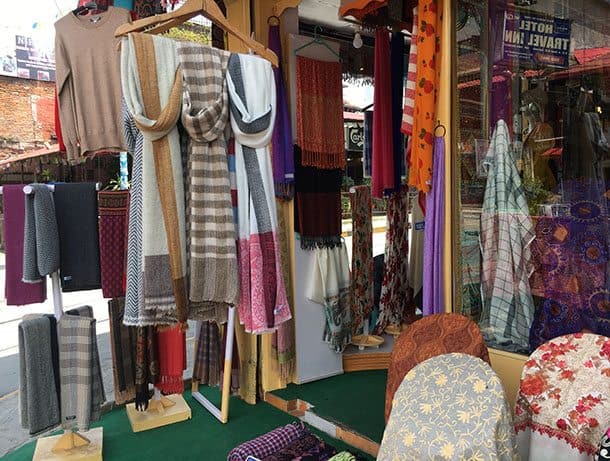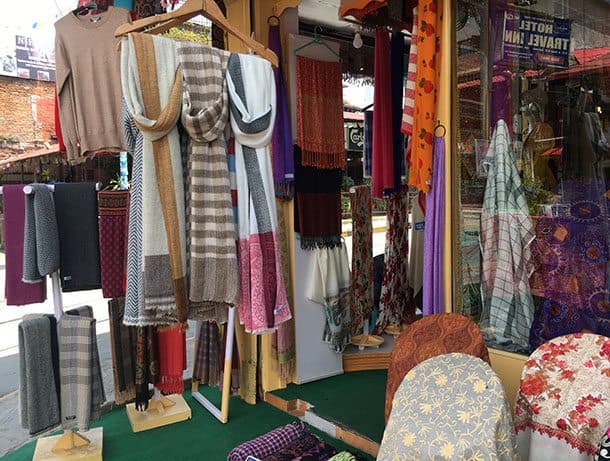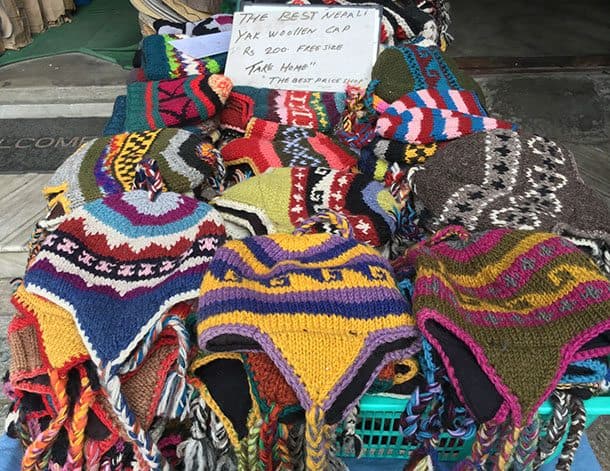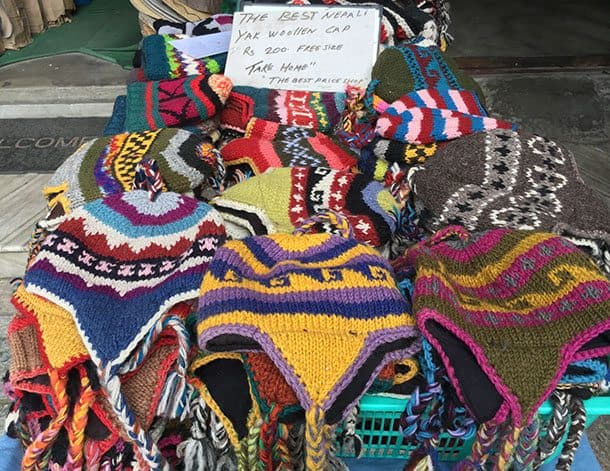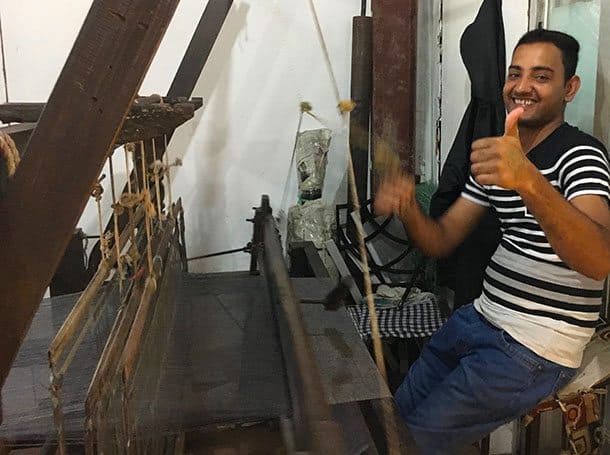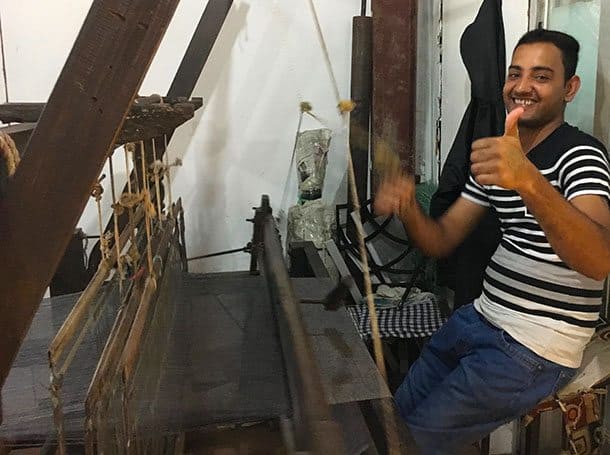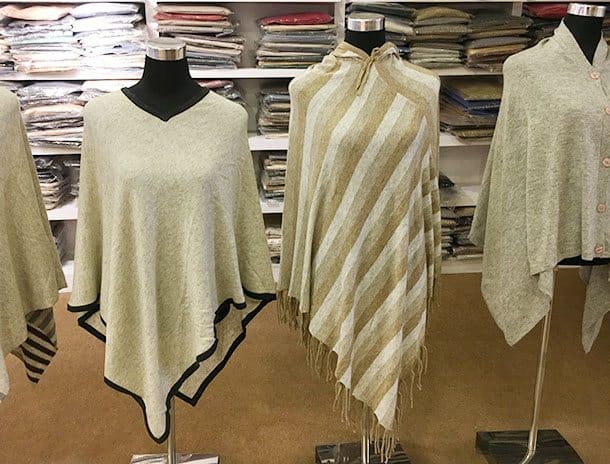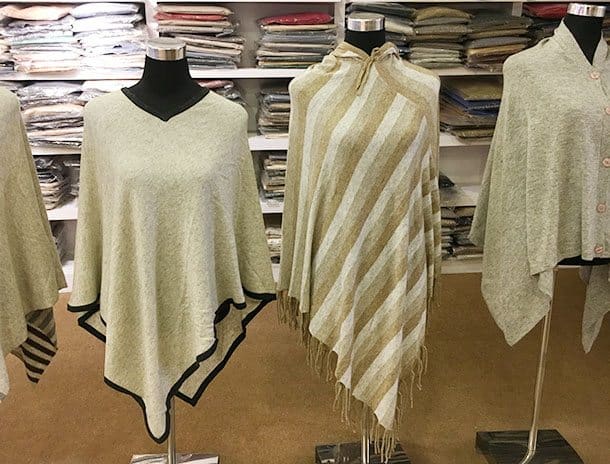 It's great! The cashmere ponchos, cardigans, jumpers, wraps and blankets have me enthralled.
I stumbled upon Helping Hands, an organisation that provides jobs for hearing and sight impaired young people from all over Nepal. The first time was when I decided to try out a massage with a deaf guy.
Note: wincing and crying out in pain doesn't work, you have to put your hand up! I probably wouldn't try that again, but an hour later as I was browsing for cashmere I wandered into a store with a loom in the front window showing tourists how the mountain goat cashmere wool is woven into blankets, ponchos, wraps, etc.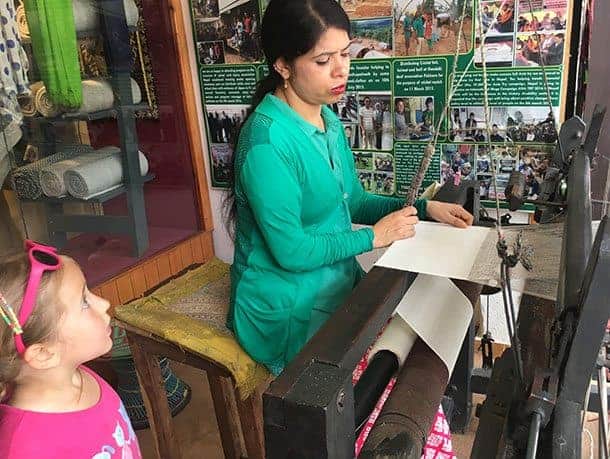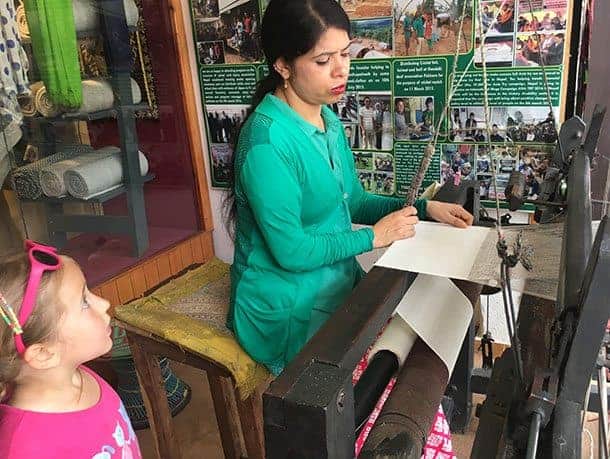 The quality of the cashmere was exceptional and then suddenly the girl who ran the massage place I'd just come from came in holding the hand of the young woman above and explained what this business was all about.
I got to go out the back and meet some of the workers who have jobs here. I loved it so much, not just the feel of the softest wool ever, but that this business has a greater purpose. I bought a bunch of things and will come back with a bag stuffed full!
Update: I now work with Helping Hands to import their gorgeous cashmere blankets, ponchos and scarves for the Luxe Collection in my online Travel Store. You can see it all here if you like >>
You'll find tons of stores selling cotton T-shirts and linen tops and baggy Nepali-style pants along the main street in Lakeside. These are great for the humid days! Note to self: those baggy pants with the low crotch only look good on teenagers. On me they look like an adult nappy!
As Pokhara is the hub for hiking in the Annapurnas and many other treks, every other shop sells hiking gear from sleeping bags and walking poles to backpacks and boots. Be warned: it might say North Face, but at $55 for boots, you know it's not! There is a proper North Face store here at frightfully expensive prices. Just like home I guess…
I really wanted an original painting to bring home depicting some of the things I've seen here, driving through the villages on my way to volunteer and was thrilled to find the artist himself who sold me this oil on canvas for my guest room at home.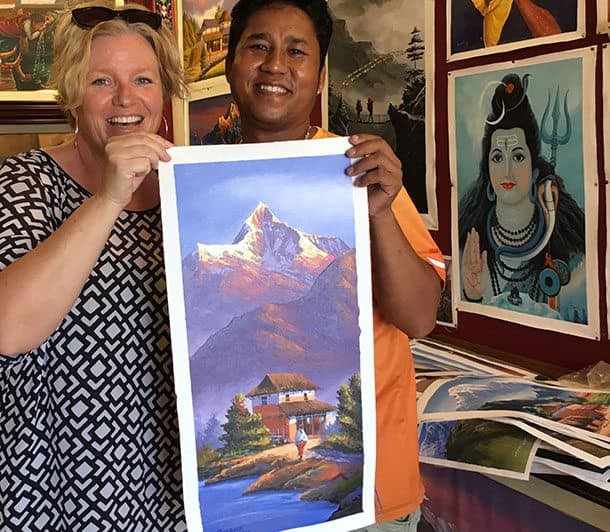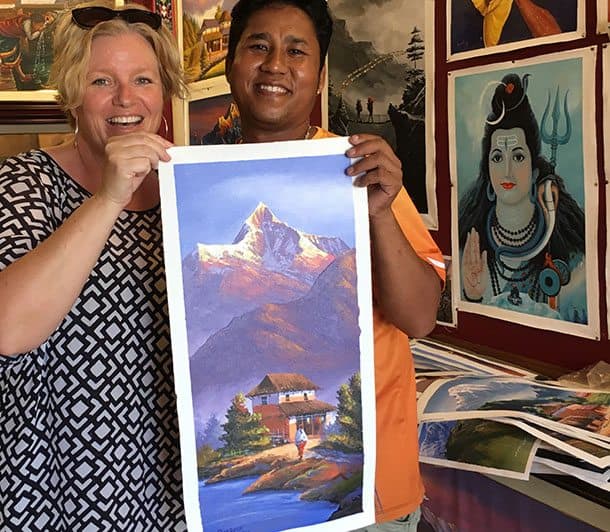 Where to eat in Pokhara
Along with the plethora of trekking shops there are more places to eat and drink at than you could possibly visit in a week.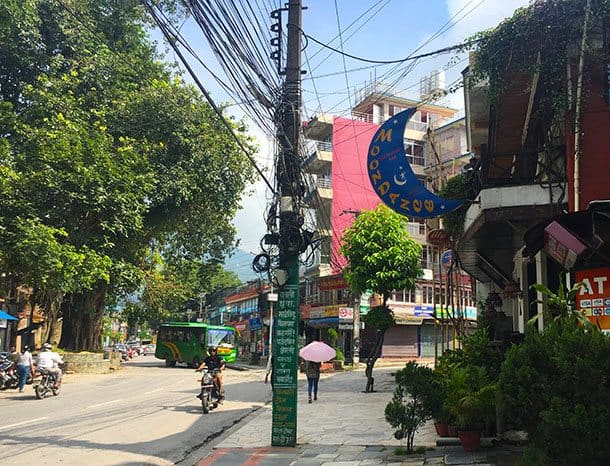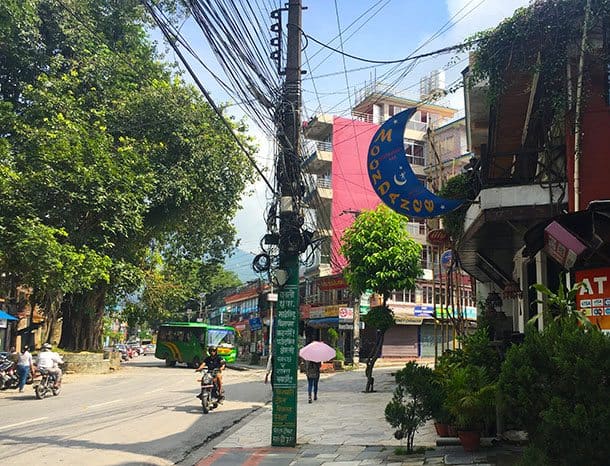 A few I like so far are Moondance down by the first hotel I stayed at (below). I fancied an Indian curry and their chicken tikka masala was just like home! I paid 1200rp (US$10) for that dish including rice, naan and a deconstructed lemon soda that came with real lemon juice in the glass, a shot of sugar syrup and a bottle of soda.
For brekkie I was surprised (and yes delighted) that Himalaya Java upstairs overlooking the lake and the lush green hills, which I'm told is a snow-capped mountain behind! It's been hiding behind low clouds all week (it is monsoon season) so I haven't seen it. But I had a perfect flat white and pancakes there and paid about $5.
Read this post for more tips for the best restaurants in Pokhara.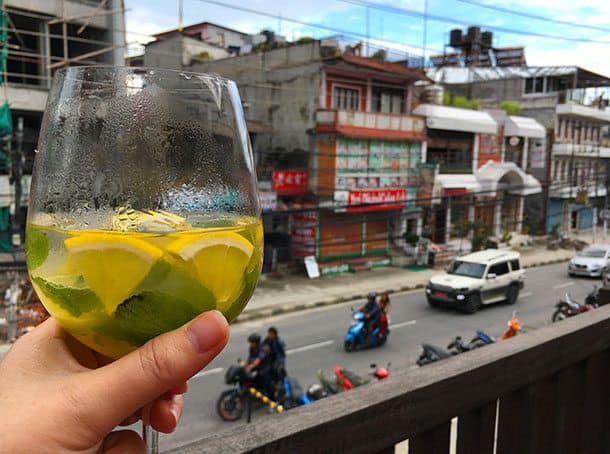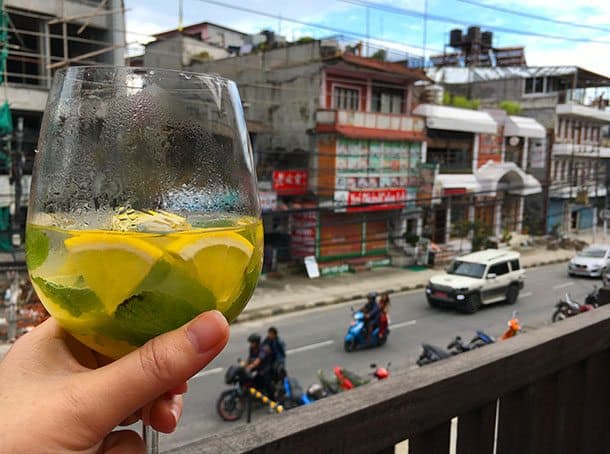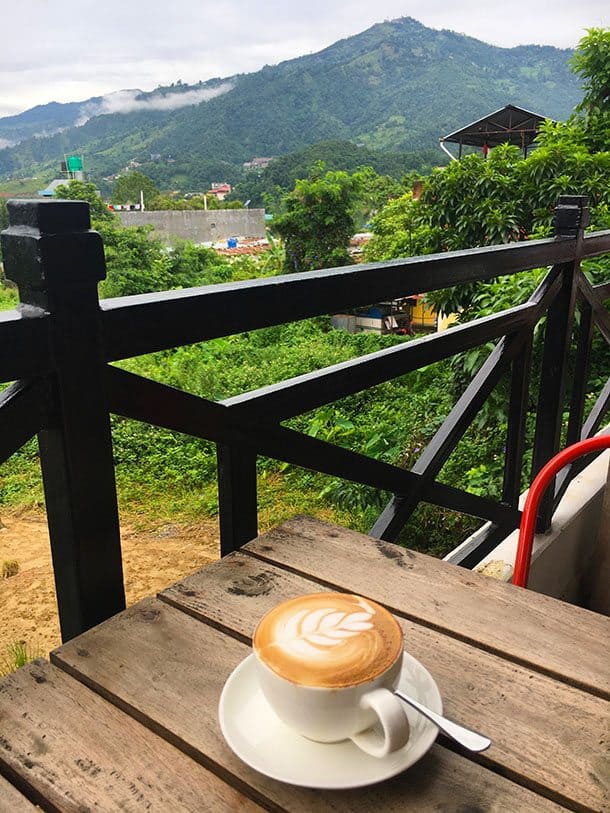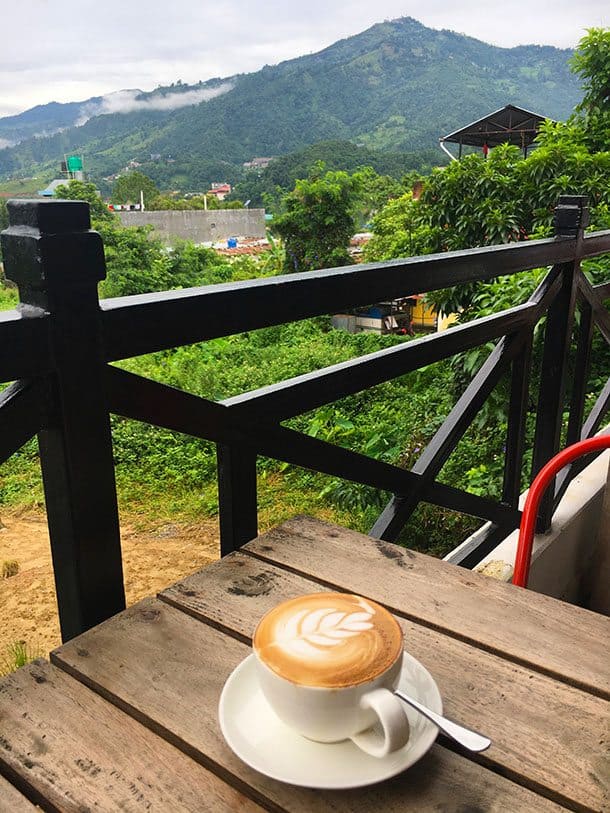 Or you could go local and eat dahl bat – that's rice and lentils and veges, maybe some meat, all eaten with your right hand! The key is how much you load on your middle three fingers and how you use your thumb to push it into your mouth without dropping it all over the floor. (We had a lesson on the etiquette of eating dahl bat as part of our volunteer orientation.)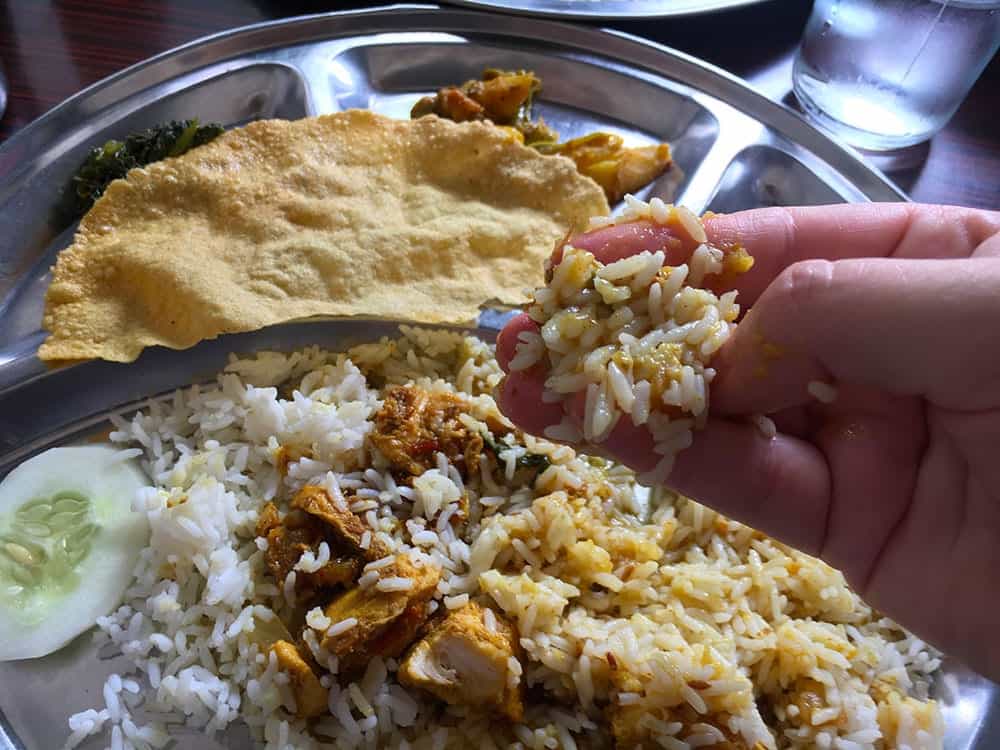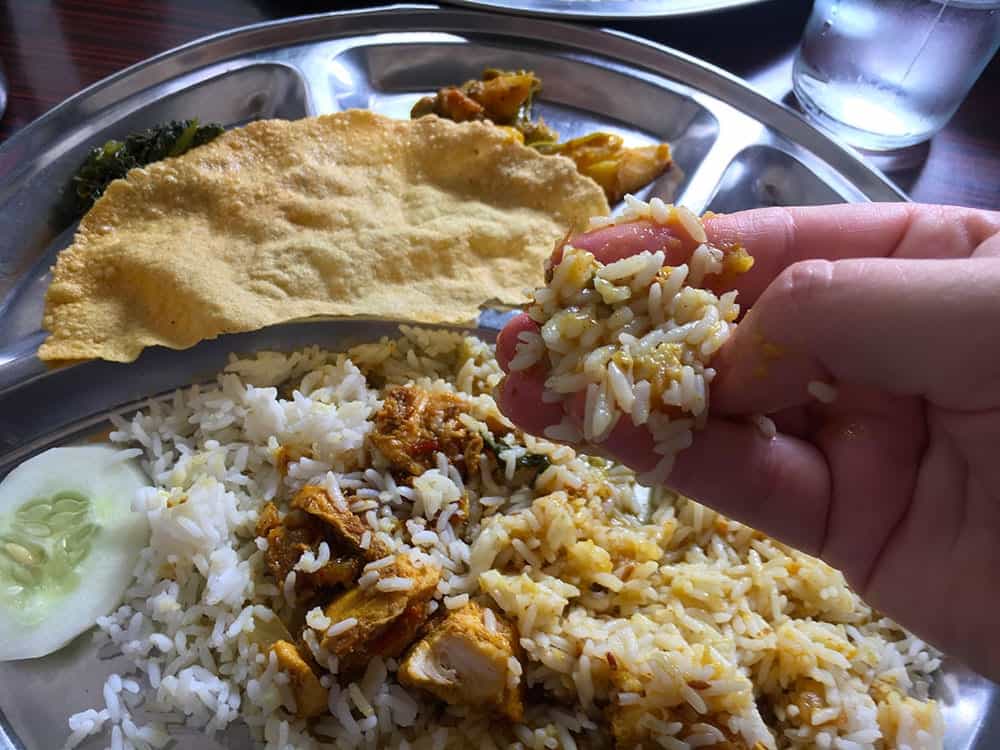 There are bars dotted all down the street and you just get talking to some tourists (or other volunteers who have been here a bit longer) and they'll tell you their favourites – and ones to avoid!
Hotels in Pokhara
Hotels in Pokhara are cheap.
I'm in the city of Lakeside, named for Lake Fewa, and this part of town is where the tourists stay, as well as where the volunteers are based and go each day to our various projects. Sadly this is not a swimmable lake though.
Lakeside is where you want to stay and there are plenty of hotels here – in fact it seems every second building is a hotel: tall, concrete and skinny, painted brightly, side by side.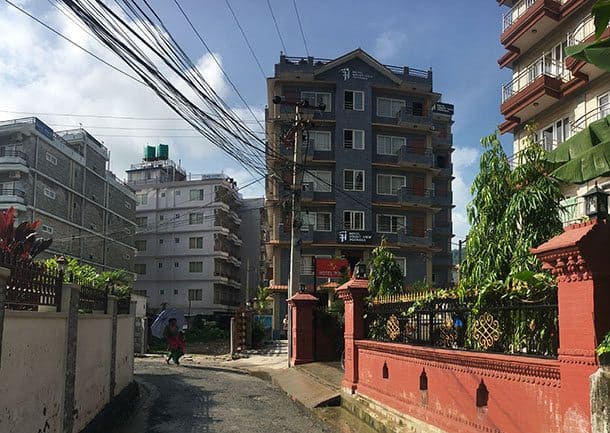 I have stayed in three hotels now, excluding the host accommodation that is for the volunteers (more about those projects in this post). But no they are not billeted (hosted in the family home), you stay in shared rooms in a 4-story house belonging to a local couple who rent it out for the work here, provide dinner and breakfast and Wifi. (No one can survive without Wifi!)
I arrived a day early so the first night I booked myself into Mount View Pokhara. This hotel was the nicest and newest of the three I stayed in.
It's only 18 months old (as of August 2017). My room had an en suite with bath and shower (which can be a luxury when some offer only a wet room), clean white bed linens, air conditioning, a lift to all floors, restaurant on the ground floor serving a nice buffet breakfast.
I paid NZ$38 for the night through Booking.com and that included an airport pick up, Wifi and breakfast!
It's also close to the shops and restaurants for plenty of choices. The staff were absolutely brilliant, got me taxis as I needed to buy new clothes and essentials while I waited for my luggage, charged my phone in the manager's office as my chargers were also in Guangzhou and always greeted me with "namaste" when I came and went.
The next night was the night all the volunteers arrived and were hosted at the Hotel Crown* on the main street.
This one is owned by a delightful lady who keeps an immaculate garden and lawn out front and also runs an adventure business where you can book to go on the many activities here and beyond.
The room is very basic, but they all come with en suites and mine had windows onto a patio and I could lie in my bed and watch the afternoon rain which I loved! She will take your breakfast order the night before and serve eggs, toast, jam, cereal and tea and coffee at large hostel-style tables on the ground floor.
*Only problem is their website appears to be hijacked and they are not on Booking.com.
I am now staying at the Third Pole Hotel, which is where the volunteers who are duvet people (i.e. not into sharing a room hostel style and wanting better conditions.)
This is where volunteers over 40 tend to stay, they told me. Yes please!
There is a restaurant on the ground floor and my room is on the 5th floor – up 100 steps with no lift! It's good for my thighs, and I make sure not to forget anything in the morning!
This hotel is comfortable, although the bed is hard as a rock. So hard I put my sleeping bag under the bottom sheet, but it hasn't made any difference, but the view of Sarangkot (the hill in front of the Annapurna mountains) is amazing and I can watch the paragliders circling the lake all day long.
It's about $25 a night including Wifi and a shower over the bath. Hot water is hit or miss! It's also nice and close to the main street about 1km from Mount View Hotel.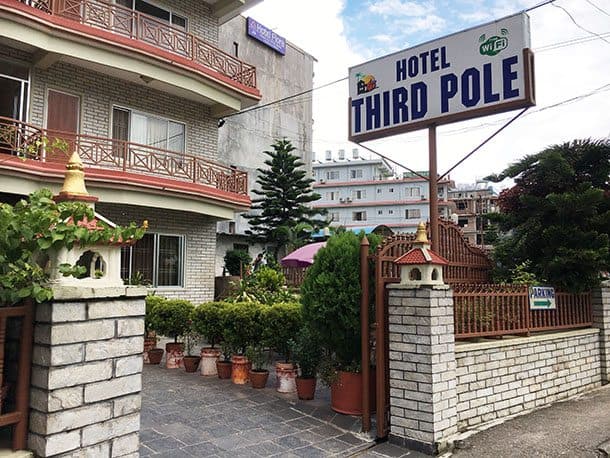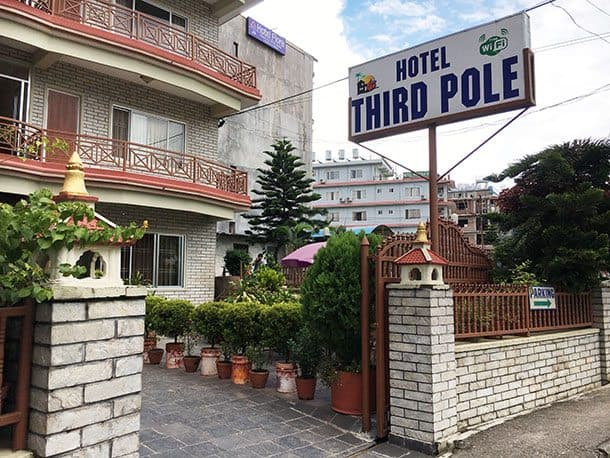 Tips for Nepal bathrooms: you cannot put anything down the toilet except for human waste. There is a basket for the paper (I know!)
The floors are so so slippery! I only had one towel and no bath mat so as I had also brought my own quick-dry travel towel, I used that as a bathmat. (Aside, I know a colleague whose mate slipped out of the shower/bathtub and broke both his arms. They had to fly back to New Zealand without doing any hiking or visiting Nepal at all!
* My visit to Nepal is sponsored by GKG, but you can be assured all the experiences and opinions are mine!
__________________________
If you want a recommendation for a local operator, I met Tara Gautam who has been a guide for many years and has just launched his own business. He goes above and beyond to ensure your plans are made and will book flights (he booked my flight-seeing tour over Mt Everest), he also booked me in a little hotel at a good rate, plus all sorts of trekking adventures. Jump onto his website Skylark Himalayan Travel and see what else he can arrange for your visit to Nepal.