Did you know that Palm Beach is one of over 100 beaches in Sydney? Sun, surf, sand and shopping – Sydney has it all.
But if you've done the shopping, eating out and maybe taken a little jaunt down to Bondi Beach or a day trip into the wild to see wombats and waterfalls, why not head up the northern beaches to Palm Beach (or Palmy, as the locals call it) for a couple of nights?
Side note: I once took a (calamitous) surf lesson on Bondi Beach, which ended with me "riding the wave" to the sand only to be served up like a black pudding in my wetsuit on a surfboard platter. But I digress…
On my last visit to Sydney I spent two nights in quiet and quaint Palmy (it was autumn), thanks to Destination New South Wales, who wanted to show me (and you, dear reader) that there is indeed a lot more to Sydney than, the city.
Sydney's Palm Beach is a bit of a movie star actually. Fans of Aussie soap Home and Away will recognise Alf's Bait Shop in "Summer Bay" (aka Palm Beach NSW) which adjoins a really lovely restaurant for a spot of brunch (more on that below).
But more recently Palm Beach hit the big screen when the movie by the same name was set here starring Sam Neill (of Jurassic Park, Hunt for the Wilderpeople and Peaky Blinders fame – to name just a few!) and Bryan Brown (Omen 3 and alongside Tom Cruise as the wily old barman teaching him the moves in Cocktail, plus a whole lot more). The two men are great mates in real life and Bryan's wife Rachel Wood directed the movie.
But before we get to the premiere…. (yes I did go!) let me tell you about a gem you need to stop at for lunch on the way to Palm Beach from Sydney.
Palmy is only a one-hour drive north of Sydney, but we stopped for a lovely lunch at The Newport, at Newport Beach. This place is an institution and well worth adding an extra hour or two to your drive. It is set on the shores of Pittwater and is a sprawling indoor/outdoor venue. Although it's the outdoors you want to enjoy.
They have live music on a stage and several restaurants and food outlets to grab whatever you fancy (pizzas, burgers, salads, fresh market place food) and find a table with your mates to while away a merry afternoon. Sprawling gardens and nooks to enjoy a drink and a laugh. Locals come here all the time.
Of course, Palm Beach is an easy day trip from Sydney so you could just come up for lunch and a look around, but I love to stay in places so I'm not rushed. I like to hang out like a local, eat in lovely restaurants (more on them below) and even take a stand up paddle board lesson! I know. Spoiler: I was better at SUP than surfing!
Where to stay in Palm Beach
Palm Beach NSW is the name of the peninsula as well as the name of the eastern beach where people love to surf. The other side of the isthmus is Pittwater and this is where we stayed.
Hands down the cutest place to stay is Barrenjoey House across the road from the beach. I absolutely loved the decor here! If Fixer Upper's Joanna Gaines designed a beach house, this is how she'd do it.
They also have a very popular restaurant downstairs but with just seven guest rooms upstairs, each slightly different layout and decorated in vibrant beachy colours with lots of texture, you get the run of the place when the restaurant is closed. (They do have a rope across the bar and signs that say the alarm is on 😉
Each room has an en suite and there is also a shared sitting room upstairs with books and sumptuous cushions to sink into for a drink before dinner or just to take a moment (and use the WiFi!)
Check out the latest rates for Barrenjoey House on Booking.com
Where to eat in Palm Beach
For brunch you've got to go to the Boat House, right next door to Home and Away's "Alf's bait shop".
The food is great – including the porridge that came highly recommended. They have a lovely selection of cabinet food as well as a full kitchen with indoor and veranda seating over the sand. TV fans will like popping next door for a selfie.
For dinner we booked ourselves into Barrenjoey (and said bring on the drinks, we're only going upstairs!)
It was September and just chilly enough to enjoy warming our butts in front of the fire before going to the table. The restaurant has a laid back bistro feel.
One side of is scattered with cushions and while full in the evening, is a lovely spot for breakfast and lunch. The other side, flanked by a long bar, has the open fire and an open kitchen at the end.
The next day (after our SUP lesson, see below) we drove to nearby Avalon and had a delicious lunch at a modern Mexican restaurant called Alma.
What to do in Palm Beach
I have to confess, I did not. I wandered along the beach and on the jetty across the road. But one of the girls in our little group of four did.
There is a car park and it's about 3km from there and takes around 30 minutes each way. The sunset views up here, looking down over Palm Beach and Pittwater, are why people come.
There are two tracks. Smugglers Track is shorter but steeper and has great views. Or take the more gentle Access Trail.
Take a Stand Up Paddleboard lesson
We met Tony from Avalon SUP on the beach, donned our orange wet suit jackets and headed out for a lesson.
I had only ever tried paddle boarding once in Marina del Rey (Los Angeles) and was a nervous nelly tootling round that marina trying to navigate boat wakes.
I ended up going out for a few hours fishing in LA and liked that much better! So this time I had a lesson and then I was off for an hour on my own, loving it!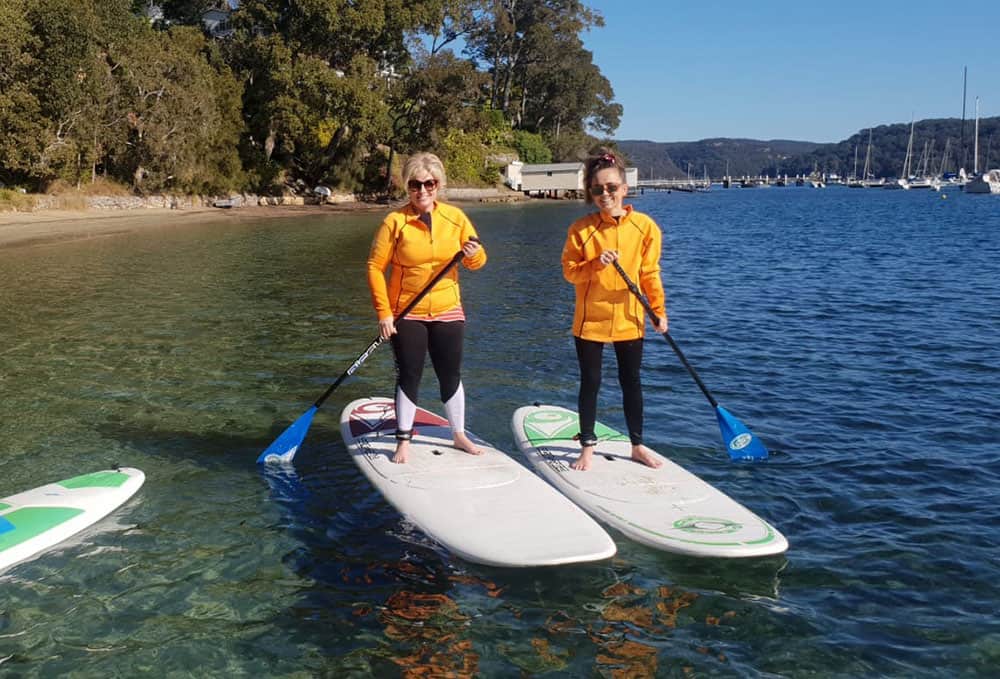 How to stand up paddle board
The key to not falling in when Stand Up Paddle Boarding (SUP) is to look out not down. I must confess to being nervous about falling in (only because I was being a wuss. I can swim, I just didn't want to get wet!)
But Tony was so good. He first taught us how to get on the boards (kneel in the centre then stand up) while we were still on the sand. But when he could see me hyperventilating on the water, puffing like a woman in labour, he cruised up on his board and gave me his arm to hold on to while I positioned my feet in the correct spot.
It was he who told me to look up not down and that was the trick. That did it. I was away then, and we all paddled down the beach amongst the moored boats and saw the house Palm Beach was filmed in.
A wonderful way to spend a morning!
You might also like to read my post on 10 easy tips for stand up paddle boarding, including what to wear.
How to get to Palm Beach
If you have a car, that's going to be the best way to get up here including the Newport lunch stop and to have the freedom to drive to the lighthouse carpark (ahem!), the paddle boarding and the surrounds.
But you can also get the bus from Sydney's Wynyard Station which leaves hourly and will take approximately 90 minutes.
Or take a sea plane from Rose Bay for an impressive scenic flight over Sydney harbour.
Next stop: Hunter Valley. Read my post on our two fun-filled, wine-filled, hot air ballooning days in the Hunter Valley 😀
If you're looking for more day trips from Sydney, there are plenty!