Whether you have a two-day stopover, are staying for a few days or even have 2 weeks in Thailand, here are 5 awesome things to do in Thailand:
Visit beautiful Thailand Beaches
Many of the world's award-winning beaches are located in Thailand. They feature in movies, in wedding magazines and holiday brochures wherever you look.
There are so many amazing islands in Thailand and their beaches are known for their white sandy beauty and water so clear you can see the fish without goggles.
For surfing, snorkelling, diving, boating, fishing, swimming or just lying next to, the best beaches in Thailand that consistently make Top 5 lists are: Patong Beach in Phuket, Railay Beach in Krabi, Maya Bay in Koh Phi Phi Ley, Hua Hin Beach and Lamai Beach in Samui.
Read my next post for 8 gorgeous, uncrowded beaches in Thailand.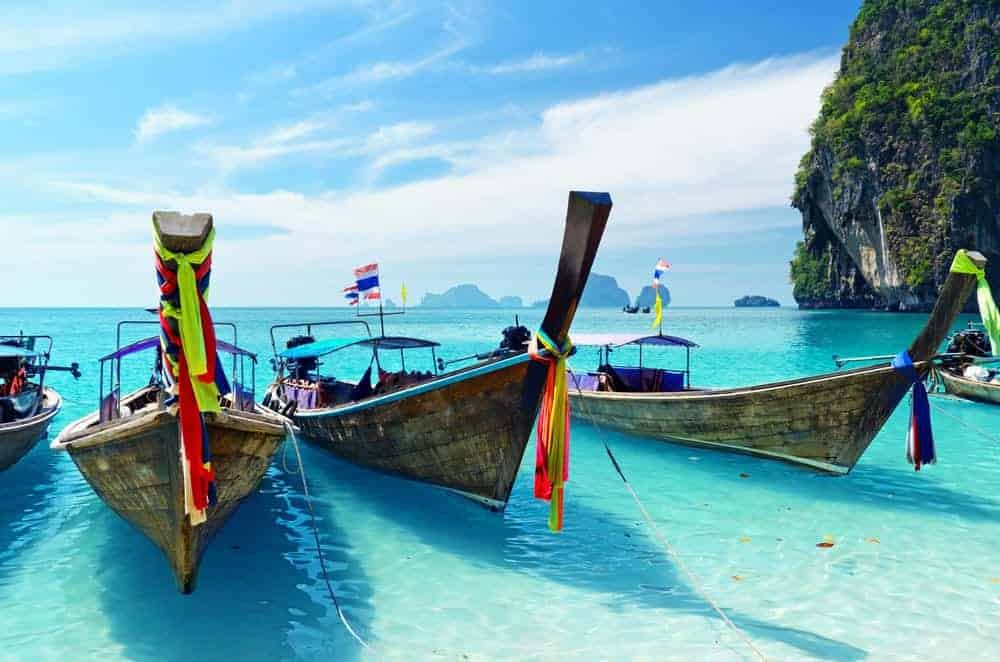 Great shopping in Bangkok
A trip to Thailand would not be complete without time for a shopping day in Bangkok (or shopping frenzy, if you are so inclined). There's reason why this city is a top shopaholic destination, and you must find out why.
Top tip : allow a couple of days in Bangkok at the END of your holiday and save the bulk of your shopping to do on your way home, so you don't have to carry your extra suitcase of new shoes, handbags, jewellery, electronic gadgets and souvenirs around with you!
You might also like my post 10 awesome things to do in Bangkok >
At all the touristy beach towns you will find markets for picking up little treasures, but they can all become very same same after a while. You'll even see T-shirts printed with Same Same But Different!
But in Bangkok there is every type of shopping you could want: high end malls with heavenly air conditioning to take refuge in during the hot months to night markets selling fakes and delicious street food, to the biggest market in the world, Chatuchak Weekend Market where you pretty much need to drop breadcrumbs to find your way out! Or you can skip that part and follow my 7 simple shopping tips in Chatuchak Market when going there to find some useful hacks.
The above photo shows MBK which is a massive mall attached to the Pathumwan Princess Hotel, so true shopaholics might like to stay there!
For my picks for shopping in Bangkok, read this post on the Best Malls in Bangkok >>> and read this one for the best markets >>>
For great tips on where to eat in Bangkok, read this post by Continents & Condiments on 8 dishes you must eat in Bangkok.
Luxuriate in a Spa in Thailand
If I won Lotto the first thing I would do is design a day spa like the ones that first stopped my breath in Thailand. They are simply sublime over here!
When you've had a 2-hour treatment in an award-winning, architecturally designed spa with landscaping that includes indoor/outdoor rooms complete with lotus ponds, waterfall showers and sunken bathtubs, you'll never be the same again.
Hands down, the best spas in the world are located in Thailand. Oh sure, there are plenty of cheap and cheerful operators on beaches and in shops up alley ways – and I would recommend them too for a $10 pick me up.
But you will be pleasantly surprised at the value of even the top spas in Bangkok when compared to the same treatment in a facility of half the ambience and beauty back at home.
Immerse yourself in Thai Culture
Thai culture is steeped in millennia of history and carved out of kingdoms and religion. If you've never visited as Asian country, then be prepared to enter what would appear to be a movie set of foreignness.
The temples are grand, lined with gold, filled with incense and Buddha is everywhere. If you come at certain times of the year when festivals are on, you will see religious rituals designed to bring good luck, flowers being woven into leis to be left there and people in prayer.
Every April the annual Songkran Festival is a blast of a time when people drench each other with buckets of water, fire water pistols and throw water bombs. It all started as a cleansing ritual to wash the previous year's bad luck away, but these days it's a carnival. You've been warned!
Watch Elephant Polo in Thailand
Feeding elephants and riding them through the jungle is an experience that thankfully is being eradicated. I'll admit that I've been a passenger on an elephant that lives in a park, probably tied up, just to take tourists for rides. Shame on me.
Elephant conservation is taken very seriously in Thailand and many of these places use the funds for increasing protection programmes. Each August the Anantara Resort runs an international elephant polo tournament to raise money to help the Asian elephant.
From 2014, the Kings Cup Elephant Tournament moved to Bangkok. Now in its 20th year, teams from around the world have featured NZ All Blacks, Thai supermodels, real polo players and lots of hilarity. Funds from last year's event went to a number of projects including building an elephant hospital in Krabi.