If you and your girlfriends are planning to ditch the boys and babies for a week, I say head to Tahiti. With a few insider tips you can be living it up without it costing a fortune (or your marriage).
Here are some ideas of how to spend a week in gorgeous Tahiti:
Days 1, 2, 3 – Papeete
Fly into Papeete and stay at Manava Suites. They're brand spanking new, right on the ocean looking out to Moorea and very good value. Each suite has a kitchenette which means you can go to the nearby supermarket and get gooey French cheeses and plenty of French red wine… ahh.
But for fresh fish and produce, head to Le Marche in the town of Papeete. It's no posh nosh, but it is full of locally grown and produced veges, fruit and seafood. Plus it's stocked on 2 levels with sarongs (pareos), mother of pearl and oyster shell jewellery, vanilla beans and loads of gorgeous massage oils from vanilla or the tiare flower. There's little knicky knacky things like baskets, bags and coconut bikini tops to buy and just people watching here will take at least an hour.
If it's the black pearl you're after, don't buy them here though – they're most likely volcanic rock polished to look like pearls and not the real deal (although I quite like the metallic look and they make great little stocking stuffers for daughters). Instead go to the Pearl Market just down the road from Le Marche. The Tahitian black pearl is unique to this part of the world and comes in hues of pink, green, blue and gold and this is where you can pick up a gorgeous memento of your trip. You'll find 3 floors of varying priced pearls from perfect orbs to seconds (and thirds). You can design your own piece of jewellery or choose one ready-made from the pearls of varying price and quality that come from the farms around the islands. I selected five odd-shaped thirds and had them threaded onto a a piece of leather to make a lanyard-style necklace for about $100.
For a cheap and cheerful dinner with the girls, you must head to the food trucks called Le Roulottes.
I bang on about this place every time I write about Tahiti, but it's well worth going to for a bit of vibe and an affordable dinner. At night this place by the port in downtown Papeete becomes a mobile outdoor food market with caravans sizzling up all sorts of delights from mahi mahi and tuna to pizza, crepes and hamburgers.
Cheap and cheerful plastic tables are set up and the service is very, ummm, minimal. But for under NZ$25 you'll have a tasty meal and depending on what night of the week you're here, there will be live music and even a little dancing.
If you can drag yourself away from the infinity pool at Manava Suites, there's plenty to do on the mainland of Tahiti during the day.
• Visit the Paul Gaugin Museum and see his prints and a few originals (and hear saucy stories of him coming to Tahiti having been spurned by Van Gogh and spreading syphilis around the islands).
• If you have the energy, take a tour and hike through the jungle to waterfalls in the interior.
• If it's Sunday head to one of the Polynesian churches to soak up a bit of hallelujah sung by a choir of angels.
• Or just lounge by the pool, read a book, sip on a glass with an umbrella in it and plan to go for dinner just a short walk from Manava Suites to an ocean front bar and restaurant (if you're not dining at their own restaurant, that is).
Days 5, 6 & 7 – Moorea Island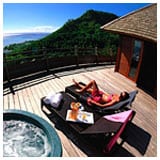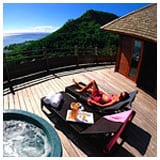 Take a ferry on the 20km voyage to Moorea (about $45 return) and stay at Legends Resort in their 1, 2 or 3 bedroom villas. They also have self-catering options with a fancy kitchen if you feel like baching it with your own private deck and soaking in your jacuzzi of an evening. If not, you can just schmooze on over to one of the restaurants.
By day you can hire a car or scooters and circle the 60km road wrapping around Moorea, stopping at little beaches and lagoons and visiting pearl farms. I find pearl farming fascinating, so if you're anything like me and just have to know how things are made, then go on a visit and watch the delicate craft of inserting tiny marbles into the oyster with a slither of oyster 'meat' that will tint it with a mother of pearl hue over the next couple of years deep down in the sea.
If you're wanting a Moorea memento (and are brave enough) get a tattoo!
Here on Moorea is one of the only traditional tattooists around who uses the original tapping method. James Samuela and his American wife have a little homestay on their property too and people come from far and wide to get a tat from James who was trained in France and by elders in Tahiti. He also does the electric ink ones. Go on!
Another thing I'd do on Moorea is book a motu (island) picnic where a shirtless Tahitian bloke makes fresh poisson cru (raw fish salad) in front of you using fresh fish and a coconut he bashes down from a nearby tree. I just love this diSh, mixed with tomatoes, cucumber, lime juice and salt and served with crusty French bread.
READ MORE: How to make poisson cru from said shirtless Tahitian guy!
Also, across the road from Legends is the Intercontinental and they have a dolphin aquarium which is worth a visit. The pools are actually part of the ocean and several of their dolphins are retired US navy 'seals'. I'm not kidding! These dolphins used to detect bombs on ships for the US navy and now live the life of luxury in Tahiti and you can get in their pools and watch them, touch them, kiss them, etc.
Helene Spa is also located at the Intercontinental and is the best one I've been to in Tahiti. The oils, salts and scrubs are made with local ingredients (vanilla, tiare, coconut, mango…) and they have a private rock pool with a warm waterfall that you can soak in before your treatment in a petal bath or massage in an outdoor hut. Divine.