Hawaii's main island Oahu is edged in stunning beaches and is also home to famous Honolulu and Waikiki Beach, edged in skyscraper hotels.
Oahu is often the only island visitors to Hawaii see, and with good reason there is really are so many awesome things to do in Waikiki and beyond.
But rent a car and go for a drive around Oahu, and you will see some amazing (and quieter) beaches, plus enjoy the shrimp trucks and photo opps along the way.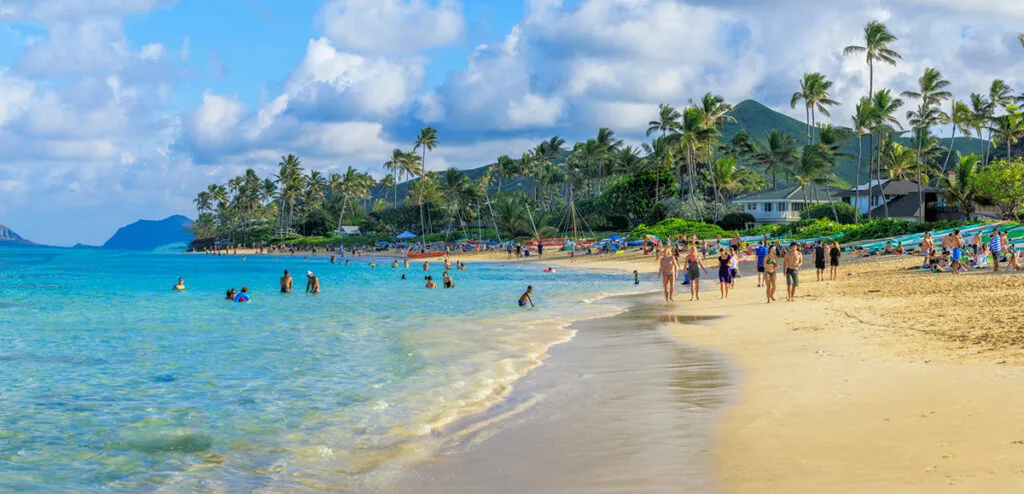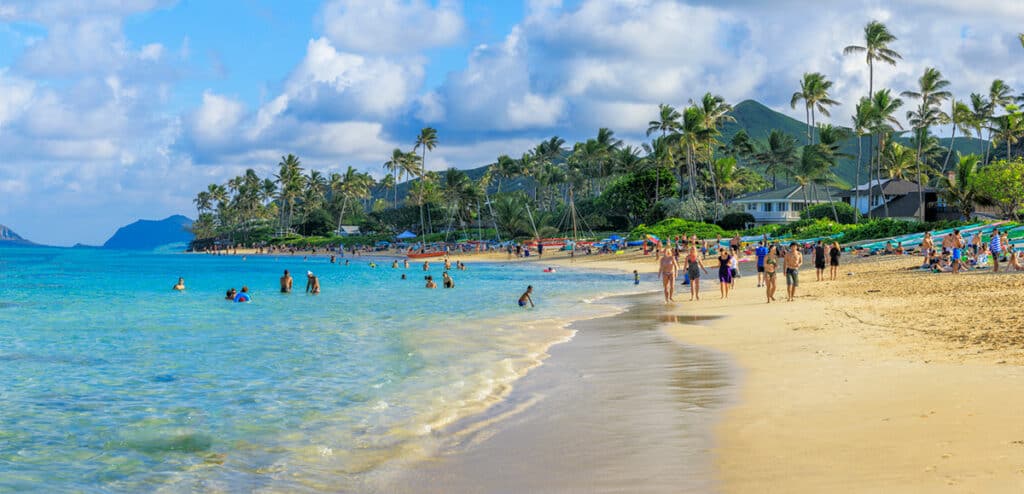 You could also venture further afield to the visit the Big Island for Kona coffee and to see the lava and steam rising from the erupting Mt Kilauea.
Or fly to Maui where a sunset or sunrise drive (or hike!) to the top of a snow covered volcano (I'm not kidding, there was snow on top of Haleakala here when I went!) is amazing. You drive through the clouds to get up there. But you could spend a week just exploring Maui and not run out of things to do.
There is a lot do on the island of Oahu, in fact you could even get away from the crowds at Waikiki and head off on a road trip following this 4 days in Oahu itinerary.
There are so many beaches too, it's hard to decide which ones to visit and which to leave out!
Read more: my essential Hawaii packing list to ensure you don't leave anything behind.
I met 24-year old Jackson Groves on a "bloggers and influencers" press trip to Indonesia and thought, he needs to write me a post! Why? Because he is an amazing photographer, a full-time traveler and adventure addict with a huge Instagram following and he has spent two years covering all corners of Oahu, Hawaii – in a different way to me!
Jackson knows all the best beaches on Oahu so I'll turn it over to him to tell us about five of his favourite beaches, and if you're planning a trip to Hawaii on a budget, you'll want to read this post.
"There are too many individual bays and beaches to count on Oahu and in two years it was almost impossible to see them all but I tried to swim and explore as many as possible."
Waimea Bay
This is my favourite beach. Clean grainy sand and crystal clear cerulean waters are enough to please even the pickiest of beach goers and is just the start of the allure to this amazing bay on Oahu's iconic North Shore.
During the summer, this beach is great for snorkeling, cliff jumping, and exploring underwater caves. You can swim with Hawaiian sea turtles and a wide variety of fish native to the Hawaiian waters. There are also cliffs where many people rock climb and slack line.
During the winter, Waimea Bay offer monstrous waves that pound down with enough force to nearly sweep the whole beach away.
This beach is home to The Quiksilver surf competition in memory of Eddie Aikau. He is known as one of the best big wave surfers. After a day of hanging out at Waimea, head down to Shark's Cove and enjoy dinner at the awesome food trucks.
Lanikai Beach
A ½ mile stretch of beautiful white sand and palm trees look out over the crystal clear waters at Lanikai Beach. Two islands called Na Mokulua, less than a mile off-shore, create a beautiful paradise atmosphere on what is one of our favorite beaches on Oahu's east side.
Lanikai Beach, which means "heavenly sea", is often ranked in the world's top beaches. The neighborhood behind the beach is an upper-class sector of Oahu, with many homes we all wish we could retire in.
Imagine a two minute walk to one of the best beaches in the world in a small island neighborhood. I guess we can all dream. If you look back at the hills, you can also get a clear view of the famous Lanikai Pillbox hike.
If you are up for an adventure, hire a kayak and paddle out to the Mokes (Na Mokulua) and explore the magic of a remote island that looks back towards oahu or towards the endless Pacific Ocean.
Cockroach Cove
This is much less popular than Waimea Bay and is surrounded by cliffs.
It is a great beach to enjoy a day in the sun and really relax with only a few other beachgoers around. Don't worry there are no roaches as the name suggests although there is something to look out for.
A giant blowhole around the corner spurts water high into the air, which hoards of tourists come to watch. But the tourists aren't here to spoil your day and crowd the beach, they look at the blowhole for five minutes, pull out their selfie sticks to snap a shot and then pile back onto their tour bus.
Electric Beach
Electric Beach is on Oahu's west side. While getting out through the initial shorebreak can prov to be a bit challenging for some people – the snorkeling here is great!
Electric's got its name because of the electric power plant that it located right next to it. The power plant dumps out warm (but clean) water here which is why it is so popular for the turtles and tropical fish. This area of Oahu's west side is also a popular spot for dolphins!
Makua Beach
Makua Beach is another west side gem. This beach is great for camping, snorkeling, swimming with dolphins, BBQing with friends, and just about any other beach activity.
Makua Valley looms in the background is an important spiritual area for Hawaiians with several burial sites in the area. This is a great beach for taking photographs as the sun sets directly out over the ocean. Makua is easily one of the best beaches on Oahu with its soft grainy sand, beautiful bright blue water, and lack of large crowds.
Follow Jackson on Instagram and visit his website www.journeyera.com
Read more > 18 really awesome things to do in Waikiki, including outrigger surfing and floristry classes, as well as child-friendly beaches and great places to shop.
Read more > My ultimate packing list for Hawaii, which includes links to buy cute beach bags, reef safe sun cream, rash shirts and more.SaveSaveSaveSaveSave