Hawaii is one of my favourite places to visit for a tropical getaway that has it all: beaches, restaurants, shopping, hiking and so so much more.
The 50th and final state to join the United States, is actually several islands and has the perfect combination of beautiful beaches, natural rugged beauty, rich Polynesian culture, a great food scene – and that makes it one of the best places in the world for a vacation with a bit of everything.
Waikiki is the famous beachfront neighbourhood of Honolulu on the main island of Oahu (where the international airport is located). Sure, it's touristy, but there's a reason for that: it has a lot to offer!
You can swim and snorkel in clear blue waters, stay at beautiful resorts and do some world-class shopping here – but there's a whole lot more besides!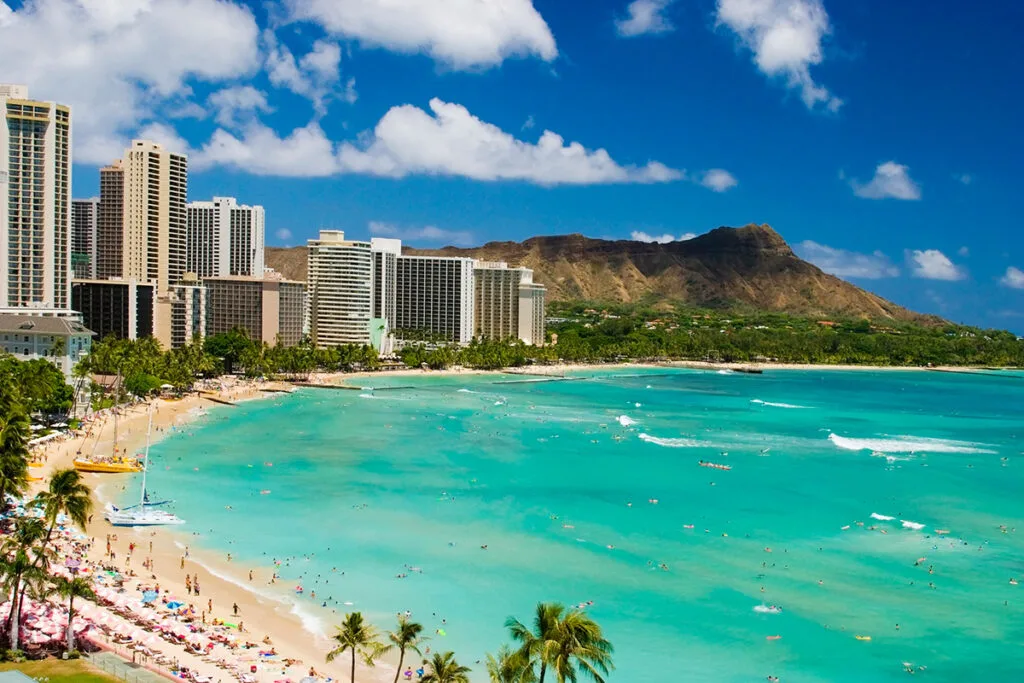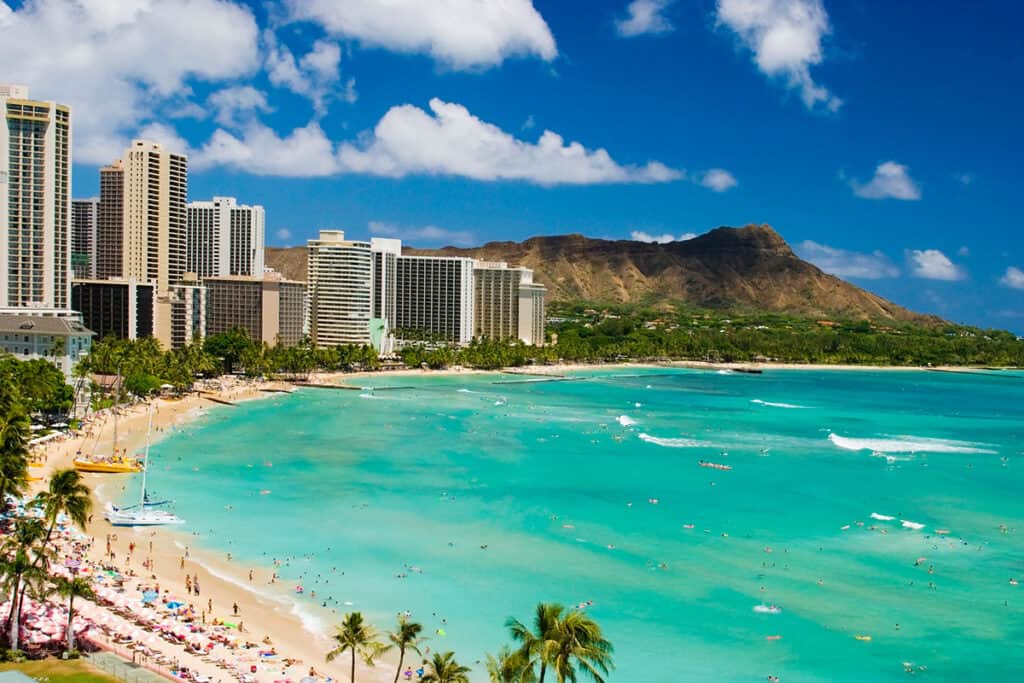 Read my essential Hawaii packing list here!
*Note, this post contains affiliate links to products and places I like and think you might like too. If you make a purchase I will earn a small commission at no extra cost to you.
21 cracking things to do in Waikiki and beyond
1 Hike Diamond Head Crater
You can't miss seeing Diamond Head when you're in Waikiki. This landmark looms over the area's beaches, providing a majestic backdrop for your stay.
If you're feeling adventurous and want some incredible views, you can hike to the crater's peak. This 1.6-mile moderate trek has a 560-foot elevation.
Along the way, you'll learn about its geological and military history. You'll see bunkers, a navigational lighthouse, and whales swimming in the ocean if you're lucky.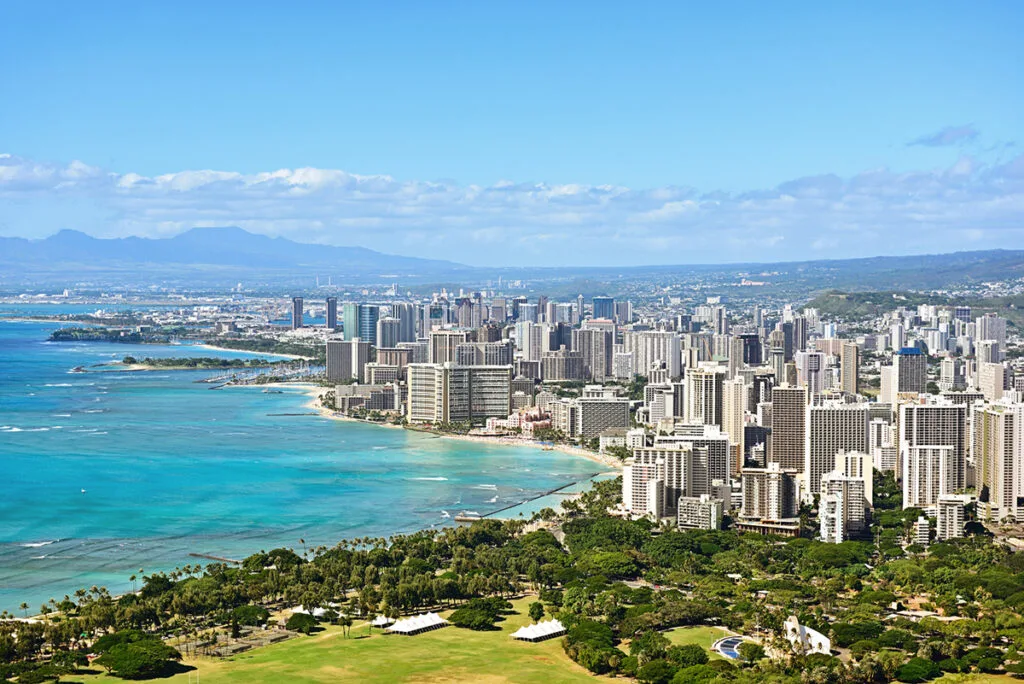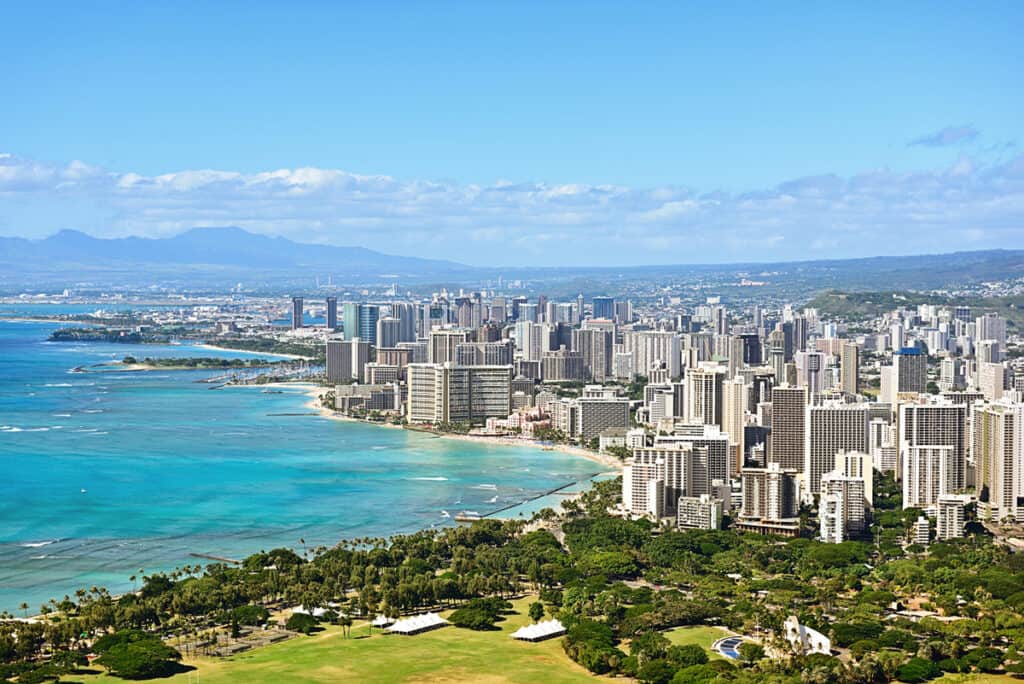 It gets hot and crowded at Diamond Head, so I recommend doing this hike first thing in the morning when it's cooler and has fewer people.
Pro tip: Stop at the KCC Farmer's Market for a post-hike snack if you're there on a Saturday morning!
2 Unwind with live music at Kapiolani Park
For some of the best views of Diamond Head (without the strenuous hike!), visit Kapiolani Park.
This green space has been a Waikiki favourite since 1870. It's the perfect destination to walk around and enjoy Hawaii's natural beauty.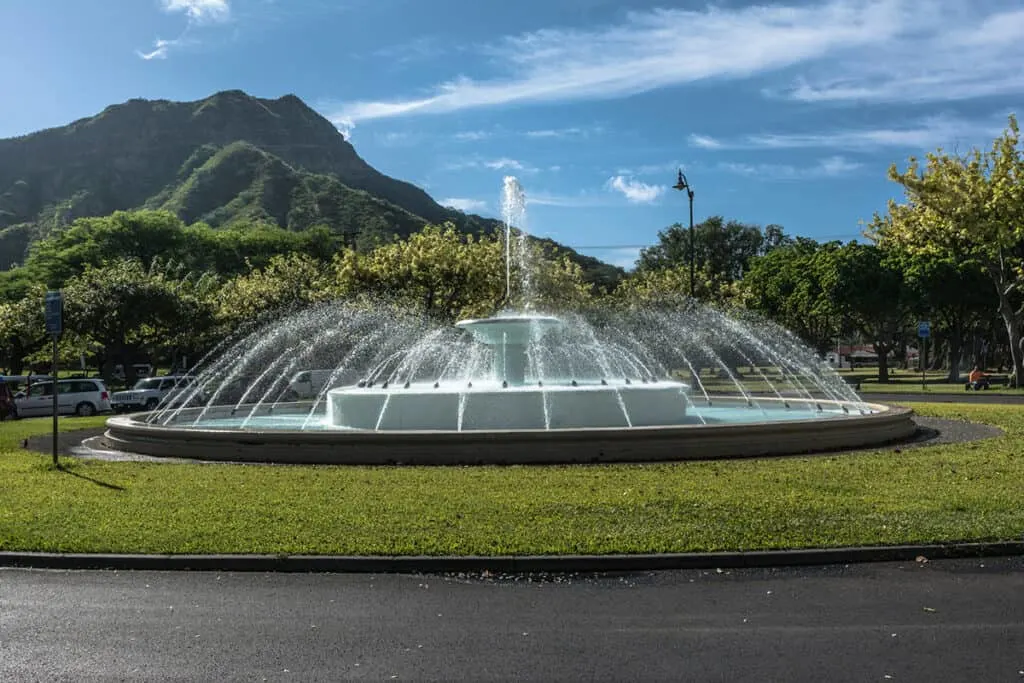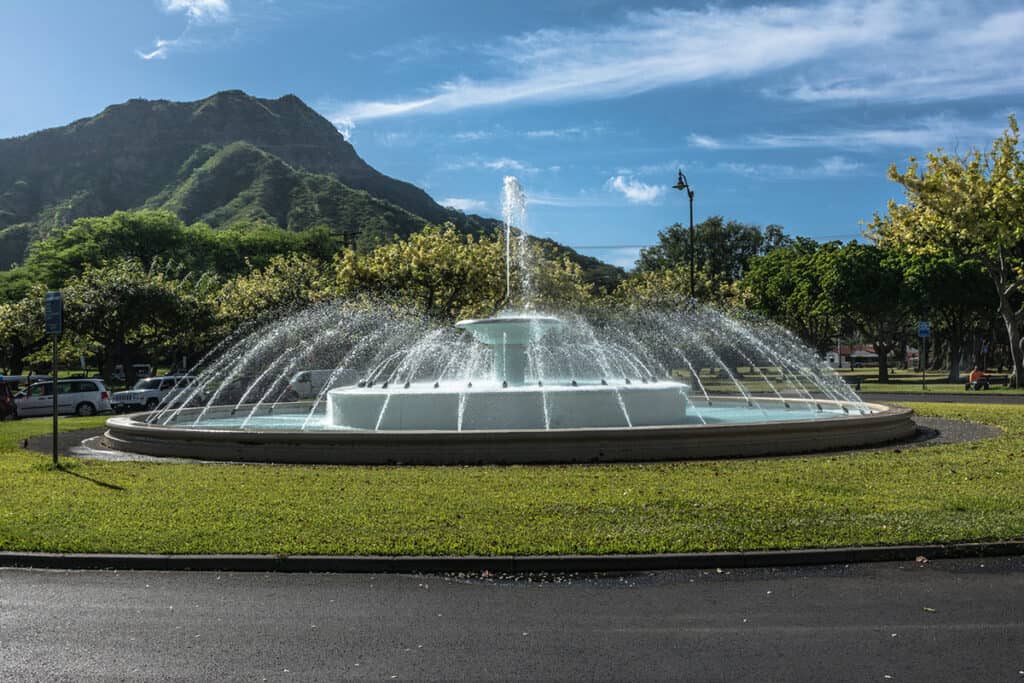 One of the best things to do is grab some spam musubi (a Hawaiian delicacy made from – yes – canned Spam!) or a bento box from Musubi Café Iyasume or a plate lunch from the legendary Rainbow Drive-In to eat at the park.
If you're lucky, you can catch some live music at the Waikiki Shell outdoor concert venue. Unfortunately, you can't bring your picnic with you to the show, but you'll have a fantastic time nonetheless.
3 Visit Honolulu Zoo
An exciting, family-friendly activity in Waikiki is visiting the Honolulu Zoo.
The zoo is right next to Kapiolani Park. This attraction is the only zoo within a 2,383-mile radius! Here, you can find animals from every corner of the globe – from American Alligators and Asian Brown Tortoise to Burmese Pythons, Komodo Dragons and sloths.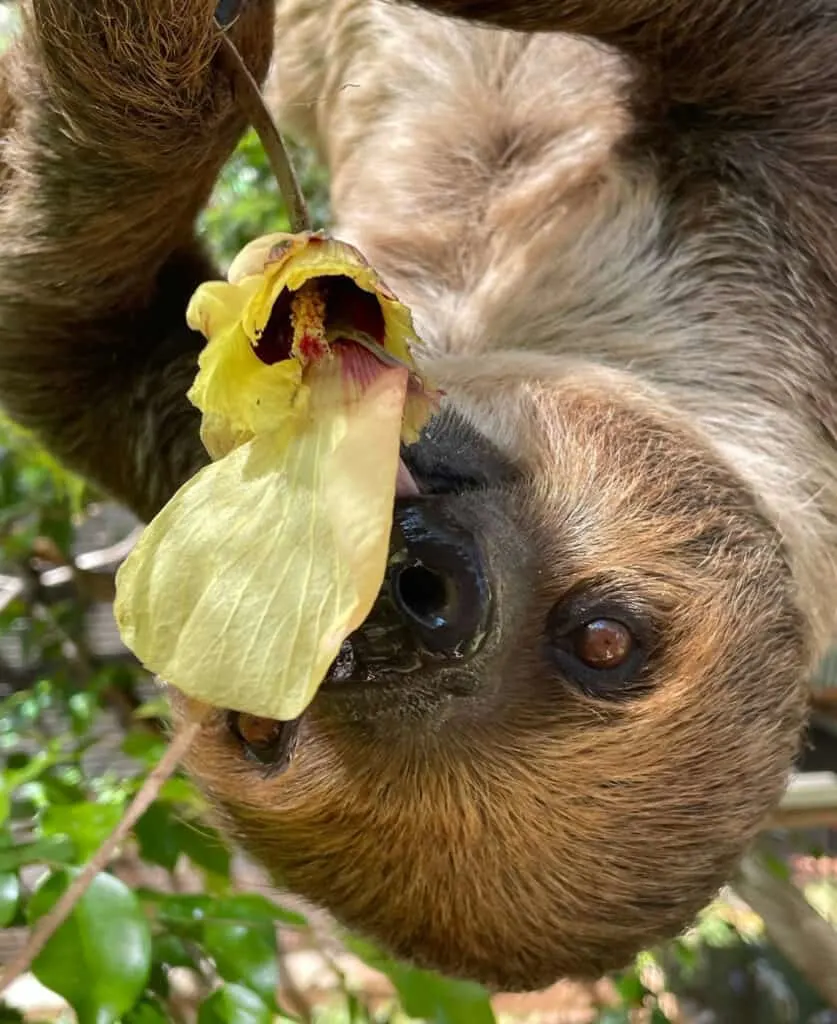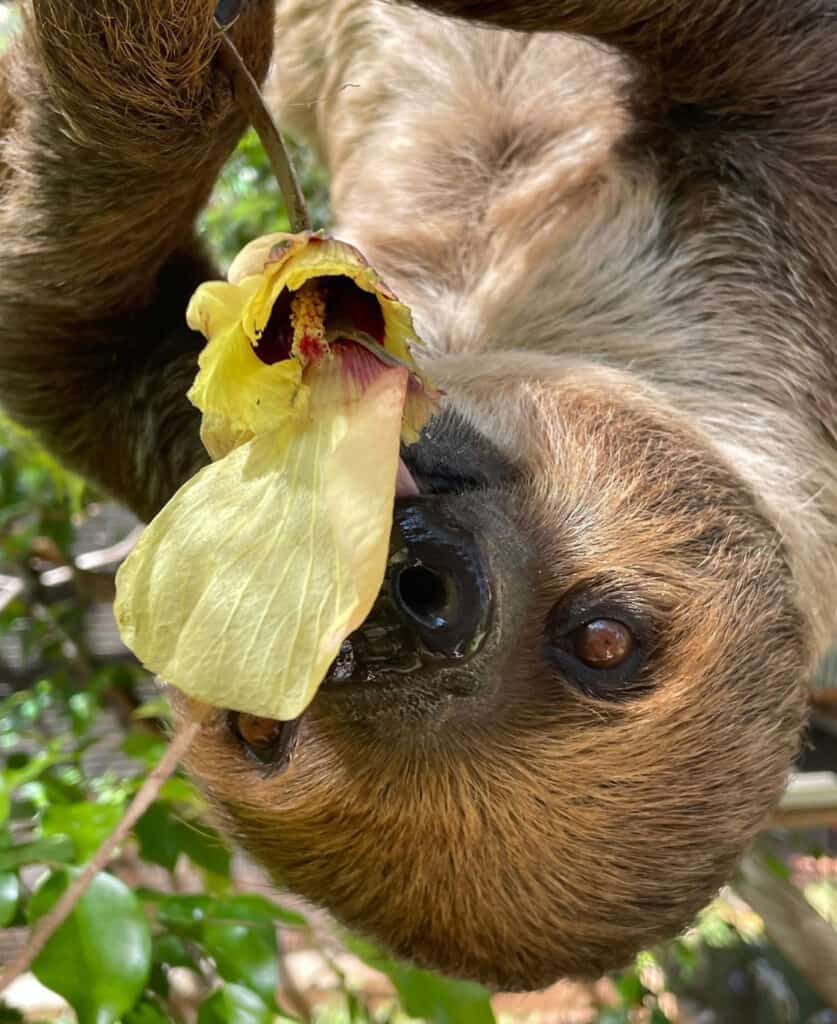 If you want to dig deeper and learn more about the species that call this zoo home, you can take a guided tour. Honolulu Zoo offers Morning Safari Tours and Twighlight Tours for guests. You can also find an open-air gallery called Art on the Zoo Fence, just outside the park, showcasing local artists.
4 Visit the Waikiki Aquarium
Also within Kapiolani Park is the Waikiki Aquarium. Learn more about the marine life who make the waters surrounding Oahu and the Hawaiian Islands home.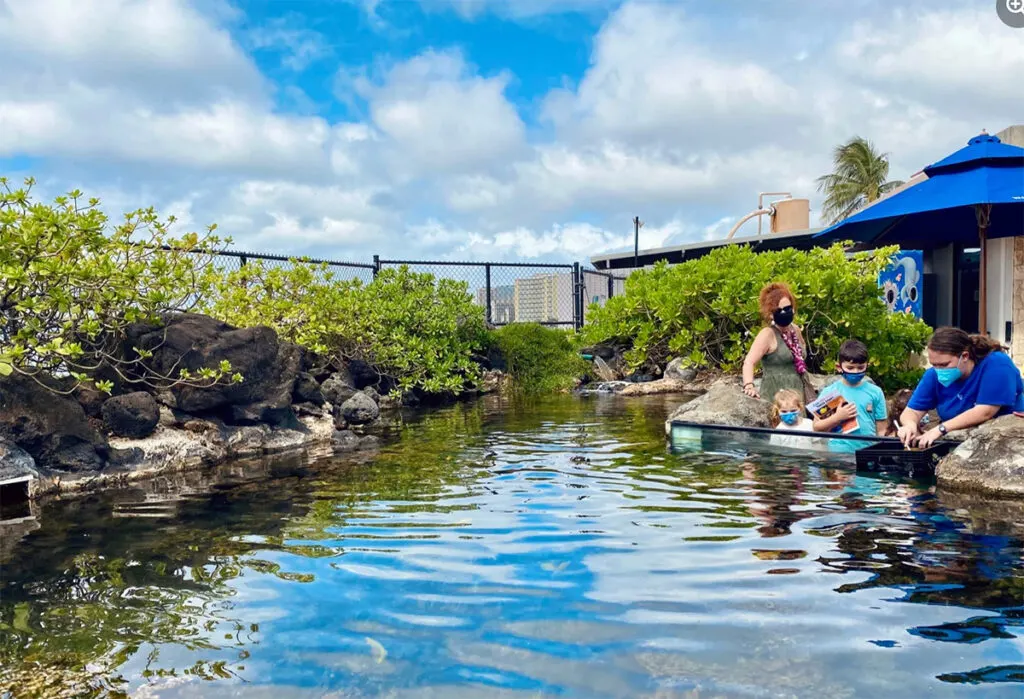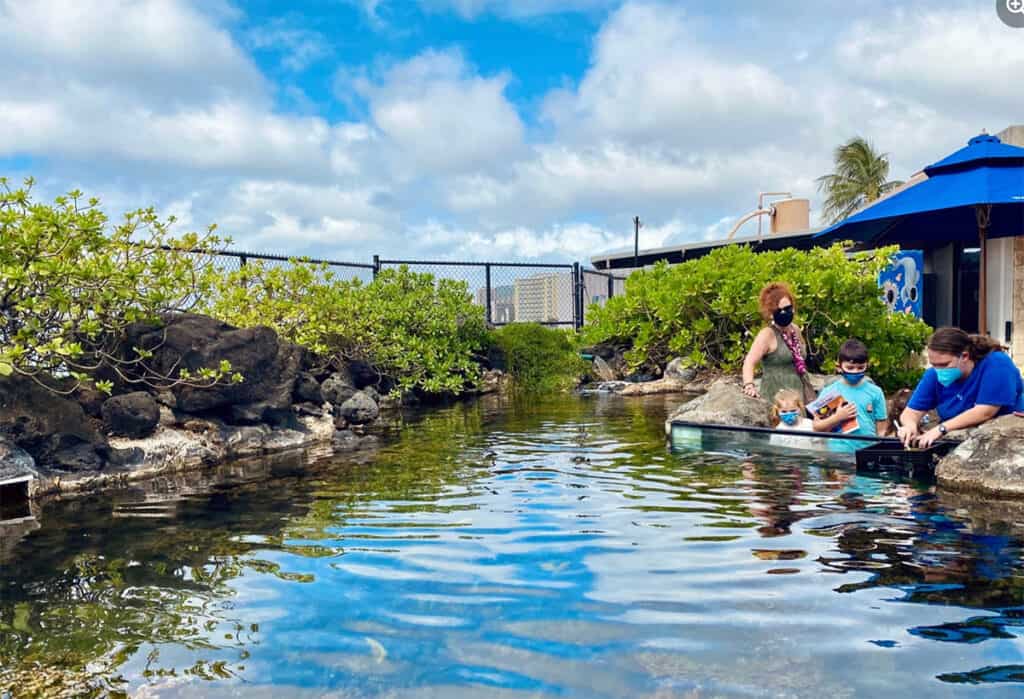 There are several fascinating exhibitions at the aquarium. You can see living reefs, coral farms, native Hawaiian aquatic plants, and many different sea animal species. A few of these intriguing animals include seahorses, sea dragons, Hawaiian monk seals, and jellyfish.
Visiting the aquarium is an entertaining and educational experience suitable for groups of all ages.
5 Stroll along Kalakaua Avenue
If you want to be where all the action is, visit Kalakaua Avenue. This street spans over three miles from Kapiolani Park to Ala Moana and is Waikiki's beating heart.
The area is a bit touristy but still fun. It is edged in skyscrapers, restaurants, shopping malls, boutique stores and the ever essential ABC Stores which is a great place to pick up your sunscreen, buy a snorkel and goggles, a beach towel, or any last minute items you left at home.
A few places you should stop for a shop and a bit to eat while strolling down Kalakaua Avenue are the Royal Hawaiian Center in the heart of Waikiki. Here you'll find stores like Tiffany & Co., Saint Laurent, Hermès, Fendi, Jimmy Choo, alongside local boutiques and souvenirs. But this is also a cultural center with hula lessons, ukulele lessons and lei making.
which is the newest retail and hospitality area with great restaurants and bars to enjoy in a lovely open air setting.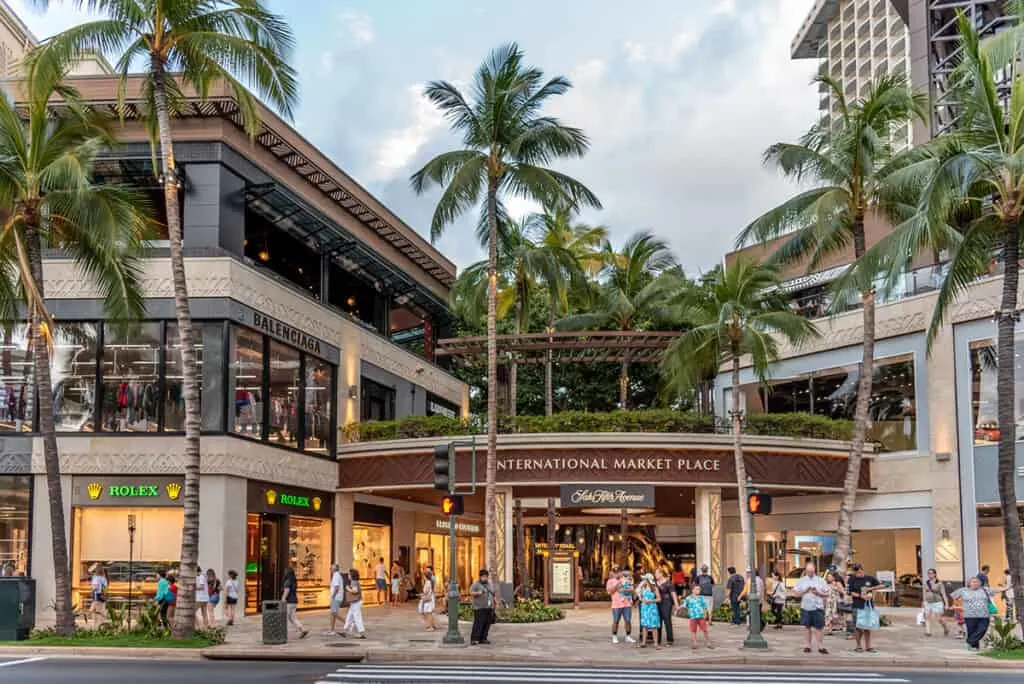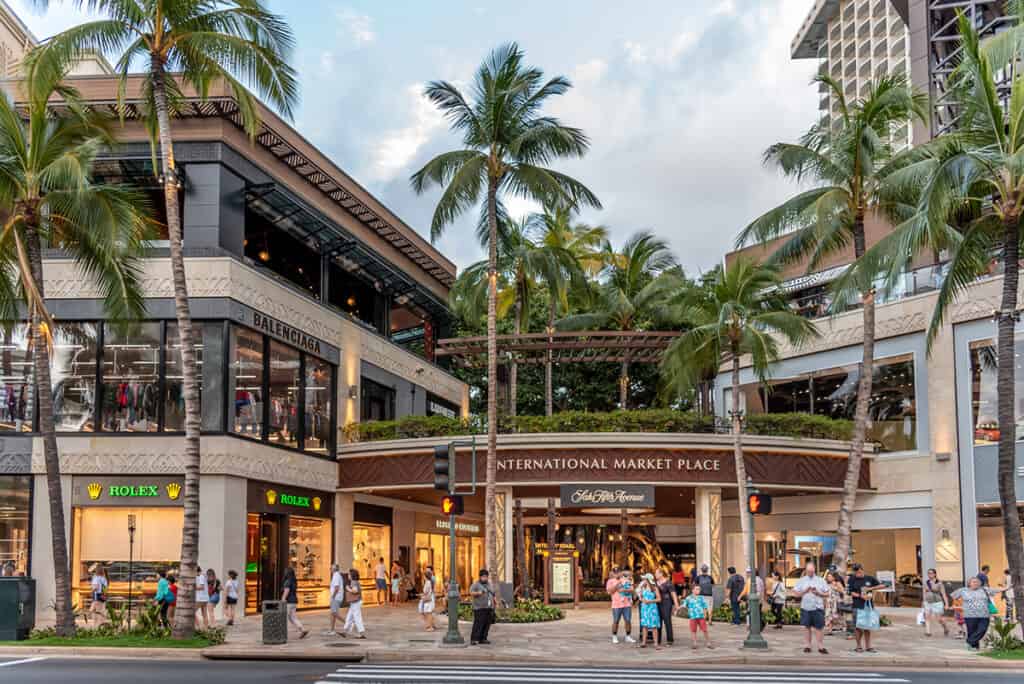 And International Marketplace. You might remember this if you last visited Hawaii many years ago. These days the cheap stores have been replaced by higher end stores and boutiques, but the open air food court remains under the big banyan tree.
If you're looking for a nice rooftop bar, grab a drink at the famous SKY Waikiki Raw & Bar. There are spectacular panoramic views and outstanding food and drinks at this locale.
Waikiki Beach Walk is another open air retail and hospitality precinct with shopping, dining and entertainment and is part of the Outrigger Group, with their hotel connected to it. You'll find more local brands here, and also Ruth's Chris if you fancy a juicy steak, Yardhouse for beers and famous Roy's Waikiki for superb Japanese and American-Asian fusion cuisine.
Pro tip: Catch free live performances at the Kuhio Beach Hula Mound!
6 Swim with Sea Turtles
While Waikiki's land attractions are exciting, I know you're wanting to spend time at the beach.
There are several areas suitable for snorkeling and swimming in Waikiki. These include Royal Hawaiian Beach, San Souci Kaimana Beach, Fort Derussy, Southern Waikiki Beach, and Duke Kahanamoku Beach.
These beaches have beautiful clear water and coral reefs that look like a scene out of Finding Nemo. You'll see colorful tropical fish wearing bright blue, orange, and yellow hues, and you might even swim next to some turtles.
*Please note, if you do see turtles, they are not to be touched. Just look with your eyes!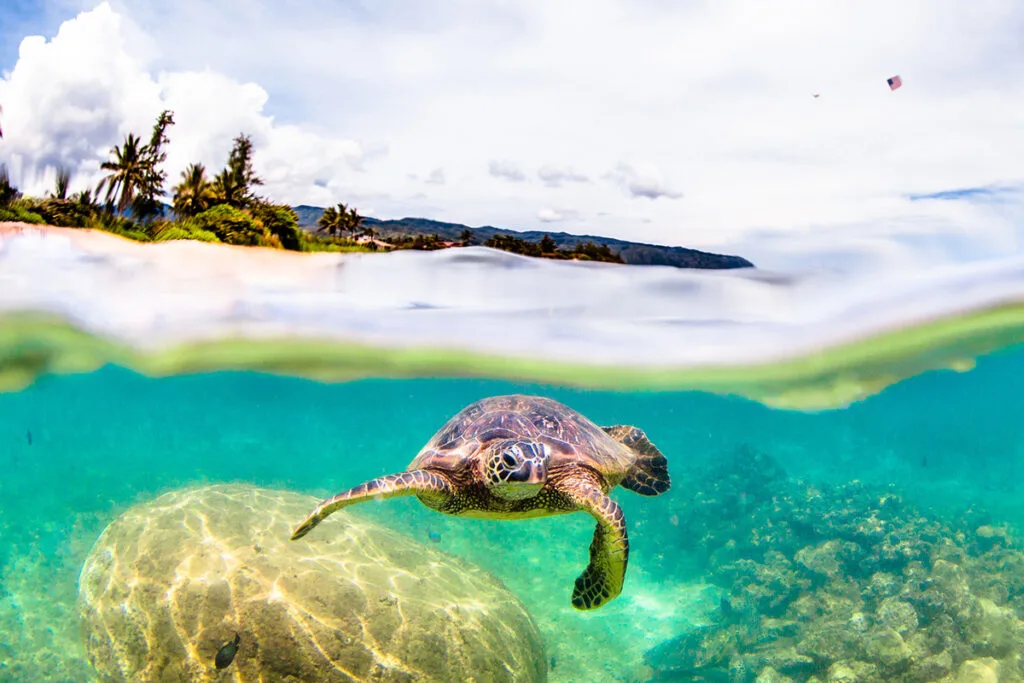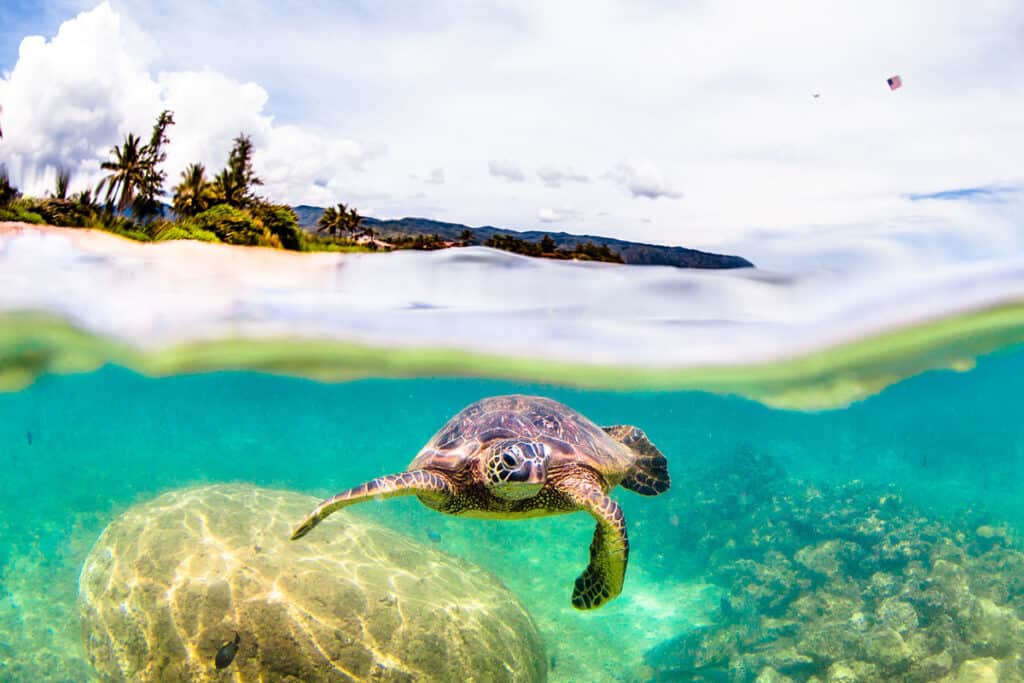 But if you really have your heart set on swimming with Hawaiian sea turtles, you can book a tour and head to some of the beaches around Oahu where they are plentiful.
Waikiki beaches are relatively shallow and calm because of the protection from surrounding reefs. Just make sure you pack reef-safe sunblock to keep you and the coral safe!
7 Take a surf lesson
Hawaii is the most iconic place on Earth to get surf lessons! If you don't already know how to surf, take a lesson, but if you do, then rent a longboard and head out into the waves. There are board rental companies down by the famous bronze statue of Duke Kahanamoku on Kuhio Beach.
I took a surf lesson at Bondi Beach, Sydney and it was super embarrassing!
Paddleboarding is also popular – and much easier! I can handle that and wrote 10 tips for how to paddle board here.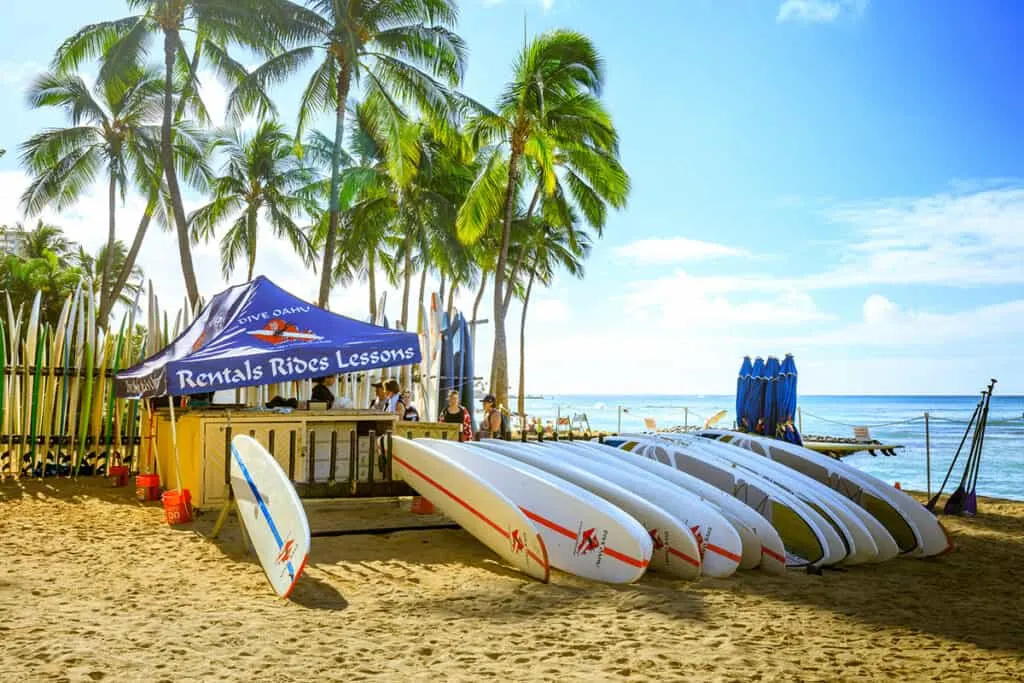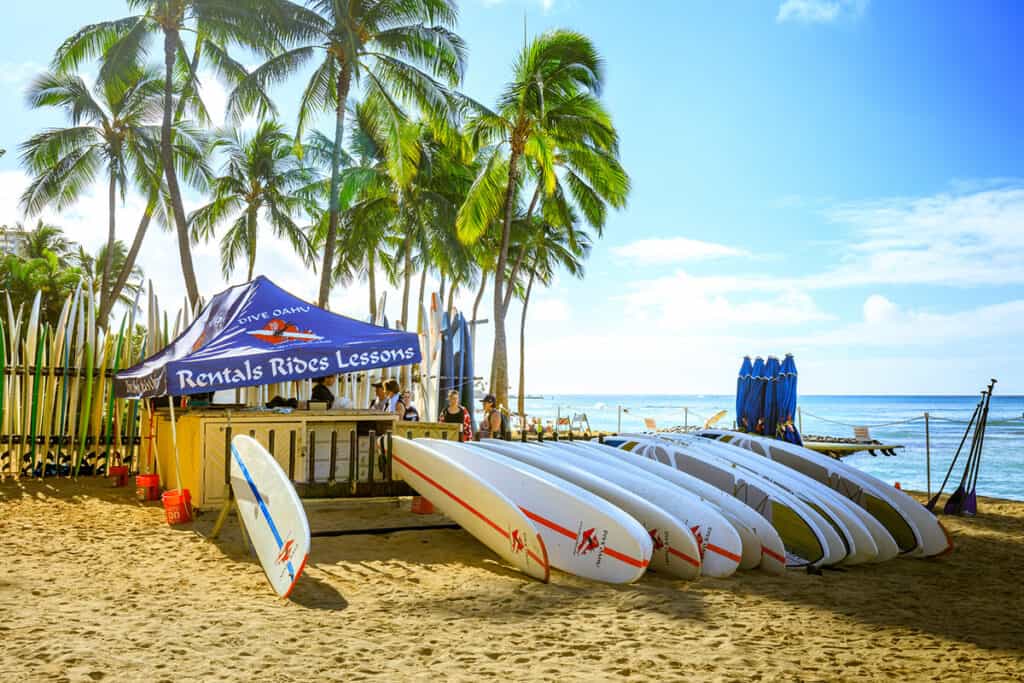 8 Ride on an Outrigger Canoe
I haven't yet done this but so want to! It's another popular activity, and a great way to get out on the ocean and look back at the beach lined in hotels.
Go on an outrigger canoe ride and experience "surfing" without having to spend all day learning how to stand!
An outrigger canoe is a modern version of an ancient Hawaiian fishing and travel vessel. These canoes have a unique design that makes them suitable for riding ocean waves.
Riders paddle out with a guide and catch waves back to shore. While paddling out, you can see all of the sea creatures below in the gin clear water.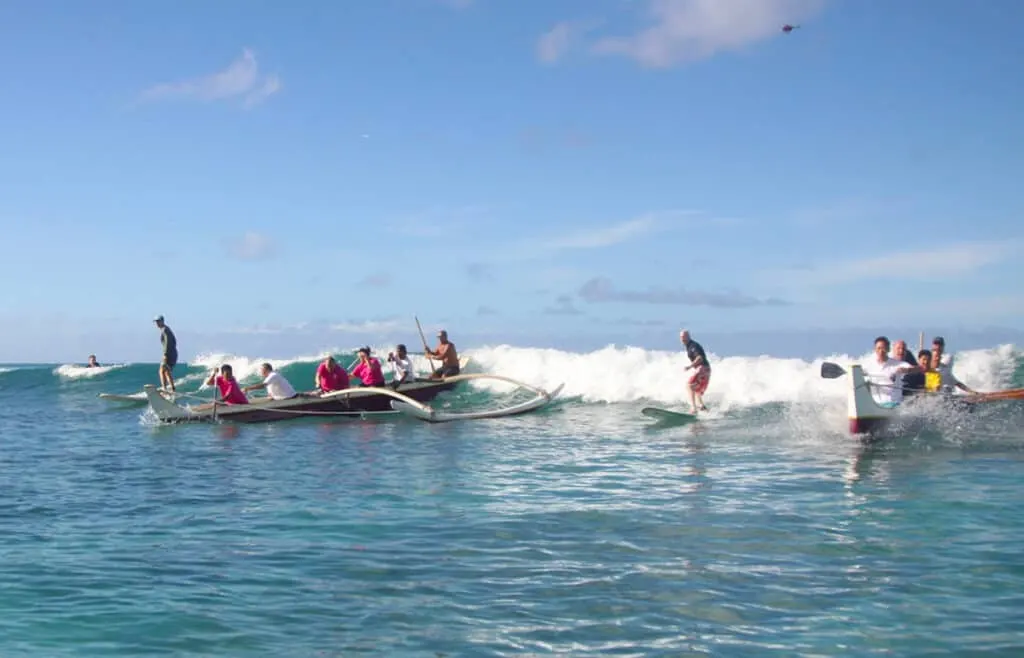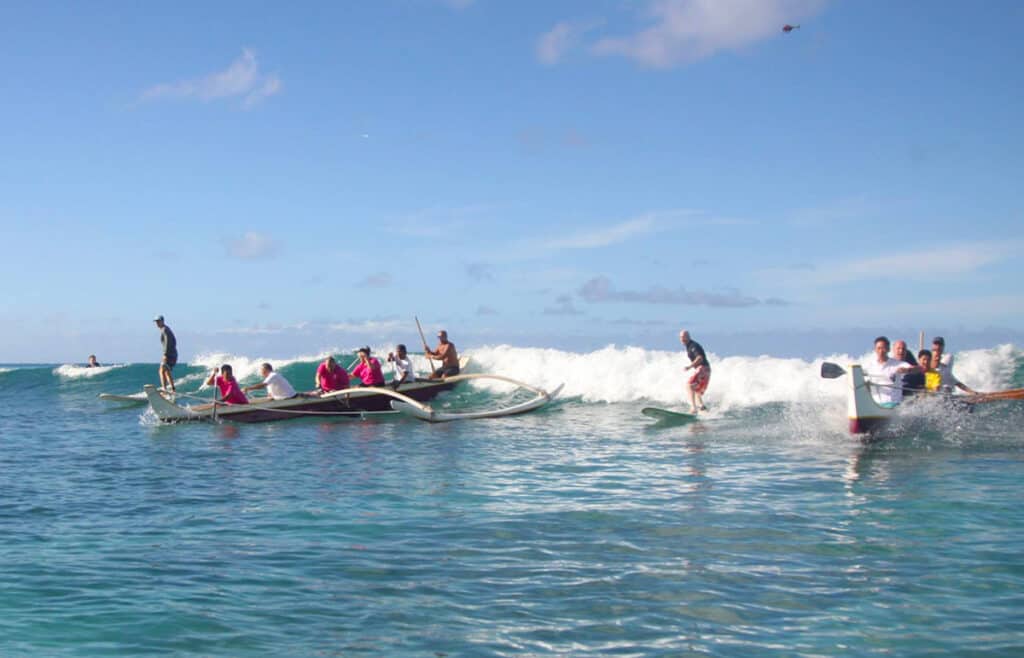 Depending on the conditions, outdoor canoe rides typically last 2-3 waves or 10-45 minutes.
Rent canoes, paddle boards and surf boards or get lessons from Waikiki Beach Services, based at the Royal Hawaiian and the Sheraton Waikiki.
9 Shop at Ala Moana Center
Ala Moana is not technically part of Waikiki, but within walking distance and sooo worth visiting!
Ala Moana is a neighborhood with the famous glitzy shopping mall, an expansive park, and a tranquil beach. It was the first place we came to when I visited Hawaii with my parents. Actually, it was dad who was keen to get here. He'd been Googling trousers on the Macy's website and knew the exact pair he wanted and that they were on sale!
The Ala Moana Shopping Center is a terrific place to spend an afternoon, even if you're not a shopaholic.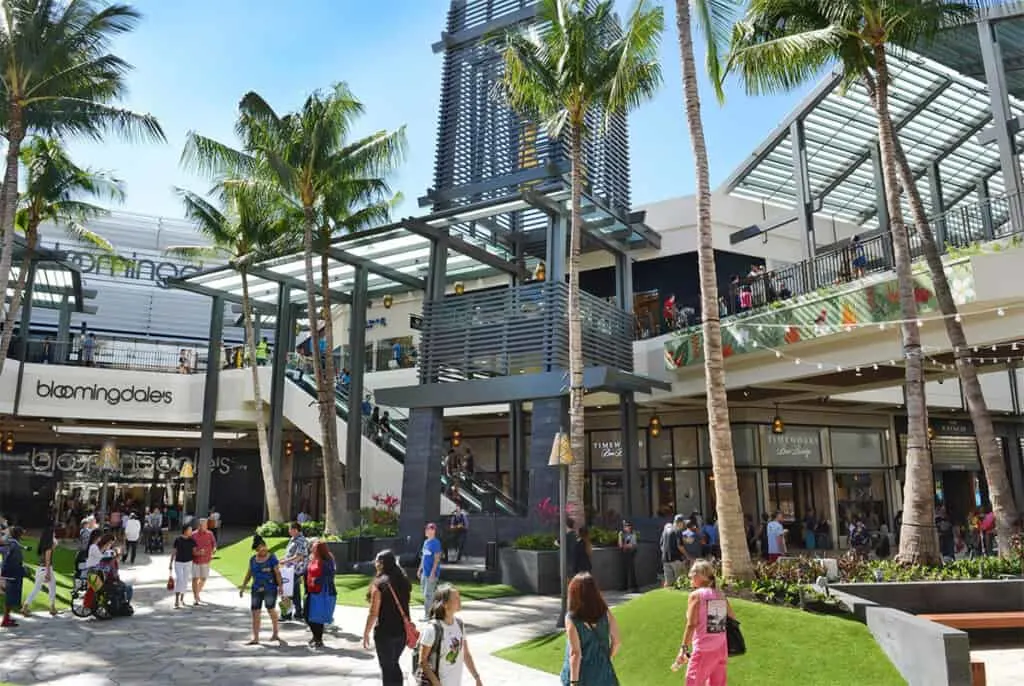 Not only do they have every store imaginable, but they also have an outstanding international food court. We took mum and dad to lunch at Bubba Gump (I know, not exactly international but great fun and a great vibe).
Ala Moana's park and beach are only a short stroll from the shopping center. You'll find a more relaxed atmosphere down here than Waikiki and it is ideal for swimming and snorkelling because of its protected bay. This beach is also perfect for children because there are hardly any waves.
10 Sunset cocktails at Moana-Surfrider
Walk along the beach and sit under the banyan tree at the majestic Moana-Surfrider hotel and people-watch over a nice cold beer.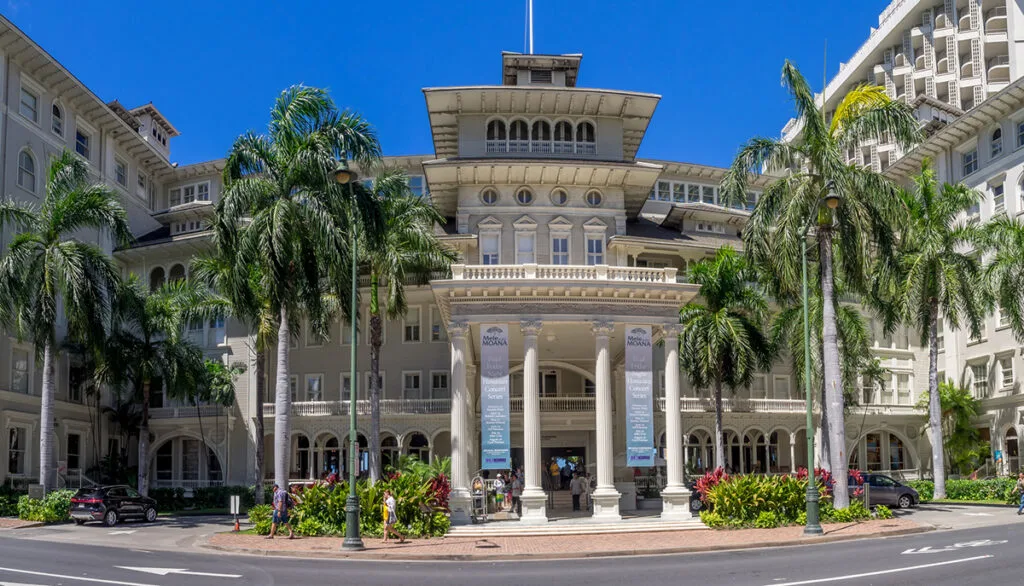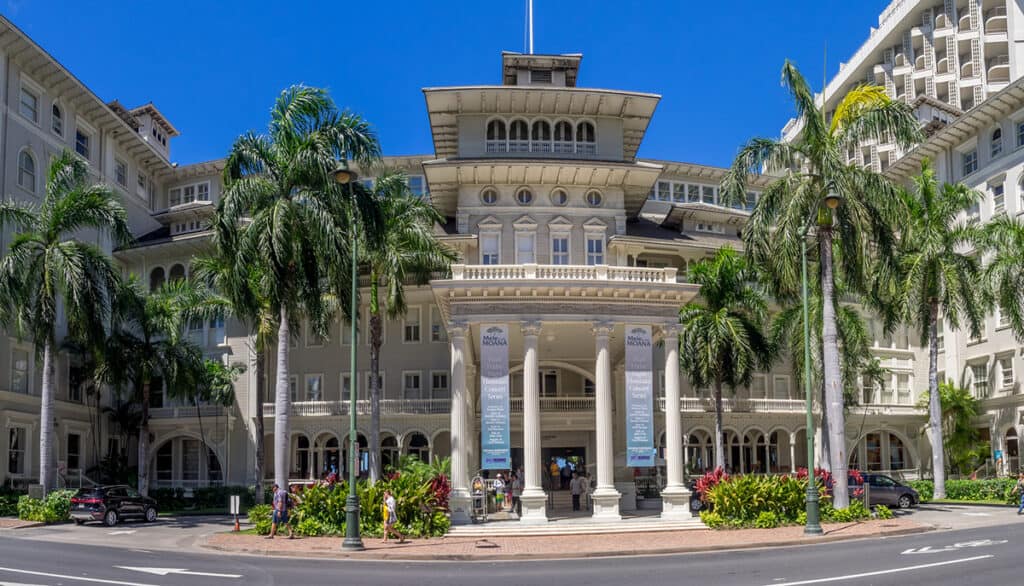 This hotel is affectionately known as the "first lady of Waikiki", since she was built on the beachfront in 1901. The massive banyan tree in the gardens that spill onto the sand is just about as famous, and you don't need to be a guest here to sit down and enjoy the dining options.
One of the best spots in Waikiki for sunset drinks over the Pacific Ocean.
11 Swim at a child-friendly beach
If you're wanting a calm beach and virtually no waves where the whole family can swim, a great spot is down at the Diamond Head end of Kuhio Beach, in front of Aston Hotel. It's not very crowded and the waves are blocked by the Waikiki wall, a walkway that leads out into the ocean providing fabulous views back to the beach.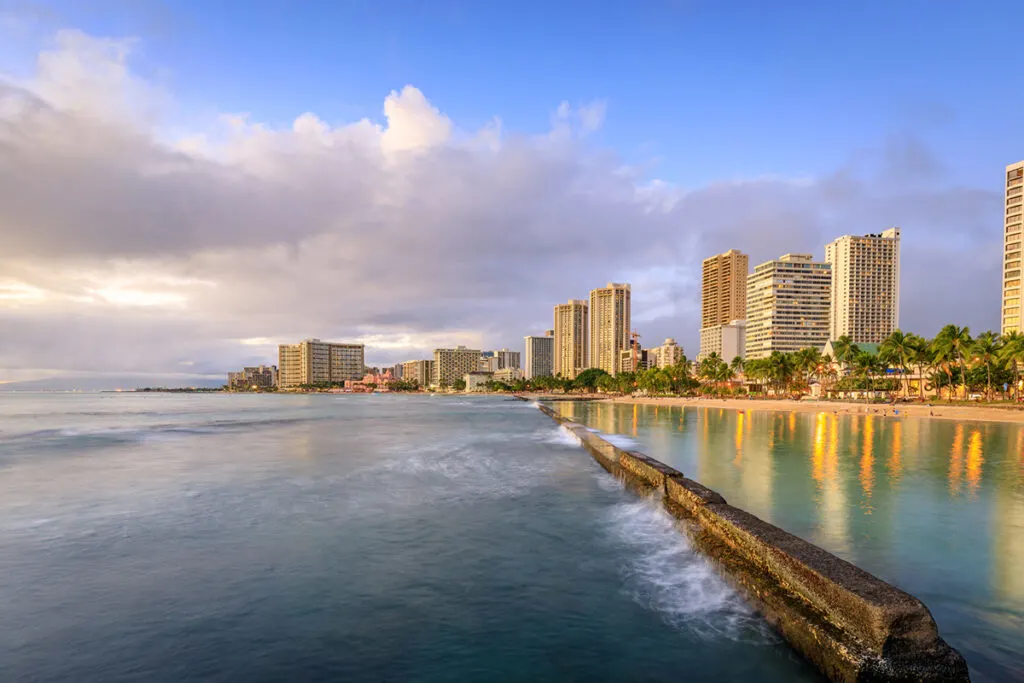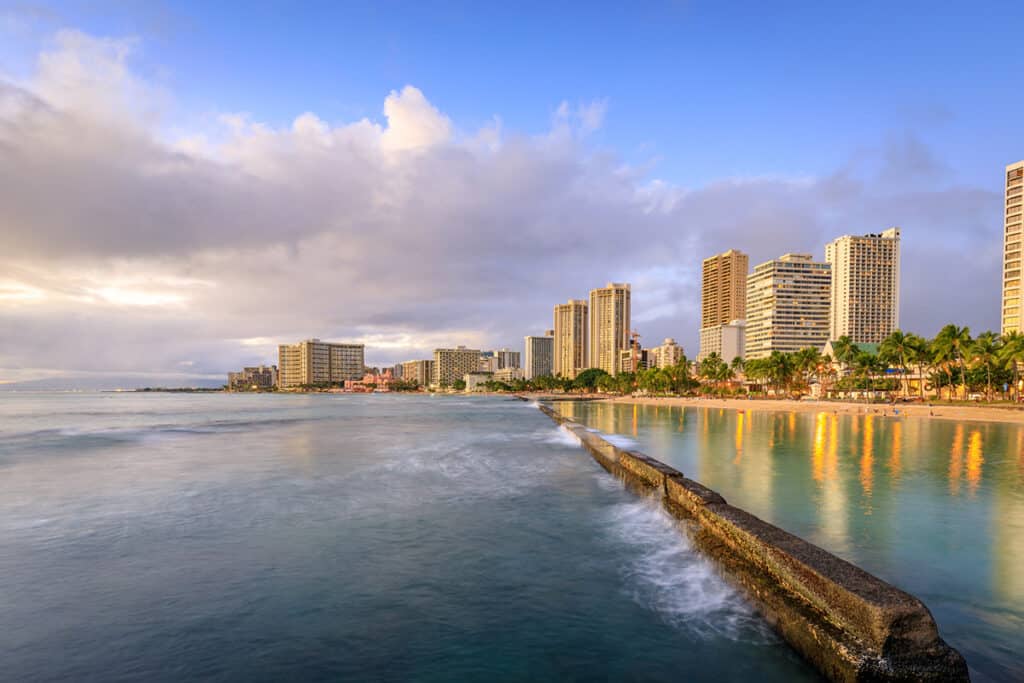 There's also burger bars and a Wolfgang Puck Express down here, plus hotels if you want to stay away from the hustle and bustle end of Waikiki.
But there are dozens of fabulous beaches wrapping around Oahu like salt around a margarita glass. If you want to board surf, kite surf, dive or just head out to somewhere more remote, these 5 beaches not to miss in Oahu will get you started.
12 Learn Hawaii's history at Iolani Palace
History buffs will love exploring the historic Iolani Palace.
King Kalakaua built this palace during his rule in 1879 and his successor, Queen Liliuokalani, lived here until being overthrown. The palace fell into poor shape for many years until its restoration in the 1970s.
Today, this historic landmark exudes its original splendor and is a fascinating place to discover. You can go on a self-guided tour of the property or have a docent guide you.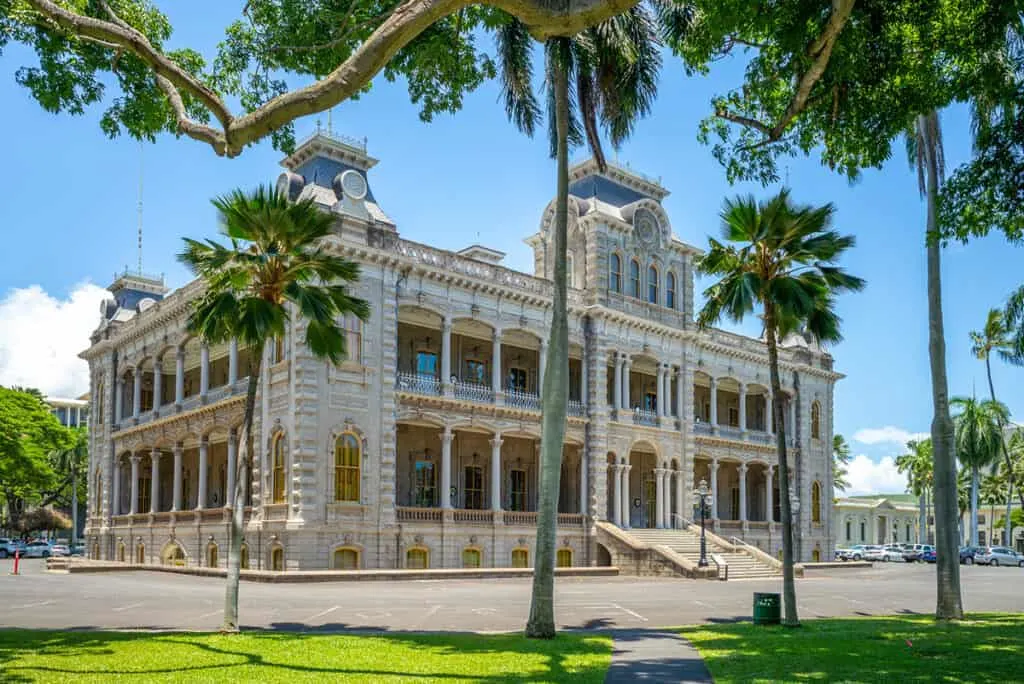 The palace has spectacular grand halls, decorative international furnishings, and an ornate throne room. It is a fascinating piece of history you should visit while in Waikiki.
13 Visit the Honolulu Museum of Art
Just a four-minute walk from the palace is the Honolulu Museum of Art.
HoMA is a world-class art museum which houses 50,000 works in its permanent collection and many other temporary exhibits.
Its galleries, Honolulu Museum of Art School, the Doris Duke Theatre, and a coffee bar and shop are all within the complex.
In addition to its fascinating local and international art, you can brush up on your artistic skills at one of their classes. They have workshops for kids and adults suitable for all levels, like this adult sketching class held in the courtyard and also indoors.
This museum is the perfect place to beat the heat for a few hours and admire some incredible works of art.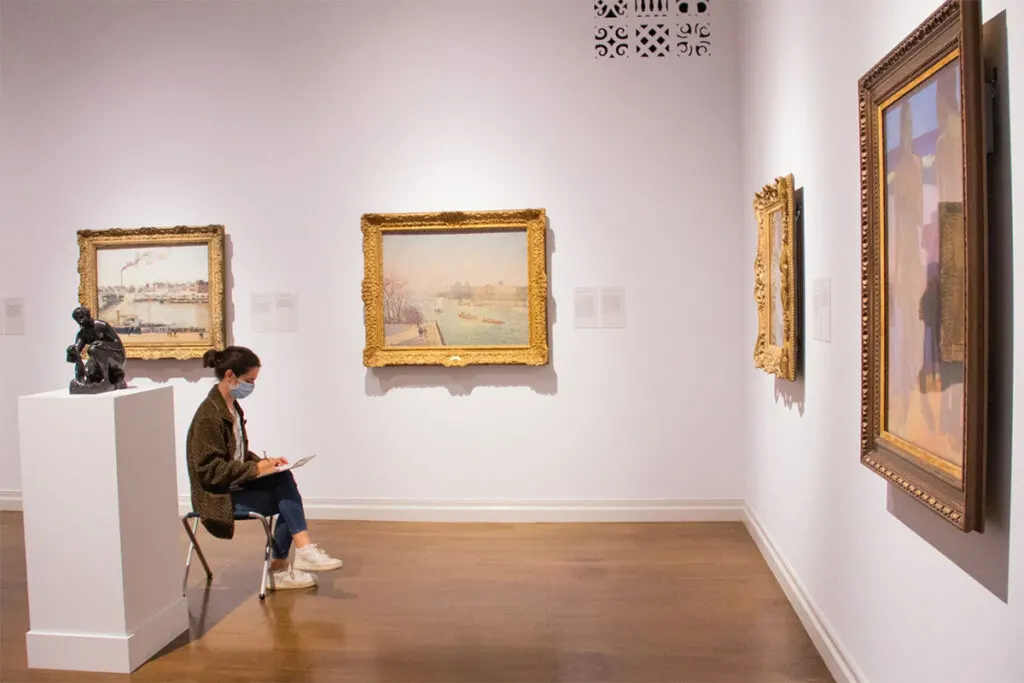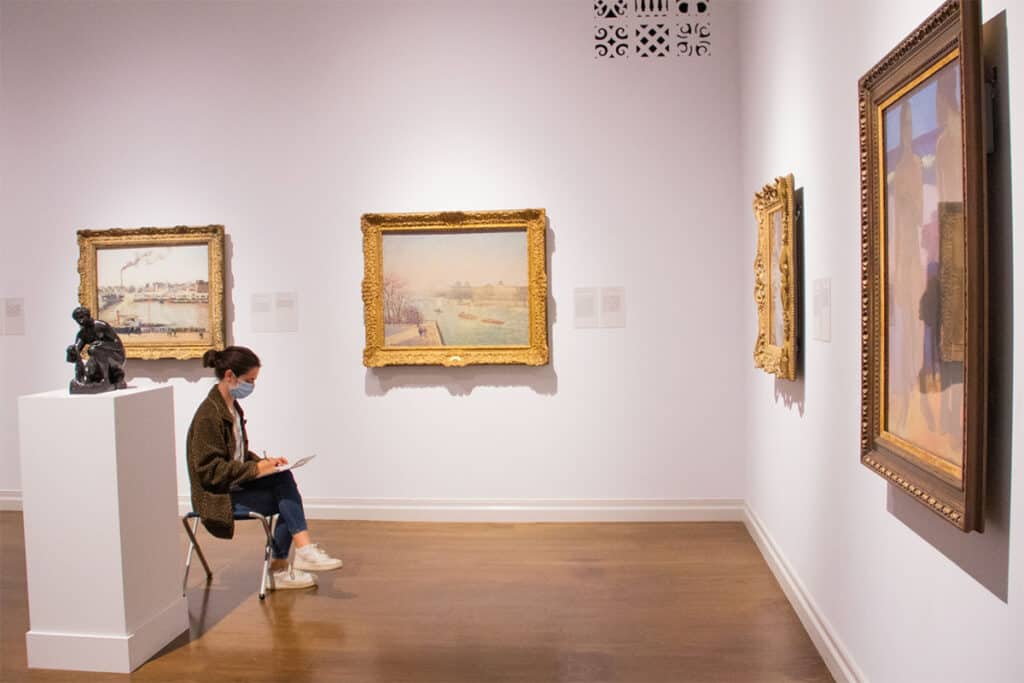 14 Explore the Foster Botanical Garden
Also nearby the art museum and Iolani Palace is the Foster Botanical Garden.
There are many botanical gardens around Waikiki, but the Foster Botanical Garden is one of the best.
This is Honolulu's oldest botanical garden, planted by Dr. William Hillebrand in 1850. This stunning natural area is an oasis within bustling Downtown Honolulu filled with many exotic birds that you can have fun trying to spot.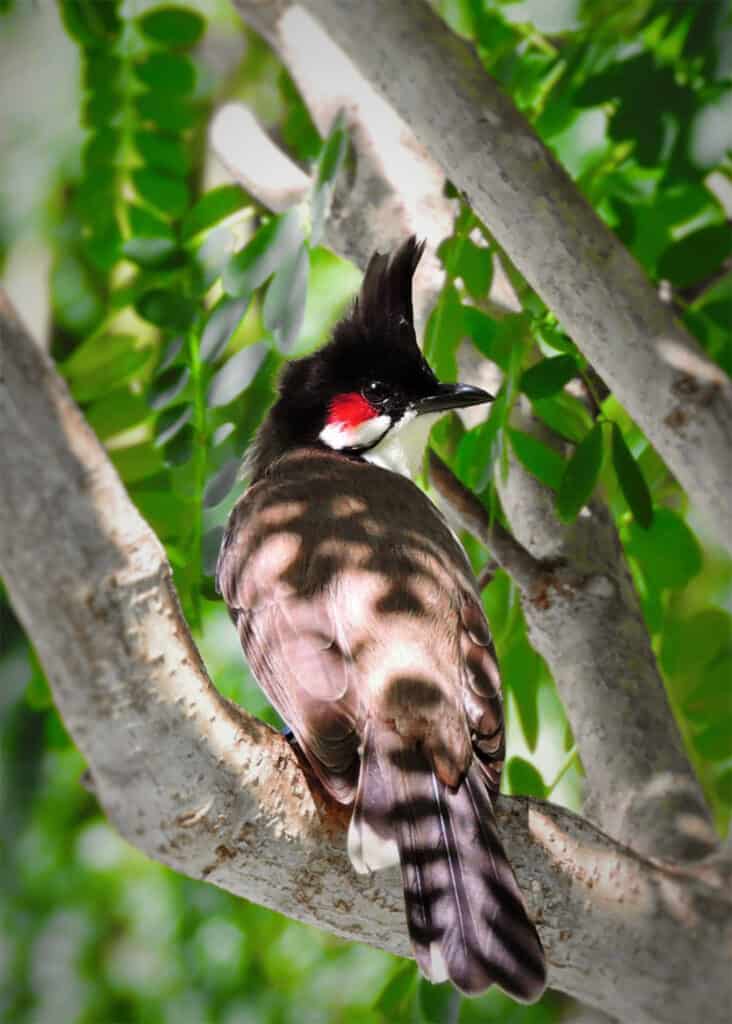 Within its 14-acre land is an impressive collection of tropical plants such as a huge array of orchids and the foul smelling corpse flower that only flowers occasionally.
Every day at 10:30 am, there are free guided tours with reservations or free self-guided tours all day. They also run events and classes – like learning how to grow a lei garden, or flower arranging.
Pro tip: If you're feeling hungry after visiting the garden, head to Chinatown nearby for some tasty treats!
15 College football game
Probably one the most fun things to do is go to a Hawaii College football game.
Hawaii University has a whole athletic program so if college basketball, baseball or even swim is more your interest, you might like to head along to a game for a fun night out.
The last time I watched a the Rainbow Warriors, they played at Aloha Stadium, but that is slated for demolition some time in 2022 and will be resurrected as the New Aloha Stadium Entertainment District. Construction of the stadium is expected to start in 2023 and could take two to three years, with the full entertainment vision maybe taking decades.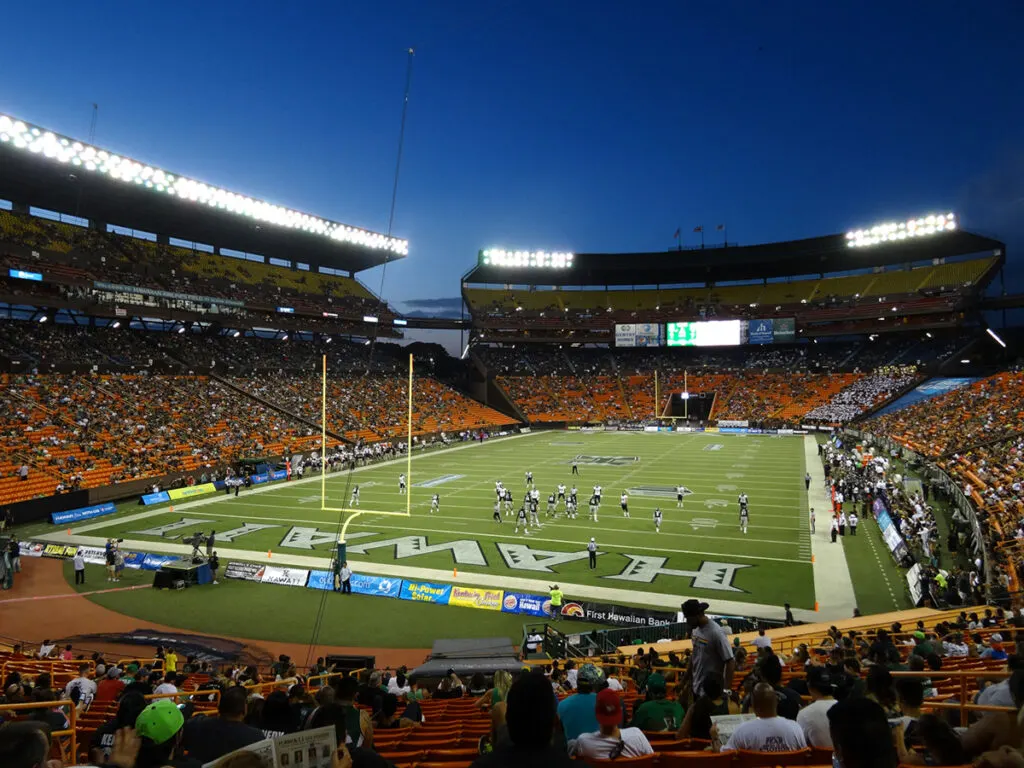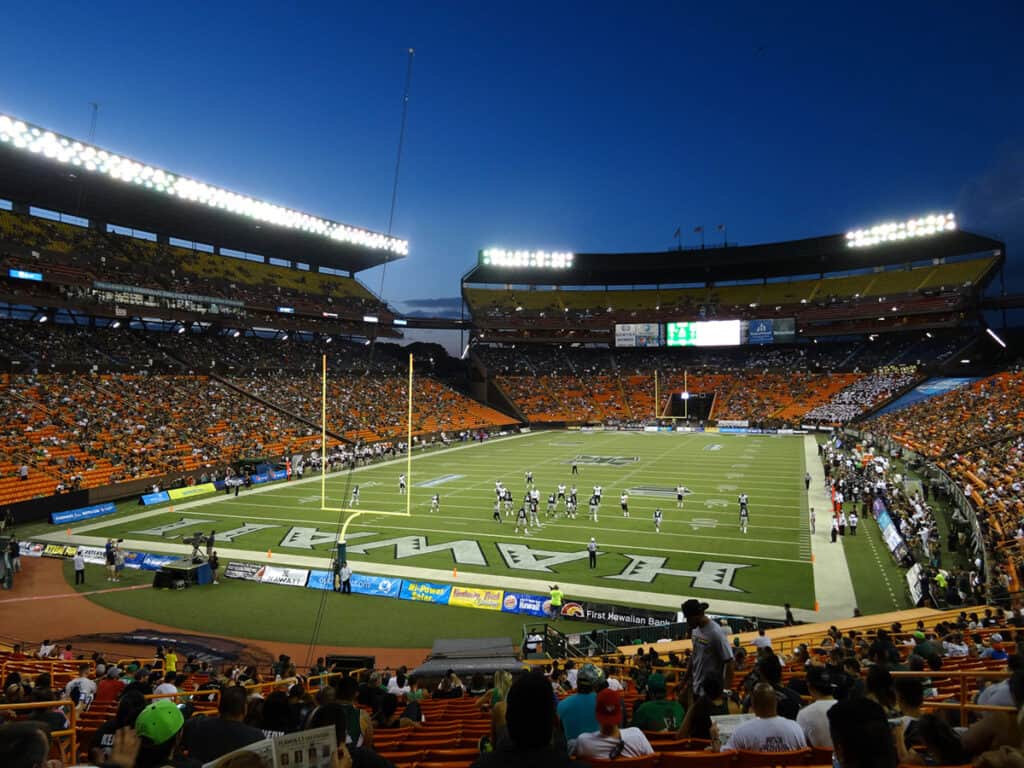 16 Attend a Luau on the Beach
One of the most memorable experiences you can have in Waikiki is attending a luau (traditional Hawaiian feast).
Usually it consists of dinner and entertainment. Many luaus serve a traditional menu of kalua pork, poi, poke, lomi salmon, opihi, and haupia on a long communal table and while you dine, there is typically traditional Hawaiian music and hula dancing.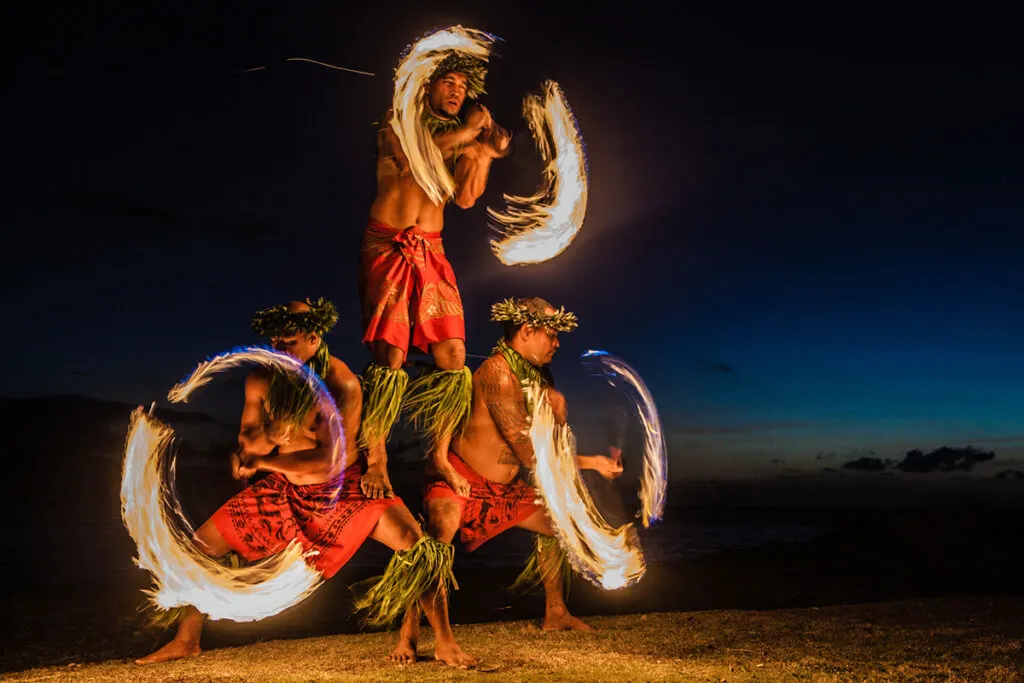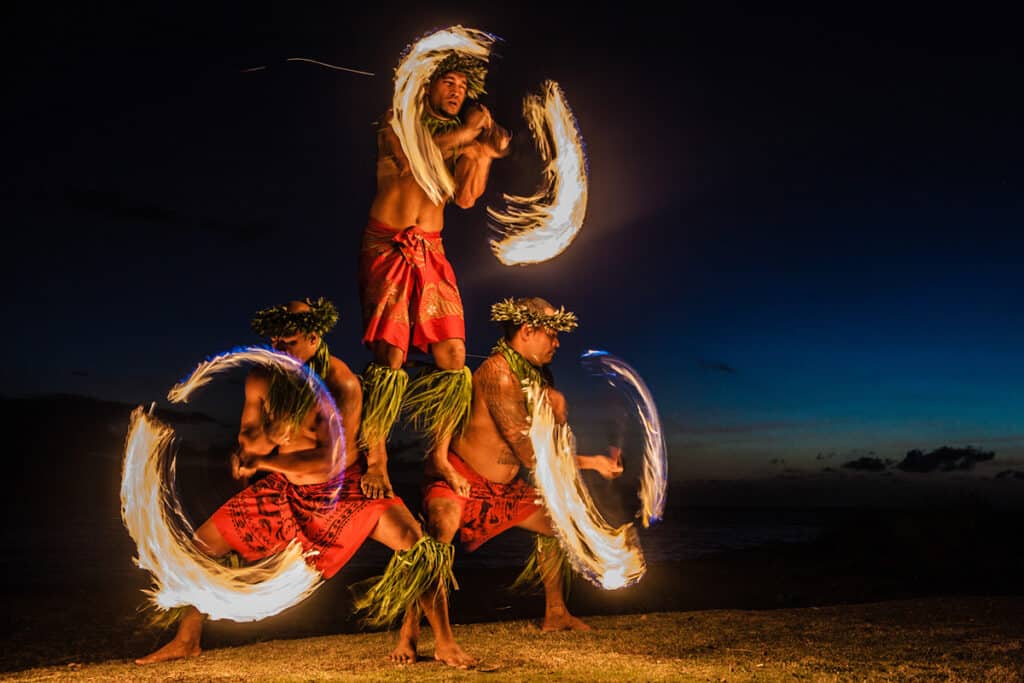 If you are staying at a resort in Waikiki, check if they have a luau because many accommodations offer their own. Regardless of which one you choose, you'll have an incredible time and make memories to take home forever.
17 Drive around Oahu
If you've had enough of Waikiki and want to explore more of the amazing Hawaiian island of Oahu, rent a car and go for a drive!
We did that last time we visited. We rented a Mustang, popped the roof down and and drove with the wind in our hair towards Oahu's North Shore.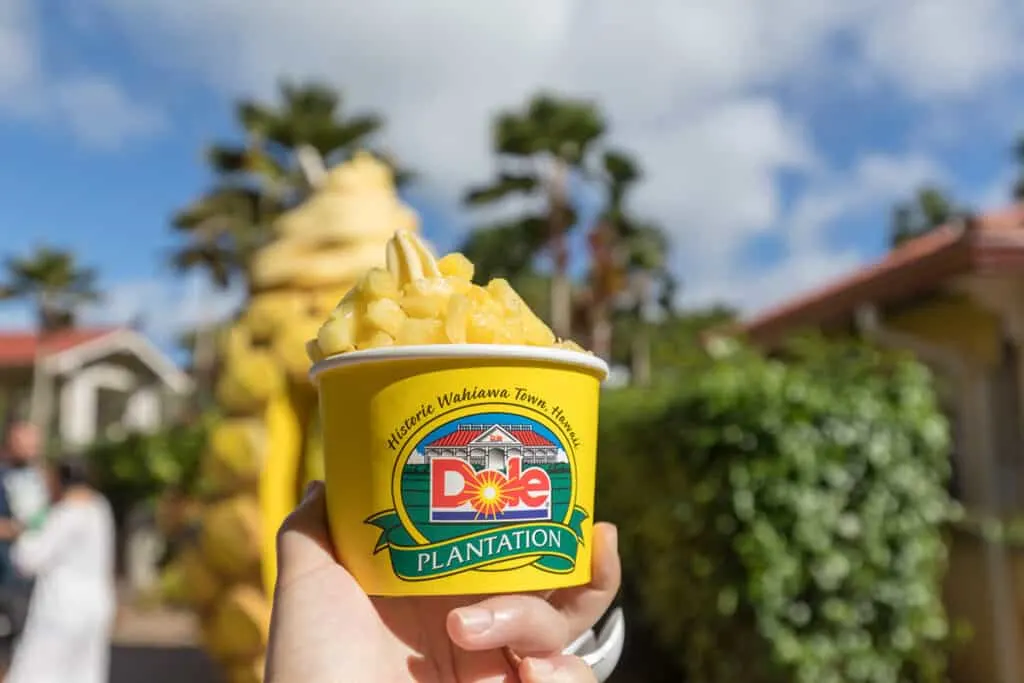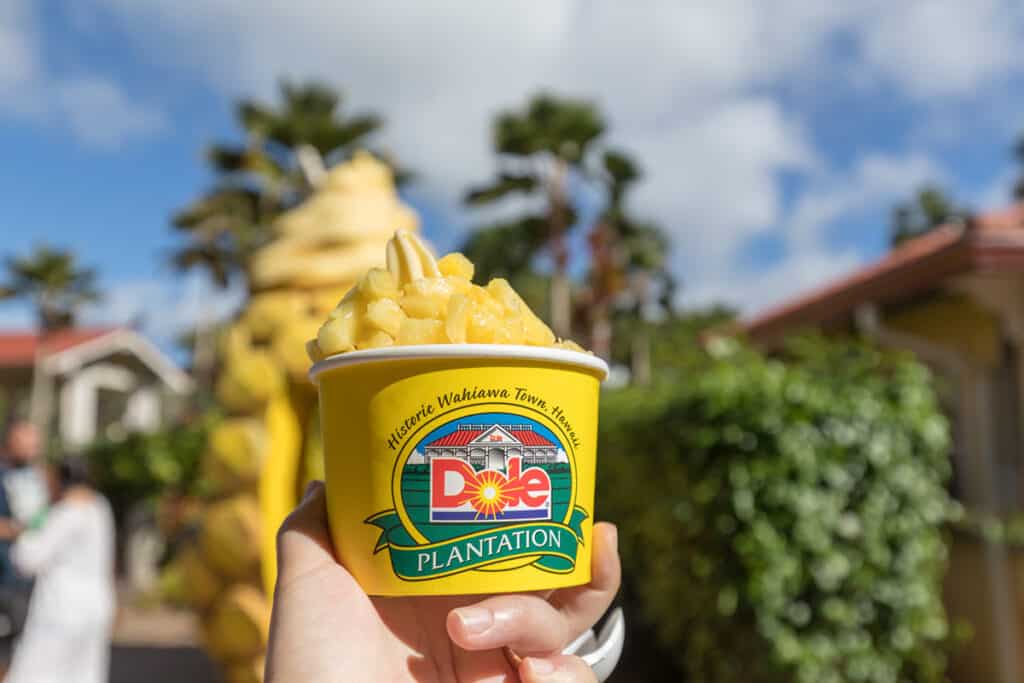 We stopped at shrimp trucks around the island, visited the Dole Pineapple Plantation, Kualoa Ranch where scenes from Jurassic Park were filmed (you can take a Raptor Tour), and stopped at the famous North Shore Pipeline. Unfortunately it was calm as a mill pond as the big famous waves only roll in during the winter months (November to February).
18 Take a helicopter tour!
This tip came in from a reader who said they'd done a helicopter flight down Waikiki beach and over Diamond Head, and how amazing it was.
This incredible 30-minute helicopter flight over Oahu has the option of doors off or on! Charge your phone and prepare to get some incredible photos!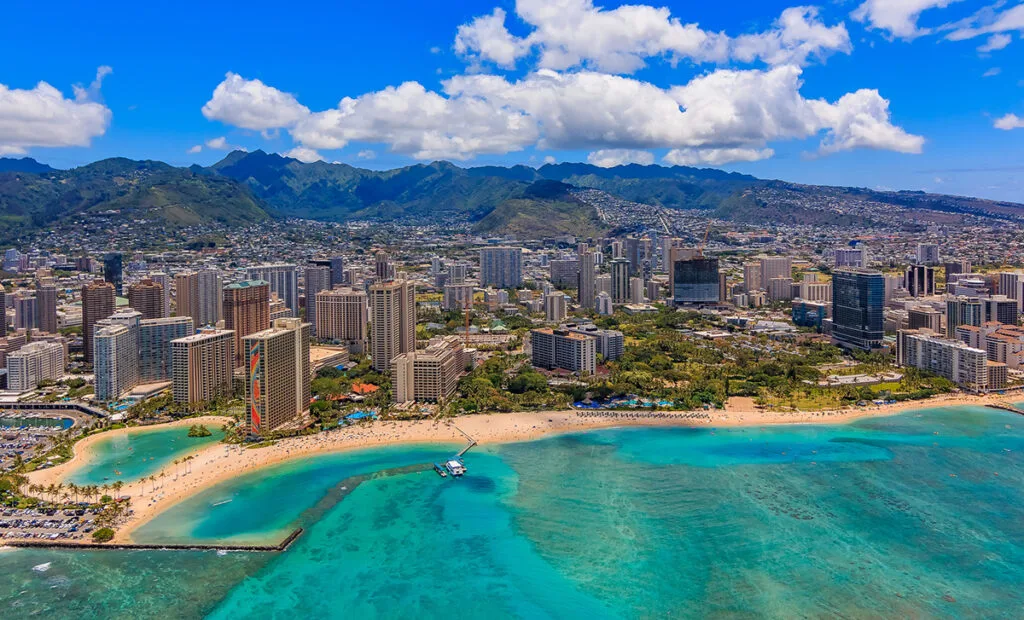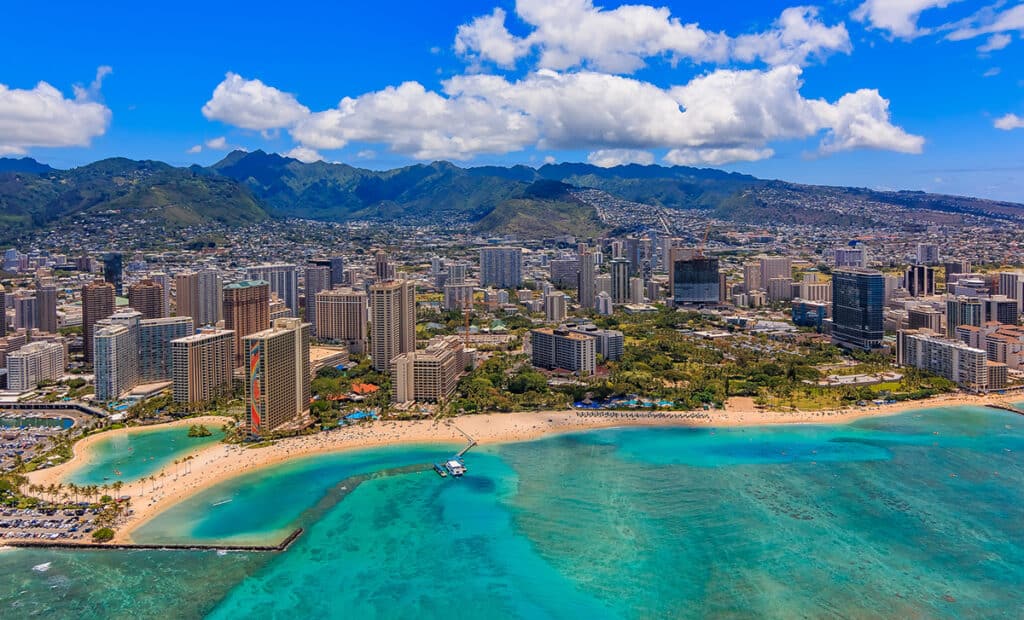 19 Visit Pearl Harbor
This is the most extraordinary memorial, where the bodies of ? marines were entombed after the surprise attack by the Japanese in 1941. Some people wonder if Pearl Harbor is worth visiting, and the answer is absolutely yes. We should never forget.
I love paying my respects at places of great tragedy. They are somber places, but also deeply moving. Most visitors head to the Arizona Memorial, but there are other places to see, so allow a bit more time.
Buy skip-the-line tickets for Arizona and include the Mississippi, in advance so you don't miss out.
20 Go whale watching!
The whale watching season in Oahu runs from mid December to April and you can expect to see humpback whales cruising around, breaching and having fun. There are several places onshore in Oahu that you can see these majestic creatures from.
For the best on-land spots to see humpback whales in Oahu check out this post.
21 Take a submarine tour
If diving underwater in a submarine doesn't make you claustrophobic – good for you! Then you will enjoy this tour to see marine life up close.
You'll be onboard Atlantis XIV, the world's largest hi-tech passenger submarine which holds 64 passengers, and dive 100 feet (30 metres) below the surface. The Atlantis Waikiki dive site is home to many Hawaiian fishes, coral, and turtles, visit sunken shipwrecks, airplanes, and other artificial reefs.
See more about the sub tour here and book your tickets >
Final tips
If you're ready to start planning your Hawaiian vacation, I recommend starting early. It is a popular area, so rates can go up quickly.
You can use a site like Booking.com to find and compare hotels in Waikiki.
You can stay up-to-date on the latest travel information on the Health Hawaii website. With just a little bit of planning, you'll be in Hawaii in no time enjoying the sights on this list.
You might like to read my essential Hawaii packing list here!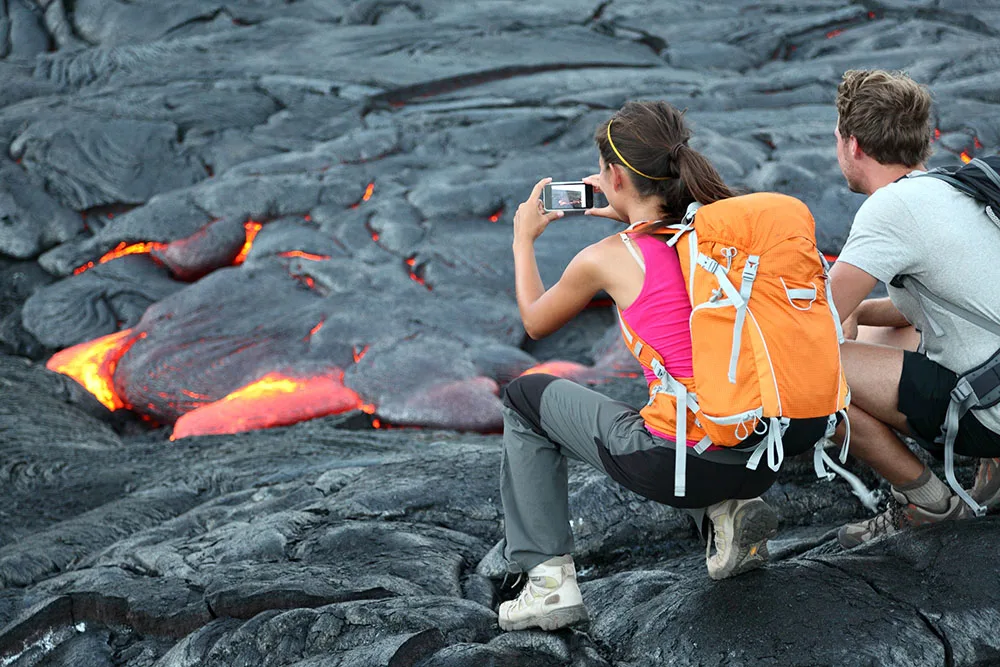 Read more > The best things to do on the Big Island of Hawaii
Where to stay in Honolulu
Hilton Hawaiian Village is super popular with families and great for events and conferences, weddings, etc. It has an almost paddling-pool like lagoon out one side and the lapping waves of Waikiki beach on Pacific Ocean sands. It sprawls over 22 acres of tropical gardens and waterfalls, has five swimming pools, a variety of restaurants, a spa and lots of entertainment happening.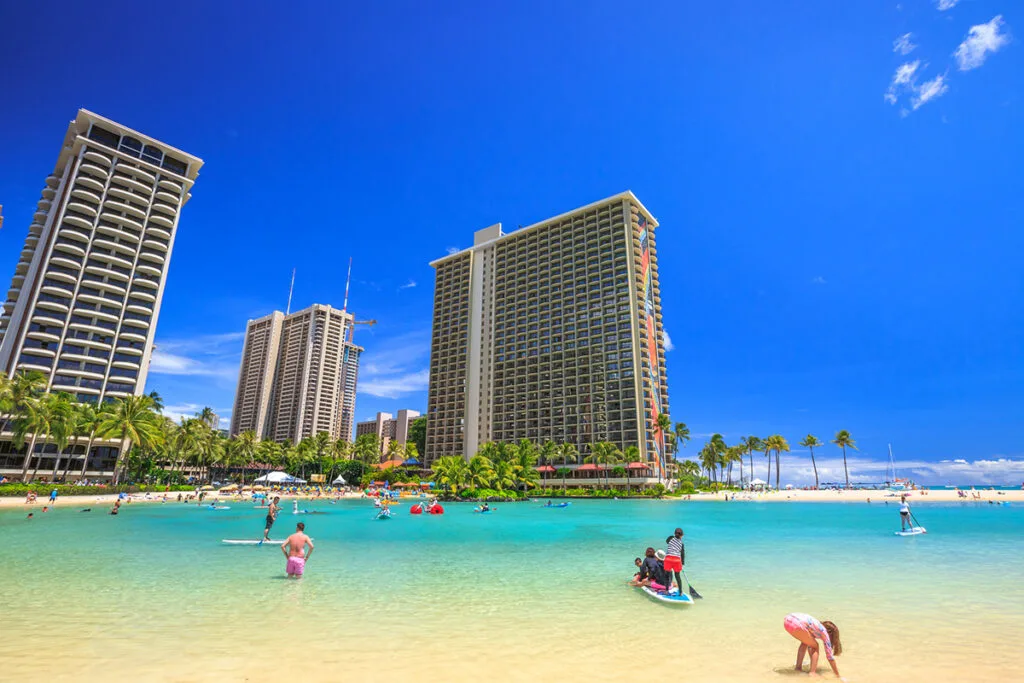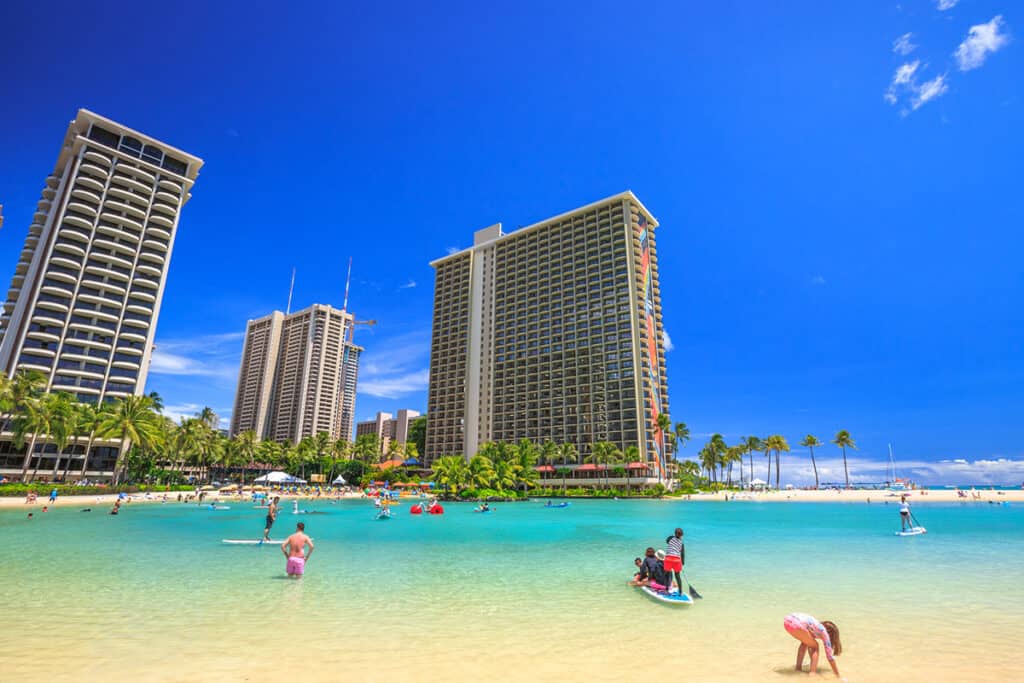 Shoreline Hotel is a couple of blocks back from Waikiki Beach and the price reflects that. It's a great affordable hotel right beside the International Marketplace and is where I stayed with my parents a few years back and had this amazing experience when dad lost his wallet with $1500 cash in it!
Moana Surfrider is a Westin Resort and Spa. This elegant hotel is luxurious and superbly located. If I had the money this would be my pick! You'll see brides having photos here and of course, that amazing beach front courtyard and banyan tree.
Read more > my super popular Packing List for Hawaii, including links to a few essentials you might want to take with you – like Reef safe sun cream, cute rash shirts, beach bags and more!Save