As you prepare your green celebrations for St Patrick's Day on March 17, I bet you didn't know some of these fun facts about the day!
Before we even get started, did you know St Patrick's Day is celebrated around the world more than any other national day?
But wait… how did it all start?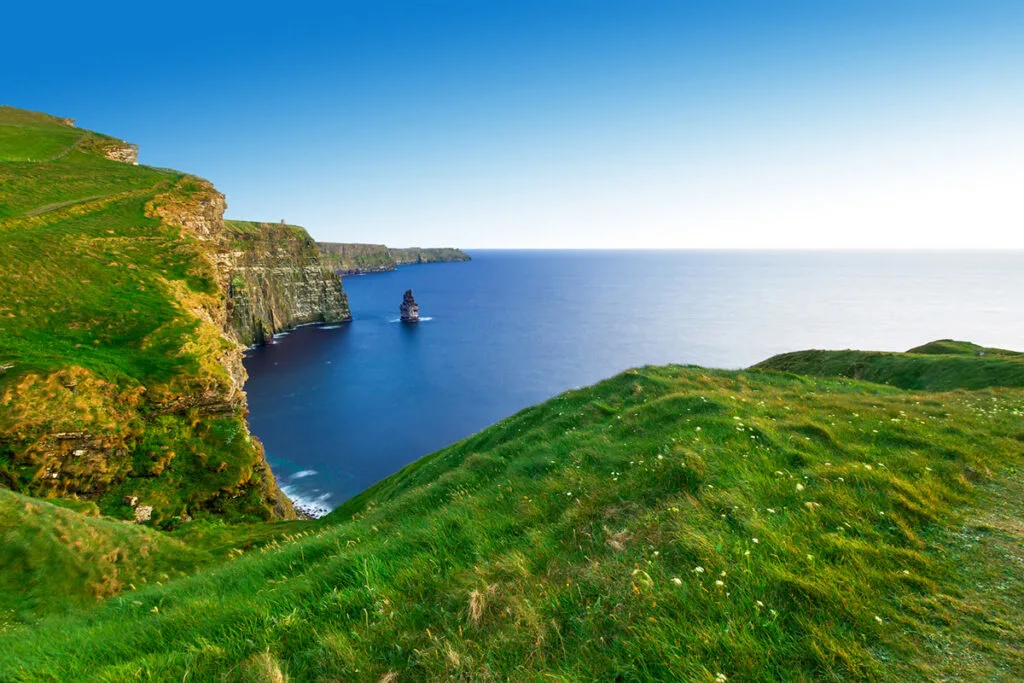 1 St Patrick, the patron saint of Ireland, was not actually Irish
He was kidnapped at the age of 16 from his home in Britain (either Wales or Scotland) in about 400AD and taken to Ireland as a slave. But he didn't let his circumstances dictate his future!
You could say St Patrick is an inspiration to anyone who finds themselves in a place in life through no choice of their own.
He was sent to the north east of Ireland, to Slemish Mountain in County Antrim – which is still a popular pilgrimage spot to this day – to herd sheep. But the wile teen escaped after six years and made it back to his family.
He then decided to pursue a life of faith and became a cleric, then extraordinarily he returned to Ireland to serve the Lord in the place of his captivity and is credited for bringing Christianity to the Irish people, who were largely practicing Celtic polytheism (lots of gods) at the time.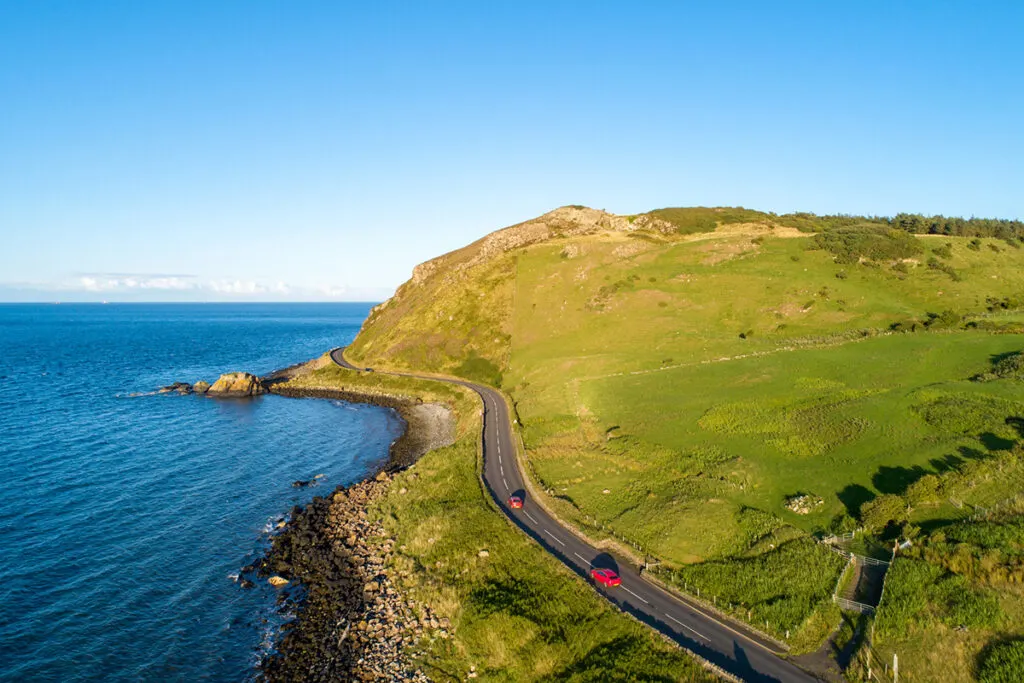 2 St Patrick was never canonised
Unknown to most, Saint Patrick was not ever canonised by the Catholic Church, because that honour was not around in his era.
He died on 17 March 461. By the seventh century he was revered as the patron saint of Ireland. And while it is observed as a holy day, March 17th is also a day of great green celebration… BUT
3 St Patrick's colour was originally blue!
In early depictions and drawings of St Patrick, he is wearing blue robes. Even as late as 1783 when King George III created a new order of chivalry for the Kingdom of Ireland, its official colour was sky blue known as 'St Patrick's Blue'.
The shift to green is thought to have happened over time because of Ireland's nickname – the Emerald Isle.
Plus it helped that there was green in the Irish flag and the four-leaf shamrock is the national flower of Island.
Plus the 40 shades of rolling green fields Ireland is blanketed in and which make for a fabulous road trip. I did a 5-day road trip from Dublin around the south coast to Galway. You can read that itinerary here if you like.
4 Chicago River is dyed green on St Patrick's Day
When I first saw this I could not believe my eyes. Two or three motorboats going up and down the Chicago river pouring bright green dye out the back turning the whole river bright green while 400,000 spectators stand on the river's edge taking selfies.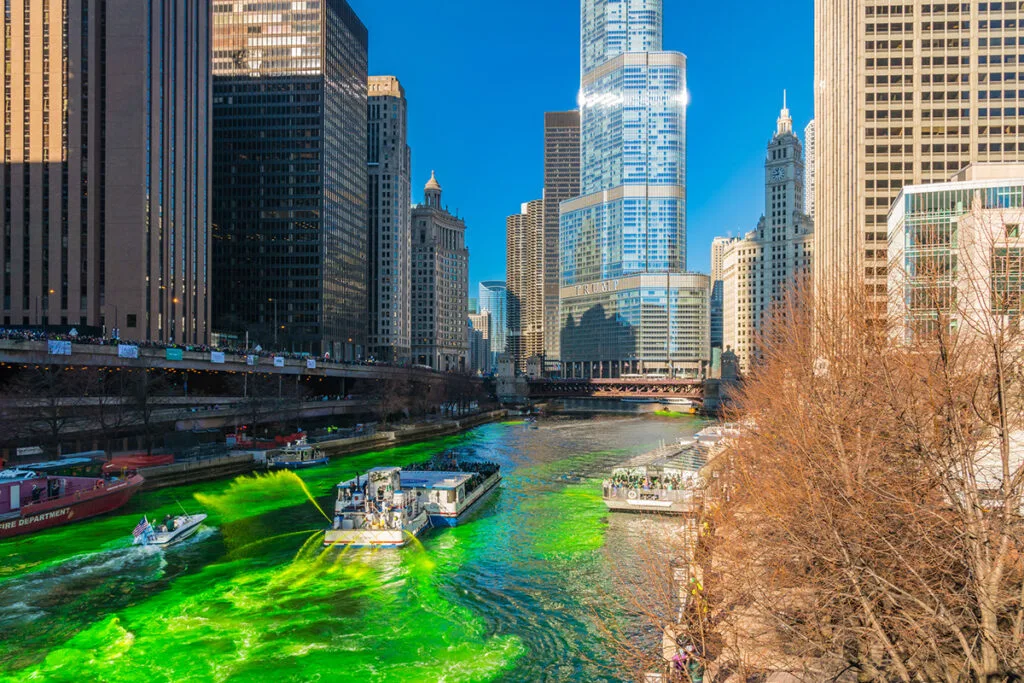 How do they get away with that? Well I did the research so you don't have to.
Way back in the day, before the Chicago River waterfront was developed, it was a cesspit of sewerage and muck. Mayor Richard J. Daley (who took office in 1955) decided to clean the pollution, but they couldn't pinpoint exactly where this effluent and waste was coming from.
The mayor authorised the use of a bright green dye to determine where the dumping was coming from and thus began the tradition we see today. Back then it was a chemical dye which was even more damaging to the river so in 1966 a vegetable dye was used.
If you want to see the dyeing of the river, it is always on a Saturday – the Saturday before March 17, St Patrick's Day.
The best place to stand to see the dyeing boats is the intersection of Michigan Ave and Wacker Drive.
And here's another fun fact: the powder is orange until it hits the water and turns green!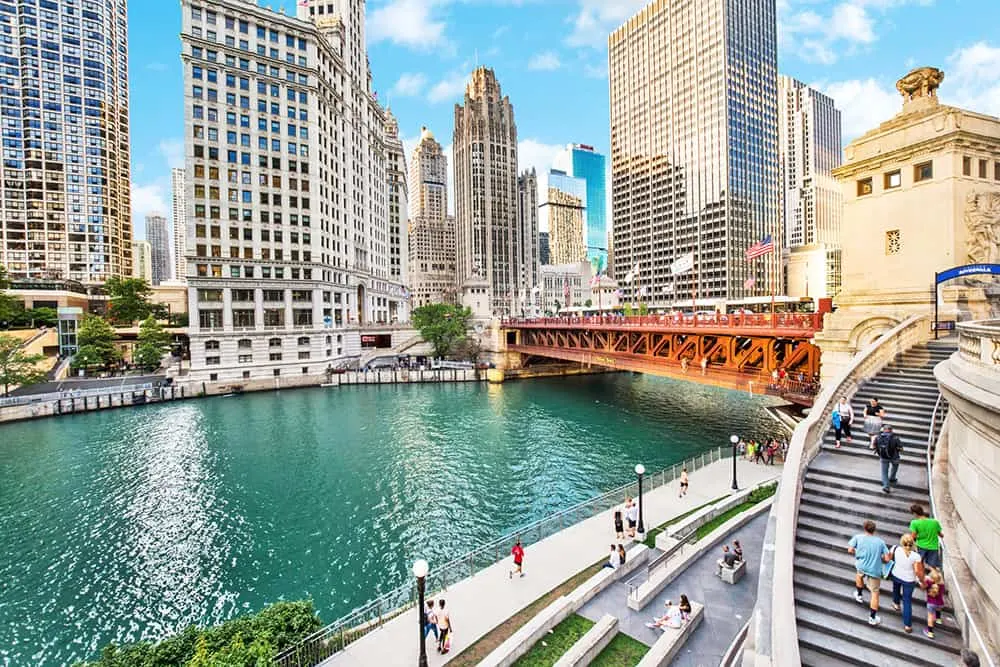 Read more: I love Chicago and if you're planning a visit you might like to read my post on 18 epic things to do in Chicago
5 Lighting the world green on St Pat's Day
These days wow don't so much pour dye into rivers or down buildings, but we do shine bright green lights onto buildings to make the day.
New Zealand's Sky Tower kicks off the greening of the world – being it's the first country to see tomorrow, followed by Sydney's Harbour Bridge, and around it goes.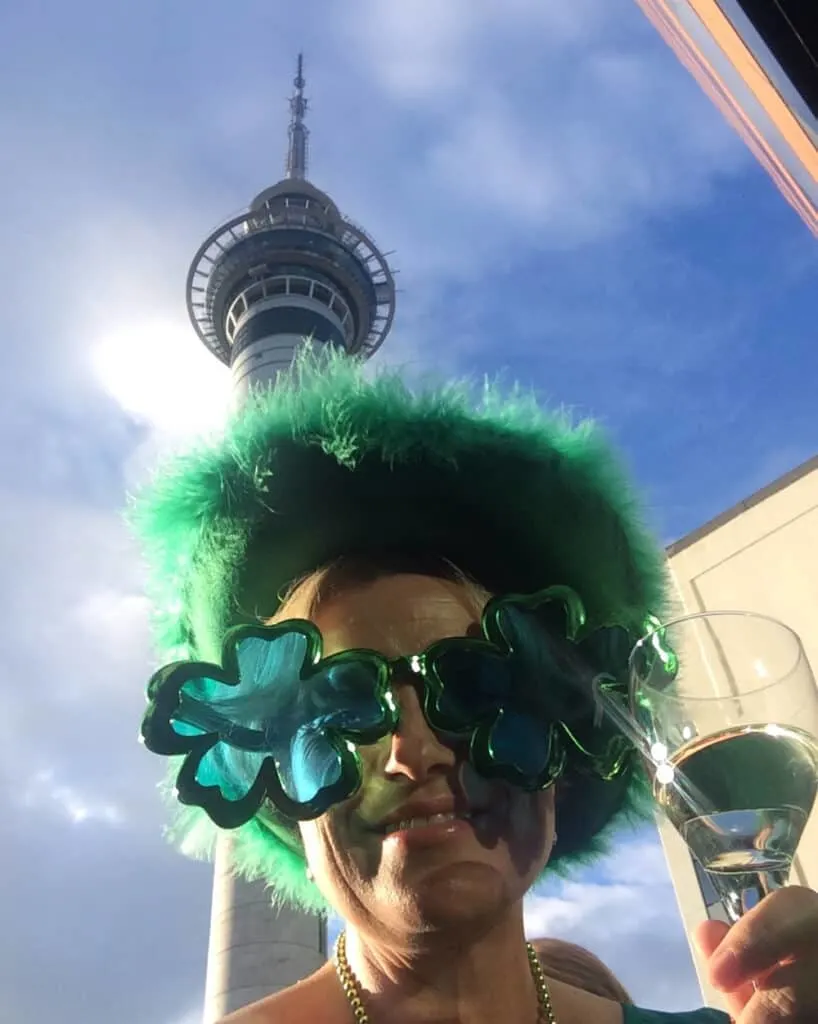 What are you meant to eat and drink on St Paddy's Day?
If you really want to get into the spirit, there are lots of great Irish foods to try – and not all of them are about potatoes! You could start with cute green shamrock pancakes, or green porridge for breakfast.
Or if you're super hungry make the 'full Irish'. Like the 'full English breakfast' the full Irish consists of egg, bacon, black pudding, sausage, beans, tomato, mushrooms and hash browns. I found this page filled with 25 cracking Irish recipes!
Then for dinner you really should find a good ole fashioned beef and Guinness Irish stew!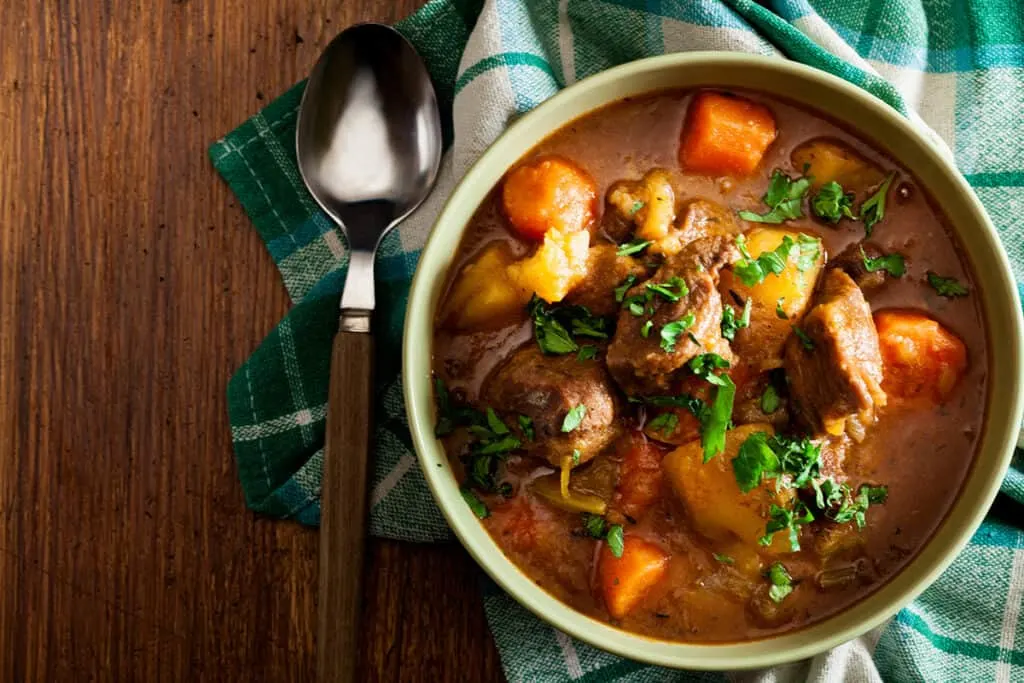 And speaking of Guinness, did you know there's an art to pouring the pint?
Believe me, there's an art. The first thing I did went I got to Dublin after a hundred-years flight from New Zealand via a layover in Sydney and then again in Abu Dhabi, was to drop off our bags and head out for a pint of the local nectar.
We arrived at the famous Guinness Storehouse and took a guided tour. It's an interactive tour, so after touching and sniffing the hops, or was that barley, we got to try our hand at the pour.
Here's how to pour the perfect pint of Guinness.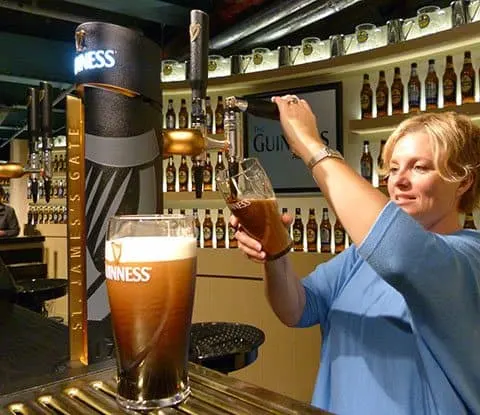 So if all this talk of Ireland has whet your appetite, my 5-day Ireland road trip starts in Dublin with stops in Waterford, Cork, out to Limerick and the Cliffs of Moher to Galway.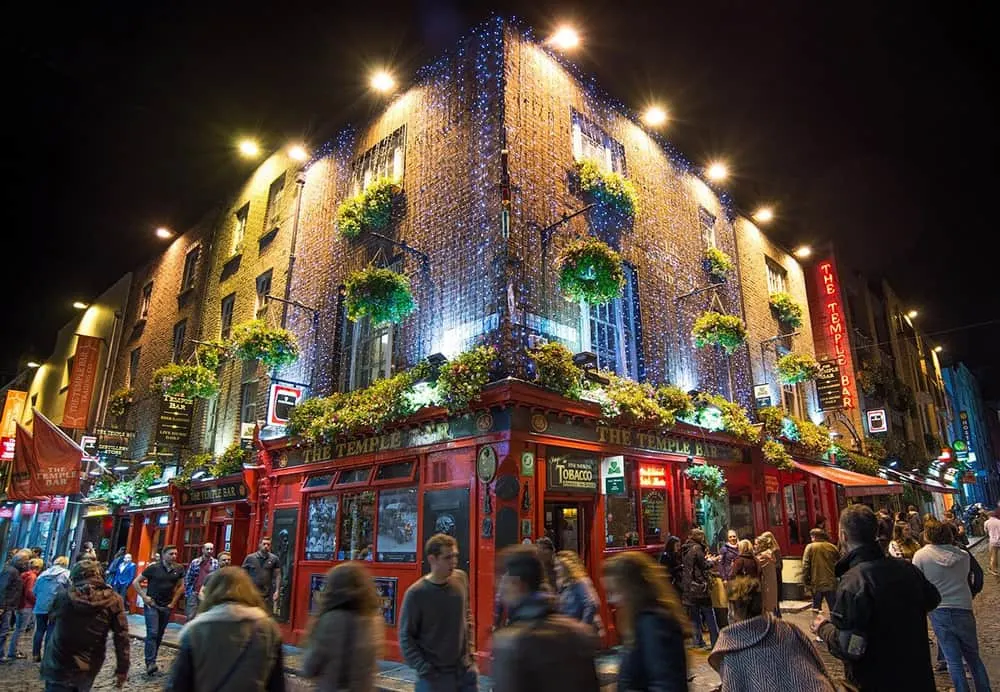 There are loads of fun things to do in Dublin too, including taking a photography walk with a professional. I learned lots of tricks.
And then I met a busker playing the spoons on Grafton Road – and joined him for a few minutes!