Hawaii's Big Island is actually called the Island of Hawaii (or Hawaii Island) – but that's so confusing because we refer to the island of Oahu as Hawaii don't we? Wrong. In fact because of this confusion people have been known to book flights to the wrong island!
Oahu island is the home to Waikiki Beach in Honolulu. This is where the big hotels and restaurants are and where you are probably thinking when you think Hawaii. Oahu is a great island to drive around too (we drove the island in a Mustang!) which takes you past shrimp trucks and pineapple farms to some great beaches and up to the famous Pipeline surf – which is only huge in the right season. It was calm as a millpond when I went!
There are so many great islands here so whether you're looking for the best Hawaiian island for families, or a fly and flop relaxing beach or a romantic trip for two, you'll find some great places to vacation in Hawaii.
Let's face it, the Big Island of Hawaii is all about the active volcano, but here are a few other things to do here too – like manta rays…
*This post contains affiliate links. If you make a purchase I will make a small commission at no extra cost to you.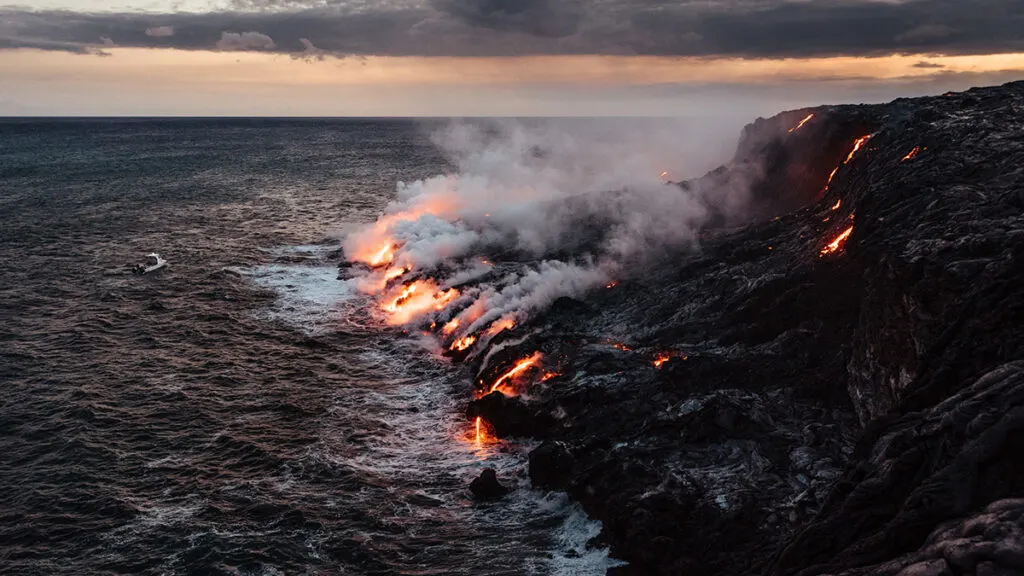 Hawaii Island is filled with intrigue and charm! It is one of the only places where you can get up close and personal to the core of the earth. The spewing, lava-flowing, molten rock-heaving Mt Kilauea.
In fact, if you're anything like me you could easily spend one day in Hawaii Volcanoes National Park mesmerised by the lava.
The only volcano I have stood closer to was Mt Yasur on Vanuatu's Tanna Island. Literally right on the edge of the spewing red rocks!
Here on Hawaii Island you can drive out to the Mt Kilauea crater, hike over solidified lava (dodging the toxic gases), and photograph the brutality of creation – then you can relax with a Kona Coffee overlooking Kailua Beach.
If you have a week to spare on Hawaii you could follow this 7-day Big Island itinerary.
Here's my list of the things you don't want to miss on Hawaii Island:
The lava flow changes all the time so check with the volcano website or visit the park ranger's office. You'll need sensible shoes, water and a torch if you plan to stay to sunset as it's dodgy terrain out here!
2. Grab a freshly brewed Kona coffee
Kona coffee is grown here in Kona. They use a trellis method of growing the coffee bushes so each coffee berry can get as much sun as possible.
Take a plantation tour or an interaction coffee tasting tour, or just sit amongst the coffee at Kona Joe overlooking the outstanding views with a freshly roasted brew in the cafe. Owner, the beautiful Deepa Alban (with her husband Joe Alban), is also a painter. I picked up one of her prints while I was here.
Hot tip: order a mochachino – comes with a melting bar of chocolate in it. Mmmm.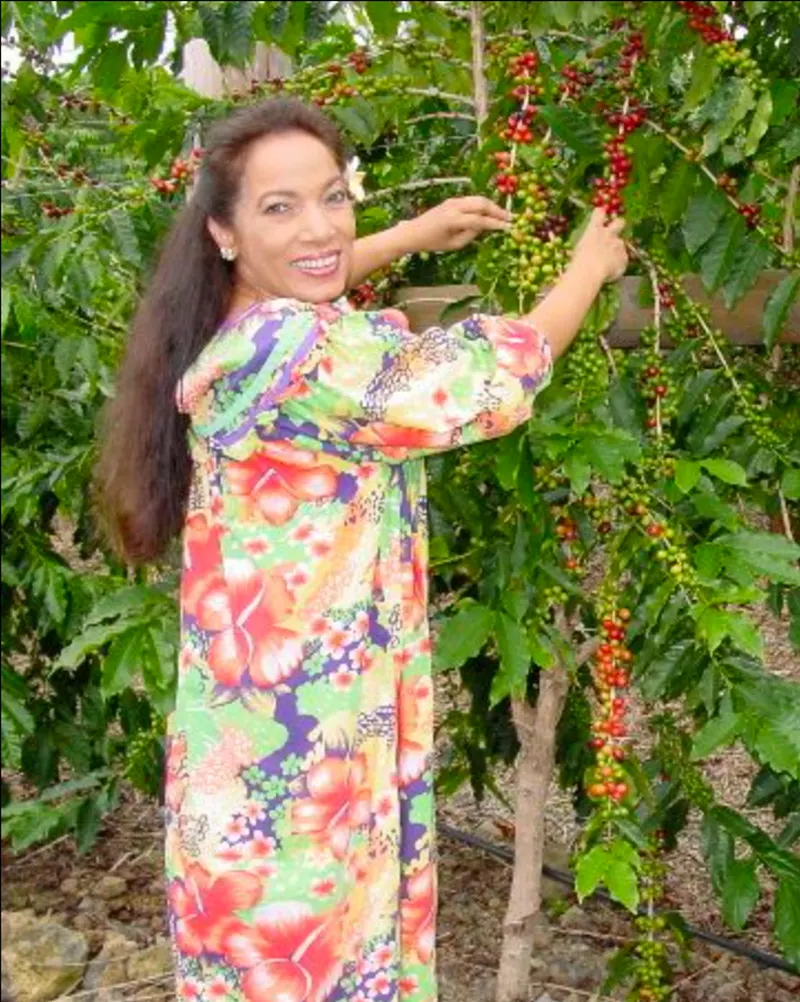 3. Fly into Hilo and out of Kona Airports
Spend a couple of nights in each town and do a half island road trip between them. You can actually drive across the island in about 90 minutes, but instead take your time to tiki-tour around it and stop at little villages for an ice cream along the way.
The town of Hilo kind of reminds me of Dannevirke or Wairoa – Kiwis will know what I mean! Two tiny New Zealand towns. But this is one of two airports to fly into, so I suggest fly in here and rent a car for your vacation and fly out of Kona.
If you're in Hilo on Wednesday or Saturday visit the Hilo Farmers Markets, shop more nearby markets, look around, take photos… Then drive over the volcano stopping at the Kilauea Caldera and finally, stay at Kailua-Kona and fly out of that airport.
4. Swim with manta rays
Is swimming with manta rays on your Bucket List? Manta Rays feed on plankton and if you take a night tour they use lighting to attract the rays to the banquet while you float above them!
There are two places on the Kona coast to swim with them: Manta Village near the Sheraton Keauhou Bay Resort & Spa in Keauhou and Manta Heaven offshore from Kona International Airport.
Here is a great post on where to find the best snorkelling on the Big Island.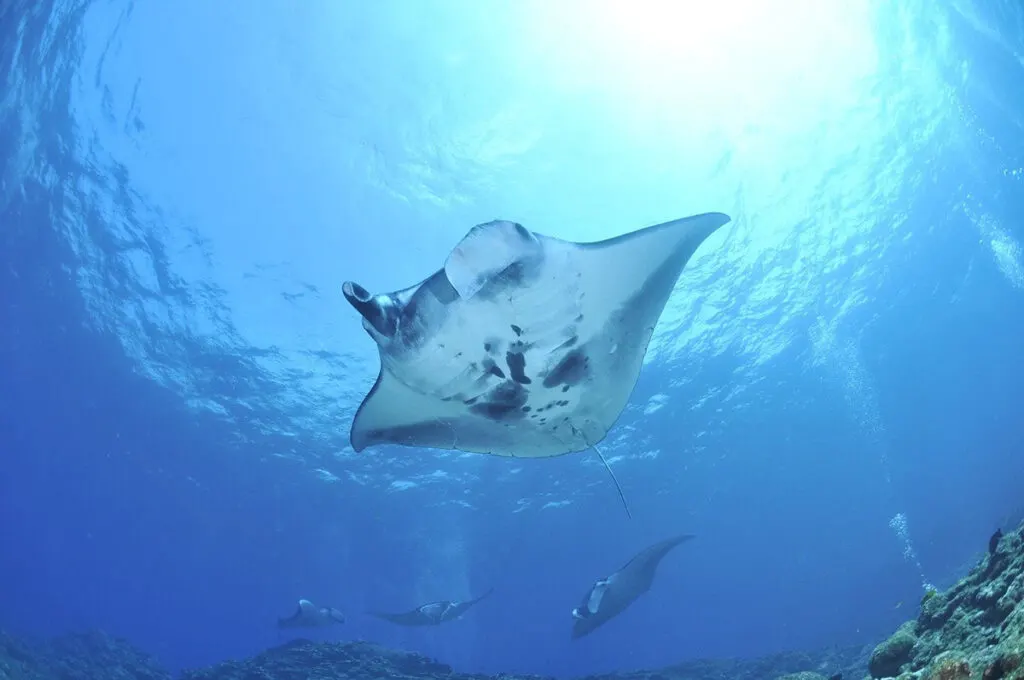 5. Watch the sunset from Kailua Pier
And finally, wiggle your toes in the sand, watch the sun set and count your blessings!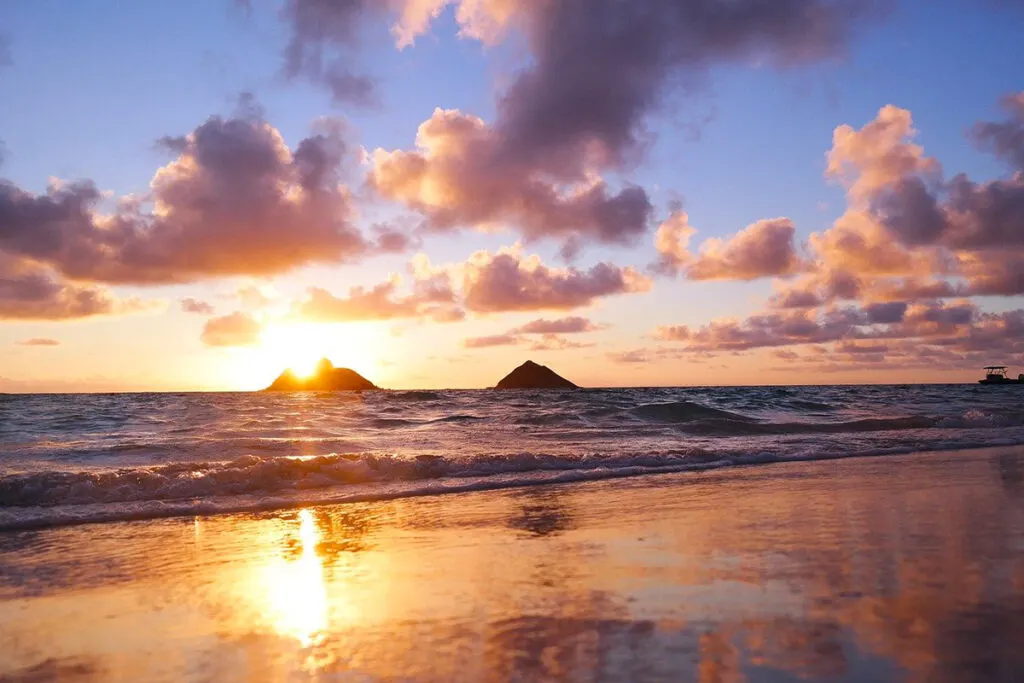 6 And here's a bonus: see how many Hawaii 5-0 cop cars like this one you can spot!
There's plenty more to see and do on Hawaii like hiking to waterfalls and tracing some of the island's history on the Captain Cook monument trail and enjoying beautiful national parks.
See these 7 things to do on the Big Island if you want more info.
You might also like my post on 5 beaches not to miss on Oahu