Driving in Ireland is really easy. The roads are well signed, they drive on the left (if you're from New Zealand, Australia or Britain, you'll feel like you're at home) and cute, colourful villages make for great pit stops and photo opportunities. (But you will find random round-abouts in the middle of highways!)
This post covers my fun 5-day road trip from Dublin, around the south coast to Cork, a kiss of the Blarney Stone, Dingle and Limerick, the Cliffs of Moher, Galway and back to Dublin. I've included some highlights, places to stay and few of the must-dos in each place.
I hope you find it a helpful guide to a driving holiday in Ireland. I'd do it again in a heart beat!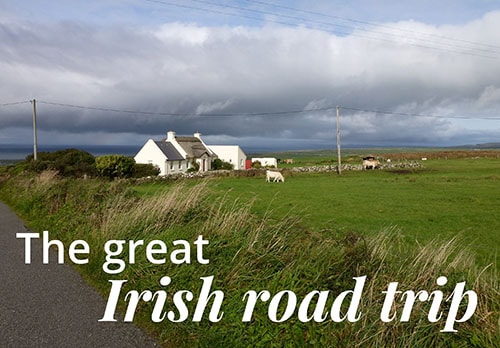 Ireland is a small island. At its widest it is only 275km, so theoretically you could cut west from Dublin to Galway in two hours. Except you wouldn't. You'd take the long way round and spend a week exploring.
This road trip I did is only four nights and to be honest, it was too fast to really do so many gorgeous places justice. I'd take at least seven nights next time.
So with my GPS from home, preloaded with UK maps, and the recommendations of friends ringing in our ears, my cousin Kate and I set off on our whirlwind tour.
Day 1. Dublin
Starting in Dublin, we loved Temple Bar, which isn't a single bar but a neighbourhood of hopping bars with live music to tap your toes to all night. It's a very touristy area, but as we were tourists, we loved it! Wander along the cobble stone streets and you'll find plenty of places to choose from for shopping, dining, drinking and making much merriment.
Tip: Head here for a night out – or an afternoon out and you'll soon realise everyone in Ireland is musical!
I also did a photography tour. This had been on my wish list for ages, so it was great to finally make it happen. My tutor, Darren McLoughlin (of Panoramic Ireland), allowed me to pick my location and time frame, so I decided to learn how to capture the sights of the melee of Dublin's busy Grafton Road.
It's a pedestrianised street edged in shops and a magnet for street musicians. The link is to my photo blog of what I saw – and what I learned!
Oh and you can't possibly stay in Dublin and not visit the Guinness Factory and learn how to pour a pint (in 119.5 seconds!)
Another tip: We found the Hop on Hop off bus excellent to 1) get our bearings, and 2) to get around easily from attraction to attraction. I'm a big fan of these orientation bus trips in any city that I visit and if you get a 2-day pass, use it the first day to get familiar with where things are and the second day to use it as a taxi to return to the places you want to spend more time at.
If I went back I would definitely go to see the ancient Book of Kells at Trinity College. Big regret.
When we left Dublin to embark on our road trip we only got 20-minutes down the road before we stopped for morning tea at the stunning grounds of Powerscourt Estate. Allow enough time for a scone and jam on the veranda, a browse through their gift shop, and ideally an extra hour to roam the gardens that sprawl as far as Sugarloaf Mountain in the distance. I regret not having time for the gardens and would love to have wandered through the pet cemetery to pay respects to ponies, cows and Doodles Chow who have been lying here for years.
Day 2. Cork
Where to stay: Gabriel House
>> Check out the best price for Gabriel House on Booking.com
I only included Cork because this is near Waterford, where the Waterford Crystal factory is and I thought I'd pick up a cheap memento.
Day 3. Limerick
Where to stay: George Hotel
>> Check out prices for the George on Booking.com
On our way to Limerick we went via cute-as-a-button Dingle on the Dingle Peninsula. Sadly the rain was coming in sideways so we found a pub (it's never too hard in Ireland) and had a yummy lunch before leaving Dingle to the elements and heading two hours drive away to Limerick.
Limerick dates back to the year 812 and is built on the River Shannon with both an historic and a new part. Fans of author Frank McCourt can take an Angela's Ashes walking tour and The Locke Bar is a really nice waterfront pub serving traditional Irish music and hearty fare, so I'd suggest heading there of an evening.
Day 4. The Cliffs of Moher
The Wild Atlantic Way is 2,600km of west-coastal roads stretching from Donegal to Cork. It's rugged, untamed and breathtaking. Fortunately for me, there was hardly any traffic on the snippet of the Way on the remote roads we drove so I could stop to take photos every 200 metres.
The Cliffs of Moher is a pilgrimage for road trippers and only an hour from Limerick and Galway (in a triangle), so we set off for here after brekky in just over an hour and spent another two hours wandering around admiring the views out to the Aran Islands and taking copious photos.
Tip: Stay in Limerick another night and come back after your day at the cliffs to have a little more time.
Day 5. Galway
Where to stay: G Hotel
>> Check out prices for the G on Booking.com
If I did this road trip again, I'd base myself in Galway for three or four days and take day trips from here (which could also include the Cliffs of Moher). The G is a glamorous hotel with a spa over the 2 top floors and really cool decor with art and rooms designed by milliner Philip Treacy. One of the best hotels in Galway.
Galway is the cutest city I saw in Ireland with brightly-painted shops and pubs standing shoulder to shoulder along cobblestoned streets spouting off from Eyre Square. Buskers add to the ambience, or pop into a pub for a shindig and a pint. I also met some Kiwis over here playing rugby for Connacht under coach Pat Lam, so you're never far from home!
From Galway it's only a two-hour drive to Dublin, so take your time and stop when the mood strikes (or ask your concierge for tips).
Day 6. Dublin
Where to stay: Clontarf Castle
>> Check out prices for Clontarf Castle on Booking.com
I've ended with Dublin again as you'll probably need to be back here the night before you fly home. We stayed in the amazing Clontarf Castle on our final night. A real fair dinkum, honest to goodness castle. Of course it's been totally made over into a hotel with cosy rooms and cool bars and a restaurant on the outskirts of Dublin.
Save