When a hotel has a 4.9 rating (out of 5) on Tripadvisor you know it's going to be pretty special! And when that hotel is linked to the biggest silent movie star the big screen ever saw, I couldn't wait.
And so it was that our cab pulled up at The Charlie Hotel on leafy residential Sweetzer Avenue in West Hollywood in front of what looked like a couple of little quaint houses with shingle tiled roofs and a black iron gate to be buzzed in. Buzzed we did and it sprang open – but don't expect to get any attention until 8.30am on a week day and 9am on weekends as this is a family run hotel and they don't work 24/7.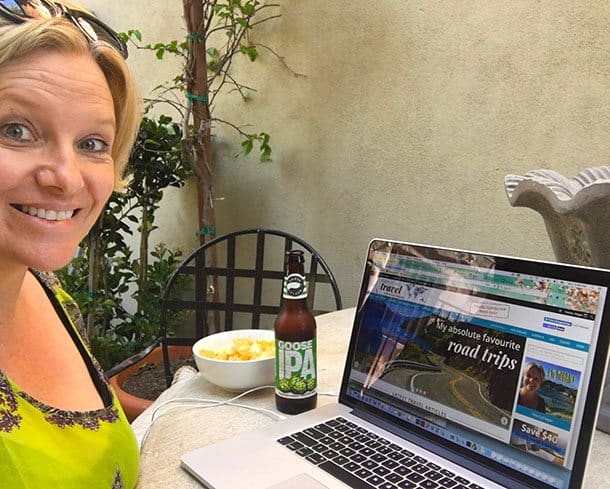 I actually have no problem with that. In fact this is so low key that I'm almost happy it's not manned by a grumpy old woman finishing night shift. We walked through the quiet gardens waving with flowers accompanied by the steady stream of a fountain lazily splashing into a small stone pond and a little squirrel scooted ahead of us like a guilty intruder who had been taking a drink.
Our 11-hour flight had landed at 6am from New Zealand and we were here by 7.20. Upon seeing the open hours sign, we found our way up to the sun deck where we soaked up some well needed vitamin D as the day began and waited for the staff to arrive. We didn't expect our room to be ready at that ungodly time and it wasn't, so with a quick shower in the Valentino room (that is most often used by VIP guests.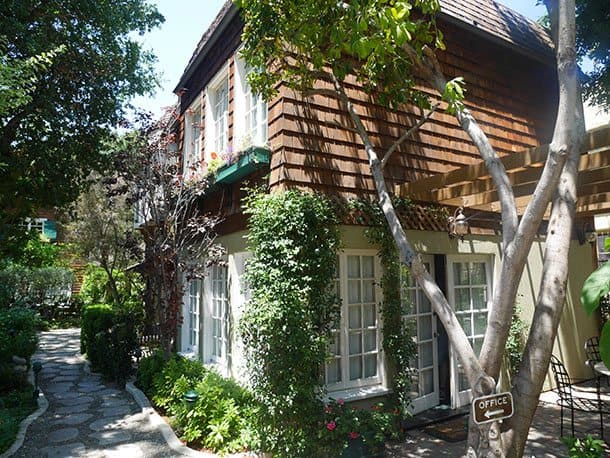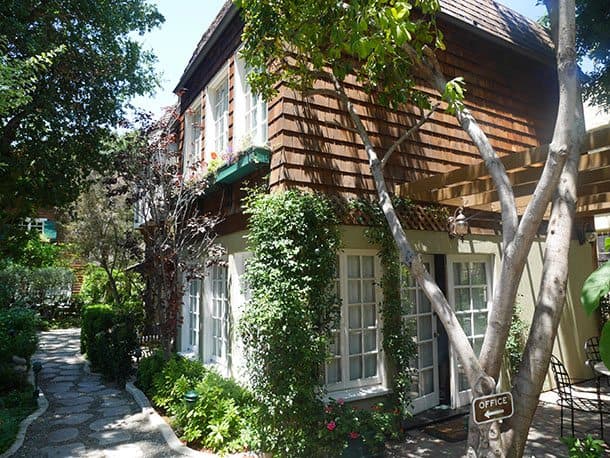 Liv Tyler has signed black and white photos on the walls) we changed into bike riding gear and set off for Bikes and Hikes LA to blow the cobwebs away on a 3-hour (which became 4) pedal tour of West Hollywood and Hollywood with Deb and Gary from Australia, who had been here a couple of days. But before I get distracted, let me take you back to this hotel.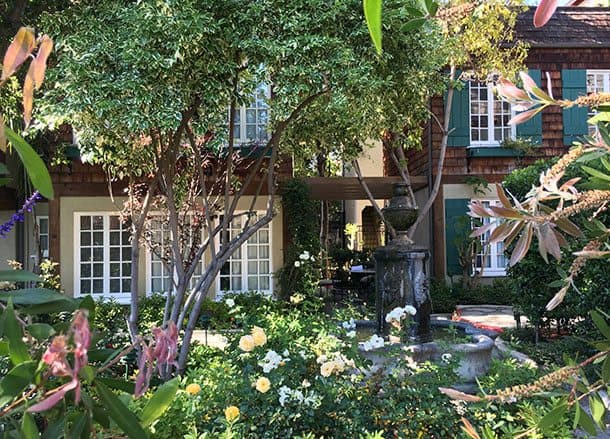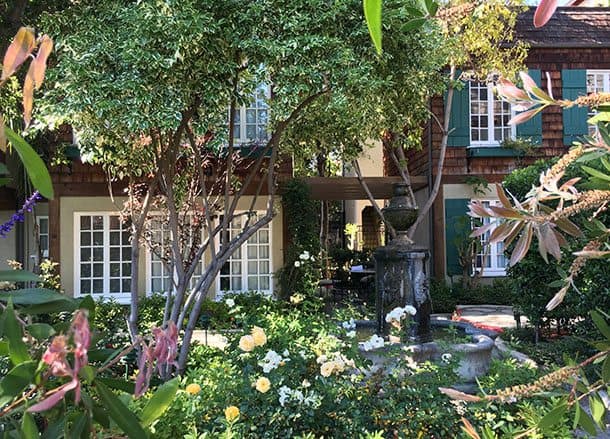 The Charlie is so named after the one and only Charlie Chaplin who owned his cottage here. In fact his is down the back with a deliberately low door because he wanted his guests to bow as they entered! He stayed here to be close to the movie studios he worked in the 1920s.
It was then bought by the Ruth Gordon family who added more cottages for this era of famous friends. However it fell into disrepair and in 2002 it underwent a multi-million dollar upgrade under new owner Menachem Treivush who opened it to the public in 2008.
Today you can stay in the Marilyn room, the Gregory, the Betty, the Marlene… each one unique with kitchens and a washing machine and dryer which is so handy if you're staying more than a couple of days and need to catch up on some washing. Which reminds me…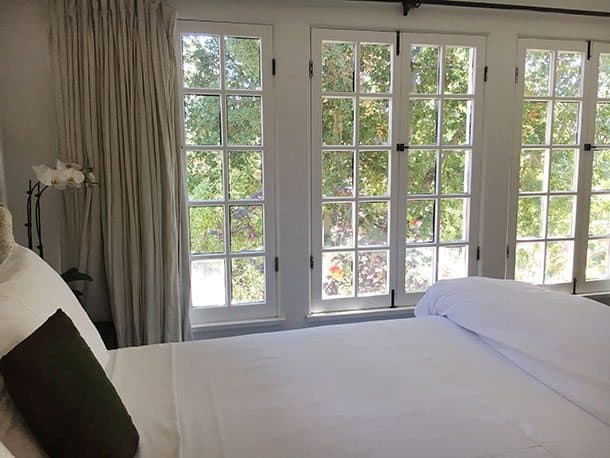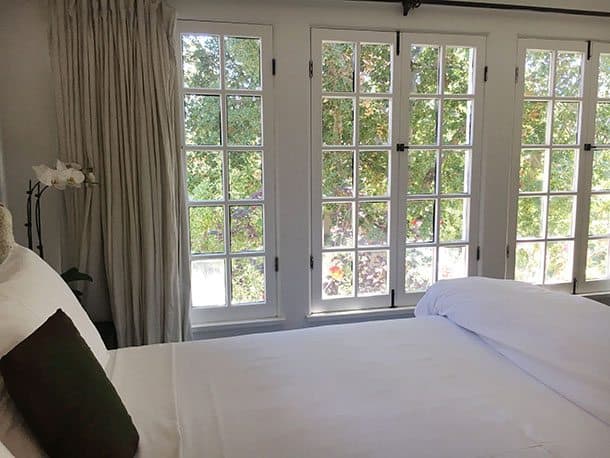 Ok, I'm back! Just put two days of laundry on (including the aforementioned bike riding gear!!)
Most rooms have cute French doors opening onto courtyards or balconies with dark wood floors, black and white tiled bathrooms and white orchids in the lounge and bedroom that are a lot healthier than mine at home. We are in the Oscar, named after the statuette and the newest room here, having been transformed from the office into this two level accommodation a year ago. It's not on their website and can only be booked direct with the hotel, so if the rooms look sold out – you might still be in luck!
Stock up your cupboards before you arrive!
If you're staying a few days you'll love the convenience of pre-ordering things like bagels and muffins and cream cheese, snacks, beer and wine and having the staff load your kitchen. Local company Pink Dot Delivery delivers food, alcohol – even smokes and cigars!
They have an easy to use menu of items and will make sure it all happens smoothly. As I type I am sitting outside in my own courtyard with a bottle of Goose IPA and munching on nachos and hummus. Working! (See photo above 🙂 )
Use Uber Eats
If you don't already use it, the Uber Eats app is well worth downloading. It's free from the App store, so grab it on your phone then go through their menu which selects the restaurants that offer take out near you, and choose what you fancy having delivered to your door if you can't be bothered heading out. Ideal for your first jet-lagged night in LA.
What's near The Charlie?
West Hollywood is a great location! It's is an easy four block walk to Melrose Ave where loads of cafes and restaurants and rooftop bars are located. You'll wander past stores like Marc Jacobs and Dash owned by the Kardashians, but nothing could make me actually walk in there!
In the other direction is Santa Monica Boulevard which is about 25 miles long, but just two blocks up and about two to the right is Bikes and Hikes LA which was voted the top Tour company in LA on Tripadvisor. (More on our bike tour of Hollywood in the next post)
In your room you'll find a tablet that has been helpfully set up with local recommendations. Under dining you'll find restaurants within walking distance like Ago, set up in partnership with Robert de Niro and acclaimed for its Italian food. Or try Urth Caffe for brunch where people of many accents dine at tables indoors and on the patio and footpath – here to seek their Hollywood fortunes or just holidaying like us, who would know but it's fun to speculate.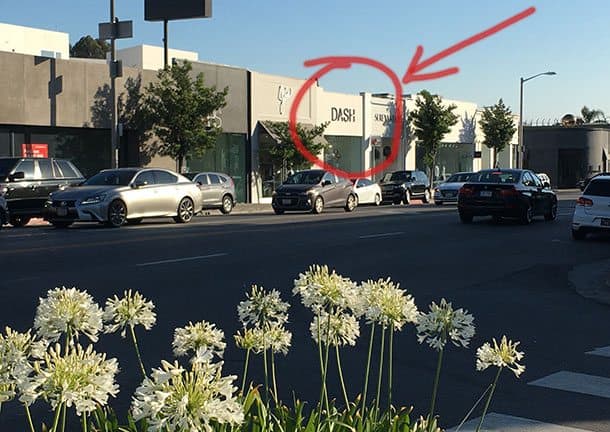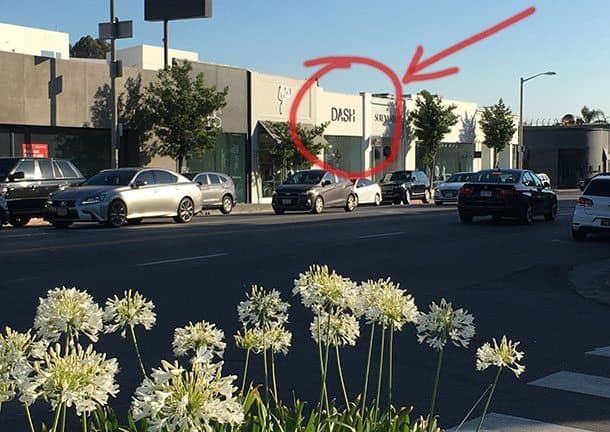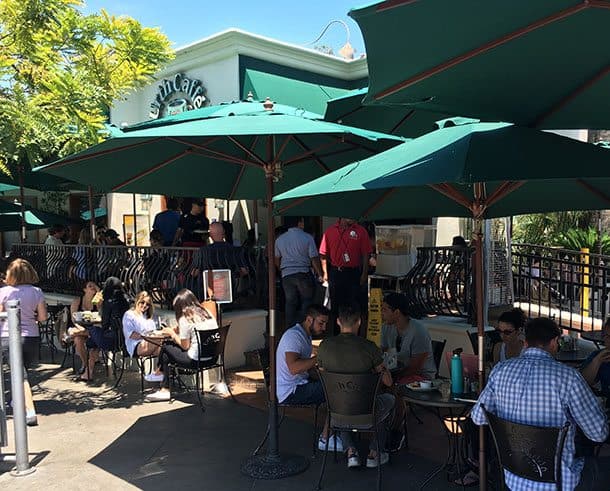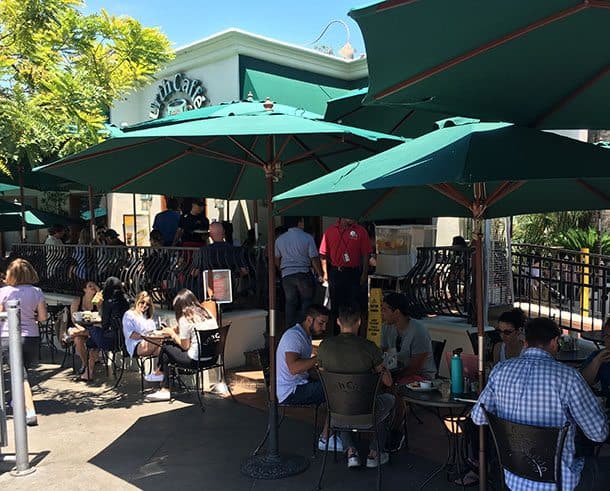 They also recommend Taste on Melrose for homey yet sophisticated American food; French bistro Zinque serving charcuterie platters and sandwiches; Joan's on Third which is a gourmet marketplace and homemade café food; Tower Bar which they describe as a chic lounge in an Art Deco hotel frequented by bigwigs with French-American food and a jazz piano.
We walked to EP and LP for dinner on the first night. Owned by some Aussies we seemed to be sat on the Antipodean side with homely accents all around us. It's Asian fusion of small and large plates and really nicely done. Then upstairs we had a cocktail outside on the rooftop bar, LP watching the twinkling lights of LA sprawl up the Hollywood hills.
If you're a Real Housewives fan then you'll want to visit one of Lisa Vanderpump's two restaurants. I've eaten at gorgeous and girly Pump before (read that blog post here) and this time I poked my head in and the concierge showed me around Sur which has a very cool and eclectic vibe and is certainly the den of the beautiful.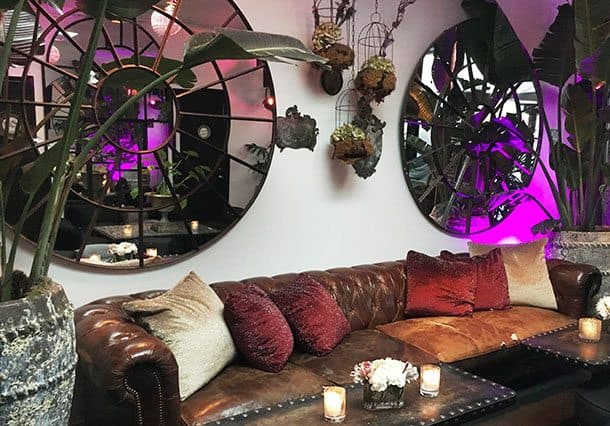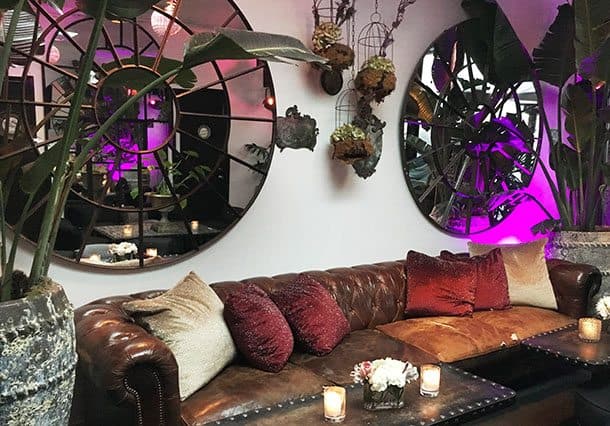 We wandered Melrose intending to dine at Craig's which looked like it had a good ol fashioned American menu like meatloaf and steak. However the celebrity photographers outside and the white table cloths within put us off so we retreated and headed off in the direction of Connie and Ted's as they are known for their exceptional seafood where I had two lobster tails (about $45) sitting opposite the bar where guys were shucking oysters. But they serve other food too – hubby had rib eye steak 🙂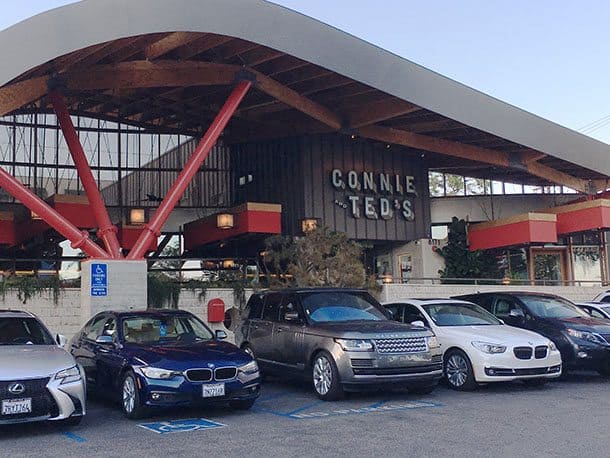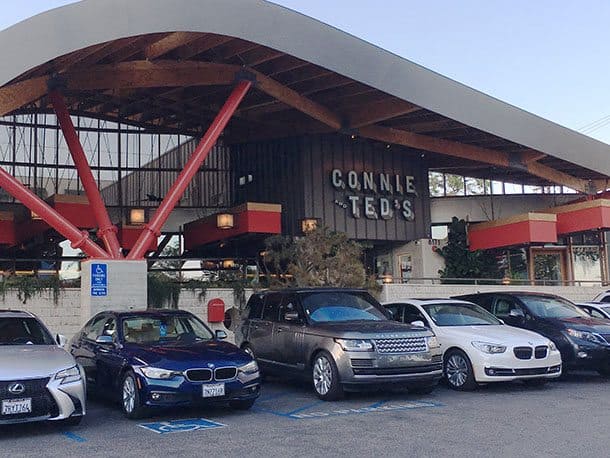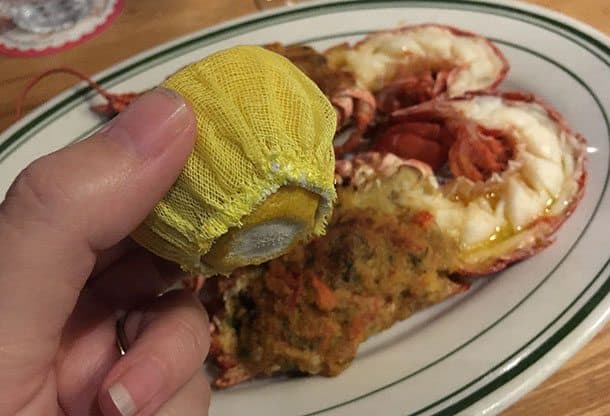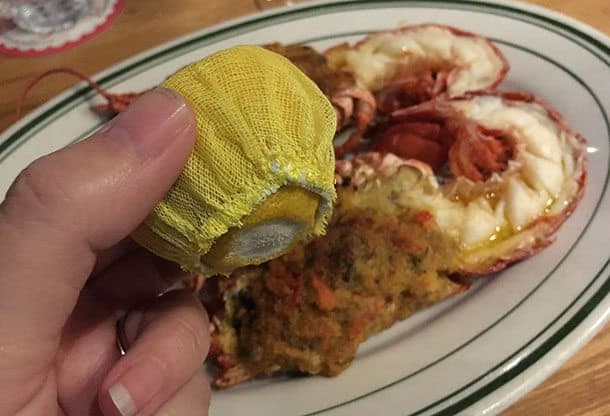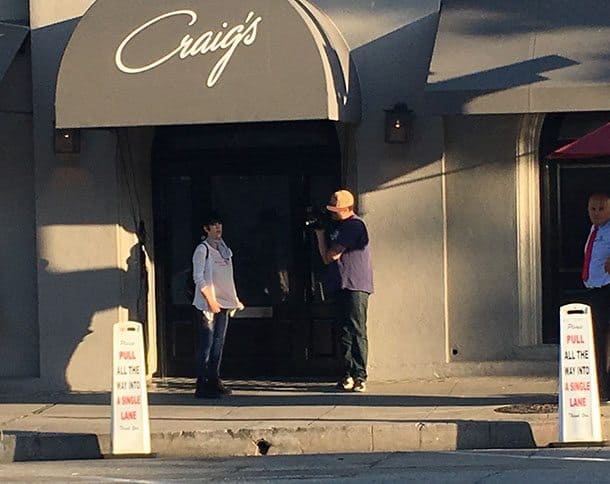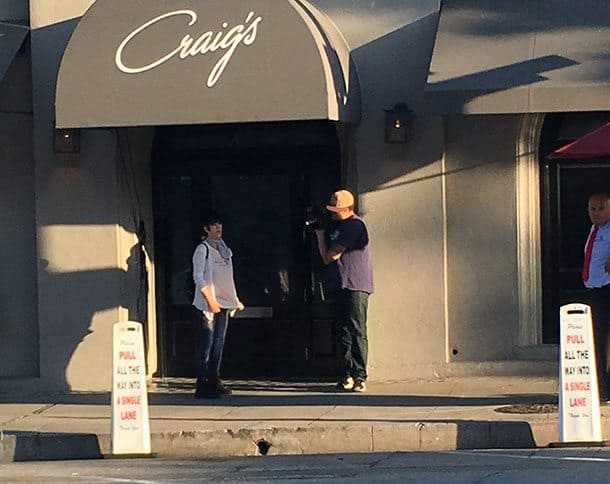 The Grove and Farmer's Market
This is a great spot to spend a few hours eating and shopping. There are 50 stores here including the crazy yet so cool (if you're a 7-year old girl) American Girl Store with lookalike dolls and complete wardrobes to be bought along with accessories like motorbikes, horses and even a hair salon where "pre-loved" dolls can be brought back to have their dignity restored.
Griffith Observatory
This icon was made doubly famous by the movie La La Land and is one of Southern California's most popular attractions. It's free to get in too and is considered a national leader in public astronomy – if you like that sort of geekery! (I do) You purchase tickets once there for 8 shows on week days and 10 on weekends.
Starline Tours
We had a 24-hour Hop On Hop Off pass for any of the 5 routes and chose the blue route so we could visit Universal Studios. The red route is the most popular offering a fascinating drive of about 2 hours non-stop around Hollywood and Beverly Hills. My recommendation is you do the whole circuit once to get your bearings, then continue again to the place you want to stop (the Grove is one of the stops FYI).
_________________________
West Hollywood is a great place to base yourself for easy access to Hollywood, Universal Studios and plenty of shopping and wining and dining! I have been lucky enough to stay here about 5 times now. You can read my hotel reviews of other places in this post >>
Search all West Hollywood hotels on ExpediaSaveSaveSaveSaveSaveSave
Save
Save
Save
Save
Save