There are two kinds of cycling in Marlborough: mountain biking on tracks with killer views over the Marlborough Sounds AND cycle winery tours with tastings at each stop.
Both are fraught with difficulty, each in their own way! As I discovered…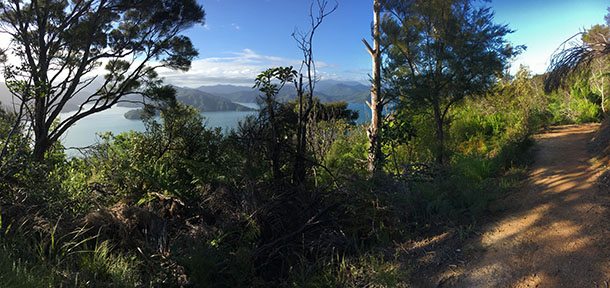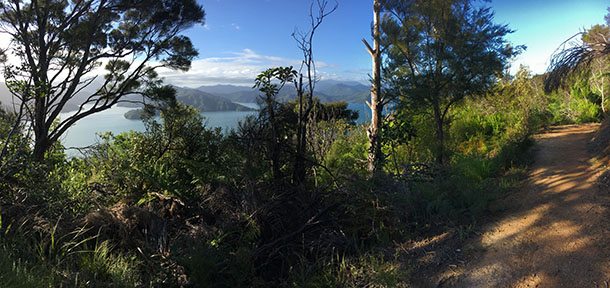 Mountain biking in Marlborough
I'd never ridden a mountain bike before, let alone been on a mountain bike trail, when I embarked on the "beginners" ride with Wilderness Guides just out of Picton overlooking the dazzling Marlborough Sounds.
How hard could it be, I thought as I strapped on my helmet and took an eager selfie with my husband and our guide Peter Blackmore (a 60ish-year old pro water skier, a man so fit he can ride his bike and talk at the same time while going up a hill).
How hard? Harder than I thought, actually! Sooo much harder than I thought. To be honest, the trail itself is not hard. Beginner? Welllll, not this beginner. I was utterly terrified that I would wobble off the path and roll Bridget Jones-style into the sea somewhere below. As it turned out there was a road about halfway between me and the sea – but that gave me little comfort.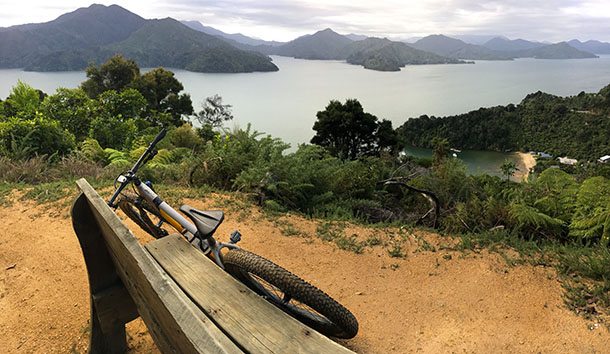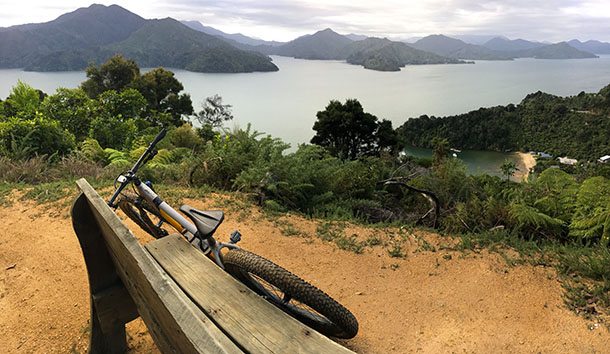 This 4km Link section will eventually link up with the 42km cycle track between Picton and Havelock and eventually the Queen Charlotte track.
Today tight corners and slippery, leafy parts of the metre-wide track saw me breathing little panting breaths like a woman in labour careening on the steep decline with my left hand squeezing the brake and my eyes like saucers anticipating my demise.
Even the native birds sang in mocking tones as I got off my bike and walked at least half of the trail. My husband was cycling ahead of me and waiting in stages for me to catch up. Eventually I insisted he ride on and meet Peter, who had taken the van to the end of the track and was cycling back to meet us, while I got off my bike and walked the steep bits – both up and down!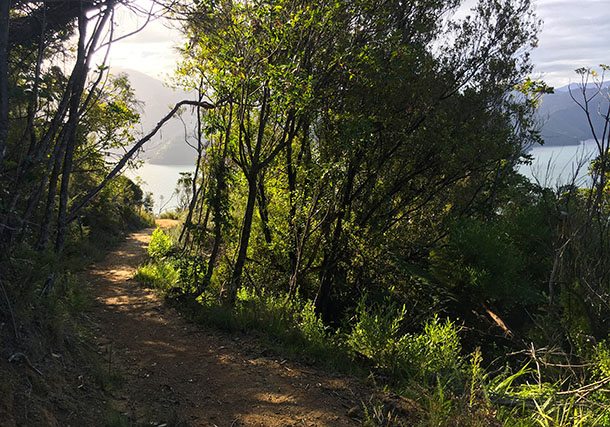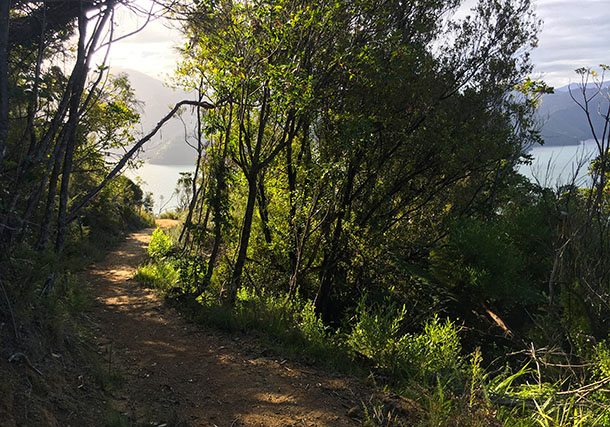 At one point there were tears. At another point I took a selfie. Then I took photos of the views because I pulled myself together and realised that you, dear reader, are probably quite excited about the possibility of such an "easy" track with views like these! In fact even your kids will be able to do this.
Suffice to say I made it to the end and ironically my bum was saddle sore even though I barely sat on the seat!
You can do 1-3 day guided mountain bike or walking tours around the Queen Charlotte Track from $150.
Here is a link to several great rides around Picton and the Sounds.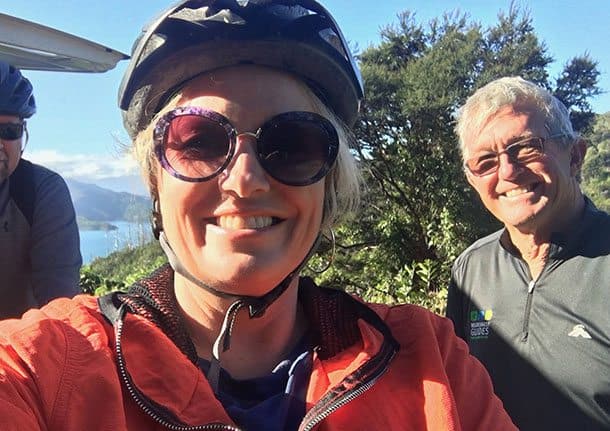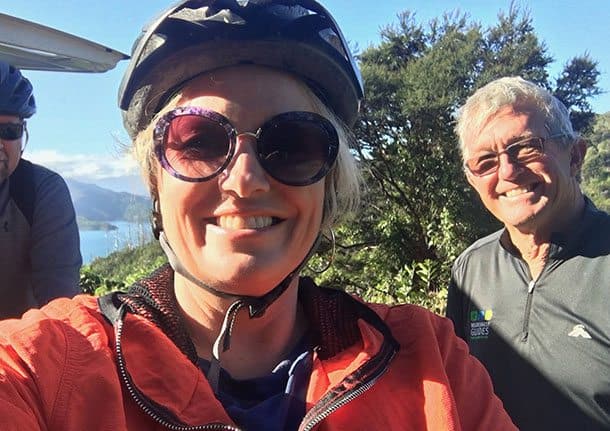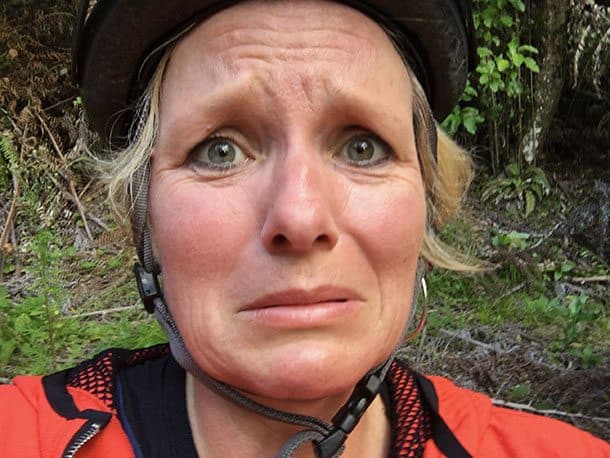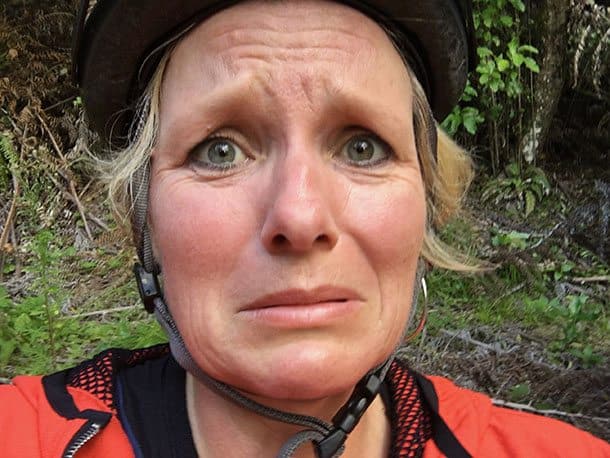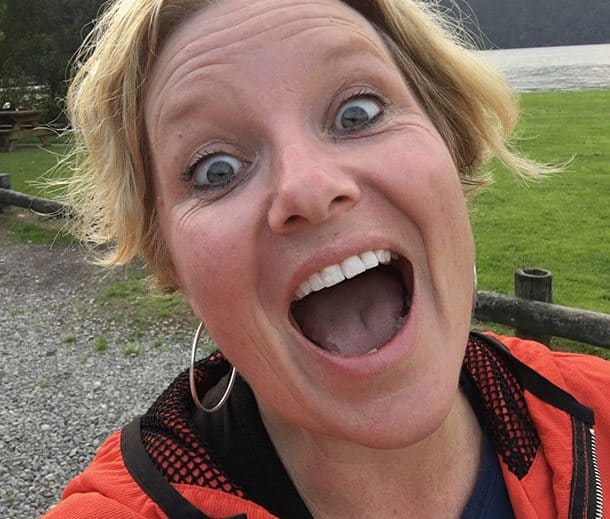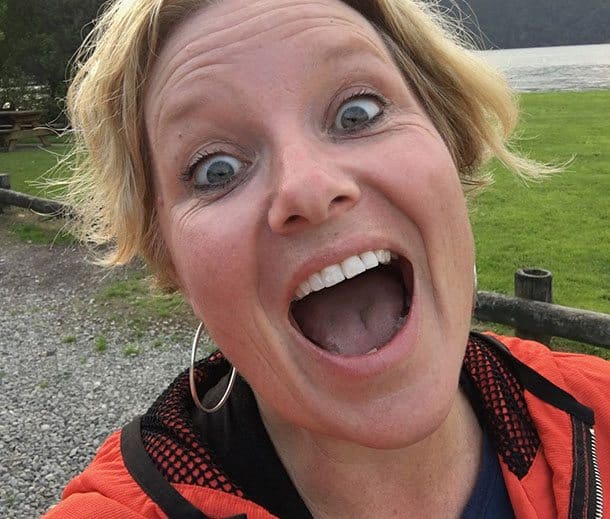 Wine Tasting Marlborough Cycle Tours
This is more me! The next day we met the delightful and knowlegable Karen from Explore Marlborough. She set the business up three years ago full time after dabbling for a few years. Now she operates out of a shipping container on Rapaura Road in Blenheim's Golden Mile of wineries.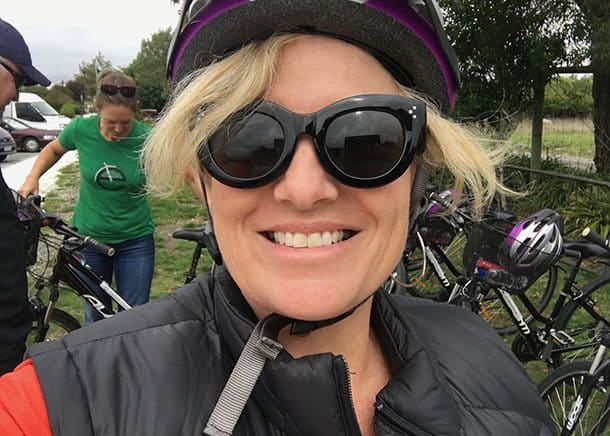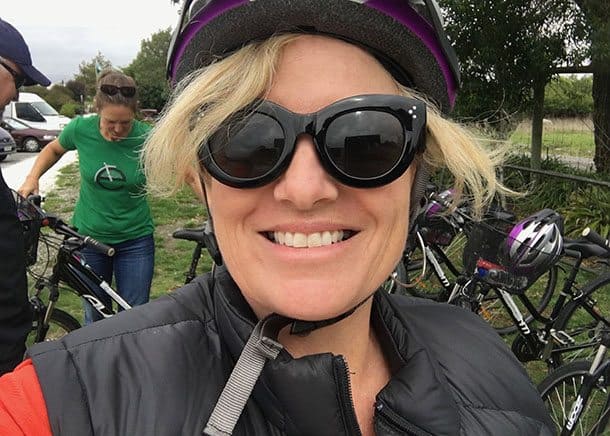 These bicycle seats are wide and comfy and we even had baskets in front with a water bottle and an energy bar.
Donning our helmets we set off for our four-hour afternoon excursion with four media from South America, which was a coincidence, but a lovely experience that makes you proud to be a Kiwi when we have attractions like this to show off.
We headed to the Wairau River first where Karen explained how these rocky river soils and terrain make this region world famous for sauvignon blanc, the hero wine of New Zealand. That's not to say other varietals are not being produced in the region, because they are, but Marlborough produces at least 70% of New Zealand's wine and most of that is the delicious fruity sauv. My favourite drop.
Which was fortuitous because on we went along the ridge of the river stopbanks, levees, Americans would call them. They're wide enough for a vehicle and for us to cycle three-abreast.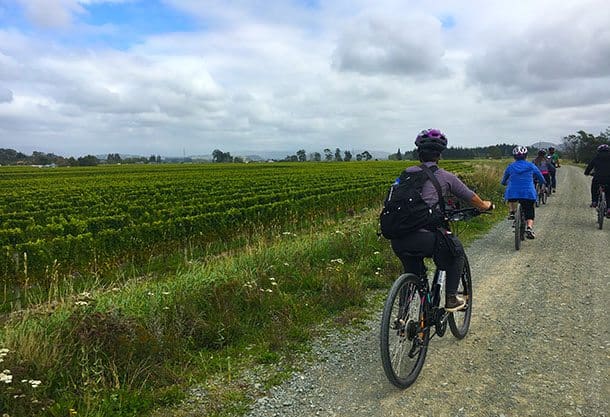 We meandered past grape harvesting machines and tootled to our first stop at Giesen for a taste of five of their wines.
They are a family owned winery which serves yummy platters too. Husband and I loved their pinot noir so much we bought a bottle, then as we'd eaten already Karen took us next door to Nautilus while the others sat upstairs and enjoyed their lunch.
Nautilus methode traditionalle (champagne, but of course we can't call it that!) is rated 5 stars and 94/100 from Bob Campbell and 19/20 from Raymond Chan. I also tried their sauvignon blanc and was about to decline the chardonnay when I looked at our host's face at the cellar door and saw it was crestfallen. I would LOVE to try your chardy, I said, and with that he announced it was also known as the Persuader. And indeed it was more fruit-led than I expected and quite delicious.
By now I had tasted probably 10 wines and was getting more chatty and hilarious… then I had to get back on my bike and go across the road to Wairau River. I could see it happening before it happened…. I tried to get on, one foot still on the ground, the other on the pedal when hop hop hop, I found myself wobbling towards the stand of bikes and sure enough down we all went like dominoes. My husband pulled me out, Karen whizzed over to straighten everything up again and on we went like nothing had happened.
Wairau River also has delicious sauvignon blancs, but sadly for them, I was interspersing them with water by this time. Then back to Giesen we went, picked up the others and headed to Framingham where their light coloured but very full and smooth pinot noir also grabbed our attention – and ended up in the day pack to come home!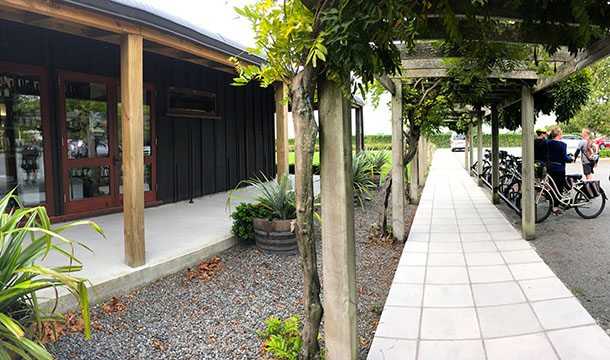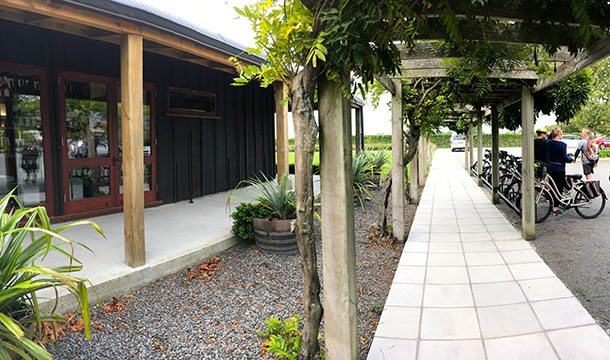 An easy three km(ish) ride back to Karen's base at The Vines Village where shops and a cafe are also located, and that was the end of my cycling in Marlborough.
One I will repeat again and the other I will not!
Half day wine tasting tours for a maximum of 8 start at $80 and include your bike, helmet and all tastings at 3-4 wineries.
You might also like to read my post on 3 things not to miss in Marlborough!