With just three nights and weather that was unusually inclement for this time of year (read: soak-you-to-the-bone downpours) we still found plenty to do, see, eat and drink on Miami's oh-so-cool South Beach within cooee of our hotel, The Hall.
The actual beach is two blocks away dotted with lifeguard towers and patrolled by guys in those big trucks Americans love. You cross a wide lawn punctuated with soaring palm trees and sliced by a meandering path all the way down South Beach for cyclists, runners, walkers and anyone else. There's also a children's playground at about 800 block, if you need that sort of information!
On a Sunday afternoon my brother Richie (who had flown in for the weekend from the Cayman Islands) and my cousin Kate who was on the 3-week US trip with me, strolled along Ocean Drive, the main drag in front of the beach with the aforementioned grassy park then the wide sandy beach on one side and Art Deco buildings on the other. It's the perfect people-watching location staring at people who want to be noticed and driving cars to ensure they are.
We could have popped into Mango's, 900 Ocean Drive, (which I had been to last time I visited). Instead we just looked in the door as the scantily-clad hostesses tried their best to entice us in with happy hour drinks (everyone does happy hour drinks!). This bar is probably best for the end of the night (!) as the staff dance on the bar – literally right up on the bar. I remember they handed out plastic whistles last time and I went all netball ref on it.
The Clevelander, 1020 Ocean Drive, is an awesome building with some eye-boggling R18 entertainment going on poolside! It was a football Sunday and supporters from both teams were cheering and shouting. A DJ was rarking everyone up and a couple of stunning models were having their tops body-painted in the team shirts. No cover charge, so we downed a margarita, took in the "ambience" and moved along to the next place for an eye feast.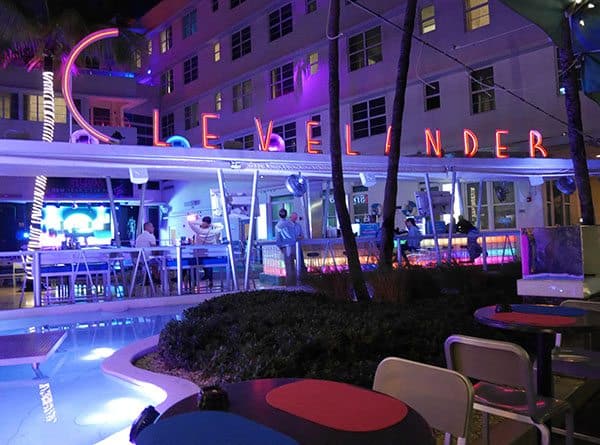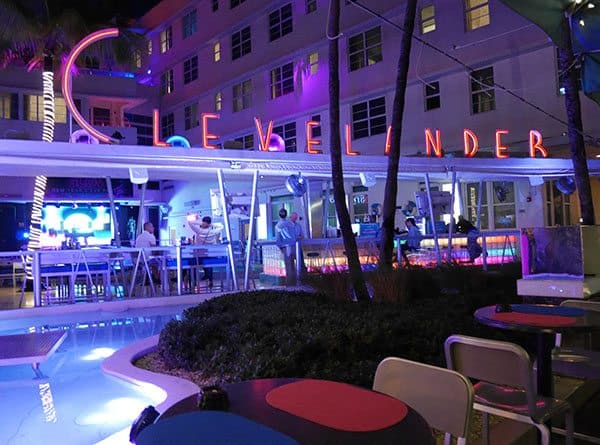 We walked past Casa Casuarina, 1116 Ocean Drive, the former home of fashion designer Gianni Versace. He was shot on his front steps by a lunatic in 1997 and it's still a photo op for tourists. Today it's a hotel and restaurant (click here for my peek inside last time I visited) so make a reservation if you want a nosey inside.
Just a couple of blocks from the Versace mansion is News Cafe, 800 Ocean Drive, where we went for brunch. It serves 24-hours of breakfast. This opened in 1988 and was the place to go for all your international news – back before the interweb. In fact it was here that Mr Versace had just been for his coffee and to pick up his Italian newspaper, the morning he was killed. It's famous, but honestly the food is just OK. I think it's more famous for being the last place Versace visited.
I asked the concierge at our hotel, The Hall (read my blog post on this cool hotel here), where they would suggest for dinner and among options they suggested Gloria Estefan's Larios, 820 Ocean Drive. I went back to my room immediately to Google it and decided it would be great. It's one of her and husband Emilio Estefan's four Cuban restaurants and the food was really great. We had slow cooked shredded beef with rice and black beans, and a Cuban style paella with chicken – of huge portionage, washed down with an Argentinian Malbec and were very happy.
Smith and Wollensky, 1 Washington Ave, is one of the best steak houses in Miami and Richie had booked us in before we all got here. He'd been recommending it to his colleagues to take clients to for years but had never eaten here himself. His heart was set on the US$58 bone-in rib eye fillet. I set my heart on it too. Kate, preferring her steaks well done, decided this wasn't the restaurant to ask the chef to prepare hers like a block of wood, so went for the salmon. It was sublime! Situated on the very tip of Miami Beach, just beside Nikki Beach, you can sit indoors in their many rooms or out on the waterfront. A great place for a special occasion – like a cousinly get together!
Espanola Way is back beside our hotel on Collins and 1500 Street. It's a little pedestrianised street of Latin American restaurants spilling outside and a few boutiques and gift shops. Oh Mexico is a great place to start for a bowl of guacamole and chips and a margo before moving on – like to the new beer garden that is still being built at The Hall across the road!
Lincoln Road is a pedestrianised road that has really great shopping as well as dining. Plan to spend at least two-three hours here as it's about five or six blocks long with shops on each side and markets and restaurants up the middle.