If you're looking for a romantic getaway in New Zealand to celebrate your love, I've got some quirky ideas in this post!
We all know the traditional anniversary gifts right? The first anniversary you give something paper, second is cotton – and on it goes. Leather, linen, wood, iron, wool, bronze, pottery, tin. Yup, for your 10th anniversary you get a tin.
A while back I wrote this post on where to go in the world for anniversaries based on these traditional gifts. But right now I am stuck at home – in New Zealand – so I've taken the traditional gifts and stretched my imagination to create this list of fun and quirky places to visit for each anniversary from one to ten years.
So start planning where you'll take your true love for your next anniversary and have fun!
Year 1 : Paper
The traditional 1st anniversary gift is paper. Most people just give cards, maybe a book. But I say take your love to Russell and visit Pompallier Mission and Printery!
This French style printery and tannery was where the first church texts were translated from Latin into te reo Māori, then printed and bound and given to the local Maori by the missionaries. The Printery still stands and is New Zealand's oldest industrial building. Today you can take a tour and see how the presses worked.
Plus there is a lovely gift shop and cafe, and if you book ahead you can enjoy high tea in the gardens.
But of course a visit to Russell will involve a lot more than visiting this printery, so you might like my post on how to visit the Bay of Islands in 3 days, staying in Russell.
Year 2 : Cotton
The traditional 2nd anniversary gift is cotton. This was a tricky one to find a place known for cotton in New Zealand. In my global list I suggest the former cotton plantations in Southern USA where you can stay overnight in a luxury villa at Houmas House.
But for New Zealand, I recommend Martinborough for your cotton anniversary. Why? you ask… Because it's the home of Thunderpants!
Thunderpants, if you haven't heard of them, are a New Zealand manufacturer of good sturdy cotton undies for men, women and children, in cute and quirky designs and they're based here in Martinborough.
But actually Martinborough is one of New Zealand's best places for a romantic holiday without the knickers (pardon me?), so any excuse to get there! Here's my post on where to stay, where to eat and things to do in Martinborough.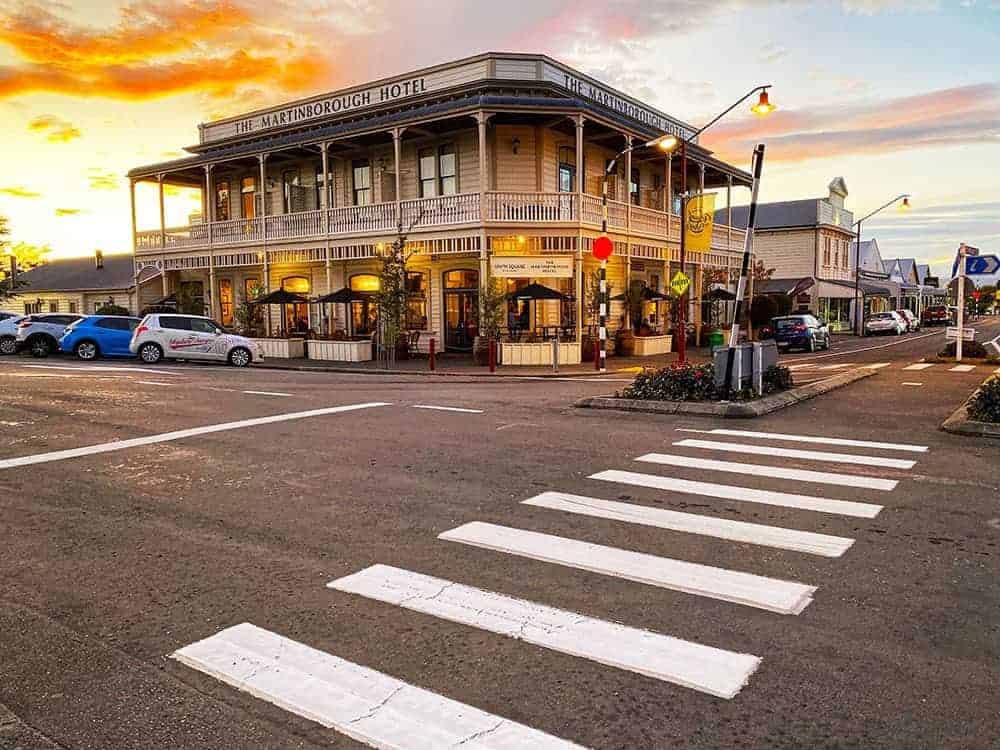 Year 3 : Leather
The 3rd year traditional anniversary gift is leather, so I'm picking Southland high country station, Nokomai Valley Lodge.
This station is in Athol, one hour's drive from Queenstown, and has been farmed by only two families in its 160 years and is an exporter of beef and merino wool.
They have four colonial style farm cottages for guests set amidst beautiful old trees. Each has its own veranda to sit back and relax while taking in the superb views of the valley, and dinner can also be booked. (Which you should do because this place is remote).
Activities include: farm tours to see what high country farming is all about, trout fishing in the Mataura River which flows through the station, walking or mountain biking the trails on the property, and scenic flights with Nokomai Helicopters.
Year 4 : Linen
The traditional 4th year gift is linen, which was another tricky gift to turn into a destination, but I am nothing if not creative! In my researching I learned that linen is made from flax fibre. Ooh, I was excited as New Zealand is dotted with flax everywhere. Alas it has nothing to do with the New Zealand species of flax, so back to the drawing board I went.
But it's off to Queenstown for your 4th anniversary!
I looked up the most popular hotel in New Zealand to sink in to the lush bed linens and enjoy a romantic break. Tripadvisor lists the most popular hotel for 2021 in New Zealand is QT Queenstown.
Year 5 : Wood
The traditional anniversary gift for the 5th year is wood, so there is no where better than a weekend in Rotorua to visit New Zealand's largest Redwood forest!
I spent a weekend in Rotorua in 2020 (and have a small group getaway trip planned to visit Waitomo, Rotorua and Tongariro in May 2021) and found so many cool things to do – including doing the Redwoods Nightlights Treewalk on dusk when the spectacular David Trubridge light installations are switched on.
Year 6 : Iron
The traditional 6th year gift is iron, so of course it has to be Tirau!
A visit to the town famous for its corrugated iron sheep, shepherd and sheep dog is a must to celebrate six years together 😀
If you're not familiar with Tirau, it is a great place to at least stop for lunch en route to your final destination. It's bursting with cafes and boutiques and I'd suggest at least an hour here on way down SH1.
But if Tirau is your final destination, you lover you, why not book into Lake Karapiro Lodge, north of Tirau and about 12 minutes drive away. It's a lovely BnB hosted by Ed and Ann high on a hill overlooking the Waikato River.
Year 7 : Wool
Goodness, it seems like the longer you're married the dumber the gifts get! But never fear, for your 7th anniversary to celebrate wool there is no shortage of New Zealand destinations.
I've chosen Whaarekauhau Country Estate to celebate your 7th anniversary. It's one of New Zealand's top luxury lodges set on a 3,200 acre sheep farm. They have the famous Red Band gumboots lined up at the door for those who want to go for a walk and avoid getting poo on their shoes.
Or you could just enjoy the food, views and maybe a spa treatment. There's clay bird shooting for the energetic too. You can read all about my stay at Wharekauhau in this post.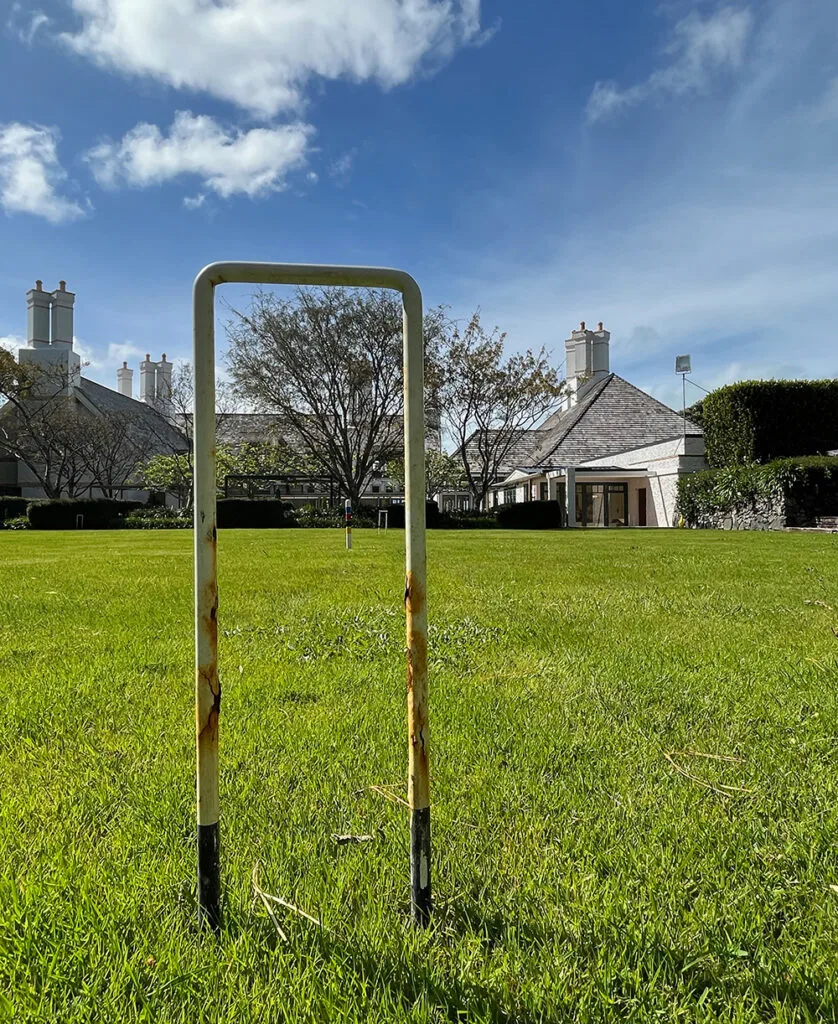 But if your budget doesn't extend to NZ$3000+ a night (!), then you should take your love to Masterton!
We were in Masterton recently and found some great things to do and stayed in a lovely BnB on a small family-run vineyard. Take your love to Le Gra for the night in your own luxury room beside the main house and head into town for dinner – and to check out the wool museum!
Year 8 : Bronze
The traditional 8th anniversary gift is bronze. In my global anniversary post I chose Paris for Rodin's bronze statue of The Thinker. In New Zealand we're not quite as statuey as many other countries, but I'm choosing Christchurch.
If you haven't visited for a while, the Christchurch CBD is looking great. It's not often a city gets to recreate itself, but that's exactly what has happened (and is still happening to be honest) since the 2010 and 2011 earthquakes.
I've been back a few times since, and enjoyed hanging out eating at the restaurants on the Terrace and the fab food in Riverside Market, shopping along Cashell Street and walking everywhere. Here's my post on my favourite places to eat in Christchurch right now.
But the reason I've chosen Christchurch for your 8th anniversary celebrations is you can go on a bronze treasure hunt to find the bull on a grand piano and the corgis that are hiding in the city.
Year 9 : Pottery
The traditional 9th anniversary gift is pottery and I've stretched the imagination to choose Hobbiton in Matamata!
Ok, I really just wanted to feature Hobbiton on this list because I think it would make an excellent treat for your love. But happily you will find lots of pottery dotted around the film set of The Shire.
If you book the evening banquet tour you'll be in for a fabulous treat starting with a guided tour on dusk and finishing with a pint at the Green Dragon Inn – in a pottery mug! Then you'll go through to the dining room for a feast fit for a hobbit.
After dinner you'll wander back through The Shire, which will now be lit up providing a whole different experience with chimneys smoking and lanterns lit.
Year 10 : Tin
The traditional gift for your 10th anniversary is tin.
Sure you could buy your love a tin of biscuits, but why not take that tin of biscuits to the Cake Tin itself in Wellington!
Of course it's not officially called the Cake Tin and has changed its name with various sponsors over the years. It's currently called Sky Stadium.
But book tickets for a game or a concert and make a romantic weekend of it in Wellington. You might also like to read my post on things to do in Wellington you won't find in the guide books.