10 Day Tour : 31 March – 9 April 2022
We are repeating our hugely successful 2021 tour in 2022. Come with me on this small group, bespoke itinerary for 10 fabulous days as we find the best the region has to offer and go off the beaten track to discover some of the hidden gems of Central Otago. You won't find another tour like this one!
Queenstown • Clyde • Cromwell • Wanaka • Arrowtown • Glenorchy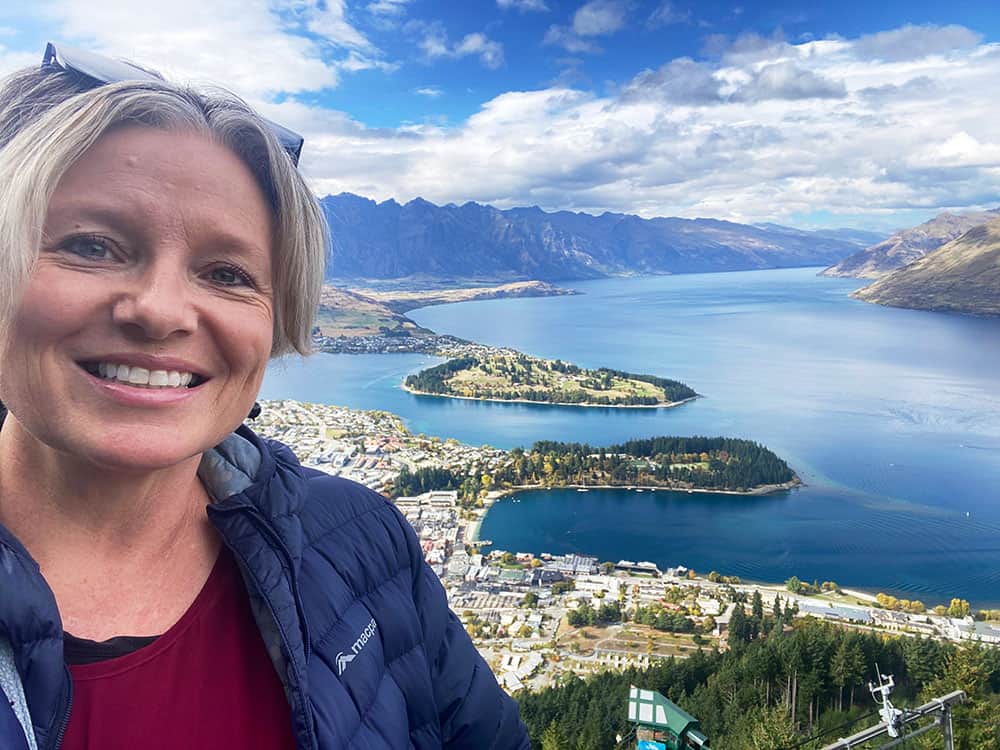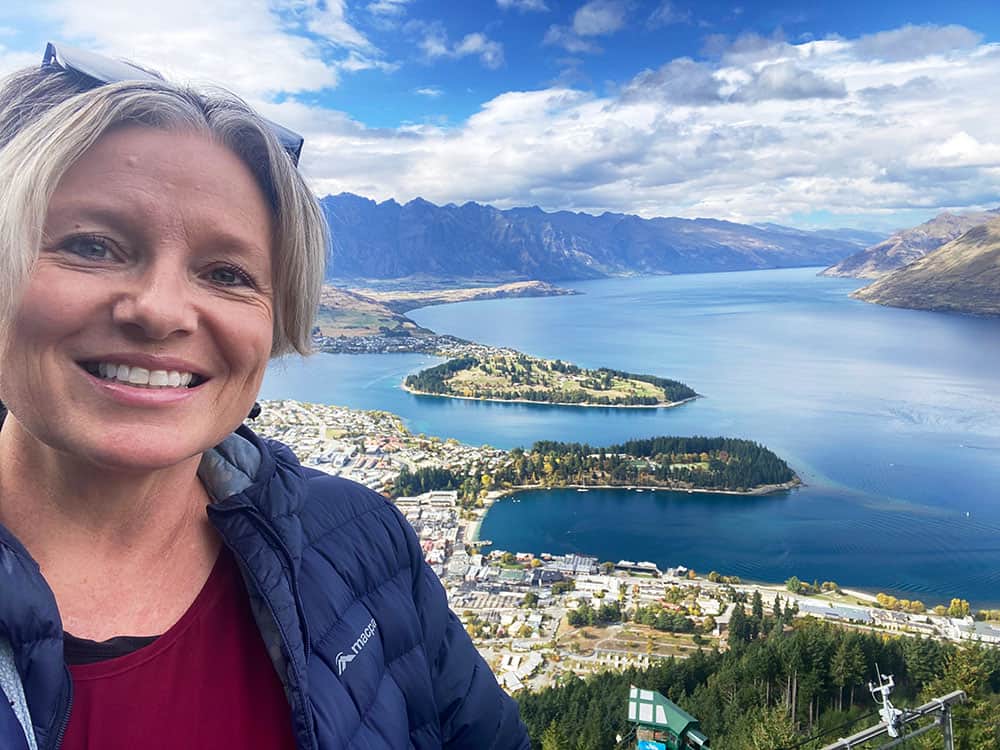 "Congratulations on hosting the Tour you just hosted. I have to say that it was the most enjoyable and fun filledtrip I've been on. Your management and organisational skills are so good. We never had a problem about a mess up, or if we did, we didn't know about it. Chris, as our driver, was fantastic too, with his confidence and capable driving. So many thanks for such a successful holiday. I hope that next year we can do something else together again. I have to say I was shattered yesterday but back to normal today. I even raked up a mountain of leaves from the olive tree and Pohutukawa trees on the cliff. All the best for your next venture. Much love from Lola." ♥️♥️♥️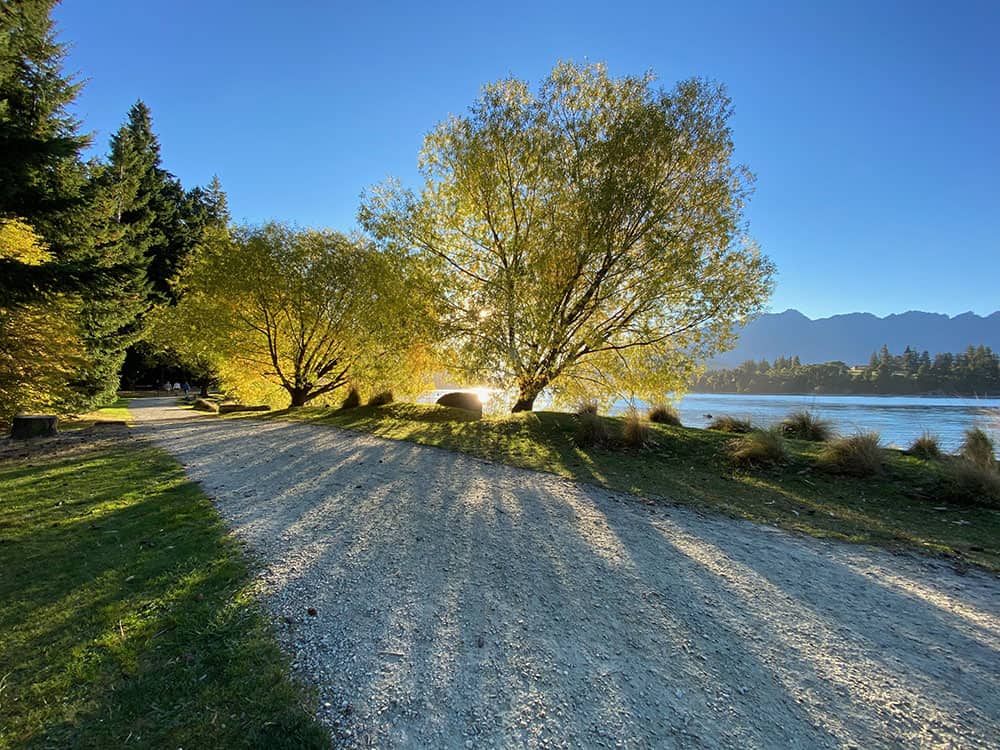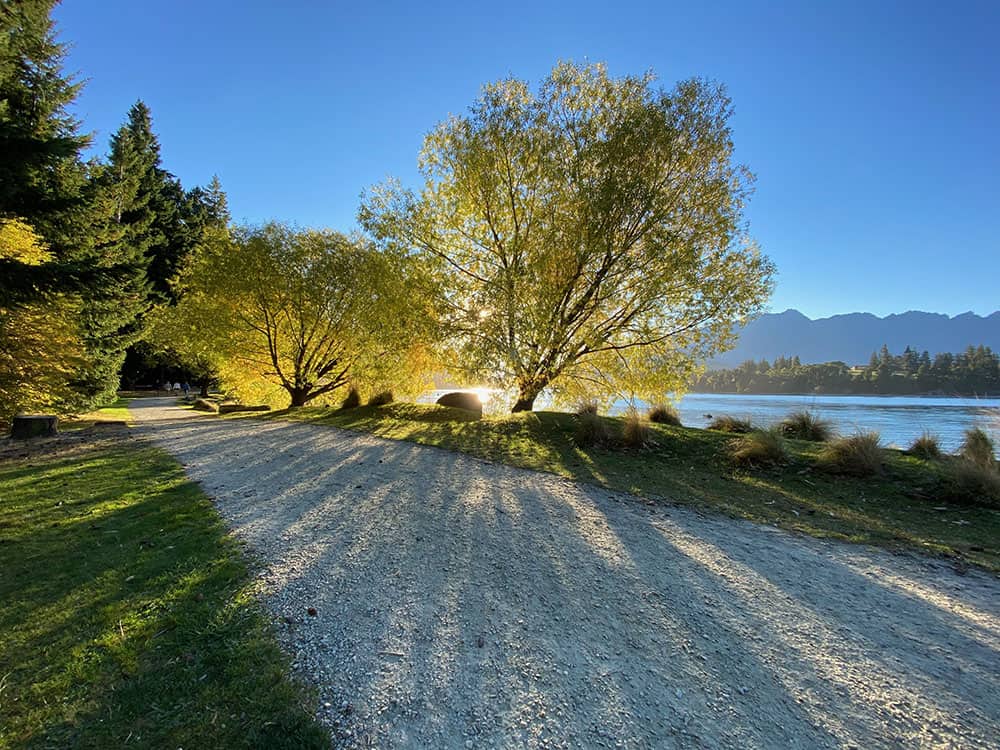 We'll be wine tasting, eating out, pottering through old towns, ogling at stunning scenery, browsing markets and boutiques and we've thrown some wonderful surprises and delights in there too.
We will have our own driver in a luxury coach and will be staying at 4 and 5-star hotels and boutique accommodation that are within easy walking distance of the action.
This tour needs a minimum of 10 to go ahead and we'll take a maximum of 14. It is fully refundable if Covid restrictions prohibit travelling, but we advise taking out insurance in case you need to cancel for other reasons.
A lovely testimonial:
"Thank you Megan for converting me to the world of small group touring, it was like travelling with a group of friends and family. Whether you are a couple, friends or solo traveller, I would highly recommend travelling with 'Blogger at Large'. Bring on the next tour!" – Kerrie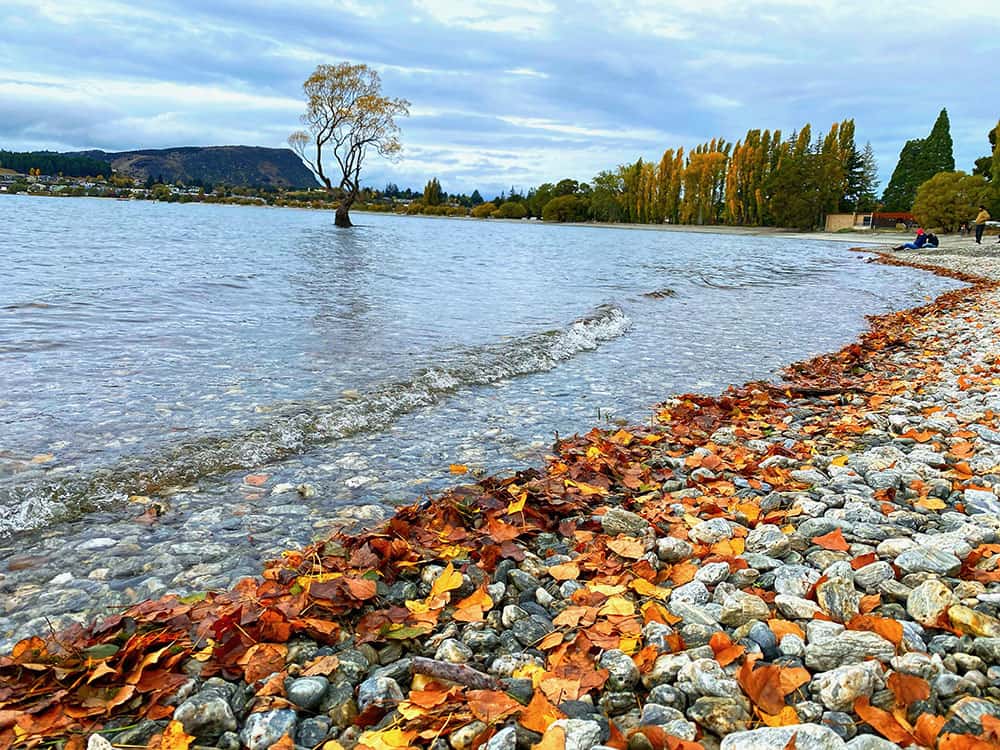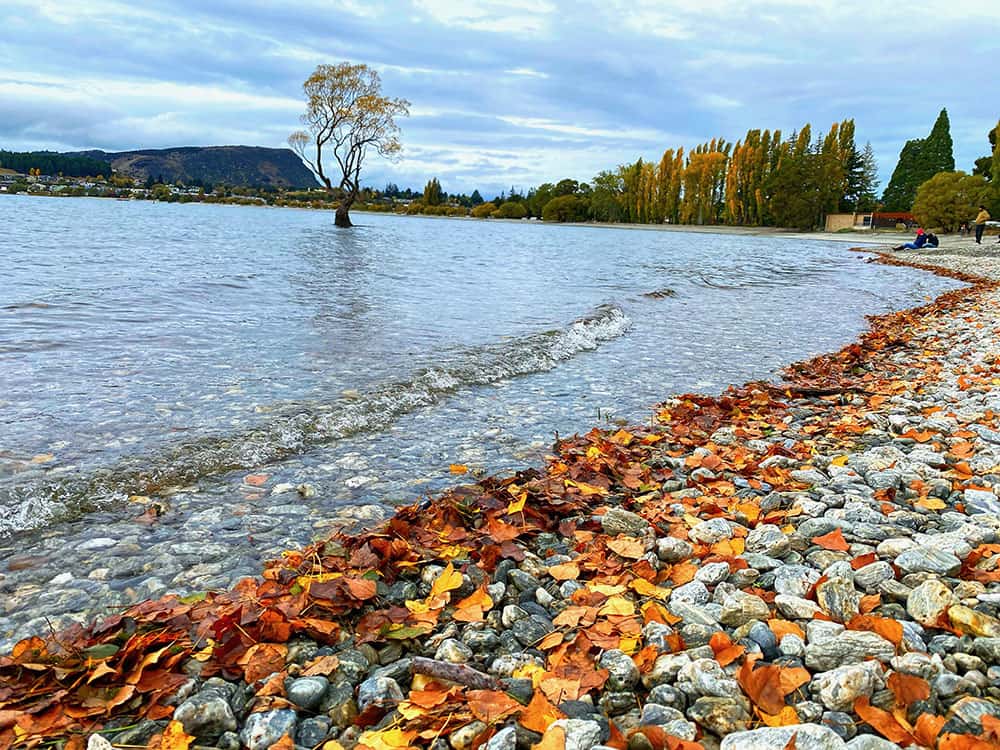 Here's the full itinerary!
Day 1 : Queenstown
Meet in Queenstown and this afternoon we will take a walking tour to get our bearings for places you might want to come back to in your free time, plus all the many dining options and of course that beautiful lake.
Tonight we will enjoy a gorgeous welcome dinner at Botswana Butchery, included.
Accommodation is at Sofitel Hotel and Spa for 4 nights including breakfast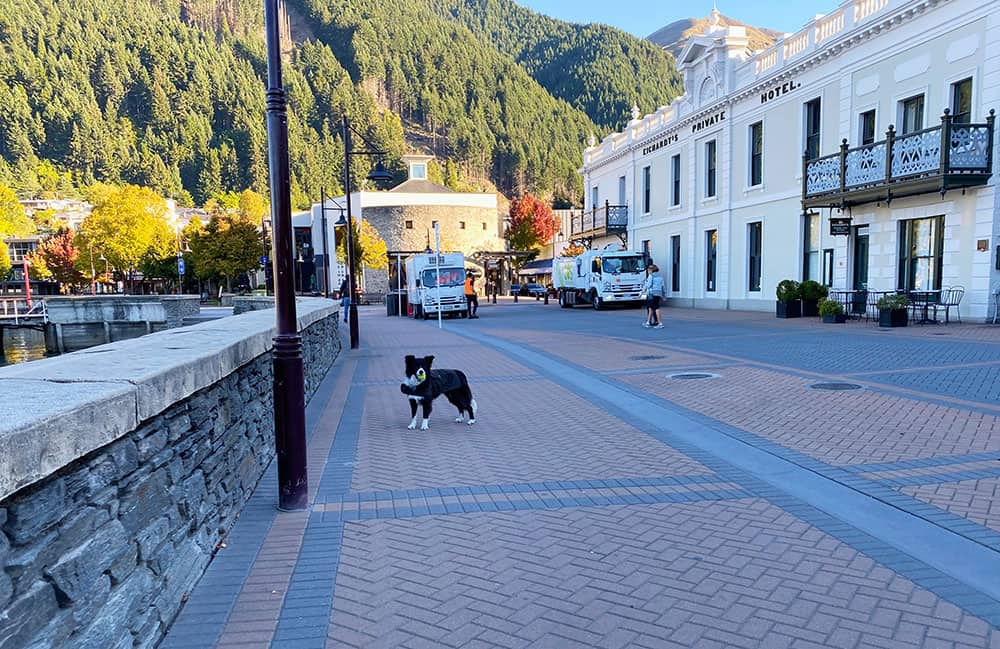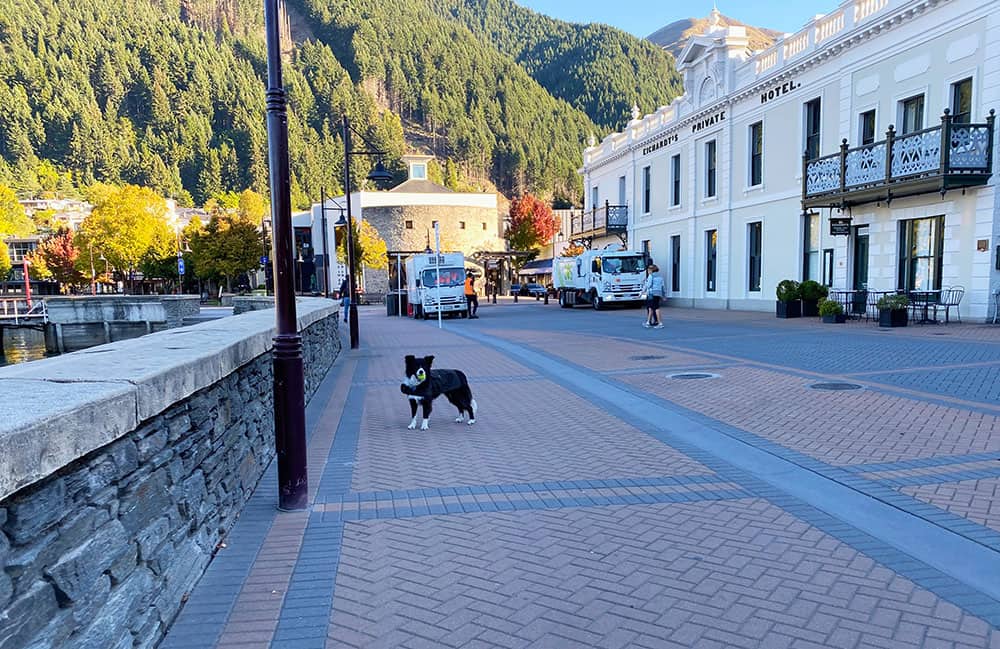 Day 2 : Glenorchy
Breakfast at the hotel is included this morning.
Mid-morning visit Skyline with a gondola ride and buffet lunch whilst enjoying the magnificent views included. Optional luge rides may be added if you wish.
After lunch, drive to Glenorchy. The drive to Glenorchy is picturesque and lakeside for the most part. Heading deeper and deeper into Mt Aspiring National Park, you cannot help but feel you are in a special part of the world – Lord of the Rings/The Hobbit movies, Top of the Lake and countless other movies all were made in this remote and entrancing area.
Dinner is own arrangements.
Day 3 : Free day in Queenstown
This is a free day for you to choose from our extensive list of options, which will be provided with your registration form. Things like the Shotover Jet, Heli tours, Milford Sound day tour, Dart River Safari, Spa at the Sofitel, Gibbston Valley wineries…
Options include:
Day tours to Milford Sound
• full day by coach
• heli options
Scenic heli flight with snow landing
Dart River Safaris – ¾ day tour
Nomad Safaris – Safari of the Scenes (Queenstown/Arrowtown) – half day morning tour
Nomad Safaris – quad biking
Walter Peak and TSS Earnslaw visit (buffet lunch an option too)
Gibbston Valley wineries
Spa options at Sofitel Hotel
Shotover Jet
Gold options – Millbrook, The Hills, Jack's Point
Day 4 : Arrowtown
After a free morning we'll drive through to Arrowtown for lunch and a walking tour through this quaint old gold mining town. Late this afternoon we have a treat in store in Arrowtown (I'm not telling!)
Dinner is own arrangements back in Queenstown
Day 5 : Cardrona/Wanaka
Depart Queenstown for the scenic drive to Wanaka via the Cardona Hotel where you will have lunch today. This drive takes you through Gibbston Valley where a stop at the AJ Hackett Bungy Centre at Kawarau Bridge will be included.
Established in 1863, the Cardrona Hotel is one of New Zealand's oldest hotels and is one of only two remaining buildings from the Cardrona Valley gold rush era. In its hey-day Cardrona was a prosperous settlement and significant commercial hub for the area. During this period, the hotel – one of four in the township – offered accommodation, livery services and an accommodation stop for itinerant travellers. The historic hotel facade is representative of this now vanished town and is an important part of New Zealand's history.
After lunch, continue to drive over the Crown Range with spectacular views (on a nice day) to arrive in Wanaka.
Dinner is own arrangements. We will head into town and find somewhere together – if you wish.
Accommodation is at Edgewater Lake Wanaka for 2 nights including breakfast.
Day 6 : Wanaka
Visit the weird and wonderful Puzzling World, which has been messing with people's heads since 1973, no matter what age, nationality, or experience!
Visit the Wanaka Lavender Farm to experience 20 acres of beautiful lavender fields, animals and display gardens.
This afternoon is free for optional activities in Wanaka. The town centre is also a gentle stroll around the edge of the lake to a fine collection of small, boutique art galleries, cafes and gift shops.
Lunch/Dinner is own arrangements.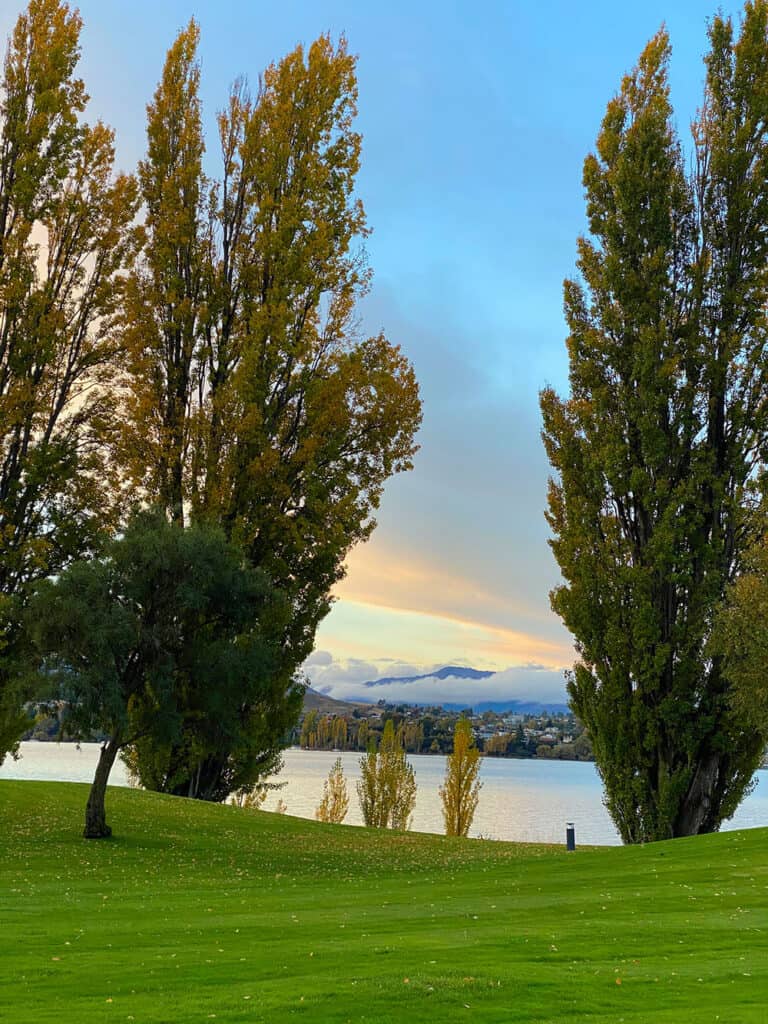 Day 7 : Wanaka & Clyde
Today we head to Cromwell with a 'must do' visit to Mrs Jones Orchard. A highlight for locals and international tourists alike, the fresh fruit grown at Mrs Jones Orchard is world-class and exported around the world. However, you will also be amazed at the range of other products available – including real fruit ice creams!
You then head into Cromwell Old Town for an historic walking tour. Learn about local industry and how the entire town was moved to allow the necessary flooding for the Clyde Dam in the early 1990's.
Enjoy some free time to explore the local museum, cafes, and gift shops (lunch own arrangements).
Once assembled again, your drive continues to Clyde. On arrival, check in to your accommodation and the rest of the evening is at your leisure.
Dinner is own arrangements, but we will likely dine together in one of the Clyde restaurants.
Accommodation : Olivers Central Otago Lodge and Stables for 3 nights
Day 8 : Central Otago Wineries
Today we'll have a leisurely start over breakfast and head out to sample of Central Otago's finest wineries including Domaine Thomson to taste the difference between their grapes grown in Burgundy and their grapes grown in Central Otago.
We'll head to Mt Difficulty for lunch and a tasting with sweeping views over the Bannockburn valley and try my namesake, the roaring Meg (!!)
But we've saved the best till last when we return back to Clyde and have a private tour and tasting at actor Sam Neill's Two Paddocks. We'll meet Sam's famous pets, view his personal art collection and hear of his conservation work and the viticulture model of his wineries. Then we'll have a tasting of some rare Two Paddocks wines with bread and oil.
Dinner is own arrangements, and there are several places to try in Clyde. Of course, as with all my tours, if you'd like to join me you are welcome.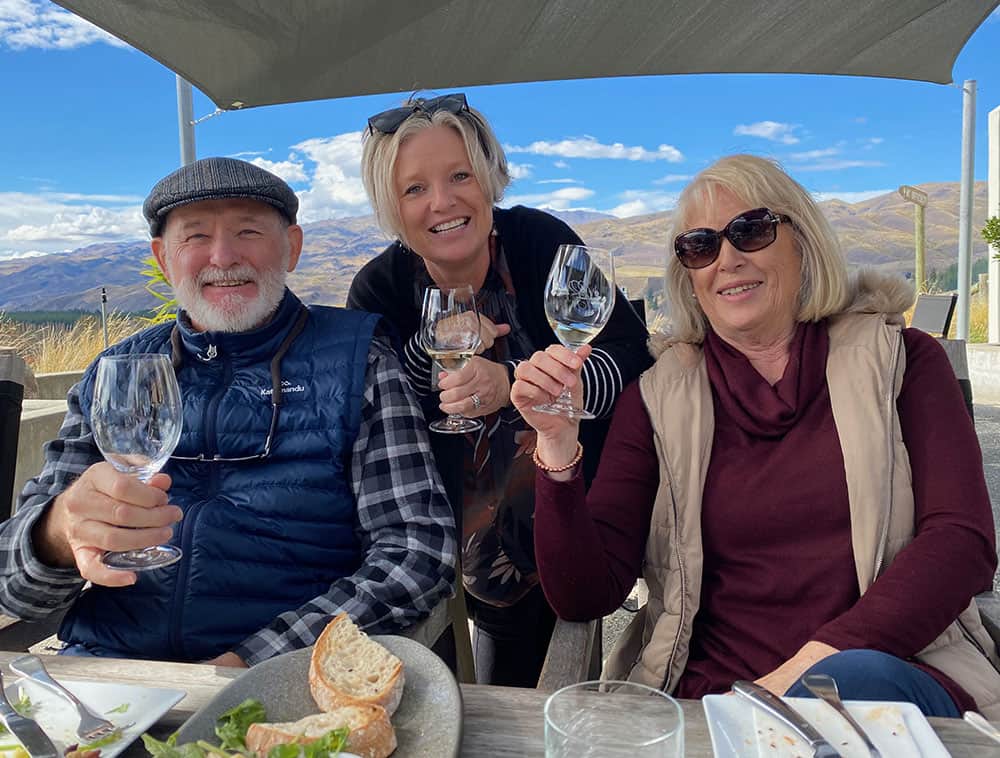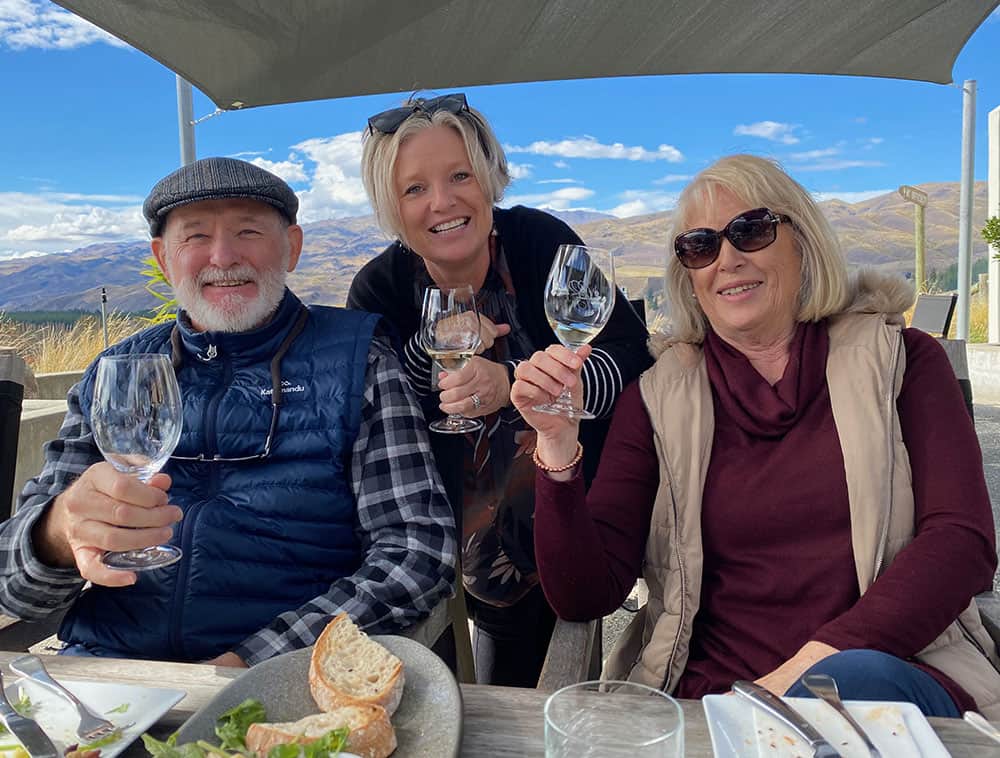 Day 9 : Clyde and the Maniototo
History tour of the gold fields of Naseby (with optional Ice Curling)
This is sometimes referred to Big Sky country. Elevated, tussock clad rolling plains surrounded by snow-capped mountain ranges that conjure up the quintessential image in our minds of what the South Island high country looks like. Graham Sydney, New Zealand's pre-eminent landscape artist captures beautifully its vast and desolate magnificence in many of his works. It's your chance to venture off the beat track and discover a land rich in pastoral and gold mining heritage.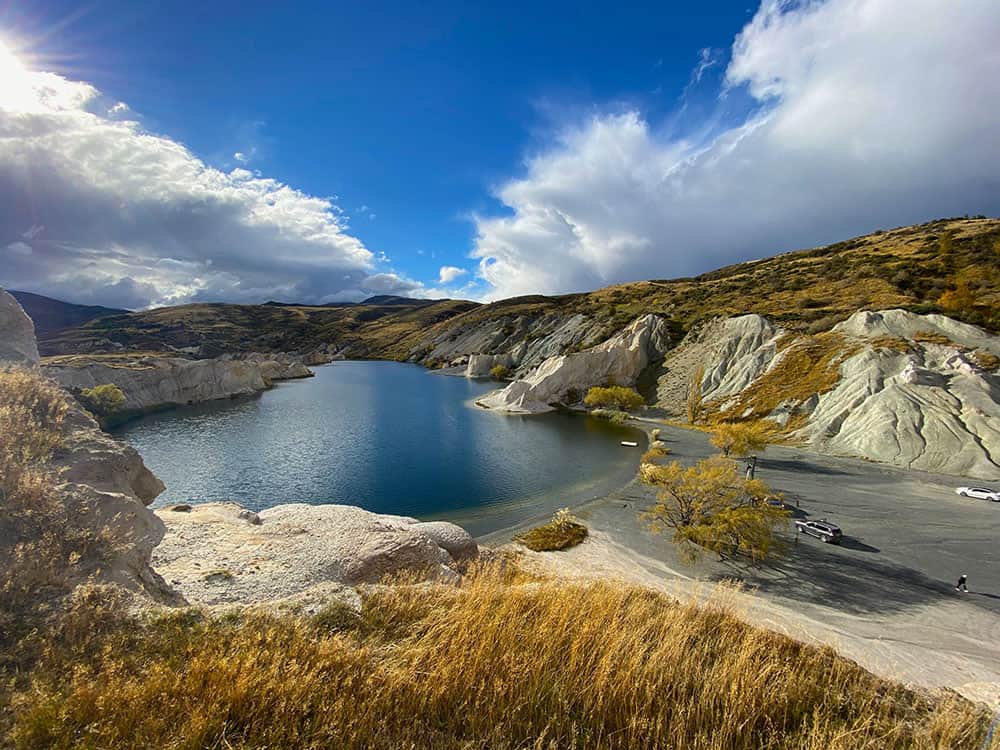 Those booked on the Half Day Central Otago Rail Trail cycle experience will be dropped off at Omakau or Lauder for the start of their tour – optional tour, not included.
For the non-cyclist the history tours starts in the historic township of Ophir that once boasted a population of over 1000 during the height of the 1860's gold rush, the restored Post & Telegraph Office is a classic example of colonial architecture.
The route then follows up into the Ida Valley skirting the Rock & Pillar range famous for its unusual limestone outcrops, a setting which featured heavily in the Lord of the Rings trilogy. Next stop is the home of Kiwi ingenuity and "number 8 wire technology", Hayes Engineering Works, a beautifully preserved early 1900's industrial enclave.
We head north east to St Bathans, a ghost town that had its heyday during the gold rush. The turquoise coloured man-made lake is testament to the folly that drove miners to move heaven and earth in pursuit of gold. All that remains of the once bustling town is the old Vulcan Hotel. The perfect lunch venue (lunch at own cost).
Naseby is only a 30-minute drive away and home to the Maniototo curling rink. We'll be calling at Bonspiel and those who are keen can slide a stone or two. (Lunch at own cost)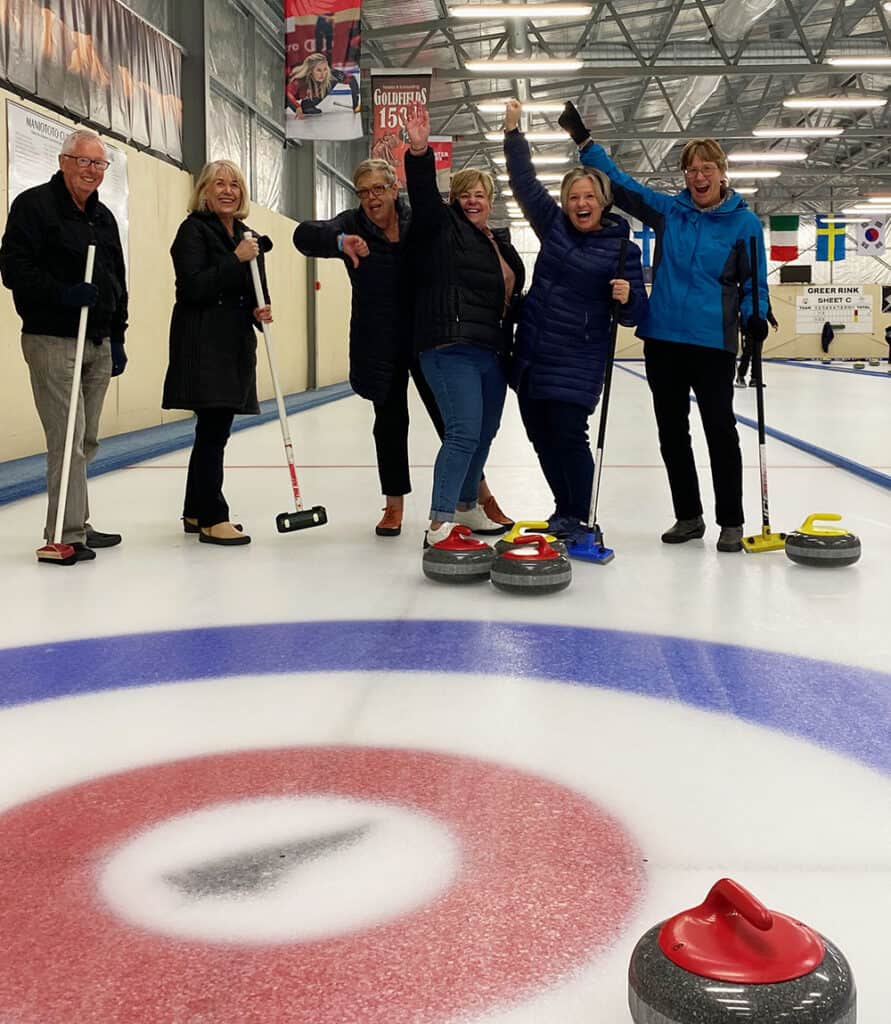 There are several interesting photo stops on our return to Clyde, one of them being the Wedderburn railway siding, an iconic image rendered onto canvas by many an artist including Graham Sydney.
Tonight we have a beautiful farewell dinner in the Olivers hotel restaurant hosted by Rudi Bauer, Quartz Reef winemaker. A 3-course dinner with matched wines narrated by Mr Bauer.
Day 10 : Departure
After our final breakfast together we depart Clyde and make our way back to Queenstown. The driver will drop people off at the airport or you may wish to return into Queenstown for your own arrangements.
Cost for this 10-day tour:
$5,150 per person in own room. Bring a mate to room share and they pay just $2,550!
Cost includes
Boutique hotel accommodation as per itinerary
Meals as outlined – 9 x full breakfast, 3 x lunch, 2 x dinner
Entry fees/activities as per itinerary
Transportation by private air-conditioned vehicle with driver guide throughout
Your host Megan Singleton
Loads of fun and laughter guaranteed
Ts & Cs
A $500 deposit per person will confirm your spot. Full payment is due by 28 February 2022. Group size is 14 max, 10 minimum.
Covid information: If for any reason this tour is cancelled or individuals from this tour must cancel due to COVID-19 travel restrictions, there will be no cancellation fees for the tour or individual persons and all your monies will be refunded. This includes, for example, if a guest is joining from Wellington and Wellington is placed into Level 3 or 4 lockdown, restricting travel.
However we do strongly recommend you take out insurance to cover other unforeseen circumstances that might prevent you from travelling, or should you need to leave the tour early for any reason.
If you'd like you can get a free insurance quote from 1 Cover using my affiliate link >
Any other cancellations will incur the following cancellation penalties:
Prior to 30 days of travel start date: No penalty or cancellation fee
Within 29-7 days of travel start date: $250.00 per person and any fees imposed by suppliers/hotels
Within 7-0 days of travel start date: 100% cancellation fee
Alcoholic beverages will be at your own expense at included meals.
This tour begins and ends in Queenstown, you'll need to make your own way to the pick up point, to be confirmed. Queenstown Airport pick ups can be arranged.
We can also provide great deals on Queenstown hotels if you choose to stay on or arrive earlier.
For more info about my upcoming tours, join my private Blogger at Large Tours Facebook page.